The Egofit Walker is the corporate companion that gets someone to exercise in the office or at home. There are a lot of pros about this product and one or two cons as well.
Let's start from the positive view of the EgoFit Walker, shall we?
Basically, acquiring the EgoFit Walker puts you in the advantage of getting a lot of desk work done while you still don't miss exercising your body. Technology such as this has made getting fit for folks that work in a confined area pretty easy.
This unit is very compact and smaller than the standard under-desk treadmills but just as powerful. If space is what you don't have in your office or home, this walker gets you covered.
Walking on this unit while you watch TV, or drink a coffee in your spare time at the office or in your home is pretty awesome. it's also possible to use it under a standing desk but it may not be entirely easy and safe for tall individuals due to its size.
Moreover, using this walker while seated behind a desk or on a sofa/couch may not really have a positive impact on you because it does all the heavy lifting for you.
We will recommend Cubii or Desk Cycle for behind the desk exercise.
Click right here to have a peek at the price of the EgoFit Walker on Amazon.
The Construction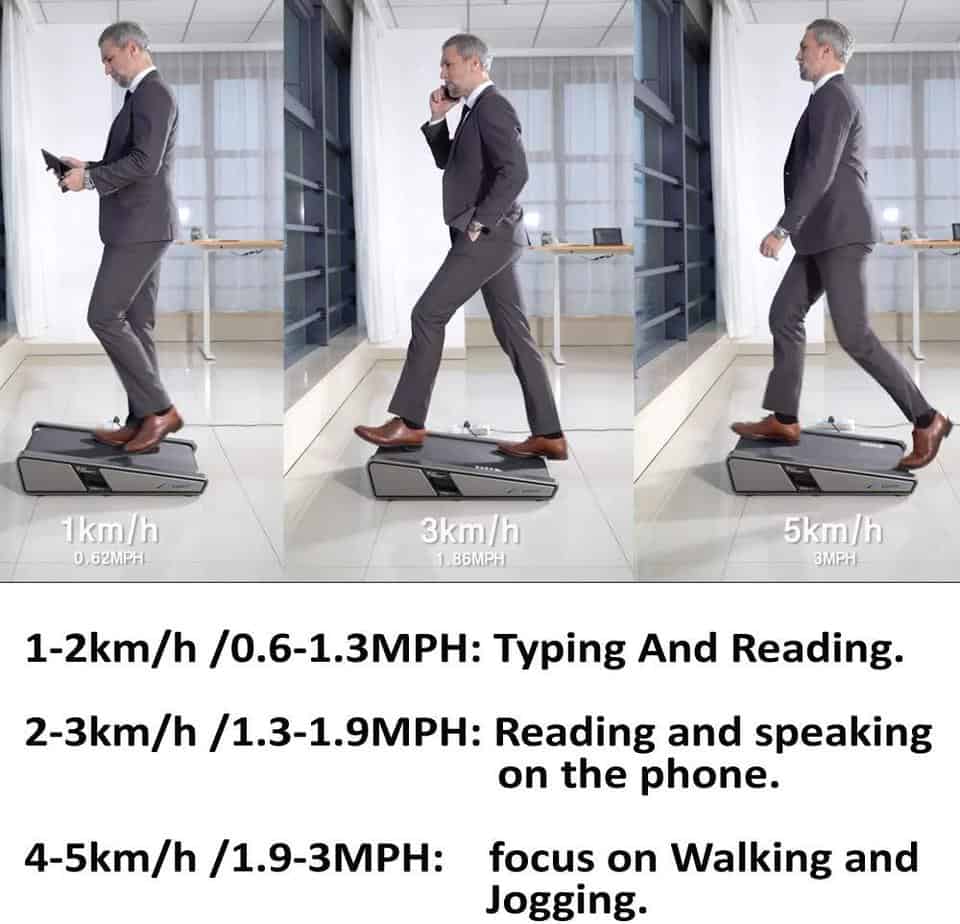 The EgoFit Walker has a unique and patented design that sets it aside from other under-desks. It's compact and fixed incline design are definitely among the features that endear it to so many users.
The integrated patented walking traction control system offers smooth, comfortable and steady walking experience and as a result, increases the life span of the motor.
It is built to support a maximum user weight capacity of 254 pounds/115.2 kg and no more than a 7' tall individual. The overall assembled dimensions are 29.5'' long by 19.7'' wide by 6.7'' high. In order words, this unit requires a very limited space with a perimeter of 2'6'' length by 1'7'' width.
It is recommended though to use it in an area with a clearance of at least 2-3′ around it for safety and easy access. It can be stored under a couch and other very unlikely places that are safe. Moving it around is pretty easy considering the fact that it only weighs about 43 pounds/19.5 kg and there are also integrated transport wheels that allow you to maneuver it effortlessly from one place to another.
Regardless, its weight boosts its overall stability.
The walking space area dimensions are 28.74'' long by 15.75'' wide.
The Motor
The EgoFit Walker is equipped with a powerful 3 horsepower motor that provides the motion that enables you to walk and jog.
Its operation is smooth and quiet, perfect for the office and home environments. People around will not hear the sound when it's in operation. So, you can use it at any time of the day and many times as possible.
As aforementioned, the walking traction control system increases the motor's life span.
Of course, it needs to be plugged into electricity in order for it to be functional. However, it only requires less than 0.5 kWh power consumption. This means is power efficient and thus, won't pile up the electricity bill for you.
The motor provides a speed range of 0.6-3 mph. There 9 adjustable speed levels that give you the opportunity to adjust the speed from intense to relaxed level, depending on what you intend to achieve.
For instance, if you wish to walk on it while you type and read, it's recommended to adjust the speed between the range of 0.6-1.3 mph, and 1.3-1.9 mph is recommended for reading and speaking on the phone, while 1.9-3 mph is recommended for focused walking and jogging.
Turning the walker ON/OFF and speed adjustment is done via the remote controller.
Incline System
The EgoFit Walker has a fixed incline system; meaning, it's not adjustable. The incline level is not specified but it's a few inches high. High enough to make the difference when it comes to experience and how much calories are burned.
Display
The unit has a small monitor on the right-side base of it. The monitor displays workout data such as Time, Calories, Steps, and Speed.
Storage
Putting the EgoFit Walker away after use is a walk-over. It is light, compact, and portable. Basically, there are ample of places that could accommodate it. Storing it under the bed/sofa, under the desk or in a standard closet are ideal places,
Pros/Features Overview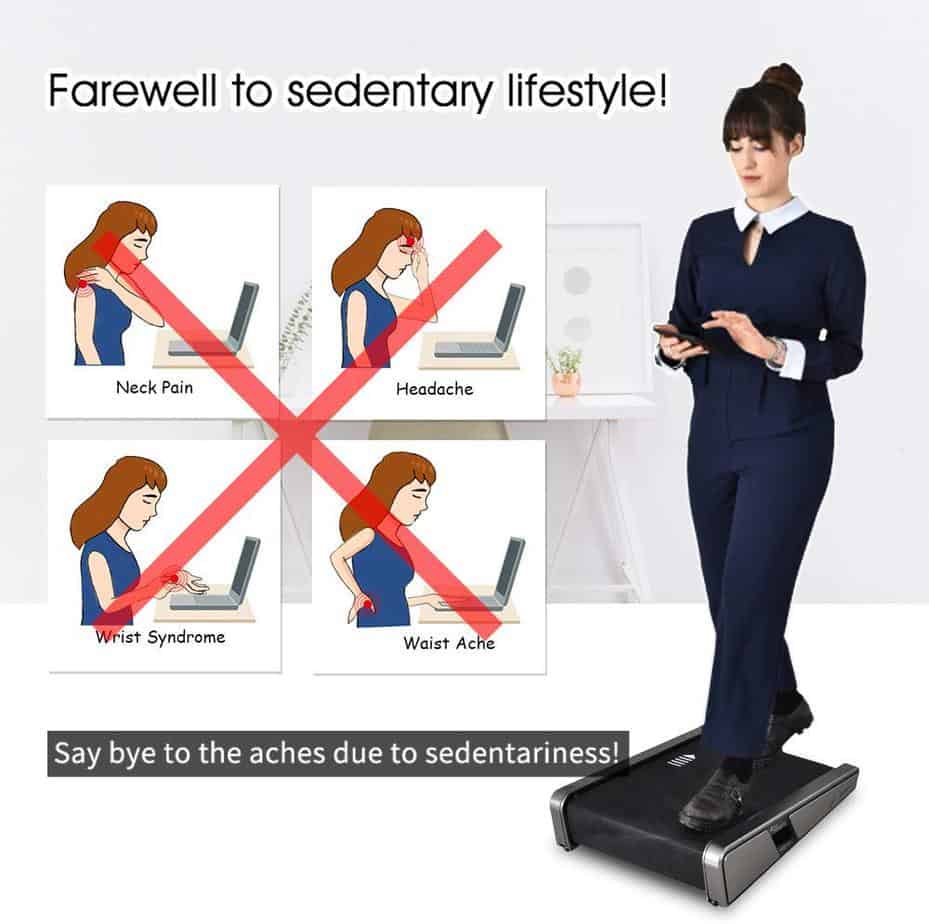 Sleek outlook
Sturdy, compact, and stable
Supports a high user weight capacity of 254 pounds/114 kg
Easy to store
Fixed incline provides additional difficulty
Operation is quiet and smooth
Space-friendly
Integrated monitor tracks Steps, Speed, Calories, and Time
The patented walking traction control system and the motor provides a smooth and comfortable workout experience
Transport wheels included
Supports walking and jogging
Assembly is not required
3 horsepower motor provides a speed range of 0.6-3 mph
Suitable for office and home environments
Require less power for operation
Cons
Reading and typing while walking on it might not really be easy, especially for folks between 5'8'' and above
Warranty
Product Dimensions and Specifications
Length 29.5''
Width 19.7''
Height 6.7''
Tread belt: 28.74'' L x 15.75''
User weight capacity: 254 pounds/115 kg
Weight: 43 pounds/19.5 kg
Shipping weight: 48.5 pounds/22 kg
Motor: 3HP
Speed range: 0.6-3 MPH
Incline: Fixed
Monitor: Tracks Time, Steps, Speed, and Calories
Remote controller included for turning the walker ON/OFF and for speed adjustment
Patented walking traction control system
Transport wheels included
Plug-in: AC 110V
Shipping
The EgoFit Walker is shipped out in a neatly packaged box that weighs just 48.5 pounds/22 kg. Amazon provides free standard shipping and makes delivery within a couple of days.
Assembly
Assembly is not required. Unbox and start using it, it's as simple as that.
Maintenance
The unit does not need any serious maintenance.
Just ensure that it remains clean at all times.
Further maintenance instructions are in the owner's manual
Conclusion
The EgoFit Walker offers you the opportunity to exercise while you are carrying out that desk responsibility that doesn't allow you to visit the gym and or to engage in a meaningful workout at home.
With this at your disposal, you can always step out and walk as long as you want.
We have stressed that using this unit under a desk might not really be suitable for everyone because of its size. Walking while typing using the EgoFit Walker might be an uphill task.
We recommend you look up other under-desk treadmills that could provide you with enough space that is required for typing and walking exercise.
EgoFit Walker Review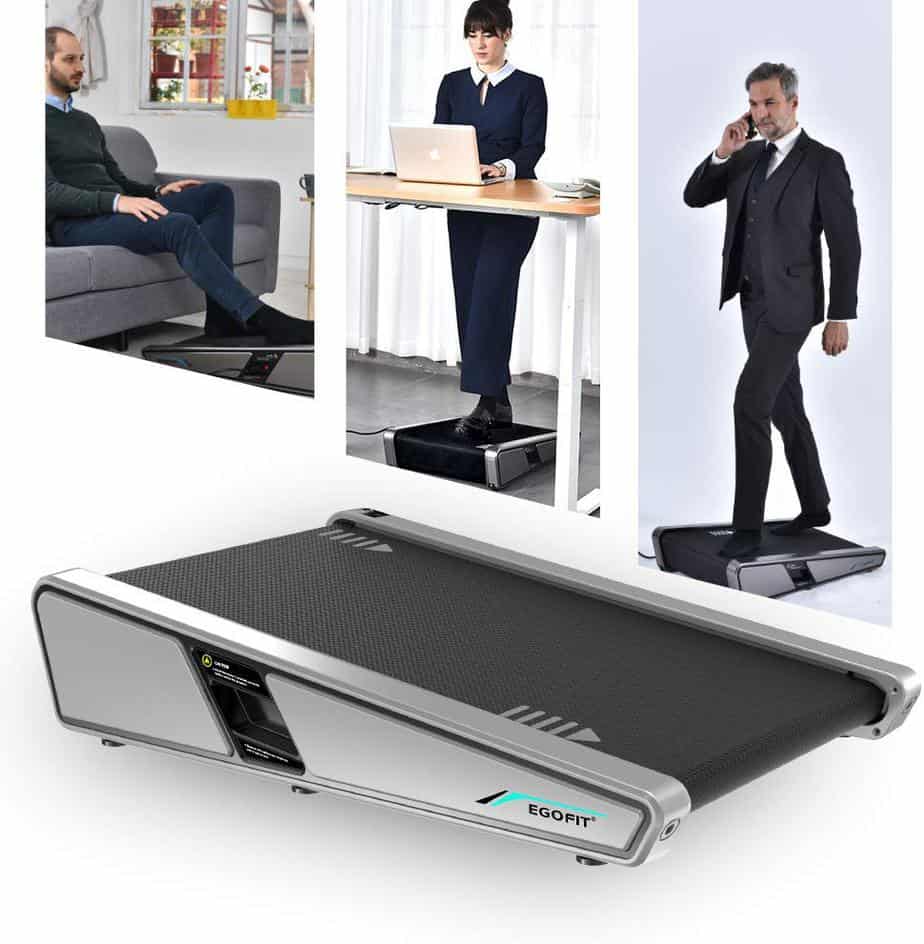 The Egofit Walker is the corporate companion that gets someone to exercise in the office or at home. There are a lot of pros about this product and one or two cons as well.
Product Brand: EgoFit
Product In-Stock: InStock