The Horizon T101 Treadmill (2018) is the newer model for 2013 T101(old model). The 2018 model has more workout programs, the motor is slightly powerful, has Bluetooth connectivity for the speakers and it's cheaper. They both have different console interfaces and designs. Other than that, everything else is pretty much the same.
The Horizon T101 Treadmill (2018) is Amazon's Best Choice and one of the best-selling models in its price range. It has garnered a lot of positive user reviews on Amazon and many other fitness equipment review sites have also positively reviewed it.
It has a space-saving design that allows you to easily fold and unfold it. The running deck has a unique 3-zone variable cushioning system that reduces the impact on the lower body joints.
The treadmill supports 300 pounds/136 kg maximum user weight capacity and its 2.5 Continuous horsepower motor provides 0.5-10 mph. Also, there is an automatic incline system that offers 0%-10% (10 levels).
Other extras such as Bluetooth speakers enable you to sync with your smartphone in order to enjoy listening to music while working out. This can hugely impact your productivity because it distracts you and allows you to work out longer.
The Horizon T101 Treadmill (2018) is not just one of the best in its price range but also one of the best treadmills available.
Click right here to have a peek at the price of the Horizon T101 Treadmill (2018) on Amazon.
The Frame and Construction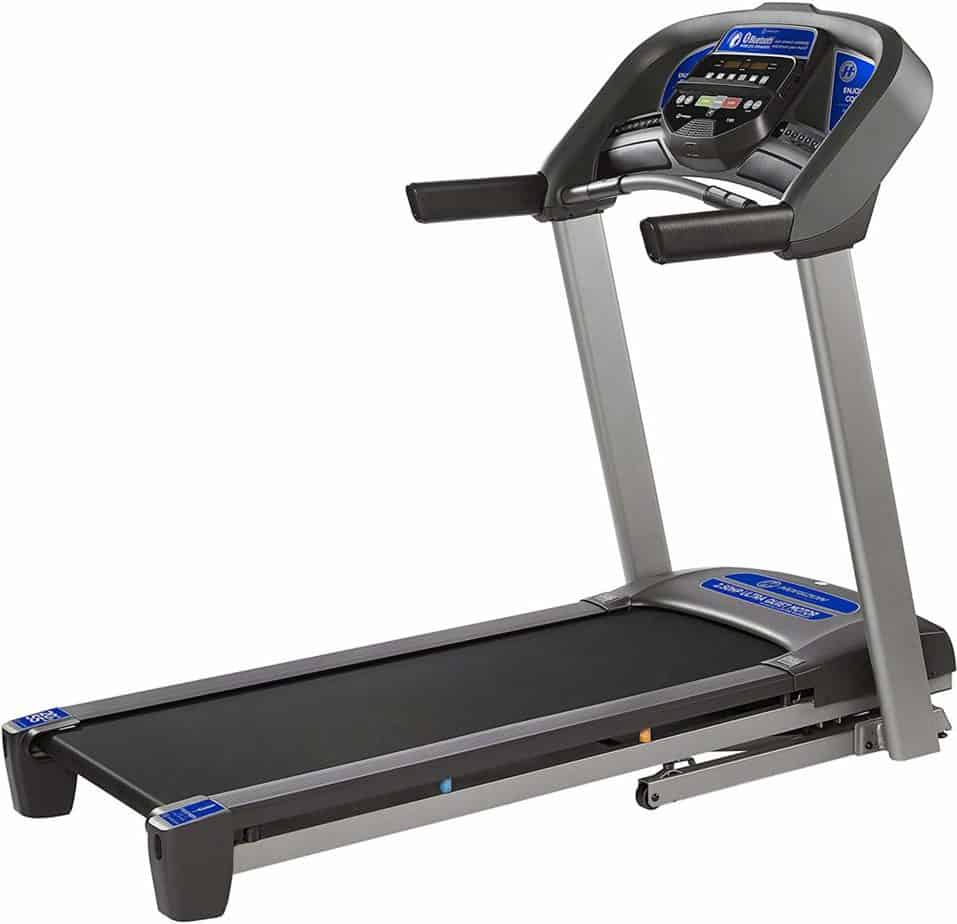 Apparently, the Horizon T101 Treadmill (2018) has a sturdy construction that features an anti-corrosive powder-coated steel frame. It is durable and mostly made of steel with the exception of the motor and the side rail covers, and the console dashboard which are made of ABS material.
The masts are coated with a gray color while the base is coated with black paint.
The textured side rail on each side of the deck allows you to quickly step on them when you don't wish to continue exercising without having to switch OFF or pause the treadmill.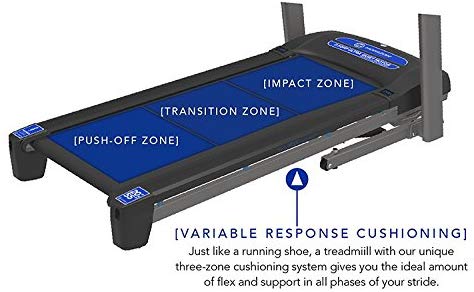 Also, speaking of the deck, the running surface is equipped with a 3-zone variable response cushioning system that includes Impact, Transition, and Push-Off Zones. Therefore, you can work out longer with comfort.
The tread belt dimensions are 55'' long by 20'' wide, enough to accommodate most users to walk, jog, and perform light running exercises. The treadmill has internal rollers that could be considered thick. The front roller is 1.8'' thick, while the rear roller is 1.66'' thick.
Its outstanding base framework promotes maximum stability while its overall assembled weight of 180 pounds/81.6 kg further makes it stable.
The Horizon T101 Treadmill (2018) is a fairly large treadmill just like the Sunny Health & Fitness SF-T7820 Treadmill. So, the truth is it's going to require a little bit of space for working out. Although, it has a space-saving design that reduces its size when folded up for storage.
The overall assembled dimensions of the treadmill are 75'' long by 34'' wide by 58'' high. In other words, the workout area perimeter for this unit would be 6'.3'' in length by 2'9'' in width. Moreover, it's recommended to add extra clearance of 3' at the rear and 2' on each side of the treadmill for easy access and safety purposes.
Obviously, prospective users living in a small apartment or room may not be able to accommodate this treadmill.
In order to avoid ceiling height issues, you need to add a few inches to your height to determine the perfect ceiling height of the room where the treadmill is to be used. For instance, the normal step-up height of the treadmill without the incline is 8''. So, add up the step-up height and your height and an additional 20'' (in case an incline is applied) to determine the recommendable ceiling height that is great for the treadmill.
That said, the folded dimensions are 46'' long by 34'' wide by 61'' high. Apparently, the Horizon T101 Treadmill (2018) won't fit under the bed when folded up but the space required for storage is reduced.
The Motor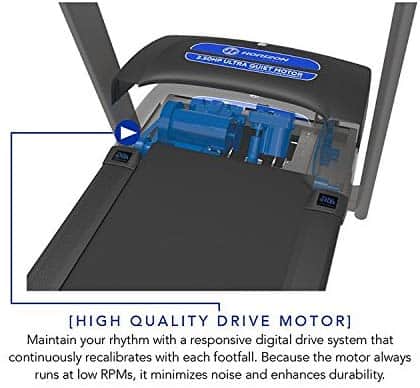 The Horizon T101 Treadmill (2018) is equipped with a 2.5 CHP motor. As aforementioned, this is slightly more powerful than the old model treadmill. It provides a continuous performance without overheating or breaking down for a prolonged workout.
Its operation is characterized by smoothness and near-absolute quietness. It is almost vibration-free as well due to the integrated small flywheel.
So, exercising where there are family members or neighbors around won't really be a problem. Also, watching a favorite TV show or listening to good music while exercising is viable.
The motor provides a speed range of 0.5-10 mph. There are gradual and quick speed buttons that allow you to adjust the speed to a tailor-made or a higher level. The gradual speed buttons allow you to adjust the speed by an increment of 0.1 mph while there are quick speed buttons for 2, 3, 4, 5, 6, 7, 8, and 10 mph. Selecting any of these quick-speed buttons starts your workout at a high-speed level.
All the speed buttons are on the console and can only be adjusted through them.
The Incline System
The Horizon T101 Treadmill (2018) does not have a decline system but it does have an automatic incline system that could be adjusted up to 10%. Being automatic means, it's motorized, therefore, can only be functional when the treadmill is plugged into a power source.
The incline system consists of a motor and a small lift underneath the front base of the treadmill. So, when the incline is adjusted, the front base lifts up to the selected level thereby producing a certain level of difficulty for you.
Just as the speed, the incline could be adjusted gradually by 1% or by quick buttons of 0, 1, 2, 4, 5, 6, 8, and 10 %.
The incline also automatically engages when a certain preset program is selected, and so does the speed as well.
The Console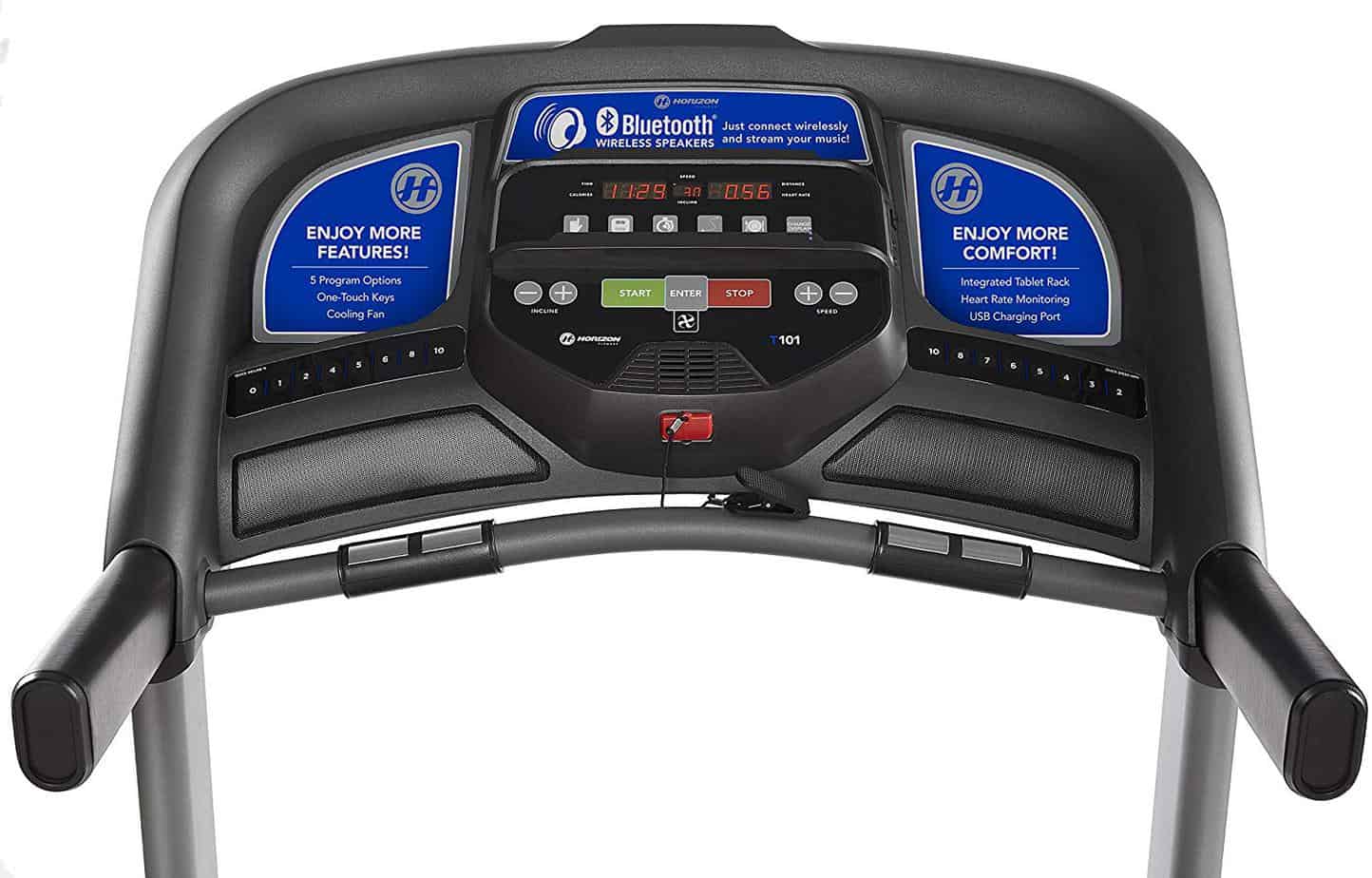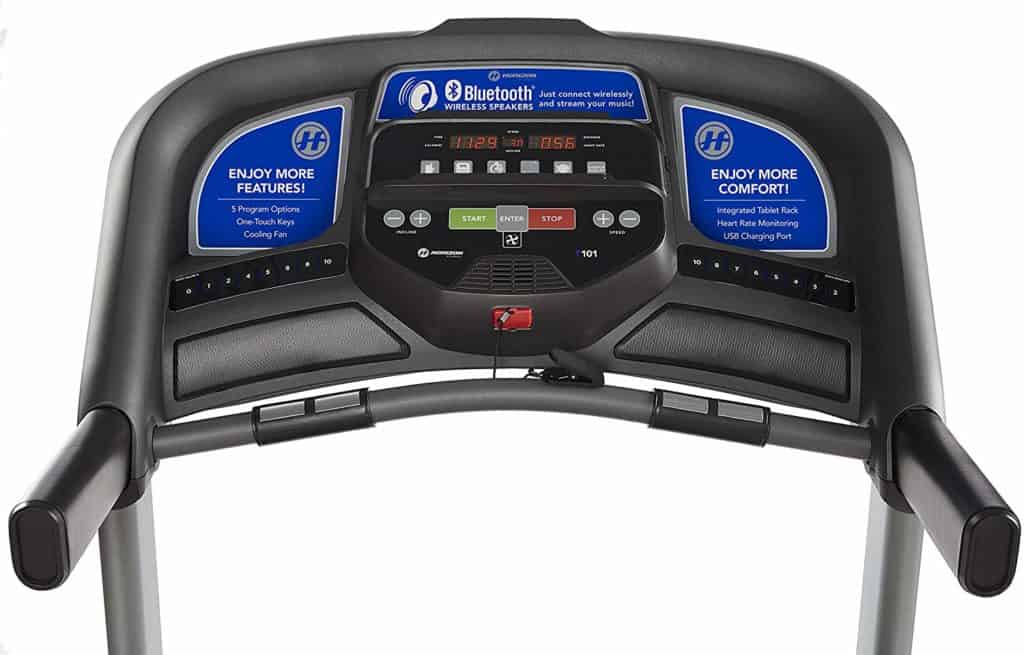 The Horizon T101 Treadmill (2018) comes with an average console that is totally different in design with the old model. The console is large but features 3 separate small red LED display windows. Each window displays 2 workout stats.
They display workout stats such as Time, Calories burned Speed, Distance, Incline, and Heart Rate.
There are 5 program buttons available on the console. The first program option has a manual program that allows you to manually adjust the speed and the incline as you see fit during a workout. The second, third, and fourth option program buttons offer 10 interval-based programs, 10 weight loss-based programs, and 13 distance challenges that include 1 mile, 2 miles, 5k, 5 miles, 10k, 8 miles, 15k, 10 miles, 20k, half marathon, 15 miles, 20 miles, and marathon goals respectively.
The last program button allows you to set up calorie-burning goals.
The console also has Bluetooth speakers, water bottle/accessory holders, a tablet rack, and a cooling fan.
There is a set of handrails and a set of handlebars integrated with EKG heart rate sensors which transmit your heart rate data to the monitor when held during workouts.
The console is not telemetry enabled (cannot connect to a wireless chest strap), and it cannot connect to any online app. The Bluetooth function available is only for syncing the built-in speakers with a smartphone device for streaming music.
Storage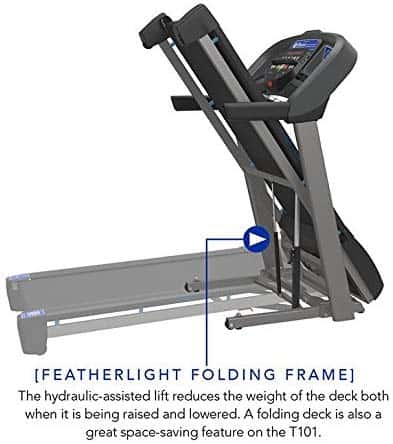 The Horizon T101 Treadmill (2018) has a FEATHERLIGHT FOLDING FRAME and a space-saving design that consists of a hydraulic cylinder that reduces the weight of the deck when folding and unfolding the treadmill. When unfolding, the hydraulic cylinder gradually and gently lowers the deck unassisted to avoid damaging the treadmill or the floor.
Moreover, folding the treadmill saves space during storage.
There are transport wheels incorporated into it that facilitate the relocation process.
Accessory
The treadmill has accessory/water bottle holders, a cooling fan, a tablet holder, and Bluetooth speakers.
These accessories ensure that you are comfortable while working out, they ultimately enable you to work out longer and productively.
Approval Rating
Despite the features that could have been added to this treadmill but didn't, users still feel cool with it. Largely because of the fact that it's a budget-friendly unit and is still one of the best in its price range.
Thus, it's Amazon's Choice and most users gave it a favorable review.
Pros/Features Overview
Sturdy construction
Supports a high user weight capacity of 300 pounds/136 kg
Cushioned running surface (3-zone variable response cushioning system)
Decent and sizable running surface
2.5 CHP motor provides an adequate drive for walkers, joggers, and runners up to 300 pounds/136 kg
The motor provides a speed range of 0.5-10 mph
There are gradual speed buttons that allow a 0.1 mph increment and quick speed buttons for 2, 3, 4, 5, 6, 7, 8, and 10 mph
The automatic incline system offers 0%-10% (10 levels) gradual buttons adjust by 1% while there are quick buttons for 0, 1, 2, 4, 5, 6, 8, and 10 %.
40 workout programs
Space-saving design
Easy folding and unfolding mechanism
Bluetooth for speakers
LED display windows for Speed, Time, Distance, Calories, Incline, and Heart Rate
EKG contact sensors
Its operation is smooth, quiet, and almost vibration-free
Easy to assemble
Assembly tools are included
The maintenance requirement is low
A bottle of lubrication oil is included
Cooling fan, tablet holder, and accessory/water bottle holders are included
The warranty is good
Cons
No online app connectivity
The console is telemetry enabled
Warranty
Lifetime for Frame
Lifetime for Motor
1 Year on Parts
1 Year for Labor
Product Dimensions and Specifications
Length 75''
Width 34''
Height 58''
Folded dimensions: 46'' L x 34'' W x 61'' H
Tread belt: 55'' L x 20'' W
Shipping Dimensions: 73'' L x 29.5'' W x 12'' H
Shipping weight: 220 pounds/99.7 kg
User weight capacity: 300 pounds/136 kg
Frame: Steel
Assembled weight: 180 pounds/81.6 kg
Motor: 2.5 CHP
Speed range: 0.5-10 mph
Incline: Automatic, 0%-10%
3 Zone variable response cushioning system
Monitor: 3 LED display windows for Time, Distance, Speed, Calories, Incline, and Heart Rate
EKG contact HR sensors: Yes
Telemetry enabled: No
Transport wheels: Yes
Cooling fan: Yes
Tablet holder: Yes
Accessory/water bottle holders: Yes
Bluetooth speakers: Yes
Online app connectivity: No
Shipping
The Horizon T101 Treadmill (2018) is shipped out in a well-packaged box and that is slightly heavy. Therefore, you may want it delivered to the room you wish to use for workouts.
Amazon provides standard free shipping and makes delivery within a couple of days.
Assembly
Assembling this treadmill is not complicated at all since it comes with the major parts pre-assembled. Hence, you are only required to attach the masts and the console to the core unit.
The assembly won't take up to an hour.
The tools for coupling and the instruction manual that guides you through the assembly process are included in the package.
Maintenance
The tread belt of the Horizon T101 Treadmill (2018) needs to be lubricated periodically. As a result, a bottle of lubricant oil comes with the package. However, you will have to purchase more as maintenance is a continuous exercise.
Ensure to keep the treadmill clean especially not exposing the console to a wet environment and keeping the tread belt free from dirt and debris.
Further maintenance instructions are detailed in the owner's manual.
Conclusion
The Horizon T101 Treadmill (2018) is a typical home treadmill. It is designed to provide you with aerobic exercises that lose weight and improve cardiovascular health, strength, and endurance.
It has a 2.5 CHP motor that provides a speed range of 0.5-10 mph, and an incline system that offers 0%-10% adjustments. Bluetooth speakers help with the output of streaming music from your smartphone device and more.