The Muuv Smart Cycling Bike is an innovative app-based indoor cardiovascular exercise machine that provides a personalized workout experience. Your workout session will be interactive when connected to the Muuv smart audio coaching app.
For example, the voice control app guides and instructs you on the best resistance level to be used when necessary, or how tight your grips should be on the handlebar. It senses your mood and suggests what to do for a result-oriented workout.
Because of this app, high-end spin bikes such as Keiser Indoor Cycling Bike look like entry-level units. Although, in reality, that is not the case, however, the bike leaves an impressive footprint in the realm of innovative indoor exercise equipment.
Click right here to have a peek at the best price of the Muuv Smart Cycling Bike.
The Frame & Construction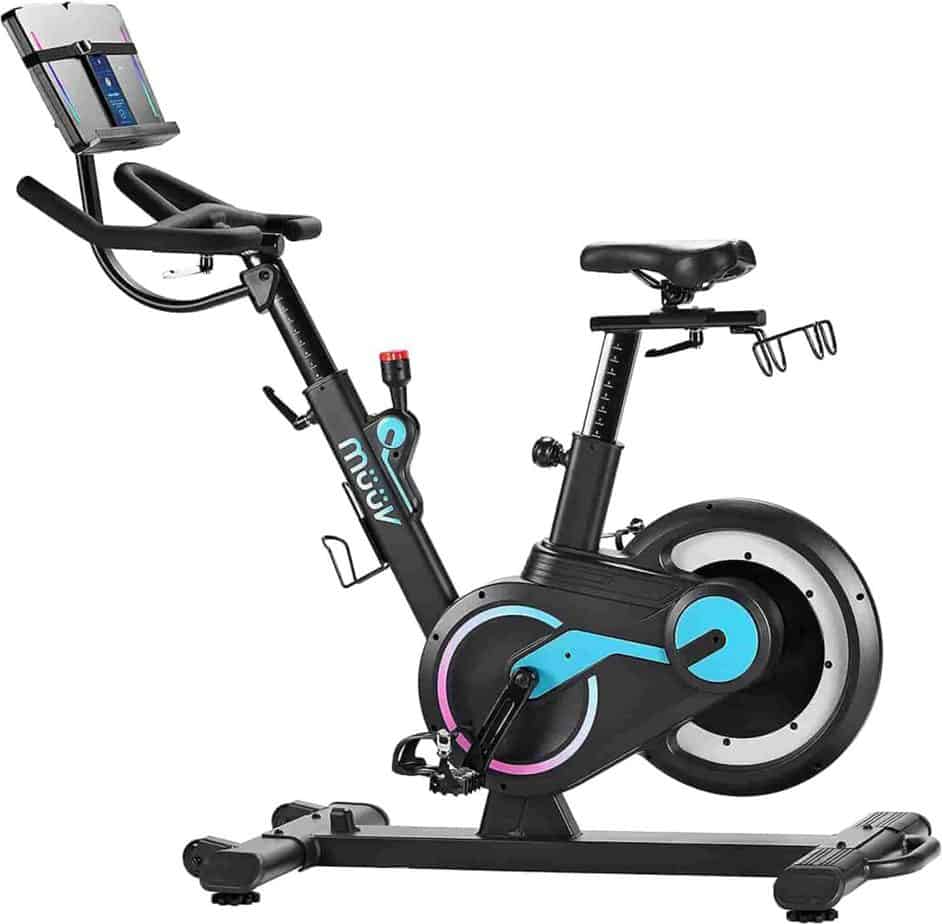 The Muuv Smart Cycling Bike is a Stamina brand that possesses a durable and solid premium steel frame, and it supports a maximum user weight capacity of 330 lbs./149.6 kg, while the drive-train and decorative covers are made of ABS.
It has a tri-color feature that includes black, magenta, and aqua accents, which makes it beautiful.
The frame is welded to a base that features front and rear steel stabilizers with adjustable levelers. This provides optimum stability needed for a safe and productive workout experience.
Moreover, the overall assembled weight (97 lbs./44 kg) further makes it sturdier.
When it comes to relocating the bike to and from storage, it is easy because there are transport wheels at the front base and a lifting handle at the rear designed to help in this regard.
The assembled dimensions of the unit are 57'' long by 22.5'' wide by 55'' high. Differently put, this means the bike requires a workout area with measurements of 4'75'' (144.78 cm) by 1'87'' (57.15 cm), and extra safety clearance of 2' around it.
The Seat of the Muuv Smart Cycling Bike
It has a cushioned seat that is covered with vinyl material, designed to convey maximum comfort. However, it can be improved, if need be, by using a gel seat cover, or better still have it replaced with another saddle of choice.
The seat is 4-way adjustable; meaning it can be adjusted between several positions vertically (up/down) and horizontally (fore/aft). This enables users of different heights to be accommodated.
The minimum inseam is 27'' and users that are up to 6'5" can utilize the bike.
There are dumbbell racks (dumbbells not included) attached to the rear of the seat.
The Handlebar
The Muuv Smart Cycling Bike features a multi-grip designed handlebar that is coated with anti-slip rubber foam material. It offers several grips for different cycling postures while ensuring safety and comfort during an entire workout session.
It is also 4-way adjustable, making the bike to be highly customizable. Although, it does not have heart rate sensors on it.
Both the handlebar and the seat posts are calibrated for an easy and quick adjustment process.
The Pedals
The bike is equipped with textured toe caged pedals that also have adjustable safety straps. Thus, they accommodate different foot sizes securely and comfortably regardless of cycling style.
Unfortunately, they can only be ridden with standard gym shoes because they are not dual-sided that include special spin shoes.
The Drive
The Muuv Smart Cycling Bike is a belt-driven bike with a rear-mounted flywheel.
The drive system consists of elements such as a ribbed V-belt (1180-5Pk), a pulley, a solid crankset, crank-arms, and the high inertia 26.46 lbs./12 kg flywheel.
Hence, its operation is smooth, quiet, and vibration-free as opposed to a chain drive system, and it doesn't require pre or post-maintenance.
So, you can work out at any time of the day without constituting a nuisance around people.
Since this is a fixed gear bike, you can pedal in reverse if you wish to diversify your workouts and tone more muscle groups. But you must gradually slow down or pull down the brake handle whenever you intend to stop pedaling because you cannot coast on the bike.
The Resistance System
The Muuv Bike features a magnetic resistance system with 32 adjustable levels. This could be adjusted manually or via the app voice control.
To increase the resistance manually, simply turn the tension control knob clockwise, or counterclockwise to decrease it.
While on the other hand, the resistance level increases or decreases automatically when the app suggests it and the user gives permission. Also, you will be able to set a resistance level within the app without having to physically manipulate the tension control knob.
There are enough resistance levels that provide an easy to difficult workout experience. Hence, beginners, intermediaries, and advanced athletes will appreciate the quality of workouts they get.
The operation of the bike remains smooth and quiet at all times regardless of the resistance level that is being used. The reason for this is because no friction occurs during the process of generating resistance, and this also prevents parts from wearing out.
The Console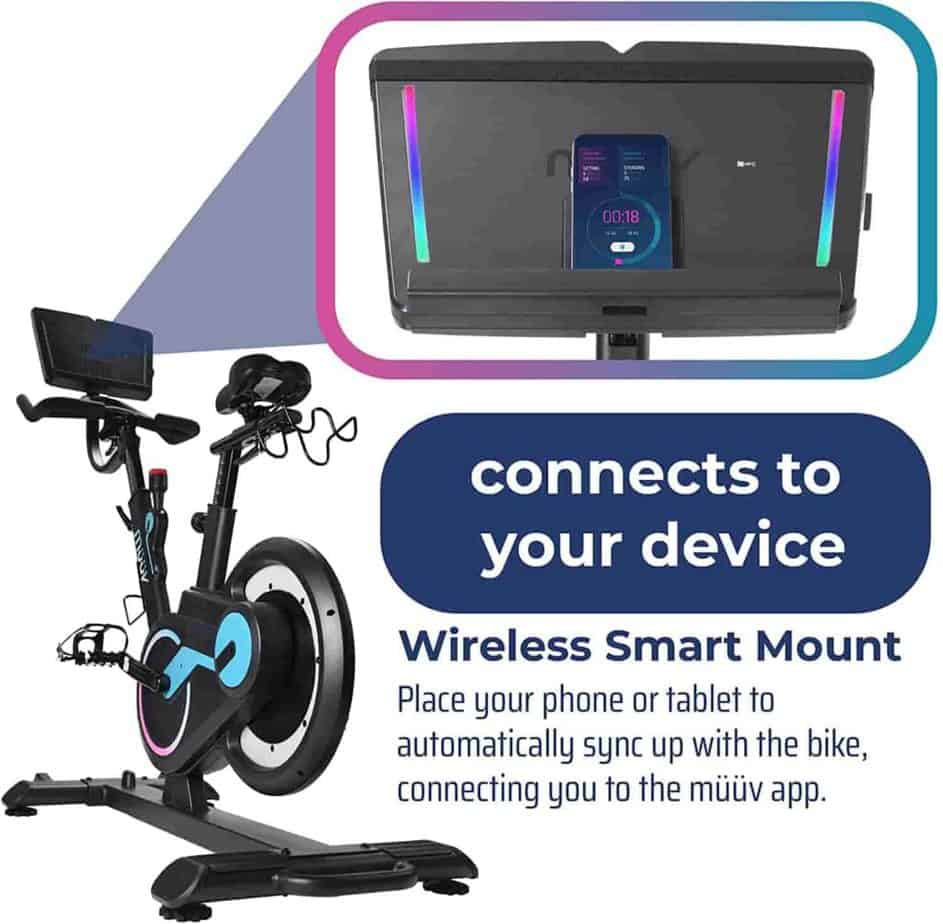 There is no conventional console on this bike; however, it has a smart mount that connects a smartphone to the Muuv app for a personalized workout, and access to workout programs that include interval, hills, and more.
The app offers the opportunity to choose a coach and select an iHeartRadio station for streaming of music.
Your chosen coach will be able to make suggestions to you on the fly based on the information from the bike and your wireless heart rate device (included). For instance, if your RPM is low, your coach would ask if the resistance level should be decreased. Simply say 'yes' or 'tap' for the resistance level to be decreased automatically.
There is a 'create' tab that puts together a personalized workout program that is tailored just for you.
Basically, the app gives you control of the bike in many ways, some of which have been aforementioned, and its tech and coaching capability simply help you to succeed in your physical fitness journey.
The synchronization of the app and a smartphone is automatically done once the latter is placed on the smart mount that has real-time progression workout LED indicators.
Accessories
The Muuv Smart Cycling Bike has a smart mount for devices. It also has dumbbell racks and a water bottle holder.
Thus, you can keep a pair of dumbbells (not included) and water handy for light arm strength training and maintenance of proper hydration during a workout session.
Storage
The bike is not foldable, nonetheless, it doesn't take up too much space for storage. After all, an area with measurements of 4'75'' length by 1'87'' width will be enough; and regardless of its overall assembled weight (97 lbs./44 kg), you can easily move it around the room via the front-mounted transport wheels and the lifting handle at the rear.
Pros/Features Overview
Designed with a premium steel for sturdiness and durability
Supports a maximum user weight capacity of 330 lbs./149.6 kg
It's got a multi-colored painting that makes it beautiful and elegant
The 4-way adjustable multi-grip handlebar offers different grip positions
The 4-way adjustable padded and grooved seat provides lasting comfort
The bike is customizable to accommodate individuals of different heights and sizes
The base integrates stabilizers with adjustable levelers for optimum stability
Its operation is smooth, quiet, and vibration-free; thanks to the belt drive and magnetic resistance system
There are 32 magnetic resistance levels that offer easy to difficult workout experience
The bike has a built-in Muuv app and a smart mount that provide voice coaching, and several workout programs such as interval, hill, and more;
iHeartRadio station is also available for entertainment purposes;
Heart rate chest strap is included in the package
It is easy to sync the app and a smartphone
Maintenance requirement is minimal
Assembly is easy
Transport wheels and lifting handle are included
Cons
No console
Pedals do not accommodate special spin shoes
Warranty
5 Years for the Frame
90 Days for Parts
Product Dimensions & Specifications
Length: 57''
Width: 22.5''
Height: 55''
Shipping dimensions: 42'' L x 34.5'' W x 9.75'' H
Net weight: 97 lbs./44 kg
Gross weight: 125 lbs./56.6 kg
Maximum user weight capacity: 330 lbs./149.6 kg
Drive: Belt
Resistance: Magnetic with 32 adjustable levels
Seat: 4-way adjustable
Handlebar: 4-way adjustable
Pedals: Toe cages with adjustable straps
Flywheel: 26.46 lbs./12 kg
Built-in Muuv app & smart mount
Wireless HR chest strap included
Transport wheels: Yes
Water bottle holder: Yes
Dumbbell rack included
Shipping
The Muuv Smart Cycling Bike is shipped in a well-packaged box that weighs 125 lbs./56.6 kg, with dimensions of 42'' long by 34.5'' wide by 9.75'' high.
It takes a couple of days for it to be delivered by major vendors such as Amazon.
Assembly
Assembly is required but not difficult to carry out because the major components have already been integrated.
You only need to attach the stabilizers, the pedals, the seat/post, the handlebar/post, and the smart mount to the main core unit.
Moreover, an instruction manual is included in the package to help guide you through the assembling process.
Maintenance
It will suffice to say that this unit is maintenance-free; however, there are basic things that need to be done in order to keep it in good condition.
For example, examine the bike before use to ensure that every part is tight and in good shape. Keep it clean at all times, and store it in a dry, cool, and clean area.
Conclusion
The Muuv Smart Cycling Bike combines a premium structural design and a Muuv coaching app to provide outstanding workout experiences.
With this bike at your disposal, you will be able to improve your cardiovascular health, burn calories, and tone muscle groups in a considerable amount of time.
Muuv Smart Cycling Bike Review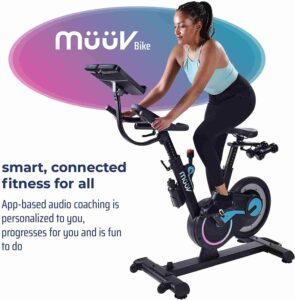 The Muuv Smart Cycling Bike is an innovative app-based indoor cardiovascular exercise machine that provides a personalized workout experience. Your workout session will be interactive when connected to the Muuv smart audio coaching app.
Product Brand: Stamina
Product In-Stock: InStock