The ECHANFIT Magnetic Indoor Exercise Cycling Bike also known as the Prime series CBK 1902 Magnetic bike is one of the few budget bikes that have a magnetic resistance system. It does have something else that may interest users, and that is its overall construction and it supports nearly 300 pounds/136 kg maximum user's weight.
The seat and the handlebar adjustments allow users between 5'1'' to 6'8'' to be accommodated. The integrated magnetic resistance and belt drive systems provide a smooth and quiet operation that emboldens users to workout at any time of the day.
It has a light 19 pounds/8.6 kg perimeter weighted flywheel. This might be appreciated by the elderly, those recovering from an injury and those that wish to do a lot of interval training as they would be able to easily go from slow to fast pedaling. But the simulation of a bicycle's operation may not necessarily be there or be felt.
The PU seat is comfy and the ergonomically designed handlebar provides different hand positions.
That said, the bike doesn't have an LCD monitor. So, you will have to use an external device to keep track of your workout progress.
Click right here to have a peek at the price of the ECHANFIT Magnetic Indoor Exercise Cycling Bike on Amazon.
The Frame and Construction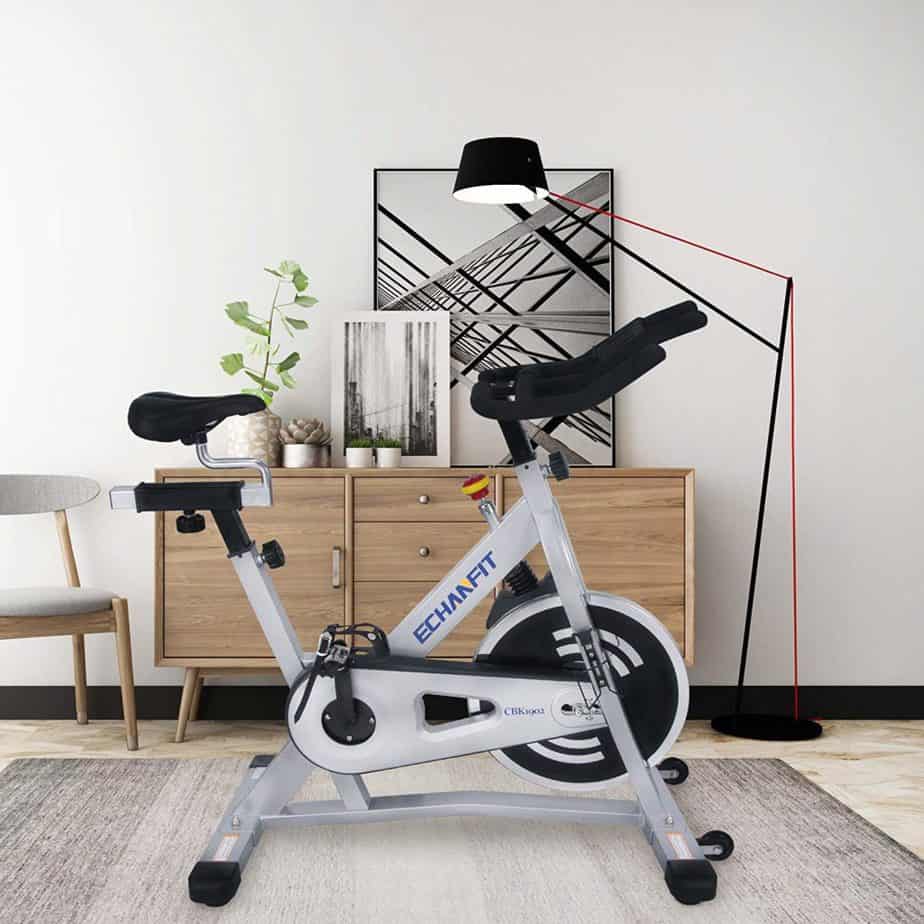 The ECHANFIT Magnetic Indoor Exercise Cycling Bike (CBK 1902) overall construction is sturdy and stable. Its frame is made of steel and coated with anti-corrosive paint to prevent rust and eventual degradation. Its build mainly features steel with the exception of the belt guard that is made of ABS material.
The bike supports 297 pounds/134.7 kg maximum user weight capacity. It's a base framework that features front and rear steel stabilizer bars with adjustable rubber levelers underneath them, designed to enable the user to balance the bike on a surface that is not even.
This ensures good stability that eliminates wobbling during a vigorous workout. Even though the bike only weighs 53 pounds/24 kg, it boosts its overall stability.
There are two transport wheels at the front base that facilitates the relocation process of the cycling bike.
The bike's small footprint design will appeal to those that do not have enough space in their room or those that simply do not want bulky exercise equipment.
It overall assembled dimensions are 47.4 inches long by 21.6 inches wide by 48.5 inches tall. Differently put, this means the workout or the storage perimeter for this bike would be 4' long by 1'.8'' wide. However, for the workout area, additional extra clearance of 1-2′ might be necessary for a safe and comfortable workout experience.
The bike is customizable, thanks to the adjustable seat and handlebar.
The Seat
The seat is 4-way adjustable; could easily be adjusted vertically (upward/downward) and horizontally (fore/aft) via the turn-knobs. Basically, it can be moved forward and backward to get closer to the handlebar or farther and higher or lower to get closer to the pedals or farther.
This enables users between the heights of 5'1'' – 6'8'' tall to be accommodated.
The PU padded seat is fairly comfortable and has a standard connection mechanism that makes it possible for it to be replaced with another saddle. Although, hopefully, you won't have the need for that because it's comfortable enough to keep you working out longer.
The Handlebar
The ergonomically designed handlebar has multiple grips that allow the user to work out in different postures. It is also integrated with a tablet holder that was designed for the placement of a tablet/smartphone device so that you can take calls on the go or use it for entertainment purposes while working out.
The handlebar is covered with soft breathable yet durable foam for a comfortable and secure grip that lasts longer. This means no slippage or blisters will be experienced.
It is adjustable 2-ways only; vertically (upward/downward). Nevertheless, it complements the seat's adjustability to provide an optimum workout position for all users.
Usually, EKG sensors are embedded in the handlebar for pulse reading, but in this case, it doesn't have any. In other words, the bike does not have heart rate monitoring function. An external device must be used in order to read the pulse data or you may have to purchase a spin bike with the heart rate function instead.
Pedals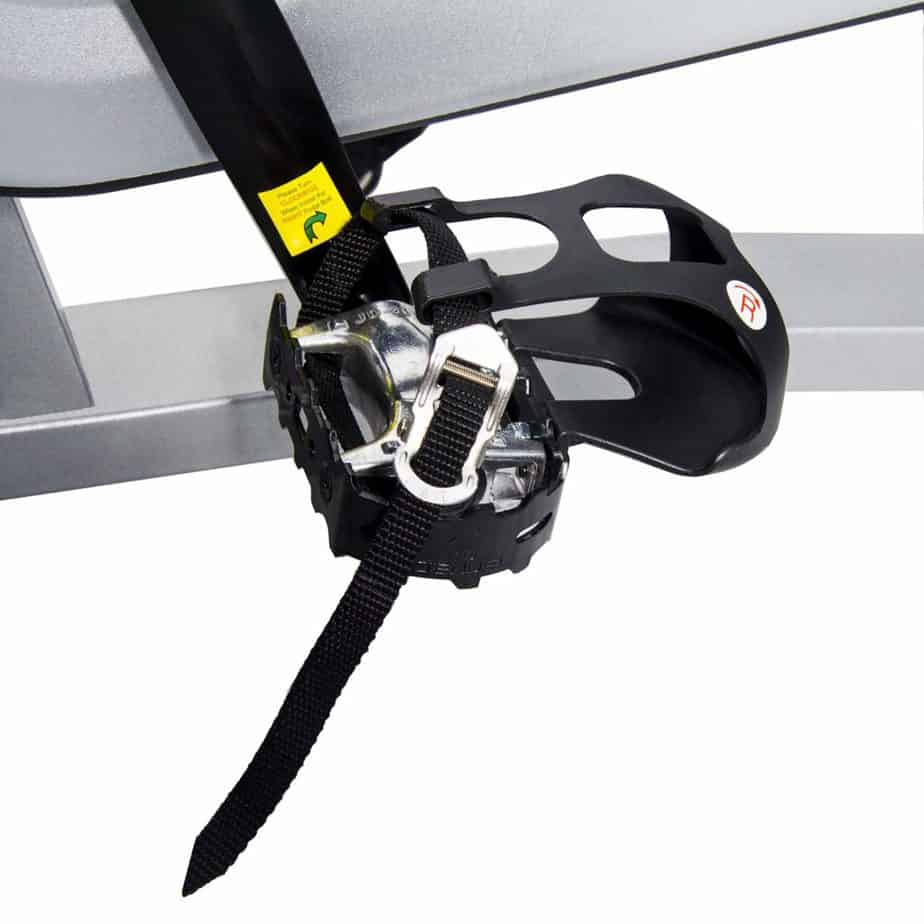 The pedals that are integrated into the ECHANFIT Magnetic Indoor Exercise Cycling Bike (CBK 1902) are toe cages with adjustable safety straps. They provide maximum safety and comfort during an intense workout.
They are not designed for spin shoes but for standard gym shoes. Although, they have a standard 9/16'' thread that makes it possible and easy for them to be replaced with SDP pedals that are widely available on the market.
The crankset and crank-arms are solid enough to support out-of-seat pedaling.
The Q-Factor (distance between the inner left pedal to the inner right pedal) falls within a range that does not place excessive pressure on the ankles and the knees. The narrower the Q-Factor the better.
It has about 177 mm/7 inches Q-Factor, not the narrowest and the best, but still good.
The Drive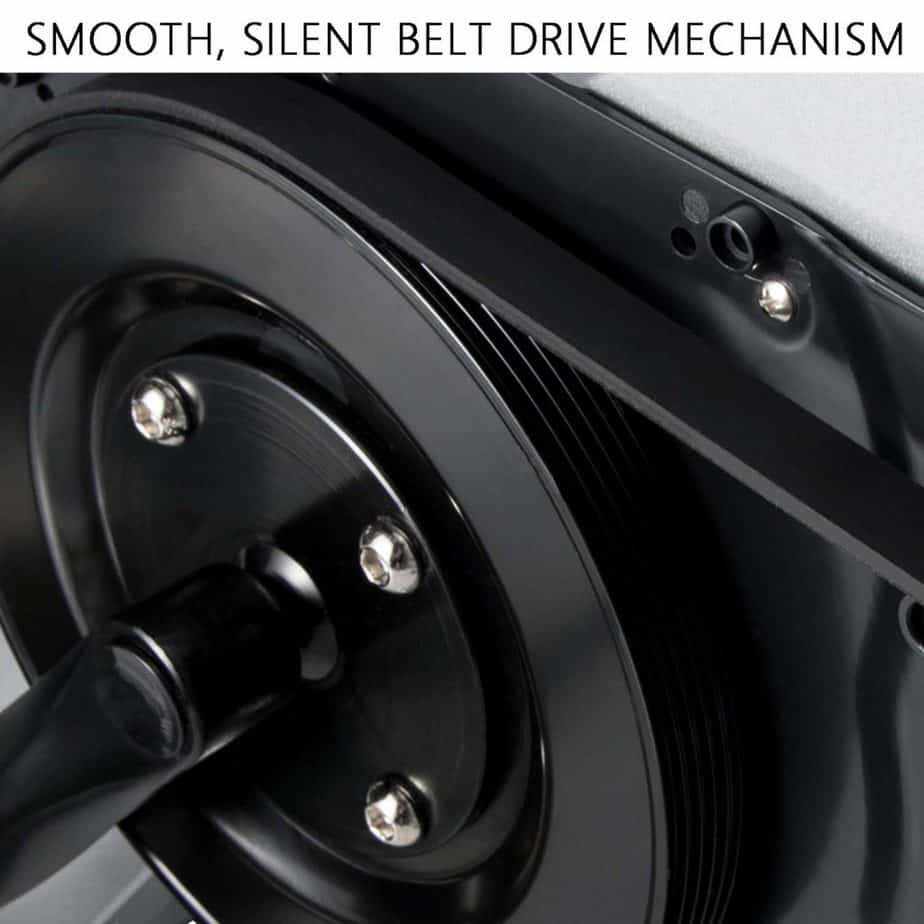 The CBK 1902 Indoor Magnetic Indoor Cycling Bike has a belt drive system. The drive system provides smooth and quiet operation.
Its belt drive system comprises a durable belt, pulleys, 3-piece crankset, crank-arms, the flywheel, and pedals. All these elements together make up the drive that is also maintenance-free. No post-lubrication or adjustments is required.
The drive is bi-directional. You can pedal in reverse in order to work on more muscle groups. This also means that you cannot coast on the bike as you could on a traditional bicycle due to the fact that the pedals and the flywheel are fixed, thus, they spin simultaneously.
It is important to note that you can work out at any time of the day due to its silent operation. The family or the neighbors won't feel bothered by your workout activities. Moreover, you will be able to watch your favorite TV show or listen to good music without any noise interference from your workout.
However, due to its light flywheel, the bike does not quite simulate or convey the feel of riding an outdoor bike. If it is any consolation, magnetic spin bikes mostly have lighter flywheels than spin bikes with a friction resistance system.
That said, the ASUNA Lancer Indoor Cycling Bike is a bike with a magnetic resistance system that features a 33-pound/15 kg precision-balanced flywheel.
The Resistance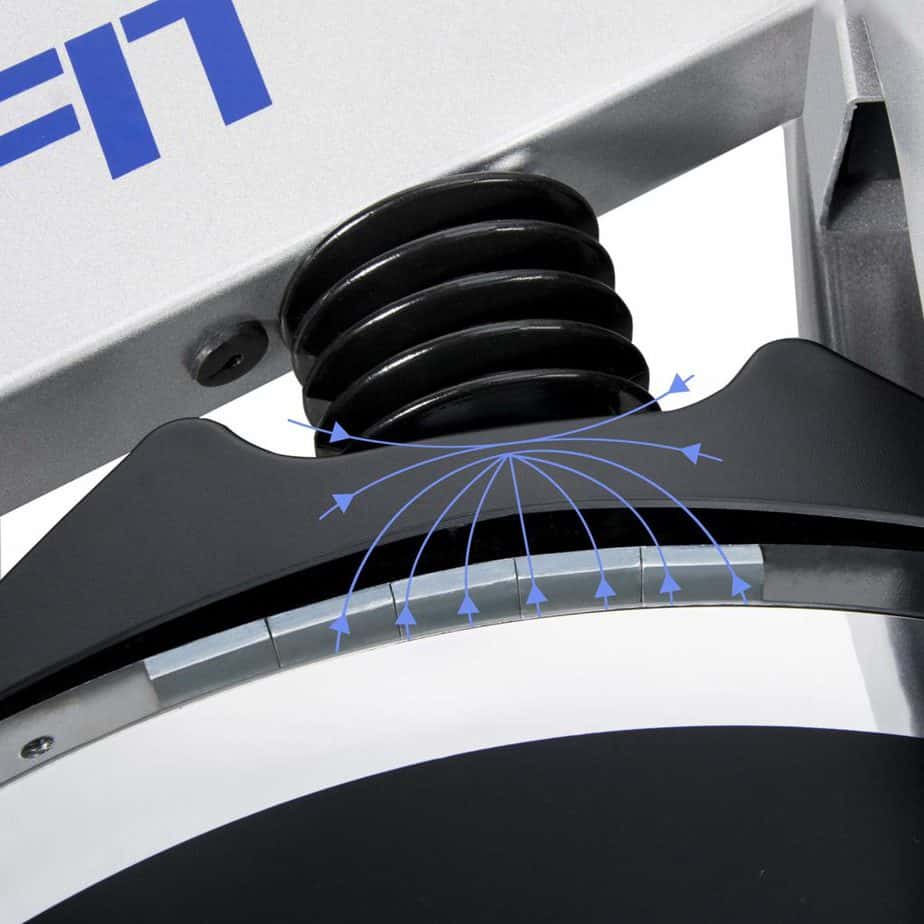 The ECHANFIT Magnetic Indoor Exercise Cycling Bike (CBK 1902) is equipped with a magnetic resistance system as clearly stated on its name. This is one of its selling points because, obviously, not many bikes in its category can boast of that.
The bike's operation is not only silent and smooth but it is void of a vibration that is usually caused by a friction resistance system. Also, no squeaking sound emanates when the magnetic resistance is engaged.
The resistance is generated when the magnetic brake pad emits a magnetic field around the flywheel without really coming in direct contact with it. This also prevents the magnetic brake pad from wearing out over time.
In other words, the magnetic resistance system is also maintenance-free. No lubrication is required and a replacement is not needed.
Its resistance is controlled via the tension knob. Turn it clockwise to increase the resistance intensity, and turn it counterclockwise to reduce it.
The resistance intensity is infinite. This means, there are no predefined resistance levels indicated on the tension knob. Simply turn until you feel you have the suitable resistance intensity needed for your workout.
The resistance intensities are suitable for most users and will enable them to lose weight and improve overall physical fitness.
The Console
The ECHANFIT Magnetic Indoor Exercise Cycling Bike (CBK 1902) does not have any console. Thus, no tracking function for workout progress, except if you use an external device with a smartphone.
Accessory
The bike has a water bottle holder and a tablet holder. These are nevertheless necessary accessories for a convenient and comfortable workout.
They allow you to keep water handy for hydration purposes and also to be able to entertain yourself by watching a movie or listening to music while exercising on the bike.
Storage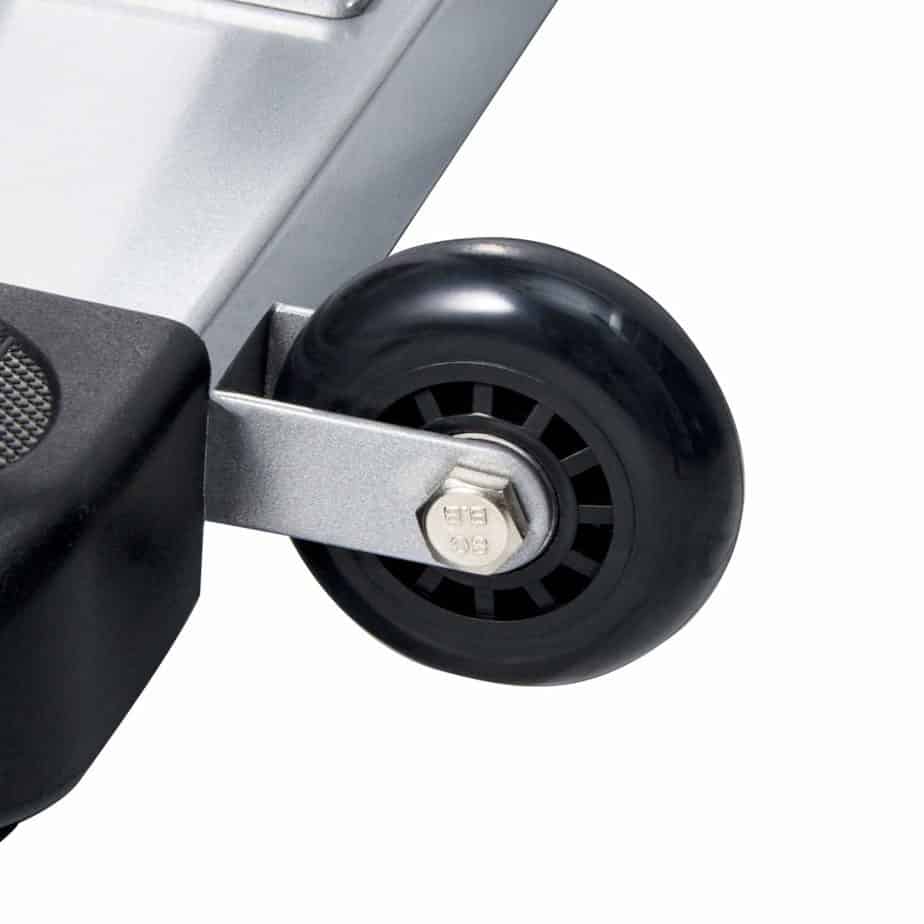 The ECHANFIT Magnetic Indoor Exercise Cycling Bike (CBK 1902) is pretty easy to store away. No, it isn't foldable, but it doesn't take up much space either.
It is integrated with transport wheels at the front base which facilitates the relocation of the bike to and from storage.
Approval Rating
The bike has fewer Amazon customers' reviews at the time of this write-up, but they are all positive. The users clearly indicated that they were impressed by the overall construction and performance of the bike. Hence, they rated it favorably.
Pro/Features Overview
Sturdy, durable, and stable
Customizable and can accommodate 5'1'' to 6'8'' tall users
Operation is quiet and smooth
Transports wheels for relocation are integrated
Adjustable levelers that enable a user to balance the bike on a crooked surface
The PU padded seat is comfortable and replaceable
The handlebar provides multiple hand positions
The toe cages pedals provide safe and comfortable pedaling motion and are replaceable
The bike supports 297 pounds/124.7 kg maximum user weight capacity
Supports out-of-seat pedaling
Easy to assemble
Low maintenance
Great for interval training
Doesn't need a power source to be functional
The drive is bi-directional; can pedal forward and in reverse
The water bottle holder is included
The tablet holder is included
Cons
No console or monitor to track workout progress
Warranty
2 Year limited warranty
Plus 30 days money back
Product Dimensions and Specifications
Length 47.4''
Width 21.6''
Height 48.5''
Weight: 53 pounds/24 kg
Supports 297 pounds/124.7 kg maximum user weight capacity
Drive: Belt
Resistance: Manual magnetic
Console: No
Pedals: Toe cages, 9/16'' thread
Handlebar: Multi-grip designed; 2-way adjustable
Seat: PU padded and 4-way adjustable
Transport wheels: Yes
Water bottle holder: Yes
Tablet holder: Yes
Q-Factor: 177 mm/7''
Flywheel: Dia. 17.72'', weighs 19 pounds/8.6 kg
Suitable for user's height: 5'1'' to 6'8''
Shipping
The ECHANFIT Magnetic Indoor Exercise Cycling Bike (CBK 1902) is being shipped out in a single box and Amazon provides free shipping.
Assembly
An instruction manual and all the installation accessories are included in the package. These enable you to easily put it together.
Interestingly, the major components are preassembled. You only need to attach the seat and the handlebar posts, the seat, the handlebar, the stabilizer bars, and the pedals to the core unit.
The assembly takes about 30 minutes or more to accomplish, nothing is complicated.
Maintenance
The maintenance for this bike is almost non-existent simply because of its belt drive and the magnetic resistance systems.
That said, you need to keep the bike clean at all times. Examine it for any loose or broken part that might need to be re-tightened, repaired or replaced before use.
Further information is included in the owner's manual.
Conclusion
The ECHANFIT Magnetic Indoor Exercise Cycling Bike (CBK 1902) is a good buy that for many hardly has a downside that could be a deal-breaker.
The bike is affordable, even as it provides you with the opportunity to work out toward achieving your fitness goals without bothering your family or neighbors.
ECHANFIT Magnetic Indoor Exercise Cycling Bike (CBK 1902) Review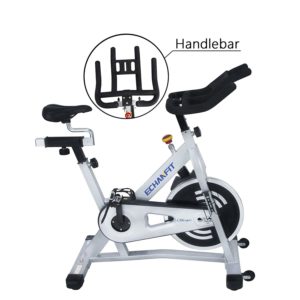 The bike supports 297 pounds/134.7 kg maximum user weight capacity. It's a base framework that features front and rear steel stabilizer bars with adjustable
Product Brand: Echanfit
Product In-Stock: InStock