The Cycool Belt Drive Stationary Bike (C1) is an affordable, entry-level indoor spin bike that offers aerobic exercise. It is compact and lightweight; therefore, it is easy to move from one location to another with the aid of integrated transport wheels.
Its overall design and Construction make it sturdy and stable regardless of the fact that it's a lightweight unit. The bike supports 220 pounds/99.7 kg maximum user weight capacity.
The heavy flywheel and the incorporated belt drive system provide smooth, quiet, and vibration-free motion. The bike is customizable (the seat and the handlebar are adjustable) so that users of different heights and sizes may be accommodated.
Beginners, intermediaries, and even advanced users will feel the challenge the resistance system poses. You will be able to track your workout progress via the LCD monitor that tracks Time, Distance, Speed, Calories Burned, and Odometer.
The included accessories such as the tablet and water bottle holders enable you to work out with ease and convenience as well.
Click right here to have a peek at the price of the Cycool Belt Drive Stationary Bike (C1) on Amazon.
Frame and Construction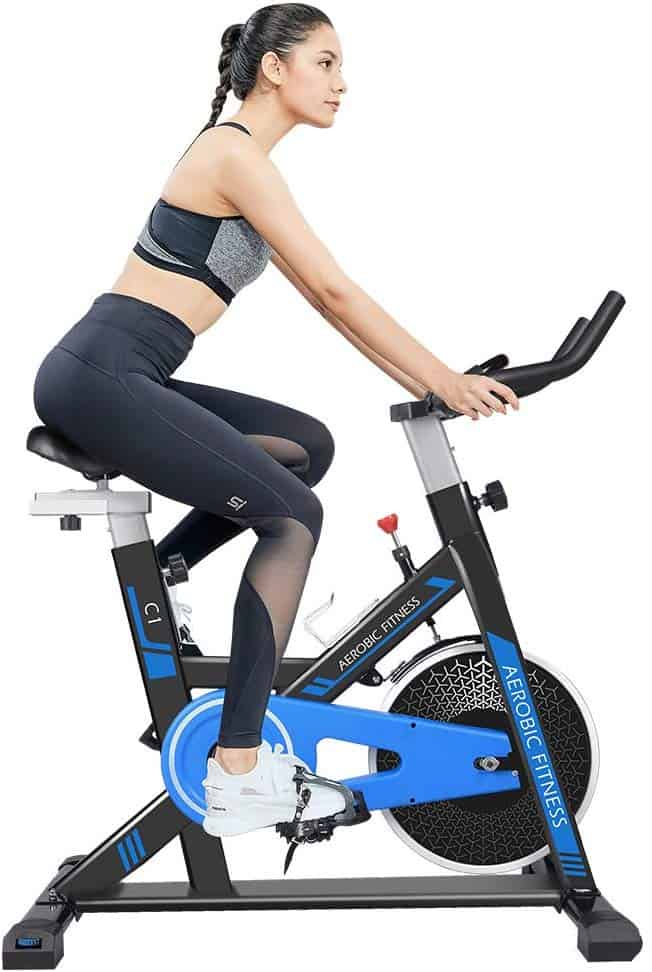 The Cycool Belt Drive Stationary Bike (C1)'s frame is made of durable, and anti-corrosive coated steel. The only ABS material on the bike would be the belt cover and the tablet holder.
Although, it only supports 220 pounds/99.7 kg maximum user weight capacity unlike its contemporary the ANCHEER Indoor Cycling Bike M6008 supports 300 pounds/136 kg user weight capacity.
That said, if you are within the weight capacity the bike supports that will be just fine.
The bike is compact with a small footprint of 46.9'' long by 21.1'' wide. Therefore, a workout area with a perimeter of 4' length by 1'8'' width can accommodate the bike. Nevertheless, additional extra clearance of at least 2' at the rear and on each side of the bike might be necessary for easy access and safety during a workout.
The base features front and rear rectangular steel stabilizer bars that ensure maximum stability. There are also rubberized levelers underneath the rear stabilizer designed to enable you to balance the bike on a surface that is crooked.
The lightweight bike weighs only 55 pounds/25 kg, however, it boosts the overall stability.
The Seat
The seat on the Cycool Belt Drive Stationary Bike (C1) is larger and padded than a conventional spin bike saddle. It provides a decent level of comfort that could allow you to train longer. That said, you can use a gel seat cover to improve its comfortability if you feel the need for it. And it is also possible to replace the seat with any other saddle of your choice because it has a standard connection mechanism. Therefore, there is a wide range of options available online or in the local bicycle shop.
The seat is 4-way adjustable; it can be adjusted vertically (upward/downward) and horizontally (fore/aft). The vertical adjustments have several positions with 1'' between each position while the fore/aft adjustment has a few inches adjustable positions.
This allows users of different heights to utilize the bike without hassle.
Adjusting the seat only takes a few seconds.
The Handlebar
The Cycool Belt Drive Stationary Bike (C1) is equipped with an ergonomic multi-grip handlebar. Although, it doesn't have several grips that include the drop-down handles as the Cyclace Indoor Stationary Bike does. That said, you can ride in different postures anyway.
The sweat-resistant handlebar is coated with a soft foam material that provides secure and comfortable grips that prevent possible blisters in the palms.
You can adjust the handlebar 2-ways; I.e., upward and downward. This complements the seat's adjustability providing ample chances of accommodating different users.
There are no EKG heart rate sensors on the handlebar. Hence, you cannot monitor your heart rate except if you use an external heart rate monitoring device when working out.
The Pedals
The pedals on the Cycool C1 Indoor Cycle Bike are toe caged with adjustable safety straps. They are made of aluminum alloy and can support a standing ride (out-of-seat cycling).
You can only ride the bike with a pair of standard gym shoes. But if you wish to use spin shoes for your cycling you can swap the pedals for a pair of SPD cleats.
The Drive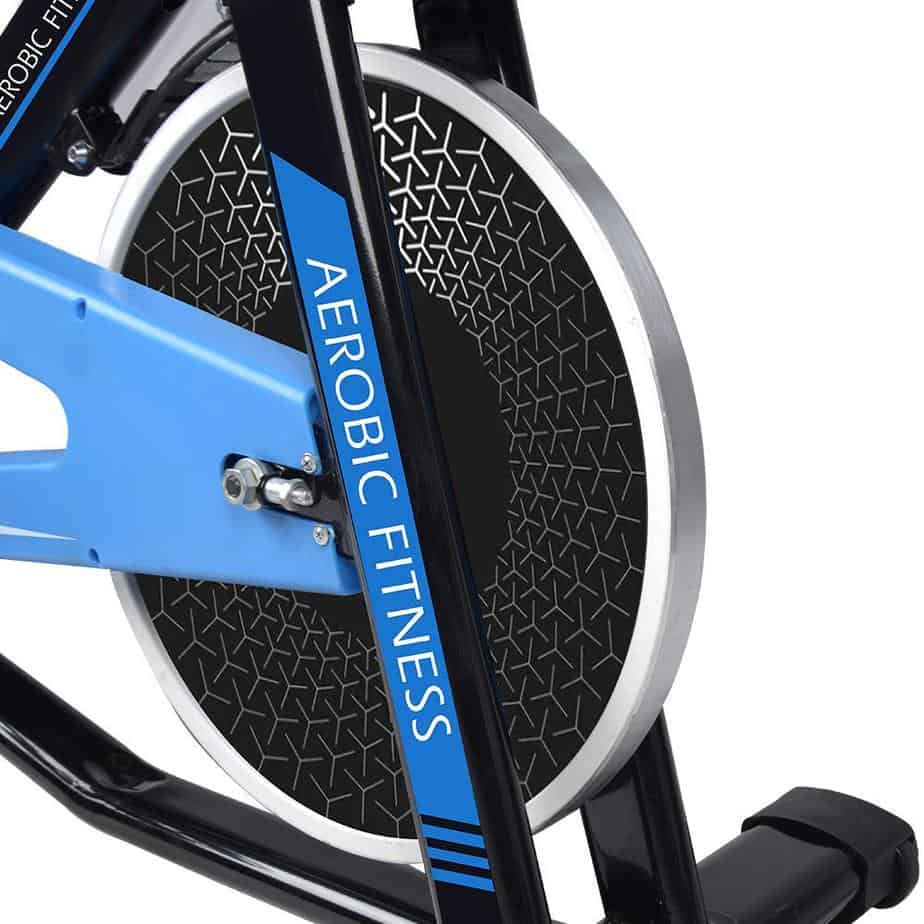 The Cycool Bike is incorporated with a belt drive system. This system includes elements such as the heavy perimeter weighted chromed flywheel (weight not specified), a heavy-duty belt, a solid crankset, crank-arms, pulleys, and pedals. Together, these elements provide a smooth and quiet operation.
As a result, you can quietly work out at any time of the day without having to disturb the family or the neighbors around. You may also enjoy watching your favorite TV show or listening to music without the need to amplify the volume to a disturbing level.
Moreover, the belt drive system is maintenance-free. Unlike a chain drive system that requires periodic lubrication and adjustment, this doesn't need any of that. It is cost-effective and lasts for years before the belt wears out.
The drive is fixed. This means that the flywheel and the pedals spin together and as a result, you can pedal in reverse if you so wish in order to tone more muscle groups. This also means that you cannot coast as you could on a road bicycle.
Therefore, always apply the emergency brake by pressing the tension knob down whenever you wish to stop workout activity.
The Resistance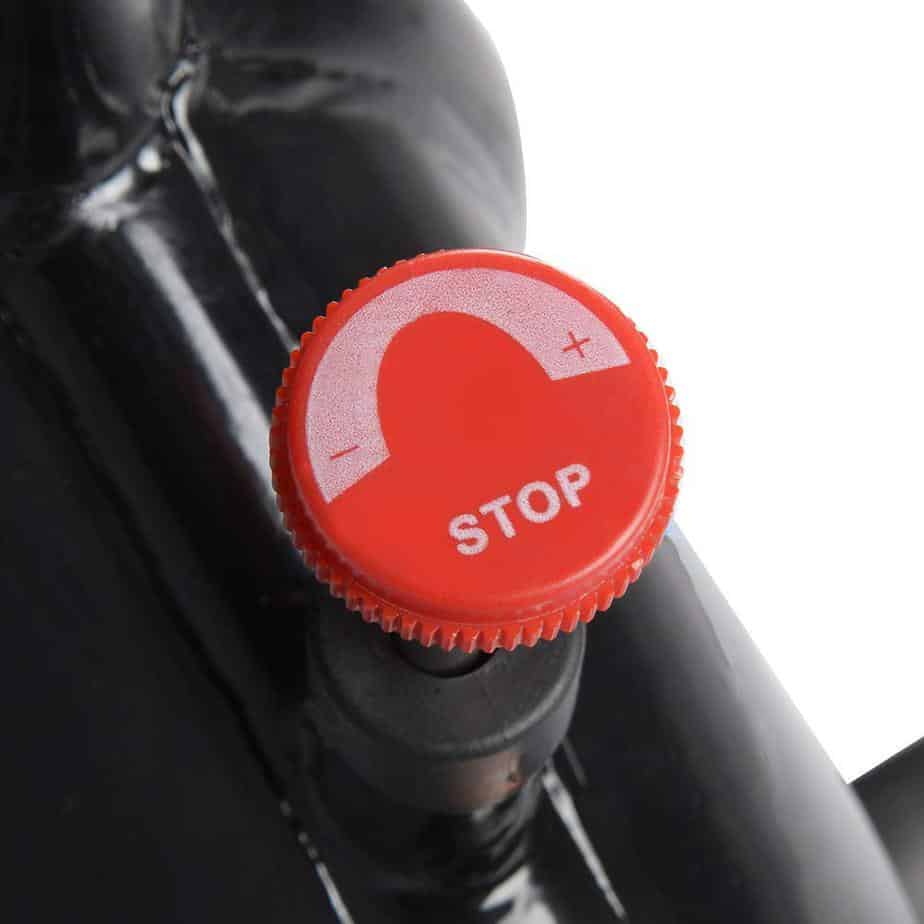 This bike features a magnetic resistance system. The resistance system is largely preferred because of its ability to provide suitable workout challenges for most users. In other words, beginners and intermediary users will be able to engage in a resistance level that pushes them to the limit while advanced users will sweat it out as well.
Speaking of resistance levels; there are no predefined resistance levels as the case with other cycling bikes such as the DiamondBack Fitness 1260Sc Indoor Bike and the NordicTrack Commercial Studio Cycle Bike.
This is expected because budget spinning bikes such as this usually don't have predefined resistance levels.
Simply turn the tension knob clockwise to increase the resistance level or anticlockwise to decrease it. It is as simple as that.
Console
The console on this bike is basic. It features a non-backlit LCD monitor that tracks Time, Speed, Distance, Calories Burned, and Odometer.
The readability is great as long as you view it in an environment that is well-lit otherwise it diminishes.
The monitor keeps you informed about your workout stats and consequently motivates and keeps you focused on achieving your fitness goals.
It (monitor) has a SCAN function that displays the workout stats one at a time after every few seconds. Although, it is possible to set a preferred workout value to display constantly.
You can turn ON the monitor manually by pushing the Mode button, and it can also automatically come alive when you start pedaling, while It auto-hibernates when activities cease for a few minutes in order to save the batteries' power.
Accessory
The Cycool Belt Drive Stationary Bike comes with a tablet and water bottle holders. Both of these accessories are essential in achieving fitness goals.
The well-designated water bottle holder allows you to keep water within reach for hydration purposes while the tablet holder enables you to keep your smartphone/tablet device handy for taking calls and for entertainment purposes.
Watching a movie or listening to good music via your smartphone/tablet device is a necessary distraction that could enable you to train longer and ultimately achieve your fitness goals.
Storage
The storage of the Cycool Cycling Bike doesn't require a large space area. As aforementioned, it has a small footprint that could fit in a small storage area with a perimeter of 4' length by 1'8'' width.
It could be stored next to a wall in a room, under the staircase or better still in a garage.
The integrated transport wheels make it pretty easy for the bike to be rolled in and out of storage.
Approval Rating
This bike has positive reviews on Amazon. Users have expressed satisfaction with the performance of the bike; thus, its approval rating is good.
Pros/Features Overview
It's compact, lightweight, and portable
Durable, stable, and sturdy
Supports 220 pounds/99.7 kg maximum user weight capacity
Customizable (seat and the handlebars are adjustable)
The seat is large and padded
The handlebar is ergonomically designed, it's coated with soft foam for comfortable and secure grips
Toe caged pedals with safety straps provide proper alignment and safety during intense workouts
User can perform stand-up pedaling
The base is integrated with rubberized adjustable levelers that enable you to balance the bike on a crooked flooring
Operation is smooth and quiet
LCD monitor tracks workout progress
Magnetic resistance system provides decent workout challenges
Easy assembly and assembly tools included
Low maintenance
Tablet holder included
Water bottle holder included
Cons
The monitor is not backlit
No heart rate monitoring function
Warranty
Product Dimensions and Specifications
Length 46.9''
Width 21.1''
Height 43.7''
Shipping dimensions: 42.5'' L x 9.4'' W x 33.6'' H
Assembled weight: 55 pounds/25 kg
Shipping weight: 62 pounds/28 kg
User weight capacity: 220 pounds/99.7 kg
Resistance: Manual-Magnetic, infinite level
Seat: 4-way adjustable
Handlebar: 2-way adjustable, multi-grip
Monitor: Nonbacklit display tracks Time, Distance, Speed, Calories Burned, Odometer, and SCAN
Pedals: Aluminum alloy, toe cages with adjustable safety straps
Drive: Belt
Tablet holder: Yes
Transport wheels: Yes
Water bottle holder: Yes
Flywheel: Weight not stated
Shipping
The Cycool Belt Drive Stationary Bike (C1) is shipped out in a 62 pounds/28 kg weight box with dimensions of 42.5'' L x 9.4'' W x 33.6'' H. Amazon offers free shipping upon purchase and makes delivery within a couple of days.
Assembly
The unit arrives partially assembled. However, you need to attach the front and rear stabilizers, the seat, the handlebar, the pedals, and the console to the main unit.
An instruction manual and the tools needed for the assembly are included in the package.
The assembly is so easy that it takes 30 min. to an hour to completely assemble.
Maintenance
This bike doesn't need any post lubrication or adjustment.
Basically, you need to always keep it clean and ensure that you examine it before every use for a loose or broken part. This measure prevents injury or further damage to the bike.
The owner's manual has other maintenance instructions on it.
Conclusion
The Cycool Belt Drive Stationary Bike (C1) is designed for home use. It brings the gym to your home by enabling you to engage in aerobic exercise that loses weight, improves cardiovascular health, strength, and endurance.
Interestingly, you don't have to break a bank in order to acquire one because it is considerably affordable.
Cycool Belt Drive Stationary Bike (C1) Review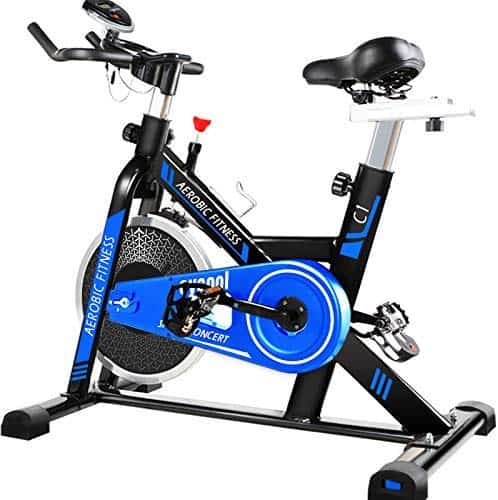 The Cycool Belt Drive Stationary Bike (C1) is an affordable, entry-level indoor spin bike that offers aerobic exercises. It is compact and lightweight.
Product Brand: Cycool
Product In-Stock: InStock