The Sunny Health & Fitness SF-T7723 Treadmill and the SF-T7878 Treadmill are both manual non-motorized treadmills. They have almost the same features, however, the latter has an adjustable manual incline system and a console/monitor while the former has a fixed incline system and doesn't have a console.
The SF-T7723 has a sturdy and quality construction that is durable; it supports 300 pounds/136 kg maximum user weight capacity. The sweat-resistance handrails offer different positions for jogging and running exercises.
The incline is in a fixed position of 13.5% and the tread belt is decently cushioned to reduce the stress on the ankles and the knee joints. It is a not-so-large treadmill with a running surface of 53'' L x 16'' w.
Its space-saving design allows you to store in a small space as you can easily fold and unfold it.
The treadmill offers high-intensity jogging/running opportunities due to the fixed incline and the magnetic resistance system. You will feel challenged as you engage in hilly and flat terrain running courses.
It requires zero electricity and it's self-powered. In other words, it becomes active once you start walking, jogging, or running on it.
Click right here to have a peek at the price of the Sunny Health & Fitness SF-T7723 Treadmill on Amazon
The Frame and Construction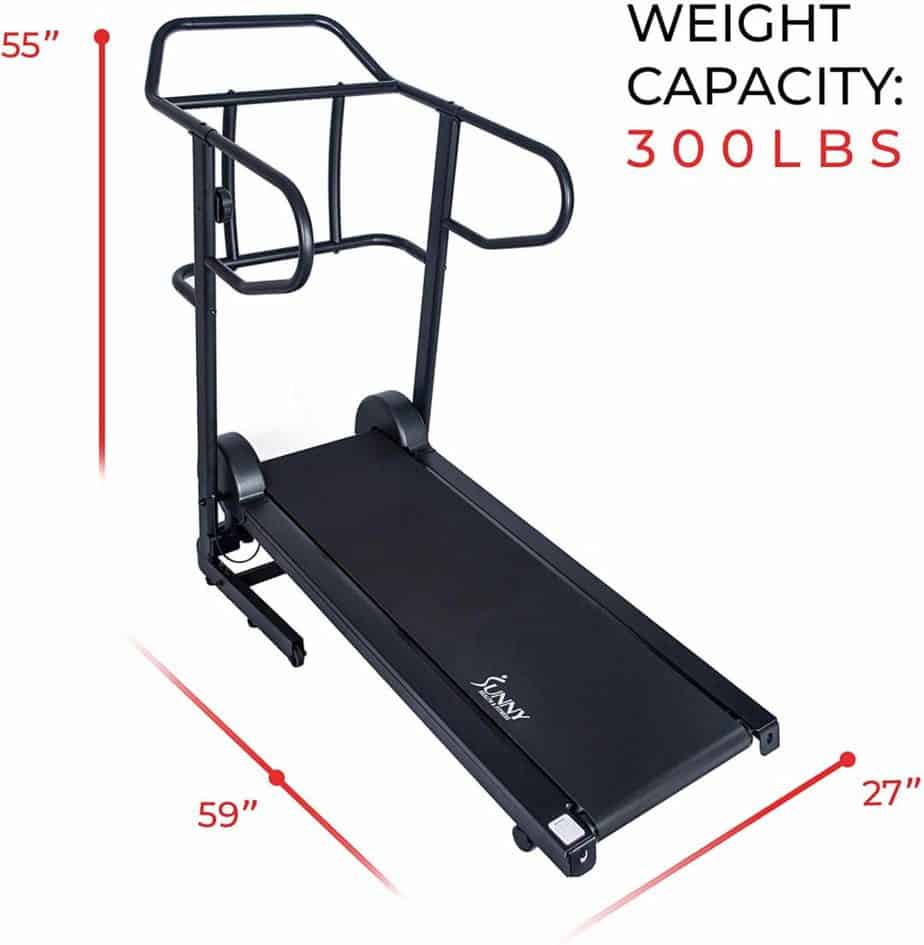 The Sunny Health & Fitness SF-T7723 Treadmill is equipped with a heavy-duty steel frame. As a result, it supports a high user weight capacity as stated above.
The front and the rear bases feature capable rubberized stabilizers that ensure optimal balance and floor-friendliness. There are 2 flywheels (one on each side of the front base) connected with the front rollers so that the tread belt spins or rolls with steady momentum during a workout.
The treadmill assembled weight is 110 pounds/50 kg which ultimately boosts its overall stability.
The side rails are solidly made of steel but are covered by ABS plastic, including the flywheels as well. The overall assembled dimensions of the treadmill are 59'' long by 27'' wide by 55'' high. Therefore, a workout area with a perimeter of 4'9'' length by 2'3'' width will be required for the treadmill.
Moreover, for safety and convenience reasons, you may have to consider adding extra clearance of at least 3' at the rear and 2' on each side of the treadmill.
The treadmill has an easy step-up height of 5'' from the floor and also has a fixed incline of 13.5%, which might be around 15'' high from the floor. So, consider using the treadmill in a room that is 24'' higher than your own height.
Folding and moving the treadmill to storage is pretty easy because it's integrated with transport wheels, a folding mechanism, and a soft drop system. You can easily fold it up by raising up the rear from the deck. It locks in into a vertical position. While unfolding it is hands-free by simply unlocking the hydraulic cylinder.
The Resistance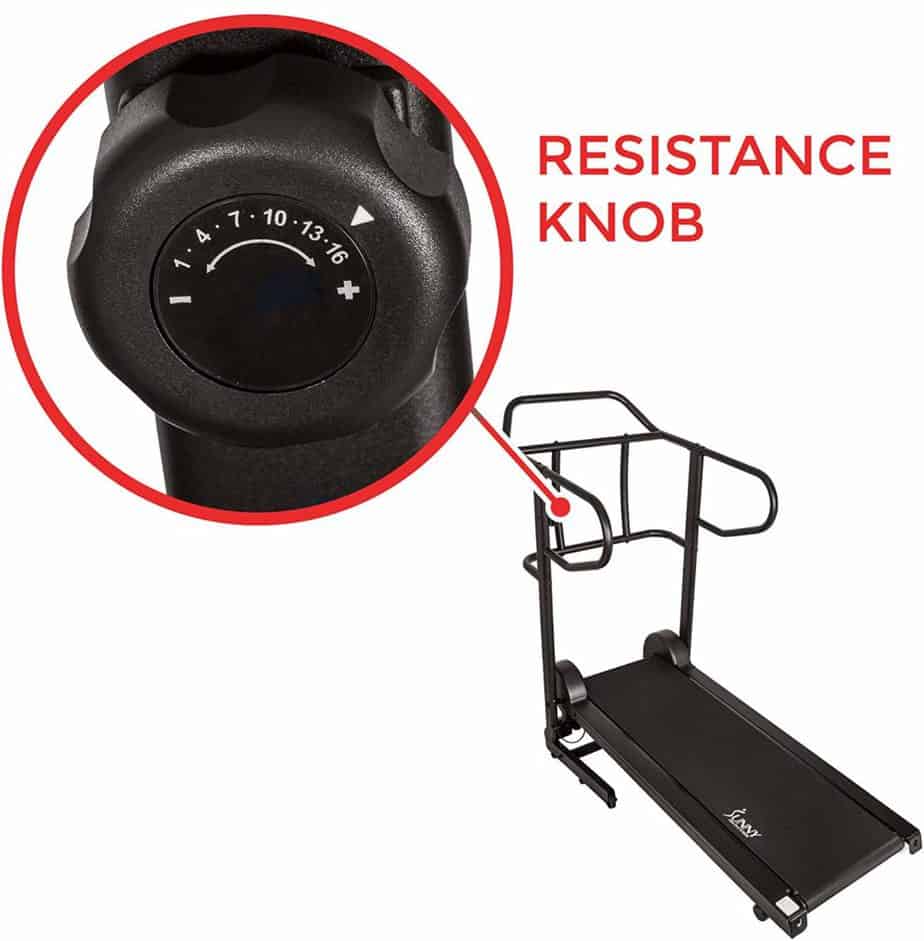 The Sunny Health & Fitness SF-T7723 Treadmill has a 16-level manual magnetic resistance system. This is not a common feature with most conventional treadmills.
Being a non-motorized treadmill simply means that your movement is what drives the tread belt instead of a motor. And so, the resistance adds more difficulty during a running course depending on the resistance level you have chosen at a given time.
This is why the treadmill is considered as the right tool for high-intensity training. The unique handlebars offer the opportunity to train in different positions possible.
The resistance system includes a magnetic brake that is attached close to each of the flywheels and a control knob that is connected to them via cables. The control knob allows you to increase or decrease the resistance level by simply turning it clockwise or anticlockwise respectively.
There is no predefined speed range; you define your speed range depending on your fitness level and capability.
Finally, its operation is smooth and quiet. You won't disturb your family or the neighbors during a workout session on the treadmill.
Incline System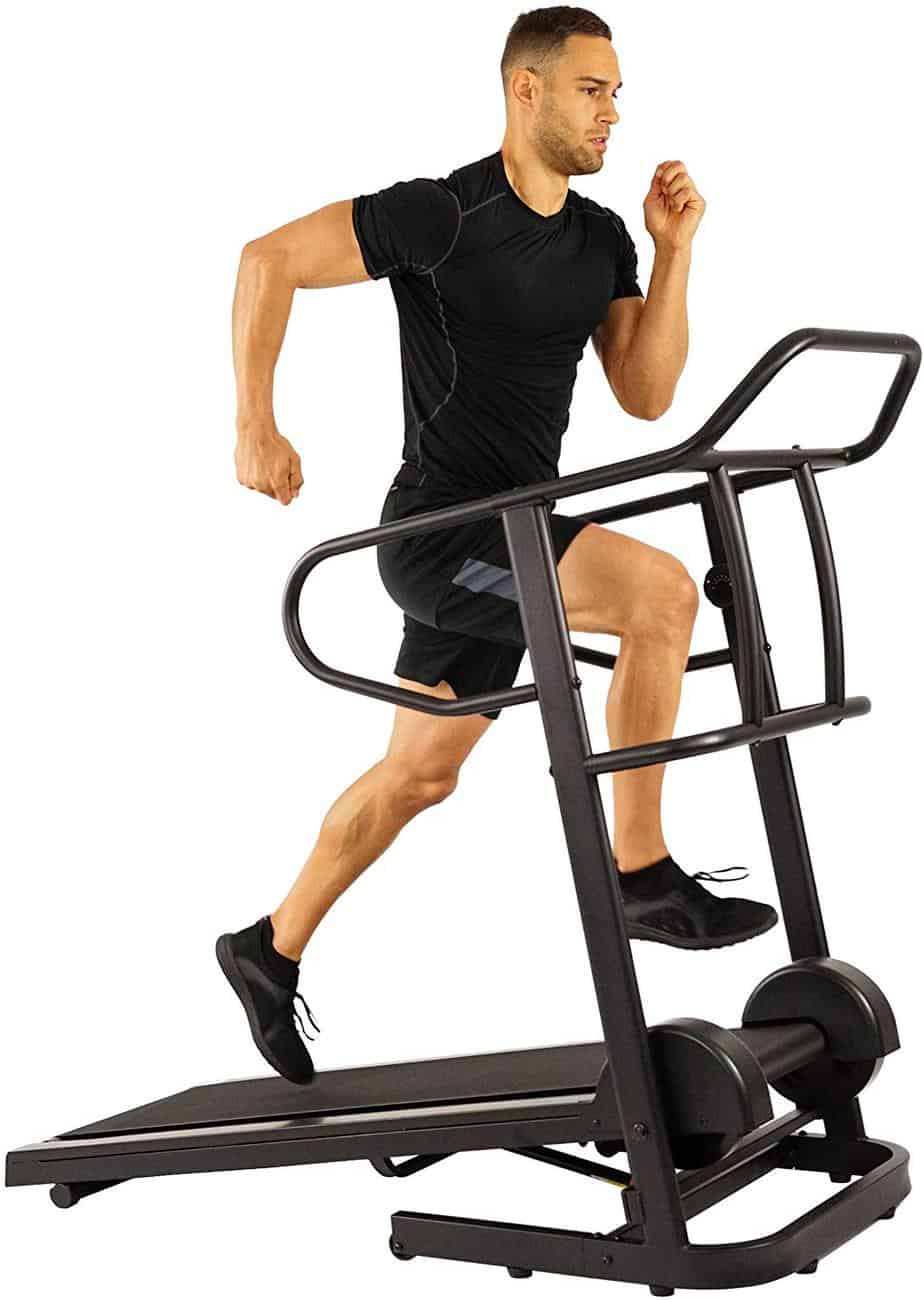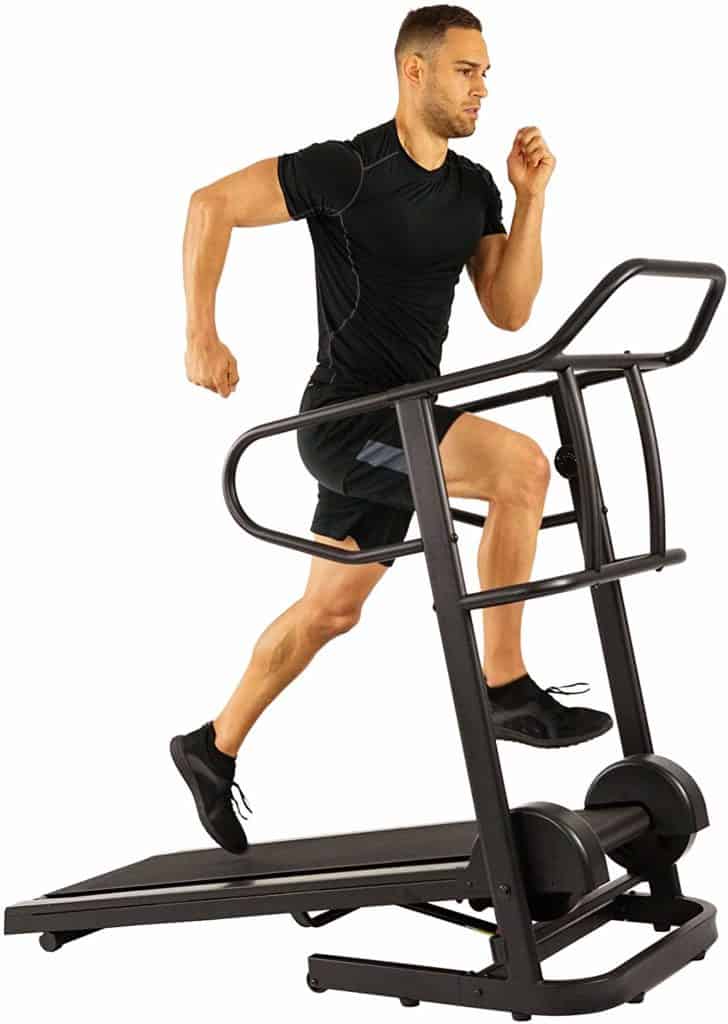 The SF-7723 treadmill has a fixed 13.5% incline system, you cannot adjust it either way. It is strategically positioned to provide you with the challenge and intensity required for weight loss, improvement of cardiovascular health, endurance, and strength.
For those that might be wondering, it doesn't have a decline system.
Console
This treadmill is without a console/monitor and it does not offer a connection to online apps via a smartphone.
However, you may be able to use an external heart rate monitoring device to observe and maintain your target heart rate zone at all times.
Storage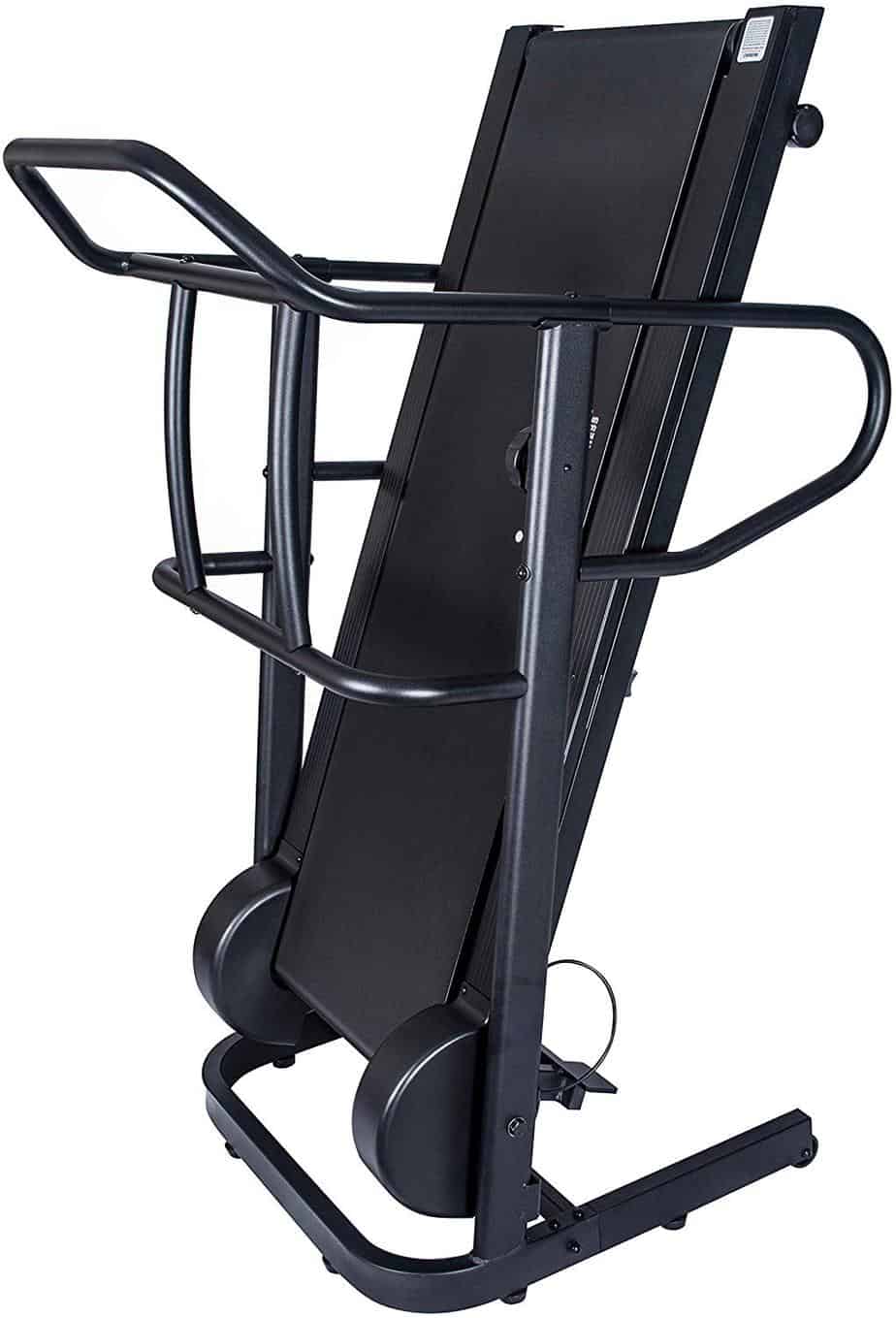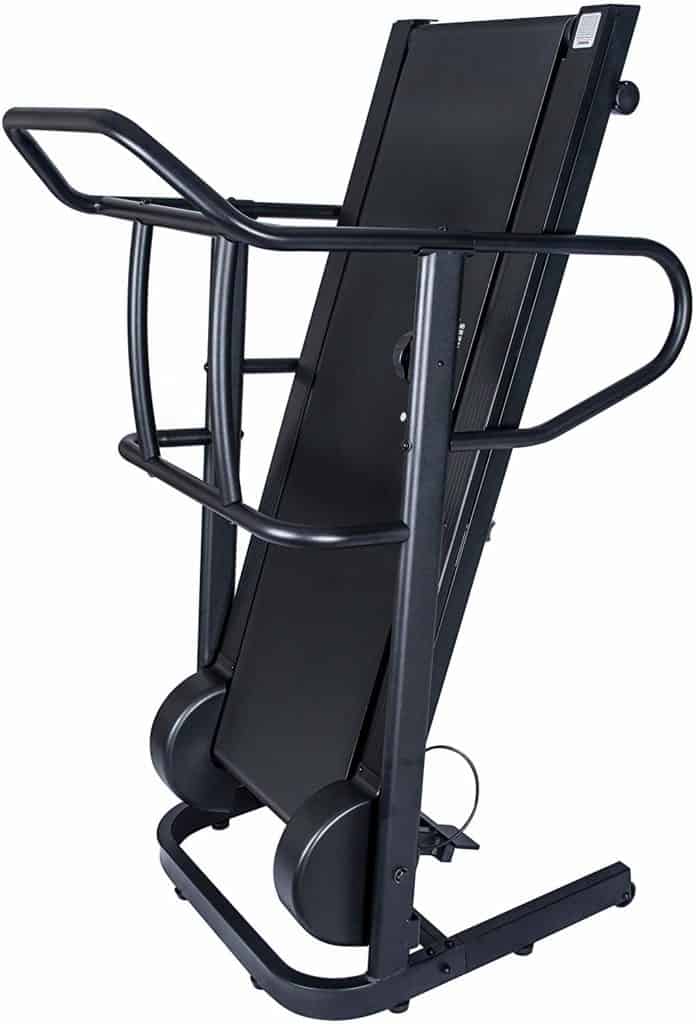 As aforementioned, the storage of the Sunny Health & Fitness SF-T7723 Treadmill is made easy. It has transport wheels, and it's foldable as well.
It is almost half its assembled size when folded. The folded dimensions are 31'' D by 27'' W by 58'' high.
Folding and unfolding it is supported by the folding mechanism and the soft drop system. It is pretty easy to be folded and be stored away by an adult.
Accessory
This treadmill does not have any accessories, even the basic ones such as a tablet holder or a water bottle holder.
You must improvise to keep water within reach at all times in order to maintain good hydration during a workout session.
Approval Rating
Its approval rating is good. Almost every user that reviewed it on Amazon has a positive thing said about it.
Pros/Features Overview
Heavy-duty steel frame
Overall construction is sturdy and durable
Supports a high user weight capacity of 300 pounds/136 kg
Fixed incline provides a challenging running course
16 level manual magnetic resistance system provides additional challenges
It has a space-saving design; folding and unfolding mechanisms
Its operation is smooth and quiet
The dual flywheels provide steady momentum of the running surface
It's self-powered, no electricity needed
The base is equipped with rubberized stabilizers for maximum stability and floor-friendliness
Transport wheels are included
Requires a very limited assembly
Low maintenance
It's a full-body workout equipment
Cons
No console/monitor
No water bottle or tablet holder
Product Dimensions and Specifications
Length 59''
Width 27''
Height 55''
Folded dimensions: 31'' L x 27'' W x 58'' H
Tread belt: 53'' L x 16'' W
Folding mechanism and soft drop system: Yes
Motor: Self-powered
16 level manual magnetic resistance system
Handlebar: Sweat-resistance, Multi-grip
User weight capacity: 300 pounds/136 kg
Treadmill weight: 110 pounds/50 kg
Shipping weight: 127.6 pounds/57.8 kg
Frame: Steel
Incline System: Fixed, 13.5% level
Dual flywheel: Yes
Console: No
Transport wheels: Yes
Tablet holder: No
Water bottle holder: No
Shipping
The Sunny Health & Fitness SF-T7723 Treadmill is shipped out in a well-packaged box that weighs 127.6 pounds/57.8 kg.
If purchased from Amazon, you will receive free shipping and it's delivered in a couple of days after order is made.
Assembly
It arrives almost fully assembled. You only need to attach the handlebars and it comes with a clear instruction manual that walks you through the process nicely.
It takes only a few minutes to get it fully up and running.
Maintenance
The tread belt of the SF-T7723 Treadmill needs to be periodically lubricated in order to keep it running smoothly.
Ensure that the tread belt is also clean from any dirt or debris that may hinder it from functioning properly.
Further instructions are made available on the owner's manual.
Conclusion
Some users have expressed skepticism over the treadmill's functionality due to the fact they were used to motorized treadmills. However, they confessed that the Sunny Health & Fitness SF-T7723 Treadmill surprised them by its performance.
The fixed incline won't' bother you but on the contrary, it challenges you to bring it on. And you have to train at your own pace as well.
Sunny Health & Fitness SF-T7723 Treadmill Review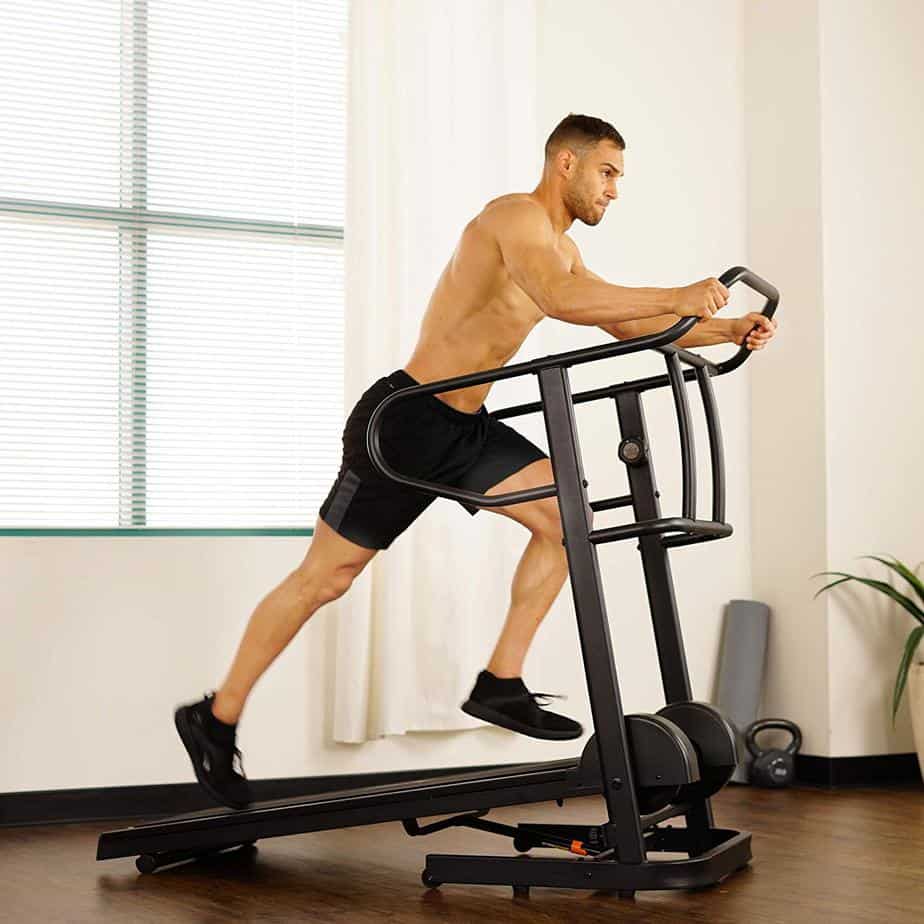 The SF-T7723 has a sturdy and quality construction that is durable; it supports 300 pounds/136 kg maximum user weight capacity. The sweat-resistance handrails offer different positions for jogging and running exercises.
Product Brand: Sunny Health & Fitness
Product In-Stock: InStock