The Cybex 750R Recumbent Bike is a versatile and high-powered recumbent bike that is suitable for both beginners and advanced athletes. Users in poor condition or those recovering from an injury will find its 20-watts low power input requirement enabling. While on the other hand, the bike's self-tensioning drive can go all the way up to 900-watts, enough to make even a full-grown and advanced athlete cry.
The belt drive creates different levels of drag that could kick-start any user's heart rate. Cybex also integrated a set of multi-grip handlebars that allow users of different heights to workout in positions such as upright and aero.
The seat is very comfortable with yet another set of handlebars with EKG heart rate sensors that transmit the pulse data to the monitor. The console is telemetry enabled but the chest heart rate strap is not included in the package, has to be purchased separately.
Basically, the bike's resistance system is a hybrid eddy current with 21 levels. There are also 21 programs available.
The Cybex 750R Recumbent Bike is self-powered but there is an optional AC adapter for full-time display.
Click right here to have a peek at the price of the Cybex 750R Recumbent Bike on Amazon.
The Frame and Construction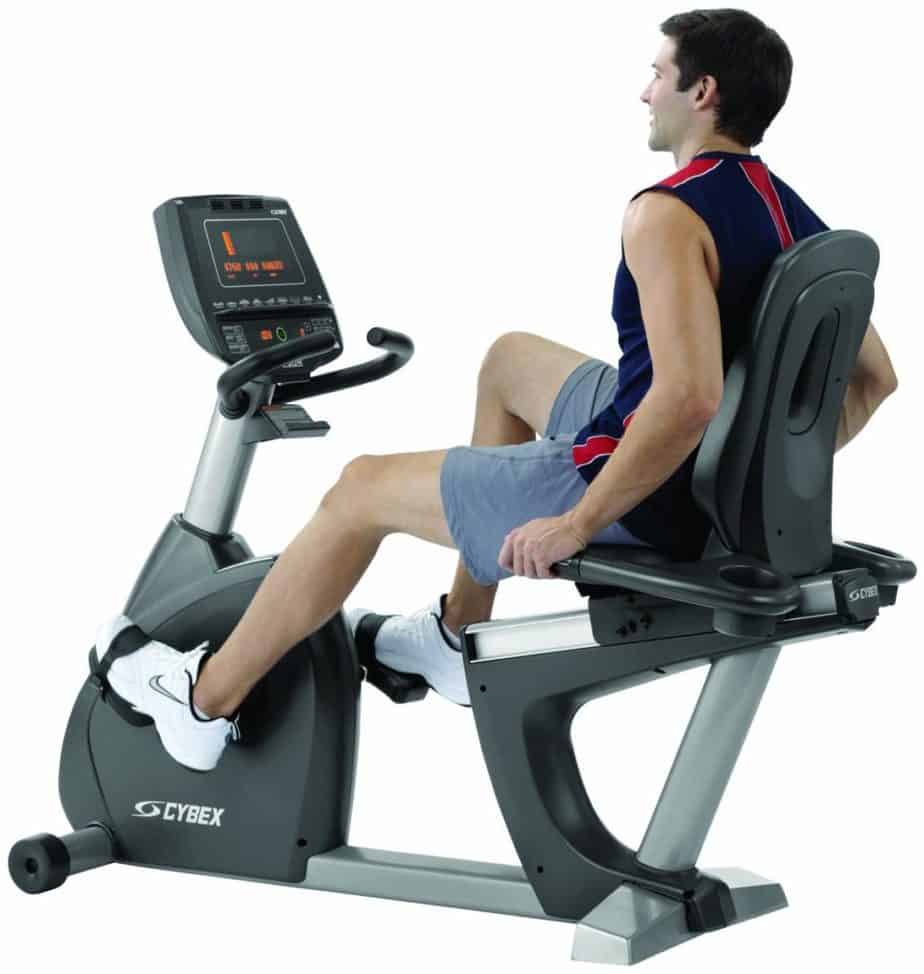 The Cybex 750R Recumbent Bike has a sturdy and durable welded anti-corrosive frame that is made of forged steel. Being welded and coated with anti-rust paint means it's highly stable and has good longevity.
The covers of the drive/resistance systems, the cup holders, and part of the seat frame are made of ABS material.
Its overall construction is strong, neat, and exhibits a good outlook. The bike supports up to 400 pounds/181 kg maximum user weight capacity. Therefore, it is a heavy-duty commercial-grade recumbent bike.
The base framework features front and rear steel stabilizer bars that ensure optimal stability is attained. There are transport wheels at the front base for easy relocation.
However, the bike is not lightweight, it weighs about 178 pounds/80.7 kg which ultimately grounds it and boosts its overall stability.
The overall assembled dimensions of the Cybex 750R Recumbent Bike are 63.5 inches long by 25 inches wide by 49.5 inches tall. In other words, the workout and storage area for the bike would be 5'3'' long by 2'1'' wide. There might be the need to consider adding extra clearance of 1-2′ at the rear and on each side of the bike for safety and convenience reasons especially if it's going to be used in a confined area.
Obviously, this is one of those recumbent bikes that take a little bit of space.
That said, even though users may vary in size, heights, and fitness goals, this bike is capable to give them complete coverage regardless.
This bike is almost in the same league as the 3G Cardio Elite RB and the SOLE Fitness LCR.
The Seat
The recumbent seat on the Cybex 750R Recumbent Bike is contoured and padded with a ventilated backrest. It is designed to provide comfort that endures through a long workout. The proprietary seat is designed by cyclists to offer the much-needed support in the proper areas while still allowing full leg motion.
The seat is 2-way adjustable. It could be adjusted forward or backward. This allows users between the heights of 4'10'' to 6'5'' to be accommodated conveniently. The adjustment is easily done via the lever on the right side of the seat.
In addition to the seat's comfortable design, it also has a handlebar on each side of it which provides support for an aggressive yet comfortable back-seated pedaling.
EKG heart rate sensors are embedded in the handlebars so that when held during a workout the pulse rate data will be transmitted to the display screen for tracking. These enable the user to observe and maintain the target heart rate zone at all times.
The Handlebars
Aside from the handlebars on the seat, it also has a set of handlebars at the front. These handlebars are multi-grip designed to offer a variety of workout positions that include upright and aero rides.
These handlebars (including the seat's handlebars) are coated with a breathable and durable soft foam material that provides secure and comfortable grips. A user should be able to work out longer and comfortably. No slippage or blisters in the palms will be encountered.
The handlebars are not adjustable but they are optimally and strategically positioned to be suitable for all users.
The Pedals
The Cybex 750R Recumbent Bike comes with extra-wide, double-sided, and anti-skid-designed pedals with safety straps. These pedals are the standard pedals for recumbent bikes but they seem to be durable with warranty coverage.
They can accommodate any foot size and could be ridden barefoot or with standard gym shoes.
The crank-arms are made of aluminum alloy and the crankset is durable.
The Drive
The Cybex Recumbent Bike is equipped with a belt drive system which is responsible for its silent and smooth operation.
This also means no post-maintenance is required.
You can work out at any time of the day without being a nuisance to those around you, especially the family and the neighbors. Watching the TV/movie or listening to music while working out is very convenient because you don't have to turn the volume so high in order to hear.
The Resistance
This bike is incorporated with a hybrid eddy current resistance brake system with a brushless internal generator. Users of different fitness levels will be impressed by it.
As a matter of fact, due to it low power input requirement (20 watts) beginners, users that are in poor condition, and those that need to undergo rehabilitation will find it very useful, while advanced athletes can still have their shot at experiencing extremely difficult workouts as the resistance can go all the way up to 900 watts.
There are 21 resistance levels and they could be adjusted via the console.
The Console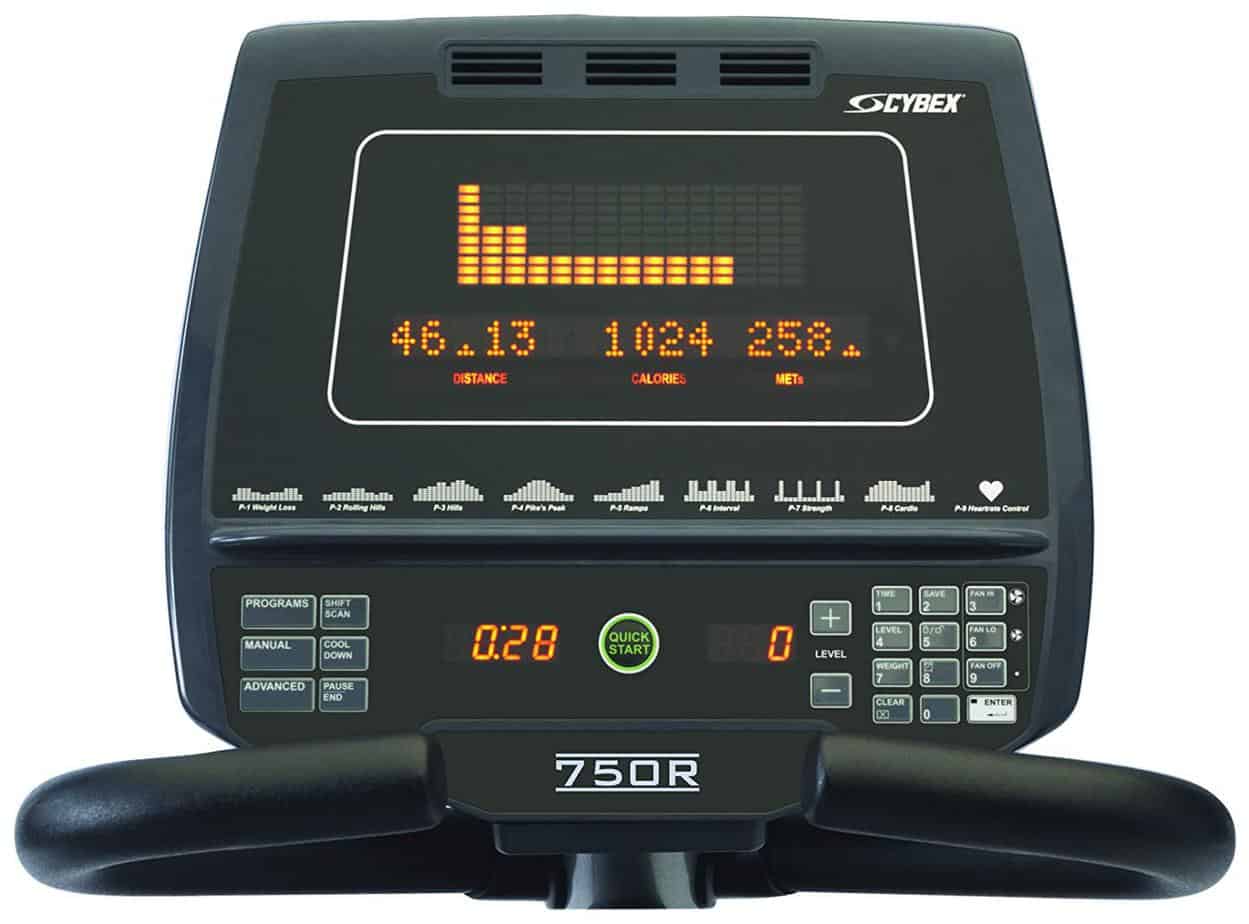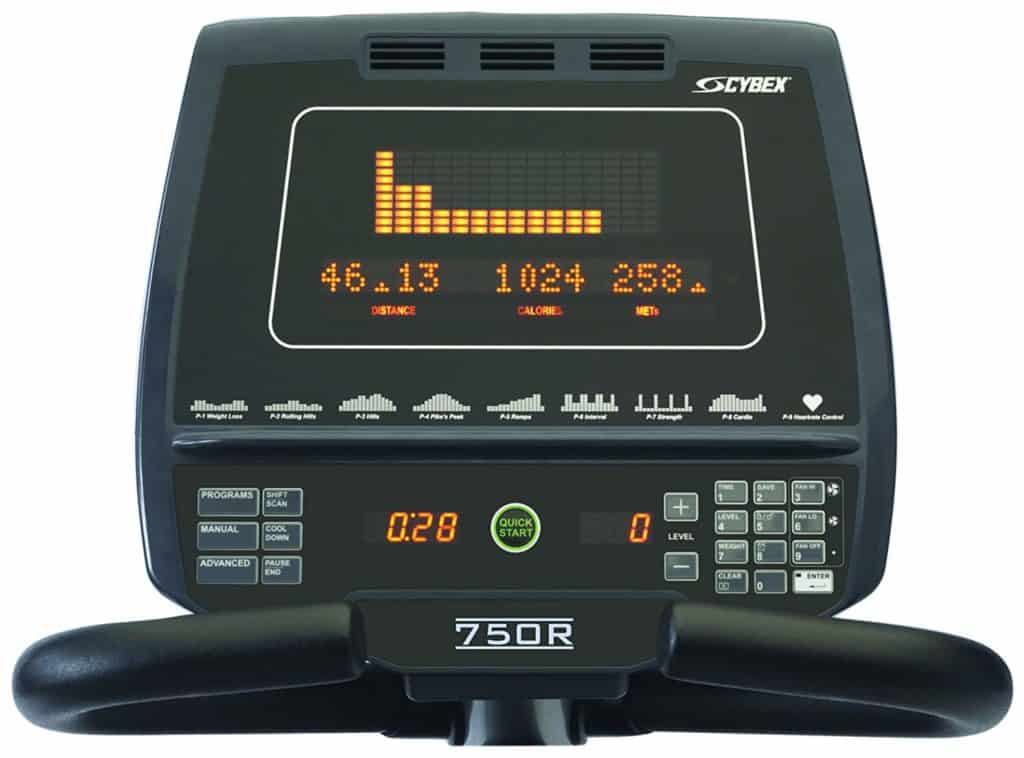 The Cybex 750R Recumbent Bike is equipped with an advanced console that features a 10 x 15 display split-level with amber LED with dot massaging bar. Apparently, its readability is top-notch and can't be compromised under any lighting condition.
As aforementioned, the console is telemetry enabled (heart rate chest strap not included).
There are 21 programs that include 9 constant power programs, 3 advanced programs, and 9 custom programs. These programs are going to be loved by personal trainers, serious advanced athletes, and those that are undergoing rehabilitation training. Casual users can always opt for one of the custom programs.
The console is self-powered; however, you can opt for an AC adapter (to be purchased separately) if you wish to have a full-time display.
Accessory
The bike comes with a couple of extras.
There are two water bottle holders on the seat designed for keeping water handy for the maintenance of hydration during a workout. There is also a magazine holder positioned on the handlebar mast, right below the console, and the front handlebars. This could be used for the placement of a magazine or a tablet as well.
Ordinarily, the bike is not iPod compatible but you can make it support that by purchasing separately the Personal Entertainment Monitor. This allows you to use a little bit of distraction by listening to music via the iPod device.
Finally, there is a built-in fan that keeps you cool while working out. It is controlled via the console.
Storage
The Cybex 750R Recumbent Bike is considerably heavy at 178 pounds/80.7 kg. However, it has two transport wheels at the front base that should aid in the relocation process.
The bike will require a sizable space for storage as the dimensions are 63.5 inches long by 25 inches wide. The relocation and storage space problems will be solved if it is going to have a dedicated workout area. Otherwise, storing next to a wall or in a garage will be a good idea.
Pro/Features Overview
Very sturdy, and durable
Supports a high user weight capacity of 400 pounds/181 kg
Extremely stable
Can accommodate users between the height range of 4'10 to 6'5''
The seat is adjustable and very comfortable
The handlebars are multi-grip designed with breathable soft foam covering
The LED monitor tracks workout progress
Operation is smooth and quiet
There are 21 programs for weight loss, interval and strength training
The resistance difficulty ranges from 20 watts to 900 watts; suitable for weak users through to advanced athletes
The bike has an easy step-thru design
It provides low-impact workouts that are gentle on the joints
The pedals align the feet and the knees while they allow users to experience a safe and comfortable riding experience
Comes fully assembled
Low-maintenance
Water bottle holders included
Magazine rack included
It has a built-in fan for cooling off during an exercise
Cons
No sound system
Online connectivity
Product Dimensions and Specifications
Length 63.5''
Width 25''
Height 49.5''
Maximum user weight capacity: 400 pounds/181 kg
Weight: 178 pounds/80.7 kg
Resistance: Hybrid eddy current brake with a brushless internal generator
Resistance range: 20 – 900 watts, 21 levels
Power: Self-generated, optional AC power adapter for full-time display
Languages: 7
Drive: Belt
Console: Split-level 10 x 15 amber LED with dot-matrix massaging bar
Frame: Welded forged steel
Program: 21
Pedals: Anti-skid designed, extra wide and dual-sided with safety straps
Heart rate monitoring: Contact and wireless capability (chest strap not included)
Water bottle holder: Yes
Magazine rack included
Built-in fan: Yes
Warranty
10 Years on Frame
3 Years on Parts
1 Year on Labor
120 Days on Cords, Inlets, Plastic Parts, Pedal Straps, Seat and Grips
Shipping
The Cybex 750R Recumbent Bike comes in a crate and weighs about 196 pounds/88.9 kg. It is delivered within a couple of days, sooner or later depending on your location.
The shipping cost varies as there are different sellers on Amazon with different shipping policies.
Assembly
The bike is delivered fully assembled with no assembly needed.
Maintenance
No maintenance is required. You are only required to keep it clean at all times
Conclusion
The Cybex 750R Recumbent Bike is a high-end recumbent bike that is worth every $ that is being invested. It offers low-impact workouts for weight loss, interval training, strength training, and more.
This is a commercial-grade recumbent bike with good warranty coverage.
Cybex 750R Recumbent Bike Review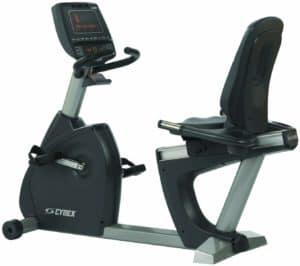 The Cybex 750R Recumbent Bike is a high-end recumbent bike that worth every $ that is being invested. It offers low impact workouts for weight loss, interval
Product Brand: Cybex
Product In-Stock: InStock