The Sole Fitness LCR Light Commercial Recumbent Bike is one of the most appealing recumbent bikes from SOLE with a good approval rating on Amazon. It is designed to be dependable, comfortable, and of course reliable.
Built with commercial-grade and specifications. It could be used in public institutions such as physical therapy clinics, public gyms, school gyms, and of course for home use as well.
This recumbent bike has a lot of features that are designed to help users achieve their fitness goals with ease and comfort.
It is very obvious why this recumbent bike is being sought after by the aforementioned institutions. The reason is that it has an overall ergonomic design and features to help users of all levels, old and young, strong and injured to work out experiencing minimal stress to the joints.
Folks undergoing physical therapy might find the Sole Fitness LCR Light Commercial Recumbent Bike very helpful aside from the Nustep TRS 4000 Recumbent Cross Trainer which is rather too expensive when compared to this bike. Therefore not everyone will be able to afford the Nustep TRS 4000 and so the Sole Fitness LCR Light Commercial Recumbent Bike is a good affordable alternative.
It is also packed with outstanding features such as the adjustable seat with awesome backrest and handlebars, 40 levels of resistance, 30 pounds flywheel, to mention but a few. We shall be discussing the rest of the features in detail if you stick around a little bit longer.
That being said, there is nothing made of man that is 100% perfect therefore we shall also be highlighting the downsides of this recumbent bike as well to enable you to make an informed decision whether to purchase or not.
<<<Click right here to purchase the Sole Fitness LCR Light Commercial Recumbent Bike at the best and latest affordable price available>>>
The Frame/Sturdy/Stability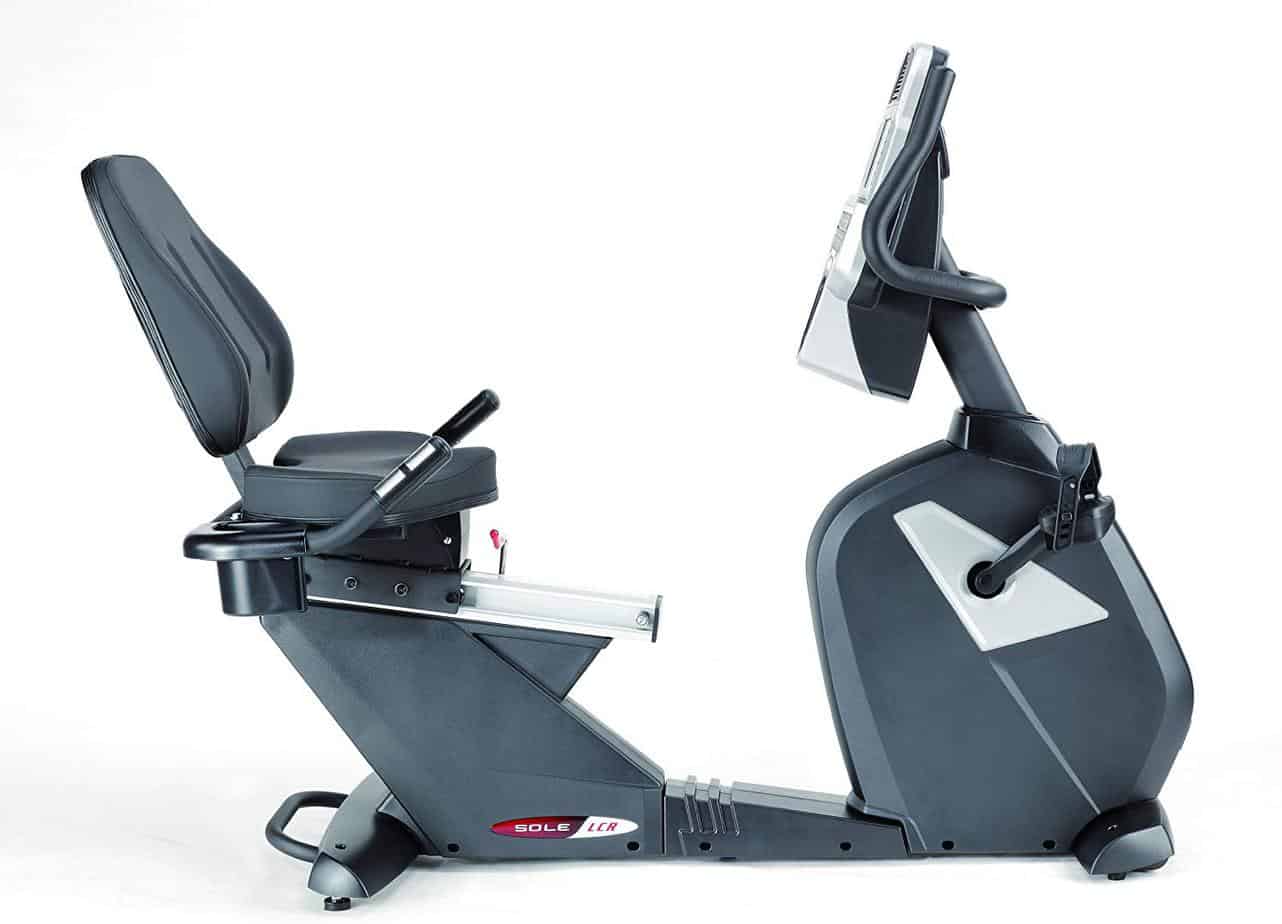 It is needless to say that the frame of this recumbent bike is made of steel since it is already stated that it is a ''commercial grade'' machine and so what can be stronger than steel. The steel frame is enforced further with thick tubing which makes it be solid and commercial grade.
However, there are some parts such as the resistance system and drive covers that are made of hard plastic and aluminum. These covers really made the recumbent bike look sleek and compact which can ordinarily stir the desire in you to work out each time you pass by it.
It has stabilizers at the front and the rear bases with rubber levelers that are designed to level up the bike on an uneven floor; this contributes to its stability and sturdiness.
Moreover, it weighs about 157 pounds which is the equivalent of 71.2 kg which is pretty heavy. This also tremendously enhances stability as well which makes it almost impossible for a user to experience wobbling or movement during an intensive or vigorous workout.
And do not be bothered about how to move it because it has a feature in place to make relocation easy. Such features are the transport wheels and a handle attached to the rear end base to help the user lift the recumbent bike from that end for easy relocation.
The flywheel weighs about 30 pounds; this improves the smoothness and the quietness of the machine during operation and also minimizes the impact on the joints because of the consistent motion of the flywheel as a result of the momentum it supplies.
It supports up to 350 pounds maximum user weight capacity; this is definitely one of the best recumbent bikes available for commercial and home use.
The Seat/Handlebars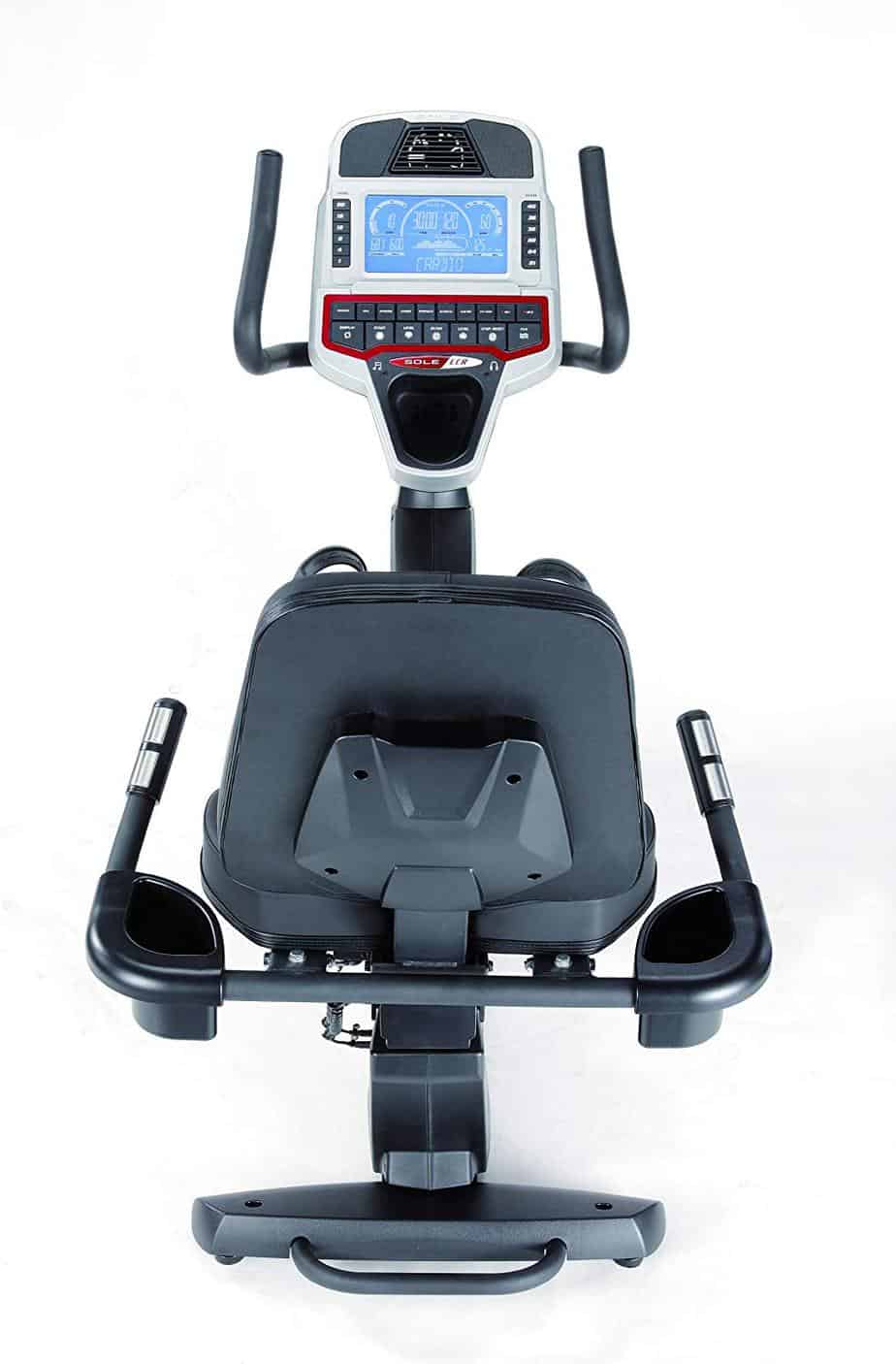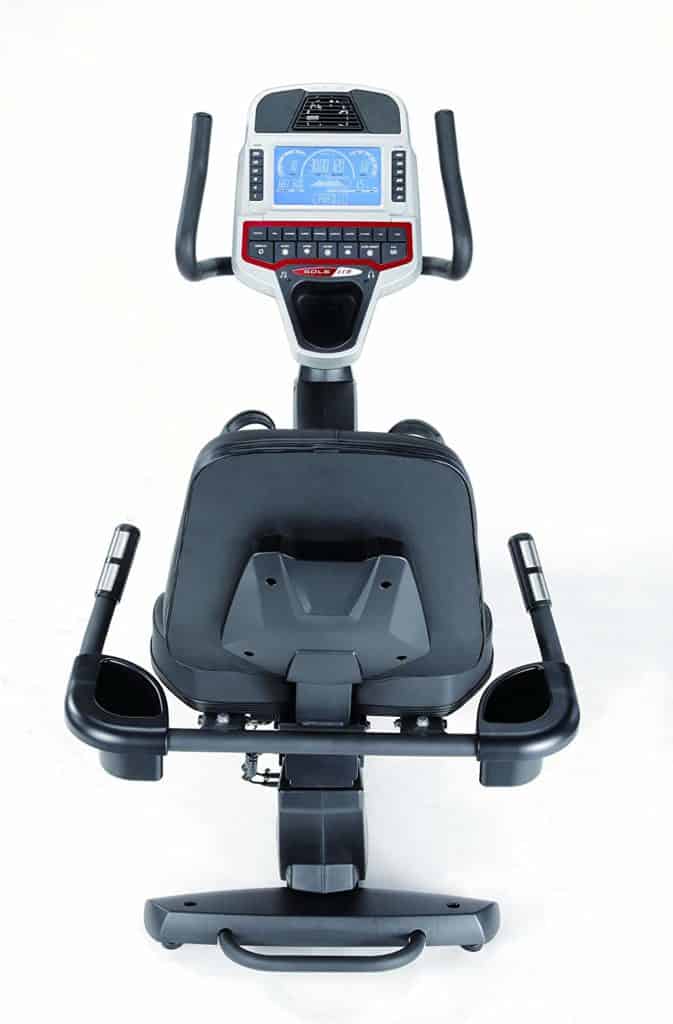 The seat and the handlebars have always been part of the elements that contribute or improve comfort while working out with most of the indoor fitness equipment.
The seat ergonomics is way better than what you could find in most recumbent bikes because it has a backrest that is really helpful in reducing stress to the lower back during a workout. The seat is well contoured to naturally fit the butt and the back and it is also adjustable.
The seat and the backrest are adequately padded with foam and covered with durable fabric that is synthetic leather.
A user will be able to adjust the seat forward and backward thereby allowing most individuals of a different wide range of heights to be accommodated. There are 12 position locks with each having increments of about 1''. It is stated that it can accommodate people with a height that ranges from 5 feet to 6 feet 5 inches.
However, we have verified that it can certainly accommodate up to 6 feet 2'' and people below 5 feet may encounter a problem of not being able of reaching the pedals or resting their backs on the backrest of the seat which could ultimately deprive them of the comfort the seat offers.
The handlebars are also positioned strategically to provide the much-needed support and comfort a user requires during workouts. They are also covered with a rubber foam material that would prevent blisters on the hands or palms and consequently offer a comfortable grip throughout the workout session.
The heart rate sensors are also embedded in the handlebars to enable users to monitor their heart rate data via the monitor.
The handlebars are adjustable upward and downward and adjust forward and backward together with the seat.
There is yet another set of handlebars on both sides of the console which does not have heart rate sensors embedded in them. But the handlebars are well covered with a rubber foam material for comfortable grips. This set of handlebars allows a user to change the workout position whenever necessary.
Finally, more than one user can use this machine conveniently because of the adjustable seat and it is not difficult to adjust neither does it take time to do so.
The Drive System and Resistance
The Sole Fitness LCR Light Commercial Recumbent Bike has an Eddy Current Brake resistance system with about 40 levels that can be adjusted through the console. This type of resistance system consists of the magnetic flywheel which is about 30 pounds in weight and the electromagnetic brake pad.
A user won't experience any sort of jarring effect when the resistance is in effect or being changed because of the type of resistance system (ECB) it uses.
Moreover, the wear and tear of the resistance components hardly occur because of the way the elements work together to create resistance.
With the number of resistance available, every user will be able to find the resistance level that is suitable for him or her and can also experience an outstanding and extremely challenging workout if the person desires to.
As aforementioned, the resistance and the motion of the recumbent bike are quite smooth, quiet, and consistent due to the heavy flywheel.
The flywheel and the crankset are both connected with a quality V-belt that cannot easily stretch or tear. The 3-piece crankset is solid with steel arms and weighted self-adjusting pedals; these are all designed so conveniently drive the heavy flywheel and any level of resistance without any sort of breakdown.
It uses a belt drive and magnetic resistance systems that are partly responsible for its quiet and smooth operation and requires no maintenance just as the chain drive and friction resistance systems would.
The pedals feature safety straps that are adjustable with 5 holes which means that the users' feet will be secure and prevented from accidental slippage during a workout.
The Console
The mere outlook of the console is so appealing just as the overall design of the recumbent bike is. There are so many features on the console including the monitor, buttons, and speakers for sound output.
The LCD monitor is backlit with high readability which means a user can view the data on the monitor even in a poorly lit room.
There is also a cooling fan at the top of the console with the speakers on either side. At the bottom of the console is the smartphone holder. Then just beneath the speakers and the cooling fan is the monitor screen with buttons on both sides of it and underneath it.
The monitor is about 10'' wide which is wide enough to display workout data distinctively. A user will be able to track workout progress by viewing workout data such as the time, distance, watts, calories burned, speed, current resistance level, and heart rate.
There are 10 workout programs that could be controlled from the console. These programs include the Manual, Hill, Cardio, Fat Burn, Interval, Strength, Custom, Fitness Test, 2x Heart Rate. They are executed automatically once the user selects any of them.
The Custom program allows a user to personalize workout by inputting the weight, and age so as to create a workout routine based on the data supplied.  A user will be able to determine his or her fitness level by using the ''Fitness Test'' program.
The Heart Rate program helps the user to maintain a target heart rate zone.
Interestingly, there are 12 buttons by which the resistance levels could be adjusted. These buttons are on both sides of the monitor and could be used to directly adjust the resistance level.
The direct resistance levels available are 1, 4, 8, 12, 16, 20, 21, 24, 28, 32, 36, and 40. But then the resistance can also be adjusted manually by an increment of 1. The manual adjustment buttons are among the last buttons at the bottom of the console.
Display, Start, Enter, Stop/Reset, and Fan buttons are also located at the bottom of the console.
The console is telemetry enabled and the chest strap is supposed to be included upon purchase of the machine. Why we said ''supposed'' is because despite the fact it is indicated officially that the strap is included we have seen quite a number of users that said they received the bike without the chest strap.
However, one user said he called Amazon immediately he noticed the absence of the HR chest strap and it was delivered within 2 days; therefore, if you purchase this recumbent bike and is not delivered with the chest strap give them a call right away.
The recumbent bike used to be self-powered years ago but now it requires 110v power to work.
Now, the bike has to be plugged into a power outlet in order to come ON, but if the user wishes to turn off the power is either done directly from the power outlet or set it via the console to go off after 30 minutes of idle.
Storage
The Sole Fitness LCR Light Commercial Recumbent Bike is a compact bike given the fact that its dimensions are 57'' Length by 30'' width, in order words, it will require approximately 6 feet by 3 feet with clearance storage space.
You may also be aware that it is a pretty heavy bike of 157 pounds / 71.2 kg. This might be a problem when trying to move or relocate it but thankfully it has transport wheels at the front base with a handlebar at the base of the rear end which could be used to easily lift the bike and move to another location.
Overall, it is a compact and good-looking bike that can further beautify the storage area if it can be seen.
Accessories
The recumbent bike features a good number of accessories such as the smartphone holder, 2 water bottle holders on both sides of the seat, 2 speakers for the sound system, a cooling for cooling off during a workout.
The console is compatible with a smartphone/tablet, or an MP3 player.
These accessories are quite useful and can go a long way toward making a workout to be fun and easy.
Approval Rating
This bike is very popular among its users. Currently, at the time this review was written it has 31 Amazon customer reviews with an approval rating of 3.9 out of 5.
This is an indication that the majority of the users are very satisfied with the bike and won't have a problem recommending it to friends.
We do recommend products with a good Amazon approval rating because the rating is a good indicator of how popular any product is and anyone can easily make a decision after checking out other few things about the product.
Pros/Features Overview
It is a very sturdy, stable and quality recumbent bike
It supports up to 350 pounds maximum user weight capacity
It has a backlit monitor with high readability
It features 10 preset programs that are designed to help the user achieve fitness goals
It has 40 resistance levels that could be adjusted via the console
It has Eddy Current Brake magnetic resistance system
It has heavy 30 pounds flywheel
It has a belt drive system that is smooth and quiet
Its crankset, arms and the pedals are solid
It weighs about 157 pounds which enhances stability
It has transport wheels that aid in relocation
It has a pulse grip and HR chest strap enabled
The seat is well contoured, padded and adjustable
It has 2 sets of handlebars that are adequately covered with a foam material to offer a comfortable grip
2 water bottle holders are included
2 speakers for the sound system
1 cooling workout fan
Compatible with smartphone, tablet or MP3 device for music
Handlebars beside the seat are adjustable upward and downward
It has a very impressive warranty
Cons
Many users have complained about receiving the bike without HR chest strap even though it was stated that it is included. Therefore, contact your retailer to find out why it Is not included.
It is not self-powered anymore just like what it used to be back in 2014.
There are complaints about it not having a simple button for ON/OFF
Dimensions and Specifications
57'' Length
30'' Width
50'' Height
Weighs about 157 pounds / 71.2 kg
Supports up to 350 pounds maximum capacity
Flywheel 30 pounds
Warranty
Lifetime for Frame
3 Years for Electronics
3 Years for Parts
1 Year for Labor
Shipping, Assembly, and Maintenance
Shipping
The shipping cost of the Sole Fitness LCR Light Commercial Recumbent Bike simply depends on the retailer you are purchasing the bike from; however, Amazon provides free shipping.
Assembly
The assembly of the recumbent bike has been reported to be relatively easy. It is delivered with the major components preassembled.  Although there are quite a number of bolts and nuts that will be required to be fixed and other parts such as the backrest, the pedals, bases or stabilizers, handlebars, console mast,  and console.
An instruction manual is also included and the tools required for the assembly to assist you in the process of assembly.
Maintenance
No maintenance is required since it features a belt drive and magnetic resistance systems. The belt drive is well lubricated by the manufacturer hence will last for a long without needing any major maintenance except to wipe off dust and sweat from the bike whenever there is the need.
Conclusion
If you are indeed looking for a recumbent bike with a difference without having to pay so much then the Sole Fitness LCR Light Commercial Recumbent Bike is the bike to consider.
Like mentioned earlier, both beginner, the advanced users will find this recumbent very useful and impressive. Young and old, strong and weak, and people that require clinical physical therapy would definitely appreciate the performance of this machine.
That being said, it has some downsides that most people will not consider a deal-breaker.
If you have any further questions that require answers do not hesitate to leave a comment down in the box below.
Sole Fitness LCR Light Commercial Recumbent Bike Review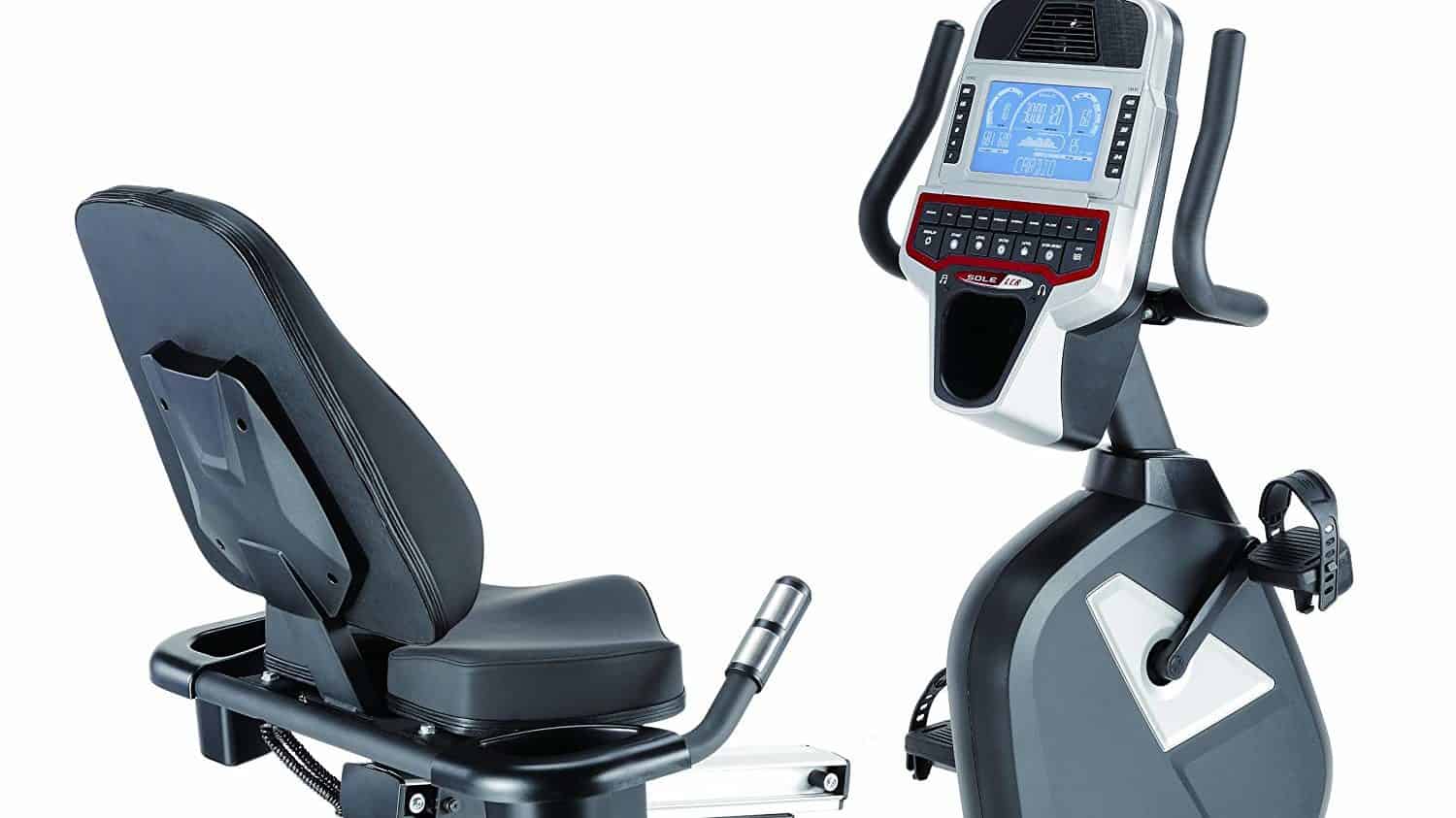 The Sole Fitness LCR Light Commercial Recumbent Bike is one of the most appealing recumbent bikes from SOLE with a good approval rating on Amazon. It is designed to be dependable, comfortable, and of course reliable.
Product Brand: Sole Fitness
Product In-Stock: InStock