The Circuit Fitness AMZ-986RW-BT Magnetic Rowing Machine has a very basic console. Nevertheless, it is Bluetooth-enabled and compatible with the Kinomap app.
This means you can install the app on your smartphone/tablet device to start a personalized visual workout session at home. Although, you will have to pay for the subscription at some point.
There is an oversized tablet holder above the console designed to accommodate any size of tablet device.
Click right here to have a peek at the best price of the Circuit Fitness AMZ-986RW-BT Magnetic Rowing Machine on Amazon.
Frame & Construction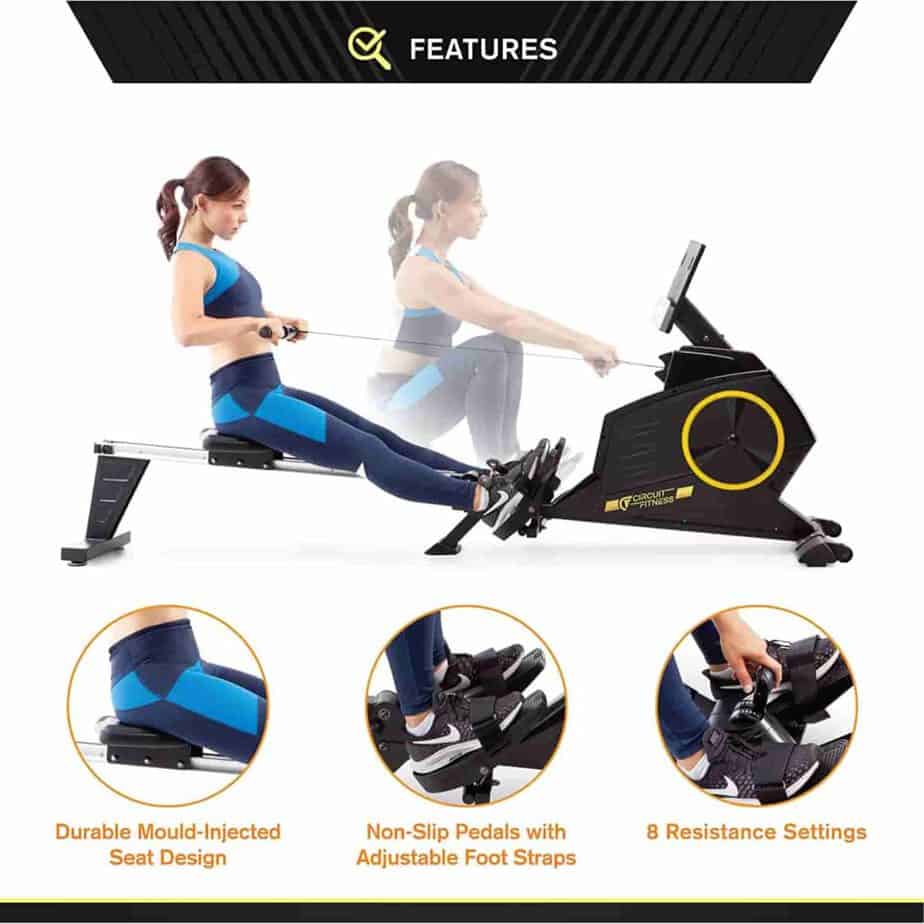 The frame of this magnetic rowing machine is made of steel (the outer layer of the rail is aluminum), while the coverings are made of ABS material.
The rail is slightly slanted. As a result, it provides more resistance to the legs than other rowers with a flat rail.
Users that are up to 300 lbs./136 kg maximum user weight capacity can utilize the rowing machine.
The base features 3 steel stabilizers, with adjustable levelers at the rear for maximum stability. Moreover, its overall assembled weight of 90 lbs./40.82 kg further improves its overall stability.
However, most users usually purchase this unit with a protective rubber mat to keep it from sliding or skidding while exercising; and it also prevents your perspiration from messing up the floor.
When it comes to the size, the Circuit Fitness AMZ-986RW-BT Magnetic Rowing Machine is close to the Concept2 Model D in that regard; the length size is 91'', while the width and the height are 20.5'' and 36'', respectively.
Therefore, it is going to need a bit of space for workouts.
For example, an area with the measurements of 7'58'' (231.14 cm) length by 1'70'' (52.07 cm) will be required. Plus, an additional clearance of 2' on each side for safety and access purposes.
However, storage is convenient and easy because the unit is foldable. It is also graced with transport wheels for an easy relocation process around the room or apartment.
The folded dimensions are 49'' long by 20.5'' wide by 56.5'' high.
The Seat of the Circuit Fitness AMZ-986RW-BT Magnetic Rowing Machine
This rowing machine has an ergonomically designed mold-injected seat that is meant to provide long-lasting comfort and safety. It is 10.5'' long by 16'' wide.
It has a steel frame base with 3 concealed ball bearings on each side attached to the rail for smooth and quiet back and forth motions.
The floor to the seat height is about 12-16''.
Finally, due to the length of the rail, 6'5'' tall users can be accommodated.
The Handlebar
The handlebar is straight steel that is coated with anti-slip foam for a sustained firm and comfortable grips.
This means you can exercise without experiencing slippage or discomfort to your grips so that you can focus on achieving your fitness goals.
However, the handlebar does not integrate any sort of sensor like the one on the ShareVgo Magnetic Rowing Machine.
The Pedals
The Circuit Fitness AMZ-986RW-BT Magnetic Rowing Machine features large, textured, and pivoting pedals that have safety adjustable straps and heel guards. They can accommodate different gym shoe sizes.
Their ability to pivot slightly makes the ankles adhere to each stroke's movement. As a result, the stress that could have otherwise felt on the ankles is reduced.
Drive/Resistance
This is obviously a belt-driven rowing machine that consists of a 1'' nylon strap. Its operation is smooth and quiet as opposed to a chain drive system, and it is maintenance-free.
The resistance system is magnetic with 8 adjustable levels. This means the system includes a magnet brake pad that releases magnetic fields around the metallic 11 lbs./4.85 kg flywheel to create resistance without friction.
So, when the resistance is adjusted from low to high, the magnetic brake pad shifts closer to the flywheel for more intense resistance.
To alternate the resistance level, simply turn the tension control lever rightward or leftward, to increase or decrease it, respectively.
As aforementioned, 8 resistance levels offer fairly challenging workouts that are suitable for everyone that wishes to lose weight, improve cardiovascular health, and tone muscle groups.
The Console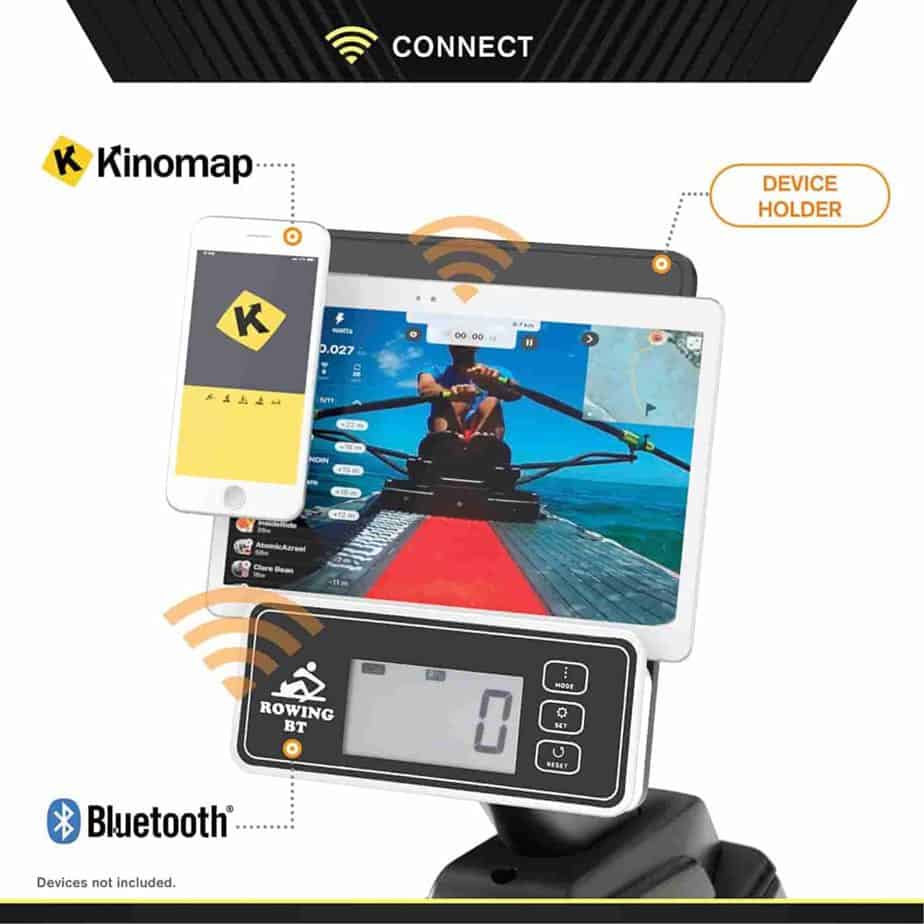 The console is basic, but it is Bluetooth-enabled to connect to the Kinomap app for an enhanced workout experience. Once the app is installed on an Android or iOS-based smartphone, you can engage in a personalized visual workout experience in the comfort of your home.
Although, you will have to subscribe to the app once the free-trial access time expires.
The rowing machine's LCD monitor displays workout stats such as Time, Distance, Speed, Calories Burned, RPM, Temperature, and Date. It is easy to read as long as it is being viewed in a well-lit environment.
The workout stats are displayed one at a time after every few seconds and continue in this pattern. Although, it is possible to set a certain workout stat of your choice to display constantly without switching to another.
The measurement unit for Distance and Speed are in miles and mph, respectively.
2 AAA batteries are required for the console to remain functional. To save the batteries' power, the monitor automatically shuts down when the rowing machine idles for a few minutes, and it automatically turns on when activities resume or when the Mode button is pushed.
There are function 3 buttons (Mode, Set, and Rest) for navigation.
Accessories
The Circuit Fitness AMZ-986RW-BT Magnetic Rowing Machine has a large tablet holder that could accommodate just about any smartphone/tablet.
It is designated at the top of the console for a better view and away from the view of the monitor's screen. This allows you to enjoy your smartphone during a workout as you don't lose sight of the stats on the LCD monitor as well.
Storage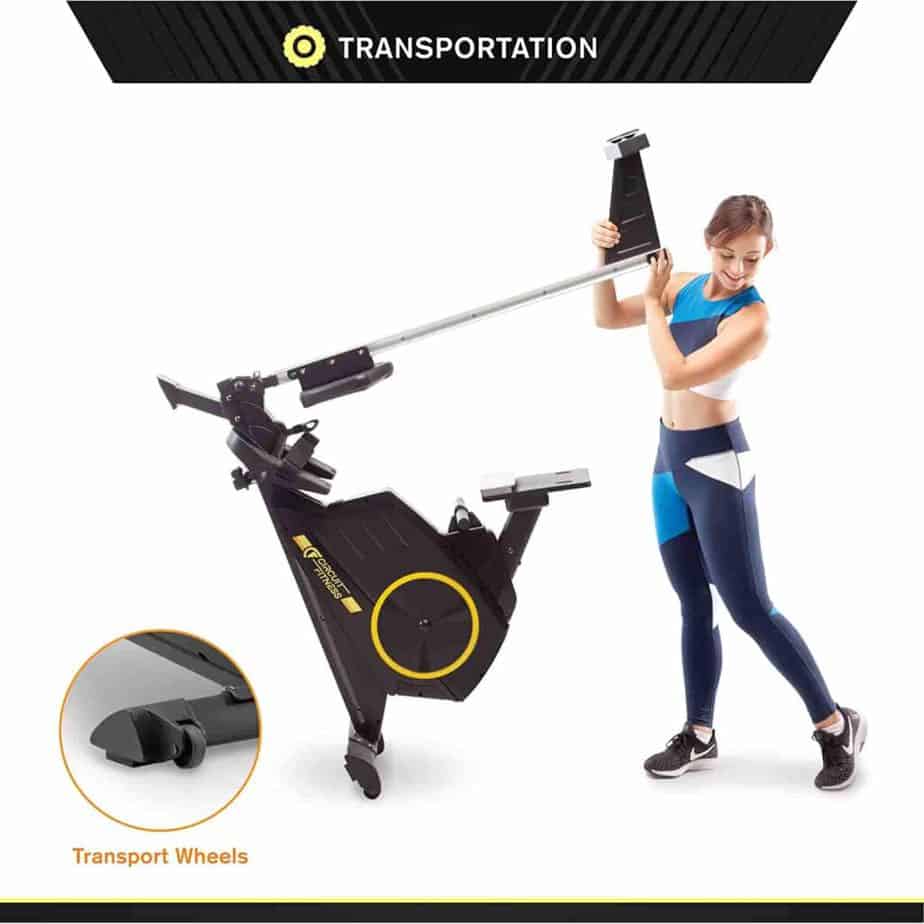 This rowing machine can easily be stored away because of its foldability and transportability.
It may require a bit of space during workouts but not when it is folded for storage.
When folded, a space area with dimensions of 49'' (124.45 cm) length by 20.5'' (52.07 cm) width will be accommodative for storage.
There are transport wheels at the front base that facilitate the relocation process. Therefore, even though it weighs 90 lbs./40.82 kg, it can easily be moved.
Pros/Features Overview
It is built to last
Its level of stability is great
Supports a maximum user weight capacity of 300 lbs./136 kg
It can accommodate users that are up to 6'5'' tall
Its space-saving design makes storage easy
There are transport wheels for easy relocation process
Its operation is smooth and quiet, thanks to its belt drive and magnetic resistance system
The resistance system provides easy to decent workout challenges
Low maintenance
The console is Bluetooth-enabled and compatible with Kinomap app for a fun workout experience
The LCD monitor tracks workout stats such as Time, Distance, Speed, RPM, Calories Burned, Temperature, and Date
The seat is large, contoured, and cushioned to offer lasting comfort
The handlebar is coated with soft rubber foam for secure and comfortable grips
The pedals are large and textured with safety features that ensure comfort and stability to the feet
The price tag is reasonable
Assembly is not difficult
The tablet holder is included
Cons
It takes a bit of space for workouts
The LCD monitor is basic and non-backlit
No water bottle holder
Warranty
2 Years for Parts replacement
Return Policy
Product Dimensions & Specifications
Length: 91''
Width: 20.5''
Height: 36''
Folded dimensions: 49'' L x 20.5'' W x 56.5'' H
Shipping dimensions: N/A
Net weight: 90 lbs./40.82 kg
Gross weight: 93 lbs./42.18 kg
Maximum user weight capacity: 300 lbs./136 kg
Supported height: 6'5''
Frame: Steel & aluminum
Flywheel: 11 lbs./4.98 kg
Drive: 1'' Nylon strap
Resistance: Manual magnetic with 8 adjustable levels
Seat: Durable, molded, and cushioned
Handlebar: Straight and coated with soft foam
Pedals: Large and textured with adjustable safety Velcro straps and heel guards
The Bluetooth-enabled console that is compatible with the Kinomap app
Basic LCD monitor
Transport wheels: Yes
Tablet holder: Yes
Shipping
The unit is usually shipped out upon completing an order. Some vendors, including Amazon, provide free shipping, and it gets delivered in a couple of days for US residents.
Assembly
The assembling process for this rowing machine is no rocket science. On the contrary, it is pretty easy as it comes with the major components preassembled.
Also, it is accompanied by an instruction manual that guides you through the process, and some of the tools needed are included as well.
Maintenance
No high demanding maintenance is required of you.
You only need to keep the unit clean after every workout session. Endeavor to store it in a safe, cool, and dry area.
Before engaging in any workout with it, ensure that you examine it to ascertain that all the parts are in good condition.
Conclusion
The Circuit Fitness AMZ-986RW-BT Magnetic Rowing Machine is an entry-level cardiovascular machine designed for those that wish to improve their physical fitness level at home.
It doesn't have fancy features. But it could be that companion that you need to get on that fitness journey you badly need.
Circuit Fitness AMZ-986RW-BT Magnetic Rowing Machine Review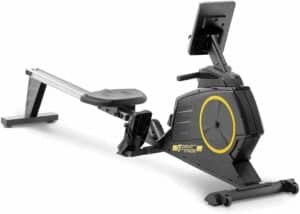 The Circuit Fitness AMZ-986RW-BT Magnetic Rowing Machine has a very basic console. Nevertheless, it is Bluetooth-enabled and compatible with the Kinomap app.
Product Brand: Ciruit Fitness
Product In-Stock: InStock