The ADVENOR Magnetic Resistance Exercise Bike is a smooth operator that does not generate noise. Of course, it is designed for home use and could comfortably be used regardless if anyone is around or not.
The reason for this is because it has a belt drive and a magnetic resistance system.
That said, it doesn't have a heart rate monitoring system. Although, you can use an external HR device or purchase an indoor cycling bike with a heart rate monitoring system such as the LABODI Indoor Cycling Bike.
This bike and LABODI Indoor Cycling Bike have similar features, price range, and supports the same user weight capacity. But the latter is a friction resistance bike with HR contact grips while the ADVENOR Indoor Cycling Bike is a magnetic resistance bike without HR contact grips.
Click right here to have a peek at the best price of the ADVENOR Magnetic Resistance Exercise Bike on Amazon.
The Frame and Construction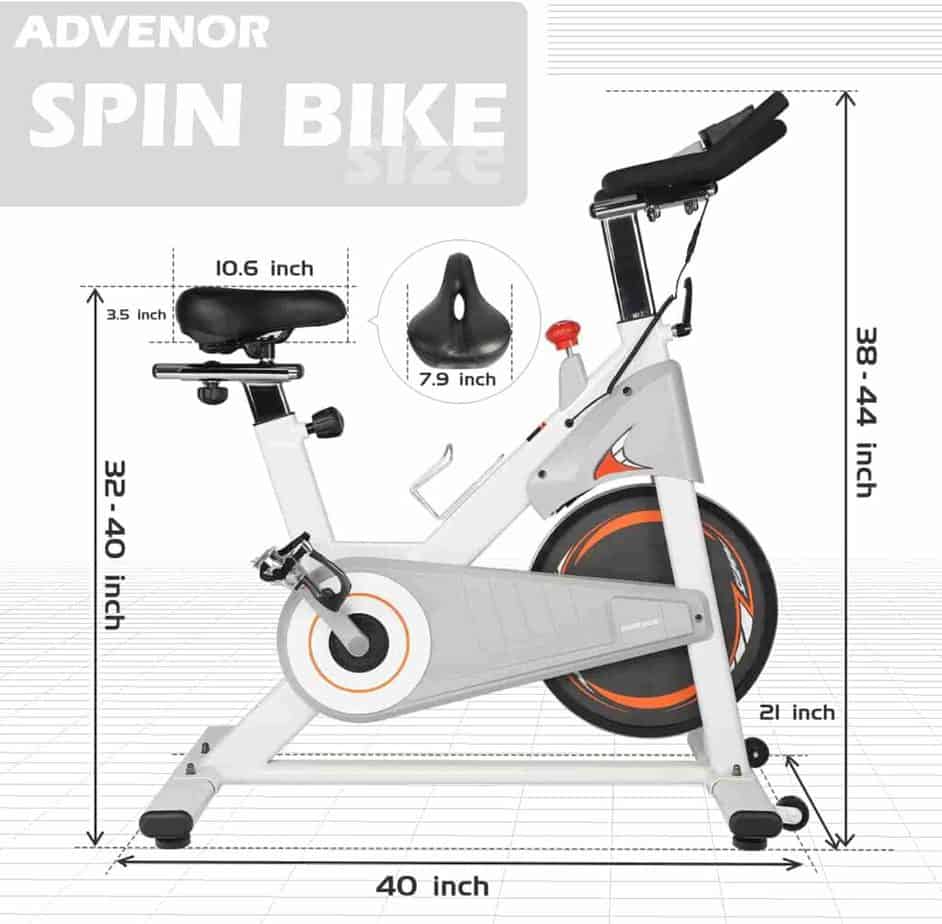 The ADVENOR Magnetic Resistance Exercise Bike is available in black and white colors. This means you can choose the white or the black version of it.
The frame is made of durable anti-corrosive steel. Thus, the bike supports a maximum user weight capacity of 330 lbs./149.6 kg.
The protective and cosmetic parts such as the drive train cover, the magnetic brake pad cover, the stabilizer end caps, and more are made of solid plastic.
The bike features stabilizers with adjustable levelers designed to guarantee a stable workout experience.
Although, the use of a protective rubber mat prevents floor damage and further improves stability.
The bike is not foldable, but even so, it won't overwhelm your space because it is not so large.
Its overall assembled dimensions are 40'' long by 21'' wide by 44'' high. Specifically, the bike needs a workout area with measurements of 3'33'' length by 1'75'', plus an additional 2' clearance around it for a convenient and safe workout.
There are transport wheels at the front base which help in the relocation process. You can easily move it around the room, after all, it only weighs 74 lbs./33.56 kg.
The Seat of the ADVENOR Magnetic Resistance Exercise Bike
The seat's dimensions are 10.5'' length by 7.9'' width by 3.5'' thick. It is generously cushioned to provide that much-needed comfort that could last throughout the duration of a workout session.
Having said that, you can further improve its comfort level by using a gel seat cover or have it replaced completely with another saddle of your choice because the stem (connection mechanism) is standard.
The seat is 4-way adjustable. It could be adjusted vertically (upward/downward) between 7 positions (32''-40'') and horizontally (fore/aft) as well for a perfect fit.
There are markers on the seat post for quick and easy adjustment.
However, this bike will probably be too small for someone that is over 6'.
The Handlebar
The W-shaped multi-grip handlebar provides up to 3 different grip positions that enable you to exercise in fast ride posture, soothing ride posture, and hill climb ride posture.
It is also coated with anti-slip soft rubber foam that provides secure and comfortable grips that outlast the duration of your workout session.
The 2-way adjustable handlebar could only be adjusted vertically between 38''-44''. Nevertheless, this increases the bike's overall customizability.
As aforementioned, the handlebar does not integrate heart rate sensors. The only way to monitor your heart rate is to purchase an external HR monitoring device or opt for an indoor cycling bike with the pulse rate.
Pedals
The bike comes with self-leveling toe caged pedals that have adjustable safety straps. They are best ridden with standard gym shoes and can securely accommodate different foot sizes as well.
But the problem is that you cannot exercise with special spin shoes unless you replace the pedals with SPDs.
The Drive
The ADVENOR Magnetic Resistance Exercise Bike is a belt-driven workout machine. This simply means that its drive transmission includes a poly V-belt instead of a chain. As a result, its operation is smooth and quiet, and no maintenance is also required.
This is why most users prefer a belt-driven bike such as this because it enables them to work out at any time of the day without worrying that the members of the family or the neighbors may frown at their workout activities.
Moreover, they don't also have to take the drive-train covers apart to lubricate or adjust anything.
The belt drive system is the way to go for most people, and this bike has it.
Finally, you can pedal in reverse if you so wish because the drive is fixed without the possibility of coasting. But this also means you will have to apply the emergency brake by pushing the tension knob down whenever you want to stop pedaling to avoid an injury.
The Resistance
This is a magnetic resistance bike with unlimited adjustable levels. This mainly comprises a magnetic brake pad, a 35 lbs./15.87 kg chromed high inertia weighted flywheel, and the tension control knob.
It generates resistance without friction; hence, the bike's operation remains nearly silent when the resistance is engaged. It is reliable and doesn't require maintenance as well.
To increase or decrease the resistance intensity, simply turn the tension control knob clockwise or counterclockwise, respectively.
The resistance levels are not predefined; therefore, you will have to adjust the resistance until you feel you have the right intensity suitable for you.
However, the good news is that the resistance system provides different workout challenges for those who wish to lose weight and improve cardiovascular health, strength, and endurance.
The Console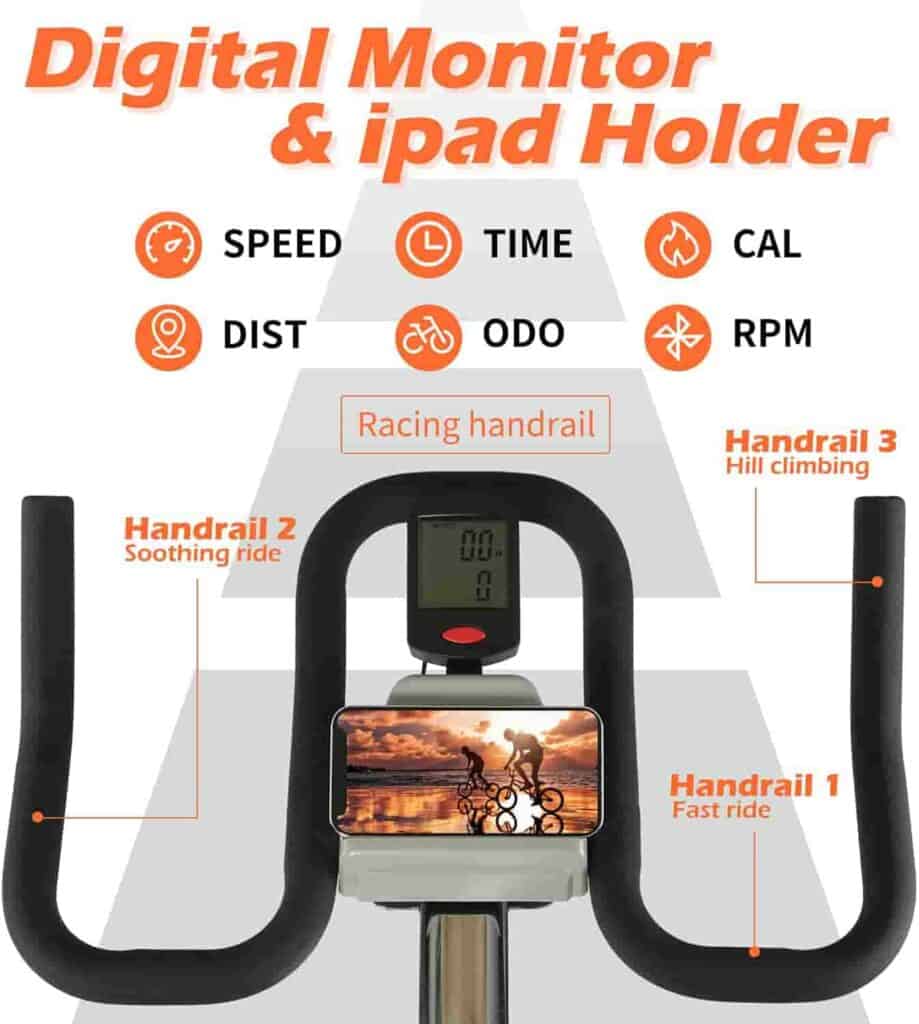 The console is pretty basic. It features an LCD monitor that tracks workout stats such as Time, Distance, Speed, Calories Burned, RPM, and Odometer.
The Speed and Distance are displayed in mph and miles, respectively, and cannot be toggled to km/h and km.
The display's readability is great as long as it is being viewed in a well-lit environment because the monitor is not backlit.
The workout data are displayed rotationally one at a time after every few seconds by the SCAN function. Although, it is entirely possible to set a preferred workout data to display constantly without interchanging.
Accessory
This bike is equipped with a smartphone holder. It is located below the console so that any device placed on it won't block the view of the monitor.
So, you can use your smartphone for entertainment purposes while you still keep an on your workout data.
There is also a water bottle holder on the main-frame tubing close enough to be reached easily for the maintenance of proper hydration during workouts.
Storage
The ADVENOR Magnetic Resistance Exercise Bike is easy to store away. The reason is that it is compact, lightweight, and transportable.
A storage area with measurements of about 3'33'' length by 1'75'' width should be fine.
The integrated front-mounted transport wheels help in the relocation process.
Pros/Features Overview
Durable and simply made
Compact, lightweight, and transportable
Supports 330 lbs./149.6 kg maximum user weight capacity
The 4-way adjustable seat is large and cushioned
The 2-way adjustable multi-grip handlebar is cushioned with anti-slip rubber foam
The toe caged pedals with adjustable safety straps accommodate different foot sizes and also provide secure foot placement
There are stabilizers with adjustable levelers for a stable workout experience
LCD monitor tracks workout stats such as Time, Distance, Speed, Calories Burned, Odometer, and RPM
Its operation is smooth and quiet, thanks to the belt drive and magnetic resistance system
The resistance system offers unlimited resistance levels
There is little to no maintenance requirement
Assembly is a walk in the park
Tablet holder included
Water bottle holder included
Cons
The monitor is not backlit
No heart rate monitoring system
The bike may not be suitable for users that are above 6'
Warranty
12 Months on Parts replacement
Product Dimensions & Specifications
Length: 40''
Width: 21''
Height: 44''
Shipping dimensions: 40.5'' L x 34'' W x 8.5'' H
Net weight: 74 lbs./33.56 kg
Gross weight: 83 lbs./37.64 kg
Maximum user weight capacity: 330 lbs./149.6 kg
Frame: Steel
Flywheel: 35 lbs./15.87 kg
Drive: Belt
Resistance: Magnetic with infinite adjustable levels
Seat: 4-way adjustable, dimensions; 10.6'' L x 7.9'' W x 3.5'' H
Handlebar: Multi-grip and 2-way adjustable
Pedals: Toe cages with adjustable safety straps
Console: Nonbacklit LCD monitor
Transport wheels: Yes
Tablet holder: Yes
Water bottle holder: Yes
Shipping
The shipping box dimensions of the ADVENOR Magnetic Resistance Exercise Bike are 40.5'' long by 34'' wide by 8.5'' high, and it weighs 83 lbs./37.64 kg.
Its shipping doesn't usually attract extra cost, and delivery is made within a couple of days.
Assembly
The assembly process of this bike is not complicated at all. There are 2 videos (one especially made on how to attach the pedals) made to guide you through the steps of the assembly.
Also, tools and an instruction manual are included to ensure that you can successfully assemble the bike.
It takes less than an hour to complete this task.
Maintenance
No serious maintenance is needed. Simply wipe the bike clean after every workout session.
Make it a routine to examine the bike before use. By so doing, a broken or loosened part will be detected and fixed accordingly.
Store in a clean, dry, and cool area.
Conclusion
The ADVENOR Magnetic Resistance Exercise Bike is a standard entry-level cardio machine designed for home use.
Its acquisition will certainly help you to work out and achieve your physical fitness goals in the comfort of your home.