The CHAOKE 8733 Indoor magnetic Exercise Bike is fit for home and office use. It is a belt drive unit with a manual magnetic resistance system that guarantees a smooth and quiet ride.
Its overall construction makes it sturdy, stable and accommodating of users that have inseam heights of 29''-36'', while it supports a maximum user weight capacity of 300 lbs./136 kg.
Most avid users view the bike as one of the best and cost-effective indoor cycling bikes available.
This is because, with the use of an optional device such as Wahoo Cadence, you will be able to connect to Wahoo Fitness or one of the multiple compatible third-party apps for tracking workout progress and streaming workout videos.
Click right here to have a peek at the CHAOKE 8733 Indoor magnetic Exercise Bike on Amazon.
Frame and Construction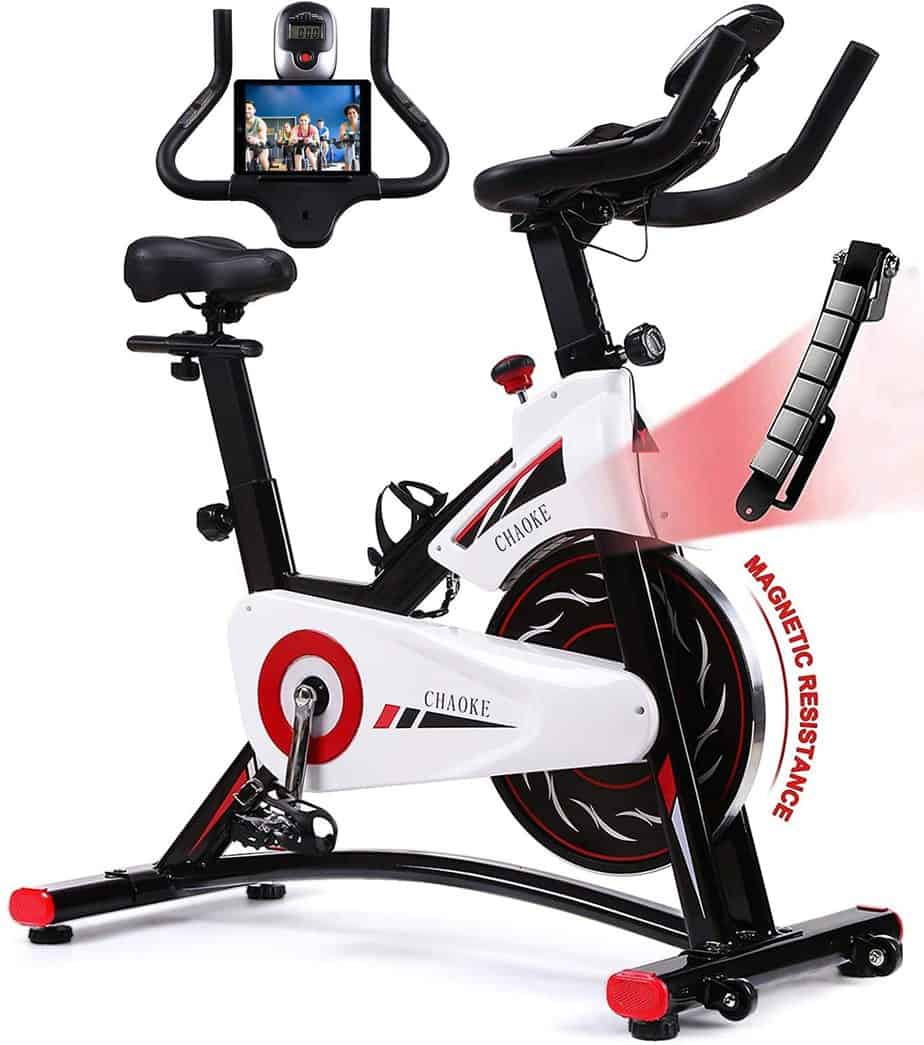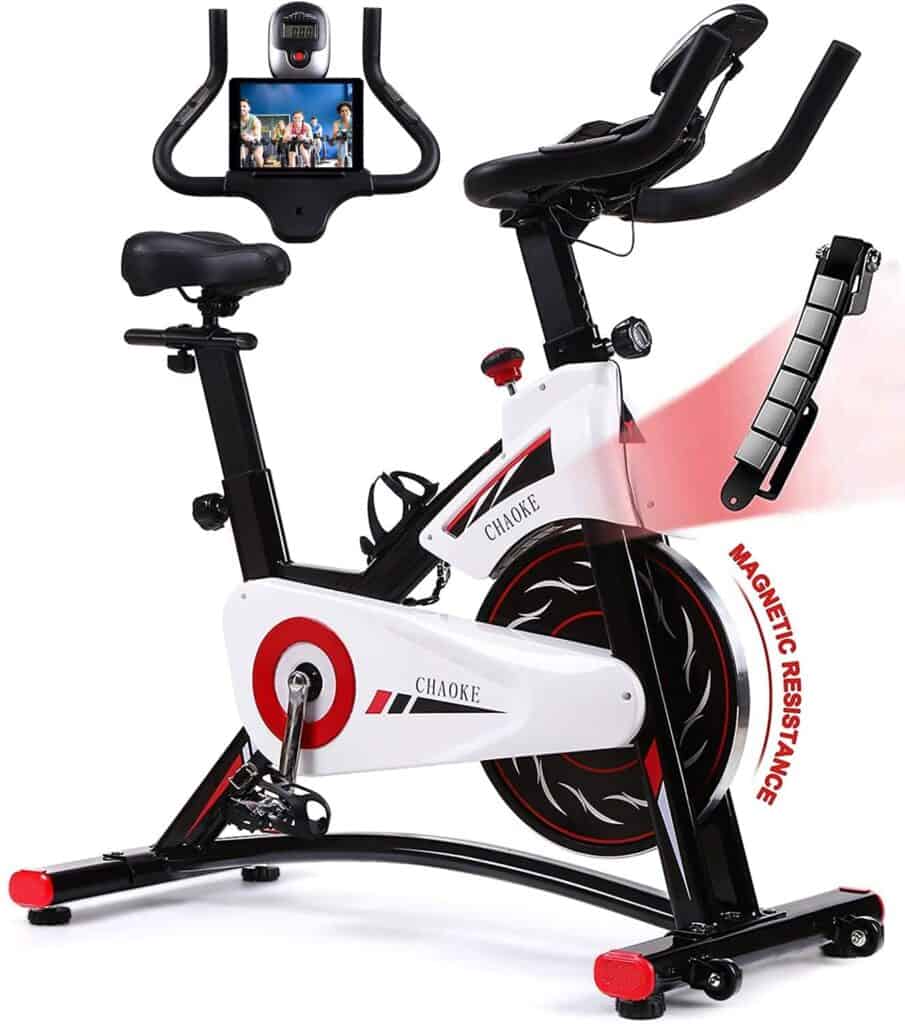 The CHAOKE 8733 Indoor magnetic Exercise Bike has a similar frame structure and the same type of resistance/belt drive system as the XGEAR Magnetic Indoor Exercise Bike.
The unit features a heavy-duty steel frame that is coated with anti-corrosive black, white, and red paint, while the protective and cosmetic drive train cover is made of ABS material.
Hence, it is stylish and capable of supporting a high user weight capacity.
The bike's robust base framework features stabilizers with adjustable levelers. This means users can level it up on a surface that is not completely even. Moreover, the net weight (79 lbs./35.8 kg) also guarantees unfaltering stability.
The assembled dimensions are 41.3'' long by 20'' wide by 44.49'' high, and that is to say, the bike requires a workout area with perimeters of 3'5'' length by 1'7'' width.
While this may be true, an additional 2' is needed around the perimeters for safety reasons during workouts.
Due to the front-mounted transport wheels, the bike can easily be moved from one room to another.
The Seat of the CHAOKE 8733 Indoor magnetic Exercise Bike
The seat is wide and slightly has a couple of foam layers than an average spin bike's saddle. It also has a groove in the middle of it for air permeability that is intended to keep the user dry and comfortable.
However, some users have complained about how uncomfortable the seat is.
So, should you be in the same situation, the use of a gel seat cover could make a great deal of a difference.
Better still, you can have it swapped with another seat of your choice since the connection mechanism with a collar is standard.
The seat could be adjusted a couple of inches vertically (upward/downward) and horizontally (fore/aft) so that users of different heights and sizes can be accommodated.
Having said that, if you are 6' tall and above, this bike may not suitable for you.
On second thought, to be sure the bike is suitable for you, measure your inner thigh to the ankle to ascertain the length falls between 29''-36''.
The Handlebar
The handlebar is 2-way adjustable. Unlike the seat, it can only be adjusted vertically, but it does improve the bike's overall customizability.
The multi-grip ergonomic handlebar offers 3 different grips that allow users to train in a variety of workout positions, including a racing posture.
It is adequately cushioned with an anti-slip rubber foam material that provides secure and comfortable grips for prolonged workouts.
EKG heart rate sensors and a large tablet holder are integrated into the handlebar for tracking the pulse rate and streaming videos.
The Pedals
This indoor cycling bike comes with a set of toe caged pedals that have adjustable safety straps.
They are suitable for most foot sizes, even as they provide maximum footing stability.
They are designed to be ridden with a pair of standard gym shoes. However, they can be swapped for SPD if you wish to use special clip-in shoes instead.
The crankset and the crank-arms to which the pedals are attached are strong and durable to hold up the maximum user weight the bike supports.
The Drive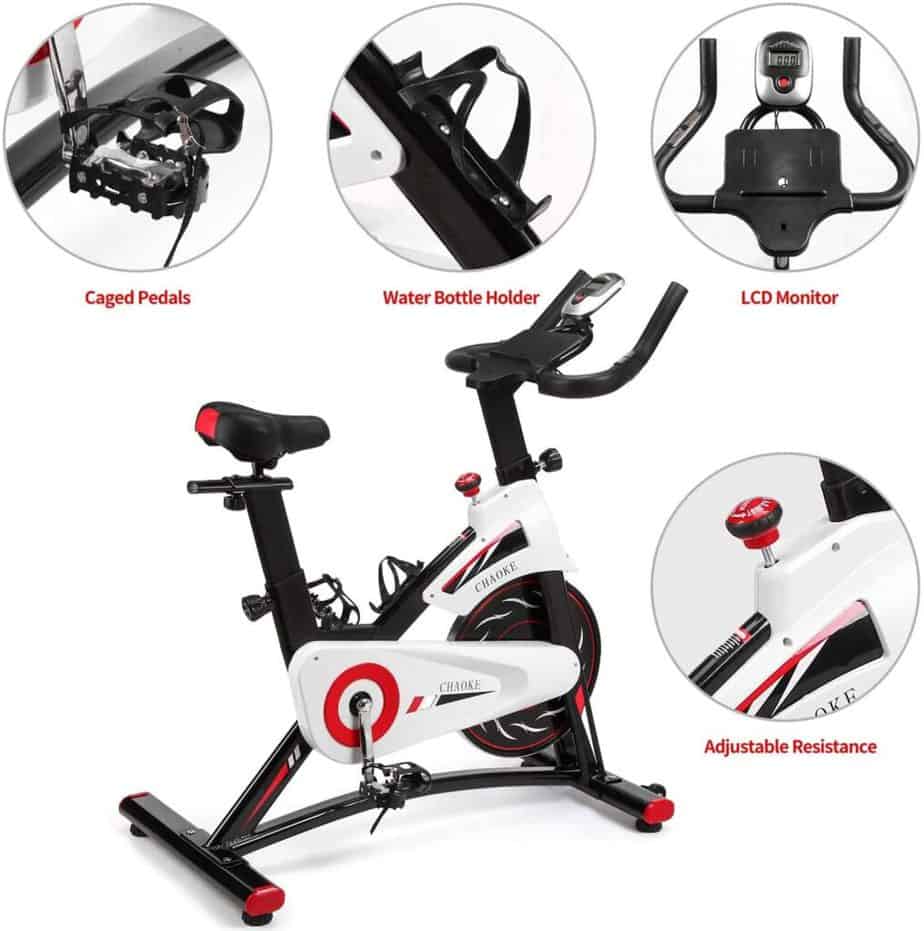 As aforementioned, the CHAOKE 8733 Indoor magnetic Exercise Bike is equipped with a belt drive system. A drive that operates smoothly and quietly.
It doesn't require periodic maintenance such as taking the shrouds apart for lubrication or adjustment.
The bike can be ridden in the presence of family members and neighbors that are living nearby without constituting a nuisance.
In other words, you will be able to have a flexible training routine that suits your timetable.
The drive transmission produces a fixed motion that could either go forward or backward, and what this means is that users cannot only pedal forward but can reverse as well if they so wish.
However, this eliminates the possibility of coasting while pedaling, making it highly important to apply the emergency brake by pushing the control knob down whenever the desire to stop abruptly is needed.
The Resistance system
This bike has a manual magnetic resistance system with unlimited adjustable levels. It consists of a magnetic brake pad with 6 blocks of magnets, a 37 lbs./16.7 kg perimeter weighted flywheel, and the tension control knob that is designated on the mainframe tubing.
The resistance is generated by the magnetic fields released on the top surface of the flywheel by the magnetic pad.
This, unlike the friction resistance system, produces resistance without the elements having direct contact, thereby preventing any squealing sound and deterioration of any part.
It also means that the bike remains smooth and quiet even when the resistance is engaged, and no maintenance will be required as well.
Increasing or decreasing the resistance level includes turning the tension knob clockwise or counterclockwise, respectively.
Nevertheless, there are complaints that even the lowest resistance level is still challenging, making it difficult for the feeble, the elderly, those recovering from physical injury to be able to use and enjoy the bike.
The Console
The CHAOKE 8733 Indoor magnetic Exercise Bike features a small basic console with a single navigation button and a nonbacklit LCD monitor that tracks workout stats such as Time, Distance, Speed, Calories, and Pulse in real-time.
Although, the Pulse data can only show when the EKG contact grips are grasped during a workout. A wireless HR chest strap cannot be used since the console is not telemetric.
There is a SCAN function that rotationally displays the workout stats one at a time after every few seconds. But you can override it to set a certain workout value you may wish to view constantly.
The display clarity is good as long as it is being viewed in a well-lit environment. Otherwise, it will be difficult considering it is nonbacklit.
The console is battery-powered, and so the bike doesn't need to be plugged into a power outlet.
Accessory
A tablet holder and a water bottle holder are included on this bike.
Therefore, users can take calls, stream workout videos, movies, listen to music, and also be able to keep water handy to maintain proper hydration during workout sessions.
Storage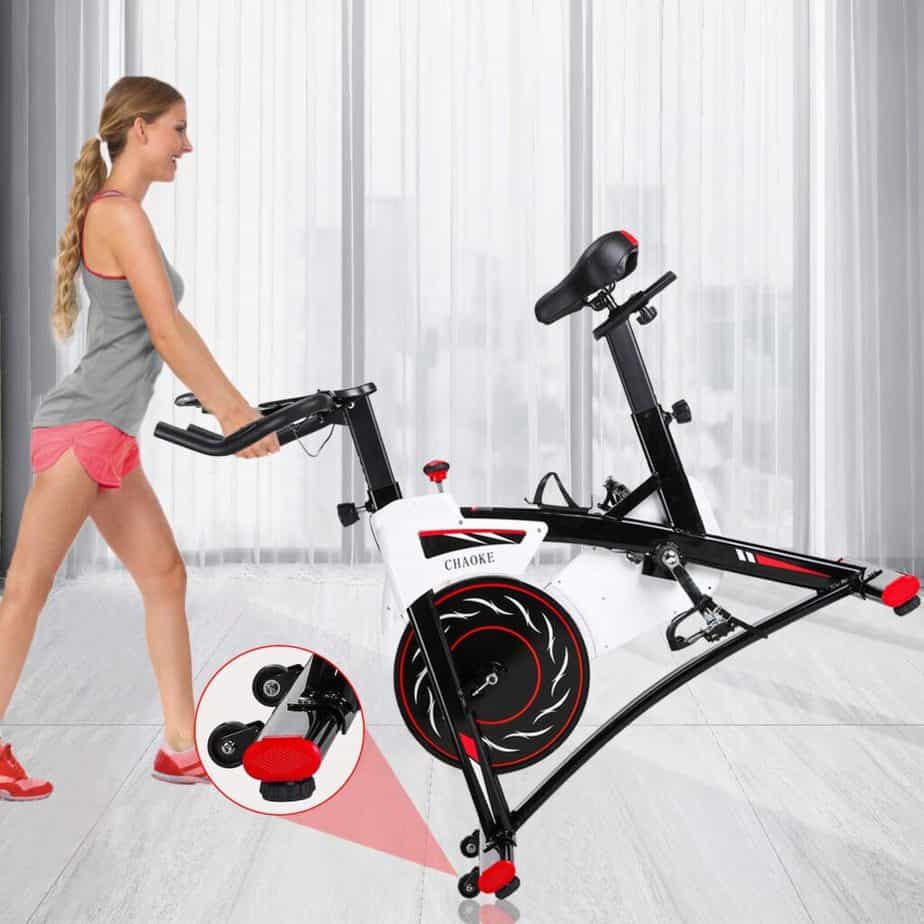 The CHAOKE 8733 Cycling Bike is a compact machine. It doesn't take up too much space even though it's not foldable.
It can be stored under the staircase, in a garage, or at the corner of the room since it only requires an area with perimeters of 3'5'' length by 1'7'' width.
Finally, even though the bike weighs 79 lbs./35.8 kg, the attached transport wheels at the front base facilitate its easy relocation.
Pros/Features Overview
It has a solid and sturdy construction that supports 300 lbs./136 kg maximum user weight capacity
Its robust base framework guarantees stable workouts
The belt drive system provides smooth and quiet operation that is home-friendly
The seat and the handlebar are adjustable; hence, the bike supports inseam heights of 29''-36''
LCD monitor tracks workout stats such as Time, Distance, Speed, Calories, and Pulse
EKG contact grips;
Manual magnetic resistance system with infinite adjustable levels offers different workout challenges
The ergonomic handlebar is cushioned with anti-slip soft rubber foam material, and it provides multiple secure and comfortable grips
The heavy 37 lbs./16.7 kg flywheel provides a consistent momentum that maintains steady and vibration-free motion
The toe caged pedals accommodate most foot sizes and offer stable foot placement
The pedals and the seat are swappable; they can be replaced with other options
Integrated transport wheels enable users to move it easily
Easy to assemble
Almost maintenance-free
There is a tablet holder for streaming videos, movies via a smartphone device during workouts
A water bottle holder included for hydration purposes
Cons
The console is basic
The monitor is nonbacklit
Individuals that are 6' tall and above may not be able to fit on the bike
Warranty
Product Dimensions and Specifications
Length: 41.3''
Width: 20''
Height: 44.49''
Shipping dimensions: 41.5'' L x 33.5'' W x 9'' H
Net weight: 79 lbs./35.8 kg
Gross weight: 82.4 lbs./37.38 kg
Maximum user weight capacity: 300 lbs./136 kg
Inseam height: 29''-36''
Frame: Steel
Flywheel: 37 lbs./16.7 kg
Drive: Belt
Resistance: Manual magnetic with micro-adjustable levels
Seat: 4-way adjustable
Handlebar: 2-way adjustable
Pedals: Toe cages with adjustable safety straps
Console/monitor: Basic, nonbacklit
Tablet holder: Yes
Water bottle holder: Yes
Transport wheels: Yes
Shipping
Vendors are the ones who determine the shipping cost of their products, but Amazon provides free shipping and gets it delivered in a few days.
The shipping dimensions are 41.5'' long by 33.5'' wide by 9'' high, and it weighs about 82.4 lbs./37.38 kg.
Assembly
The assembly process of the CHAOKE 8733 Indoor magnetic Exercise Bike is the same as any other average indoor cycling bike.
The process is usually straightforward and simple. You will be required to attach the front and rear stabilizer bars, the seat and its post, the handlebar and its post, the pedals, and the console.
It takes about an hour to fully assemble the bike.
Moreover, an instruction manual that lays out the process nicely and the tools needed for the job are included in the package.
Maintenance
No serious maintenance is expected to be carried out considering the bike is belt-driven and it has a magnetic resistance system.
Although, the bike needs to be kept clean after every use, and endeavor to store it in a clean, dry, and cool area.
Inspect it before workouts to be sure that every part is tight and in good condition.
Conclusion
The CHAOKE 8733 Indoor magnetic Exercise Bike is a basic cardiovascular spin bike.
It doesn't have advanced features but has enough to guarantee productive and enjoyable workout experiences that could ultimately result in weight loss, improvement of heart and lungs' health, and more.
CHAOKE 8733 Indoor Magnetic Exercise Bike Review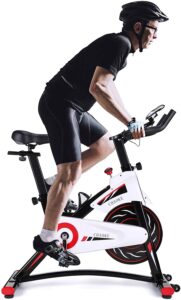 The CHAOKE 8733 Indoor magnetic Exercise Bike is fit for home and office use. It is a belt drive unit with a manual magnetic resistance system that guarantees a smooth and quiet ride.
Product Brand: Chaoke
Product In-Stock: InStock