The Bladez Fusion GS II Indoor Cycle is yet another spin bike from the stables of Bladez Fitness. This bike's price is considered to be decent and it's one of its selling points. Due to its affordability, cycling enthusiasts will be able to acquire one and train in the comfort of their homes.
It also has other features that can hardly be ignored, such as the overall built that is sturdy and stable. It supports up to 275 pounds/125 kg maximum weight user weight capacity. Its design is simple and yet clean and appealing.
As we carried out our research on the Bladez Fitness Fusion GS II Indoor Cycling Bike, one thing that has been consistent with most of the reviews we came across is the fact that they agreed that the unit is built with quality.
However, some are disgruntled about the spin bike but it is only a very small percentage.
It has almost similar features with the Bladez Master GS Indoor Cycle which is slightly higher in terms of features. For instance, the Master GS Indoor Cycle supports up to 300 pounds maximum user weight capacity while the one under review supports 275 pounds. One of the major differences between these bikes is that the Master GS Indoor Cycle's console is telemetry enabled while the one under review is not. So, you might want to use the link above to check it out if you wish to monitor your heart rate.
That being said, we shall sum up our findings and let you know the upside and the downside of this bike so that you may be able to make a smart purchasing decision.
If you are in a hurry, you may click right here to get the bike at a price on Amazon.
The Frame/Sturdiness
The frame of the Bladez Fusion GS II Indoor Cycle is made of high-quality steel that supports up to 275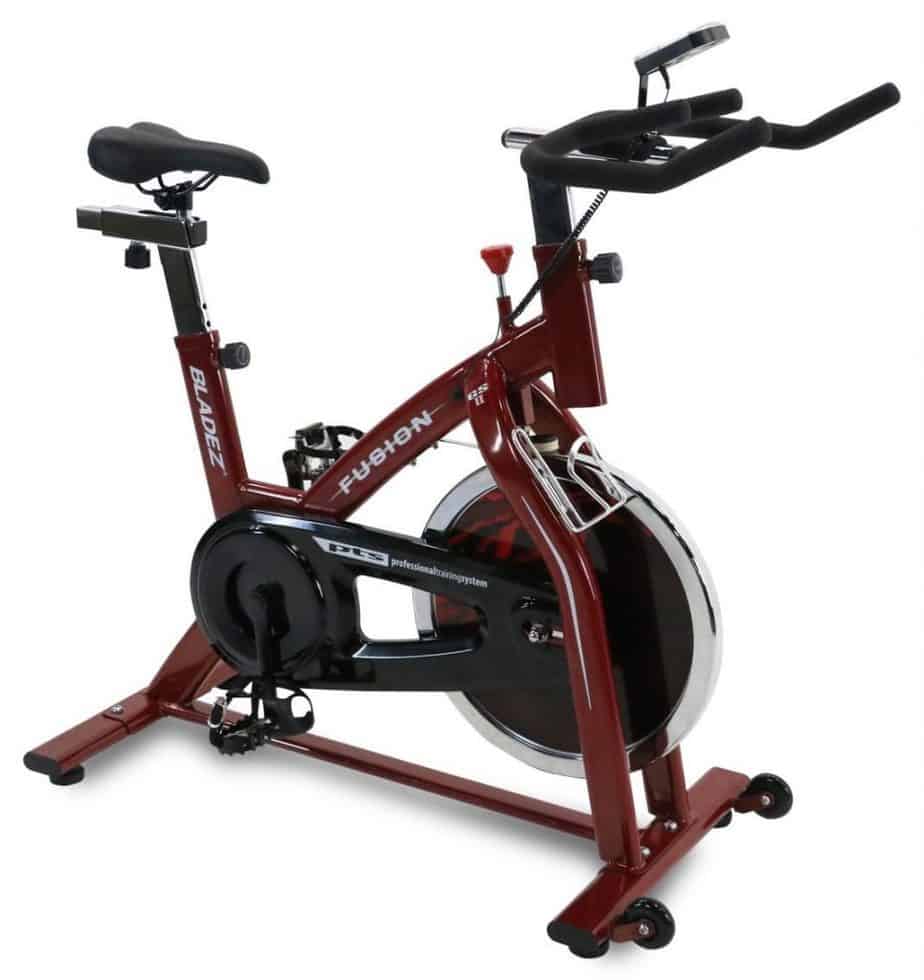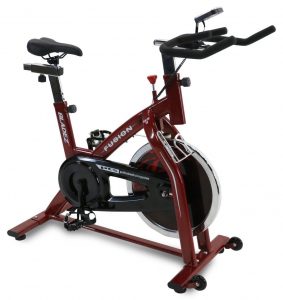 pounds/125 kg maximum user weight. The seat and the handlebar posts are also made of thick steel tubing.
The frame and the stabilizer bars are coated with anti-corrosion and scratch paint that prevents them from rust and scratches. However, this bike is not designed to be used outdoors or be exposed to moisture, water, or rain.
It is also compact that folks with space issues would love it completely. Its overall assembled dimensions are 47.5 inches long by 20 inches wide by 43 inches tall. This means a workout area of 4 feet long by 1 foot 7 inches wide will be required. Although, it is recommended to leave an extra clearance of 2 feet on each side and 3 feet at the rear for a safe and outstanding workout experience. When you add the additional clearance to the actual space for the bike you will then have a perfect workout area.
The height is only 43 inches, which is the equivalence of 3 feet 6 inches; therefore, the ideal ceiling height should be at least 6 feet.
It is a highly stable bike due to the stabilizer bars that are designated at the front and the rear bases. There are also four adjustable levelers underneath the stabilizer bars designed to level up the bike on an uneven. However, to further enhance the stability it is recommended to be purchased together with a rubber mat, especially if you are going to use it on a wooden or tiled floor. It is a lightweight bike that weighs about 85 pounds/39 kg which nevertheless adds to its stability.
The relocation of this bike is also made easy by the integrated transport wheels at the front base. Anyone can easily move it by tilting toward the front base where the transport wheels are.
The Seat, Handlebar, and Pedals
The Bladez Fusion GS II Indoor Cycle comes with a standard saddle that is commonly found on outdoor bicycles.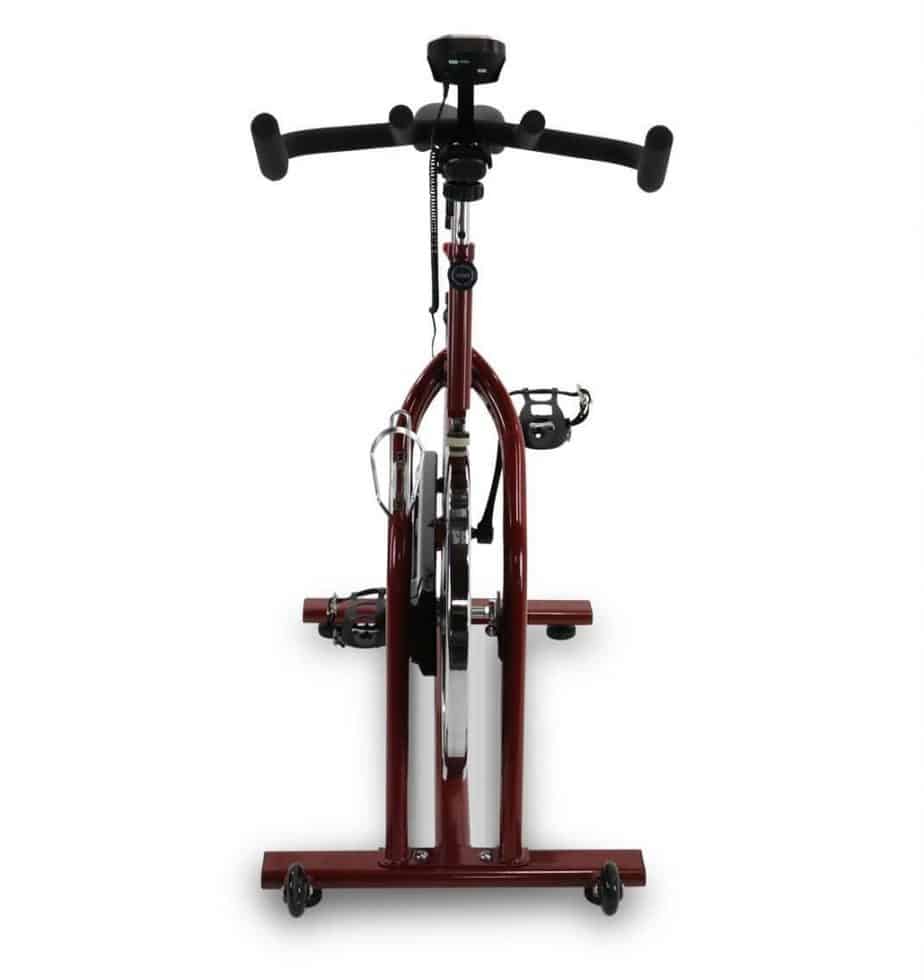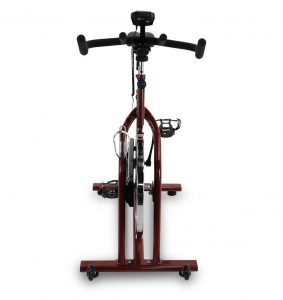 It is not as padded and wide as the Master GS Indoor Cycle; for this reason, it is advised to be purchased with a gel seat cover to improve the comfort the seat offers.
Some users have also complained about the saddle breaking within the first few weeks or months of purchase, but the good news is that it can be replaced with another better seat. So, you have two options of either buy a gel seat cover or completely change and replace the saddle with a better one.
The seat is also completely adjustable; it can be adjusted 4 ways, i.e. upward/downward and forward/backward. On top of that, it can be tilted upward or downward as well.
The adjustment of the seat is simple and easy to perform; it won't take you more than a minute to adjust to your preferred workout position.
Because the seat has excellent micro-adjustability, most users, both short and tall individuals are likely to be accommodated without restrictions. The maximum height adjustment of the seat from the floor to the top of the seat is about 39.75 inches, while the minimum height adjustment from the floor to the top of the seat is 33 inches. Therefore, users between 5 feet to 6 feet in height will not have a problem using the bike.
The bike has a multi-grip handlebar that provides you with the opportunity to work out at different angles. It is also completely adjustable like the seat; you can adjust it horizontally and vertically which complements the seat for a comfortable workout experience.
It doesn't take time to adjust to your preferred settings; it only takes a couple of seconds and you will be working out.
The maximum height adjustment from the floor to the top of the main handlebar is 43.5 inches while the minimum height adjustment from the floor to the top of the main handlebar is 39.5 inches.
The pedals are not sided SPD compatible but are integrated with only toe cages and of course safety straps. However, since it has a standard crank you can swap or replace them with SPD pedals if you have to.
The pedals have a slightly narrower Q Factor (i.e. the distance from the inner edge of the left pedal to the inner edge of the right pedal) of 7.25 inches than the Master GS Indoor Cycle. This means that your legs, knees, and ankles will experience less stress than working out with a bike with a wider Q-Factor. However, the Efitment Magnetic Indoor Cycle Bike has the best Q Factor that is similar to that of the outdoor bike.
The Drive System
The Bladez Fusion GS II Indoor Cycle features a chain drive system just like the Exerpeutic LX7 Indoor Cycle Trainer. The positive side of the chain drive system is that you will have the feel of an outdoor bike while working out, while it requires maintenance and adjustment from time to time unlike the bike with the belt drive system.
The chain drive consists of the chain; chain wheels, solid steel crank arms, and 3 piece crankset, which are interconnected to the 40 pounds/18 kg heavy-duty flywheel, together they provide smooth and consistent motion. It is also quiet during a workout but not as quiet as the bike with a belt drive system though. You can still work out and listen to music or watch your favorite TV show with the regular volume. The noise coming from the chain drive won't bother you, your family, or neighbors while using the bike.
The chain drive is covered with a guard that prevents dirt, your feet, or cloth from getting in contact with it.
The Resistance
The Bladez Fusion GS II Indoor Cycle features a friction resistance system with a top-down felt pad that is attached to the mainframe of the bike. The Friction resistance system is highly effective when compared to the magnetic resistance system. However, it wears out over time and will need to be replaced at some point in time as a result of usage.
Resistance is generated when the felt pad comes in contact with the 40 pounds/18 kg flywheel. It can be adjusted to increase or decrease resistance via the tension knob. It does not have resistance levels indicated on the knob just as some other bikes have the resistance levels indicated. This means you simply twist the knob clockwise to increase resistance and turn anticlockwise to decrease the resistance until you find the suitable level you wish to work out with.
Working out with infinite resistance makes it difficult for you to know the level you used in your previous workout and so your strength endurance improvement may be difficult to be established.
The tension knob also works as an emergency brake when you wish to stop cycling suddenly. Simply push the knob down and the bike flywheel will come to a stop. This is important because the pedal is bi-directional which means that you cannot coast as you could with a bicycle; both the pedals and the flywheel turn simultaneously.
Although, the advantage of bidirectional pedals is that you will be able to pedal in reverse and work on more muscle groups.
The Console
The Bladez Fusion GS II Indoor Cycle's console is slightly above basic; it has a monitor with good readability, but you won't be able to view the metrics in a room that is not well lit because it is not backlit.
You should be able to track your workout progress as the monitor displays time, distance, calories burned, speed, and Scan.
The SCAN function rotates your workout values; they appear in turn after a few seconds.
There are 3 buttons on the console which are SET, MODE, and RESET and they are very easy to use. The MODE button is used to scan through the workout values while the SET button is used to pre-set a goal you wish to achieve. When your set goal is achieved you will be notified with a beep.
The console is powered by two AA-type batteries, which are included.
The monitor automatically comes ON when there is movement on the pedals and flywheel and also turns OFF when there is no movement on the pedals for a couple of seconds to save the battery's lifespan.
Accessory
The Bladez Fusion GS II Indoor Cycle at least has one accessory which is a detachable water bottle holder that is designated at the sidebar close to the flywheel.
Storage
The storage of the Bladez Fusion GS II Indoor Cycle won't be a problem even to those that have space problems because it is a compact bike with dimensions of 47.5 inches long by 20 inches wide by 43 inches tall. It weighs just about 85 pounds that is the equivalence of 39 kg; two transport wheels are integrated into the front base stabilizer bar to make relocation easy.
Approval Rating
The Bladez Fusion GS II Indoor Cycle is a popular bike because most of its users expressed their satisfaction with Amazon customer reviews and its overall rating is still impressive.
To read Amazon customers' reviews click right here.
Pros/Features Overviews
Built with an oversized steel frame
Sturdy and stable
Seat completely adjustable
Handlebar completely adjustable
Friction resistance system
A relatively quiet drive system
40 pounds flywheel
Digital monitor displays time, distance, calories burned, speed, with SCAN function
Bidirectional pedals that increase the chance of working on more muscle groups
Simulates a real outdoor bike performance
Smooth and consistent motion
Easy to assemble
Compact design
Features transport wheels
Water bottle holder
Good Q Factor that reduces stress on the joints
Multi-grip handlebar covered with rubber foam for maximum comfort
Cons
The saddle is poorly made; that is the reason it is advised to use a gel seat cover to improve comfort or replace it with another better seat
No preset programs
The console is not telemetry enabled which means you can't monitor your pulse
Product Dimensions and Specifications
48'' Length
20'' Width
43'' Height
Weighs 85 pounds/39 kg
Friction resistance
Resistance level: Infinite
Chain drive system
Digital Monitor
Pedals with toe cages and straps
Seat: 4 way adjustable
Handlebar: 4 way adjustable
40 pounds flywheel
Supports up to 275 pounds
Warranty
Lifetime on Frame
1 Year on Parts
1 Year on Wear
1 Year on Computer
90 Days on Labor
Shipping, Assembly, and Maintenance
Shipping
The shipping cost of the Bladez Fusion GS II Indoor Cycle entirely depends on the retailer you are purchasing from; although, some retailers like Amazon provides free shipping
Assembly
This spin bike comes partly preassembled; major components such as the flywheel, crankset, chain, tension knob are already attached to the frame. You will be required to attach the stabilizer bars, the seat post, the saddle, the handlebar post, the handlebar, and the console. The cycle bike is also accompanied by a detailed instruction manual that will help you with the process of assembly.
To completely assemble it will take less than an hour.
Maintenance
The Bladez Fusion GS II Indoor Cycle won't require much maintenance but being a chain drive cycling bike you will have to maintain the chain to make sure it runs smoothly with no friction. The chain requires lubricating from time to time to avoid stiffness that could eventually result in annoying sounds when working out. You may also have to adjust the chain when it has developed some clearance.
Make sure to use a silicone-based lubricant for chain maintenance.
Then the felt pad may also require to be replaced because it wears out during usage.
Finally, always examine the bike regularly to see if there is any part that is loose, worn, or broken; act accordingly by re-tightening, repairing, or replacing if there is any.
Conclusion
The Bladez Fusion GS II Indoor Cycle is a very sturdy bike that is capable of providing decent workouts.
Although, it has some flaws such as the seat that is poorly designed and lack of heart rate sensors or wireless chest strap that could allow you to monitor your pulse
But the consolation is that it is a very strong bike in other aspects and affordable.
Bladez Fusion GS II Indoor Cycle Review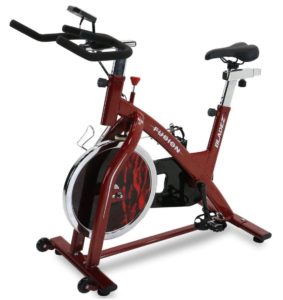 The frame of the Bladez Fusion GS II Indoor Cycle is made of high-quality steel that supports up to 275 pounds/125 kg maximum user weight
Product Brand: Bladez Fitness
Product In-Stock: InStock