This review could not have been written if I had followed the sentiment I had about the L Now LD-582 Indoor Cycling Bike because it is not as famous and popular as the Nautilus or Sunny Health & Fitness brands.
But when I took another look at it I knew I had to review it. It has some amazing features that need to be let out to fitness enthusiasts.
The bike features a magnetic resistance system, a heavy-duty steel frame, a 46 pounds bi-directional flywheel, a water bottle holder, a multimedia stand for your smartphone device, and more.
It integrates a belt drive system that operates smoothly and quietly with no maintenance required.
Amazingly, it supports a 400 pounds maximum user weight capacity and an extended maximum of 500 pounds, awesome!
Maybe it will be a lot comprehensive if I listed the features and pros of the L Now LD-582 Indoor Cycling Bike.
Click right here to have a peek at the discounted price and more reviews of the L Now LD-582 Indoor Cycling Bike on Amazon.
Here is another cycling bike that you may be interested in.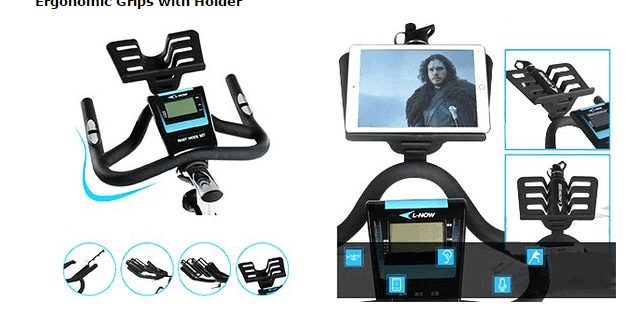 Features/Pros Overview
With comfort in mind, the L Now LD-582 Indoor Cycling Bike has got a seat designed to do absolutely that. You can adjust the seat to a preferred position for a comfortable workout which also means that it can accommodate people of different sizes conveniently.
Like I also mentioned earlier that it has got a patented belt-drive system that provides a smooth and quiet workout experience. Also, the bike doesn't need occasional repair and oiling as the case with other bikes.
It is equipped with a tension resistance that allows the user to easily switch between easier and challenging exercises.
It has an LCD monitor display that allows the user to keep track of performance and workout progress. A user will be able to track time, speed, distance, ODO, RPM, calories burned, and heart rate by hand pulse.
It has handlebars that are equipped with microfiber foam that expands your grip for hours.
It as a water bottle holder that is very important for keeping water handy during a workout for hydration purposes.
A smart device holder is also available for your iPad or tablet which will allow you to listen to music while working out.
It has also got adjustable handlebars and saddles that would allow you to position comfortably depending on the workout intensity you are on. And under the saddles, there are three rubber cushions on each side of buffers to reduce pressure.
Its transmission system is adequately surrounded by composite material that protects it from impact, dust, rust, and sweat.
It is noteworthy to mention the fact that this bike could even decorate your home because of its unique design and beauty.
It has got tough pedals designed with safety in mind, to prevent slippery during a workout
Its horizontal adjustments at the four corners are designed to fit uneven floors or surface, even as its Rock solid construction guarantees durability and stability during a rigorous workout and it also protects your floor from damage.
It has transport wheels integrated to ensure easy movement.
Cons
In as much as the seat is comfy because of the ability to adjust it, there will be the need to use a gel seat cover to maximize comfort.
The resistance pad needs to be changed from time to time it wears out.
BUY IT NOW AT THE BEST PRICE
Specifications
The frame is made of steel
The flywheel weighs 46 pounds
Product Dimensions
41l'' Length
20'' Width
52'' Height
It weighs about 101 pounds
Supports 400 pounds maximum user weight
The handlebar is 4 way adjustable
The seat is 4 way adjustable
Warranty
Shipping and Assembly
Shipping usually depends on where you are buying the product because every retailer has its shipping cost. However, should you be purchasing from Amazon, there will be no cost for shipping as it is free but that cannot be said about any other retailer.
As for assembly, it is pretty much easy to assemble because the main components come pre-assembled and it comes with an instruction manual that would walk you through the installation, and hardware sets are included to help you do that as well.
Conclusion
This is no doubt a recommendable bike that would help you achieve your fitness goals and also help to light up your home. Not just me that think L Now LD-582 Indoor Cycling Bike is a great bike, Amazon consumer reviews proved that actual users had no regrets at all for purchasing this unit.
You may use this link right here to read more of the reviews from actual users. When you get on the page, scroll down and you will see the reviews.