The Ancheer S6100 Treadmill is one of Ancheer's high-end treadmills that are worth taking a look at. This fancy-looking treadmill has also got quality and the necessary features that could enable anyone to achieve the desired fitness results. It has a super-wide running belt of 20.5'', although the length is about 55.5'' which is still average for those that would like to run on it. The motor is a powerful 4.5 horsepower that reaches a maximum speed of 11.2 mph and could be set to 15 different incline levels for uphill training.
The running surface was designed in a way to take every shock away from your joints during workouts so that the strain or stress on the joints such as the hips, ankles, knees, and back will be reduced. There is also in-built MP3 connectivity and a Hi-Fi stereo system that allow you to be entertained by listening to music while working out. All of these and more you could get at a reduced price on Amazon.
Click right here to have a peek at the discounted price of the Ancheer S6100 Treadmill on Amazon.
NOTE!!!
This treadmill is has been decommissioned, however, you may check out our treadmill guide for an alternative.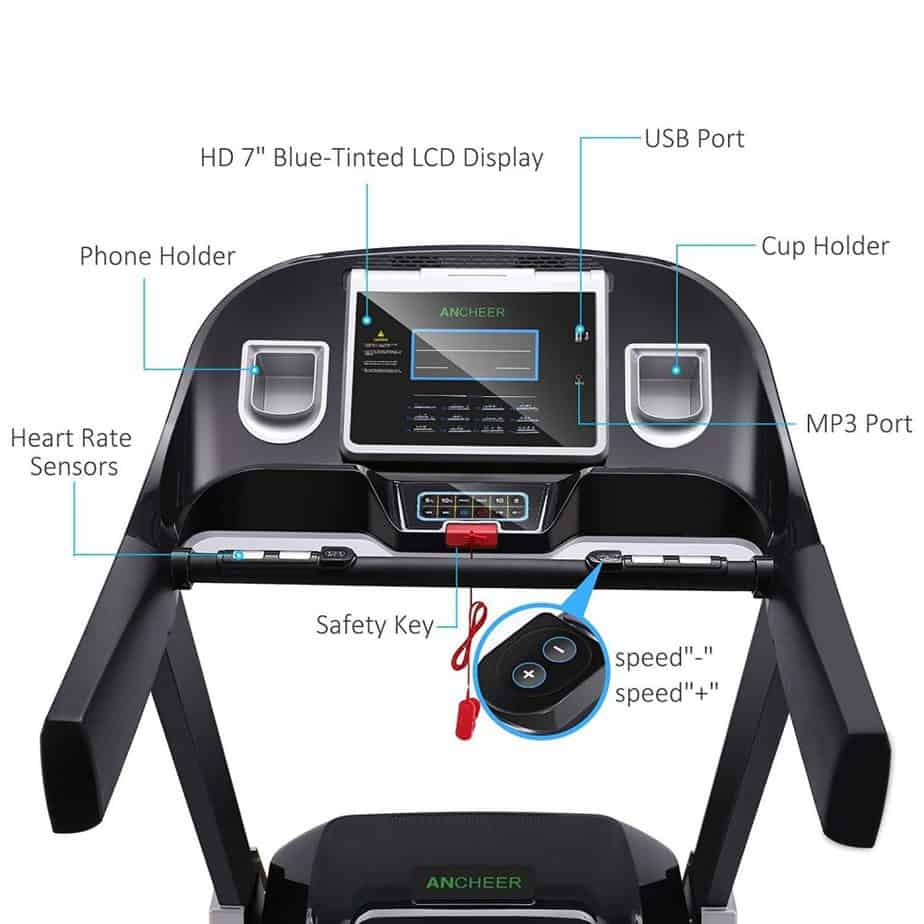 Features/Pros
It has 6 levels unique damping system that takes care of your joints and reduces the stress on them while it also maintains a quiet operation which makes you be free from worries of disturbing the family or neighbors.
It 5 horsepower motor is powerful enough to go all the way with you during your rigorous workouts. With this type of motor, achieving your fitness goals has only been made easier.
There are also 12 preset programs designed to help you burn fat and improve your physical fitness easily by engaging in a wide range of workouts; from high-intensity cardio to fat burning.
It has quick speed button that allows you to adjust speed to your desired level easily while you do your thing.
It a space saver because of its folding ability via the Folding Soft Drop System that allows you to fold and unfold with ease.
It has got transport wheels that also make movement around the room or storage time to be effortless.
It has a running surface of 55.5'' by 20.5'' which allows you to do pretty much anything from walking, jogging to running. Combined with its powerful motor, achieving your fitness goals has just begun.
Knowing that being entertained is one of those factors that actually motivate a person to keep on working out in order to achieve the physical and health fitness he desires; Ancheer deems it necessary to integrate an inbuilt MP3 connectivity and HI-Fi Stereo System in Ancheer S6100 Treadmill which would allow a user to enjoy favorite music while working out.
It has a programmable incline to up to 15 degrees and speed function that allow a user to experience a variety of different workout intensity and challenges.
A user will be able to achieve the optimal intensity levels due to the wireless heart rate sensor which would help a user to maintain a target heart rate zone at all times. There are heart rate sensors embedded on the handlebars as well.
It has got high definition 7'' Blue-Tinted LCD Display that keeps you motivated by displaying your workout data.
It has a safety key you can pull to stop the machine in case of accidental tripping during a workout.
It has a mobile phone device holder for your device and water bottle holder to enable you to keep water handy during workouts in order to remain hydrated at all times, very important.
It supports 462 pounds maximum user weight.
Warranty
2 Years for Frame
3 Years for Motor
Product Specifications
75.6'' Length
34'' Width
52.8'' Height
Shipping and Assembly
The shipping cost of the Ancheer S6100 Treadmill depends on which retailer you are purchasing from. However, Amazon sells and ships this unit for free, but that may not be the case with other retailers though.
Assembling the machine is almost effortless because it is shipped 95% pre-assembled, which means you have got to fix some screws here and there on the machine. Besides, you have got the instruction manual to also help you assemble.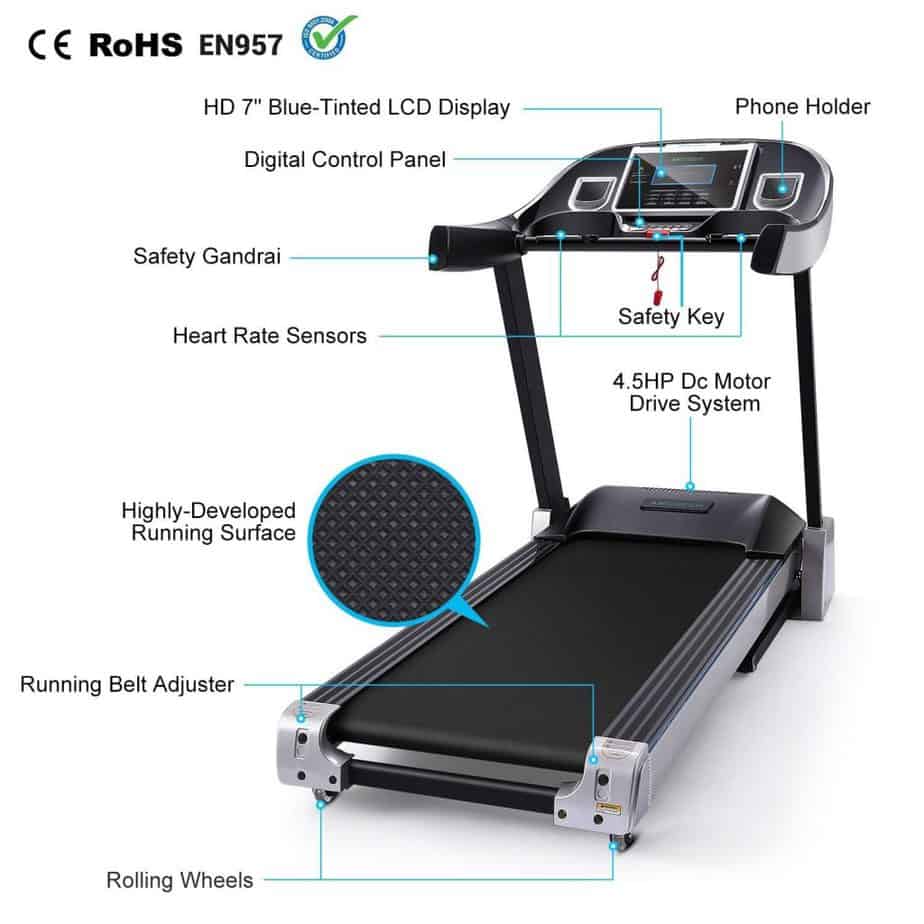 Conclusion
There are many reasons to purchase the Ancheer S6100 Treadmill. However, I would have like to see more preset programs in it, little additional inches to the running surface and of course, the warranty could have been better.
Nevertheless, it is still a good buy given the fact that the price has been reviewed and reduced to a much affordable level.
You should also take note that the machine displays its speed in kph and not mph.