The Akonza Indoor Cycle Bike with a 40 lb flywheel is a bike regarded as cost-effective because the quality and the features it presents disproportionately outweigh the cost of the bike.
It could compete conveniently with some pricier spin bikes out there.
This is a chain-driven bike that mimics the real road bike operation; however, you cannot coast on it because the flywheel and the pedals are connected in such a way they won't allow that to happen.
It is common knowledge that a belt-driven bike is usually quiet than a chain-driven bike, but on the contrary, this bike is as quiet as any good chain bike can be.
It has a resistance system that looks like the brake system on a road bike, is very effective, and provides different levels of workout challenge that is suitable for any user at any fitness level. That said, it doesn't have predetermined resistance levels indicated on the tension knob. In other words, it has an infinite resistance level.
The Akonza Indoor Cycle Bike is not too large and it supports 275 pounds/125 kg maximum user weight capacity. It comes with a bonus water bottle that helps you to stay hydrated throughout the workout session.
Click right here to have a peek at the price of the Akonza Indoor Cycle Bike on Amazon.
The Frame and Construction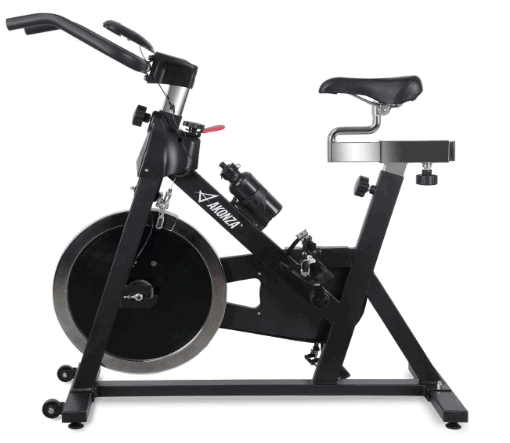 The Akonza Indoor Cycle Bike is an inexpensive chain-driven bike that has a good quality frame that is made of heavy-duty steel and can support 275 pounds/125 kg maximum user weight capacity. The metal parts are coated with anti-corrosive and scratch paint that preserves them from rusts and indiscriminate scratches that could potentially deface its outlook.
It also has an easy step-thru design that allows users to mount and dismount the bike without so much hassle, a gold mine for the weak, elderly, and those with arthritis.
It is not foldable, hardly available any indoor spinning bike that is foldable but it has a compact design that doesn't take up space. Its overall assembled dimensions are 40 inches long by 20 inches wide by 41.5 inches tall. Therefore, a workout area of 4'4'' long by 2'6'' wide will suffice and at least a ceiling height of 7' tall so that a user can perform the stand-up ride without hindrance.
The workout area suggested above includes an extra clearance of 1 foot for the rear and on each side of the bike for safety and convenience reasons.
It has good stability due to its solid base framework that features front and rear stabilizer bars with adjustable rubber levelers underneath them which also ensure that the bike is balanced even on a surface that is not equal; although, it is recommended to place the bike on a protective rubber mat for stability enhancement and to also prevent perspiration from spilling on the floor.
It weighs about 100 pounds/45 kg which boosts its overall stability but could be a problem for some people when the unit requires moving. However, it is integrated with two transport wheels at the front base which helps in the relocation process. In other words, regardless of its weight, one person can easily move it from one room to another.
The Akonza Indoor Cycle Bike may be new on the market but can easily compete with other brands of spin bikes.
The Seat, the handlebar, and the Pedals
The seat on the Akonza Indoor Cycle Bike is basically a standard spin bike's saddle. It is not so large, padded, and covered with leather material. It is designed with the intent to provide comfort so that the user could work out longer without getting bored.
However, based on individual differences, the seat may and may not be as comfortable as expected, but it could be tweaked to provide the much-needed comfort if it happens not to be comfortable enough. A gel seat cover could be used to enhance the comfort it provides or better still, it could be replaced with another type of saddle that is a lot more comfortable because its connection system is standard.
The seat could be adjusted in 4 ways; it could be adjusted vertically (upward and downward) and horizontally (aft/fore). It has several adjustment positions that allow users of different heights and sizes to be accommodated conveniently.
The bike has an inseam of 29 min-35 max inches. Therefore, if you are not sure that this bike is going to accommodate you, measure your inner top thigh to the ankle and see if the length is within the inseam the bike supports.
The handlebar is also adjustable but in 2 ways (upward and downward) only, but it surely compliments the seat's adjustability.
It is ergonomically designed with multiple grips that allow the user to work out in different postures. It is also coated with a soft rubber material that ensures a secure and comfortable grip is experienced and this also prevents blisters in the palms.
The saddle and the handlebar are pretty easy to adjust and only take seconds to accomplish.
The pedals are non-slip designed, made of aluminum alloy, and feature toe cages that could accommodate standard gym shoes only. The toe cages secure the feet and provide full support for full thrust while pedaling.
The Drive
The Akonza Indoor Cycle Bike features a chain drive system that consists of a chain, sprockets, solid crankset, aluminum alloy crank arms, and of course, a 40-pounds perimeter weighted flywheel. These elements provide a dynamic, smooth, and nearly quiet operation.
The chain drive also simulates a real road bike operation and consequently offers the feeling. However, as aforementioned, a user cannot coast on the bike as one could on a road bicycle because the flywheel and the pedals are connected and spin together.
It is important to use the tension knob for an emergency stop while working out in order to prevent an injury considering the fact that the bike has a heavy flywheel.
The drive is bidirectional, which means a user can pedal in reverse to increase the chances of exercising more muscle groups.
The chain drive is not entirely maintenance-free as the belt drive system. It will need a periodic application of silicon-based oil on the chain and perhaps adjustment as well in order to work properly without generating squeaky sound.
The Resistance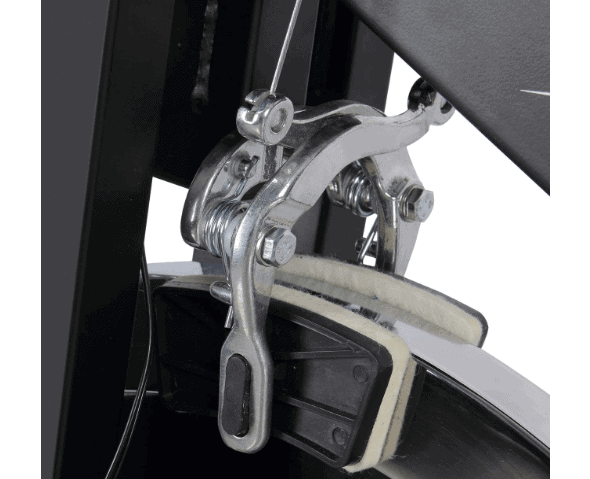 The Akonza Indoor Cycle Bike features a friction resistance system that comprises a flywheel and two felt pads that are connected to the tension knob.
Unlike most friction resistance system that has only one felt pad that is positioned at the top edge of the flywheel, this one instead has two felt pads on each side of the flywheel.
When the tension knob is adjusted the felt pads come in direct contact with the flywheel thereby generating a friction resistance.
This type of resistance is suitable for beginners, intermediaries, and advanced users. It provides easy, difficult, and extremely difficult resistance strength that could challenge even the strongest person.
The felt pads may require a replacement at some point in time depending on the frequency of usage.
As aforementioned, there are no definite resistance levels like the one on the ASUNA Lancer, and this could be critical in tracking your strength and endurance improvement.
The Console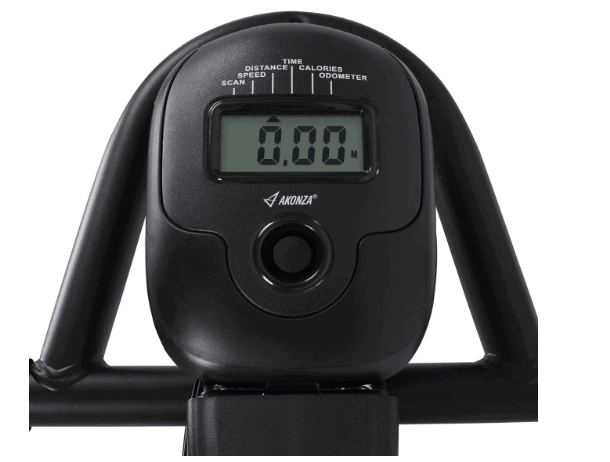 The console on the Akonza Indoor Cycle Bike is basic and features an LED monitor that tracks time, distance, speed, odometer, calories burned, and SCAN function. These motivate and allow the user to stay focused on achieving the fitness goal.
It has good readability but could be affected when viewed in a room with poor visibility because it is not backlit.
By default, the monitor displays the entire workout data one at a time after a few seconds and rotationally but it could also be set to display constantly a certain workout data a user prefers to view.
The console has only one button for navigation and the monitor is powered by batteries.
Accessory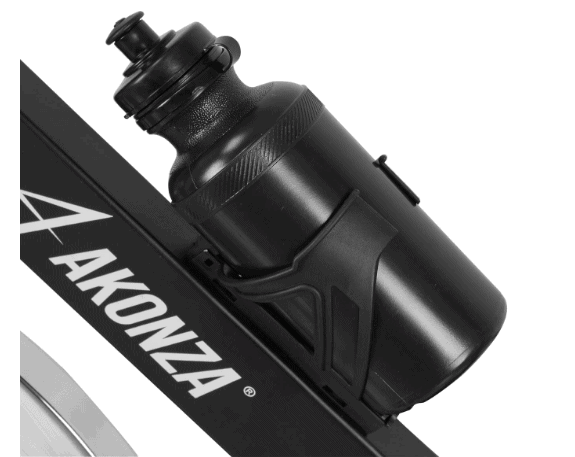 A water bottle holder is included on this bike plus a BONUS of a water bottle as well. These are very important in staying hydrated because they allow you to keep water within reach during the workout sessions.
Other than those, there is no other accessory available on the Akonza Indoor Cycle Bike such as the tablet holder, but this could always be purchased separately if you wish to use a tablet device.
Storage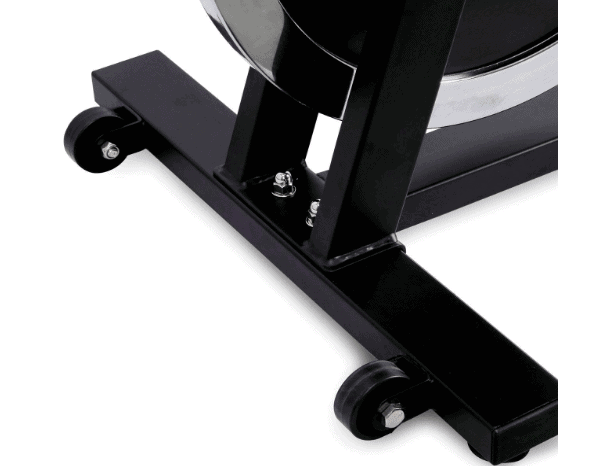 The storage of the Akonza Indoor Cycle Bike is not really a problem since it is compact and portable.
It requires about a 3'4'' long by a 1'7'' wide area for storage and could be moved easily to the storage area regardless of its 100 pounds/45 kg weight because it is integrated with transport wheels at the front base. Simply tilt and roll it away.
Approval Rating
The Akonza Indoor Cycle Bike has fewer Amazon customers' reviews at the time of this review and they are all positive.
The users think that is an affordable spin bike that delivers what it takes to lose weight and improve the overall fitness level.
Thus, the approval rating is impressive.
Pros/Features Overview
It is solid, sturdy and stable
It supports 275 pounds/125 kg maximum user weight capacity
It is compact and portable, thus, doesn't take up too much space and can easily be stored away
The LED monitor displays time, distance, speed, odometer, calories burned and scan function
It possesses a 40-pound perimeter weighted flywheel that provides consistent momentum for a smooth ride
Its friction resistance system provides suitable resistance strength for all users
The pedals are bidirectional
The bike offers the feeling of riding a real road bike
It has good adjustability that allows users of different heights to be accommodated
The seat could be replaced with another type
It supports stand-up ride
It has a water bottle holder, plus a BONUS water bottle too
Assembly not difficult
The handlebar offers multiple grips for different postures
Cons
No pulse rate function
No tablet holder
The monitor is not backlit
Resistance levels are not indicated
Pedals don't have SPD clips
Product Dimensions and Specifications
40'' Length
20'' Width
42'' Height
Supports 275 pounds/125 kg maximum user weight capacity
Frame: Steel
Pedals: Toe cages and made of aluminum alloy
Inseam: 29 min-35 max inches
Handlebar: 2-way adjustable
Seat: 4-Way adjustable
Console: Basic LED monitor display, Time, Speed, Distance, Calories Burned, Odometer, and SCAN
Water bottle holder and water bottle included
Resistance: Friction
Shipping, Assembly, and Maintenance
Shipping
The shipping cost of this bike depends on the vendor that is selling to you. However, if you are purchasing from Amazon, the shipping is free and delivery is made within days of placing the order.
Assembly
The assembly is not difficult as it comes with the major components preassembled.
The parts that need to be attached to the frame are the saddle and handlebar posts, the seat, the handlebar, the front and rear stabilizer bars, the pedals, and the console.
Included in the package are the tools required for the assembly and the instruction manual that guides you through the process.
It takes less than an hour to completely assemble the bike.
Moreover, there is an assembly service on Amazon which you could utilize if you don't wish to do the assembling yourself but that comes with an extra charge.
Maintenance
The Akonza Indoor Cycle Bike requires some level of maintenance. The chain will need to be lubricated from time to time and probably adjusted as well in order to keep it functioning properly.
You also need to always examine the bike before use for any loose or broken parts so as to avoid an accident or further damage to the bike.
Finally, make it a point of duty to always keep it clean from dirt and sweat before and after use.
Conclusion
The Akonza Indoor Cycling Bike is a cost-effective bike that is suitable for home use. It brings the gym experience to the comfort of your home and also allows you to work out with any level of challenge that you can handle so that you can burn tons of calories and tone muscle groups.
Akonza Indoor Cycle Bike Review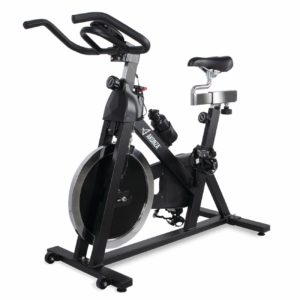 The Akonza Indoor Cycle Bike is an inexpensive chain-driven bike that has a good quality frame that is made of heavy-duty steel and can
Product Brand: Akonza
Product In-Stock: InStock