Yowza Sanibel i35 Review breaks down everything you need to know about this unit. Its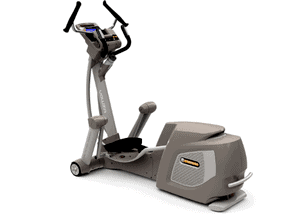 design and appearance remind me of a scooter bike…is that what you call it in that part of the world? Well, those that know this motorbike will surely connect with what I am trying to say with this elliptical machine.
I understand that Yowza Sanibel i35 has impressive features; even the incline was upgraded to electronic adjustment. It is a little pretty unit that is clean, impressive to the eyes, and efficient as well.
And may I remind you that Elliptical machines have an advantage over other cardio exercise equipment because they provide low-impact workouts that work on both the upper and the lower body, very good for people with an injury that want to do physiotherapy for recovery.
Yowza Sanibel i35 elliptical is mainly great for new and experienced athletes. I am even amazed that its unique cardio core motion could work on the internal and external oblique, rectus abdomens muscles. It has got patented cardio core handlebars and adjustable stride length.
Its rich and innovative features have made it possible for you to adjust incline up to 35% and adjust stride length up to 26'' long, is that not amazing, you can only imagine what stuff like that could do to your system because it will set all that fat on fire!
Click right here to have a peek at the price of the Yowza Sanibel i35 on Amazon.
Overview of the features
Adjustable Stride– It has an adjustable stride length from 18'' to 26'', therefore if you are a tall person or wishes to have longer strides during workouts, then that would be possible.
0-35% Adjustable incline– This allows you to make your workout a little more difficult so that you can challenge yourself for quick and better results.
9 Preset Programs
Cardio Core Handlebars- Designed to target your core muscles such as the abdomens and obliques, which would leave you with a flat tummy if you are a woman and 6 packs if you are a man. Your upper body gets more of the heat because the handlebars operate in a side to side motion, unlike the conventional elliptical machines that go in an up and down motion.
iPod Docking and Charging- This means you will be able to connect another device to play music with great speakers and charge.
3-Speed Adjustable Fan
Grip Pulse Handlebars- These allow you to see your heart rate stats on the console.
Supports 400 pounds user's weight
Durable frame- For durability and strength, the frame was made up of steel, and robotically welded.
Backlit LCD Display- Exhibits your workout tempo as the levels rise and fall when you adjust your speed. You will be able to also see the program you are using and calories burned.
Pros
Like I said earlier, elliptical machines are generally good for those that have an injury and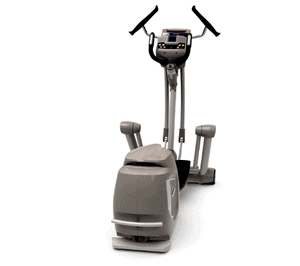 wish or have to exercise in order to recover. Even a report published by Harvard Medical School has it that exercising with the elliptical machine for 30 minutes is capable of burning up to 400 calories, and the heavier the individual the more weight he/she is prone to lose during the 30 minutes workout.
The Yowza Sanibel i35 elliptical machine has all the features to ensure comfort. By merely looking at it, you will be convinced that it gives comfort while working out even though it has been proven before that elliptical machines support those that suffer from a bone disease called osteoporosis simply because it places a small amount of stress on the joints, hips, feet, and ankles.
Workouts with rhythm can be a big plus because it can really encourage and make you feel comfortable. The Yowza Sanibel i35 has got on it console an iPod docking and charge station that would allow you to listen to streams of music while you do your thing.
Whereas the 9 preset programs help you to work out with the best program that will eventually lead to achieving your goal.
Cons
This machine is 81'' long and 33'' wide, this means it will require a space for it to be used and stored. And sometimes the motion of the hands on the handlebars can hide or interrupt the visibility of the backlit display stats while working out.
The weight can also be a concern as it weighs about 220 pounds, therefore, anyone interested should not see moving or transporting a 220 pounds unit as a problem otherwise there is a problem.
Conclusion
I feel that Yowza Sanibel i35 Elliptical machine is a good buy seeing all the great features it has and the beauty it possesses as well. Weighing the pros and cons, the scale sure tilted on the pros nevertheless, those that have serious issues with the cons can always look for another option.
If you have any question or contribution, feel free to post your comment in the comment box below.
No schema found.