The Velocity Exercise Magnetic Upright Exercise Bike is one of those affordable cardio machines that would give much more in return in value. The users' reviews and ratings are quite a nod for anyone that wishes to have an exercise bike to go ahead and get the Velocity Exercise Magnetic Upright Exercise Bike. The price of this unit is one part that could encourage anyone to look at it then the features as well.
However, there are some compromises that were made in order to have this unit sold below $100, but then it all depends on what you are hoping to achieve. We still think it is a good machine and a good buy, after all, you don't expect this unit to come with extras that are mostly obtainable in high-end equipment, do you?
That being said, this equipment is designed such that it provides the user with an effective and challenging workout. This is great for small apartment owners, those on a low budget and still wish to have cardio equipment at home.
Click right here to have a peek at the best price of the Velocity Exercise Magnetic Upright Exercise Bike.
You may want to look up the Schwinn 411 Compact Elliptical Machine.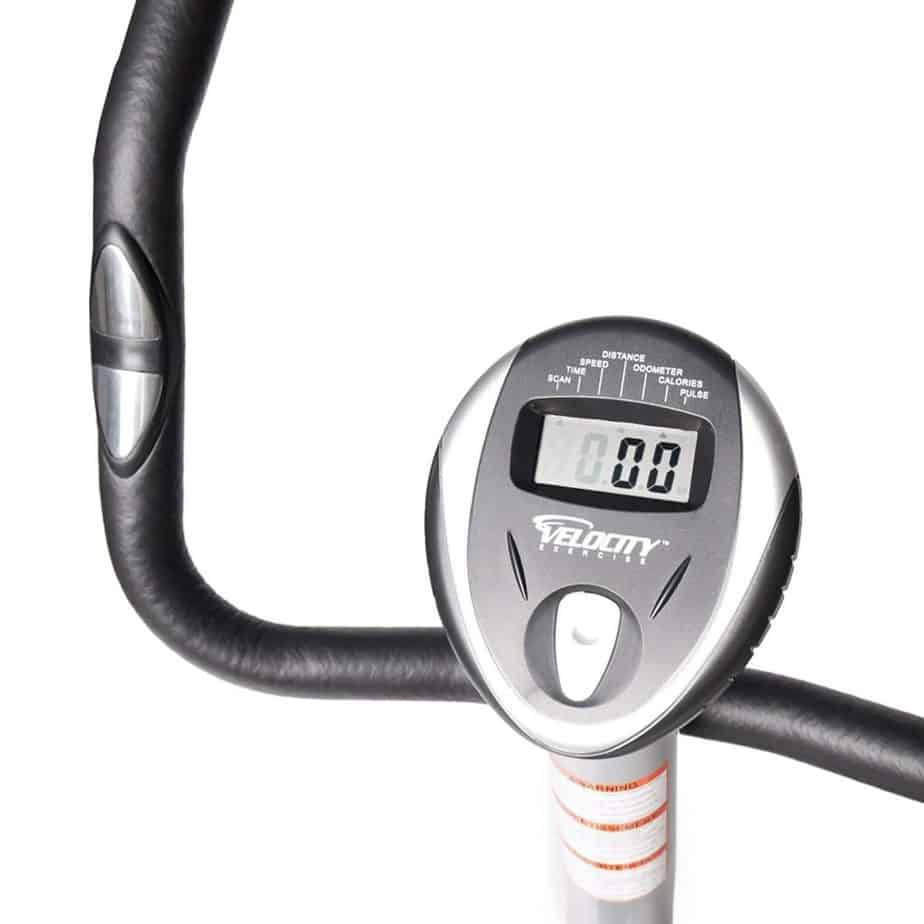 Features
It has got 8 various levels of resistance (which is controlled by the tension knob) that would provide the user with a challenging workout experience. This will also help the user to achieve his/her goals quickly.
It has got weighted 2-way flywheel of 4kg that ensures smooth, quiet and stable ride.
There is also an LCD computer console that allows the user to easily monitor workout data such as the speed, time, ODO, distance, calories and hand pulse. With the price, one might actually think it has got no monitor. But yes, it has even though it is not the sophisticated type usually found on other expensive equipment but at least you can read your workout data comprehensively.
It has transport wheels for easy move around or storage. Being that it is compact in nature, storage and moving it would never be a problem.
The manufacturer also prioritized comfort and made sure that the seat is well built and enough to keep the user comfortable while working out. With comfort during a workout, one can exercise more.
It has got a maintenance free pedaling system with a 3-piece axle/crank system and of course, with safety in mind, the pedals have got adjustable pedal straps that would keep a user from slippage during a workout.
Pros
It is exceedingly affordable! Just about anyone can afford to have one added to the home gym.
Despite its low price, it has got hand pulse sensor that enables workout data.
It is compact and has got transport wheels that would make movement and storage very easy.
It has a basic console that allows a user to read workout data
It does not need the power to be operational
Easy to assemble
Cons
Not designed for people that would want a difficult workout because even though it has 8 levels of resistance the hardest is only moderately hard.
The seat is not padded but can always find a gel cover to make it more comfortable. Actually, you can request for one to be included in your order.
The console is a basic and doesn't allow data to be uploaded to a fitness account.
The console's AAA batteries don't come with the bike
Product Dimensions
82'' Height
65'' Width
69'' Length
Weighs 49.1 pounds
Supports 250 pounds maximum user weight
Shipping and Assembly
The shipping is usually free if you are buying from Amazon, and it is also cheap to buy from Amazon.
Assembly is relatively easy and it comes with an instruction manual that would walk anyone through.
Conclusion
Basically, the Velocity Exercise Magnetic Upright Bike is recommendable not doubt. 49% of the people that use and reviewed it gave it 5 out 5 ratings while 24% gave it 4 out of 5 ratings, then do the math, about 73% approval rate. This shows that anyone that buys it will have reasons to find it useful. Just like the aforementioned, everything about this unit may not be perfect but it sure will deliver.
Read more of the users' reviews here (scroll down read) if you need more convincing otherwise visit Amazon now.