One of the most reputable sports equipment manufacturers adds the NordicTrack E 7.0 Z Elliptical Trainer to their shelve. This elliptical trainer is equipped with a lot of useful features and not only that, it is equally durable. Amazingly, it also comes in a price range that is very reasonable and it has got a lifetime warranty as well.
The manufacturer made sure to integrate the right features into the machine, those that would allow the user to reach his goals in comfort too. It is only natural that one tends to enjoy the workout and train longer when the training equipment is well equipped and that is exactly what the NordicTrack E 7.0 Z Elliptical Trainer does.
Find out the lowest price here, OR check out NordicTrack Intel71218 Elliptical.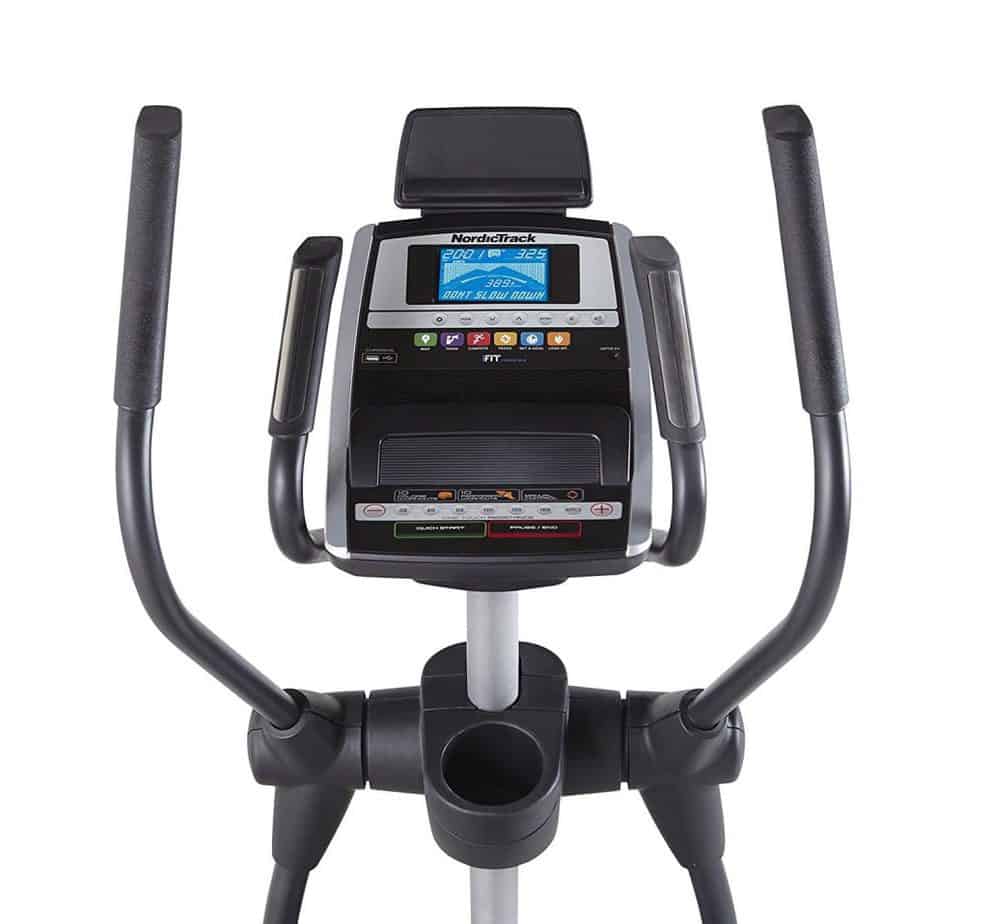 Let's shift to its features and pros.
When I say you can achieve your fitness goals with NordicTrack E 7.2 Z Elliptical Trainer while enjoying every bit of the way I meant it. It has got this 15 pounds inertia-enhanced flywheel designed to deliver a smooth and quiet workout, which means you have to opportunity to conveniently watch your favorite TV show even as you don't disturb the family or the neighbors.
You can simply adjust the intensity of your workout by using the 20 digital resistance levels designed to help you challenge yourself and burn more calories. And this adjustment can be made by a touch of a button, important to note that.
It has got 20 preloaded workout programs tailored by a certified personal trainer to help you reach and achieve your fitness goals. Aside from this, you can also access additional custom-tailored to your goals via the iFit account
It has this amazing adjustable incline ramp that is designed to tone and target the quads, calves, and glutes. It can be adjusted from 0 to 20 degrees.
It has 20'' adjustable stride designed to help you target different muscle groups by changing the shape and length of the stride and also add intensity to your workout.
Aside from being able to watch your favorite TV show, you can also listen to quality music through its integrated sound system with dual 2'' speakers. The sound system connects to any standard headphone jack.
You will be able to stay within your heart rate zone while working out, thanks to the dual CardioGrip sensors built into the handlebars. You will be able to see your heart rate on the console display.
It has got tablet/book holder
It has water bottle holder so that you can stay hydrated, very important.
It's 5'' backlit display that keeps you updated real-time with your workout data such as the calories burned, distance, pulse, RPM, resistance, time, stride, and speed.
Cons
In as much as I love the NordicTrack E 7.0 Z Elliptical Trainer, I mustn't omit what I feel should have been included and that is the fan. It doesn't have a fan that could keep the user cool during a workout, it may be trivial but with this price range, the manufacturer should have included that.
I was surprised to find out that a chest strap heart rate monitor is not included. It could have great if one is provided.
Warranty
Lifetime on the frame
1 year on the parts and labor
Dimensions
67'' Height
25'' Width
66'' Length
It weighs 214 pounds
Supports 300 pounds maximum user weight.
Shipping and Assembly
Shipping of this unit all depends on which retailers you are buying from, but Amazon is the best and smart place to buy because you will not only get free shipping but also at the lowest price.
As for the assembly of this machine, it could take up to an hour and a half because of the many bolts and pieces. But do not worry because it comes with an instruction manual that would walk you through the whole process of assembly.
Conclusion
Many users bought the NordicTrack E 7.0 Z Elliptical Trainer at a much higher price before now, but the price has come down to a very considerable level that could make those that have bought it before say, ''I wish I am buying now''.
For sure NordicTrack has made its mark in the production of useful and quality equipment and just a few others can compete with them. In this unit, in particular, they have done a good job except for the cons I mentioned up above there.