At the time of this review, the RENPHO AI-Powered Upright Bike is revolutionary because it has AI capability.
Below is a quick overview of some of the features it possesses.
AI-Powered
This means it has an intuitive resistance system that manages your resistance level as you exercise. In other words, it automatically selects or changes the resistance level based on your cycling power or fitness level using what is called (FTP) Functional Threshold Power technology.
Freewheel
The drive system is designed to allow you to coast just as you could on a traditional outdoor bicycle. This is something that is not often seen on most indoor upright and cycling bikes. So, this brings a feeling of an outdoor riding experience, and you don't have to always manage your pedaling speed each time you wish to stop.
Click right here to have a peek at the best price of the RENPHO AI-Powered Upright Bike on Amazon.
The Frame & Construction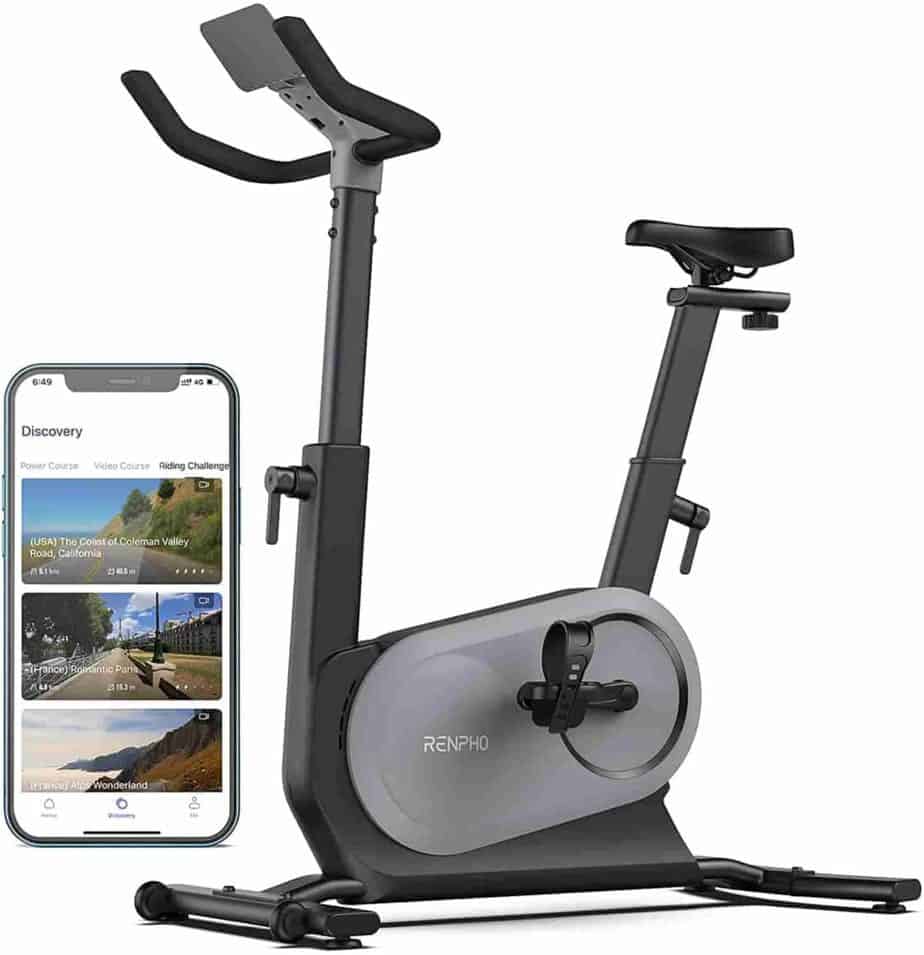 This is a little sturdy indoor upright machine that features a solid and durable carbon steel frame and a couple of ABS-made parts.
It is capable of supporting 265 lbs./120 kg maximum user weight capacity. Thus, users will be able to train safely without the fear of instability or tipping over during an aggressive workout session; thanks to the robust front and rear steel stabilizers with adjustable levelers.
Also, its assembled weight of 77 lbs./35 kg helps to improve its overall stability.
To protect the floor from potential damage, it is recommended to place the bike on a rubberized mat.
As for the ability to move the bike around the room or apartment, it is possible because there are transport wheels at the front base that help you to do just that. Simply tip it over to the wheels and roll it away.
The assembled dimensions are 40'' long by 20'' wide by 49'' high. So, this is basically a compact cycling bike that doesn't take up too much space.
A workout area with a measurement of 3'33'' length by 1'66'' width can accommodate it. Although, remember to leave a 1-2′ additional clearance around it for safety and easy access purposes.
When it comes to storage, the bike can fit in a small area such as a standard closet.
The Seat of the RENPHO AI-Powered Upright Bike
The seat is designed with a groove in the middle of the surface for airflow or permeability. It has a polyurethane foam for maximum comfort, and in reality, it does provide comfort as attested by users.
Its dimensions are 8'' width by 10.5'' length.
It could be adjusted 4-ways. In other words, you can adjust it vertically (upward) to several positions (32.5''-41.3'') and horizontally (fore/aft) to a couple of inches (0-3'').
By implication, users between the heights of 5'-6'5'' tall can tweak the bike for a perfect fit.
The Handlebar
The handlebar has a simple design. However, it is coated with soft anti-slip rubber foam that provides safe and comfortable grips. It also offers multiple grips that enable you to alternate posture during a workout.
The adjustment is only 2-ways (upward/downward). Nevertheless, it makes a whole world of difference in the bike's customization.
There are no heart rate sensors on them, but you can monitor your pulse rate data by using a wireless ANT+ HR chest strap or Apple Watch, both not included, has to be purchased separately.
Pedals
The RENPHO AI-Powered Upright Bike comes with standard anti-slip pedals with adjustable safety straps. These allow you to cycle with standard gym shoes and they accommodate different foot sizes.
But if you don't wish to use them you can easily swap them for toe cages or SDP pedals because the thread is 9/16''.
The Q-Factor (length between the inner left pedal to the inner right pedal) is 6.3''. This is not quite the same as the road bicycle's but not bad for the ankles either.
The Drive
This is a belt-driven bike that could yet allow you to coast. Its drive system consists of a durable anti-stretch belt, a pulley, and high inertia 13.22 lbs./6 kg flywheel.
Besides the ability to coast on this bike, its operation is smooth and quiet, and maintenance-free.
This means you can exercise at night or early hours of the morning without being a nuisance to the family or the neighbors. Also, you don't have to carry out any serious maintenance either.
Unlike most cycling bikes, this drive system allows you to coast and freely stop pedaling without being cautious that you might sprain an ankle.
However, it is not bidirectional as a result of this. You can't pedal in reverse if you want to.
The Resistance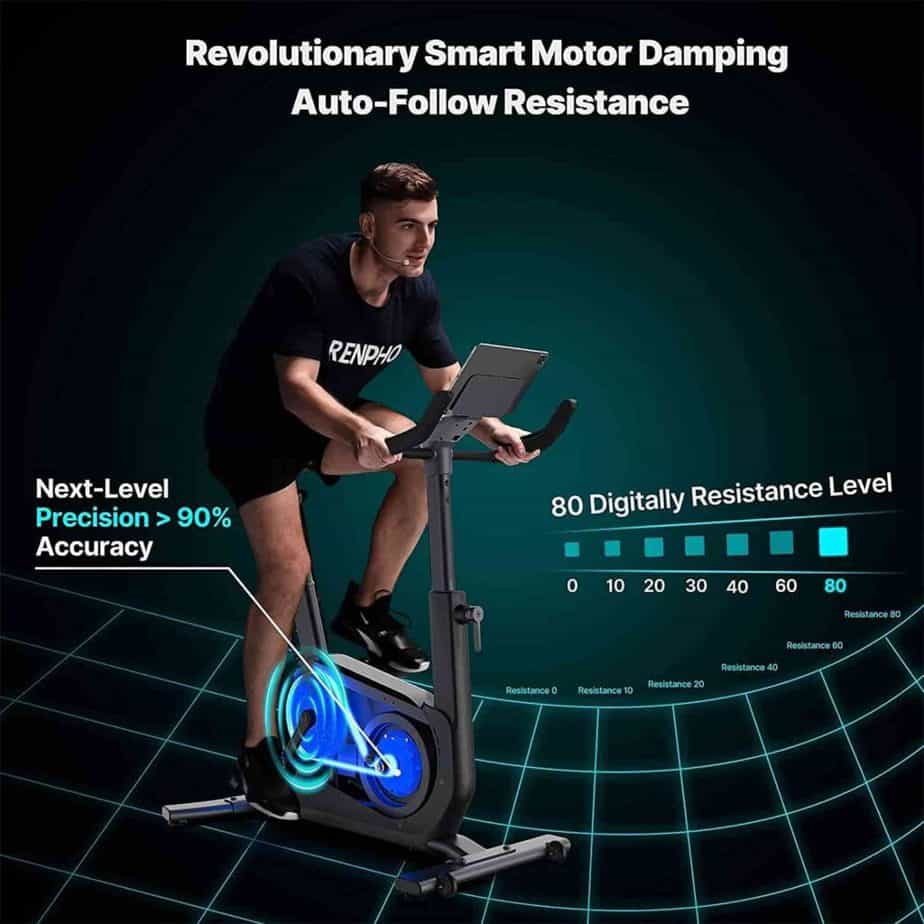 The RENPHO AI-Powered Upright Bike has a unique magnetic resistance system that is automatic and can be manually operated. It is otherwise known as the smart motor dampen technology.
This means it consists of a magnetic brushless servo motor that generates resistance without any friction or direct contact of parts. It is adjustable to up to 80 resistance levels with an increment of 0.5.
This is part of the reason why this bike's operation is super smooth and quiet, regardless of what level of resistance you are exercising with.
As aforementioned, when connected to the AI-Gym app, the resistance level can automatically adjust, or you may choose to do so manually.
The bike has a power cord and needs to be plugged into a power outlet for the resistance system to function.
The Console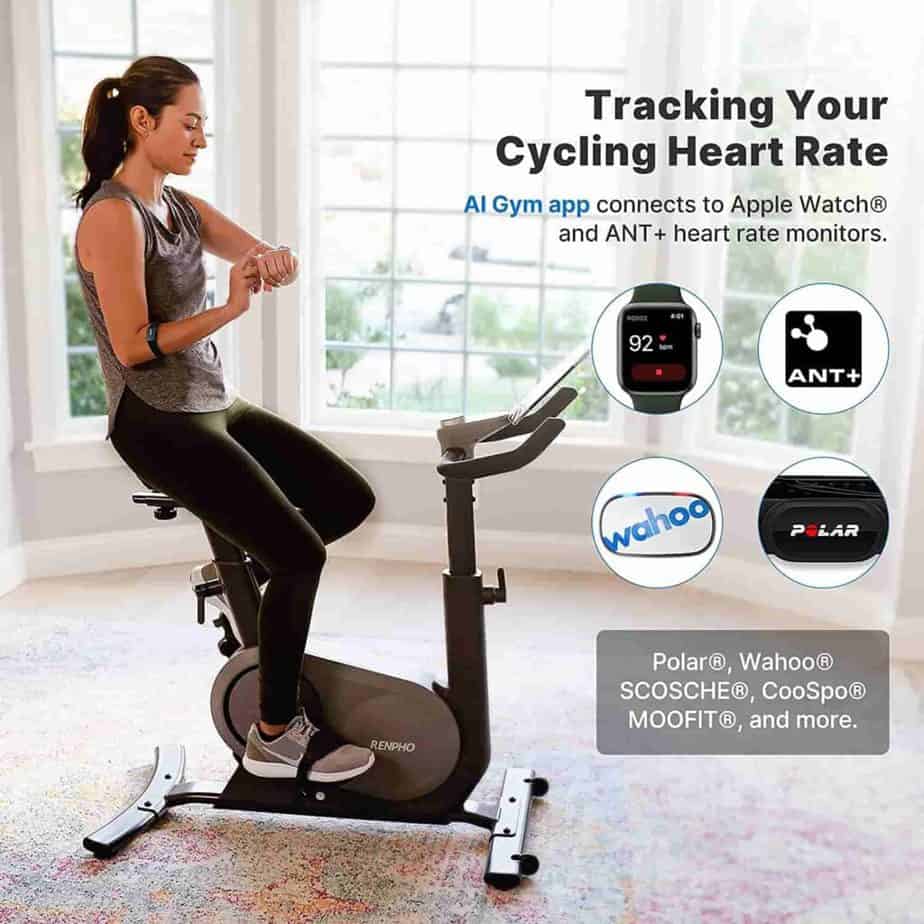 This upright bike doesn't have a console. Although, it has a little LED display that shows what resistance level is being used during a workout.
The tracking of your workout progress is done via a smartphone that is connected to the app. Metrics such as RPM, Calories, Power, Resistance, Cadence are displayed in real-time; and even your heart rate is being displayed if you are using a wireless HR device.
AI-Gym App
This app makes this bike a treasure; and interestingly, it is free and downloadable to Android and iOS-based smartphones. You can connect the app to the bike via Bluetooth, and it is pretty easy to do.
The app gives you access to numerous features such as the ability to access over 70 workout classes, 5 training modes, professional coach video classes, high-definition scenic rides, and workout challenges where you can compete with others.
Each of these features is motivational and fitness result-oriented. They are gateways to burning fat, breaking a sweat, and improving cardiovascular health.
As aforementioned, the app has a Functional Threshold Power (FTP) Technology that automatically increases or decreases the resistance levels based on your cycling power.
This enables you to know the degree of your progress so that you can improve on it.
Other third-party apps that are also compatible are Google Fit, Kinomap, Zwift, FulGaz, Rouvy, XERT, Sufferfest, Apple Health, and more.
Accessory
There is an 8.49'' tablet holder that is designed to help you keep your device handy for convenient usage and access.
Bear in mind that a tablet device is not included in the package.
There is also a USB charging port for keeping your device charged at all times.
Other than the tablet holder and the USB charging port, there is no other accessory integrated. However, the manufacturer is considering adding a water bottle holder soon. If they did, that will help for easy and proper hydration.
Until then, you will have to improvise or buy a separate water bottle holder.
Storage
The RENPHO AI-Powered Upright Bike is compact and transportable. In other words, a space as little as 3'33'' (101.6 cm) length by 1'66'' (50.8 cm) width can accommodate it, and can easily be moved via the front-mounted transport wheels.
If you do not intend to keep on a dedicated workout area at all times, a standard closet can be used for storage or keep it next to a wall that is safe in the room.
Pros/Features Overview
Durably built, sturdy and stable
Supports a maximum user weight capacity of 265 lbs./120 kg
It is compact and transportable; doesn't need a whole lot of space and it is easy to move around
Customizable to accommodate users between the heights of 5'-6'5'' tall
The handlebar is cushioned with soft rubber foam for comfort and safety
The seat integrates polyurethane foam with a groovy surface for maximum and sustained comfort
The operation is smooth and quiet
The belt drive system enables you coast
The smart resistance system provides 80 automatic/manual adjustable levels
Bluetooth connectivity
Compatible with AI-Gym app (free, no subscription required) and other third-party apps such as Google Fit, Kinomap, Zwift, FulGaz, Rouvy, XERT, Sufferfest, Apple Health, and more
Access to over 70 workout classes, professional coach workout classes, 5 training modes, HD exotic scenic rides, compete with others, and more
Easy and quick to assemble
Low maintenance requirement
USB charging port
Tablet holder included
Cons
Warranty
1 Year warranty covers Frame, Mechanical, and Electronic Parts
Product Dimensions & Specifications
Length: 40''
Width: 20''
Height: 49''
Shipping dimensions: 38.43'' L x 34.02'' W x 10.43'' H
Net weight: 77 lbs./34.92 kg
Gross weight: 88 lbs./39.91 kg
Maximum user weight capacity: 265 lbs./120 kg
Supported user height: 5'-6'5''
Frame: Carbon Structural Steel
Flywheel: 13.22 lbs./6 kg
Heart Rate monitoring: Wireless ANT+ & Apple Watch compatible
Drive: Belt
Q-Factor: 6.3''
Resistance: Auto/manual Smart Motor Dampen Technology, 80 adjustable levels
Bluetooth connectivity
Compatible with AI-Gym app, Google Fit, Apple Health, Zwift, and more
Power: AC100-240V, 0.6A 50/60Hz; Rated Input: 12V—1.5A; Rated Power: 18W
Seat: 4-way adjustable; Dimensions: 10.5'' L x 8'' W
Handlebar: 2-way adjustable
Pedals: Textured with adjustable safety straps
Tablet holder: Yes; size 8.46''
USB Charging port
Transport wheels: Yes
Water bottle holder: No
Shipping
The RENPHO AI-Powered Upright Bike is compact; thus, it is well packaged in a box that weighs 88 lbs./39.91 kg with dimensions of 39.43'' long by 34.02'' wide by 10.43' high.
The delivery time depends on your country. However, it takes a couple of days if you are residing in the US or Canada.
Assembly
The assembly of this bike is super easy and quick. It doesn't require any special skills to put it together because the manufacturer has done the difficult part.
You are only required to attach the stabilizers, the seat, the handlebar, and the pedals to the main unit. This may take about 30 minutes, more or less.
Included in the package are the instruction manual and tools needed for a successful assembly.
Maintenance
The bike requires to be kept clean after every workout session. Store it in a cool, dry, and clean area.
Inspect it before use to ensure that every part is tight and in good condition.
Conclusion
Thus far, what we have seen is a bike that is revolutionary indeed.
The RENPHO AI-Powered Upright Bike is worth adding to the home gym because it provides you the opportunity to train comfortably, while the included features push and motivate you to reach your goal without breaking your will or determination.
RENPHO AI-Powered Upright Bike Review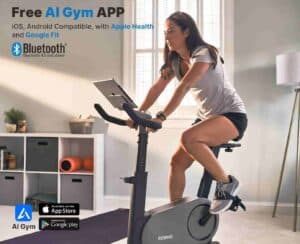 At the time of this review, the RENPHO AI-Powered Upright Bike is revolutionary because it has AI capability.
Product Brand: RENPHO
Product In-Stock: InStock