The Ativafit IC-702 Indoor Cycling Bike is a belt-driven bike with a friction resistance system. It is equipped with a heavy-duty 35 lbs./16 kg perimeter weighted chromed flywheel that not only complements the bike's resistance intensity but also provides adequate momentum that replicates riding a real road bicycle.
It has a sturdy design that may very well pass for the Pooboo Pro Indoor Cycling Bike. It supports 275 lbs./125 kg maximum user weight capacity. Its robust base framework and its overall assembled weight guarantee optimum stability that prevents wobbling or rocking movement during a vigorous workout.
The bike is customizable enough to accommodate users between the heights of 5'1''- 6'5''. This means one bike allows multiple users.
Users are kept abreast of their workout progress via the LCD monitor that displays workout stats such as Time, Distance, Odometer, Speed, and Calories. There are transport wheels at the front base that facilitate the relocation process of the bike.
Moreover, a tablet and water bottle holders are included to enable you to maintain good hydration and to entertain yourself as you work out to achieve your fitness goals.
Click right here to have a peek at the price of the Ativafit IC-702 Indoor Cycling Bike on Amazon.
The Frame and Construction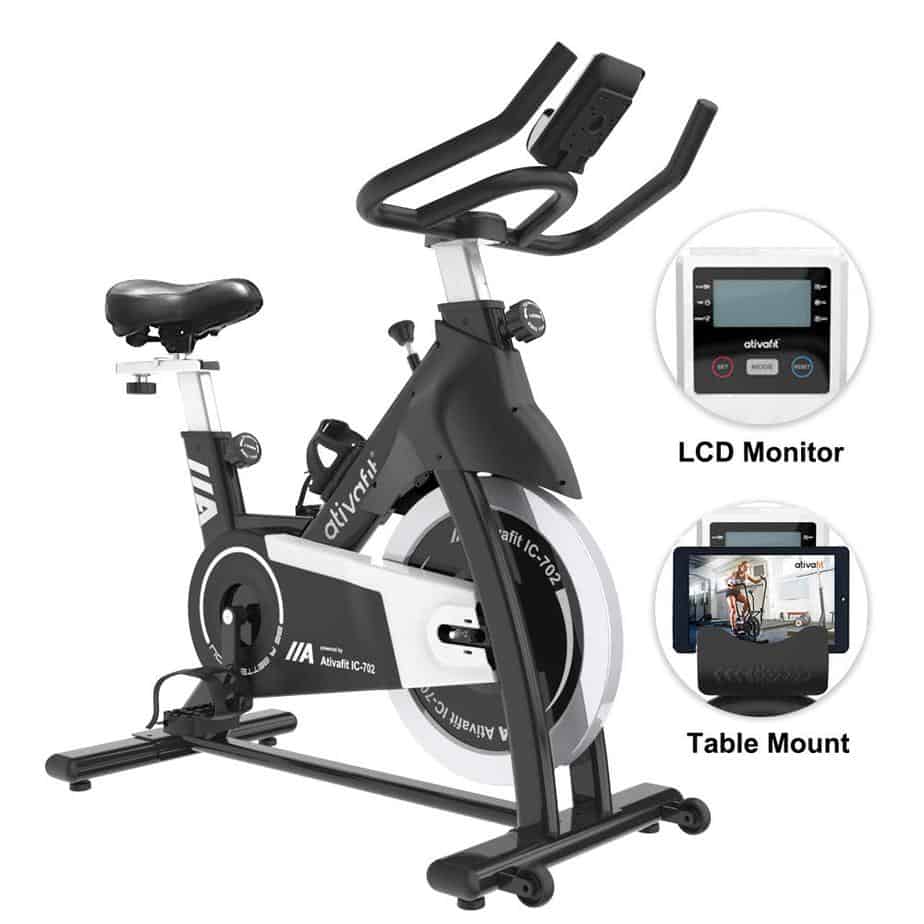 The Ativafit IC-702 Indoor Cycling Bike has a construction that projects durability, stability, and usability.
It has a thick and widened steel frame that is coated with rust-resistance paint and has chromed seat and handlebar posts. The water bottle holder, the tablet holder, the belt, and the wool brake covers are made of plastic.  
The base features front and rear stabilizers with an adjoining steel bar. There are also adjustable levelers underneath the stabilizers which further give leverage to the user to balance the bike on all types of floors.
That and the overall weight (less than 83 lbs./37.6 kg) of the bike provide outstanding stability.
The bike is not foldable but it is not large either. Its overall assembled dimensions are 36.2'' long by 19.2'' wide by 45.2'' high. Differently put, it will require a workout area with measurements of 3'1'' length by 1'6'' width.
However, it is recommended to consider adding extra clearance of at least 2' at the rear and on each side of the bike for safety and convenience during workouts.
The Seat of the Ativafit IC-702 Indoor Cycling Bike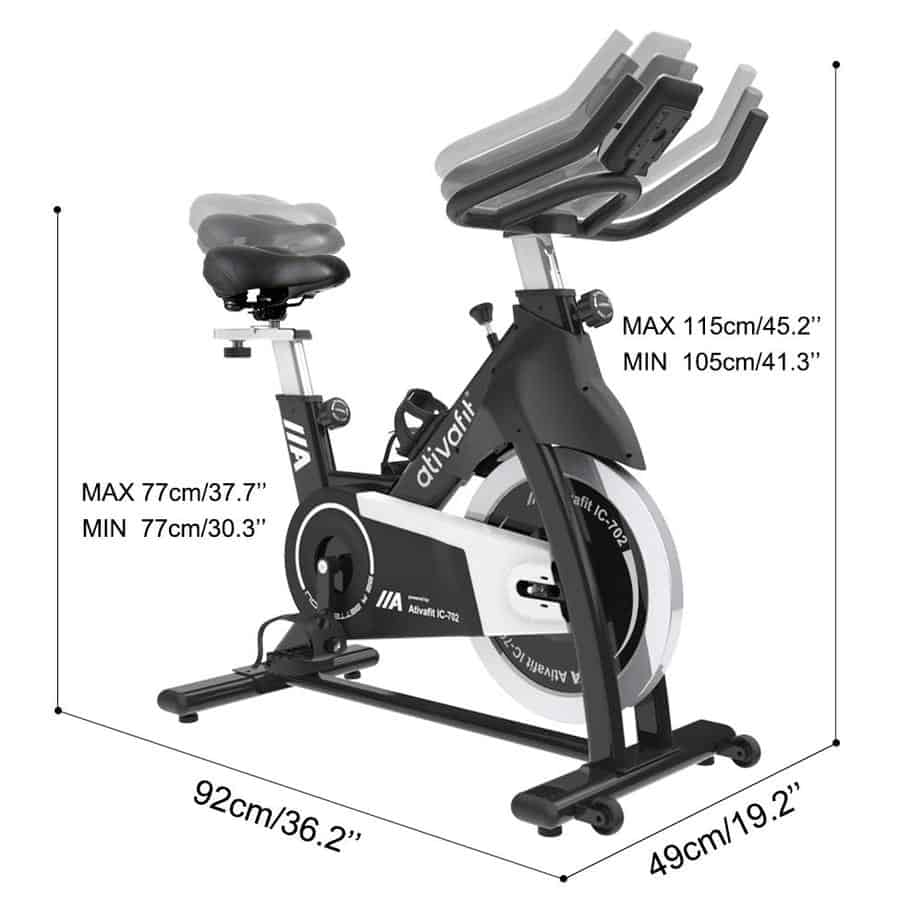 The padded, grooved, leather seat is comfortable. It provides enduring comfort that enables you to exercise longer.
If for any reason you wish to increase its comfortability, you may use a gel seat cover or have it swapped with another saddle of your choice because the connection mechanism is standard. Hence, alternatives are widely available in local bicycle shops or online.
It is 4-way adjustable; i.e. it can be adjusted vertically (upward/downward) and horizontally (fore/aft). The vertical adjustment has several positions that span up to 7'' (min 30.3''-37.7'' max) while the horizontal adjustment has a few inches.
Thus, users between the heights of 5'1''-6'5'' can be accommodated.
The Handlebar of the Ativafit IC-702 Indoor Cycling Bike
The multi-grip and ergonomically designed handlebar provides secure and comfortable grips and allows you to work out in different postures.
Unlike the seat, it's 2-way adjustable (upward/downward). The min-max adjustments are 40.3''-45.2''.
Nevertheless, this still complements the bike's overall customizability allowing users to fit in as they should.
The LCD monitor with a built-in tablet holder is attached to the handlebar but there are no EKG HR sensors integrated into it. Consequently, the bike doesn't have a heart rate function.
The Pedals
The  Ativafit IC-702 Indoor Cycling Bike is equipped with a set of anti-slip toe cage pedals with adjustable safety straps. These pedals allow you to exercise with a pair of regular gym shoes. They secure the feet and prevent slippage even during intense pedaling.  
The pedals do not have cleats for spin shoes but it's possible and easy to replace them if you wish to use a pair of spin shoes.
The Drive
The Ativafit Indoor Cycling Bike features a belt drive system that provides smooth and quiet operation. The drive system consists of a durable belt, a pulley, solid 3-piece crankset, crank-arms, and pedals.
You can exercise at any time of the day in an environment where people are around in close proximity without constituting a nuisance. Enjoy watching TV or listening to good music without having to amplify the volume beyond the normal range.
The heavy perimeter-weighted 35 lbs./16 kg provides consistent momentum that enables you to experience riding a real road bike in the comfort of your home.
The drive is bidirectional; thus, you can pedal in reverse in order to work on more muscle groups. That said, it also means that you cannot coast on the bike and must apply the emergency brake by pushing the tension knob down whenever you wish to take a break from pedaling.
Last but not the least, the drive does not require any form of maintenance such as lubrication or adjustment as is the case with the chain drive system.  
The Resistance
The Ativafit IC-702 Indoor Cycling Bike has a friction resistance system that comprises a wool brake pad, tension knob, and flywheel. It's a manual resistance system that is controlled via the tension knob that is attached to the mainframe of the bike.  
Turn the tension knob clockwise to increase the resistance and counterclockwise to decrease it.
The resistance system provides workout difficulties that are suitable for everyone at any fitness level including the least physically fit person and the advanced athlete.
It doesn't have predefined resistance levels, thus, it's infinite. What this means by implication is that when applying resistance, it may be difficult to figure out the levels used between workout sessions but over a period of time you will understand it.
While on the upside, there are inexhaustive resistance levels that could be suitable for the weak and strong alike.
Since the wool felt pad and the flywheel come in contact when generating resistance, sometimes, an unpleasant sound occurs, and if it does apply a little bit of silicon-based lubricant oil on the top surface of the flywheel and the sound will abate.
Moreover, the wool brake pad tends to wear out over a duration of time and will require a replacement. However, this doesn't happen until after a very long time of usage and if it happens sooner it will be replaced by the manufacturer for free.
The Console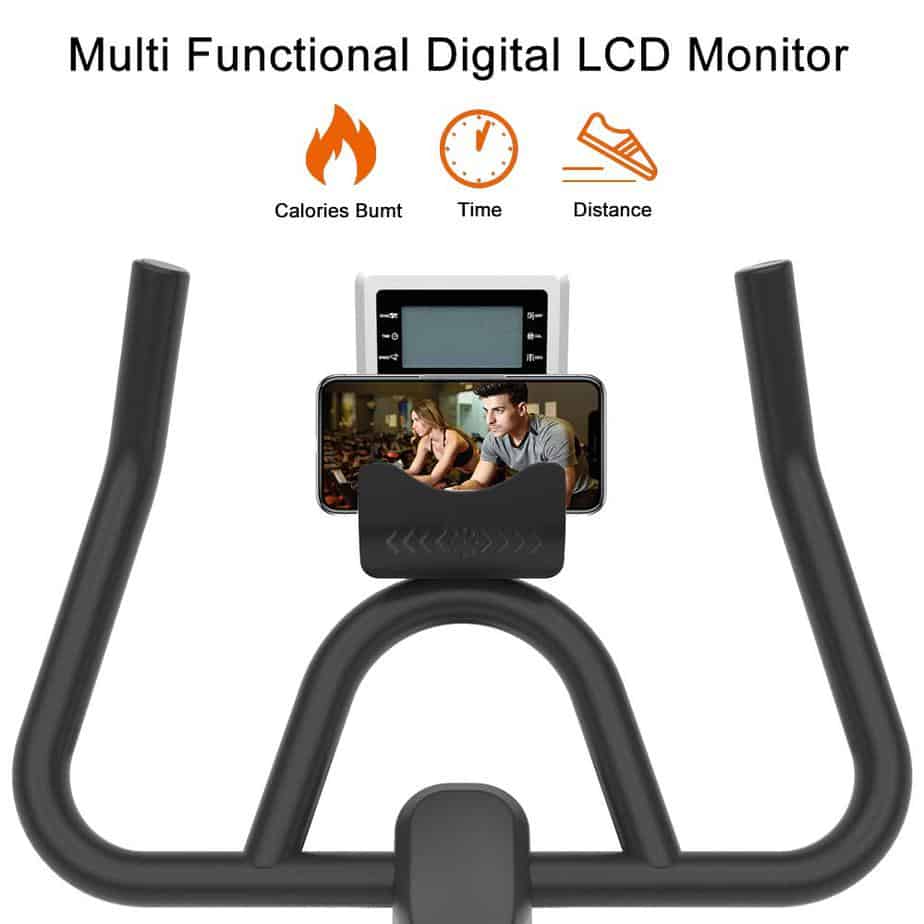 The Ativafit Spin Bike comes with a basic console that features a large LCD display screen. The display screen is non-backlit but nevertheless displays workout data with good clarity as long as it is being viewed in a room with good lighting.
The monitor is battery powered and it displays real-time workout stats such as Time, Distance, Odometer, Speed, and Calories. These keep you motivated and focused on achieving fitness goals.
Since it doesn't display workout values simultaneously, it has a SCAN function that displays them rotationally one at a time after a few seconds. It is also possible to set a certain preferred workout value of your choice to display constantly instead.
There are 3 buttons (SET, MODE, and RESET buttons) that help you to navigate through the functions of the monitor. And of course, you can manually turn the monitor ON/OFF, but it also has the capability to automatically turn ON when you start pedaling and automatically turns OFF when activity ceases on the bike for about 4-5 minutes. This saves the batteries' power.
Accessory
The `Ativafit IC-702 Indoor Cycling Bike is equipped with two essential extras, namely, the water bottle holder and the tablet holder.
The water bottle holder is designated within arm's reach for maintaining good hydration, while the tablet holder is on the console which allows you to keep a smartphone/tablet for entertainment purposes during a workout session.  
The Storage of the `Ativafit IC-702 Indoor Cycling Bike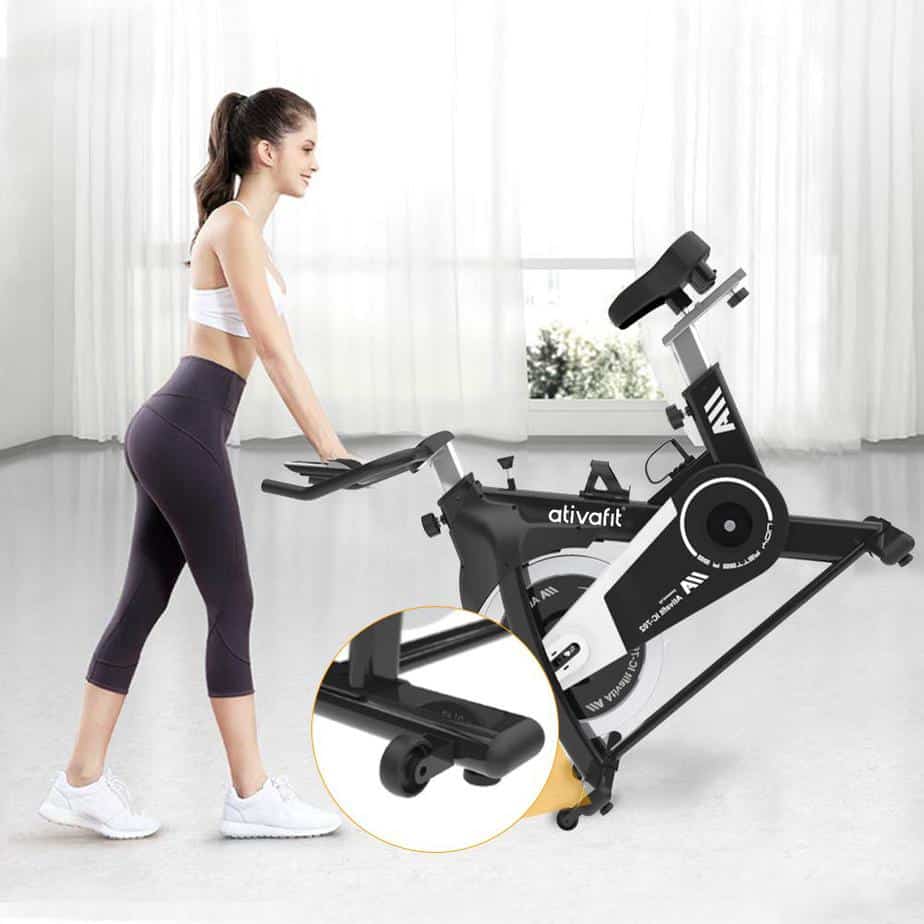 This bike is compact and portable. It will require a storage area with measurements of 3'1'' length by 1'6'' width and it is integrated with transport wheels at the front base for an easy relocation process.  
It can easily be moved by an adult regardless of its weight.
Storing it under the staircase or in the garage will be a good idea but if you can afford a safe dedicated workout space where you can leave it after workouts will also be great.
Approval Rating
The bike's approval rating on Amazon so far (at the time of this review) indicates that users are appreciative of it.
Pros/Features Overview
Durable, sturdy, and compact
Wide solid steel frame
Supports 275 lbs./125 kg maximum user weight capacity
Adjustable seat (4-ways) and handlebar (2-ways), thus, suitable for users between the heights of 5'1''-6'5'' tall
The groove and padded seat offers comfort more than most average saddles
The toe cage pedals comfortably accommodate regular gym shoes and secure the feet
Both the seat and the pedals can be swapped and replacements are widely available
The bike's operation is quiet and smooth, hence, family members or the neighbors won't feel their privacy invaded when you exercise
The friction resistance system offers light, medium, and difficult workout intensities
Its heavy-duty 35 lbs./16 kg. Flywheel provides consistent momentum that simulates real bicycle performance
The multi-grip handlebar is comfortable and offers you the opportunity to work out in different postures
The LCD monitor tracks your workout progress and ultimately keeps you focused and motivated
Low maintenance
Transport wheels included for easy relocation
A water bottle holder is included for maintaining good hydration
A tablet holder is included for entertainment
Easy to assemble
Cons
The monitor is not backlit
There is no heart rate function (can use an external HR device)
Warranty
12 Months limited warranty
Product Dimensions and Specifications
Length 36.2''
Width 19.2''
Length 45.2''
Maximum user weight capacity: 275 lbs./125 kg
Shipping weight: 83 lbs./38 kg
Display: Non-backlit LCD monitor tracks Time, Distance, Odometer, Speed, and Calories
Drive: Belt
Resistance: Friction
Seat: 4-way adjustable
Handlebar: 2-way adjustable
Pedals: toe cages with adjustable safety straps
Frame: Steel
Flywheel: 35 lbs./16 kg perimeter weighted
Heart rate function: No
Transport wheels: Yes
Tablet holder: Yes
Water bottle holder: Yes
Shipping
The `Ativafit IC-702 Indoor Cycling Bike is shipped out in a box that weighs about 83 lbs./38 kg. Amazon provides free shipping and gets it to you within a couple of days.
Assembly
The cycling bike arrives with some parts preassembled. You are only required to attach the front and the rear stabilizer bars, the seat, the handlebar, the pedals, and the console to the main body of the bike.
This will take anywhere from 30-45 minutes depending on your assembling ability.
Also, a manual with assembly instructions and the tools needed for the job are included in the package.
Maintenance
Keep the bike clean at all times and prevent liquid from getting to the console.
Examine the bike for any loose or broken parts before use.  
Conclusion
The `Ativafit IC-702 Indoor Cycling Bike is for home use. It's designed to bring the gym to you when you cannot get to the gym.
Acquiring this bike gets you equipped to lose weight, improving your cardiovascular health, strength, and endurance. 
[rank_math_rich_snippet]