The Sunny Health & Fitness SF-T7878 Treadmill is introduced in 2019. It is manually driven (by the movement of your feet) with 16 levels of magnetic resistance. This means that it doesn't have a motor as most treadmills do, thus, it doesn't need to be plugged into a power source for it to be functional.
Other features that are worth mentioning are the multi-grip handrails and the manual incline system that could be adjusted in three different levels of 7%, 8%, and 9%.
It is sturdily built to support a 300-pound/136 kg maximum user weight. The design includes EKG heart rate sensors and an LCD monitor that tracks the user's workout progress. It's not too large to overwhelm your space and it offers workouts that could help you lose weight, improve cardio health, strength, and endurance.
The treadmill features an easy folding mechanism and a soft drop technology and transport wheels that make storage a breeze.
Click right here to have a peek at the price of the Sunny Health & Fitness SF-T7878 Treadmill on Amazon.
The Frame and Construction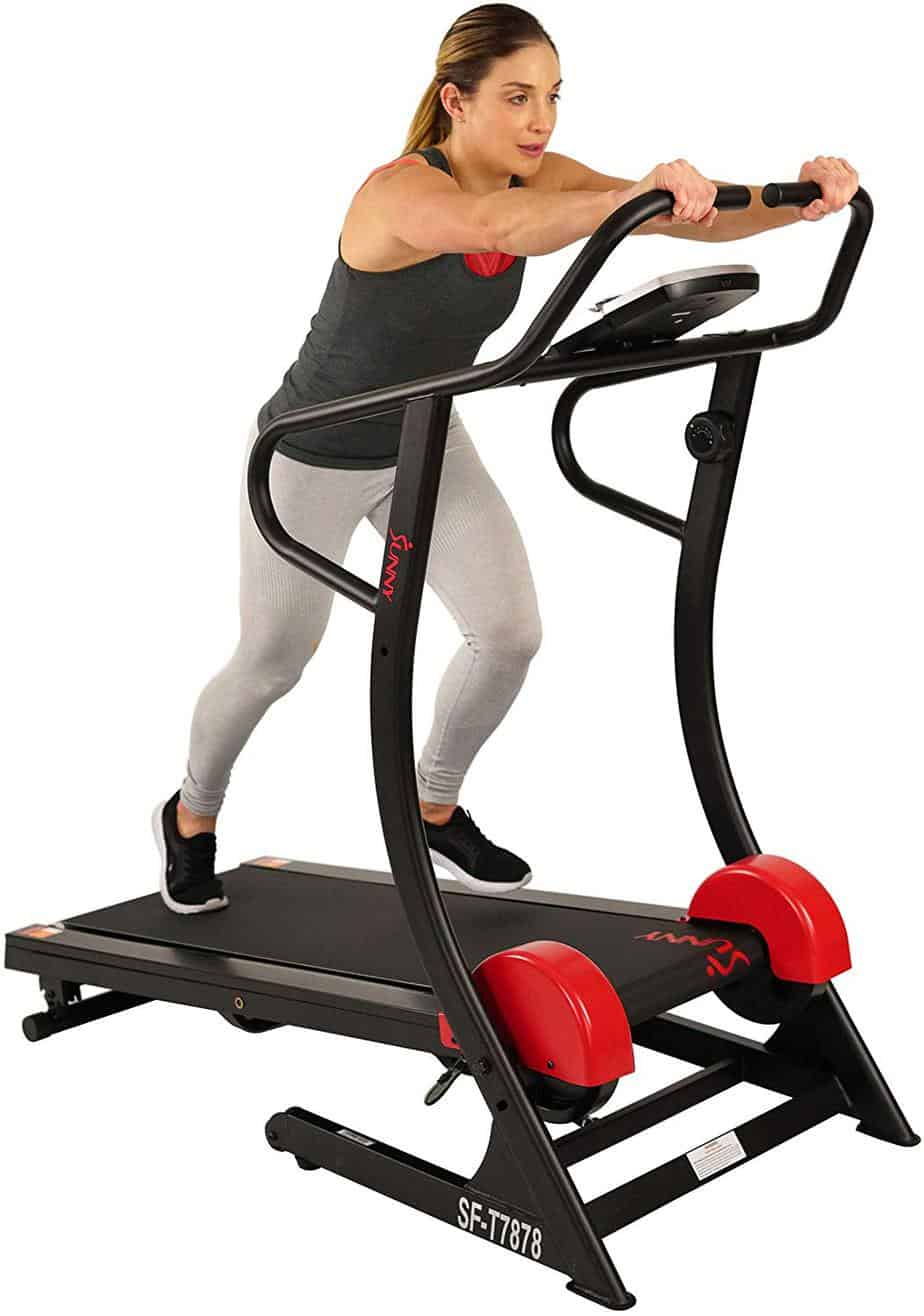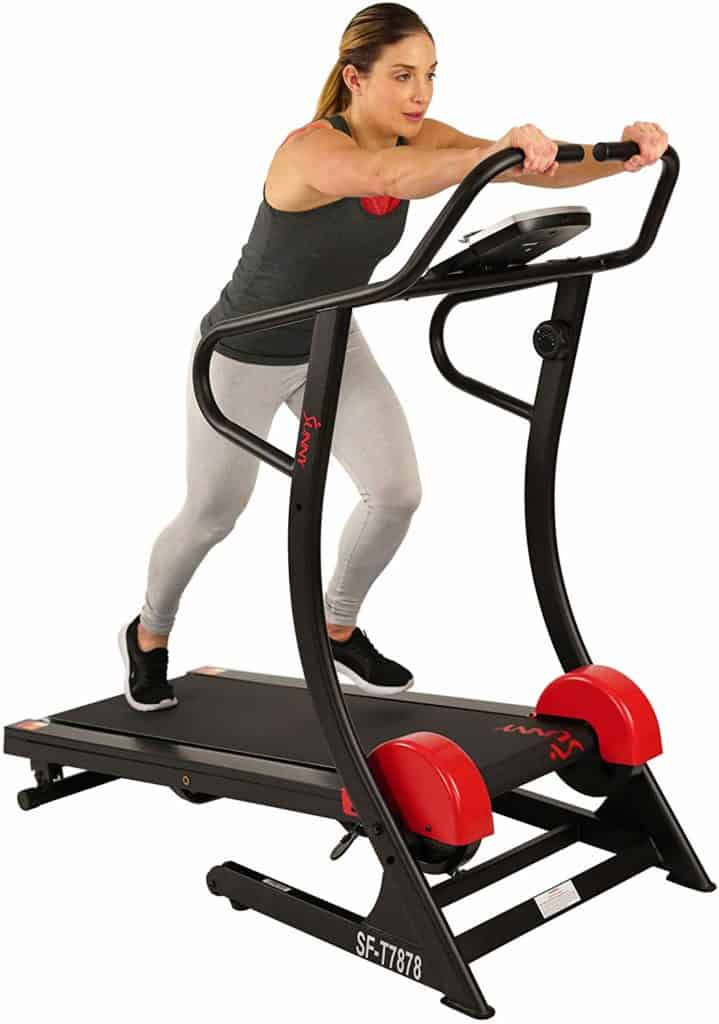 The Sunny Health & Fitness SF-T7878 Treadmill has a frame that is constructed with heavy-duty steel; thus, it supports a higher user weight capacity. The anti-resistance handrails offer different grips for different styles of workouts even as they provide comfortable and secure grips that prevent slippage and blisters in the palms.
The side rails and the flywheel are made of steel as well but the covers are made of ABS material.
The treadmill's base is well framed with adjustable levelers that enable you to perfectly level up it on any type of floor. Therefore, you won't feel imbalance when walking or jogging on the treadmill. it is further stabilized by its overall assembled weight of 110 pounds/49.8 kg.
The running belt dimensions are 47.5'' long by 17.5'' wide and it runs over durable and sizeable rollers. The 11 pounds/5 kg flywheel seems to be attached to the front rollers because they spin together as you exercise on the treadmill.
That makes sense since the flywheels are part of the elements that generate resistance and maintain the running belt momentum. The thickness of the running belt is approximately 1/32 of an inch.
However, the tread belt is not as cushioned as the motorized treadmills are, but it does reduce the impact on the ankles, the knee joints, and the back. The reason being that it is a manual treadmill with resistance. Therefore, your footfall during an exercise on the treadmill might not be as intense as it could be when using a motorized treadmill.
This is a compact treadmill with overall assembled dimensions of 56 inches long by 26.5 inches wide by 55.5 inches high. So, it will require a workout area with a perimeter of 4'7'' length by 2'2'' width.
That said, you may consider adding extra clearance of at least 2' on each side of the treadmill and 3' at the rear for easy access and safety. This is important if you are going to use it in a confined area.
As aforementioned, the treadmill has a space-saving design that allows you to fold it up and store it away when you are not using it. There is a hydraulic cylinder underneath the deck, similar to the one on most motorized treadmills. This allows you to fold it up to an upright position without the hassle and unfold safely and unassisted as well.
The Resistance
Remember, the Sunny Health & Fitness SF-T7878 Treadmill is a manual treadmill that is equipped with 16 levels of magnetic resistance system. Therefore, it does not have a motor and consequently no need to be plugged into an electric outlet.
The tread belt is propelled as you walk or jog on it and you can intensify your workout by applying the resistance to whichever level you are comfortable with.
There is no speed range; the speed limit is determined by your physical ability and how fast you can go.
The resistance system is made up of internal magnetic brakes, 11 pounds/5 kg flywheel (one on either side), and a tension knob that is situated on the inward upper part of the left stand.
Resistance goes into effect when the tension knob is turned clockwise and the internal magnetic brake gets close to the flywheel. Simply put, you can increase or decrease the resistance intensity by turning the tension knob clockwise or anticlockwise respectively.
Thus, the treadmill provides high-intensity training that loses weight, improves cardio health, strength, endurance, and could get your lower body muscles toned.
The Incline System
The Sunny Health & Fitness SF-T7878 Treadmill is equipped with a manual incline system. There are 3 levels of 7%, 8%, and 9%.
It is also important to point out that the treadmill is inclined by design. This means, whether the incline is adjusted or not, the front base will always be higher than the rear. The rear is about 5'' high from the floor while the front base is about 15'' from the floor.
Therefore, it will be necessary to consider the ceiling height of the room you are going to use. Make sure that you have a clearance of at least 1'5'' between your head and the ceiling while you are standing on the highest part of the running surface.
To do the math, add 15'' plus your height plus the extra clearance of 18''. So, in order to experience a safe workout, your ceiling height should be equal or more than the outcome of your math.
Just in case you are wondering, the treadmill does not have a decline system.
The Console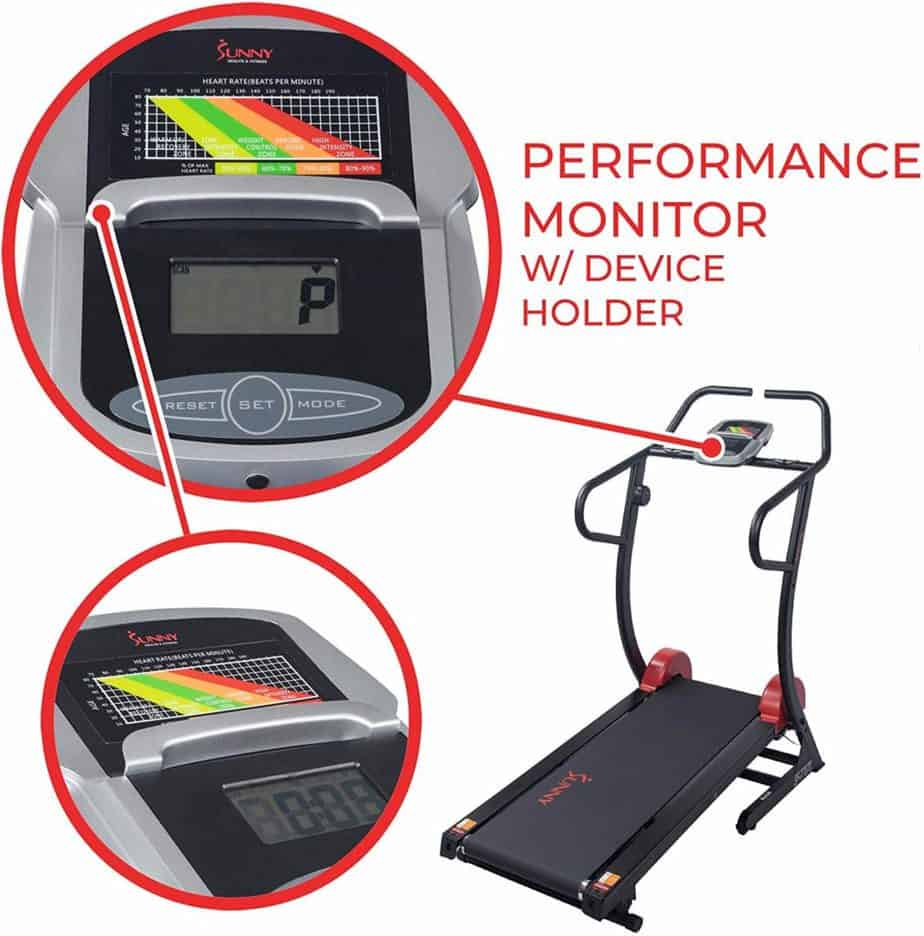 Unlike some manual treadmills that do not have a console, the Sunny Health & Fitness SF-T7878 Treadmill actually has one. It has a console that is rather basic, as expected, but good enough to keep you focused and motivated as the featured LCD monitor tracks your workout progress which includes the heart rate.
The non-backlit LCD monitor displays workout stats such as Time, Distance, Total Distance, Speed, Calories Burned, and Heart Rate.
The display's readability is good as long as it's being viewed in a well-lit environment.
The heart rate can only be read when you grip the pulse sensors on the horizontal handlebar while working out. As stated above, the horizontal handlebar is one of the many hand-rips the treadmill features and they are directly welded onto the stand.
Clearly, the console or rather the monitor is battery powered. It needs 2 AA batteries to power it.
Aside from the monitor, there are 3 navigational buttons that include the Mode, the Set, and Reset. These buttons allow you to turn ON the display, select which of the stats to view, select the SCAN function, clear all data, and more.
When the SCAN function is selected, the workout values will be displayed one after the other after every few seconds and so it goes continuously. So also, you can select a workout stat of your choice to display constantly instead.
The monitor has a hibernation function which literally makes the display screen automatically turn OFF when there is no activity on the treadmill for a few minutes.
Importantly, there is a colorful heart rate diagram on the upper part of the console which clearly shows the heart rate zone that you may target depending on your age. There is also a strategically integrated tablet holder on the console. When you place a tablet device on the tablet holder, it doesn't block the view of the display screen.
Therefore, you can enjoy using your phone/tablet for entertainment and still be able to view your workout stats.
Storage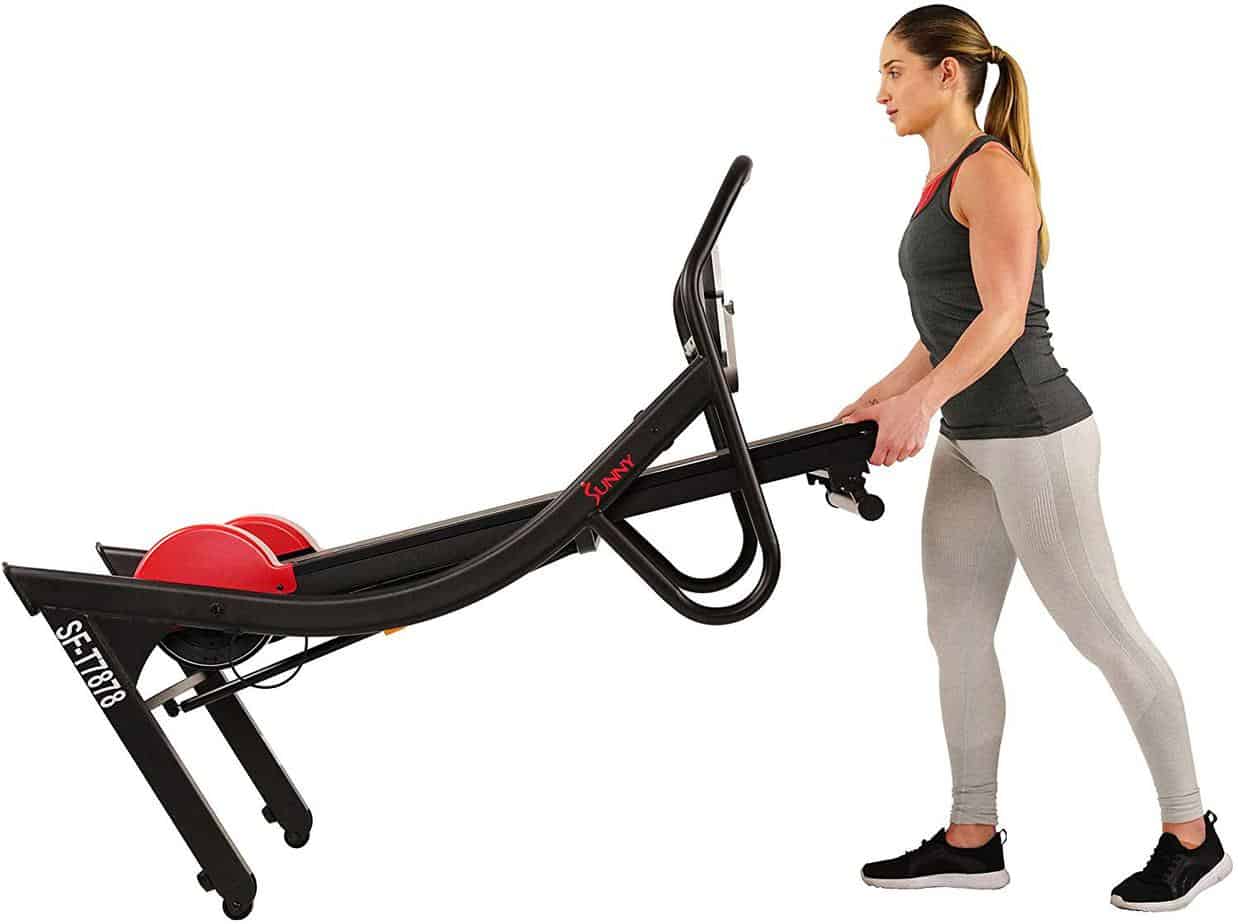 The storage of this treadmill is pretty easy as it is equipped with transport wheels and a space-saving design.
The easy folding mechanism and soft drop system allow you to fold and unfold it unassisted. Once it is vertically folded, it requires less storage space and could be rolled away via the transport wheels.
The folded dimensions are 28'' depth by 26.5 inches width.
Accessory
The only accessory on the ST-T7878 treadmill is the built-in tablet holder.
Approval Rating
Review sites and Amazon customers' reviews have a positive review of this treadmill. In other words, both reviewers and the actual users have a favorable view of it.
Pros/Features Overview
Solid and robust construction
Supports a high user weight capacity
Features welded multi-grip handlebars that support different workout style
It's compact and has a small footprint
Users up to 6' can walk, jog, or run on it
The magnetic resistance system provides high-intensity training
Electric power is not required; it's self-powered
There are 3 levels (7%, 8%, and, 9%)of manual incline system
The running surface cushion reduces the impact on the ankles, and the knee joints
Being a self-powered treadmill, its operation is smooth and quiet
The base is well-engineered to provide maximum stability
Dual flywheel maintains the running belt momentum even as they generate resistance as well
The LCD monitor tracks workout stats such as Time, Distance, Total Distance, Speed, Calories Burned, and Heart Rate
Transport wheels included
A tablet holder is included
Low maintenance
Requires no assembly
Cons
The monitor is not backlit
No water bottle holder
Warranty
3 Years on the Frame
180 Days on Parts
Product Dimensions and Specifications
Length 56''
Width 26.5''
Height 55.5''
Folded dimensions: 28'' D x 26.6'' W
Tread belt: 47.5'' L x 17.5'' W
Dual 11 pounds/5 kg flywheels
Manual magnetic resistance system with 16 levels
User weight capacity: 300 pounds/136 kg
Weight: 110 pounds/49.8 kg
Self-powered non-motorized
Frame: Steel
Incline System: Manual, 3 levels (7%, 8%, and 9%)
Console: Non-backlit LCD monitor tracks Time, Distance, Total Distance, Speed, Calories, Heart Rate, and SCAN
Heart Rate Monitoring: EKG heart rate sensors
Programs: No
Transport wheels: Yes
Tablet holder: Yes
Water bottle holder: No
Shipping
The Sunny Health & Fitness SF-T7878 Treadmill is shipped in a box that weighs 125 pounds/56.7 kg. It is shipped out for free and delivered in a couple of days by Amazon.
Assembly
The treadmill is delivered fully assembled. You can start using it right out of the box. However, there might be a need to lubricate and re-adjust the tread belt.
An instruction manual that comes with the treadmill lays out in clear illustrations on how to get it up and running in no time.
Maintenance
You need to keep the treadmill clean at all times especially the tread belt. This is to ensure that no debris is deposited in it that could, in turn, make the tread belt not run smoothly and may also damage it.
Periodic lubrication is also encouraged for the same reason of keeping the tread belt running properly.
Conclusion
The Sunny Health & Fitness SF-T7878 Treadmill is designed for home use. It is a strong and robust treadmill that offers exercises that could allow you to lose weight and improve your overall physical fitness greatly.
Being a manual self-powered, magnetic resistance treadmill has its advantages over the motorized treadmill. And one of those advantages is the fact that it provides high-intensity training that challenges you.
[rank_math_rich_snippet]