The XTERRA Fitness AIR650 Airbike Pro has a cordless fan-based resistance system that provides unlimited resistance. The resistance limit depends on how fast you can pedal and this makes it the perfect bike for HIIT (high-intensity interval training) training.
The fan resistance also provides cooling air to the user while exercising.
The Air bike falls in the same category as the Schwinn AD7 Airdyne Exercise Bike only that the AIR650 Airbike Pro has an industrial-grade chain drive system.
Unlike the upright bikes, this offers full body (upper & lower body workouts) exercises due to the ergonomically designed movable handlebars. The console features an LCD monitor that tracks workout stats such as RPM, Speed, Time, Distance, Calories burned, Watt, Interval Prompt, and Heart Rate.
There are programs as well that include Target Time, Target Distance, and Target Calories. Target Heart Rate, Interval 20/10, Interval 10/20, and Custom Interval.
It has a stable and durable construction that supports 350 pounds/158.7 kg maximum user weight capacity. It is customizable and can accommodate users between the heights of 5'2''-6'2''.
The bike is recommendable for professionals, rehabs, and anyone between.
Offers lifetime warranty on the frame, 1 year on Parts, and 1 Year for in-home Labor.
Click right here to have a peek at the price of the XTERRA Fitness AIR650 Airbike Pro on Amazon.
The Frame and Construction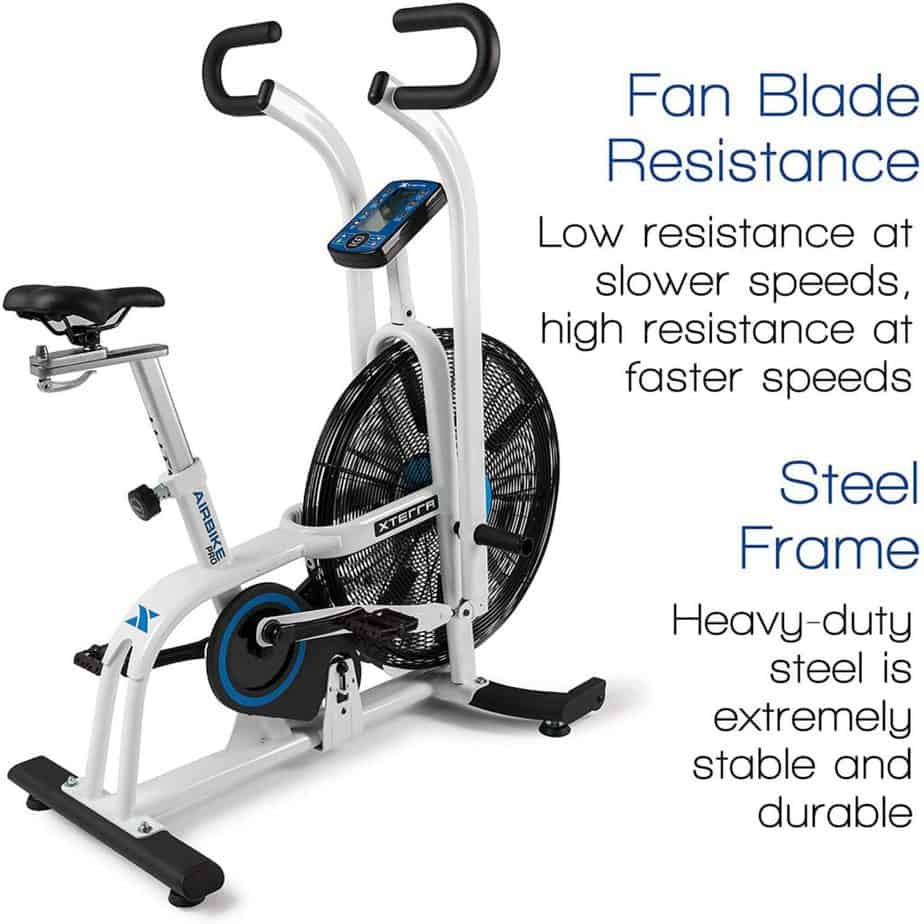 The XTERRA Fitness Airbike unarguably has a commercial-grade anti-corrosive coated steel frame that supports a higher user weight capacity as stated above, and as a testament covered by a lifetime warranty.
The overall construction of the bike guarantees durability and stability.
Speaking of stability, the bike's base framework features a robust u-shaped stabilizer bar at the front and a straight rectangular stabilizer bar at the rear. Underneath those stabilizer bars are rubberized adjustable levelers that allow you to level up the bike on a crooked surface even as they have better grips on the floor.
The unit's assembled weight is 115 kg/52 kg. This makes the bike grounded and further boosts its overall stability.
There are transport wheels at the front base designed to facilitate the relocation of the bike without difficulty regardless of its weight.
The bike is not very large, thus, it won't take up much space. The overall assembled dimensions are 48'' long by 28'' wide by 54.5'' high. In other words, the bike will require a workout area with a perimeter of 4' length by 2'4'' width. Additional clearance of at least 2' might be necessary around the bike for easy access and safety while working out.
The Seat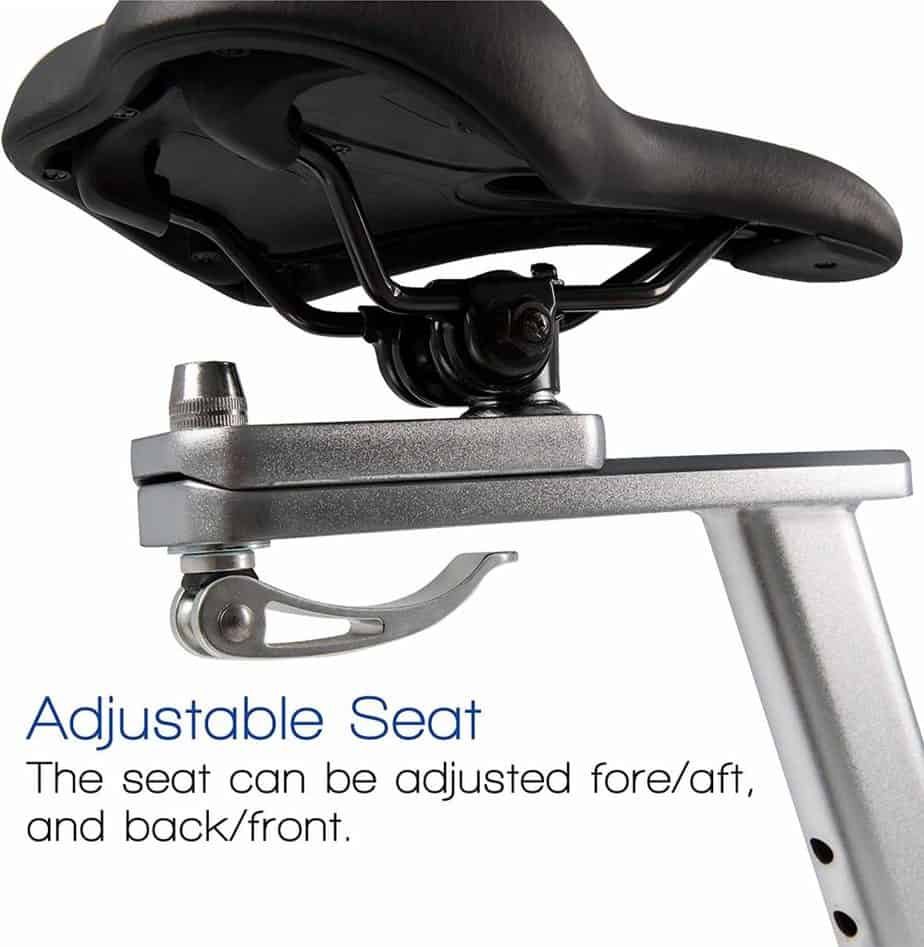 The seat on the XTERRA Fitness AIR650 Airbike Pro is 4-way adjustable. It can be adjusted vertically (upward/downward) and horizontally (fore/aft) The vertical adjustment has several positions that have about 1 inch between them, while the horizontal has a few inches adjustment.
Both the vertical and horizontal adjustments could easily and quickly be done through the knob and the lever respectively. Thus, members of the family can use it in turn.
The saddle is padded and contoured to offer a decent comfort that may allow you to work out longer. However, it can be improved by using a gel seat cover or better still replacing it with another seat of your choice.
The Handlebars
The Air650 Bike Pro has dual movable handlebars that feature padded multiple grips. The handlebars are not adjustable but they are positioned to fit everyone.
The movable handlebars are the reason you can work out your upper body.
The Pedals
The Pedals and the handlebars are connected, meaning, they both move simultaneously whey you pedal. Although, there is a footpeg on each side of the fan casing which enables you to place your foot in case you wish to exercise the upper body separately.
The pedals are like those of the road bicycle, they are without toe cages. However, they are wide and anti-skid so that your feet are securely accommodated.
The Drive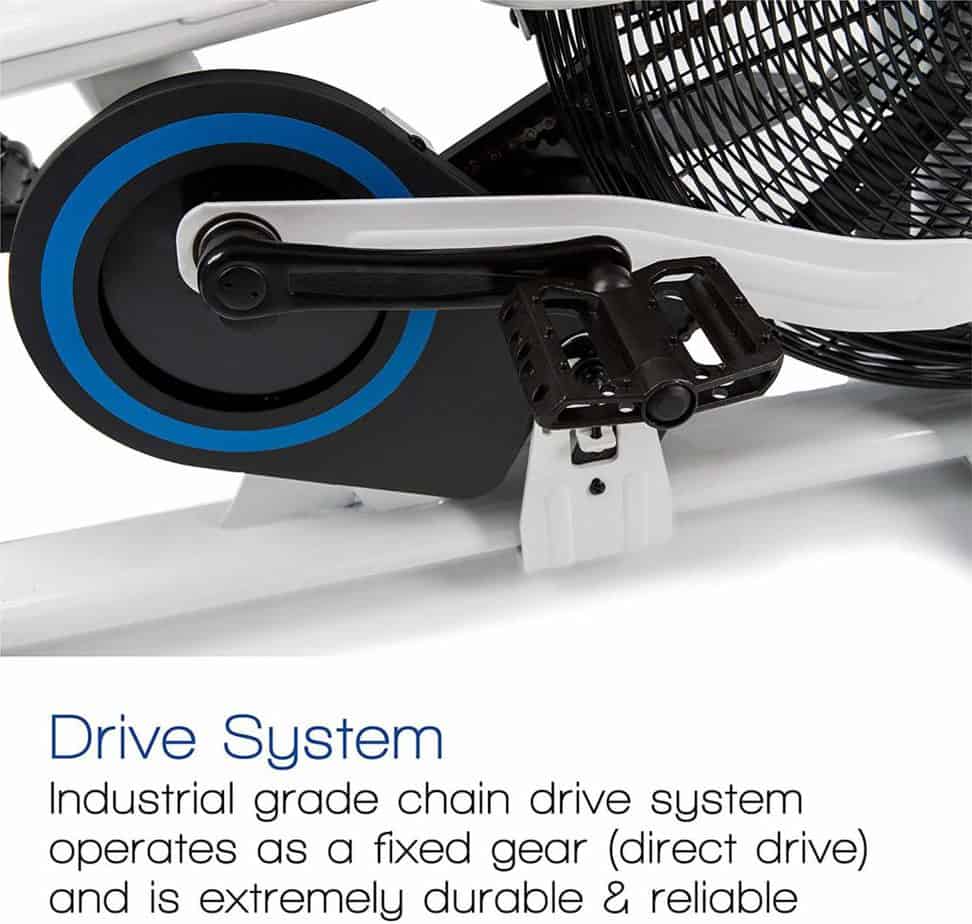 The XTERRA Fitness AIR650 Airbike Pro is a chain-driven bike. As opposed to a belt-driven bike that has pulleys, instead, this has toothed sprockets.
Some have difficulty deciding which of the drive systems is better. Well, both have advantages and disadvantages.
In as much as the belt drive system is cost-effective and simple to use, the chain drive system provides a transmission that mimics a real road bike. Its drive is with no slip or creep, it's efficient, and has more power compared to the belt.
It operates fine even in a wet conditions and does not deteriorate because of environmental conditions such as sunlight, oil, grease, or age.
However, it does require periodic lubrication and maybe adjustments to keep it functioning well. Its operation is accompanied by some level of vibration and noise, just as a road bike.
The elements that make up the chain drive system on this bike are the chains, the sprockets, a durable crankset, solid crank-arms, and the pedals.
The drive is bidirectional, meaning you can also pedal in reverse but cannot coast because it has a fixed gear (direct drive).
The Resistance
The XTERRA Fitness AIR650 Bike has a smooth and unlimited air resistance system. This is considered a dynamic resistance system that is suitable for all users. The reason is that the intensity increases as you speed up and reduces as you slow down during a workout.
There is no resistance adjustment control and there are no predefined resistance levels.
Consequently, you will be engaged with resistance or intensity that is proportionate to your fitness level. This also gets you to lose weight, improve cardio health, strength, and endurance quicker than other bikes with different resistance systems.
The fan consists of 9 heavy-duty blades that are encased in a 27'' wire steel housing for safety.
The noise level the fan generates is not noisy enough to interfere with other activities such as watching a TV show/listening to music and neither does it pose a problem to the family or the neighbors.
The fan also cools you down while you exercise with the bike as the air flow goes to you.
The Console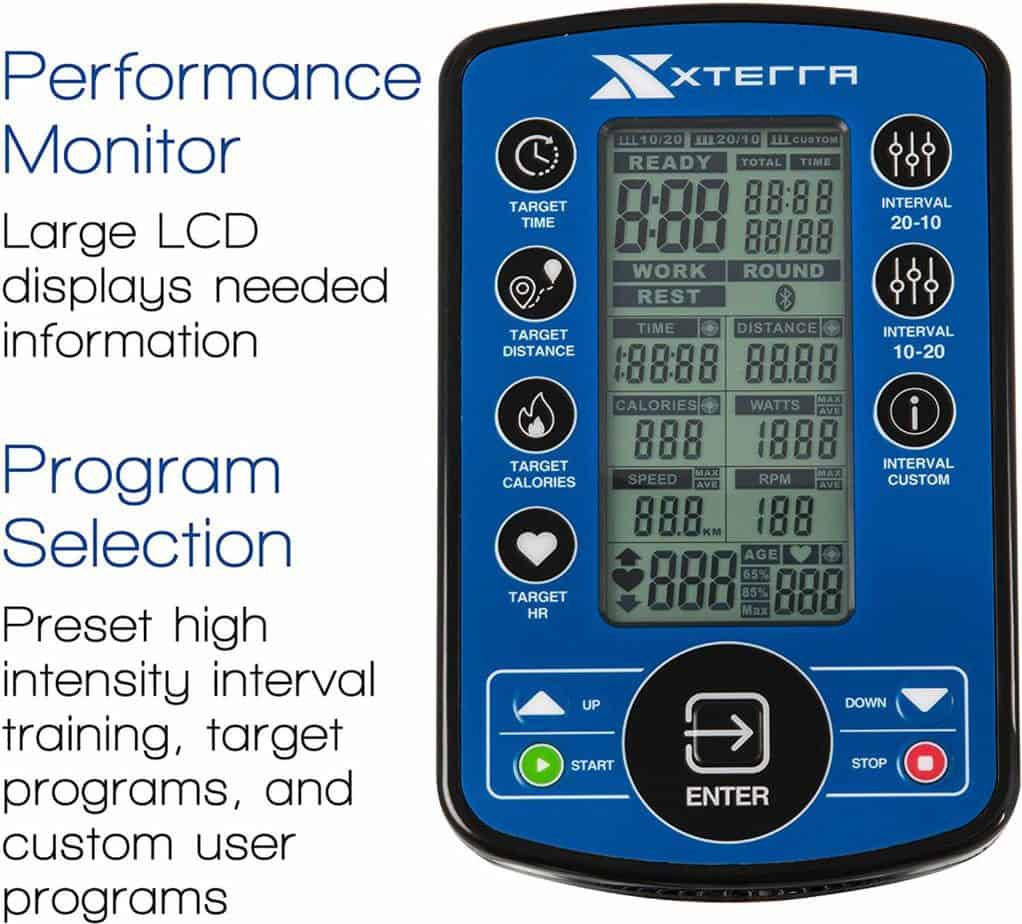 The AIR650 Air Bike comes with a large, advanced, and comprehensive LCD display. This has several segmented windows that track and display workout stats such as Time, Distance, Watt, RPM, Calories burned, Speed, heart rate, and more.
There are programs available that include Target Distance, Target Calories, Target HR, Interval 20/10, Interval 10/20, and Interval Custom.
The speed measurement unit is in kilometers.
These programs and especially the preset HIIT programs get you on the path of challenging yourself and getting results.
The console is telemetry enabled and so you can only get to observe your heart rate when you use a compatible HR chest strap (not included).
The monitor is powered by 4 AA batteries which are included in the package.
Accessory
The bike doesn't have a built-in water bottle holder or a tablet holder. Therefore, you may have to improvise to remain hydrated during a workout session.
Storage
The bike is not foldable but neither is it complicated to store away. Yes, it's a fairly heavy bike but the integrated transport wheels make moving the bike to the storage area very easy.
It is compact and doesn't take up much space.
Pros/Features Overview
It is a commercial-grade bike
It is stable, durable, and compact
Supports a higher user weight capacity of 350 pounds/158.7 kg
There are preset programs that support HIIT training, these include Interval 20/10, Interval 10/20, and Custom Interval
Customizable (the seat is 4-way adjustable) to suit users of different heights and sizes
It offers total body workout (upper and lower body workouts) due to its moveable handlebars
The chain drive provides high-velocity ratio and mimics riding a road bicycle
Has a narrow Q-Factor (distance between the left and right pedals), thus, ankle and knee stress are reduced
The LCD monitor has advanced functions that keep you focused and motivated
The air resistance system is dynamic, provides different levels of intensity that are suitable for everyone
The anti-skid pedals are wide and provide comfortable and secure footing.
Equipped with levelers that enable you to balance the bike on a crooked flooring
Not difficult to assemble
The doesn't need to be plugged into a power outlet to be functional
The monitor is powered by 4 AA batteries (included)
There are foot pegs that help you to perform only upper body workouts
Cons
The HR chest strap is not included in the package
No water bottle and tablet holders
Warranty
Lifetime on the Frame
1 Year on Parts
1 Year for in-home Labor
Product Dimensions and Specifications
Length 48''
Width 28''
Height 54.8''
Maximum user weight capacity: 350 pounds/158.7 kg
Weight: 115 pounds/52 kg
Seat: 4-way adjustable
Handlebars: Nonadjustable and movable
Console: Telemetry enabled, advance LCD monitor tracks Time, Distance, Watt, Speed, RPM, Interval Prompt, and pulse
Programs: Quick mode program buttons include Target Time, Target Distance, Target Calories, Target HR, Interval 20/10, Interval 10/20, and Interval Custom
Foot Pegs: For foot placement when you wish to perform a targeted upper body workout
Drive: Chain drive
Resistance: Air resistance
Fan: 9 heavy-duty blades encased in a 17'' wire steel housing
Transport wheels: Yes
Tablet holder: No
Water bottle holder: No
Power: No external energy required, 4 AA batteries (included)needed for the console
Shipping
The XTERRA Fitness AIR650 Airbike Pro is shipped in a single box that weighs 128 pounds/58 kg. Amazon provides free shipping and makes delivery in a couple of days.
Assembly
The bike comes well packaged. The major components such as the resistance and the drive systems are pre-assembled.
It will require an hour, more or less to completely assemble. The package comes with an instruction manual that walks you through the process of assembly with clear instructions.
Maintenance
The manual contains instructions on how to keep the bike maintained. There might be a need for periodic lubrication of the chain for smooth transmission.
Ensure to examine the bike for any loose or broken parts before engaging in any workout session. This is to prevent an accident or further damage to the bike.
Conclusion
The XTERRA Fitness AIR650 Airbike Pro is tailor-made for those that wish to take proactive measures towards recovery from an injury, weight loss, and overall physical improvement.
[rank_math_rich_snippet]