The Sunny Health & Fitness SF-B1711 AeroPro Indoor Cycling Bike is in the same sphere as the Sunny Health & Fitness 1786 Indoor Cycling Bike. The only significant difference is that the latter has a console while the other doesn't.
Nevertheless, the SF-B1711 AeroPro features a handlebar with an additional set of grips, and it is about 30 bucks cheaper.
Click right here to have a peek at the best price of the Sunny Health & Fitness SF-B1711 AeroPro Indoor Cycling Bike on Amazon.
The Frame & Construction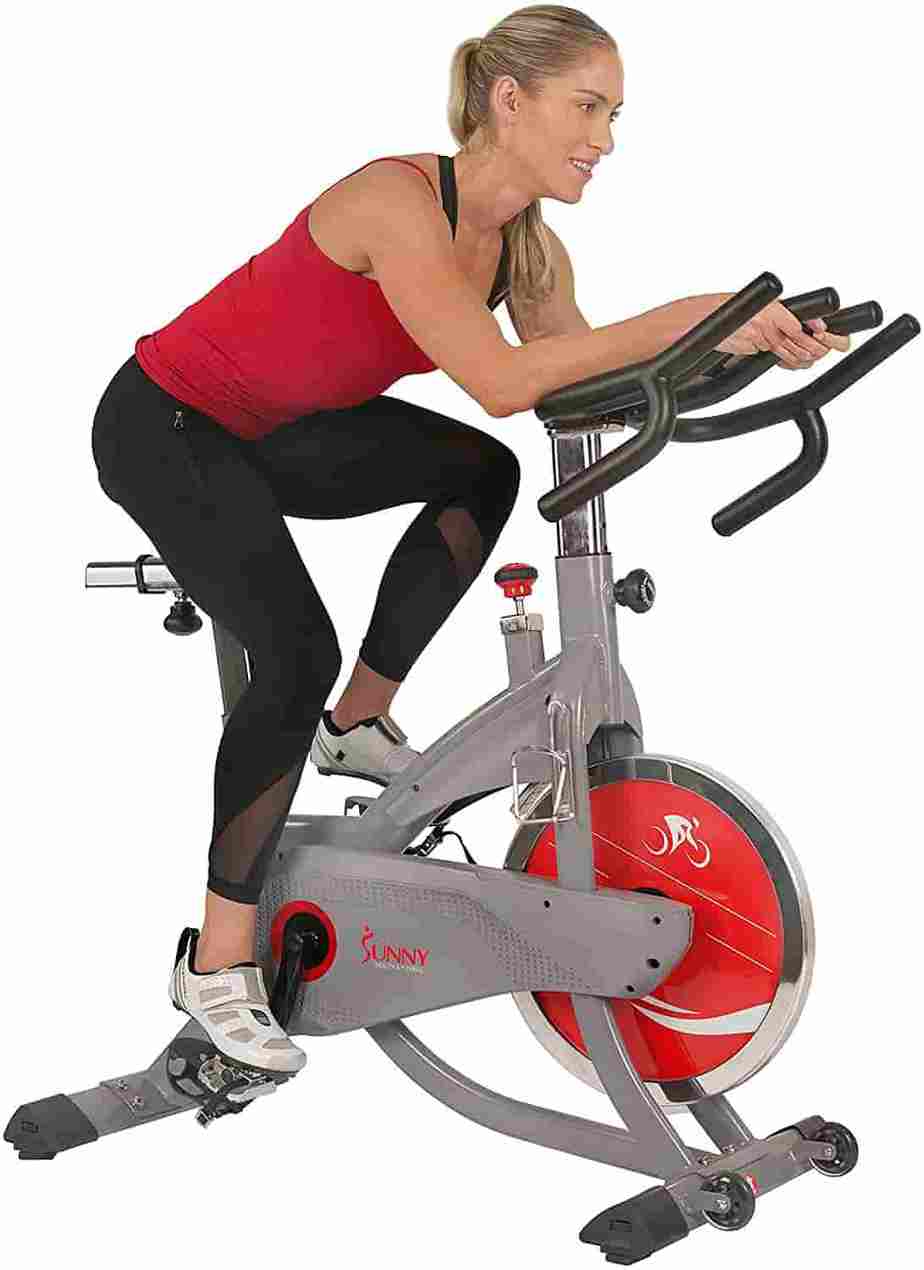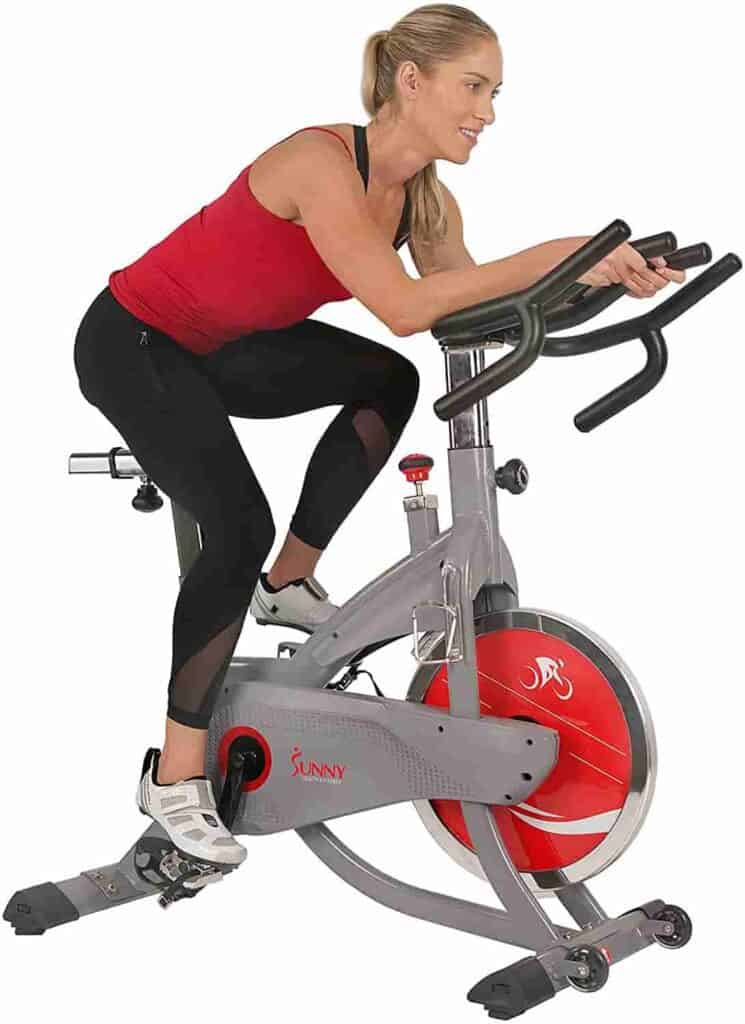 This bike is designed for home use even though its quality could be likened to a light commercial-grade unit. It is predominantly made of steel with fewer plastic parts.
The steel frame is finished with anti-corrosion paint, while the drive-train cover, the magnetic brake pad cover, and the stabilizers' end-caps are made of ABS material.
Its prevalent color is grey with a secondary color of red, and the seat/handlebar posts are chrome-plated.
As a result, it is durable, safe, and strong enough to support a maximum user weight capacity of 300 lbs./136 kg.
Since the frame structure is kind of similar to the Pooboo D686 Indoor Cycling Bike, the stabilizers' adjoining steel bar took a detour from the front stabilizer to the base of the handlebar post.
So, due to the base framework, the bike's stability is optimum and it is further enhanced by its assembled weight of 113.6 lbs./51.52 kg.
The Sunny Health & Fitness SF-B1711 AeroPro Indoor Cycling Bike doesn't take up too much even though it is a few inches larger than most average spin bikes.
Its assembled dimensions are 49'' long by 22'' wide by 45.5'' high. In other words, it requires a space with a measurement of 4' length by 1'83'' width for workouts. In addition to that, a 2' clearance around it is recommended for easy access and convenience during workouts.
Finally, regardless of the bike's weight, users can easily relocate it around the room or apartment due to the integrated transport wheels at the front base.
The seat of the Sunny Health & Fitness SF-B1711 AeroPro Indoor Cycling Bike
The saddle is slim, cushioned, and grooved for maximum comfort. Its dimensions are 11'' long by 7.5'' wide by 3'' thick.
That said, does it provide comfort as intended? Well, it is up to the user to determine this because everyone may have a different opinion regards to that.
However, if by any chance you feel it is not comfortable enough, a gel seat cover could be used to improve it, or better still, you can replace it completely with another seat.
The seat is 4-way adjustable. This means it could be adjusted vertically (upward/downward) and horizontally (fore/aft). Hence, users of different heights and sizes can tweak the bike for a perfect fit.
By the way, the inseams it supports are between 27'' min to 39'' max. So, as long as your inseam falls between these the bike can accommodate you just fine.
The Handlebar
The AeroPro SF-B1711 Indoor Cycling Bike has a multi-grip-designed handlebar that features standard grips, close grips, hill-climbing grips, and drop-down grips for different riding styles.
It is cushioned with a soft rubber foam that provides comfort and safety. In other words, no slippage or blisters will be experienced no matter how frequent or longer you work out with the bike.
There are no HR sensors on the handlebar and no console either. Therefore, if you must monitor your workout progress, an external tracking device could be used.
As opposed to the 4-way adjustable seat, the handlebar can only be adjusted 2-ways (upward and downward). Nevertheless, this makes the customization of the bike more flexible.
Both the seat and the handlebar can easily be adjusted in seconds via their respective adjustment knobs.
The Pedals
The pedals are dual-sided. This means they have toe cages on one side, and clip-ins on the other.
So, users may use standard gym shoes or clip-in shoes for workouts. Both are secure and comfortable for a high-intensity workout.
However, if you wish to swap the pedals, you can because the thread is standard (9/16''), therefore, options are widely available.
Pedaling while standing is possible as long as your weight is within the stipulated weight the bike supports (300 lbs./136 kg max.).
The Q-Factor is not officially disclosed, but a user asserts it is around 200 mm/7.85''.
The Drive
The Sunny Health & Fitness SF-B1711 AeroPro Indoor Cycling Bike has a belt drive system that provides smooth and quiet operation. It does not also require any maintenance as opposed to a chain drive system.
It consists of a durable anti-stretch V-Poly belt, a 3-piece crankset, metallic crank-arms, and pedals. Moreover, the operation of the bike is also vibration-free, thanks to the 44 lbs./19.95 kg high inertia flywheel that provides a consistent momentum needed.
What this means is that the bike offers a realistic outdoor riding experience, and you won't have any problem exercising at any time of the day because nobody will be bothered or be disturbed by your activities.
Also, you don't get your hands dirty trying to lubricate or adjust the drive, because it is not required.
Yes, the drive is bi-directional. This enables you to pedal in reverse if you want to tone more muscle groups. But, you cannot coast on the bike as anyone could on a road bicycle.
So, as safety and preventive measure, always apply the emergency brake by pushing down the tension knob whenever you wish to stop pedaling to avoid a potential injury.
The Resistance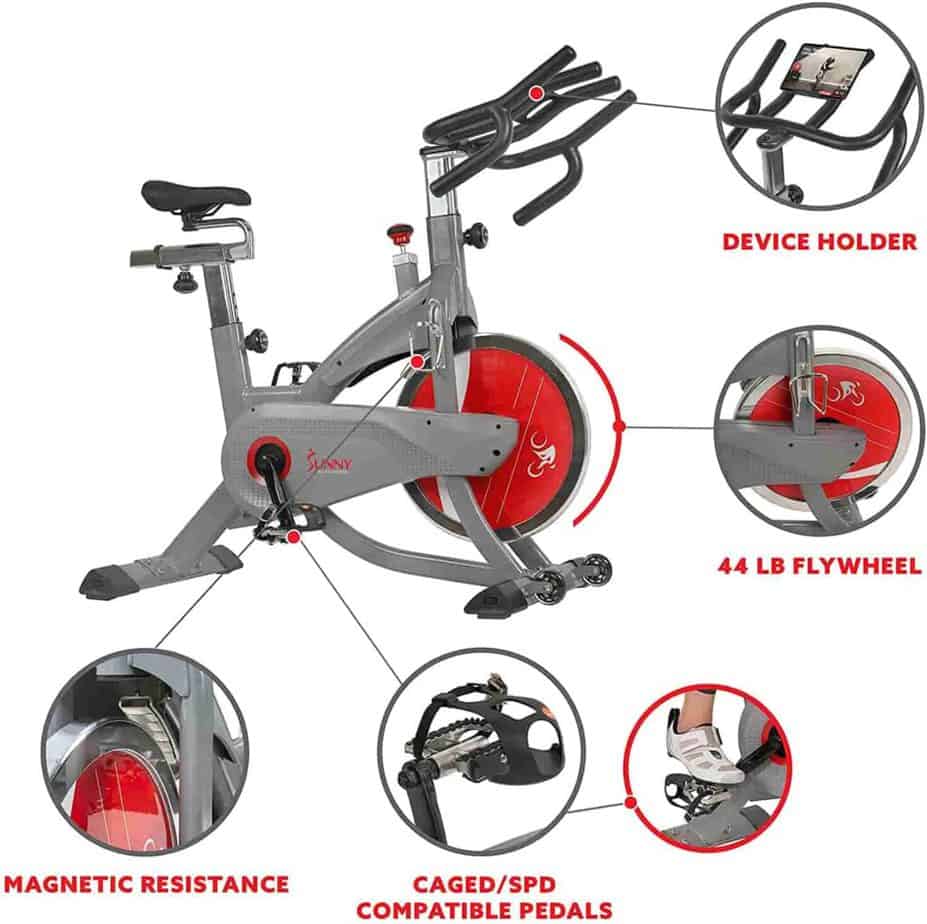 The resistance system is manual magnetic, and it mainly comprises a magnetic brake pad, the tension adjustable knob, and the 44 lbs./19.95 kg high inertia flywheel.
How this works is that the tension knob is used to shift the magnetic brake pad close to the flywheel to release magnetic fields that will ultimately create resistance.
In other words, resistance is created without friction or contact, and the closer the magnetic brake pad is to the flywheel the greater the resistance.
So, due to the absence of friction, no maintenance of any sort is needed.
To increase or decrease the resistance system, simply twist the tension knob clockwise or counterclockwise, respectively.
Although, the resistance levels are not predefined, instead, they are infinite and micro-adjustable. Differently put, you will have to twist the tension knob either way to achieve the level of resistance you wish to use for your workout.
It indeed offers a wide range of workout levels suitable for most users that wish to lose weight, improve cardiovascular health, and tone muscle groups.
Console
No console is integrated.
If this is a problem, you may use an external monitoring device or purchase a bike that already has one on it such as the Sunny Health & Fitness SF-B1876 (the review link is above.)
Accessory
There is a water bottle holder for maintaining hydration throughout the duration of your workout session.
Also included is a tablet holder for keeping your device handy whenever you wish to watch workout videos or movies.
Both of these extras are strategically designated making their usage easy and smart.
Storage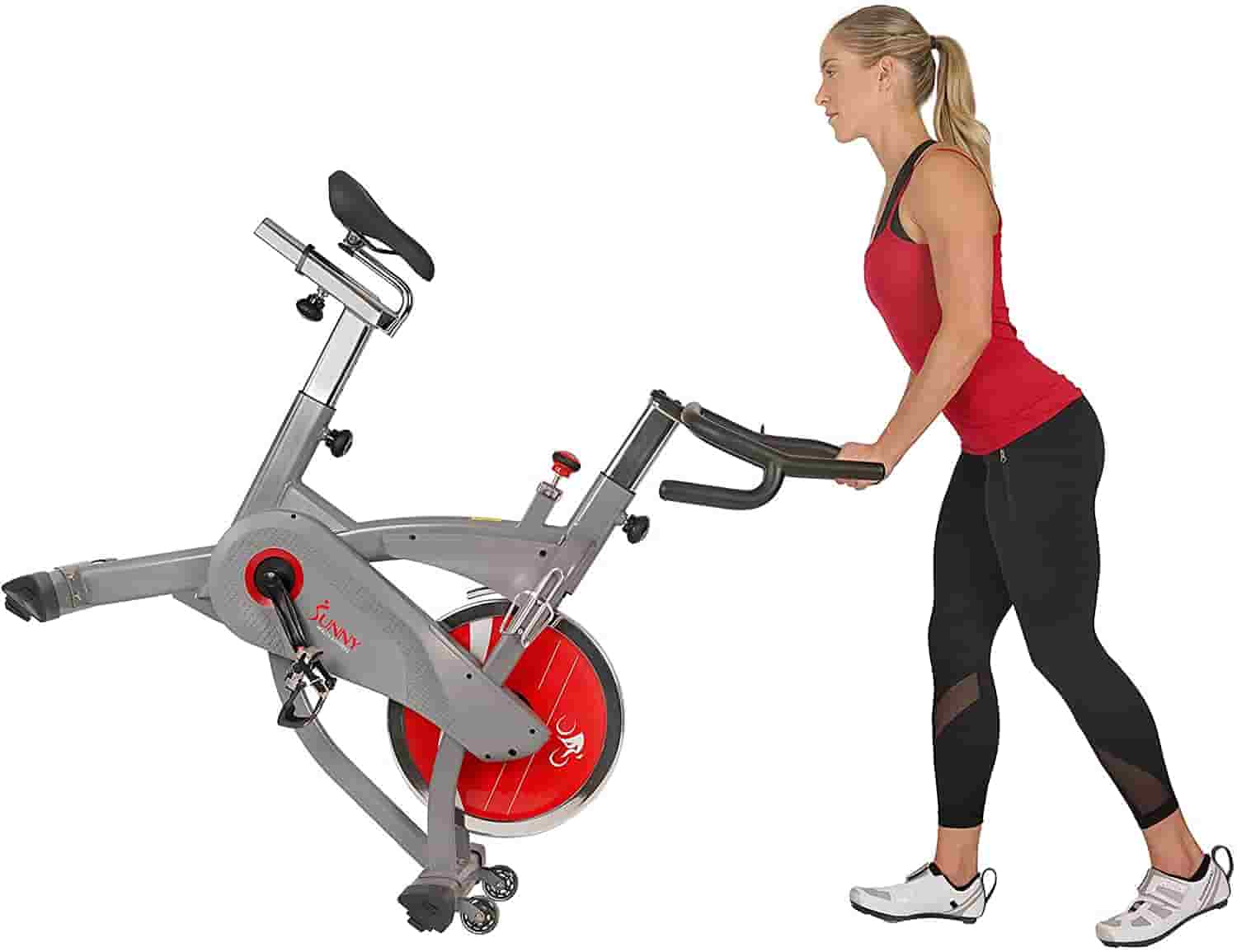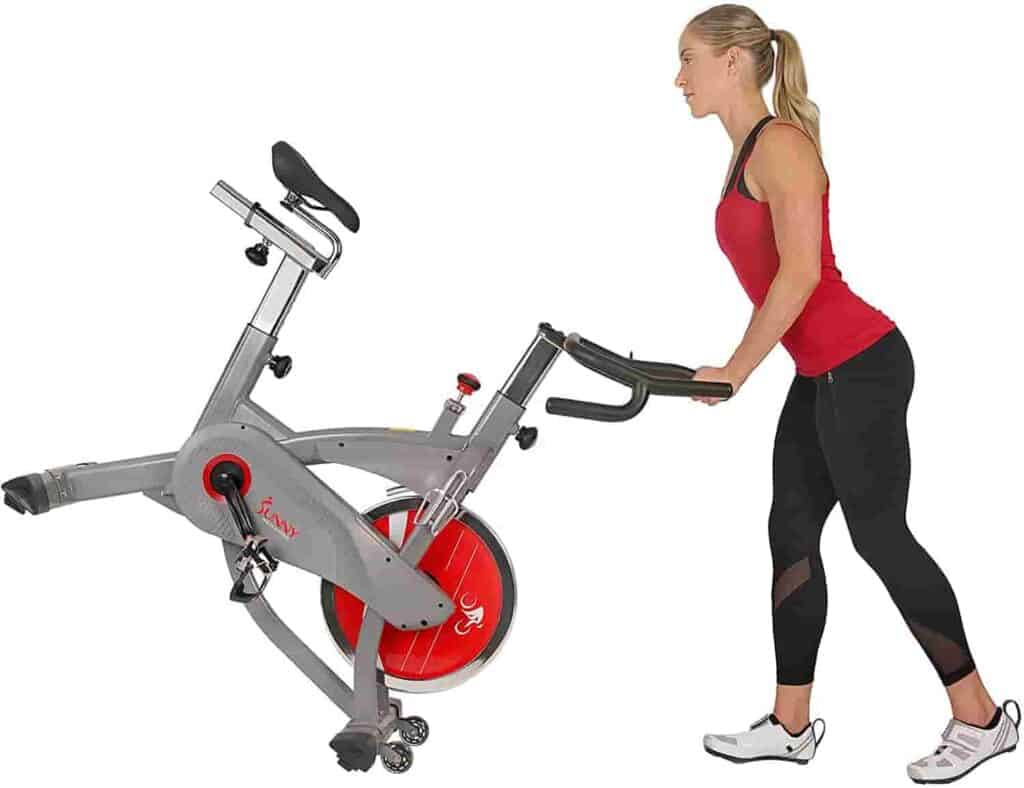 The Sunny Health & Fitness SF-B1711 AeroPro Indoor Cycling Bike is not foldable, but it is neither bulky to be too large for your storage space.
A storage area with a measurement of 4' length by 1'83'' width can accommodate it.
Moving it to and from the storage area won't be a problem because there are transport wheels integrated to help in the relocation process.
Pros/Features Overview
It is built to hold up for a very long time
Easy to move around, thanks to the transport wheels
Stable and sturdy
Supports 27''-39'' inseams; potentially fits 5'-6'5'' tall users
Operation is smooth, quiet, and vibration-free
The 44 lbs./19.95 kg high inertia flywheel maintains steady momentum that results to a realistic outdoor riding experience
It provides effective cardiovascular exercises at home
The micro-adjustable manual magnetic resistance system offers a variety of workout difficulties suitable for different users
The cushioned and groovy slim seat is designed to provide comfort and air permeability
The pedals are dual-sided; meaning, they are compatible with standard gym shoes and clip in shoes as well
The handlebar has multiple grips that include standard grips, hill-climbing grips, close grips, and drop-down grips for different riding styles
Maintenance requirement is minimal
Assembly is easy
Tablet holder included for entertainment purposes
Water bottle holder included for proper hydration
Easy to step in and out of the bike
Decent warranty
Cons
No console/monitor and HR monitoring system
Warranty
3 Years for Structural Frame
180 Days for Parts and Components
Product Dimensions & Specifications
Length: 49''
Width: 22''
Height: 45.5''
Shipping dimensions: 45.5'' L x 10'' W x 34.5'' H
Net weight: 113.6 lbs./51.52 kg
Gross weight: 128.4 lbs./58.24 kg
Maximum user weight capacity: 300 lbs./136 kg
Supported inseam heights: 27''-39''
Frame: Steel
Flywheel: 44 lbs./19.95 kg
Seat: 4-way adjustable; dimensions: 11'' L x 7.5'' W x 3'' Thick
Handlebar: 2-way adjustable
Pedals: Dual-sided (toe cages & SPD)
Drive: Belt
Resistance: Micro-adjustable manual magnetic
Console/monitor: N/A
Transport wheels: Yes
Tablet holder: Yes
Water bottle holder: Yes
Shipping
Upon placing an order, the Sunny Health & Fitness SF-B1711 AeroPro Indoor Cycling Bike is shipped out and delivered in a couple of days.
The shipping weight is 128.4 lbs./58.24 kg, and the dimensions are 45.5'' long by 10'' wide by 34.5'' high.
Assembly
Assembling this bike is one of the easiest things to do because the complicated parts are already preassembled.
What is expected of you to do is to attach the stabilizers, the seat, handlebar, and their posts, and the pedals to the core unit.
This takes about 30 minutes to accomplish.
Moreover, the tools required for the assembly and instruction manual are included in the package.
Maintenance
Since the drive and resistance systems are maintenance-free, there is no much to be done other than to keep the bike clean after every workout session.
Also, endeavor to examine the cycling bike before workouts to ensure that all the parts are in good order.
Conclusion
The Sunny Health & Fitness SF-B1711 AeroPro Indoor Cycling Bike gives you more reasons to purchase than deal-breakers.
It is a heavy-duty indoor cycling bike designed for home use, and it supports 300 lbs./136 kg. Its operation is seamless and it gives you the taste of what it is like to ride outdoor.
You won't also have any reason to complain about stability because it is quite stable even at a high speed and aggressive workouts.
The only downside is the absence of a monitor which can be resolved by using an external device.