The Sunny Health & Fitness SF-B1709 Indoor Cycling Bike is equipped with features that could thrill indoor cycling enthusiasts. Some of these features include the magnetic resistance system with 13 adjustable levels, RPM cadence sensor, dual-sided pedals, micro-adjustability, a robust multifunctional digital display, and more.
This indoor spin bike shares a lot in common with the ASUNA Lancer 7130.
A rear belt-driven bike with an annulus 7.36 lbs. aluminum flywheel; the same weight as the one on the Keiser Cycling Bike.
It has always been said that a heavy flywheel provides a better workout experience, TRUE. However, what is so different about a flywheel that is this light is the fact that it spins much faster than the regular heavy flywheel thereby creating a centrifugal force that makes the flywheel feel heavy when at speed.  
Moreover, it's easier to start up and stop pedaling without having to apply an emergency brake, and your knees don't feel the strain as well. This is one of the reasons the Keiser Spin Bike is seen as one of the best cycling bikes out there.
The bike supports 300 lbs./136 kg maximum user weight capacity.
Click right here to have a peek at the price of the Sunny Health & Fitness SF-B1709 Indoor Cycling Bike on Amazon.
The Frame and Construction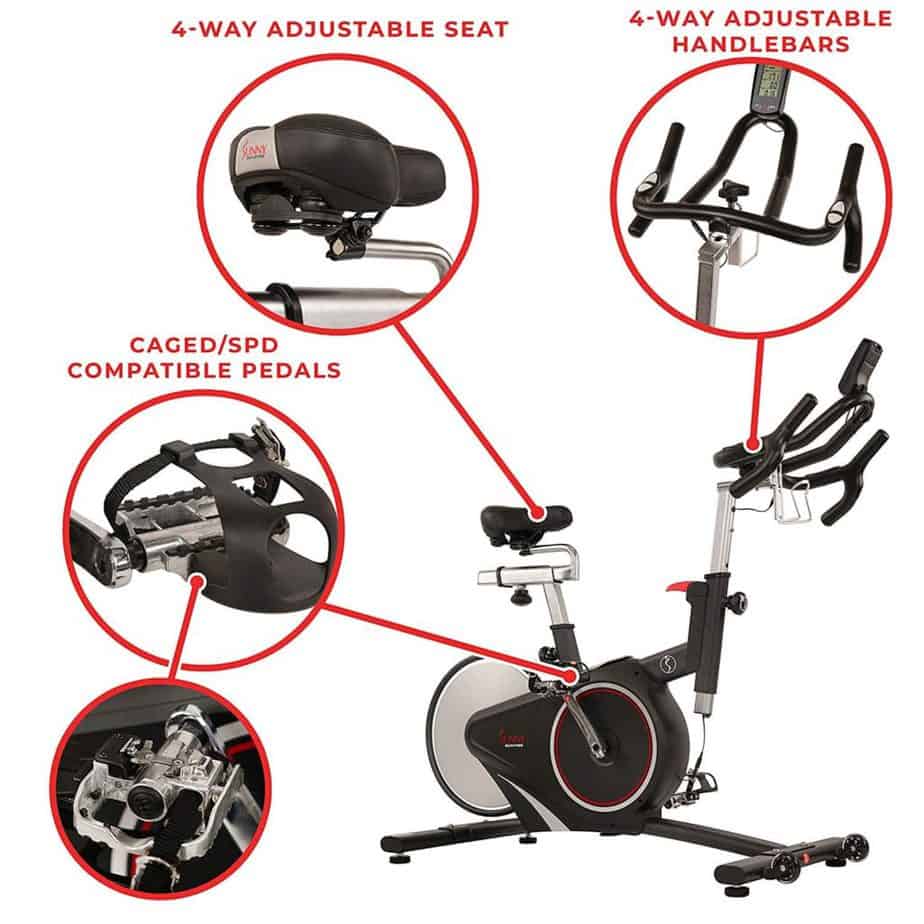 The Sunny Health & Fitness SF-B1709 Indoor Cycling Bike has a frame that is made of solid steel and coated with anti-corrosive and scratch paint. The seat and the handlebar posts are chrome finished; hence, the bike is fortified against deterioration that might arise as a result of environmental effects.  
The belt cover is made of ABS plastic.
Its stability is outstanding due to the base framework. The base features front and rear steel stabilizer bars that have adjustable levelers underneath them. This means you can balance the bike on a surface (floor) that is crooked and still maintain good stability.
Also, the unit weighs about 89.3 lbs./40.5 kg which boosts the overall stability as well.
A protective rubber mat may come in handy if you are to use the bike on a wooden floor or just wish to prevent sweat from spilling on the floor.  
The Sunny Health & Fitness SF-B1709 is slightly larger than most average indoor cycling bikes. Its overall assembled dimensions are approximately 53'' long by 24'' wide by 54'' high. Meaning, a workout area with a perimeter of 4'5'' length by 2' width will be required.
Also, consider adding extra clearance of at least 2' at all sides of the bike to ensure that safety and easy access is achieved during workouts.
The spin bike is elegantly constructed not only to appeal to the eyes but to also withstand hard-use and enable you to achieve your fitness goals.
The Seat of the Sunny Health & Fitness SF-B1709 Indoor Cycling Bike
The seat on the Sunny Health & Fitness SF-B1709 Indoor Cycling Bike is larger than a regular bicycle saddle. It is generously cushioned with a groove design in the middle for air permeability. There are also springs underneath the seat designed to serve as shock-absorbers.
You can sit longer comfortably without feeling sore or bored and ultimately work out longer. The overall dimensions of the seat are 10.5'' long by 8'' wide by 2'' thick.  
It can be replaced with a different seat if you so desire because the connection mechanism is standard.
The seat is 4-way adjustable; it can be adjusted upward/downward and fore/aft. As a result, users of different heights (5'-6'4'') can be accommodated. Better still, if your inseam (length of your inner thigh to the ankle) is between 28''-39'' then be rest assured that the bike is going to be suitable for you.
The Handlebar of the Sunny Health & Fitness SF-B1709 Indoor Cycling Bike
The handlebar on this bike has a multi-grip design that includes drop-down grips. This means there are multiple grips that enable you to train in different postures such as a hill-climbing posture, seated riding posture, and out-of-seat riding posture.  
It is coated with a soft foam material that provides safe and comfortable grips.
The handlebar is also 4-way adjustable; vertical and horizontal adjustments are possible. The seat and the handlebar adjustments are pretty easy and take only seconds to accomplish.
There are EKG heart rate sensors on the handlebar for the purpose of transmitting the heart rate data to the monitor when held during a workout, and a water bottle holder is attached below to enable you to keep water within reach for proper hydration.
The Pedals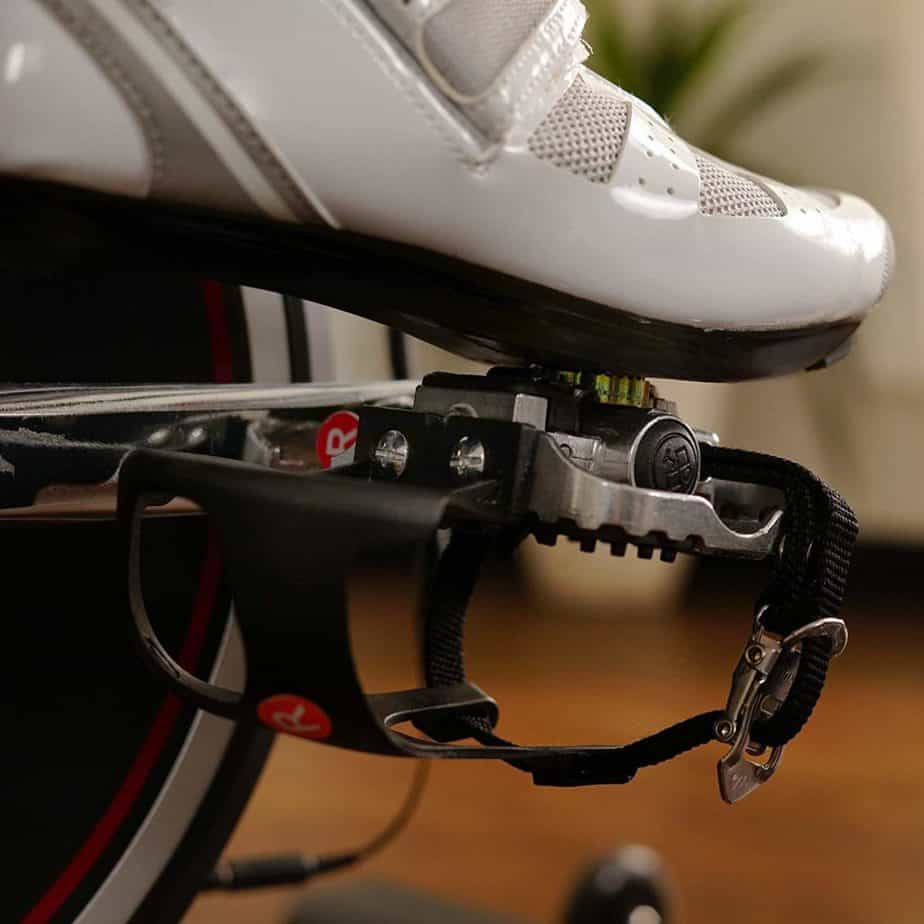 The Sunny Health & Fitness SF-B1709 Indoor Cycling Bike is equipped with dual-sided pedals that are designed to accommodate both standard gym shoes and special spin shoes. One side is toe-caged with an adjustable safety strap while the flip side has a cleat.
The Q-Factor (distance between the left and the right pedal) of the pedals is 203 mm/8''. It's not the narrowest but the pedals won't feel awkward or place unnecessary strain on the ankles.
The Drive of the Sunny Health & Fitness SF-B1709 Indoor Cycling Bike
The bike is integrated with a belt drive system. A drive system that is made up of a durable anti-stretch poly V-belt, pulleys, a 3-piece crankset, solid crank-arms, the pedals, and the flywheel.
Its operation is smooth and quiet, consequently, working out in an environment with family members or neighbors around won't be a problem as they will not be disturbed. You can also watch TV or listen to music while exercising with the bike without having to amplify the volume beyond the normal level.
On top of that, the belt drive system doesn't require any maintenance for it to function properly. Unlike the chain drive system, it doesn't need any periodic lubrication or adjustment.
The bidirectional drive allows you to pedal in reverse in order to tone and exercise more muscle groups.
This also means you cannot coast as one could on a real road bicycle.
The Resistance System
The Sunny Health & Fitness SF-B1709 Indoor Cycling Bike resistance system is magnetic. This further makes the motion of the bike seamless and vibration-free even when the resistance is engaged.
For resistance to occur, a magnetic brake pad gets close to the flywheel and emits a magnetic field around it to consequently produce or create resistance. The closer the magnetic brake pad gets to the flywheel the more the resistance intensifies.
Thus, no occurrence of friction, and no part wears out in the long run. Therefore, it will suffice to say that the resistance system is also maintenance-free. 
There are predefined 13 adjustable resistance levels that are suitable for all users even though the flywheel is very light. The reason is that the resistance mechanism plays a larger role in generating difficult resistance than the flywheel.  
With the predefined resistance levels, you will be able to keep track of your strength and endurance improvements.
The Console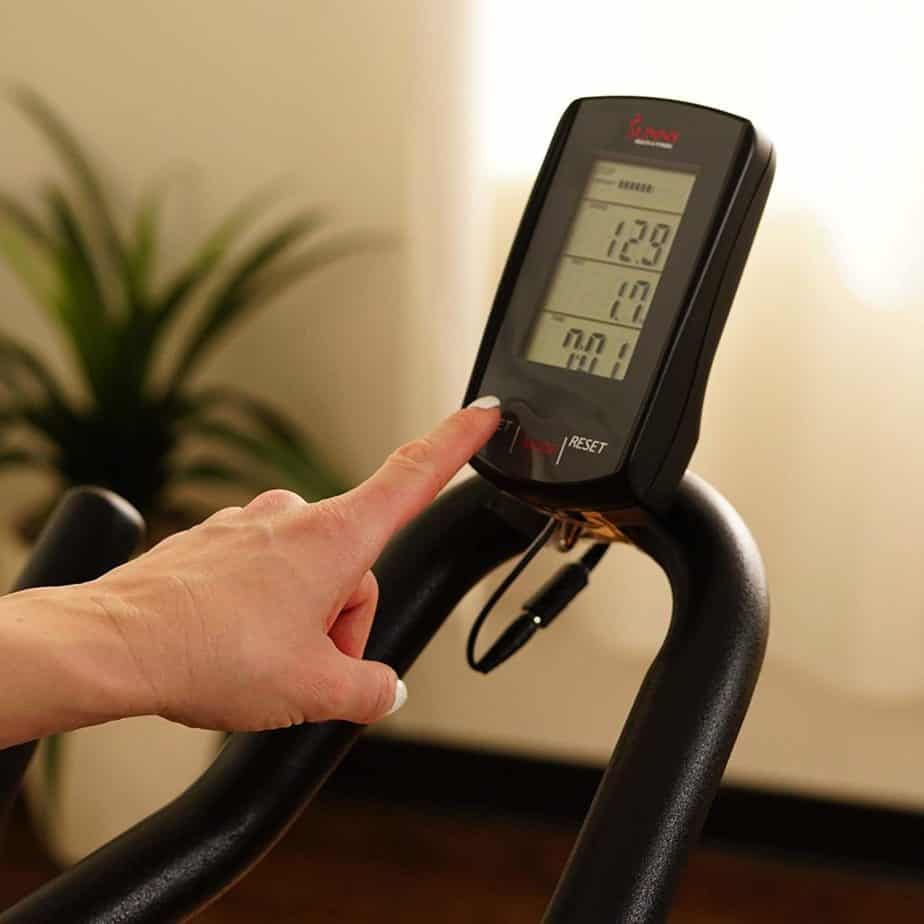 The Sunny Health & Fitness SF-B1709 Indoor Cycling Bike is equipped with an average nonbacklit LCD monitor that could track workout stats such as Speed, Average Speed, Max Speed, Cadence/RPM, Average Cadence, Max Cadence, Distance, Calories, Race, and Time.
You should also be able to track and maintain your target heart rate zone. Although HR contact sensors are deemed not to accurately read the pulse rate, however, it's better than not having the heart rate function entirely.
Unfortunately, the console is not compatible with a wireless HR chest strap, thus, you can't use one. Unless you wish to use an external heart rate device instead.
It is not also upgradeable to connect to online apps.
The Cadence function is probably the deal maker for some users because they can finally be able to keep track of average and maximum cadence which helps them to meet their fitness goals.
Basically, you can track and maintain a preferred cadence at a wide range of speeds and resistance levels.
The monitor is powered by 2 AAA batteries which are included in the package.
Accessory
The Sunny Health & Fitness SF-B1709 Indoor Cycling Bike comes with a water bottle holder to help you maintain hydration during long workouts.
Storage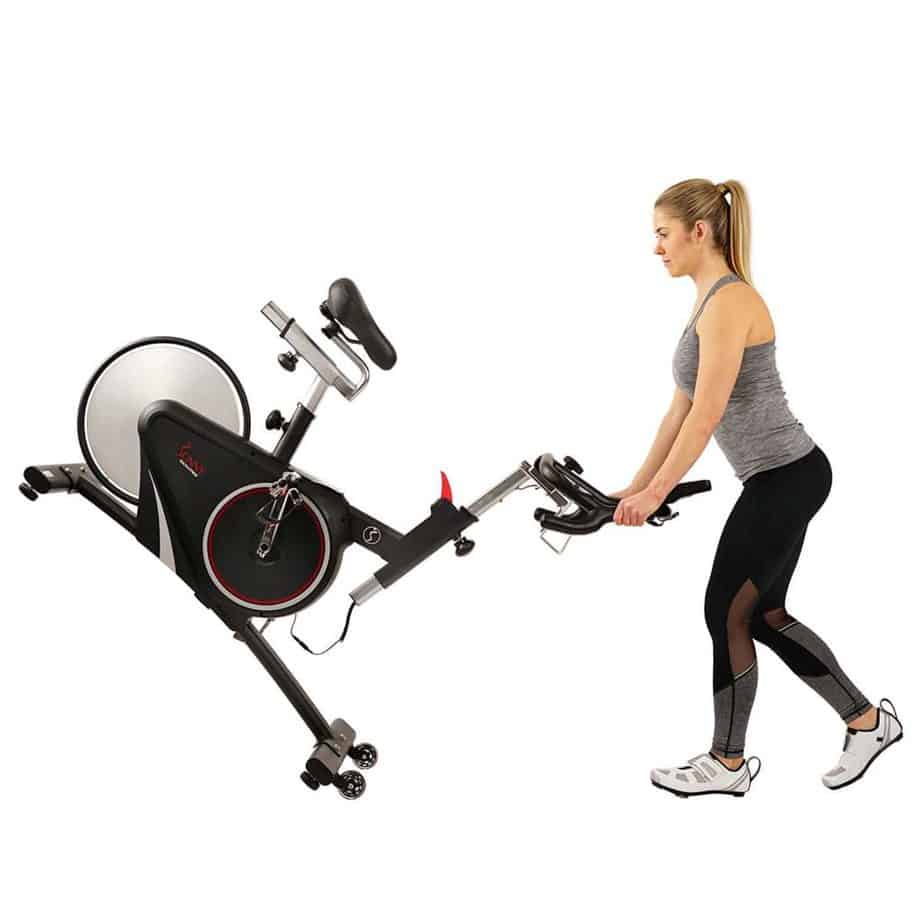 The indoor cycling bike has transport wheels attached to the front base. These facilitate the relocation process of the bike and ultimately the storage.
Regardless of its weight, it can easily be rolled away by virtually any adult.
The storage space measurements required are 4'5'' in length by 2' in width. So, the ideal place to store could be next to a wall or in the garage.  
Approval Rating
The Sunny Health & Fitness SF-B1709 Indoor Cycling Bike has several Amazon customers' reviews and the majority of them are positive.
They believe that the bike is sold at a fraction of its cost and it's seen as an alternative to Keiser M3 Indoor Cycling Bike.
Pros/Features Overview
Sturdy, stable, and durable
Supports 300 lbs./136 kg maximum user weight capacity
Operation is smooth and quiet
It has a magnetic resistance system with 13 adjustable levels
No serious maintenance is required
The LCD monitor tracks workout progress and displays multiple data at once
Portable with transport wheels
Micro-adjustability; multiple users can use it
The seat is thickly cushioned to provide maximum comfort
The handlebar offers safe and comfortable multiple grips
Assembly is not difficult
EKG HR contact sensors
RPM cadence sensor
Water bottle holder
Dual-sided pedals for standard gym shoes and spin shoes
Reverse pedaling possible
Cons
The LCD monitor is nonbacklit
The console is not telemetry-enabled (Not compatible with HR chest strap)
Doesn't connect to an online app
No tablet holder
Product Dimensions and Specifications
Length 53''
Width 24''
Height 54''
Maximum user weight capacity: 300 lbs./136 kg
Weight: 89.3 lbs./40.5 kg
Shipping weight: 102 lbs./46 kg
Seat: 4-way adjustable
Handlebar: 4-way adjustable
Pedals: Dual-sided (toe cages & Cleats)
Drive: Belt
Resistance: Magnetic
Frame: Steel
Flywheel: 7.36 lbs.
Display: Non-backlit LCD monitor tracks Speed, Average Speed, Max Speed, Cadence/RPM, Average Cadence, Max Cadence, Distance, Calories, Race, and Time.
Heart rate monitoring function: EKG contact sensors
Water bottle holder
Transport wheels
Shipping
The Sunny Health & Fitness SF-B1709 Indoor Cycling Bike is shipped out in a single box that weighs 106 lbs./46 kg and gets to its destination in a couple of days.
Amazon provides free standard shipping for this product.
Assembly
The unit arrives almost preassembled. The major parts are already attached and you are only required to attach the front and rear stabilizer bars, the seat, the handlebar, the pedals, and the monitor to the main core unit.
An instruction manual and the tools needed to assemble it are all included in the package.
It takes about 30 minutes, more or less to accomplish the assembly.
Maintenance
The only maintenance needed is to keep the unit clean after and before a workout. Also, make sure to examine the bike for any loose or broken parts before usage.  
Conclusion
The Sunny Health & Fitness SF-B1709 Indoor Cycling Bike is unarguably a cost-effective bike. It is affordable and has a lot of features some of which are only available on more expensive indoor cycling bikes.
This bike helps you to attain that physical fitness you have always longed for. 
 [rank_math_rich_snippet]