The Harison Magnetic Recumbent Exercise Bike does not only have a sleek and gorgeous design but it's also stable, durable, and usable.
It supports a high maximum user weight capacity of 350 lbs./158.7 kg and offers low-impact cardio workouts and a step-thru design that are suitable for everyone including the elderly and those recovering from an injury.
The recumbent bike accommodates anyone with an inseam (the length of the inner thigh to the ankle) that is between 26.''-38.9'', thus suitable for 4'8''-6'4'' tall users.
It is equipped with a magnetic resistance system with 14 levels that offer different workout intensities and a belt drive system that provides smooth and quiet operation.
The LCD digital monitor displays workout stats (including the heart rate) that basically keep you focused and motivated toward achieving your fitness goals. Extras such as a tablet and water bottle holders are included.
Harison offers a 30-day return should in case you have a reason for a refund and 12 months free parts replacement.
Click right here to have a peek at the price of the Harison Magnetic Recumbent Exercise Bike model D8 on Amazon.
The Frame and Construction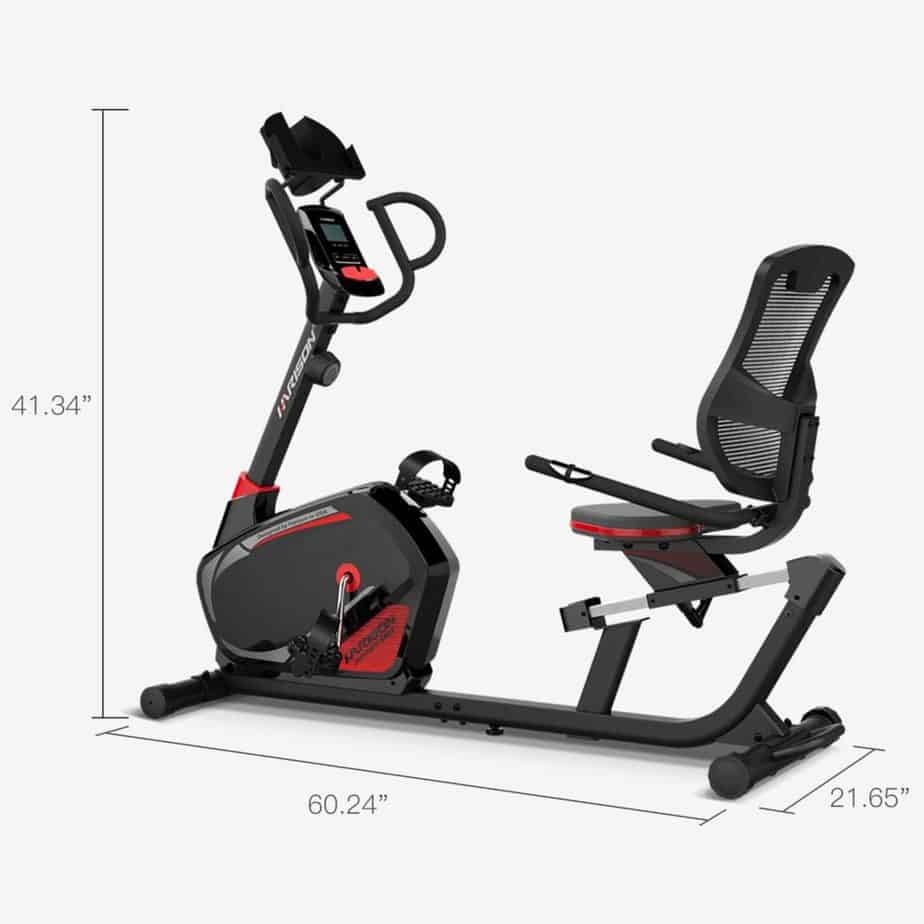 The Harison Magnetic Recumbent Exercise Bike's frame is made of solid steel that is coated with anti-corrosive paint, while other parts such as the drive and resistance covers are made of ABS plastic and the backrest is made from a mesh material.
Its step-thru design makes it pretty easy to mount and dismount the bike regardless of the user's physical fitness. The base features front and rear steel stabilizer bars with a rubber cap on each end for maximum stability and floor-friendliness.
Moreover, the stability is further boosted by the bike's overall assembled weight of 77 lbs./35 kg. Therefore, you won't feel wobbling movement even during an intense workout moment.
There are transports wheels at the front base and a handle (for lifting) at the rear base of the bike intended to assist in its relocation process.  
The Harison Magnetic B8 Recumbent Bike is slightly large with overall assembled dimensions of 60'' long by 22'' wide by 51'' high. In other words, a workout area with perimeters of 5' length by 1'9'' width should be sufficient for the bike. However, it is recommended that additional extra clearance of at least 2' be added around it for safety and convenience reasons.
The Seat of the Harison Magnetic Recumbent Exercise Bike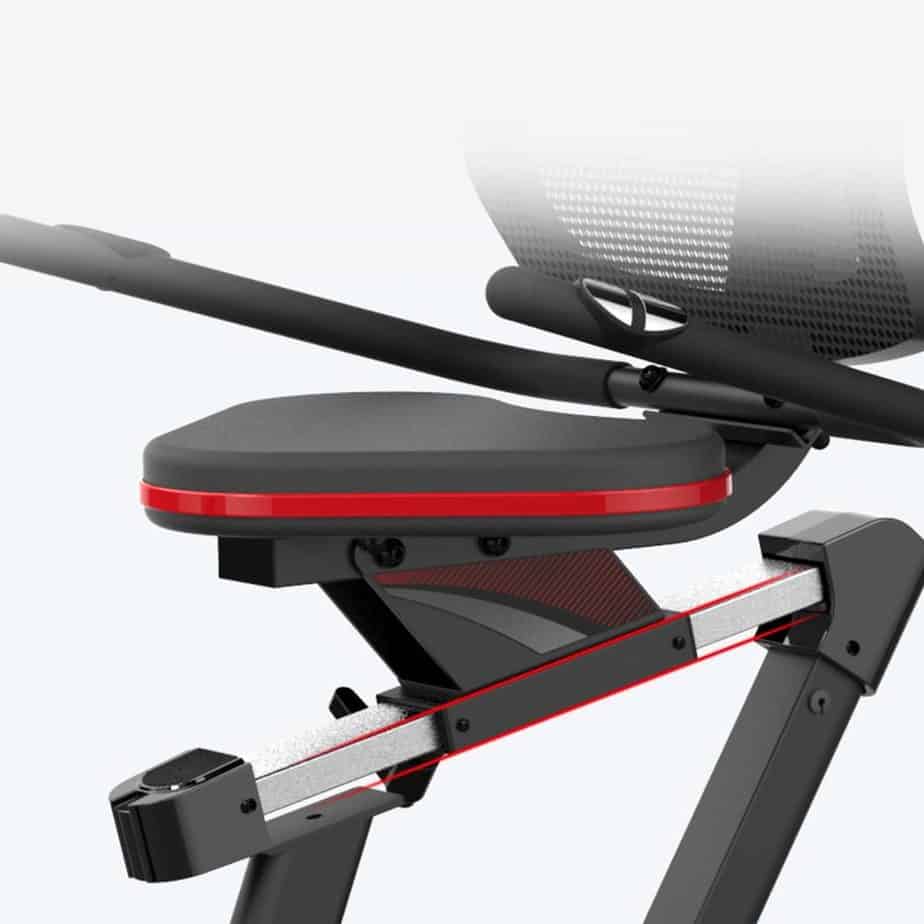 The seat is comfortable and oversized. It is thickly padded and contoured with a perforated vented backrest that provides full back support.
There is also an armrest on each side of the seat (with EKG contact sensors integrated into them) that are designed to allow you to have a hold and leverage when you wish to pedal with some level of aggression. Your heart rate is also transmitted to the display so that you can keep your eyes on your target heart rate zone at all times.
The seat is attached to a slanted steel rail and it's 2-way adjustable (fore/aft). However, it also slightly goes up/down when adjusted back or forth due to the slanted rail. Thus, users of different heights and sizes can easily be accommodated comfortably.
The backrest is not adjustable though.
Its dimensions are 11.4'' long by 15.7'' wide by 2'' thick.
The Handlebar of the Harison Magnetic Recumbent Exercise Bike
The bike has a multi-grip-designed handlebar that is also coated with a soft foam material. This offers the opportunity to work out in different postures such as pedaling while sitting upright. Although, users usually prefer pedaling while sitting back and holding the side armrests 
The handlebar ensures a comfortable and secure grip that prevents slippage or blisters in the palms.
It is not moveable and neither adjustable. However, it is strategically positioned to not have the need for adjustments.
It is attached to a steel mast that also hosts the console and the tablet/water bottle holder.
The Pedals
The featured pedals on the Harison Magnetic Recumbent Exercise Bike are simple, anti-skid with adjustable safety straps. These are the usual pedals for recumbent bikes.
They allow you to work out barefooted or with standard gym shoes comfortably and securely.  
The safety straps that accompany the pedals are kind of short and might be too small for some individuals. Demand for longer safety straps from the manufacturer if they are small for you.
Also, the left pedal should be tightened counterclockwise while assembling, otherwise, you may have a hard time trying to get it done.
The Drive
The Harison Magnetic Recumbent Exercise Bike is equipped with a belt drive system that consists of a belt, 22 lbs./10 kg flywheel, solid cranksets and crank-arms, and the pedals. Its transmission is smooth and quiet just as any typical bike with a belt drive system is.
This is good for two reasons; one, it allows you to work out around people without causing a nuisance and you don't have to worry about maintenance as well.
In other words, it's maintenance-free and you can workout at any time of day, watch TV or listen to music while you exercise with the bike without having to increase the volume beyond the normal level.
The drive is bidirectional; meaning pedal in reverse is possible.
The Resistance System of the Harison Magnetic Recumbent Exercise Bike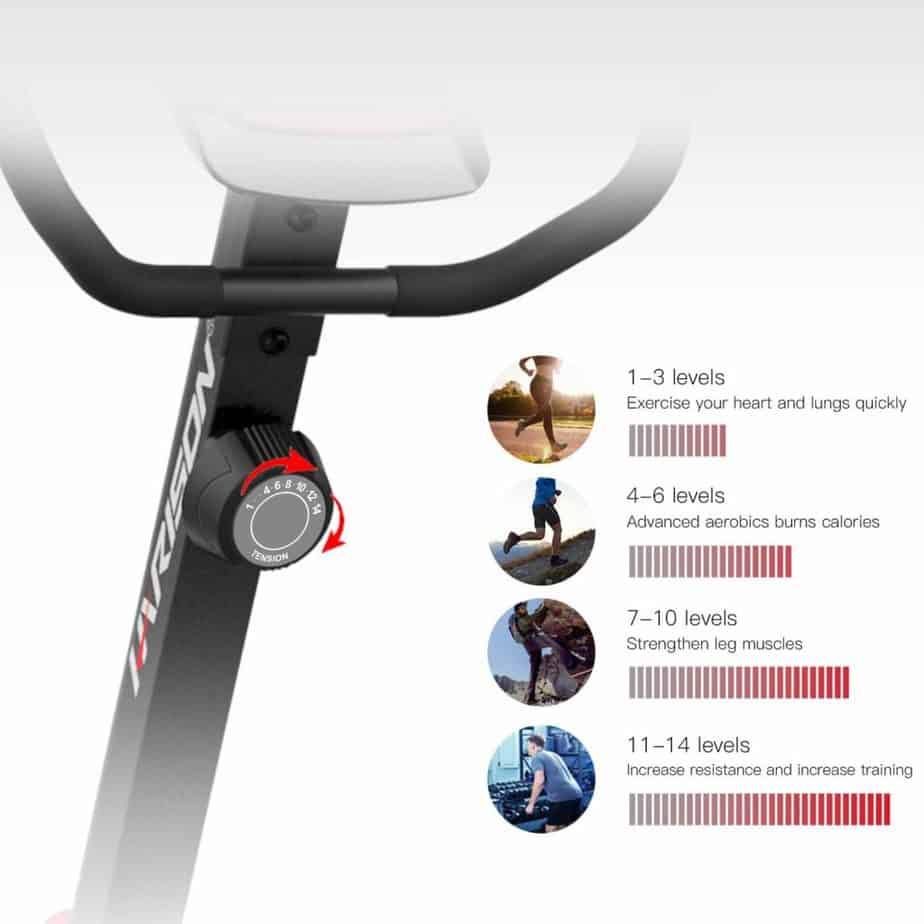 This recumbent bike is integrated with a manual magnetic resistance system that offers 14 adjustable levels. It is also very smooth and quiet when the resistance is engaged. No vibration is felt and no sound is heard during operation.
The reason is that no element comes in direct contact with another while generating resistance. The magnetic pad emits a magnetic field around the flywheel to create resistance.  
Thus, at the end of the day, no part wears out and none will be required to be replaced. Also, no post periodic lubrication will be needed.
The resistance is adjusted via the tension knob with 1..4, 6, 8, 10, 12, 14 inscribed on it. Turn clockwise to increase the resistance and counterclockwise to decrease it.
Users should be able to perform cardio and aerobic exercises that improve the heart's and the lungs' health, burn calories that ultimately help to lose weight, and of course tone muscles as well.  
The Console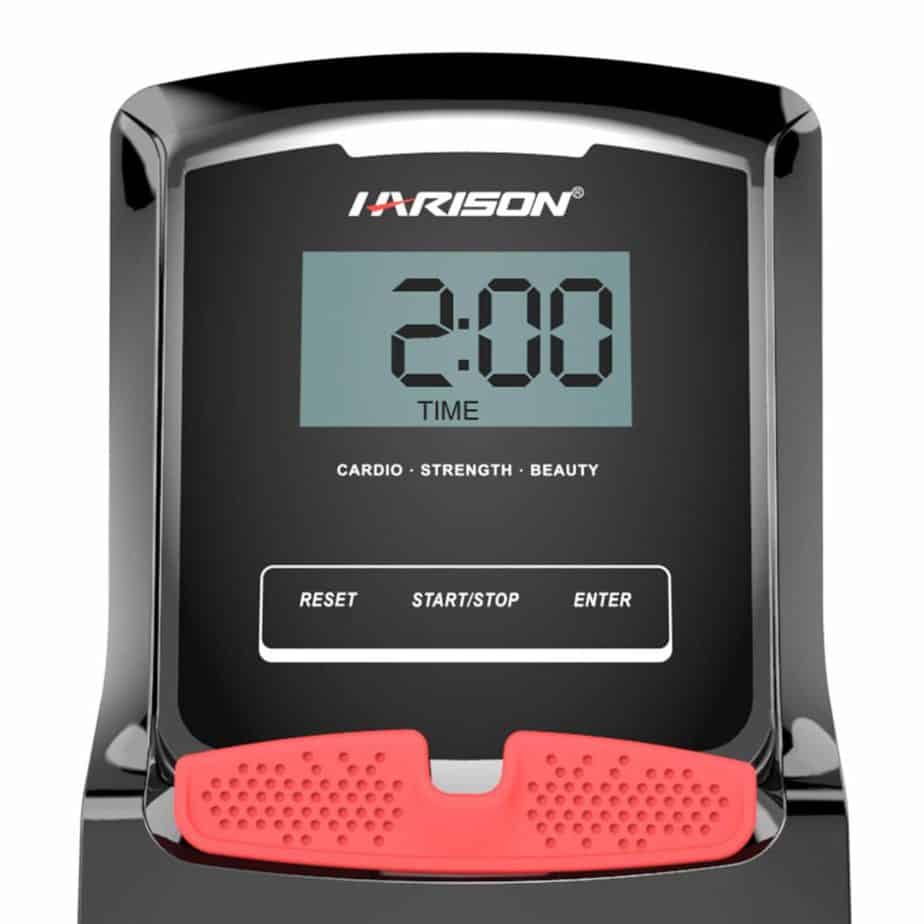 The console on the Harison Magnetic Recumbent Exercise Bike features an LCD display that tracks workout stats such as Time, Speed, Distance, Calories, RPM, odometer, and Heart Rate. These help you to understand your workout progress.
It also has a SCAN function that displays these workout stats one at a time after a few seconds. But you can override that by setting a preferred workout value to display constantly instead.
The monitor is powered by 2 AA batteries (included).
This is a basic digital display because it has no backlit, and has only 3 buttons for navigation which include RESET, START/STOP, and ENTER.
It turns ON when the START/STOP button is pushed. Also, it can automatically turn ON when you start pedaling and auto turns OFF when there is no activity on the bike for a few minutes in order to preserve the batteries' power.
Its readability is good though as long as it's being viewed in a well-lit environment.
Accessory
There is a 2 in 1 holder for a water bottle and a tablet. This is designated separately at the top of the monitor and can accommodate a water bottle and a sizeable tablet device without compromising the view of the monitor.
This is a good thing because you can maintain good hydration and also be able to browse the internet, take calls and watch a movie while you work out.
Storage
The bike is not foldable; thus, it requires a little bit of space for storage. However, moving it from one room to another is pretty easy due to the integrated transport wheels at the front base and the lifting handle at the rear base.
Storage space dimensions are 5' length and 1'9'' width.
Approval Rating
The Harison B8 Recumbent Bike has a good approval rating on Amazon. The majority of users are satisfied with the bike's overall design, performance, and price tag.
Pros/Features Overview
Elegant design
Sturdy, durable, and stable
Supports 350 lbs./158.7 kg maximum user weight capacity
It accommodates users between the heights of 4'8''-6'4''
It provides effective and low-impact workouts
The step-thru design allows you to mount and dismount easily
The LCD monitor tracks workout progress
Seat with side armrest and vented backrest is large and comfortable
Foam coated handlebars provide comfortable and secure grips
Pedals are anti-slip designed with safety adjustable straps that secure the feet
Magnetic resistance system with 14 adjustable levels
Its operation is quiet, smooth, and vibration-free
Transport wheels included for an easy relocation process
Water bottle and tablet holders included
Low maintenance
Assembly is easy
Cons
The monitor is basic; no online connectivity and it's not backlit
No fan or sound system
Product Dimensions and Specifications
Length 60''
Width 22''
Height 51''
Weight: 77 lbs./35 kg
Shipping weight: 92 lbs./42 kg
Maximum user weight capacity: 350 lbs./158.7 kg
Inseam: 26.5''-38.9'' max.
Drive: Belt
Resistance: Manual-Magnetic
Flywheel: 22 lbs./10 kg
Seat: 2-way adjustable
Handlebar: Non-adjustable
Pedals: Anti-skid designed with adjustable safety straps
Heart rate: EKG contact sensors
Transport wheels: Yes
Tablet holder: Yes
Water bottle holder:
Warranty
30-day free return
12 months for free parts replacement
Shipping
The Harison Magnetic Recumbent Exercise Bike is shipped out in a box that weighs 92 lbs./42 kg. Amazon provides free standard shipping and makes the delivery in a couple of days.
Assembly
The assembly of the recumbent bike is not complicated but easy. It takes anywhere between 30-40 minutes to completely assemble.
Also, an instruction manual and tools needed for a successful assembly are included in the package. Although, the instructions could have been more thorough but if you read carefully, it won't be a problem.
Maintenance
Just as aforementioned, there is no serious maintenance that is needed.
Simply make sure that the unit remains clean at all times. Also, ensure that all parts are tightly fitted and good before use.
Conclusion
The Harison Magnetic Recumbent Exercise Bike has a good overall design and features that enable you to realize your fitness goals. Its seat is comfortable and supportive, the resistance system provides 14 adjustable levels of vibration-free resistance, its operation is quiet and smooth, and more.
It should be on your list if you are looking for a low-impact, full-body cardiovascular machine for home use.   
Harison Magnetic Recumbent Exercise Bike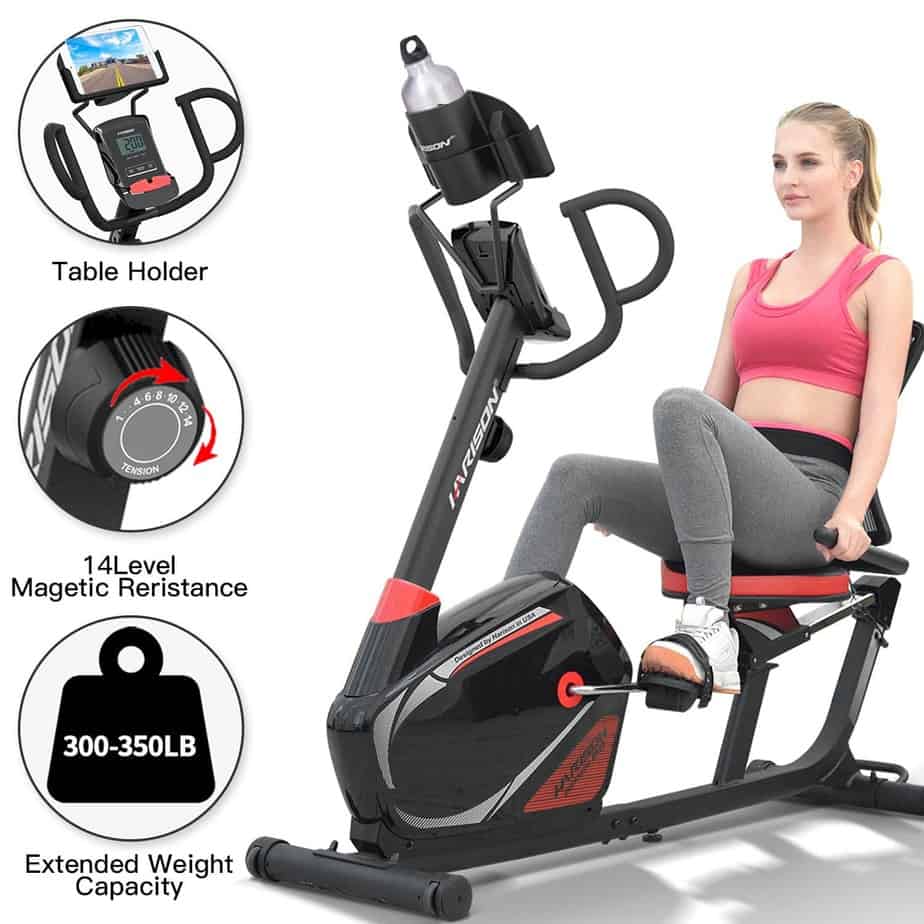 The Harison Magnetic Recumbent Exercise Bike does not only have a sleek and gorgeous design but it's also stable, durable, and usable.
Product Brand: Harison
Product In-Stock: https://schema.org/InStock