The Schwinn 810 Treadmill Model 100799 is designed specifically for home use. It is a product of Nautilus that has its trademark of quality and reliability all over it.
It allows you to walk, jog, and perform light running. This means it is not for professional runners, but for weight loss, improvement of cardiovascular health, and overall physical fitness.
The console is telemetry-enabled (HR chest strap not included), it has Bluetooth technology that pairs the machine with an online app, an automatic incline system that provides challenging workouts, and more.
It doesn't overwhelm your space because it's not very large, and it's foldable, portable, and easy to roll away for storage.
It could be listed as one of the best treadmills anyone seeking to exercise comfortably at home should consider. The unit has almost the same features as the Schwinn 830 Treadmill the upgraded version.
Click right here to have a peek at the Schwinn 810 Treadmill Model 100799.
The Frame and Construction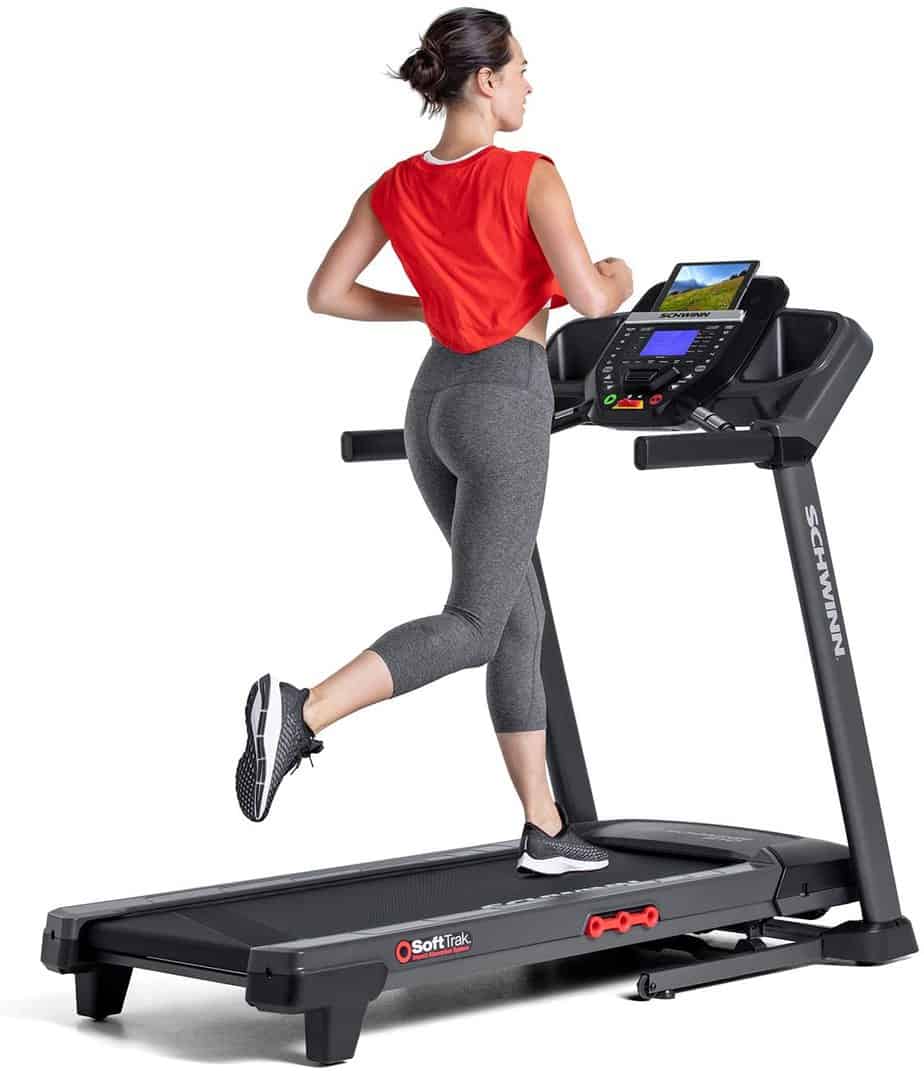 The Schwinn 810 Treadmill Model 100799 is made of steel and ABS material. It features a heavy-duty steel frame and ABS-made dashboard, side rails, and motor covers.
It supports a maximum user weight capacity of 275 lbs./124.7 kg.
The side rails are textured and large and safe enough to allow quick exit whenever the user wishes to take a break without having to turn off the treadmill.
The base is rubberized for floor-friendliness, while the front and the middle part of it have adjustable levelers that promote traction and allow the user to balance the unit on a surface that is not even.
Thus, its stability is great and it is further optimized by its overall assembled weight of 155 lbs./70.3 kg. You can work out without any distractions such as wobbling.
However, it's best practice to use a rubberized mat under the treadmill to prevent static electricity and leaving footprints on the floor, especially on a carpet.
The treadmill is not exactly very large but it's going to need a little bit of space. Its overall assembled dimensions are 69.1'' long by 35.6'' wide by 56.7'' high. Differently put, this means it will require a workout area with the perimeters of 5'8'' length by 3' width.
That said, it is recommended to have a clearance of at least 2' on each side and 3' at the rear part of it for safety, easy access, and comfort during workouts.
However, it takes way less space for storage because it's foldable. Its folded dimensions are 39.5'' long by 35.6'' wide by 60.2'' high. So, a storage area with the perimeters of 3'3'' length by 3' width by 5'1'' height should be enough.
To determine the appropriate ceiling height for workouts you should add your height to 15.8'' maximum incline height and a reasonable clearance.
The Deck
The running surface of this treadmill has a SoftTrak cushioning system that reduces the stress that is usually felt on the joints while running on a hard surface. The tread belt dimensions are 20'' wide by 55'' long, spacious enough to allow most users to walk, jog, and run with full stride length.
The tread belt runs over 2.5'' rollers that ensure smooth and quiet operation.
The Motor
The Schwinn 810 Treadmill Model 100799 is equipped with a 2.6 continuous horsepower motor that is powerful and energy-efficient.
It provides the drive that supports users up to 275 lbs./124.7 kg to walk and run on the treadmill. The average noise level of the machine without load is 70 dB., which is slightly higher than 60 dB for a normal conversation or background music noise level.
However, its noise level under load is higher than without load. That said, its operation won't interfere when watching a TV or listening to music while exercising.
The motor holds up and doesn't overheat or break down during a prolonged workout.
It provides up to 10 mph speed range and could be adjusted via the 2, 4, 6, 8, 10 quick speed keys on the console or 0.1 mph via the gradual up/down keys.
Therefore, you can quickly select a speed level or micro-adjust it to the level that suits you the best.
The Incline
This treadmill has a motorized incline system. In other words, it utilizes a small motor that lifts the front base to create incline levels that range from 1%-10%.
The incline system helps to make your workout more challenging to burn more calories and tone muscle groups of the leg. There are quick incline keys of 0, 2, 4, 6, 10 %, and gradual Up/Down keys for 1% adjustments on the console.
Just as aforementioned, the highest incline height position is 15.8'' and should be taken into consideration when deciding the ceiling height that is fit for the treadmill. The formula is your height + 15.8'' + clearance.
The Console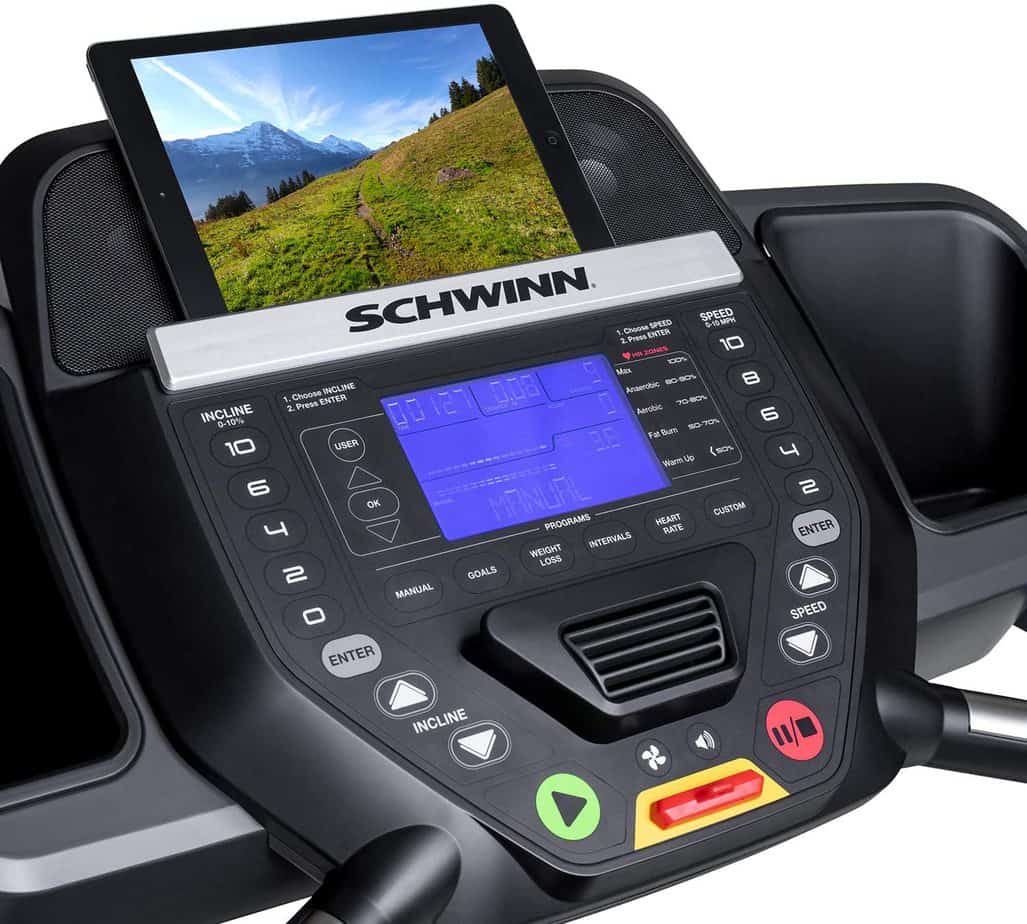 The Schwinn 810 Treadmill has a telemetry-enabled console that also incorporates a wide range of features that includes a large blue backlit LCD monitor, 16 workout programs, 2 user profiles, Bluetooth technology, and more.
The monitor tracks workout stats such as Time, Distance, Speed/Pace, Incline, Calories, a workout program, and Heart rate. The distance is displayed in miles or kilometers, while the speed is displayed in mph or km/h.
Its readability is excellent and won't be diminished even when viewed in a poorly lit environment.
16 workout programs allow you to diversify your workouts to achieve certain fitness goals.
2 User Profiles enable 2 different users to input personal information such as weight, age, units, and lap (a distance of) for accurate workout result output.
To avoid using the wrong User Profile, make sure to set up or select a User Profile if it's already customized before a workout,
This is important because the last User's Profile will be the default user, or if the User Profiles have not been set up, default values are assigned until they are customized by editing them.
The speed and the incline are automatically assigned when a preset workout program is selected, otherwise, you may use the Custom Program to create your workout as you see fit.
The Bluetooth technology only allows you to connect to Explore the World App and to other Nautilus partner apps such as RunSocial, RideSocial, MyFitnessPal, GoogleFit, AppleHealth, and more.
These apps allow you to easily track, view and even share your progress with family and friends.
Explore the World app enables you to run in different types of terrain around the world in the comfort of your home. 3 free courses are available; however, to unlock more, a subscription is required.
The handlebars integrate EKG heart rate sensors that transmit the heart rate data to the console when held during a workout. It is also possible to track the pulse rate wirelessly by using a 4.5kHz – 5.5kHz range heart rate chest strap. This must be uncoded from Polar Electro or uncoded POLAR compatible model.
The treadmill needs to be plugged into a power source for it to be operational.
Storage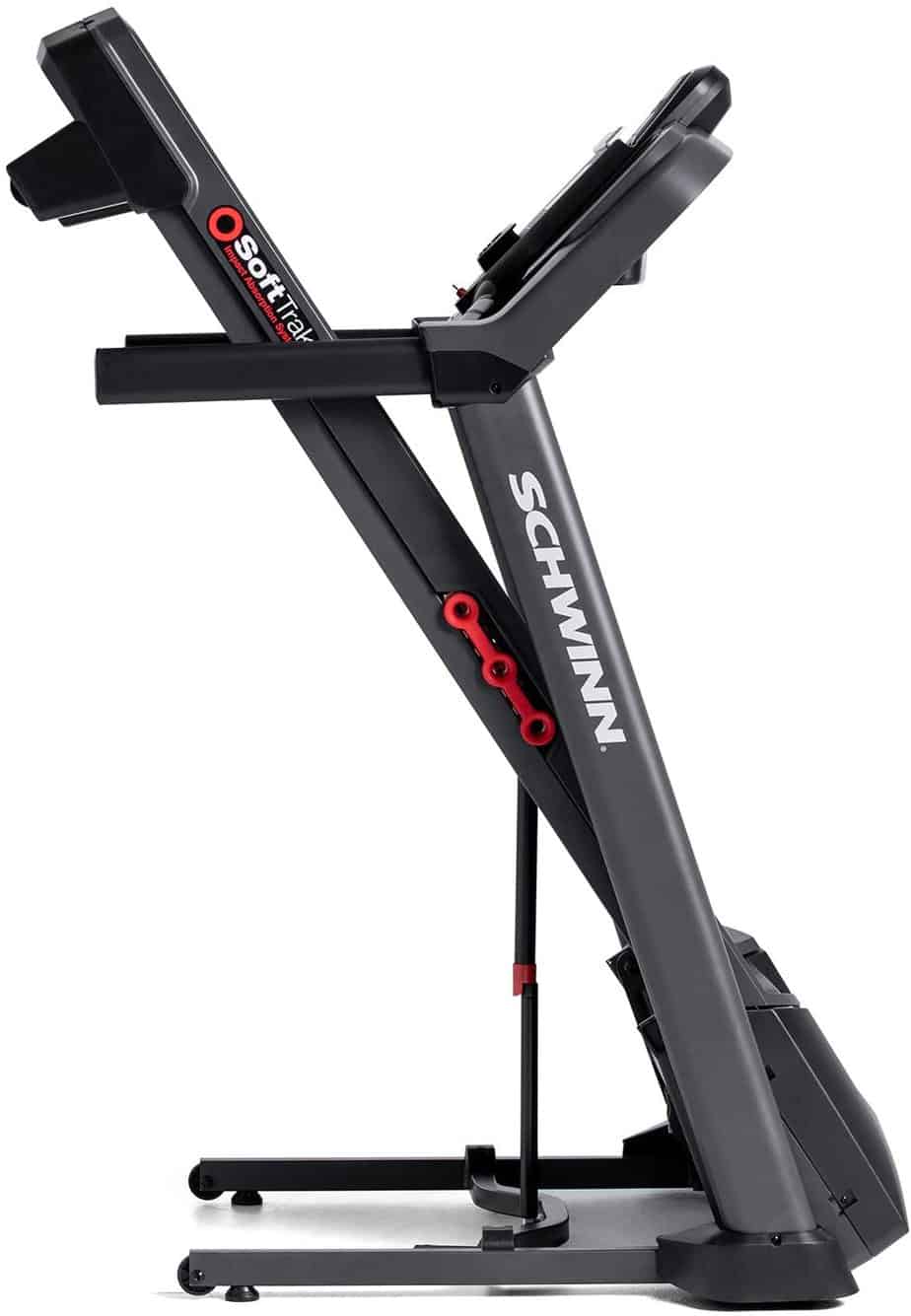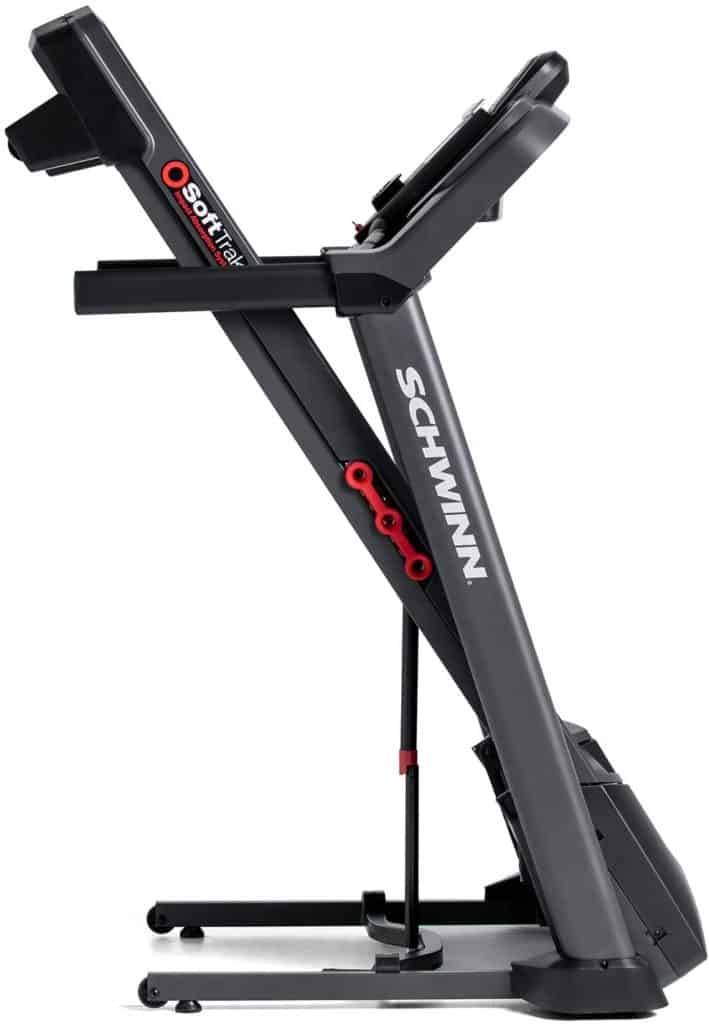 The Schwinn 810 Treadmill Model 100799 is foldable. It has a soft drop folding system that lowers the deck almost unassisted and safely to the floor; and when folding, simply raise the deck until the hydraulic cylinder locks in and gently kick it to unfold.
It needs a storage area with the perimeters of 3'3'' length by 3' width by 5'1'' height. Transport wheels are integrated to facilitate its relocation process without hassle even though it weighs 155 lbs./70.3 kg.
Accessory
There are a couple of accessories on the Schwinn 810 Treadmill. These include the water bottle holders, the tablet holder, a cooling fan, UBS charging port, MP3 port, and Speakers.
You should be able to keep water within arm's reach for proper hydration during a workout session, charge a smartphone/tablet, connect an MP3 player, phone device to stream music through the built-in speakers and enjoy the cooling air from the fan.
Moreover, you can still view the monitor's screen when a tablet device is placed on the holder because it is situated at the top part of the console, right below the speakers to be precise.
Approval Rating
The treadmill's approval rating is quite impressive on Amazon. There are several reviews by the customers and the majority of them think it is worth the investment.
Pros/Features Overview
Sturdy and durable
Portable and foldable, thus, doesn't take much space for storage and easy to move
Soft folding system
Supports a maximum user weight capacity of 275 lbs./124.7 kg
The base has rubberized adjustable levelers for balance
SoftTrek deck cushioning system reduces stress on the hips, knees, and the ankles
Decent running surface of 20'' W x 55'' L, thus, most users of different heights can run with full leg stride
2.6 CHP motor provides a speed range of 0-10 mph
Power incline system offers 1-10% levels
16 workout programs and 2 User Profiles
Blue backlit LCD monitor tracks workout progress
Bluetooth connectivity for online fitness apps such as Explore the World, MyFitnessPal, RideSocial, RunSocial, GoogleFit, and more
Wireless heart rate monitoring
EKG HR contact sensors monitoring
Cooling fan included
Built-in speakers
Water bottle holders
Tablet holder
UBS charging port
MP3 port
Great warranty
Easy to assemble
Low maintenance required
Cons
It's not for serious runners
The cooling effect of the fan is not strong
Warranty
10 Years for the Frame
10 Years for the Motor
1 Year for Mechanical Parts
1 Year for Electronics
1 Year for Labor
Product Dimensions and Specifications
Length 69.1''
Width 35.6''
Height 56.7''
Folded dimensions: 39.6'' L x 35.6'' W x 60.2'' H
Shipping dimensions: 72'' L x 29.9'' W x 11.8'' H
Running surface dimension: 20'' W x 55'' H
Incline highest height: 15.8''
Net weight: 155 lbs./70.3 kg
Gross weight: 180.7 lbs./81.9 kg
Maximum user weight capacity: 275 lbs./124.7 kg
Motor: 2.6 CHP
Speed: 0-10 mph
Incline: Automatic, 0-10%
SoftTrek cushioning system
Soft drop folding system
Programs: 16 & 2 User Profiles
Monitor: Backlit LCD, tracks Time, Distance, Speed/Pace, Incline, Calories, workout program, and Heart rate
Heart rate monitoring: Wireless (4.5kHz – 5.5kHz range heart rate chest strap not included) & EKG contact sensors
Tablet holder, water bottle holder, MP3 port, transport wheels, Built-in speakers, and USB port included
Shipping
The Schwinn 810 Treadmill Model 100799 is shipped in a box that weighs 180.7 lbs./81.9 kg with dimensions of 72'' L x 29.9'' W x 11.8'' H.
Retailers such as Amazon provide free shipping and deliver the product in a couple of days.
Assembly
The unit is not difficult to assemble. Mainly, the console masts, the dashboard/console, and a couple of small parts need to be attached to the core unit of the treadmill.
An instruction manual and tools needed for the assembly are included in the package.
It takes less than an hour to fully assemble.
Maintenance
The Schwinn 810's tread belt needs to be kept clean and dry at all times. Lubricate quarterly or after every 25 hours with 100% silicon-based oil. A WD-40 oil mustn't be used because it's going to negatively impact the performance.
Always inspect the treadmill for any loose or broken parts before use. Act accordingly to fix any issues that may arise.  
Conclusion
The Schwinn 810 Treadmill Model 100799 is recommendable. It has a lot of features, and it's sold at a reasonable price.
Its features include the 16 workout programs, 2 User Profiles, Bluetooth connectivity, ability to connect to several online apps, power incline system, powerful 2.6 CHP motor, spacious running surface, and more.
The treadmill offers productive workouts and also allows you to enjoy every step of the way by listening to music via the incorporated sound system, maintaining proper hydration, and running in exotic scenery.