The Sunny Health and Fitness SF-B1001 Indoor Cycling Bike is a low-impact cardiovascular machine that is designed to help you work out and improve your physical fitness.
It is especially good for those on a budget.
The bike has a sturdy construction that supports a maximum user weight capacity of 220 lbs./100 kg. Its customizability allows users of different heights to utilize it.
The operation simulates road bicycle performance due to the integrated chain drive system that features a 30 lbs./13.6 kg perimeter-weighted flywheel.
Click right here to have a peek at the price and of of the Sunny Health and Fitness SF-B1001 Indoor Cycling Bike on Amazon.
The Frame and Construction
The Sunny Health and Fitness SF-B1001 Indoor Cycling Bike has a simple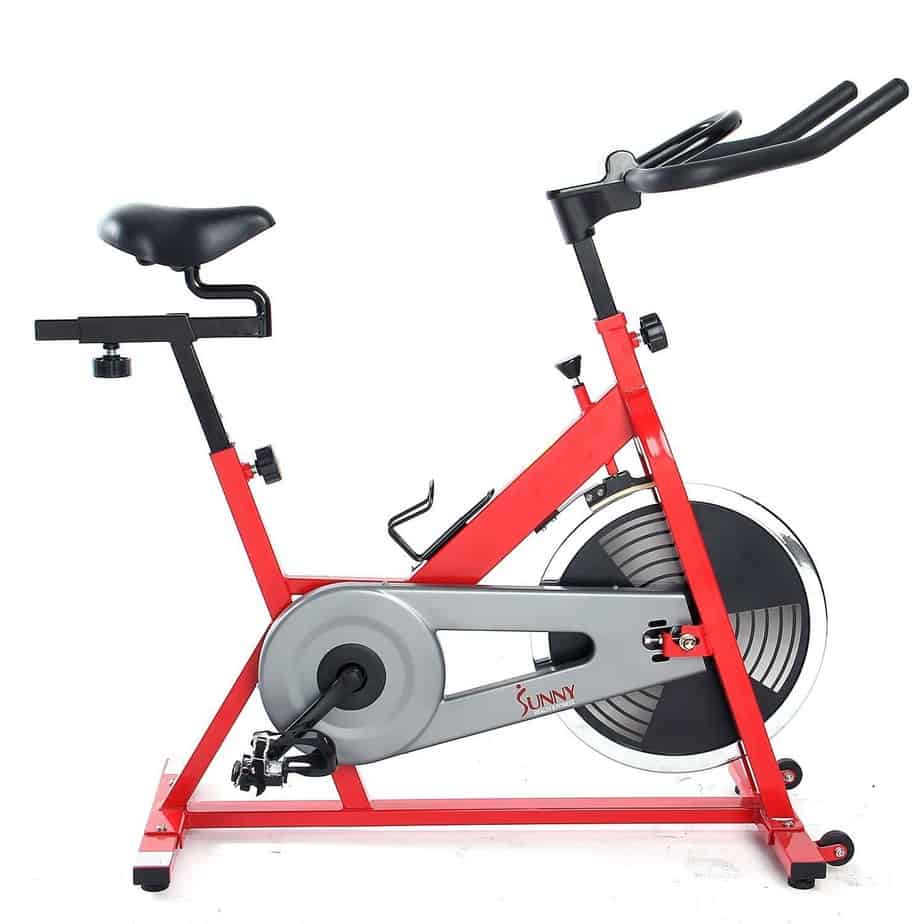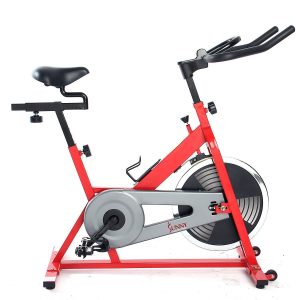 construction that includes the basic features needed for productive workouts.
It has a solid frame that is coated with rust-resistant paint that preserves its quality from degradation.
The base framework is made up of front and rear stabilizer bars that are adjoined together with yet another steel bar. Thus, solidifying its overall stability and ensuring that no wobbling movement will be experienced especially during a vigorous workout.
Moreover, the base has adjustable levelers underneath, which enable the user to balance the bike on a crooked surface.
The bike is compact and portable. It has an overall assembled dimensions of 43" long by 18" wide by 44" high. In other words, the bike will need a workout area with perimeters of 3'6" length by 1'5" width. That's a pretty small footprint.
However, for safety and easy access reasons, it is recommended to add extra clearance of 1-2′ around the bike.
It is lightweight and only weighs 78 lbs./35.3 kg. There are transport wheels at the front base that facilitate the relocation process for storage.
The Seat
The seat is large, cushioned, and designed to provide optimum comfort. But, users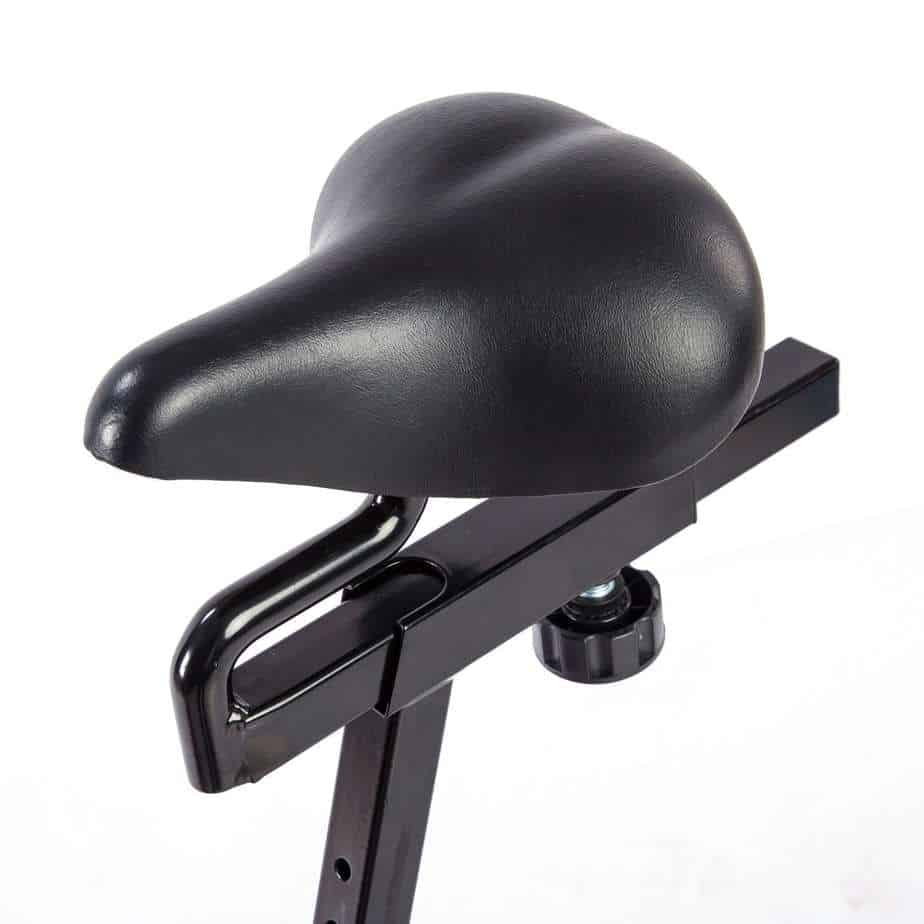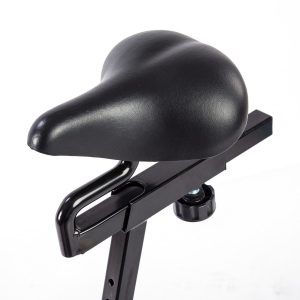 have complained that it is rather hard and uncomfortable.
So, what they do is to purchase a gel seat cover which is available in both local bicycle shop and online to enhance its comfortability.
Better still, you can swap it with another saddle of your choice because the connection mechanism is standard, thus, alternative options are available.
The seat is 4-way adjustable; it can be adjusted vertically (upward/downward) and horizontally (fore/aft). Therefore, users with inseams (the measurement of the inner thigh to the ankle) of 26.5"-39.5" can be accommodated comfortably.
The Handlebar
The handlebar on this bike is multi-grip designed but without the EKG heart rate sensors integrated into them. It offers the ability to exercise in different postures that include mountain climbing mode, standing riding mode, and seated riding mode.
It is 2-way adjustable; meaning it can only be adjusted vertically. This complements the seat's adjustability to improve the bike's overall customizability.
The handlebar is coated with soft rubber foam that provides comfortable and secure grips.
Both the seat and the handlebar can be adjusted independently via their respective adjustment knob. It takes only a few seconds to get the seat and the handlebar adjusted to your preferred positions.
The Pedals
The bike is equipped with toe-caged pedals that have adjustable safety straps.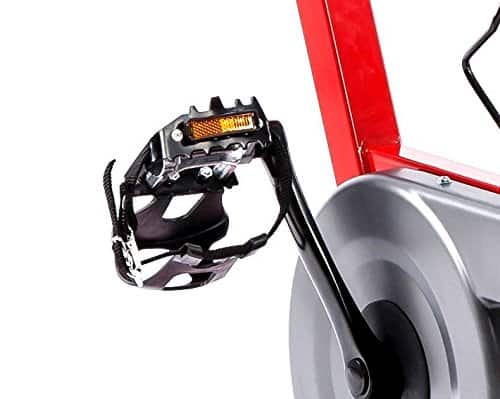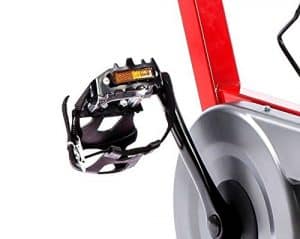 They are designed to securely accommodate different foot sizes and can only be ridden with a pair of standard gym shoes.
The pedals and the cranks are well-built to support exercises that include stand-up pedaling.
The Drive
As aforementioned, the Sunny Health and Fitness SF-B1001 Indoor Cycling Bike features a chain drive system. This consists of a durable chain, sprockets, 3-piece crank, heavy-duty crank-arms, the 30 lbs./13.6 kg flywheel, and the pedals.
The transmission is smooth and quiet as a road bicycle. Therefore, the chain may need to be lubricated periodically to keep it in a proper working condition.
You should be able to workout without disturbing the people around you.
Even though it has a similar drive to the road bike, you can't coast on it. Thus, always apply the emergency brake by pushing the tension knob down whenever you wish to stop pedaling to avoid getting hurt.
Also, you can pedal in reverse to tone more muscle groups.
The Resistance
The SF-B1001 Indoor Cycling Bike has a friction resistance system that consists of a felt wool brake pad, the tension control knob, and the flywheel.
The felt brake pad is connected to the tension knob, so that, when adjusted it comes in contact with the top chromed surface of the flywheel to generate resistance.
In other words, friction occurs between the felt pad and the flywheel before resistance is generated.
To increase or decrease the resistance intensity, turn the tension knob clockwise or counterclockwise respectively.
The resistance system doesn't have predefined adjustable levels, instead, it is infinite, and so provides extremely challenging workouts that could push even an advanced athlete to the limit.
Console
The bike doesn't have a console.
Accessory
The unit has a water bottle holder designated within arms reach. It helps you to maintain proper hydration during a workout.
Storage
This bike is compact, portable, and lightweight. They are the recipes for easy storage.
In other words, it doesn't take much storage space, and can easily be moved via the integrated transport wheels.
Approval Rating
The Sunny Health and Fitness SF-B1001 Indoor Cycling Bike has many favorable Amazon customers' reviews with an impressive average rating.
This goes to show how popular and recommendable the bike is.
Pros/Features Overview
It is sturdy, durable, and stable
It is affordable
It supports a maximum user weight capacity of 220 lbs./100 kg
Its operation is smooth and near-silent
The transmission simulates riding a road bike
It is customizable, thus, users of different heights can be accommodated
The friction resistance system with infinite adjustable levels provide extremely challenging workouts
The heavy-duty 30 lbs./13.6 kg flywheel provides consistent momentum
The handlebar offers multiple and comfortable grips
The toe-caged pedals secure the feet comfortably and can accommodate different foot sizes
Easy to assemble
Transport wheels included for relocation process
Water bottle holder included
Cons
No console/monitor (heart rate monitoring device can be purchased separately)
No tablet holder (it can be purchased separately)
Warranty
3 Years for the Frame
180 Days for the Parts & Components
Product Dimensions and Specifications
43'' Length
18'' Width
44'' Height
Shipping dimensions: 42" L x 9" W x 31.5" H
Maximum user weight capacity: 220 lbs./100 kg
Net weight: 78 lbs./35.3 kg
Gross weight: 84 lbs./38 kg
Drive: Chain
Resistance: Friction with infinite levels
Seat: 4-way adjustable
Handlebar: 2-way adjustable
Pedals: Toe-caged with adjustable safety straps
Console/monitor: No
Water bottle holder: Yes
Tablet holder: No
Transport wheels: Yes
Warranty
3 Year for Frame
90 Days for Parts and Components
Shipping and Assembly
Amazon provides free shipping for this product but that may not be the case with other retailers.
Assembling the bike is pretty easy because the major components are preassembled. You only need to attach the handlebar and the seat posts, the seat, the handlebar, the base, and the pedals, to the core unit.
It takes less than an hour to completely assemble it. An instruction manual and tools are included in the package to help you with the assembling process.
Maintenance
As explained, the bike's drive needs to be lubricated periodically to ensure its performance is top-notch.
Keep the unit clean from dirt and sweat at all times.
Finally, examine the bike periodically for any part that may have loosened or broken, and act accordingly if there is an issue.
Conclusion
The Sunny Health and Fitness SF-B1001 Indoor Cycling Bike is recommendable. It is affordable, compact, and portable.
It provides you with the opportunity to experience cardio workouts that could burn tons of calories and improve your overall well-being.
Sunny Health and Fitness SF-B1001 Indoor Cycling Bike Review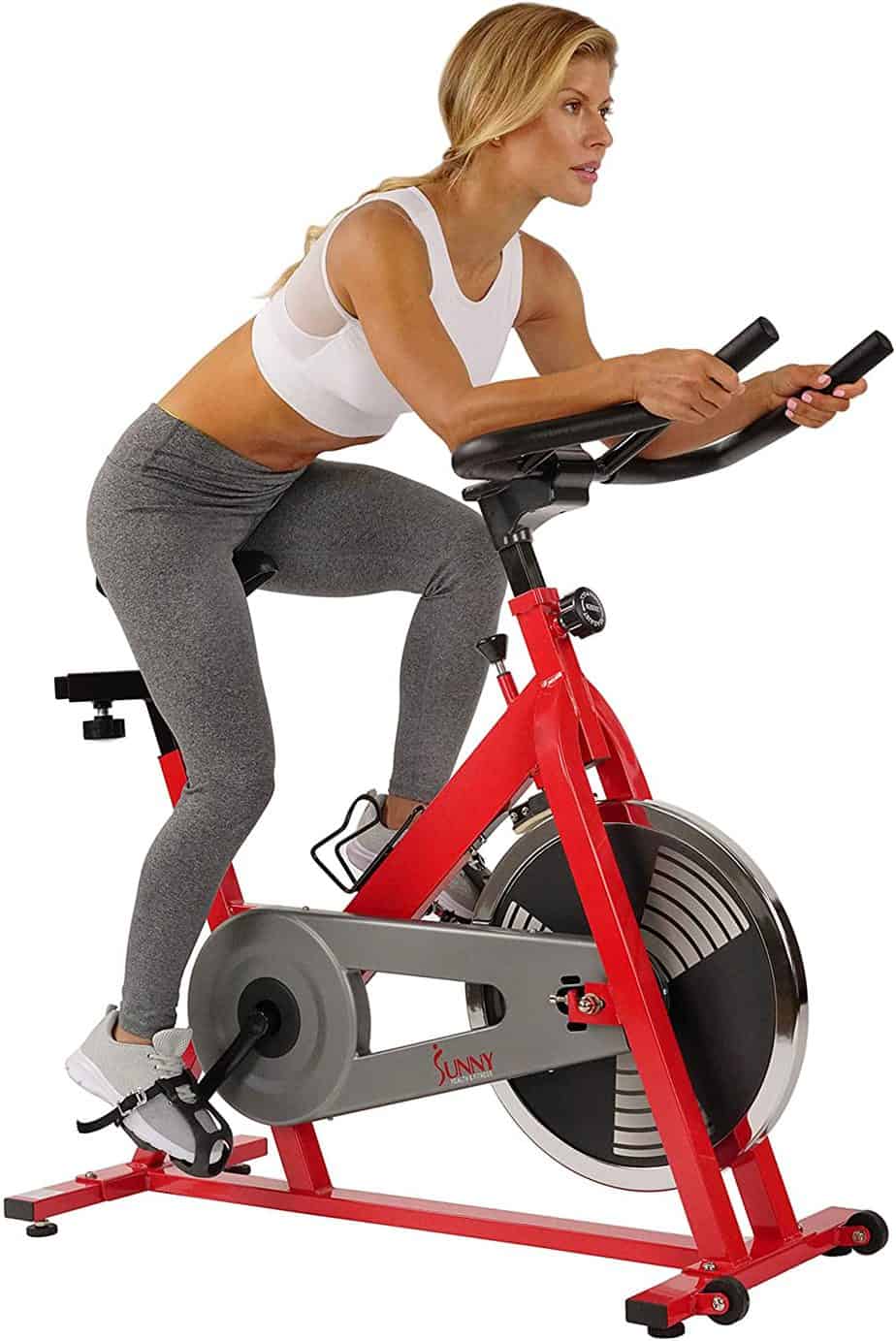 The Sunny Health and Fitness SF-B1001 Indoor Cycling Bike is a low-impact cardiovascular machine that is designed to help you work out and improve your physical fitness.
Product Brand: Sunny Health & Fitness
Product In-Stock: https://schema.org/InStock