The Fitness Reality X-Class 410 Recumbent Exercise Bike is one of the best equipped recumbent bikes. It is sturdy and integrated with a lot of features that could make your workout experience remarkable and productive.
Its authenticity goes beyond its sleek design.  It has a very sturdy frame that supports up to 350 lbs./158.7 kg, and a seat with air chambers.
Click right here to have a peek at the price and of of the Fitness Reality X-Class 410 Recumbent Exercise Bike on Amazon.
Frame
Fitness Reality X-Class 410 Recumbent Exercise Bike has a frame construction that is well designed with less bolted parts and more welded joints. This makes it highly strong and sturdy.
The frame is made of heavy-duty steel that is fortified with anti-corrosive paint, while other parts such as the drive/resistance and the seat's base covers are made of durable ABS.
It has a robust base framework that features front and rear steel stabilizer bars with unique adjustable levelers underneath them. This means that the base does not only provide optimal stability but does so also on crooked surfaces.
The overall assembled weight (122 lbs./55 kg) of the bike further grounds it for superlative stability. So, no wobbling or tilting movement will be experienced during an aggressive workout.
The lifting handle at the rear base and the transport wheels at the front base enable the user to easily move the bike for storage.
Its overall assembled dimensions are 66" long by 21.5" wide by 46" high. Differently put, it will require a workout area with perimeters of 5'5" length by 1'8" width. Although, it is recommended to consider adding extra clearance of 1-2′ around it for safe and convenient workouts.
Users can easily mount and dismount the bike due to its easy step-thru design.
The Seat
The seat on the Fitness Reality X-Class 410 Recumbent Exercise Bike is unique. It is not the regular seat you see on an average recumbent bike.
It has an airsoft seat technology with individual air chambers for maximum comfort. The adjustable backrest with air lumber also provides the back support needed for prolonged workouts.
The seat is attached to a wide chromed rail that allows it to be adjusted to several positions, while the backrest is adjustable to 3 different angle positions.
Thus, users between the heights of 5'2"-6'4" can be accommodated.
The Handlebar
Beside the handlebars on the seat, the recumbent bike has yet another set of handlebars at the front. They are non-adjustable but are strategically attached to the console to suit users of different body and limb sizes.
EKG heart rate sensors are not integrated into them as the handlebars on the seat.
They are thickly coated with soft rubber foam that provides secure and comfortable grips.
Therefore, working out longer is guaranteed with those handlebars without feeling blisters in the palms or sweaty hands.
The Pedals
The X-Class 410 Recumbent Exercise Bike has the same type of anti-skid large pedals as every other recumbent bike.
However, the adjustable safety straps on this are unique because they are longer and wider.
They can conveniently and comfortably accommodate different foot sizes.
Although, the self-leveling pedals can only be ridden with a pair of standard gym shoes.
The Drive
The Fitness Reality X-Class 410 Recumbent Exercise Bike has a belt drive system.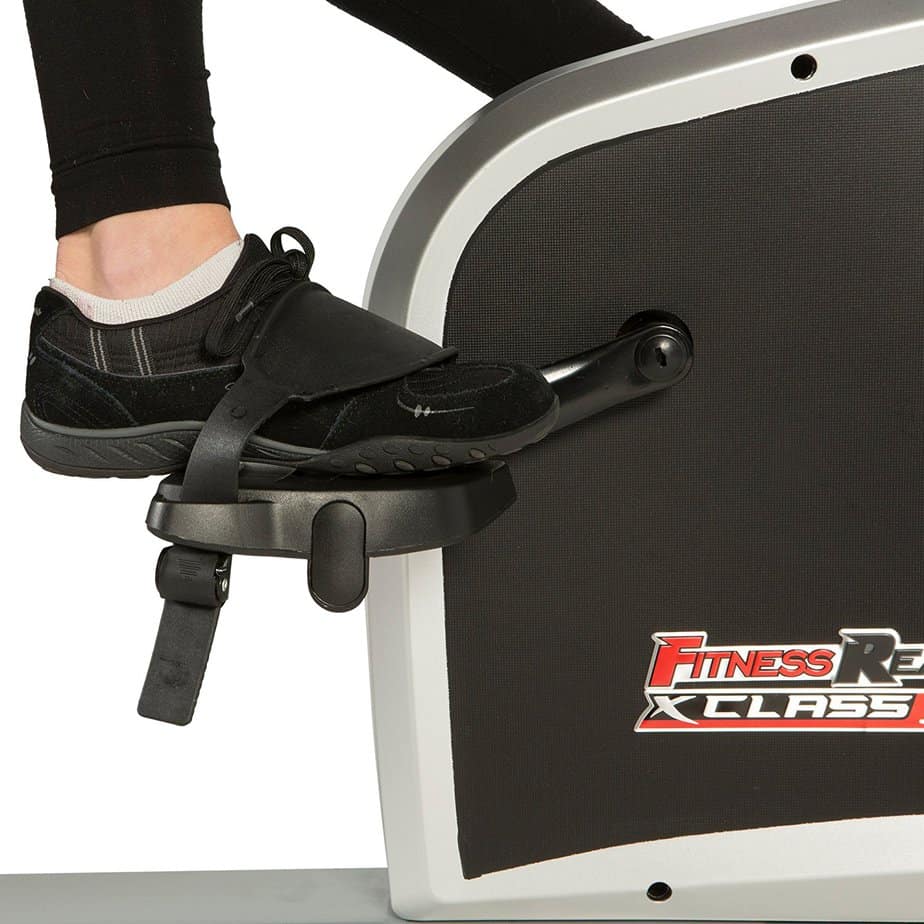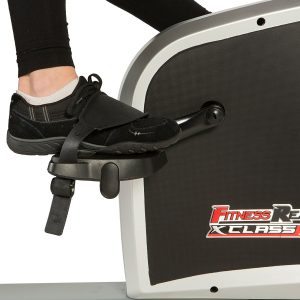 The drive consists of a durable, tested anti-stretch belt, 3-piece crankset, solid crank-arms, a 15.4 lbs./7 kg precision-balanced flywheel, and pedals.
Together, these elements create an outstanding operation that is characterized by smoothness and quietness.
Hence, you will be able to work out at home without invading the privacy of the people around you. You can watch a movie or listen to music while working out without having to raise the volume beyond an acceptable range.
The belt drive system is maintenance-free. It doesn't need to be lubricated or adjusted periodically as the case with a chain drive system. However, the belt gets to be replaced at some point in time. But this happens in a very long time.
Finally, this bike would be a great choice for those living in an apartment or proximity to others.
The Resistance
The Fitness Reality X-Class 410 Recumbent Exercise Bike is equipped with an eddy current electromagnetic resistance system with 32 adjustable levels.
It uses a motor-assisted magnetic brake and the flywheel to generate resistance.
This has two implications; Number one, it means that the bike needs to be plugged into a power source for it to be functional and be controlled. Two, it also means that there is no friction when resistance is being generated.
Hence, the resistance system is maintenance-free because no part wears and no replacement will be needed.
The unit comes with an AC adapter for connecting it to a power outlet.
Users of different fitness levels can find a suitable resistance intensity they need to achieve their fitness goals. That includes a weight loss goal, a cardiovascular improvement goal, and more.
The Console
The Fitness Reality X-Class 410 has an advanced adjustable console with a lot of features on it. It features dual blue backlit display windows that are similar to the Schwinn M17 270 and the Nautilus R618 display.
The windows display all the workout stats simultaneously with high readability that cannot be compromised even when viewed in a poorly-lit environment. Moreover, the console can be adjusted for the best viewing angle.
The upper display window shows the workout profile while the lower window displays workout stats such as the Time, Distance, Speed, Calories Burned, RPM, Watts, and Heart Rate.
The console is Bluetooth-enabled. It is capable of syncing with other Bluetooth-oriented devices such as phones, tablets, or laptops.
This allows you to connect the machine to the MyCloud Fitness app via any of these devices.
When connected, you can save your workout data online, set up several goals in your workout, be able to track your workout progress, and more.
The console has other features such as the 12 preset workout programs that are designed to help you achieve certain fitness goals, a cooling fan that keeps you cool and dry during a workout, and built-in speakers that provide a quality sound output.
When any of these preset workout programs is selected, a certain resistance level will be assigned for you automatically. But if you don't want that, you can use the custom mode where you have control over the resistance level you wish to use.
The target heart rate zones available include 55%, 75%, and 90%.
There is a Recovery Function that calculates and provides the state of your cardiovascular health at the end of a workout.
You and 3 more users can create and customize workout programs with the 4 user profiles.
You will be prompted to enter your data such as gender, height, weight, and age when creating a user profile for yourself. So that the console can generate the correct calorie burning count.
Shipping
The shipping cost of this unit depends on the retailer you are purchasing from. However, Amazon provides free shipping and delivers the machine within a couple of days.
Assembly
The assembly of this machine is easy because the major components such as the flywheel, the resistance motor, the belt, and the crank are already preassembled.
You are only required to attach the base bars, the seat and backrest, and the console to the core unit.
Moreover, an instruction manual and tools are included in the package to help you successfully assemble the recumbent bike, or you can hire an expert to assemble it on your behalf at a cost.
Maintenance
Maintenance only requires you to always keep the unit clean at all times and perform a periodic inspection for a loose or broken part.
Features/Pros Overview
It is durable recumbent bike because of its commercial-grade construction
Has 3 adjustable reclining backrest positions
Has great cushioning on the backrest
32 levels of magnetic resistance
Has console with dual window
The monitor is LED-backlit
Has 12 preset programs and 4 custom user profiles
It has a seat the is designed with a cushioning system that offers maximum comfort
Bluetooth enabled
Compatible with the MyCloud app
It has a cooling fan and sound system for your entertainment
Tablet holder included with a water bottle holder that would help you to keep water handy to stay hydrated all through your workout session.
Great customer service
Requires less or no maintenance
Cons
The display could be covered up when you are using a tablet on the shelf
It is not telemetry enable which means it not compatible with a wireless HR chest strap.
Warranty
Lifetime for Frame
5 Years for Electronics
2 Years for Wearable Parts
Product Dimensions
66'' Length
21.5'' Width
46'' Height
Net weight: 122 lbs./55 kg
Gross weight: 130 lbs/58.9 kg
Weighs about 122 pounds
Maximum user weight capacity: 350 lbs./158.7 kg
Drive: Belt
Resistance: Eddy current electromagnetic
Seat: 2-way adjustable, airsoft cushion technology
Handlebar: 2 sets (seat & front handlebars)
Frame: Heavy-duty steel
Flywheel: 15.4 lbs./7 kg
Console: Dual display, track Workout Profile, Time, Distance, Speed, Calories, RPM, Watt, and Pulse
Heart rate monitoring: EKG contact grips
Water bottle holder: Yes
Tablet holder: Yes
Transport wheels: Yes
Conclusion
The Fitness Reality X-Class 410 Recumbent Bike is a recommendable bike. It has several positive reviews on Amazon written by real users.
Fitness Reality X-Class 410 Recumbent Exercise Bike Review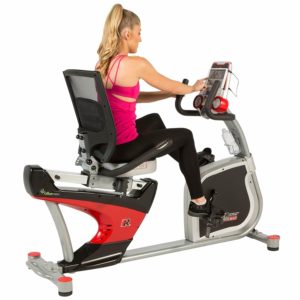 It has a frame construction that is well designed with less bolted parts and more welded places. This means that it has more places joined
Product Brand: Fitness Reality
Product In-Stock: InStock