The Sunny Health and Fitness Pink Magnetic Recumbent Bike is elegant and provides good performance.
So, let's see how this unit was built, and maybe you might want to own one.
Sunny Health and Fitness has a bunch of sports equipment and they have become a household name by their reputation and how long they have been in the business (Fitness Industry).
So, ordinarily one will presume that any product with their name on it would surely be durable and serve the purpose it was designed for. Rightly so, and so does Sunny Health and Fitness Pink Magnetic Recumbent Bike.
It comes with different levels of magnetic resistance system (8 levels) to make you feel challenged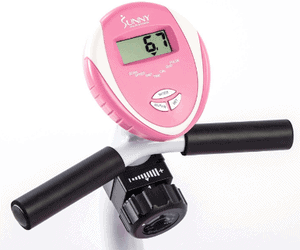 and achieve your fitness goal. It is accompanied by an LCD console that is very easy to read.
You can view the speed, distance, pulse, time, calories, scan function, and odometer on the display console and the data is reliable. Easily adjust the tension through the manual resistance knob on the front vertical bar of the machine.
The seat is positioned such that you will be seated in the semi-reclined position. Most people prefer Recumbent bike over the upright, you know why because it is less stressful to use even while you achieve a maximum fitness goal.
Especially good for those who are recovering from illness or surgery and therefore need a physical activity or exercise to nurse them back to health.  Read the recumbent exercise bike benefits here.  You can adjust the seat backward and forward by removing the knob connecting the back and front stabilizer and putting it into the suitable hole you desire and re-tight, and that's it.
It is also important to note how cushioned the seat is for a comfortable workout. Did you know that it also has heart rate sensors on the handlebar? Well, it has this function which allows you to read your heart rate on the display console.
The flywheel has a suitable weight that allows you to ride smoothly and stable in both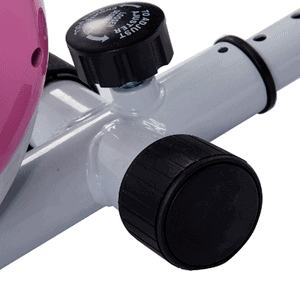 directions. While the pedal straps ensure that your feet don't slip away from the pedal; that is what I call safety measure.
It has a generally good weight of 49 pounds and supports about 220 pounds. Tell you what, this unit has positive reviews from the actual users; you can view these reviews on the product page on Amazon.
It has a perimeter flywheel that allows the weight of the flywheel to distribute to everywhere instead of on the center, and that is why it works both directions, which means you can pedal forward or backward and still gives you a smooth ride.
There is no noise pollution while using this piece which means you will not only workout without disturbing the peace of others….and yourself but you can as well listen to your favorite music or watch your favorite TV show, whichever one that goes down with you very well.
Click right here to have a peek at the price and of of the Sunny Health and Fitness Pink Magnetic Recumbent Bike on Amazon.
Features/Pros Overview
Tension Resistance
It has about 8 magnetic resistance levels to choose from while using
this unit. In other words, you can challenge yourself as much as you want to achieve a result. The more you challenge yourself by increasing the resistance the more likely you will burn more calories.
LCD Monitor
It has an LCD console that allows you to read and monitor your progress by seeing the stats such as speed, pulse, time, distance, calories, odometer, and scan. The LCD is easy to use; it has about 3 buttons which include, Mode, Enter, and Set. You can simply select any function by pressing the Mode button, while Enter allows you to select the value and the Set button allows you to reset the value.
The LCD automatically starts to show data without having to do any setting. Once you start pedaling the display will begin to show data.
Heart Rate Monitor
This, as you may know, allows you to know your heart rate while working out. It is great in revealing the state of your pulse when exercising. The heart rate sensor is located on the handlebar beside your hips. You must know that your heart rate is read-only when you hold the handlebars during a workout.
Power
This unit does not require any electricity or power to function. All that is required is AA batteries to power the LCD. So, placing it beside an electric socket is out of the equation because you don't need that.
Seat/Comfort
Most often I have seen where people complain about seats on a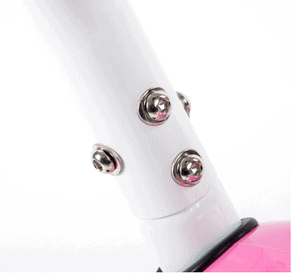 recumbent or upright bike. If the seat is not well positioned and padded then chances are users will not be comfortable while exercising with the equipment.
And you need all the comfort you can get while working out to reach your potential and achieve maximum results.
In the case of Sunny Health and Fitness Pink Magnetic Recumbent Bike, it is a settled matter because the seat and the back support is greatly padded with foam and vinyl cover. The seat is about 15 inches wide and 11 inches depth which is big enough size to make just about anyone comfortable.
Accessories
Unfortunately, there are no accessories such as water bottle holders, fans, or speakers. The lack of these extras is common with most folding bikes.
Assembly
This equipment is pretty easy to assemble, even a 3-year-old can put it together…OK, maybe not quite but it is very easy to set up. You can put it together for an hour or two, however, it will be a lot easier to set up if you have someone to help you.
Dimensions
The product dimensions are 53'' L x 24'' W x 34'' H, whereas the product weighs 49 pounds.
Shipping Dimensions
The product box dimensions are 23.3 L x 12.2 W x 25.6 H, the measurement unit is in inches, please. The shipping weight is 56 pounds.
Cons
It has no accessories like a speaker, iPod, or iPad plugin.
Conclusion
This is pretty much fine equipment that could deliver at a considerable price. For the fact it has no accessories does not mean it must have because what you pay is what you get and even more. To be honest, you are getting much more value for the price, therefore, should not complain.
So, if you are considering buying this unit because it is within your budget, then, by all means, go for it but if you think you need more functions then look up the Schwinn 270 Recumbent Bike Review.
Do not hesitate to drop your comment in the box below.
Sunny Health and Fitness Pink Magnetic Recumbent Bike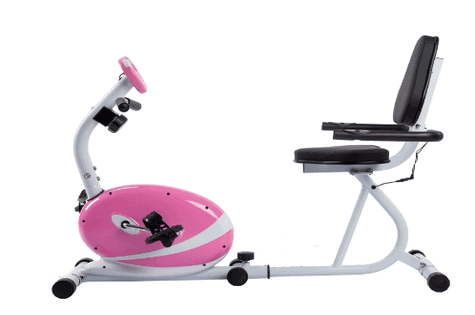 The Sunny Health and Fitness Pink Magnetic Recumbent Bike is elegant and provides good performance.
Product Brand: Sunny Health & Fitness
Product In-Stock: InStock