The Stamina 4831 Magnetic Recumbent Bike is designed for home use. It has a customization system that is similar to the Velocity CHB-R2102, where the frame is adjusted to fit the user instead of the seat.
The bike has an upgraded console that features 6 preset workout programs and a Pace guide.
Usually, recumbent bikes that feature workout programs are at least 2x the price tag of this unit just like the Marcy Regenerating ME-706.
Thus, it has an edge over bikes of the same category.
Click right here to have a peek at the Stamina 4831 Magnetic Recumbent Bike.
The Frame and Construction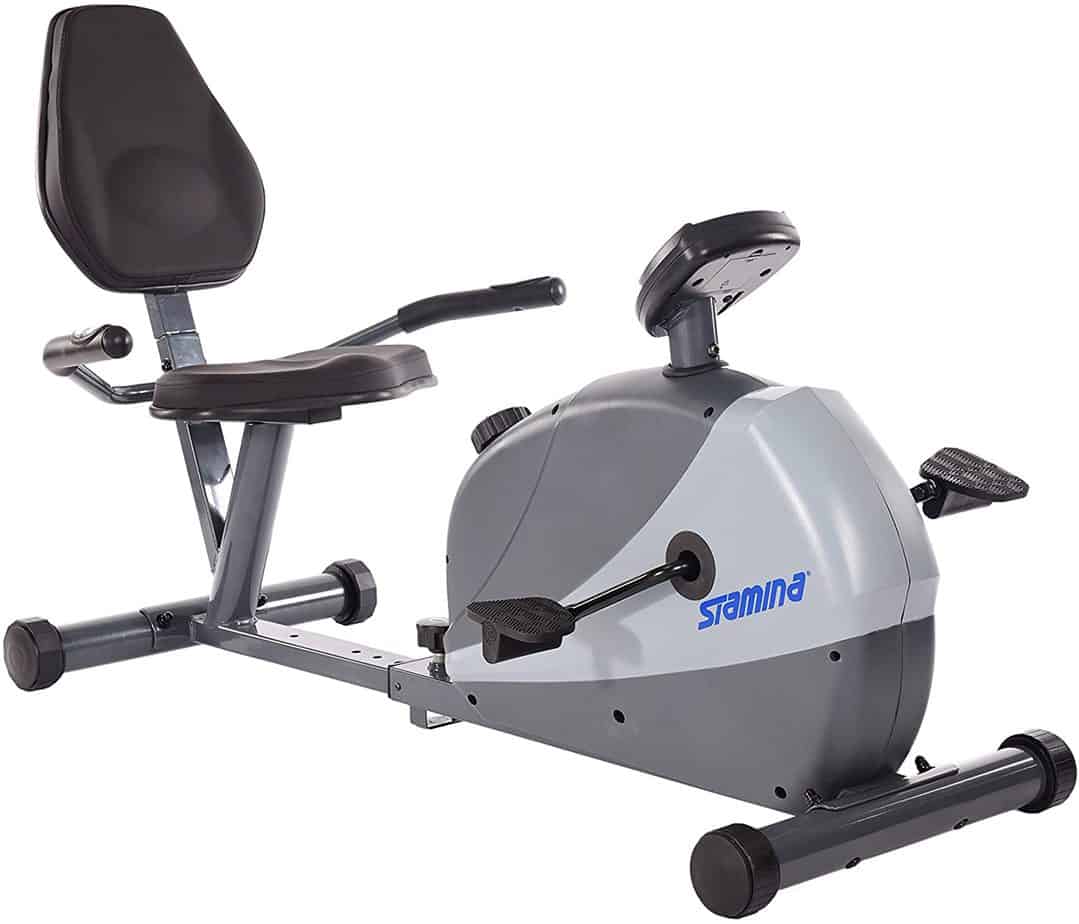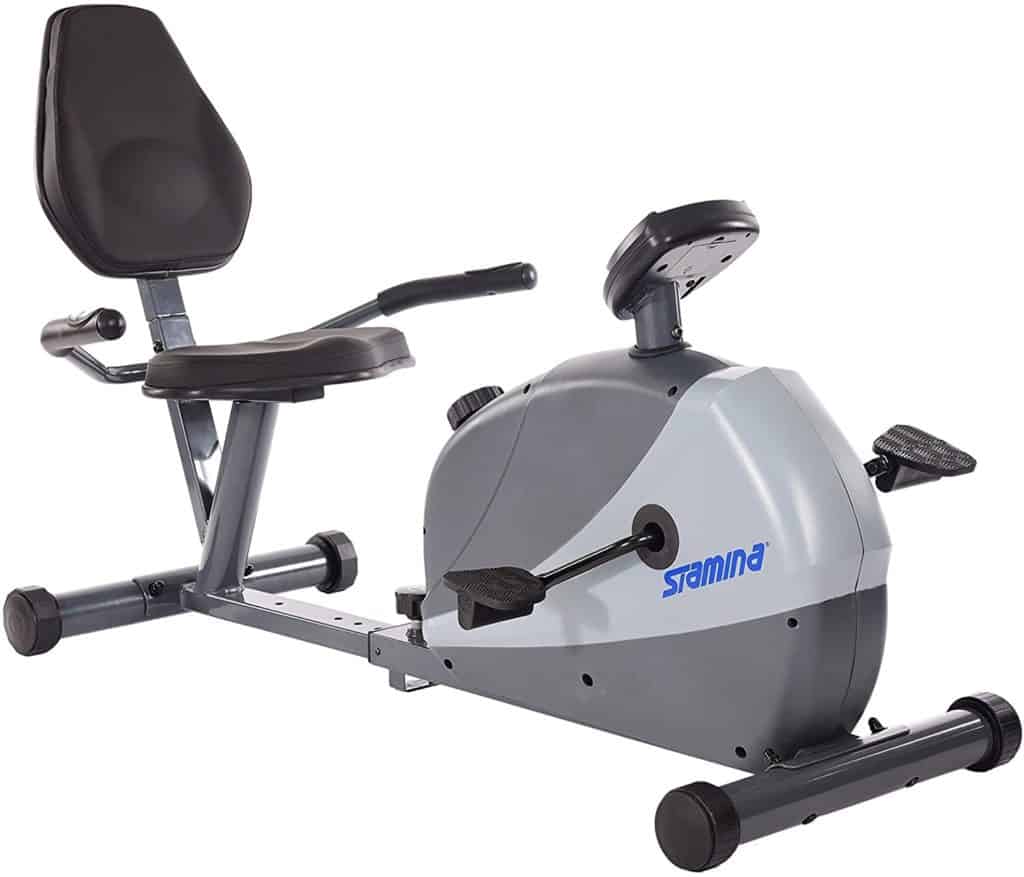 The Stamina 4831 Magnetic Recumbent Bike features a heavy-duty adjustable steel frame that is coated with anti-corrosion dark gray paint.
It has several adjustment holes that enable users to adjust to fit.
The drive system's casing and other small cover parts are made of ABS material.
The bike supports a maximum user weight capacity of 250 lbs./113 kg.
Its walk-through design makes it a lot easy to step in and out of the bike effortlessly even by those with mobility issues.
The floor-friendly robust base features steel stabilizer bars with adjustable rubber endcaps at the rear. Hence, you can adjust them to balance the bike on a surface that is not even.
The bike's overall weight of 65 lbs./29.4 kg grounds it and consequently improves its stability.
There are transport wheels at the front base for the easy relocation process of the bike for storage.
The maximum length of the frame is 56'', while the width and the height are 26'' and 33.5'' respectively. In other words, the unit requires a workout area with perimeters of 4'7'' length by 2'2'' width.
For a safe and comfortable workout experience, it's imperative to add extra clearance of at least 2' at the rear and on each side of it, especially, if it's going to be used in a confined or congested area.
The Seat of the Stamina 4831 Magnetic Recumbent Bike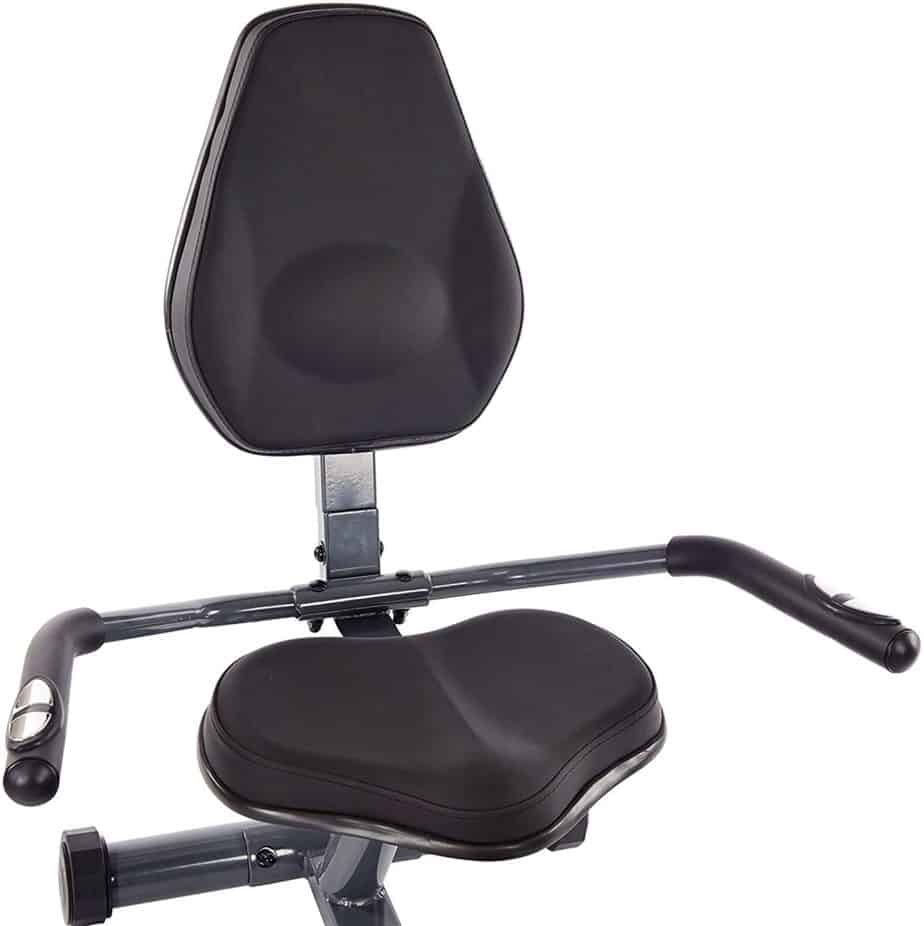 The Stamina 4831 Magnetic Recumbent Bike has a seat that is well-padded and contoured to fit your shape comfortably. So, you can work out longer without discomfort at any point in time.
It isn't adjustable as aforementioned, and neither is the backrest. It only adjusts when the frame is adjusted because it is welded directly to a post on the frame.
The bike's customizability allows users between the heights of 5'-6'2'' to utilize it conveniently.
The seat has side armrests that are integrated with EKG HR sensors. This means when they are held during a workout your heart rate data will be read and be transmitted to the monitor.
The armrests/handlebars are coated with a soft rubber foam that prevents slippage and discomfort during a prolonged workout.
The Handlebars
The Stamina 4831 Magnetic Recumbent Bike doesn't have a set of handlebars at the front.
The Pedals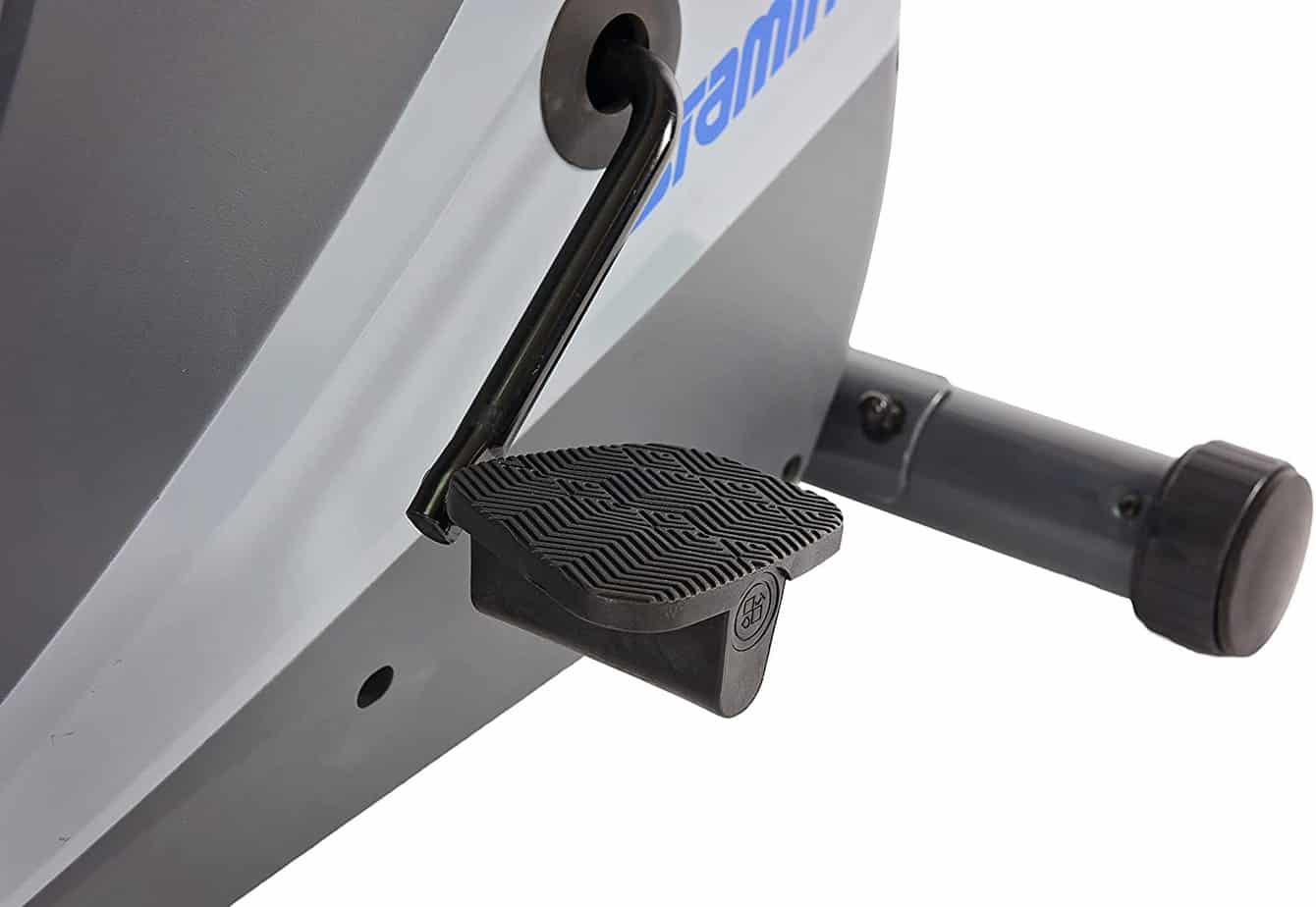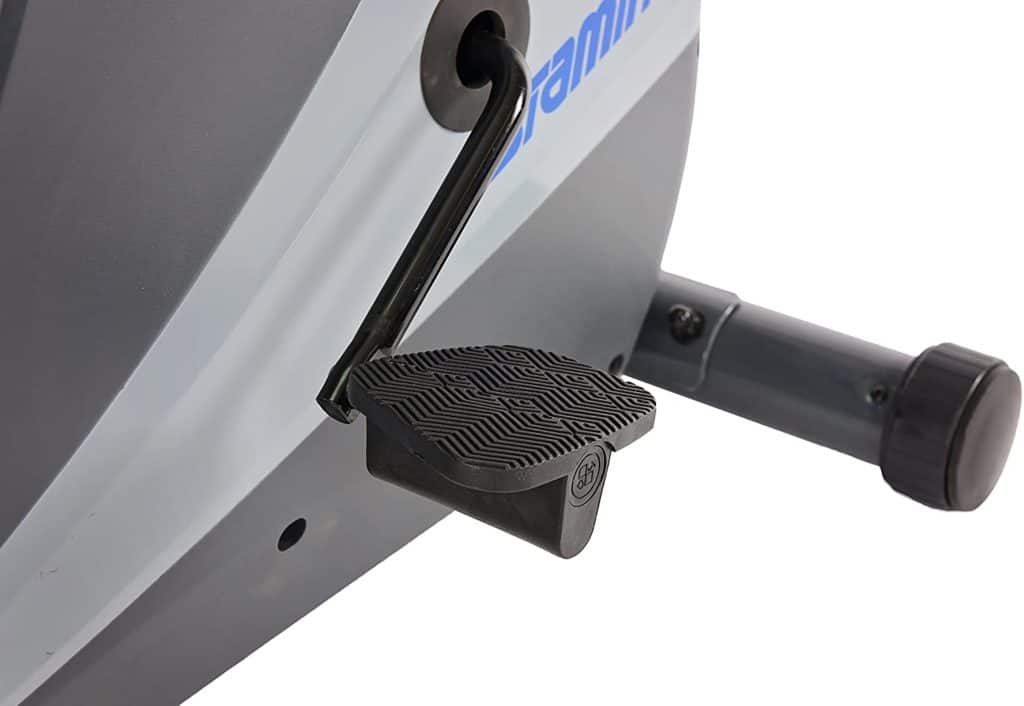 The pedals on this recumbent bike are large and textured. They are made of durable nylon material with a steel core.
Their design ensures maximum foot adherence even though there are no adjustable safety straps. Different foot sizes can be accommodated and can be ridden with conventional gym shoes.
The Drive
This bike features a belt drive system that comprises a durable belt, solid cranks, pulleys, and 14 lbs./6.3 kg high inertia balance-weighted flywheel.
These elements create an operation that is smooth and quiet, making the bike a better option for home use. You can exercise at any time of the day and the people around you won't be bothered or be disturbed.
Also, it doesn't require you to take the drive system's covers apart to lubricate or adjust the belt. In other words, it's maintenance-free.
You can diversify your workout by pedaling in reverse to exercise and tone more muscle groups.
The Resistance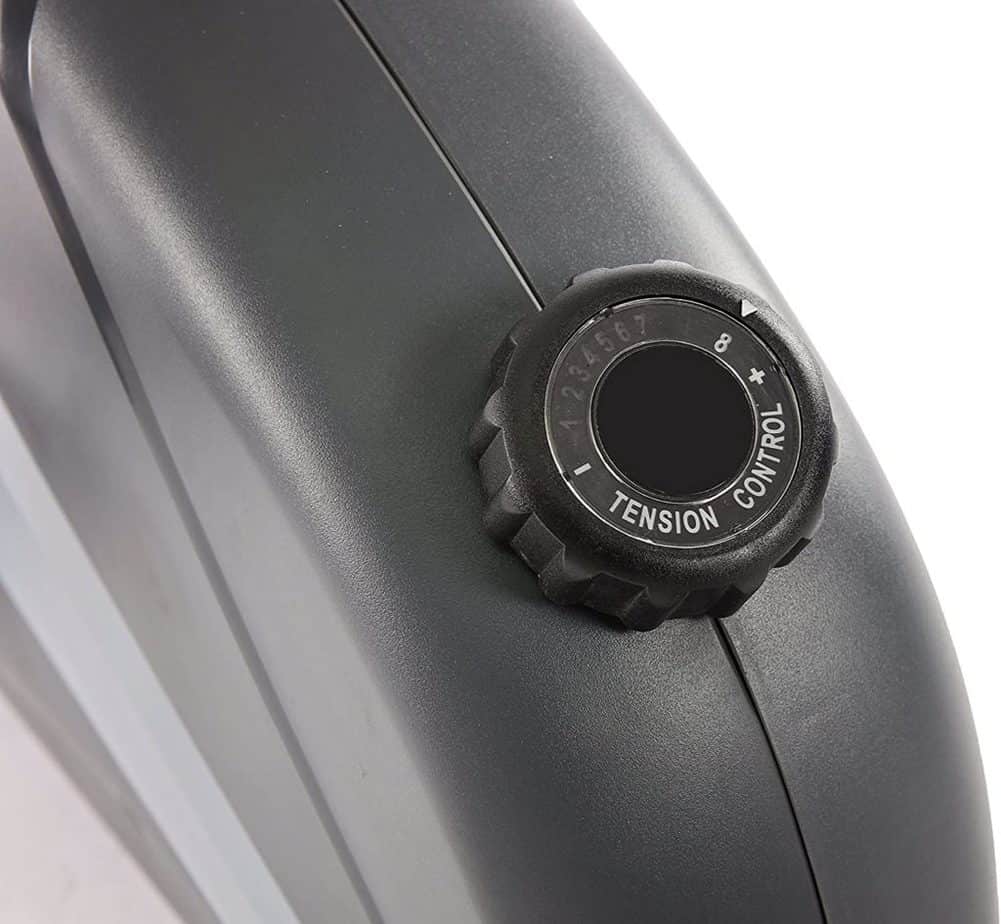 The Stamina 4831 Magnetic Recumbent Bike is equipped with a manual magnetic resistance system that offers 8 adjustable levels.
The interesting aspect of this resistance system is the fact that no friction occurs in the process of generating resistance. As a result, no part wears out and no part is required to be replaced.
The resistance mechanisms include a magnetic brake pad and the flywheel, which so happens to be metallic. Therefore, resistance is generated when the magnetic brake pad emits a magnetic field around the premise of the flywheel when they are in close proximity.
So, the intensity of the resistance depends on how close or farther the magnetic brake pad is to the flywheel.
To increase or decrease the resistance intensity, turn the tension control knob with the resistance levels – 1, 2, 3, 4, 5, 6, 7, 8, + clockwise or counterclockwise, respectively.
Due to the high inertia balance-weighted flywheel, the operation of the bike still remains smooth and vibration-free even when the resistance is engaged.
Finally, needless to say, the bike doesn't need to be plugged into a power source for the resistance to be operational, because it is controlled manually.
The Monitor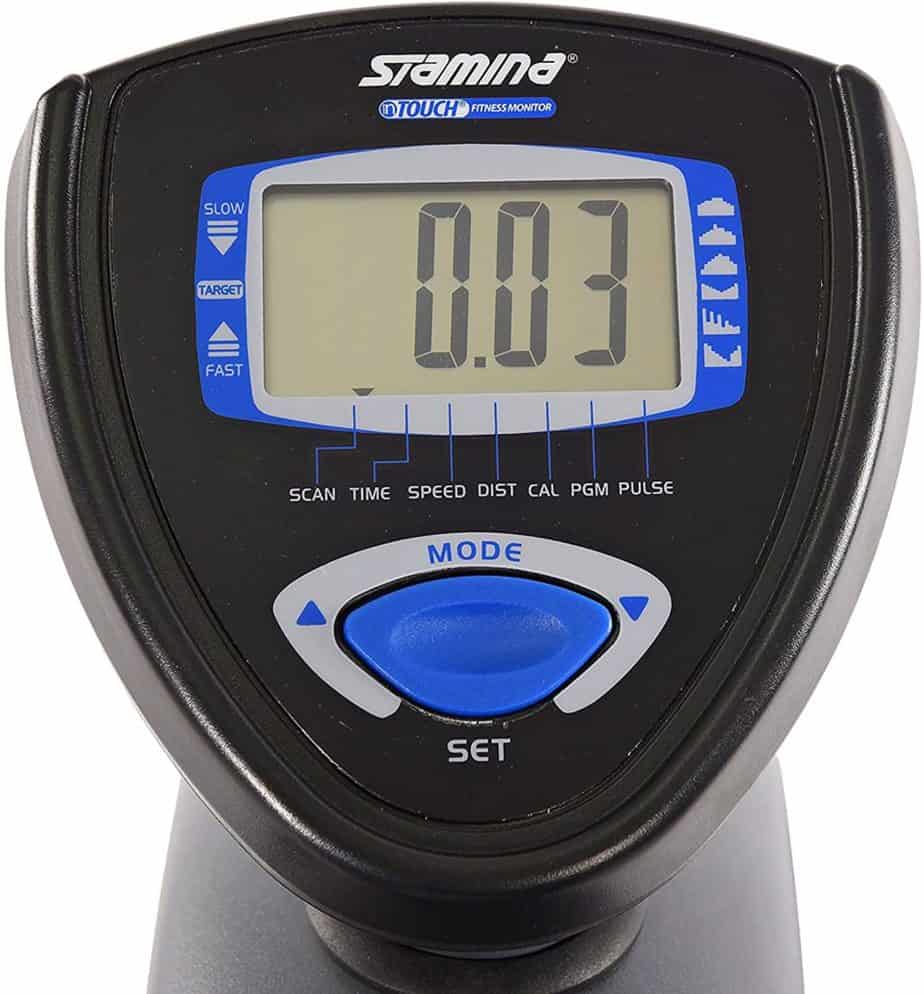 The console that is integrated into the Stamina 4831 Magnetic Recumbent Bike is slightly above basic. The reason is that it features 6 preset workout programs that include P1 Fat Burn, P2 Maximum Fat Burn, P3 Aerobic, P4 Hill, P5 Interval, and P6 Mountain.
These are very helpful workout programs that get you to diversify your workouts and be thrilled.
When a preset program is selected, you are expected to match the target speed of that program. Otherwise, the target zone display on the left side of the monitor will indicate if you are pedaling too fast or too slow for the program.
This gets you in line to pedal with the specified speed so that you can enjoy the benefits of your workout.
The console also features a multi-functional digital nonbacklit LCD monitor that tracks Time, Speed, Distance, Calories, Selected Program, and Pulse. Its readability is great as long as it is being viewed in a well-lit room.
The workout stats are displayed rotationally one at a time after every few seconds by the SCAN function since they cannot be displayed simultaneously. However, you can set a certain workout stat to display constantly.
Remember, you can only read your pulse when the handlebars with the EKG sensors are held during workouts. This enables you to maintain your target heart rate zone at all times.
The speed and the distance are measured by mph and mile.
The console features only a single navigation button that is pretty easy to use, and it is explained in detail in the manual.
The monitor is powered by 2 AA batteries which are not included in the package (to be purchased separately).
So, in an attempt to save the batteries' power, the monitor automatically shuts down when there is no activity on the bike for a few minutes, and it automatically turns ON when activity resumes.
Accessory
There is no accessory on the Stamina 4831 Magnetic Recumbent Bike.
You will have to improvise to maintain proper hydration during a workout, and probably to entertain yourself too.
Storage
The Stamina 4831 Magnetic Recumbent Bike has transport wheels that help in the relocation process.
Adjust the frame to the shortest form so that the storage space needed may be reduced.
Lift it from the rear base and simply roll it away.
Approval Rating
The Stamina 4831 Magnetic Recumbent Bike has several favorable reviews by Amazon customers and independent reviewers.
As a result, its overall approval rating on Amazon is recommendable.
Pros/Features Overview
It has a sturdy and durable steel frame
It supports a maximum user weight capacity of 250 lbs./113 kg
Customizable, so that users of different heights (5'-6'2'') can be accommodated conveniently
It features a floor-friendly base that provides maximum stability
The seat is well-padded and contoured for enduring comfort
The large and textured pedals accommodate different foot sizes and standard gym shoes
Its operation is smooth, quiet, and vibration-free
Its resistance system provides 8 different workout intensities
6 preset programs designed to target specific fitness goals
Easy-to-read LCD monitor tracks workout progress including heart rate
EKG HR contact grip
Transport wheels included for easy relocation process
Easy to assemble
Maintenance needed is low
It's affordable
Cons
The monitor is not backlit
No water bottle holder
No tablet holder
No front handlebars
Warranty
3 Years for the Frame
90 Days for the Parts
Product Dimensions and Specifications
Length 56''
Width 26''
Height 33.5''
Shipping dimensions: 39'' L x 21'' W x 10'' H
Net weight: 65 lbs./29.4 kg
Gross weight: 70 lbs./31.7 kg
Maximum user weight capacity: 250 lbs./113 kg
Drive: Belt
Resistance: Manual magnetic, 8 adjustable levels
Programs: 1 manual, 6 preset workouts
Seat: Nonadjustable, padded, and contoured with backrest
Pedals: Large and textured
Frame: Steel, and adjustable
Flywheel: 14 lbs./6.3 kg perimeter-weighted
Heart rate monitoring: EKG HR contact sensors
Monitor: Nonbacklit LCD, tracks Time, Distance, Speed, Calories, Selected Program, and Pulse with SCAN function
Transport wheels
Water bottle holder: No
Tablet holder: No
Shipping
The Stamina 4831 Magnetic Recumbent Bike is shipped out for free by Amazon, and it's delivered in a couple of days.
The package shipping weight is 70 lbs./31.7 kg and the dimensions are 39'' L x 21'' W x 10'' H.
Assembly
The package arrives with the major components preassembled.
You are only required to attach the two separated frames together, then attach the front and the rear stabilizers, the seat/backrest, the pedals, and the console to the core unit.
A wrench, 6mm Allen key wrench, and an instruction manual are included in the package for successful assembly.
An average skilled person can assemble the bike in less than an hour.
Maintenance
Make sure to keep the recumbent bike clean and dry at all times. Inspect it before use for any broken or loose part, and ensure to fix any problem that may arise accordingly.
Conclusion
The Stamina 4831 Magnetic Recumbent Bike is a recommendable and affordable machine that has several features that include 6 preset workouts.
This is one of the best recumbent bikes in its category that is capable of providing productive, fun, and thrilling workouts.