The SNODE R16 Magnetic Recumbent Bike is a 2020 release, and it's in the entry-level category with no advanced features included. It is simply designed to provide cardiovascular and low-impact workouts.
It is a lot like the JEEKEE Magnetic Recumbent bike but a little bit smaller though. Nevertheless, as opposed to most basic recumbent bikes, it has a 3-piece crankset and thicker crank-arms.
You may click right here to have a peek at the price of the SNODE R16 Magnetic Recumbent Bike on Amazon.
The Frame and Construction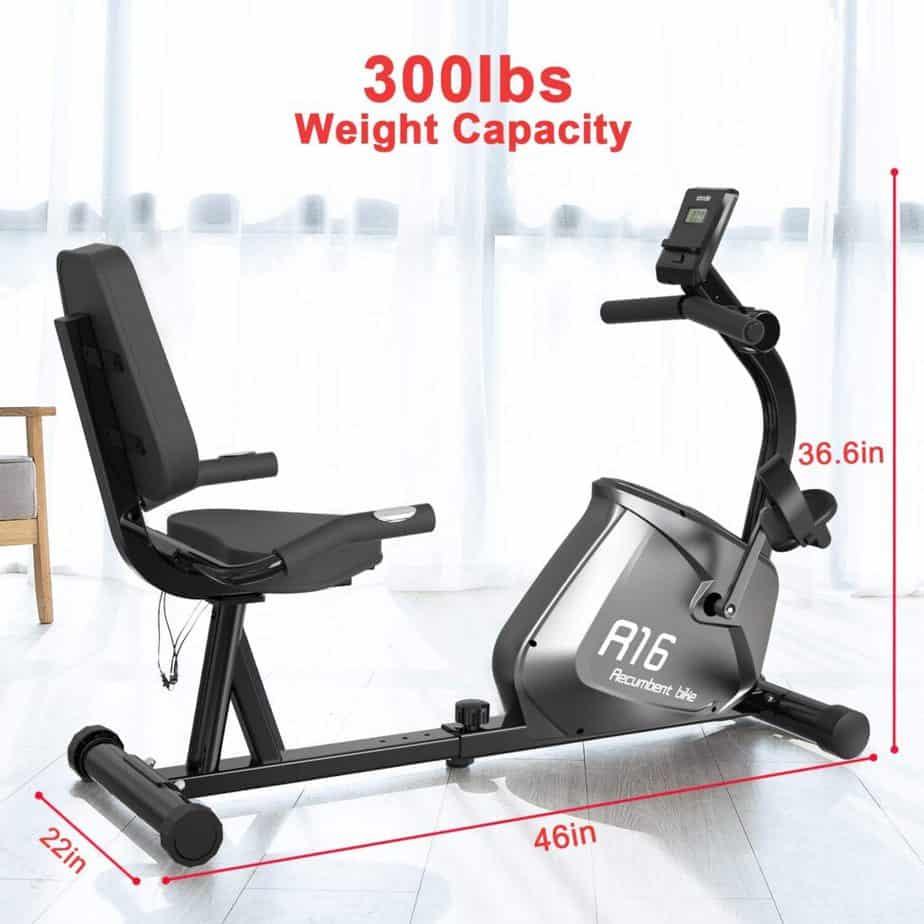 The SNODE R16 Magnetic Recumbent Bike has a steel frame that is finished with anti-rust paint and drive/resistance system covers that are made of durable plastic.
The base features rounded steel stabilizers integrated with polygonal adjustable levelers on each end of the rear base for enhanced stability.
As a result, users up to 300 lbs./136 kg in weight are supported and they can work out aggressively all they want without experiencing instability issues.
That said, this unit could be regarded as compact due to its small frame. Its overall assembled dimensions are 46'' long by 22'' wide by 36.6'' high. In other words, an area with perimeters of 3'9'' length by 1'9'' width with an additional clearance of 2' around it should be sufficient for workout activities.
It has transport wheels at the front base and weighs about 50.7 lbs./23 kg. Thus, relocating it is a walk in the park.
The Seat of the SNODE R16 Magnetic Recumbent Bike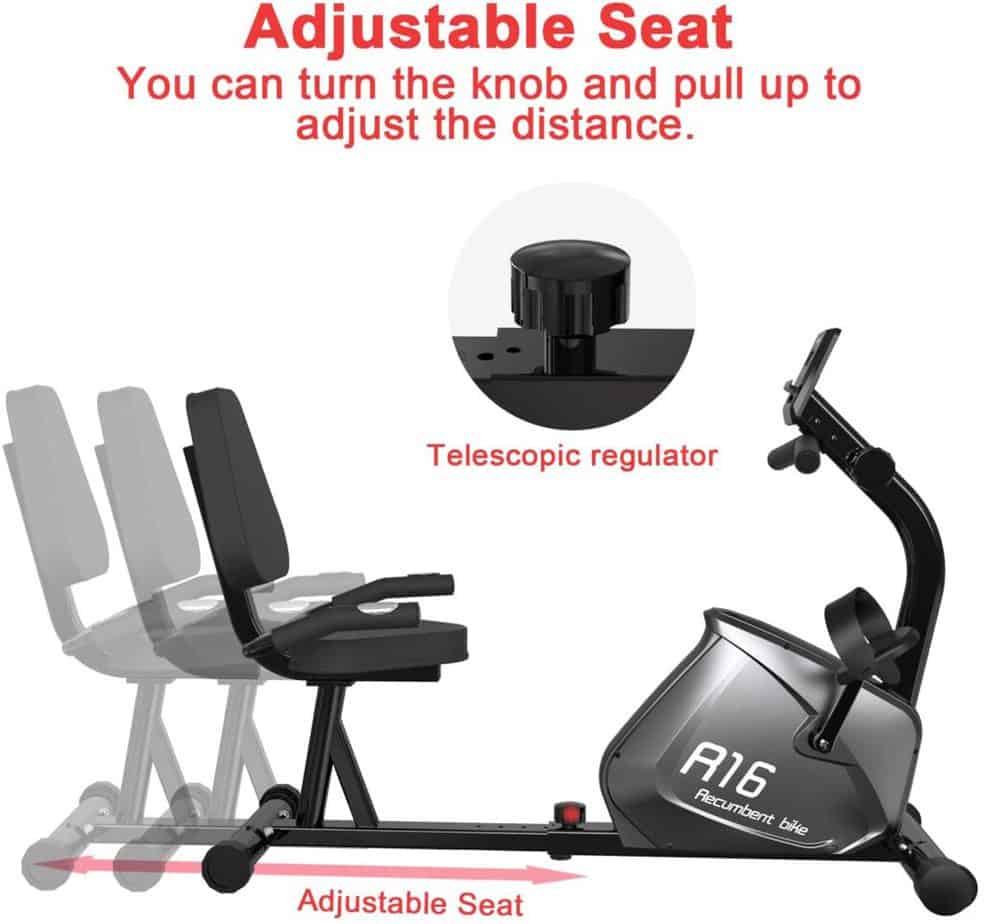 The seat has a double-built post that is attached to the adjustable frame.
In other words, the seat is adjustable via the conjoined frame. Hence, you can adjust to increase the length between the seat and the handlebar, and vice-versa.
This offers the opportunity for users between the heights of 4'8''-6' to be accommodated.
Anyone taller than 6' might have trouble fitting in, and anyone that expects the seat to be considerably above the floor may be disappointed because it might be too low to the ground.
That said, the seat has a heart-shaped design, wide, and thick enough to be comfortable through a prolonged workout.
However, the use of a gel seat cover enhances the seat's overall comfortability.
There is a nonadjustable handlebar on either side of the seat. They integrate heart rate sensors that read and transmit workout data to the monitor when grasped during a workout.
The Handlebar
Aside from the handlebars on the seat, there is another set at the front of the unit without the integration of heart rate sensors. They are meant to be used when you wish to work out while sitting up.
The 2 sets of handlebars are padded with soft rubber foam material for firm and comfortable grips needed during a prolonged workout session. Therefore, you won't experience slippage or blisters that are usually associated with hard and frequent workouts.
Pedals
The pedals are standard; meaning they are textured with adjustable safety straps, designed to be ridden with standard gym shoes or barefooted.
They are self-leveling pedals that are attached to a 3-piece crankset and crank-arms, as aforementioned.
Not only can they securely accommodate different foot sizes, but they are also durable and reliable.
The Drive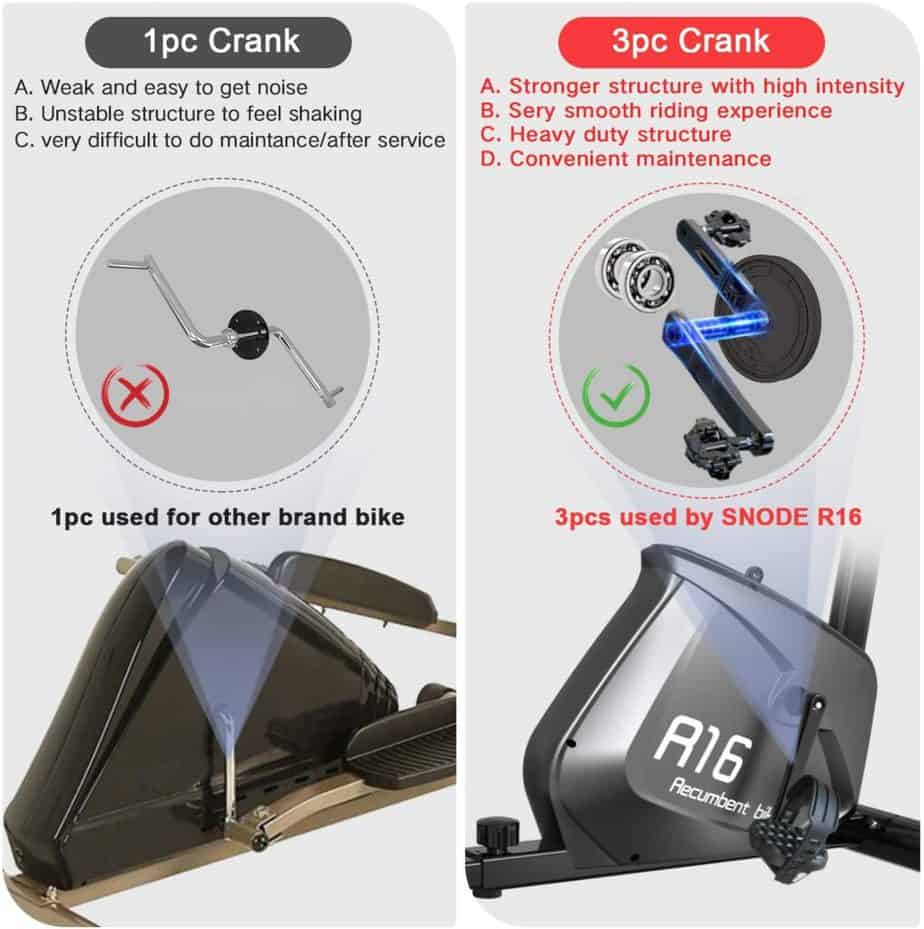 The SNODE R16 Magnetic Recumbent Bike has a belt drive system. A system that mainly consists of a durable belt, a pulley, a 3-piece crankset, crank-arms, and a flywheel.
Unfortunately, the weight of the perimeter weighted flywheel is not specified, but it should be about 13-15 lbs. Hence, the drive's operation is smooth, quiet, and vibration-free.
For this reason, you can conveniently use the machine at home with a newborn baby and family members present, and neighbors living nearby without being a nuisance.
You can pretty much engage in entertainment activities such as listening to music or watching a movie/TV show while exercising without any noise interference from the recumbent bike.
Moreover, you don't have the duty to service the drive's internal elements as opposed to a chain drive system.
Is it possible to coast? No, the drive is fixed; and you do not need it anyway since this is a recumbent bike.
On the upside, the fixed drive system enables you to pedal both ways, forward and backward, increasing chances of toning more muscle groups and allowing you to diversify your workout pattern.
The Resistance
The resistance system is magnetic and manually adjustable between 1-8 levels.
Just as the drive system, no noise is produced when a resistance level is actively engaged because the resistance is generated when the included magnetic brake pad emits magnetic fields around the flywheel without making a contact or causing friction.
This also means the resistance system is maintenance-friendly because no lubrication or change of part is required.
To increase or decrease your workout challenge, simply turn the tension knob clockwise or counterclockwise to the level you wish to use. The 8 levels offer different workout difficulty that ranges from easy, light, to difficult.
However, do not expect an extremely difficult workout challenge from this machine but it does enable you to improve your overall physical well-being if you put in the work.
The Console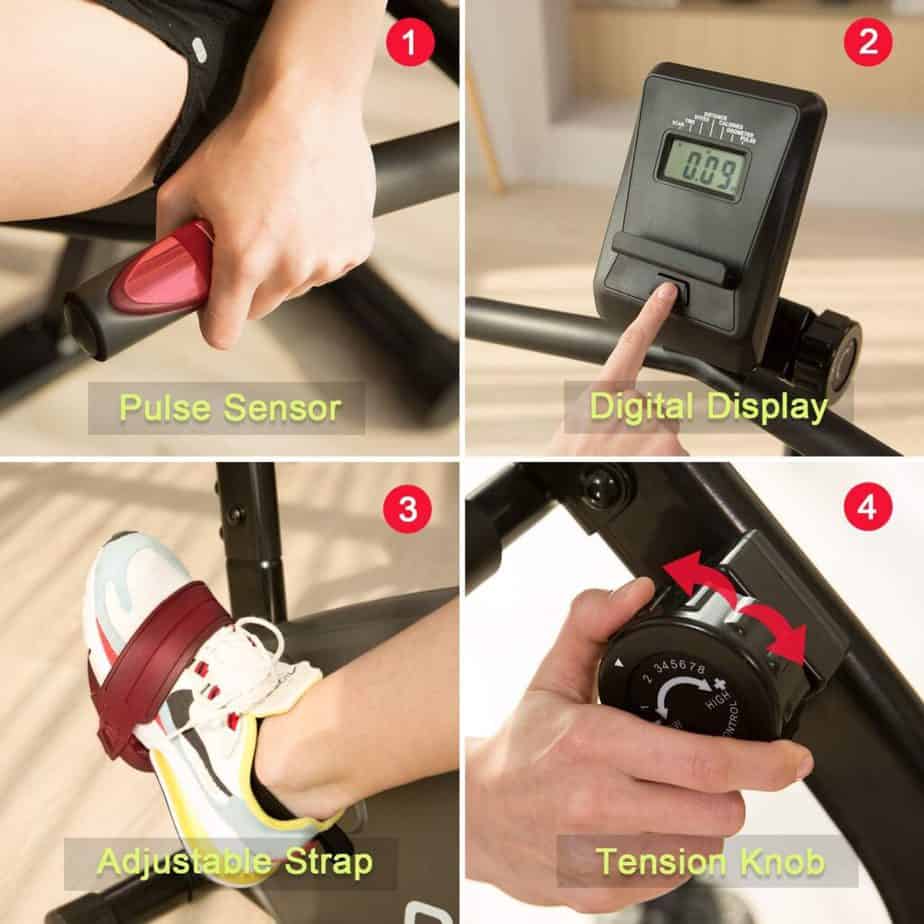 The SNODE R16 Magnetic Recumbent Bike is equipped with a basic console. This means it doesn't have preset workout programs, app connectivity, MP3 port, USB port, or goal settings.
Instead, it features an LCD monitor that tracks and displays workout stats such as Time, Distance, Speed, Calories Burned, and Pulse. They are displayed one at a time after every few seconds by the SCAN function.
However, you can override the rotational display of the workout stats and set up a preferred workout value to be displayed constantly.
Remember, the pulse rate can only be read when the heart rate sensors on the handlebars are grasped during a workout.
The metrics displayed are readable as long as they are viewed in an environment that is well-lit. Otherwise, you may have trouble figuring them out because the monitor does not have a backlight.
The monitor needs 2 AAA batteries to be powered up. It turns on when you start pedaling or when the single button on the console is pressed, and it automatically turns off when bike activity stops for 4 minutes to preserve the batteries' power.
Finally, Distance and Speed units are in miles and mph, respectively; they cannot be switched to km or km/h.
Accessory
There is a tablet holder incorporated into the console which is capable of holding a smartphone or a tablet device.
This is designed to help you entertain yourself and take calls during workouts.
Although, the downside of it is that the view of the monitor will be blocked if a device is placed on the holder. Hence, you will not be able to view your workout stats.
Storage
The SNODE R16 Magnetic Recumbent Bike is not foldable but It's not large either.
A space area with perimeters of 3'9'' length by 1'9'' width should be enough for storage. Also, it is a lightweight and portable machine that is easy to move around the room or apartment.
Pros/Features Overview
It is compact, portable, and lightweight
Step-thru design
Supports up to 300 lbs./136 kg
Its crankset and crank-arms are outstandingly durable
Operation is smooth, quiet, and vibration-free
The frame is adjustable to accommodate users up to 6' tall
No lubrication or adjustment is needed
The magnetic resistance system provides 8 different workout difficulties for weight loss and muscle group toning
Its console features an LCD monitor that tracks workout stats such as Time, Distance, Speed, Calories, and Pulse Rate
The seat is large and fairly comfortable
There are 2 sets of handlebars that are padded for secure and comfortable grips
The self-leveling pedals are textured with adjustable safety straps
Contact grips for heart rate monitoring
Easy to assemble
Tablet holder included
The maintenance requirement is low
Cons
Doesn't accommodate users taller than 6'
The seat is probably too low to the ground
No water bottle holder
The monitor is nonbacklit
Warranty
Product Dimensions & Specification
Length: 46''
Width: 22''
Height: 36.6''
Shipping dimensions: 31.5'' L x 22.2'' W x 11.2'' H
Net weight: 50.7 lbs./23 kg
Gross weight: 58.55 lbs./26.5 kg
Frame: Steel & adjustable
Flywheel weight: N/A
Drive: Belt
Resistance: Manual magnetic
Seat: fixed
Handlebar: 2 sets
Maximum user weight capacity: 300 lbs./136 kg
Maximum supported height: 6'
Monitor: Basic LCD
Tablet holder: Yes
Water bottle holder: No
Transport wheels: Yes
Shipping
This product ships in a box that weighs 58.55 lbs./26.6 kg with dimensions of 31.5'' long by 22.2'' wide by 11.2'' high.
It takes a couple of days for it to arrive at your doorstep, and no shipping cost is charged.
Assembly
Since the major components of the SNODE R16 Magnetic Recumbent Bike are preassembled, you are only expected to attach a couple of other parts. Such parts include joining the two frames, attaching the seat, the backrest, the handlebars, the stabilizer bars, the pedals, and the console to the main unit.
All of these won't take more than an hour.
Besides, a manual with detailed and explicit instructions about the assembly is included in the package, plus tools as well.
Maintenance
No serious maintenance is needed.
Just make sure that the machine is kept clean and examined before every use to ascertain every part is in good condition.
Store it in a space that is clean and not excessively hot.
Conclusion
The SNODE R16 Magnetic Recumbent Bike is designed for home use. It supports 300 lbs./136 kg maximum user weight capacity and is suitable for anyone that is between 4'8'' to 6' tall.
If you ever wish to improve your overall physical fitness and you don't have much of a budget to invest, this could fill the gap and still make the difference.