If you are on a budget and you wish to procure a compact, customizable, and sturdy indoor upright bike, then, the AECOJOY Upright Magnetic Exercise Bike might just be what you need.  
This unit is solidly built and designed to support a maximum user weight capacity of 280 lbs./127 kg or less, and those that are between the heights of 5'-6'4'' tall.
It is a simple cardiovascular machine that gets you to lose weight and tone the lower muscle groups and the core, and it is one of the most compact and affordable upright bikes available.
Click right here to have a peek at the AECOJOY Upright Magnetic Exercise Bike.
The Frame and Construction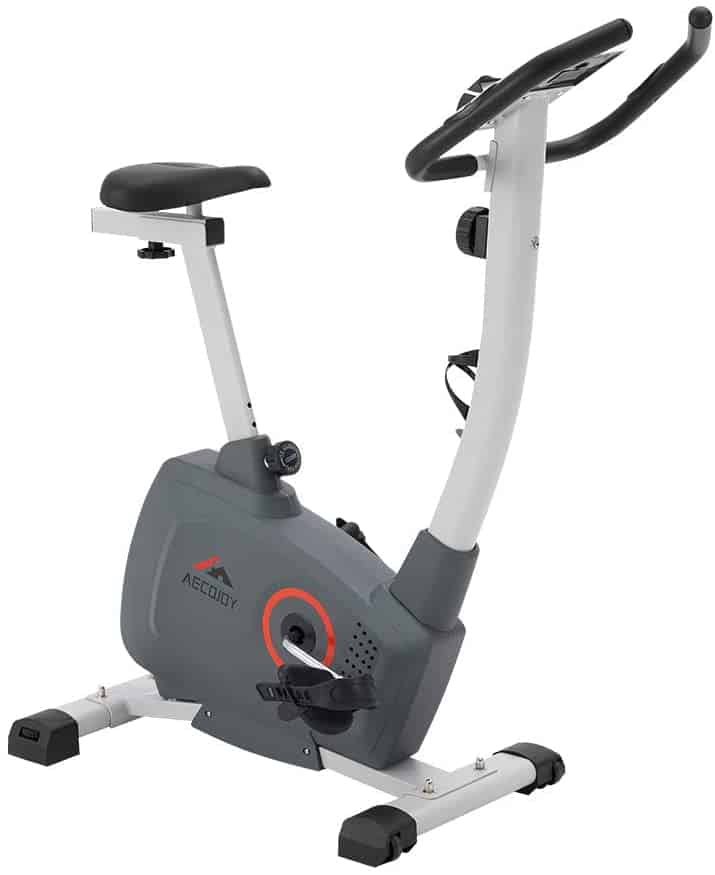 The AECOJOY Upright Magnetic Exercise Bike's construction mainly comprises a solid steel frame and drive system shrouds that are made of durable plastic (ABS). Thus, it is elegant and sturdy enough to hold up during workout sessions.
Its base features steel stabilizers with rubber end caps, while the rear is integrated with adjustable levelers. As a result, the unit is floor-friendly and it remains stable even on a crooked floor because users can adjust to balance it.
Having said that, it is important to exercise with the bike on a solid surface so that its stability won't be compromised, and use a protective rubber mat if you have to.
The upright bike has a small footprint with dimensions of 30'' long by 18'' wide. Differently put, it will require a workout area with perimeters of 2'5'' length by 1'5'' width. However, an extra clearance of 2' will be needed around it to accommodate the handlebar, and the seat, and to also provide easy access and safety during workouts.
Aside from its compact design, it is also portable due to the integrated transport wheels at the front base. So, you can easily have it relocated within the room even though its assembled weight is about 50 lbs./22.6 kg.
The Seat of the AECOJOY Upright Magnetic Exercise Bike
The seat is 4-way adjustable; i.e., it could be adjustable vertically (up/down) between 32'' minimum height to 39'' maximum height, and horizontally (fore/aft), between 14.5'' minimum length to 18.5'' maximum length.
This allows users of different heights and sizes to be accommodated comfortably just as aforementioned, and the adjustments can easily be done in a few seconds.
The 10'' long seat is contoured and padded with a few layers of foam but it is not the very best in terms of providing lasting comfort. So, you will need to have it covered with a gel seat cover or wear padded cycling shorts during exercises for comfort that could outlast your workout session.
The Handlebar
This exercise bike is equipped with a multi-grip handlebar that is coated with soft rubber foam material. It is designed to allow users to train in different workout postures and to also offer secure and comfortable grips.
You won't have the need to use a pair of hand gloves because your grips are going to be firm and you won't experience blisters as a result of frequent and prolonged workouts.
The handlebar is not adjustable; although, it is optimally positioned to suit all users.
Finally, heart rate sensors are incorporated into the handlebar so that users' pulse rate data can be read and transmitted to the monitor when they are grasped during a workout.
The Pedals
This unit comes with a pair of simple textured pedals with adjustable safety straps. They are made of durable plastic with a metallic core.
They accommodate different foot sizes and can be ridden with standard gym shoes, or barefoot. But of course, it is not ideal to ride it barefoot for safety reasons.
The Drive
The AECOJOY Upright Magnetic Exercise Bike is a belt-driven machine. This means it consists of a belt that is durable, pulleys, a flywheel, and solid cranks.
The drive provides smooth and quiet operation; hence, users can exercise with the bike at any time of the day without disturbing the family or the neighbors. They can also watch their favorite TV show or listen to music during workouts.
Moreover, no periodic maintenance is required as well.
Pedaling in reverse is possible because the drive is bidirectional. Therefore, you may pedal backward to diversify your workout to tone more muscle groups.
The Resistance
The bike is equipped with a manual magnetic resistance system that offers 8 adjustable levels. This type of resistance system makes the bike's performance smoother and quieter even when the resistance is engaged.
The reason is that the resistance system's elements such as the flywheel, and the magnetic brake pads do not rub off each other when generating resistance. Instead, the magnetic brake pads emit magnetic fields around the flywheel to cause a drag that creates resistance.
To increase or decrease the resistance intensity simply turn the tension control knob at the seat post base clockwise or counterclockwise, respectively.
Since no friction occurs when resistance is generated, no part is going to wear out after some time, and consequently, no part will be required to be replaced.
Finally, the bike doesn't need to be plugged into a power outlet for the resistance to function.
The Console
The AECOJOY Upright Magnetic Exercise Bike has a console that features a basic LCD monitor that tracks workout progress and displays data such as Time, Distance, Speed, Calories Burned, Odometer, and Pulse.
These workout data are displayed rotationally one at a time after every few seconds by the SCAN function. However, you may decide to override it to set a certain workout value of your choice to display constantly instead.
Since the console is not telemetric, the only way to read the pulse is to grasp the part of the handlebar with HR sensors during a workout.
The battery-powered (2 AAA batteries included) monitor displays the workout data with high readability because it is backlit.
In order to save the batteries' power, the monitor turns off automatically when the integrated sensor fails to detect activity on the bike for a few minutes, and it automatically turns back on when activity returns or when you start pedaling.
Accessory
A tablet and water bottle holders are included to enable users use a smartphone/tablet device for entertainment purposes and to keep water within arms for proper hydration.
Storage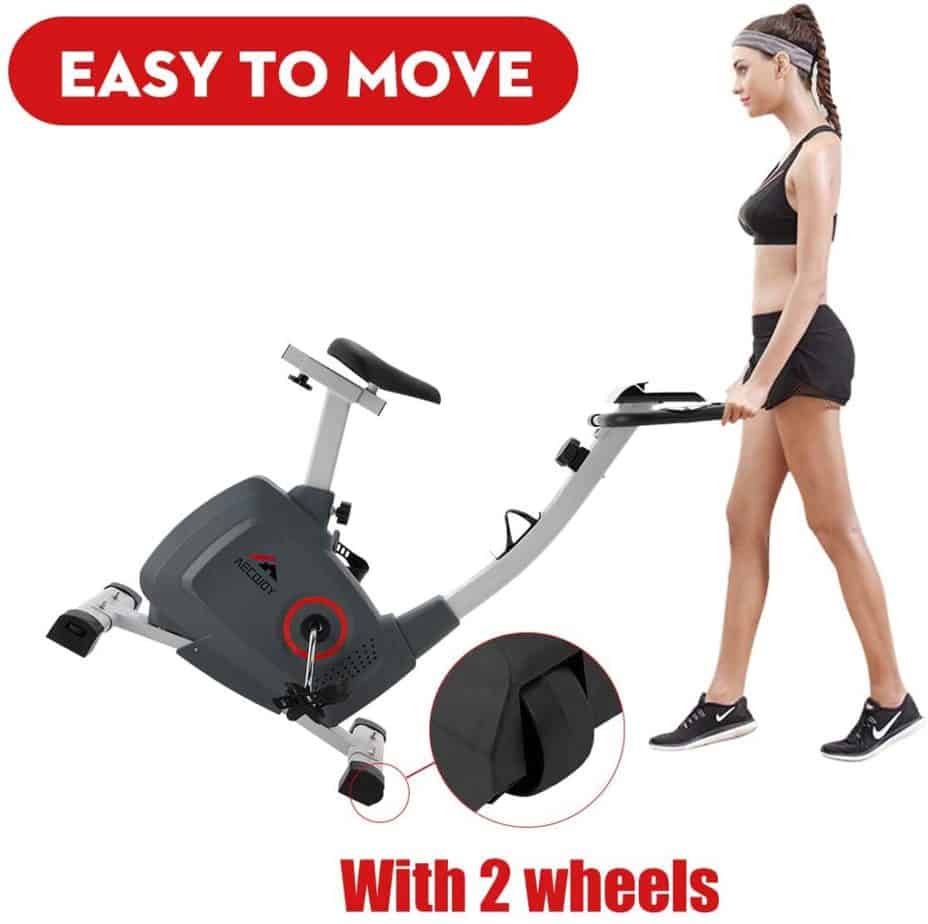 The AECOJOY Upright Magnetic Exercise Bike is compact, lightweight, and portable. Thus, it can easily be moved and stored away without hassles.
A storage area with perimeters of 3' length by 2' width should accommodate it, and the front-mounted transport wheels facilitate the relocation process.
Pros/Features Overview
It is affordable
Sturdily built to support a maximum user weight capacity of 280 lbs./127 kg
Compact, portable, and lightweight; hence, it doesn't take up too much space and can easily be moved
Its operation is smooth and quiet; meaning, users can work out without becoming a nuisance around others
The bike provides cardiovascular workouts for weight loss, improvement of cardio, endurance, and strength in the comfort of your home
EKG contact grips for heart rate monitoring
A backlit LCD monitor tracks Time, Distance, Speed, Calories Burned, Odometer, and Pulse
No electricity is required
Users between the heights of 5'-6'5'' can exercise with the bike, thanks to the 4-way adjustable seat
The manual magnetic resistance system provides 8 different resistance intensities
The robust base framework with adjustable levelers provides maximum stability and floor-friendliness
Easy to assemble
Limited maintenance requirement
Tablet and water bottle holders included for hydration and entertainment
Cons
The maximum resistance intensity may not be challenging for advanced athletes
The seat needs to be padded with a gel seat cover for sustained comfortability
Warranty
Product Dimensions and Specifications
Length: 30''
Width: 18''
Height: 47.25''
Shipping dimensions: 30'' L x 22'' W x 10.5'' H
Net weight: 50 lbs./22.6 kg
Gross weight: 56 lbs./25.4 kg
Maximum user weight capacity: 280 lbs./127 kg
Heights supported: 5'-6'4''
Frame: Steel
Drive: Belt
Resistance: Manual magnetic, 8 adjustable levels
Seat: 4-way adjustable
Handlebar: Non-adjustable
Pedals: Textured with adjustable safety straps
Monitor: Backlit LCD
Tablet holder: Yes
Water bottle holder: Yes
Transport wheels: Yes
Shipping
Amazon ships this product free of charge, and gets it delivered within a couple of days. It comes in a package that weighs 56 lbs./25.4 kg with dimensions of 30'' length by 22'' width by 10.5'' height.
Assembly
The assembly of the AECOJOY Upright Magnetic Exercise Bike is not difficult, but on the contrary, easy and straightforward because the difficult part has been done by the manufacturer.
It takes about 30 minutes, more or less to completely have it assembled, and an instruction manual that guides you through the process accompanies it.
Maintenance
Do endeavor to examine the upright bike before use to ensure that every part is tight and in good condition. Wipe it clean after workouts, and don't expose the console to liquid, moisture, or direct sunlight.
Conclusion
The AECOJOY Upright Magnetic Exercise Bike is designed for home use. It is affordable, sturdy, compact, lightweight, and portable.
It equips you to lose weight, and improve your overall physical fitness right in the comfort of your home without having to step into a commercial gym.