Indoor folding exercise bikes are usually affordable, but the NODE Fitness Indoor Folding Bike is one of the cheapest.  
It is a compact, foldable, and lightweight cardio exercise machine that can help you stay fit as you work out in the comfort of your home or office.  
This is an entry-level bike for those who wish to stay active and maintain their fitness level. However, if you are seriously looking forward to losing weight you might need something a little more aggressive such as a rowing machine.  
Meanwhile, click right here to have a peek at the best price of the NODE Fitness Indoor Folding Bike on Amazon.  
The Frame & Construction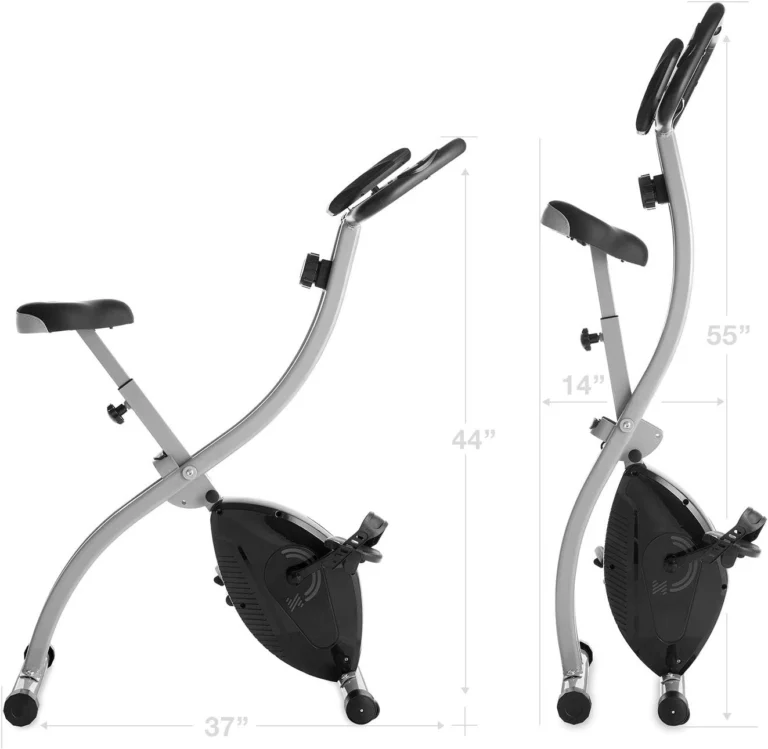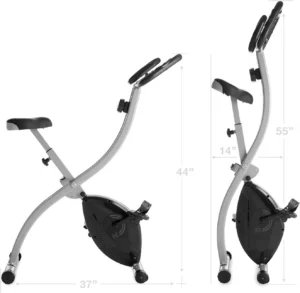 The NODE Fitness Indoor Folding Bike is sturdy and durable. It features an alloy steel X-shaped frame coated with anti-corrosion silver paint.  
Other parts such as the drive system covers, the console casings, and the stabilizers' end caps are made of quality plastic.
The folding bike can support up to 250 lbs./113 kg maximum user weight capacity.
6'2'' tall users can be accommodated and experience stability, thanks to the cylindrically shaped steel stabilizers with adjustable diagonal levelers.
The dimensions of the bike when it is completely assembled are 37'' long by 18'' wide by 44'' high. Thus, an area with measurements of 3' (94 cm) in length by 1'5'' (45.7 cm) in width can suffice for workout activities.
However, remember that extra clearance of 2' will be necessary around it for safety and ease of access purposes.
The bike is space and storage-friendly because of its compact and space-saving design. It doesn't take up too much space when used for workouts and it even takes a lot less space when folded for storage.
Users can easily fold and move it to and from the storage area via the incorporated transport wheels at the front base. After all, it only weighs 35 lbs./16 kg.
The Seat of the NODE Fitness Indoor Folding Bike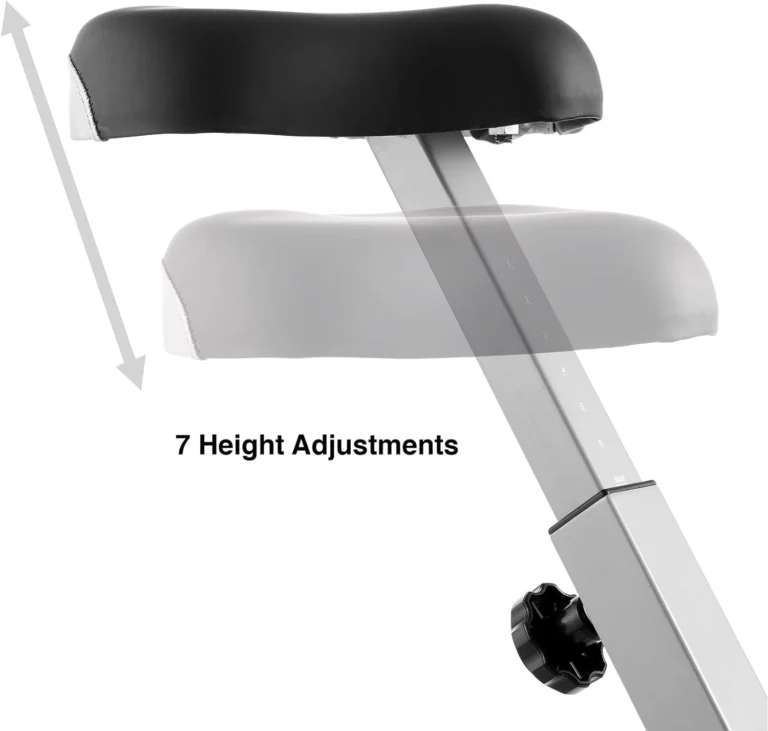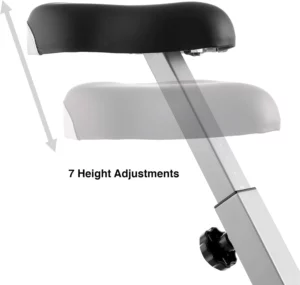 The seat has a basic design with dimensions of 8.5'' L by 11.5'' w; padded and covered with vinyl material. It is intended to provide comfort that can allow users to exercise longer without feeling sore on the butt. Unfortunately, this is not the case as many users have complained of how discomforting it is.
However, the use of a gel seat cover can provide some level of respite.  
That said, considering the price tag of this bike users do not see this downside as a deal breaker.
The seat can be adjusted upward and downward in 7 positions so that users that are up to 6'2'' can fit in.
However, I think a 6' tall individual will be just fine on this bike without experiencing leg full extension restriction.
Handlebar of the NODE Fitness Indoor Folding Bike
The handlebar is ergonomically designed with multiple grips that are coated with anti-slip rubber foam. Hence, your grips will be comfortable, dry, and firm throughout a prolonged workout session, and you should be able to work out in different postures.
The handlebar is not adjustable; however, it is optimally and strategically positioned to suit users of different sizes and shapes.
Heart rate sensors are integrated into the handlebar so that when grasped during a workout the user's pulse rate data will be transmitted to the monitor for tracking and observation.
The Pedals
The pedals' external parts are made of durable plastic while the core features a metallic material.
Their dimensions are approximately 5'' by 4'' and the surface is stripped. They are self-leveling and have adjustable safety straps that are designed to keep each foot secure and comfortable.
The pedals are attached to a solid crankset and crankarms.  
The Drive System
The NODE Fitness Indoor Folding Bike is equipped with a belt drive system. This consists of a strong and anti-stretch belt, a pulley, and a precision-weighted flywheel that is usually small (weighs about 5 to 8 lbs.).  
If you don't already know, the belt drive system provides smooth and quiet operation as opposed to a chain drive system, and it doesn't require maintenance as well.  
Consequently, users can exercise with the bike without having to be worried about disturbing those around them. They can also listen to music or watch a TV show while they exercise on the bike.
The drive system is bidirectional; meaning it is possible to pedal in reverse just as it is to pedal forward.
The Resistance
This folding bike features a manual magnetic resistance system with 8 adjustable levels. This comprises a magnetic brake pad and a small precision-weighted flywheel.  
It generates resistance without friction and, thus, does not alter the smooth and quiet operation of the bike. 
Moreover, just as with the belt drive system, no maintenance is required.
That said, the intensities of the different levels of resistance are not very challenging. This is the reason why a serious athlete may not opt for this folding bike.  
If you are looking forward to being challenged as you exercise you may want to look or consider buying a spin bike instead.
To increase or decrease the resistance level, simply twist the tension control knob at the main frame right below the console clockwise or counterclockwise.
Console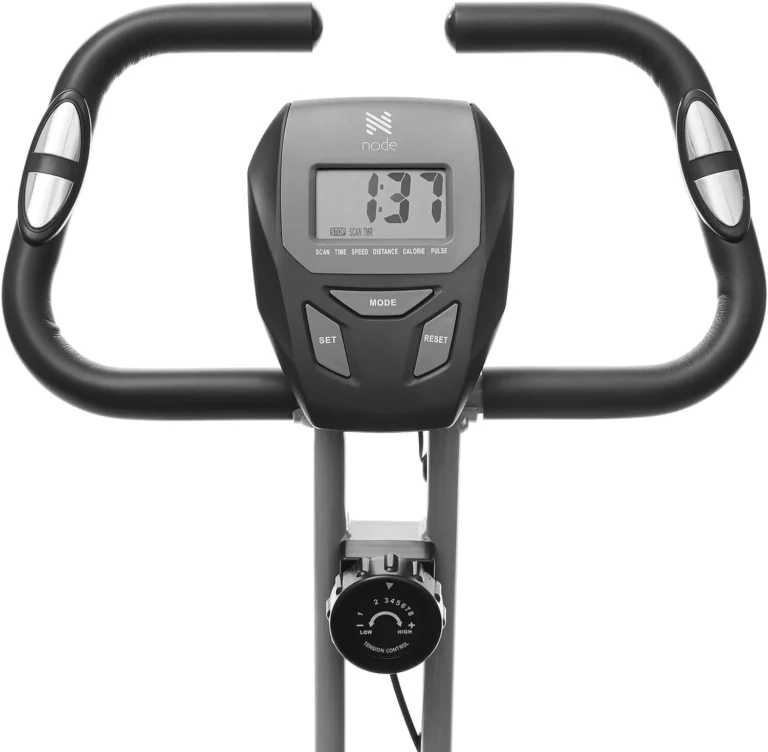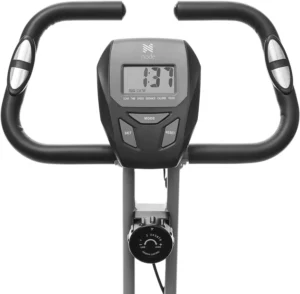 The console is basic, and it features an LCD monitor that tracks Time, Distance, Speed, Calories, and Pulse.
Remember, the Pulse data only displays if the HR sensors on the handlebar are grasped during a workout.
Speed and Distance are measured in mph and miles only.
There is a SCAN function that rotationally displays the metrics one at a time after every few seconds since all cannot be shown at once.
Nevertheless, it is possible to set a certain metric of your choice to display constantly without swapping or changing.
The display visibility is good if it is being viewed in an environment with good lighting, otherwise, that can be compromised since the monitor does not have a backlight.  
There are 3 navigation buttons which include Set, Reset, and Mode.
The monitor is powered by 2 AAA batteries (included). To save the batteries' power, the monitor automatically shuts down after 6 minutes of idleness and it automatically turns on when activity resumes.
Accessory
As opposed to Pooboo x630 Folding Bike, this unit does not have a table holder. It doesn't have any accessories.
I understand that some users may appreciate a tablet holder to be able to keep a smartphone/tablet device handy during workouts.
Storage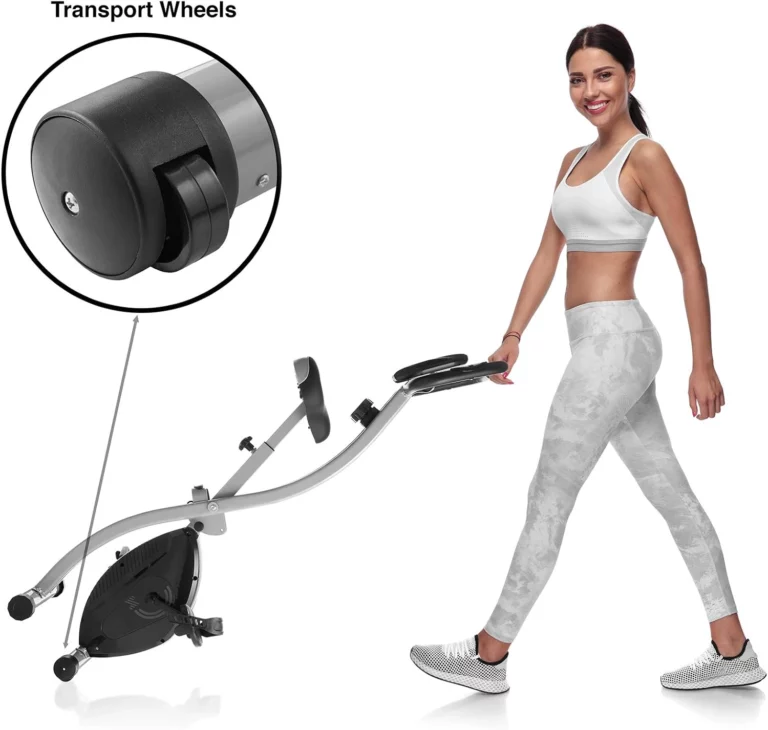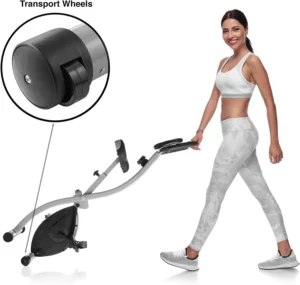 As aforementioned, the NODE Fitness Indoor Folding Bike is compact, foldable, portable, and lightweight. These are the elements that make it storage-friendly.  
Once folded it can be put out of sight by propping it to the corner of the room, or in a closet.  
The folded dimensions of the bike are 14'' long by 18'' wide and 55'' high.  
Pros/Features Overview
Durably built
Cost-effective (cheap)
Compact, portable, lightweight, and foldable; thus, does not take up too much space, is easy to move around, and storage-friendly 
Supports up to 250 lbs./113 kg maximum user weight capacity
Supports users that are between the heights of 5'-6'2'' tall
Operation is smooth and quiet, thanks to the belt drive system
Features manual magnetic resistance system with 8 adjustable levels
Provides low-impact cardiovascular exercises
LCD monitor tracks Time, Distance, Speed, Calories, and Pulse
The console features a SCAN function 
Contact grip HR monitoring system
Seat is 2-way adjustable
The handlebar is well positioned and coated with anti-slip sponge-like rubber foam for comfortable and secure grips
Easy to assemble
Easy to maintain
Cons
The monitor is not backlit
Resistance levels may not be challenging for some users
No water bottle or tablet holder
Buy it Now at the Best Price on Amazon 
Product Dimensions & Specifications
Length: 37''
Width: 18''
Height: 44''
Folded Dimensions: 14'' L x 18'' W x 55'' H
Shipping Dimensions: 21'' L x 14'' W x 55'' H
Maximum User Weight: 250 lbs./113 kg
Supported User Height: 5''-6'2''
Gross Weight: 39.3 lbs./17.85 kg
Net Weight: 35 lbs./16 kg
Frame: Alloy steel
Drive: Belt
Resistance: Manual magnetic with 8 adjustable levels
Seat: 2-way adjustable
Handlebar: Nonadjustable
Pedals: Textured with adjustable safety straps
Monitor: Nonbacklit LCD
EKG HR contact grip
Transport wheels
Shipping
The NODE Fitness Indoor Folding Bike comes in a well-packaged box that weighs 39.3 lbs./17.85 kg with dimensions of 21'' long by 14'' wide by 55'' high.  
Major and reputable vendors such as Amazon ship out the product upon ordering and they immediately send the transit and delivery details to you so that you will know when it's going to arrive.
It takes a couple of days to weeks to get the machine delivered depending on the chosen delivery option (free or paid) and the destination.
Assembly
It doesn't require special skills to assemble the NODE Fitness Indoor Folding Bike.
The parts that need to be assembled by you include the stabilizers, the seat, the handlebar, the pedals, and the console.
These take about 30 to 45 minutes to assemble, and the tools needed for the assembly are included in the package.  
Maintenance
It will suffice to say that there is no maintenance required, except to keep it clean after every exercise session.
Examine it before use to ensure that all the parts are tight and in good condition.
Finally, make sure that the storage area is clean, dry, and cool.
Other maintenance details may be outlined in the owner's manual.
Conclusion
The NODE Fitness Indoor Folding Bike is an affordable and entry-level exercise equipment.
It is basically for those who are on a budget and wish to stay active and improve their physical fitness.
It supports 250 lbs./113 kg maximum user weight capacity and 5' to 6'2'' tall individuals.
The resistance system is magnetic with 8 adjustable levels, and its operation is smooth and quiet