The new RELIFE REBUILD YOUR LIFE Indoor Cycling Bike has 8 holes on the seat post as opposed to the old version with 5 holes. Therefore, taller individuals that are up to 6'3'' tall can be accommodated.
However, this might change if your inseam (length of the inner thigh to the ankle) is longer, and unfortunately, the inseams the bike supports are not specified.
There are reasons to consider adding this bike to your home gym. One of the reasons is that it is affordable, you don't have to break a bank to acquire one.
Secondly, it is sturdily built to support users that are up to 400 lbs./ 181 kg, and its operation is smooth and quiet. Therefore, your ability to watch a TV show or listen to music while exercising won't be compromised and folks around you won't feel their privacy is being violated or invaded either.
Click right here to have a peek at the RELIFE REBUILD YOUR LIFE Indoor Cycling Bike.
The Frame and Construction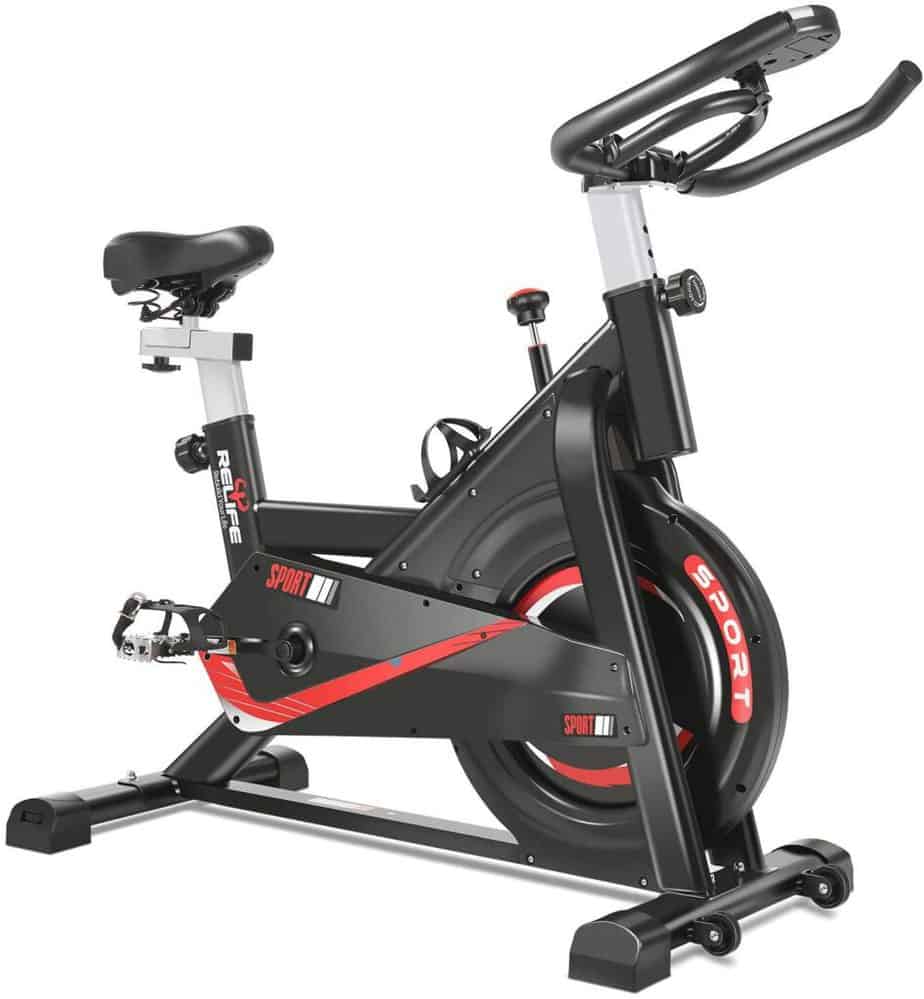 The RELIFE REBUILD YOUR LIFE Indoor Cycling Bike has a double triangular steel structure frame that is coated with anti-corrosion paint. The belt and the flywheel safety and cosmetic covers are made of durable plastic.
In other words, this is a sleek-looking bike that is yet sturdy and durable.
Its base features steel stabilizers with rubberized end caps and levelers for maximum stability on all types of surfaces, including those that are not entirely even.
Having said that, ensure that the platform where it is to be used is solid; and the use of a rubber mat improves its floor-friendliness.
The bike's front base integrates transport wheels that enable users to easily relocate it, after all it weighs about 50 lbs./22.6 kg.
The overall assembled dimensions are 39.4'' long by 20.9'' wide by 41.7'' high. So, a workout area with perimeters of 3'3'' length by 1'8'' width will be required, and extra clearance of 2' around for a safe, and convenient workout experience.
Moreover, its step-thru design enables users of all ages to easily mount and dismount it without hassles.
The Seat of the RELIFE REBUILD YOUR LIFE Indoor Cycling Bike
The manufacturer did try to make the seat more comfortable than those present on most indoor cycling bikes. Thus, the 10.2'' length by 7.9'' width seat is cushioned and covered with microfiber leather and it has 2 buffer shock-absorbing springs for hip pressure reduction during workouts.
Also, it has a hollow air hole in the middle of it that provides air permeability.
However, some users feel it is not completely comfortable; nevertheless, it could be improved by the use of a gel seat cover or padded cycling shorts. Also, it can be replaced easily with another saddle of your choice because the connection system is standard.
The seat is 4-way adjustable; it could be adjusted vertically between 30.3'' minimum to 38.2'' maximum, and a few inches horizontally. This means users of different heights and sizes can adjust to fit in comfortably.
The Handlebar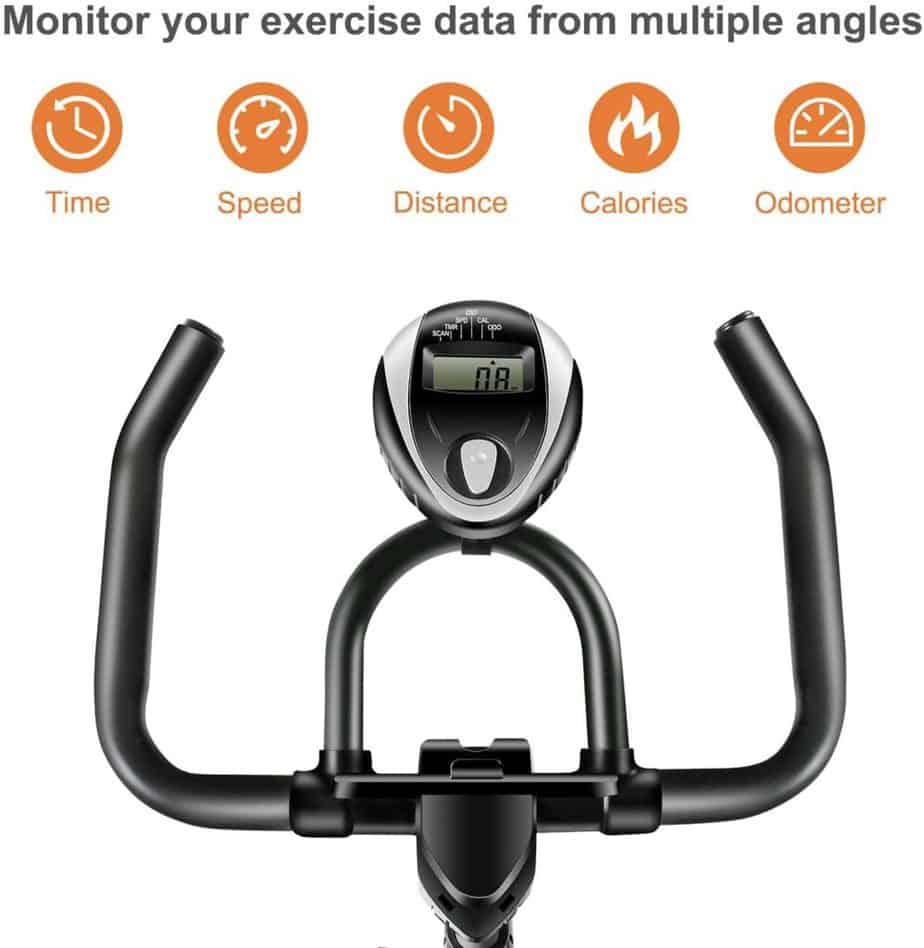 Unlike the seat, the handlebar is 2-way adjustable. Users can adjust it vertically between 35.8'' minimum to 41.7'' maximum. This is meant to complement the seat's adjustability to improve the bike's overall customizability.
The seat and the handlebar distance changes between 21.3'' minimum to 23.6'' maximum upon adjustment.
The multi-grip handlebar is ergonomically designed and coated with soft rubber foam to provide firm and lasting comfortable grips. Users will be able to use 3 separate sets of grips during a workout for different postures.
There are no EKG HR sensors on the handlebar, as the case with some indoor spin bikes. The implication of this is that you won't be able to track your heart rate data during workouts, except if you use an external heart rate monitoring device.
The Pedals
The RELIFE REBUILD YOUR LIFE Indoor Cycling Bike is equipped with a set of anti-skid toe caged pedals. These pedals securely and comfortably accommodate different foot sizes. Your foot won't slip even when you pedal vigorously.
Remember, when installing the pedals, the left side needs to be screwed in counterclockwise.
If you wish to exercise with clip-in shoes, you can have the pedals swapped for SPD because the thread is standard.
The quality of the crankset, crank-arms, and pedals are good, therefore, it is possible to ride the indoor cycling bike while standing.
The Drive
This spin bike has a belt drive system that comprises a durable anti-stretch belt, pulleys, and the 13 lbs./5.9 kg perimeter weighted flywheel.
For this reason, the bike's operation is smooth and quiet, and it's also maintenance-free, as opposed to a chain drive system.
You aren't expected to lubricate or adjust any internal element periodically.
Since the flywheel and the pedals are fixed to spin simultaneously, you can pedal in reverse to diversify and tone more muscle groups if you want. Although, you will not be able to coast as you could on a road bicycle.
The Resistance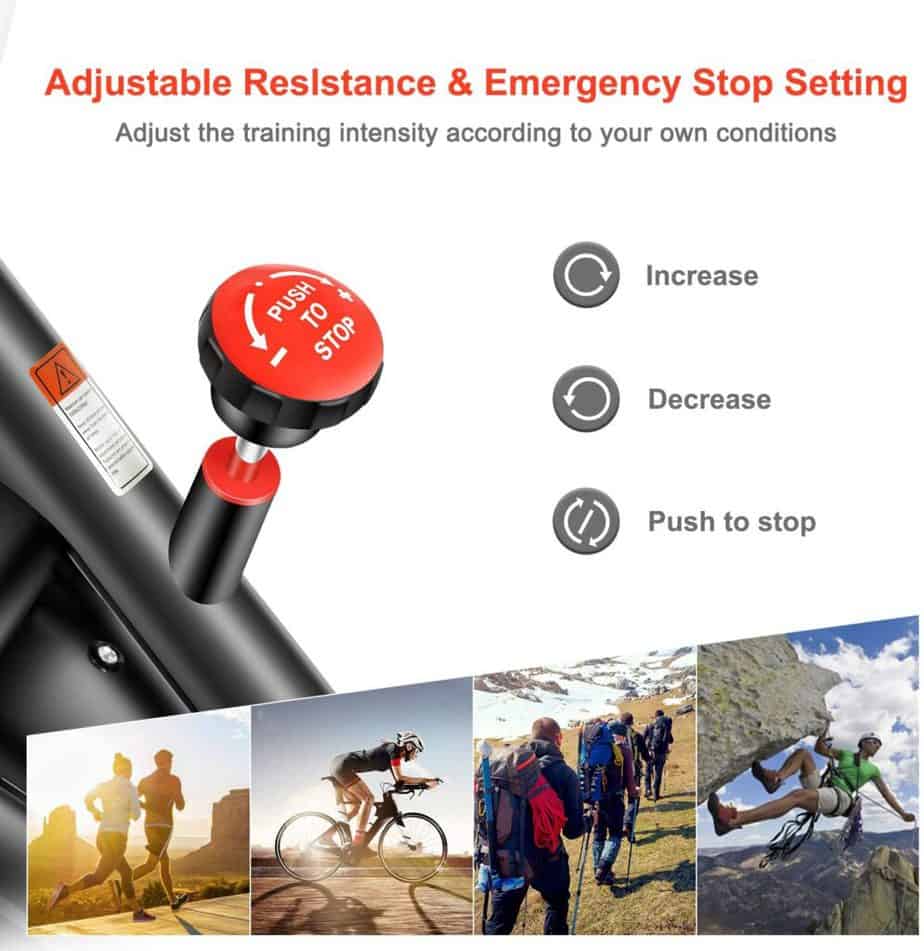 The RELIFE REBUILD YOUR LIFE Indoor Cycling Bike incorporates a friction resistance system with infinite adjustability. It consists of a felt brake pad (interfaces the top chromed surface of the flywheel) that is connected to the tension control knob via a cable.
So, resistance is generated when the felt brake pad comes in direct contact with the top surface of the flywheel, hence, it is regarded as a friction resistance system.
To increase or decrease the resistance intensity, simply turn the tension knob clockwise or counterclockwise respectively. The resistance has no limit to which it can be adjusted to because there are multiple micro-adjustable levels.
Hence, users of different fitness levels and all ages can always find a resistance level suitable for them, including those that wish to experience extremely challenging workouts.
However, the felt brake pad tends to wear out after some time and thus requires a replacement; and also, there might be a squealing sound when the resistance is engaged due to the friction that occurs.
That said, the frequent application of silicon-based oil on the felt brake pad could prolong its life-span and the screeching sound might be prevented or reduced.
The Console
This indoor cycling bike comes with a basic console that is attached to the handlebar. Being a basic console means it is not telemetric like the Schwinn IC3, and it doesn't have advanced functions such as user profiles, wireless connectivity, workout programs, and more
It only features an LCD monitor that tracks workout stats such as Time, Distance (mph), Speed, Odometer, and Calories.
The workout data are displayed rotationally one at a time after every few seconds by the SCAN function. But it is also possible to set and view a certain workout value of your choice constantly if you so desire.
The readability is good, but since the monitor is not backlit it will be difficult to view in a room that is not well-lit.
The console has only one button that helps you navigate through its functions, and it is powered by 2 AAA batteries (included). In other words, the bike doesn't need external power, I.e. electricity, to function.
A sensor is integrated to detect when there is no activity on the bike so that the monitor will automatically shut down to save the batteries' power. It also turns on automatically when activity resumes.
Accessory
The unit features a water bottle holder and a tablet holder. Both of which are strategically designated for proper hydration and entertainment purposes.
Storage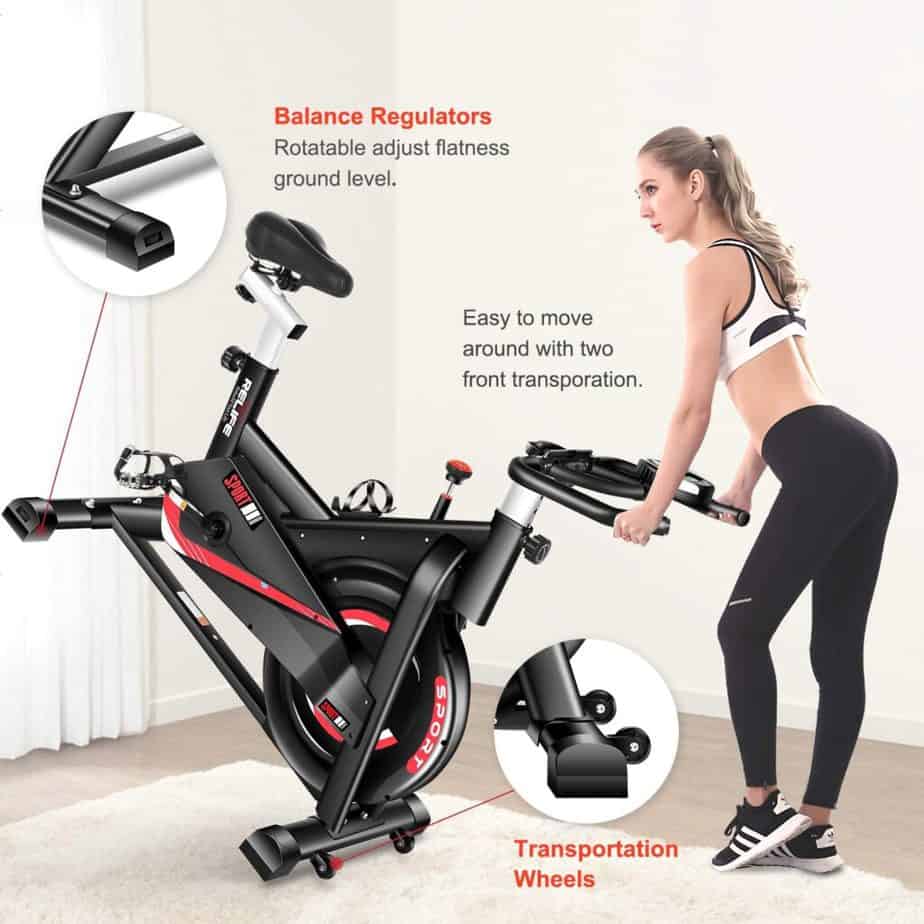 One of the upsides of the RELIFE REBUILD YOUR LIFE Indoor Cycling Bike is the fact that it doesn't overwhelm your space since it's compact.
It requires a storage area with perimeters of about 3'3'' length by 1'8'' width, and it can easily be moved around the room via the transport wheels at the front base.
Moreover, it weighs about 50 lbs./22.6 kg, so the aspect of relocating it is not difficult.
Approval Rating
Of course, there are users that have expressed disappointment regarding this bike, but the majority of them on Amazon approves of it and feels that its quality and performance is good.
Pros/Features Overview
It is inexpensive
It features double triangular structured steel frame; hence, it is sturdy enough to support a higher user weight capacity of 400 lbs./181 kg
It is elegantly designed; and the concealed flywheel makes it safe around children
Users can train without experiencing instability; thanks to its base with adjustable levelers
The improved 8-hole seat post and the handlebar adjustability enable individuals up to 6'3'' to utilize the bike
The rubber foam coated and multi-grip handlebar offers a variety of secure and comfortable grips for different workout postures
The LCD monitor tracks workout progress by displaying data such as Time, Distance, Speed, Odometer, and Calories
The bike's belt drive system ensures smooth and quiet ride
The friction resistance system provides infinite resistance intensities suitable for everyone
It requires minimal maintenance
It isn't difficult to assemble
Water bottle holder included for proper hydration
Tablet holder included for the placement of a tablet device
Cons
The monitor is not backlit
No heart rate monitoring function
Warranty
Product Dimensions and Specifications
Length: 39.4''
Width: 20.9''
Height: 41.7''
Shipping dimensions: 43'' L x 31.5'' W x 9.8'' H
Net weight: 50 lbs./22.6 kg
Gross weight: 55 lbs./25 kg
Maximum user weight capacity: 400 lbs./181 kg
Drive: Belt
Resistance: Friction
Frame: Double triangular steel structure
Flywheel: 13 lbs./5.9 kg, high inertia
Seat: 4-way adjustable, 10.2'' L x 7.9'' W in dimensions
Handlebar: 2-way adjustable
Pedals: Toe caged with adjustable safety straps
Console/monitor: Non-backlit LCD monitor
Heart rate monitoring: None
Water bottle holder: Yes
Tablet holder: Yes
Shipping
Amazon ships this bike without extra charges for it, and it is delivered in a couple of days. It comes in a single box with dimensions of 43'' length by 31.5'' W x 9.8'' H and weighs 55 lbs./25 kg.
Assembly
The assembly of the RELIFE REBUILD YOUR LIFE Indoor Cycling Bike is so easy that you can do it without following the instructions in the included manual because it arrives 85% preassembled.
The tools needed for the assembly are also included in the package.
Maintenance
The unit needs to be wiped clean after every usage. Also, endeavor to lubricate the felt pad from time to time to avoid squealing sound and prevent it from wearing out rapidly.
Conclusion
The RELIFE REBUILD YOUR LIFE Indoor Cycling Bike has its downsides, but when compared to its price tag, it is cost-effective.
It offers the opportunity for users to train in the comfort of their homes for weight loss, and improvement of overall physical wellness.