The Ativafit Under-Desk Elliptical Bike is one of those mini-elliptical machines that are affordable, and usable while sitting on a couch, or behind the desk working on a computer or standing.
It is the elliptical version of a DeskCycle and it has the features of a standard indoor elliptical trainer, which means it provides low-impact workouts that are gentle on the joints.
It is compact and could be inconspicuous in a room; hence, storage is a walk in a park.
Although, this has a limited capability (as regards workouts) when compared to a standard elliptical machine, nevertheless, it gets you to move your limbs and torso.
For the most part, it enables individuals that live a sedentary lifestyle to have a shot at exercising to keep the blood circulation going.
It is available in gray, silver, and red/black colors.
Click right here to have a peek at the Ativafit Under-Desk Elliptical Bike.
The Frame and Construction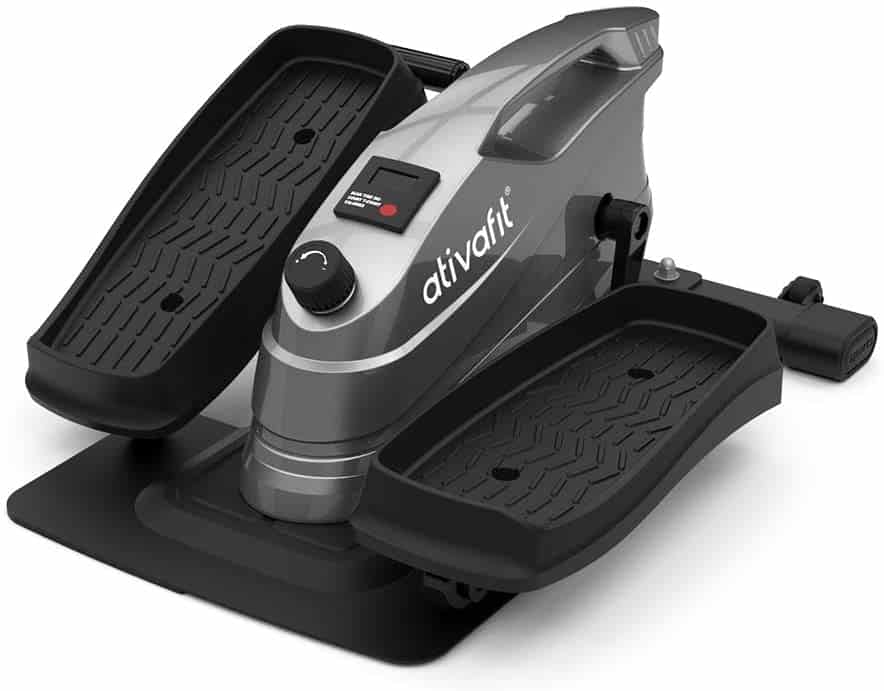 The Ativafit Under-Desk Elliptical Bike's core structure is made of steel and its coverings are made of ABS material for safety and cosmetic purposes.
It is sturdy enough to support a maximum user weight capacity of 220 lbs./100 kg.
Exercising while sitting or standing is stable due to the base that integrates a robust steel plate at the front and a steel bar at the back. Therefore, it is very safe to exercise without fear of falling or tripping.
Although, ensure it is placed on a solid and even platform for workouts, and if necessary, use a rubber mat.
This unit has a firm handle and transport wheels for relocation purposes, and it weighs less than 27 lbs./12.2 kg.
Its overall assembled dimensions are 22.4'' long by 19.7'' wide by 12'' high. So, the workout area it requires would be 1'9'' in length by 1'7'' in width, and it could be stored in a corner of the room, or in a closet.
For safety and convenience reasons, ensure there is at least a 2′ clearance around it during workouts.
The Pedals of the Ativafit Under-Desk Elliptical Bike
The Ativafit Under-Desk Elliptical Bike is equipped with a set of large, and textured pedals with borders for extra safety and comfort.
They are made of durable plastic and metallic core. The rear ends are attached to the crank-arms while the front parts integrate rollers that glide on the front base steel plate.
Therefore, its gliding motion is smooth and quiet, and users of different foot sizes can be accommodated.
Moreover, the pedals' design is such that allows users to pedal in reverse for workout diversification and toning of more muscle groups.
Also, your ability to pedal while standing is a credit to this mini elliptical trainer because not every unit such as this supports it.
Drive/Resistance
The Ativafit Under-Desk Elliptical Bike is a belt-driven unit with a manual magnetic resistance system. Thus, its operation is smooth, quiet, and vibration-free even when training with a high resistance level.
Users will be able to exercise with the machine at any time of the day without the apprehension that the family or the neighbors might be disturbed.
The resistance system provides multiple adjustments that offer different workout challenges that could get you to burn calories and tone lower-body muscle groups. It could be increased or decreased by turning the tension knob clockwise or counterclockwise, respectively.
Also, no post-lubrication or adjustment is needed, meaning the unit is maintenance-free.
Lastly, this is 100% manually adjustable; it doesn't need to be plugged into a power outlet before it can be used.  
The Console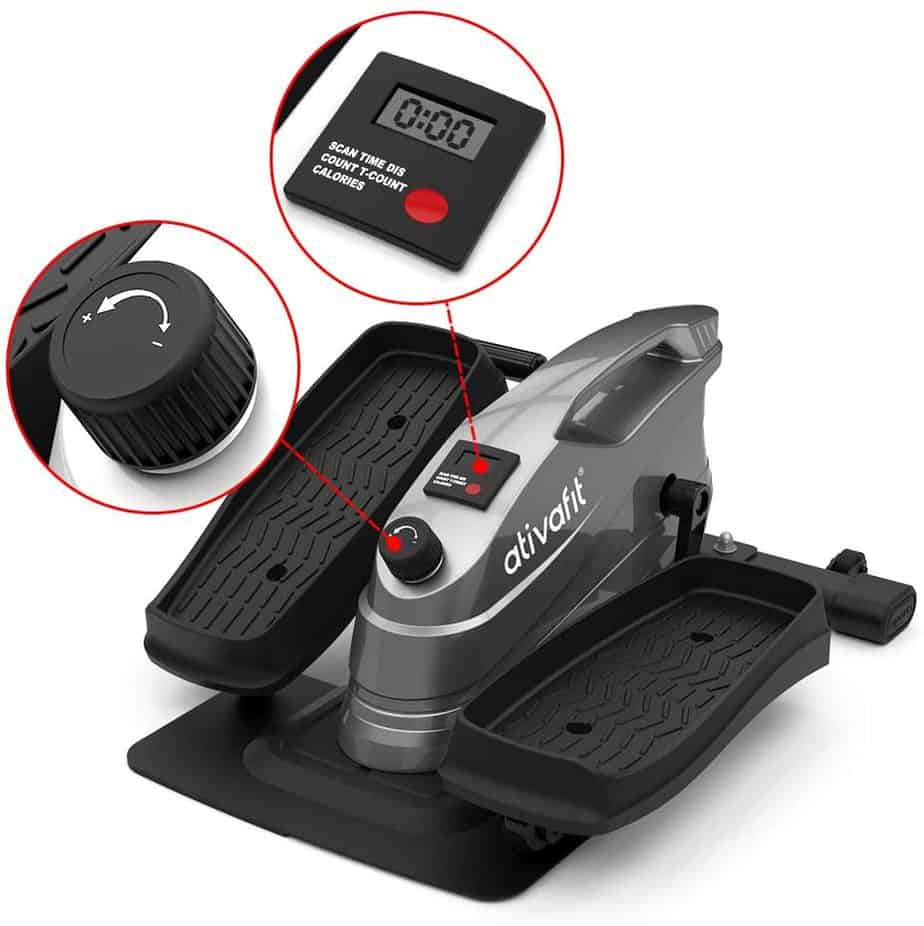 The Ativafit Under-Desk Elliptical Bike comes with a small basic nonbacklit LCD monitor that tracks workout data such as Time, Distance, Calories, Count, and Total Count.
These metrics help to keep you focused and motivated on achieving your fitness goals every time you use the machine.
The monitor requires a single AAA battery (not included) for power, and it could easily be inserted by pulling the console out and turning it over for the slot.
The LCD monitor displays data upon the commencement of a workout and its SCAN function is responsible of showing the workout data one at a time after every few seconds. However, if you wish to override that function and set a certain workout value of your choice to display constantly, you can.
The monitor automatically turns off when there is no activity on the under-desk elliptical machine for a few minutes in order to save the battery's power, and it also automatically turns on when you resume pedaling.
As aforementioned, the console/monitor is basic, therefore, as expected, it doesn't have additional features such as workout programs, wireless online app connectivity, etc.
Storage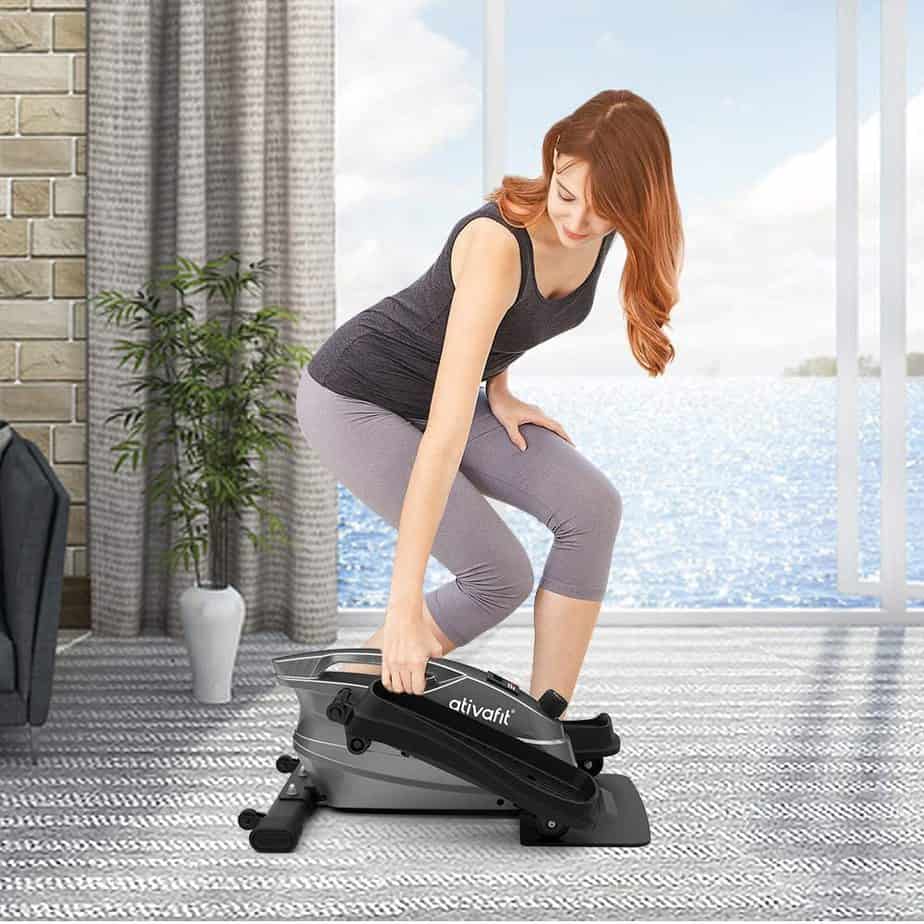 This under-desk mini-elliptical machine is storage-friendly because it is compact, lightweight, and even portable.
Regardless of its weight (27 lbs./12.2 kg), transport wheels are integrated for the relocation process, and there is also the lifting handle for the same purpose.
It requires a very small area for storage, and places like the corner of the room, a standard closet could be ideal places for storage.
If your bed/couch has at least 14'' clearance underneath, the unit might be stored there as well.
Approval Rating
The majority of its users on Amazon recommend it because it is inexpensive, and it gets them to get a dose of physical activity.
Pros/Features Overview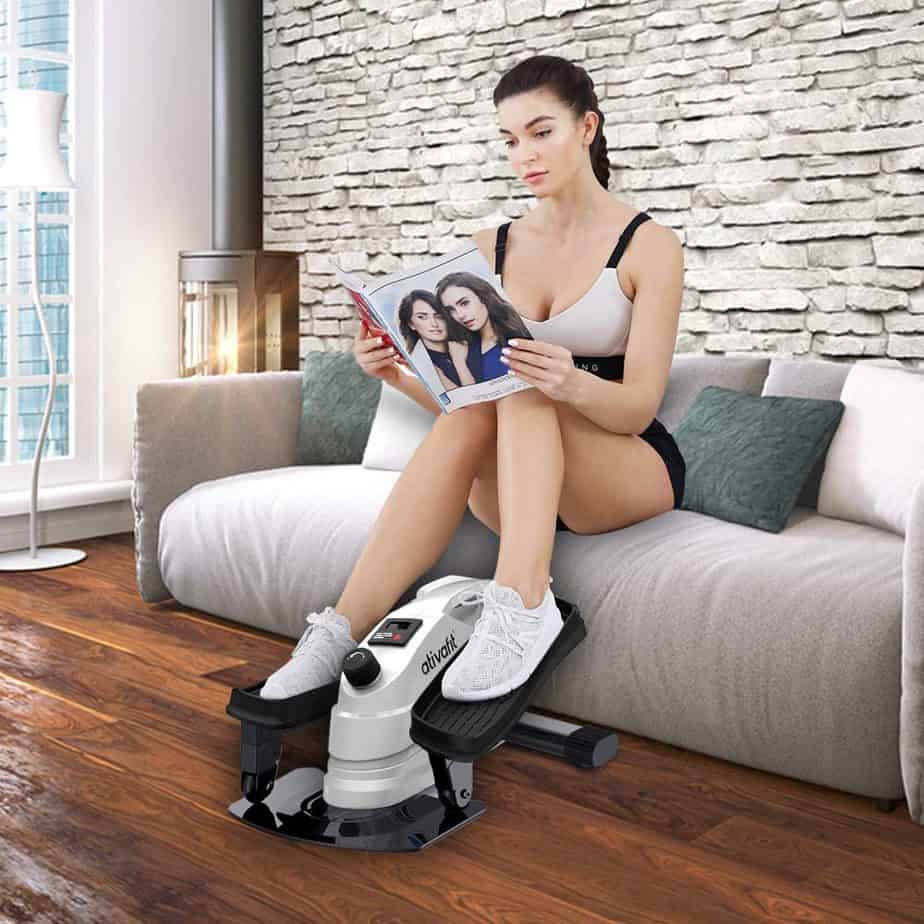 Compact, lightweight, and portable; thus, it doesn't take too much space and can be stored away easily
It is inexpensive
It supports 220 lbs./100 kg maximum user weight capacity
The operation is smooth and quiet; users don't have to worry about disturbing anyone
It could be used while seated or standing
Suitable for both young and old people that sit a lot on a couch/chair, or work a lot behind a desk
It provides low-impact cardiovascular exercises that are gentle on the joints
Its stability prevents wobbling or slipping during stand-up pedaling
The included easy-to-use LCD monitor tracks workout stats such as Time, Distance, Calories, Count, and Total Count
It operates without power
The magnetic resistance system with multiple adjustments allows you to increase or decrease your workout challenge
The pedals are super large and textured to accommodate all foot sizes safely and comfortably
It is possible to pedal in reverse
No serious maintenance is needed
It comes 90% assembled
Cons
It is not for serious athletes
The monitor is not backlit and so could be difficult to view especially in a room with poor visibility
Product Dimensions & Specifications
Length: 22.4''
Width: 19.7''
Height: 12''
Shipping dimensions: 24'' L x 16.5'' W x 12'' H
Net weight: <27 lbs./12.2 kg
Gross weight: 27 lbs./12.2 kg
Maximum user weight capacity: 220 lbs./100 kg
Drive: Belt
Resistance: Manual magnetic with multiple adjustments
Material: Steel & plastic
Pedals: Large & textured
Stride length: Not specified
Built-in handle & transport wheels
Shipping
The Ativafit Under-Desk Elliptical Bike is shipped out in a box that weighs 27 lbs./12.2 kg with dimensions of 24'' long by 16.5'' wide by 12'' high.
If purchased from Amazon, no shipping cost will be charged, and it will be delivered in a couple of days to you.
Assembly
The unit arrives almost preassembled. You are only expected to attach the front and rear stabilizers and the pedals to the core unit.
This takes a few minutes to accomplish; moreover, tools and an instruction manual are included in the package.
Maintenance
The only maintenance required is to clean it up after every use. Do not let the liquid come in direct contact with the console, and do not expose it to direct sunlight either.
Also, before every use, do a routine check to make sure that the parts are tight and none is broken.
Conclusion
The Ativafit Under-Desk Elliptical Bike's affordability is a good reason to consider purchasing it. Fortunately, it is not only inexpensive, but it is also user-friendly, and it allows individuals that are living a sedentary life to have the opportunity to stay fit without letting their desk/homework suffer.