Reebok ZigTech 1910 Treadmill is a high-end treadmill that is loaded and equipped with the necessary features for easy workouts without boredom. It is a commercial-grade treadmill that integrates a powerful 4.5-horsepower motor.
The treadmill is equipped with several features for productive and enjoyable workout experiences. These features include the 10 inches touchscreen browser, minus 3-degree decline, 15-degree incline, 40 workout programs, and much more.
The console is iFit-enabled; a user can connect to Google Maps to experience the rise and fall of the streets during workouts and can even race a friend that has an iFit-enabled treadmill.
However, the iFit Wi-Fi Adapter is not included, it has to be purchased separately.
The treadmill has a rock-solid construction that supports a maximum user weight capacity of 400 lbs./181.4 kg.
Click right here to have a peek at the discounted price and more reviews of the Reebok ZigTech 1910 Treadmill on Amazon.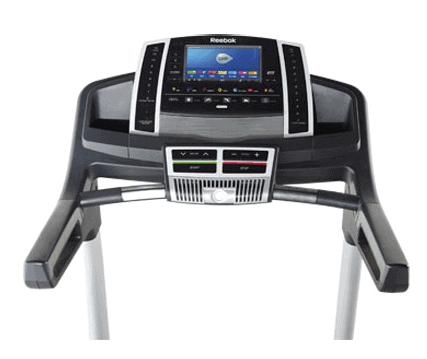 Features/Pros
It has got a ZigTech Cushioning system that reduces the impact and stress (associated with working out on a treadmill) on the knees, ankles, feet, back, and hips
Its 10'' full-color touchscreen allows you to view the workout data such as speed, time, distance, calories burned, and heart rate
It has got a browser that is powered by Android which allows you to get online by connecting to your wireless network. You could read emails, get on Facebook, and pretty much do what you could do with your PC or Android while working out
You could be coached by a personal trainer; this is possible because of its 2 HD Video workouts. Get inspired and motivated by watching the stunning Haleakala and beautiful Hana, Hawaii
It has -3-15% QuickStep Incline and Declines Control that allows you to quickly adjust the incline and decline level to get an easy or challenging workout that will ultimately help you to burn calories, lose weight and of course target, different muscle groups in your body and finally achieve your fitness goals
It has a 4.25 CHP Commercial Pro motor that is not common on regular treadmills; it is durably made and safe for high-intensity and vigorous workouts, and its operation is smooth and quiet as well
With the 40 workout apps available on the Reebok ZigTech 1910 Treadmill, you can easily reach your fitness goals because they are designed to do just that; designed by a personal trainer for maximum results
It is iFit enabled; this allows you to train with iFit Technology, online fitness tracking, enjoy and explore the Google Maps routes, event training, and video workouts
It has got a 20'' x 60'' running surface/tread belt that is generous with space which allows you to walk, jog and run your way to achieving your fitness goals conveniently without having to restrict your strides
It has a Dual-Grip AccuRate Heart Rate Monitor built-in on the handlebars to give you the real-time result of your heart rate which will, in turn, enable you to stay in your target heart rate zone at all times. Moreover, Polar Wireless Chest Strap is also included upon purchase of the Reebok ZigTech 1910 Treadmill
You can quickly adjust the speed of your workout through the QuickStep Speed Control; you will be able to be in control of your speed constantly during a workout
Its EasyLift Assist helps to fold and unfold the unit thereby making it easy to store and also saving space.
With its CoolAire Workout Fan, you can enjoy the refreshing breeze and cool air that comes from this fan. You can conveniently adjust the settings to stay comfortable while you workout
Get entertained while you work out by listening to music. This is possible because of its Intermix Acoustics 3.0 Sound system which can be connected to an iPod to bring quality music to life through the 3'' speakers.
Cons
The WiFi adapter is not included
Warranty
Lifetime on Frame and Motor
5 Years on Parts
2 Years for Labor
It weighs about 303.5 pounds
Supports 400 pounds maximum user weight
Shipping and Assembly
The shipping cost for the Reebok ZigTech 1910 Treadmill is usually free if purchased from Amazon, and it is delivered within a couple of days.
Assembly is relatively easy despite its size and sophistication design. The major components come pre-assembled thereby reducing the work to be done in setting it up. However, you will need to be assisted because of its weight.
An instruction manual and the tools needed for a successful assembly are included in the package.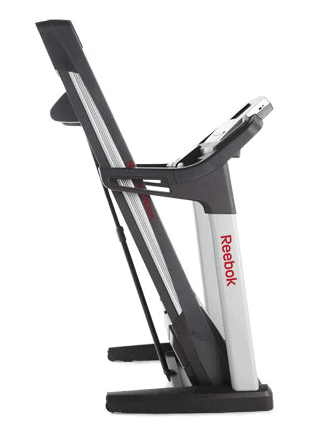 Conclusion
The Reebok ZigTech 1910 Treadmill is unarguably a good machine that gets you to the finish line of achieving your fitness goals.
Understandably, it's an expensive treadmill but its features and quality compensate for that.