The ProGear 225 Foldable Magnetic Upright Bike is super affordable and durable. This is just one out of many affordable fitness products ProGear has on their shelf.
The ProGear 300LS Air Elliptical with Pulse sensor is another example of affordability.
That said, the folding bike is compact and stable. It is built to last and to provide quality workout experiences. It is home-friendly, especially for those that do not have enough space.
Despite its compact design, it can still accommodate users between the heights of 5'1"-6′ without budging to instability and it supports a maximum user weight capacity of 220 lbs./100 kg.
Click right here to have a peek at the price and of of the ProGear 225 Foldable Magnetic Upright Bike on Amazon.
The Sunny Health and Fitness SF-B2605 Upright Exercise Bike is yet another alternative you may want to checkout.
The Frame
The ProGear Foldable Magnetic Upright Bike frame has an X shape design and it is made of steel tubing and coated with corrosion-resistant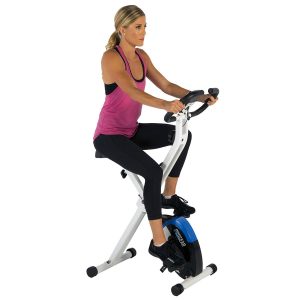 paint that prevents rust and degradation.
It is a compact bike that is also foldable.
Its overall assembled dimensions are 32'' length and 17.5'' width (when it is fully set up).
In other words, it going to require a workout area with perimeters of 2'7" length by 1'5" width, plus extra clearance of at least 2′ around it for safety and easy access reasons.
It is even much smaller when folded and can be stored in the most unlikely places. The folded dimensions are 19" long by 17.5" width by 53" high.
It is also a very lightweight folding upright bike that could be handled or moved by virtually anyone. It only weighs about 15.7 kg which is 34.8 pounds when it is fully assembled.
The base features front and rear steel stabilizers with a rubber cap on each end designed to make it floor-friendly. The rear stabilizer's rubber caps are polygonal in shape and adjustable. So, the bike can be adjusted to level it up on a surface that is not even.
See Ancheer Magnetic Upright Exercise Bike here.
The Seat of the ProGear 225 Foldable Magnetic Upright Bike
The seat is large and padded. Thus, it provides a decent level of comfort.
However, if you need to improve the seat's level of comfort, a gel seat cover might do the trick. Better still, it is possible to have it replaced with another seat of your choice.
It 2-way vertically (upward/downward) adjustable. It means it cannot be adjusted horizontally.
Nevertheless, its adjustability allows users of different heights to be accommodated. It is explicitly stated to accommodate users between the heights of 5'1"-6".
The adjustment knob is right below the seat and it takes only a few seconds to adjust.
The Handlebars
The multi-grip designed handlebar is non-adjustable. It provides several grips for different workout postures.
It is adequately coated with an anti-sweat rubber foam material that provides comfortable and secure grips. This allows you to train longer without experiencing slippage or blisters in the palms.
Moreover, the handlebar is integrated with EKG heart rate sensors that transmit the heart rate data to the monitor when held during a workout. 
The Drive
The ProGear 225 Foldable Magnetic Upright Bike is equipped with a belt drive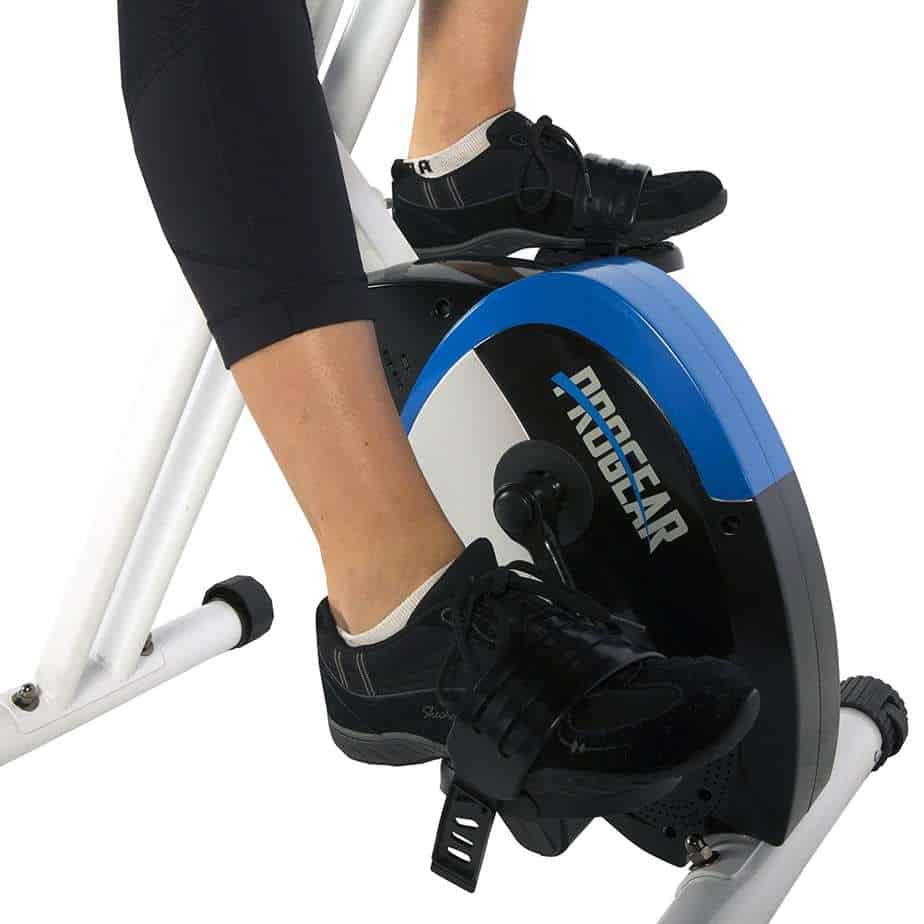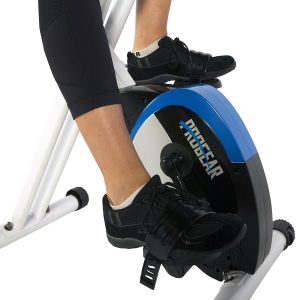 system that consists of a durable V-belt, pulleys, 3-piece crankset, solid crank-arms, a small perimeter-weighted flywheel, and the pedals.
The bidirectional drive allows you to pedal in reverse to tone more muscle groups.
Its operation is smooth and quiet, and that's the reason most people prefer it. You can exercise at any time of the day without becoming a nuisance to the people around you.
You will also have the liberty of watching your favorite TV show or listening to good music while working out without having to amplify the volume beyond the normal range.
The drive system is maintenance-free. It does not need any periodic lubrication or adjustment as the case with a chain drive system.
However, the belt may need to be replaced at some point in time. But this usually takes time.
The Resistance
The bike is equipped with a manual magnetic resistance system with 8 adjustable levels. It provides different levels of workout challenges that burn tons of calories, improve cardiovascular health, and tone muscle groups.
The magnetic resistance system is frictionless. It comprises of a magnetic brake pad that emits a magnetic field in the premise of the flywheel to generate resistance.
You can increase or decrease the resistance by twisting the tension knob clockwise or counterclockwise respectively. The resistance levels 1-8 are inscribed on it for easy selection.
The Pedals
The pedals are large and anti-skid designed. They have adjustable safety straps that secure the feet and prevents slippage even during a vigorous workout.
The self-leveling pedals are made of durable rubber nylon with a metallic core. They can be ridden with a pair of standard gym-shoes.
The Console/Monitor
The ProGear 225 Foldable Magnetic Upright Bike has a console that features a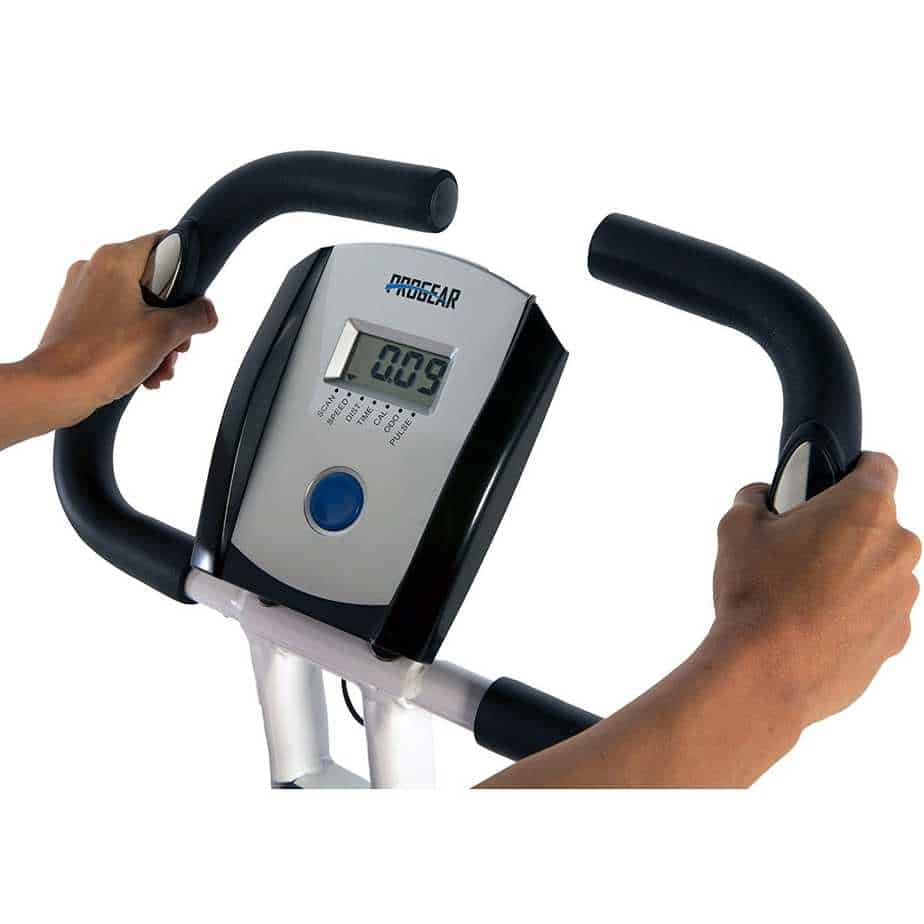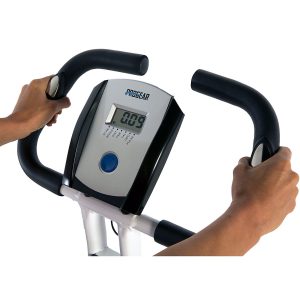 non-backlit LCD monitor.
The LCD monitor tracks workout progress by displaying stats such as Time, Distance, Odometer, Speed, Calories, and Pulse.
The workout stats cannot be displayed simultaneously because the display screen is small. So, they are displayed one at a time after every few seconds by the SCAN function.
However, you can override the SCAN function and instead set a preferred workout value to display constantly. The choice is entirely up to you.
The console is powered by 2 AAA batteries which are included in the package.
To prevent unnecessary draining of the batteries' power, the monitor automatically shuts down when the bike remains idle for a few minutes, and automatically turns on when pedaling activities return.
Also, it can be turned ON/OFF manually by a push of the button on the console.
Pros
It has multi-grip handlebars that provide an option for comfortable workout position
It is a compact and foldable unit that saves space.
It has got a solid and stable frame
It supports up to 220 pounds/100kg maximum user weight
It has a drive belt system that makes it smooth and noiseless when in operation
It has pulse sensors that transmit your heart rate to the monitor for viewing.
It has 8 levels of magnetic resistance that could offer some form of challenging workouts.
It can be assembled easily
Requires little maintenance
Meter batteries are included upon purchase
It has a phone holder
Cons
You may need to use a gel seat cover for the seat or change it because some users have complained of it not soft enough.
It does not have a water bottle holder which is vital for staying hydrated during a workout.
Product Dimensions
32'' Length
17.5'' Width
46'' Height
Net weight: 34.8 pounds
Maximum user weight capacity: 220 lbs./100 kg
Warranty
Shipping, Assembly, and Maintenance
The shipping cost of the ProGear 225 Foldable Magnetic Upright Bike depends on the retailer you are purchasing from. Amazon ships this product for free but that may not be the case with other retailers.
Assembling this bike is reported to be pretty easy as most of its major components are already preassembled. It comes with an instruction manual that could walk you through the process of assembling without hassle.
It comes with the necessary tools required for assembly. You only have to attach or fix the handlebars, console, seat, and pedals.
Maintaining this bike does not require anything but your time and a piece of rag to clean it up since it has a belt drive system that does not need oiling of any sort.
Maybe a periodic check of the bolts will be required to make sure that the bike is in one piece and firm.
Conclusion
The ProGear 225 Foldable Magnetic Upright Bike has received a lot of positive recommendations from its customers/users. As at the time of writing this review, it has a 95% approval rating which is staggering.
ProGear 225 Foldable Magnetic Upright Bike Review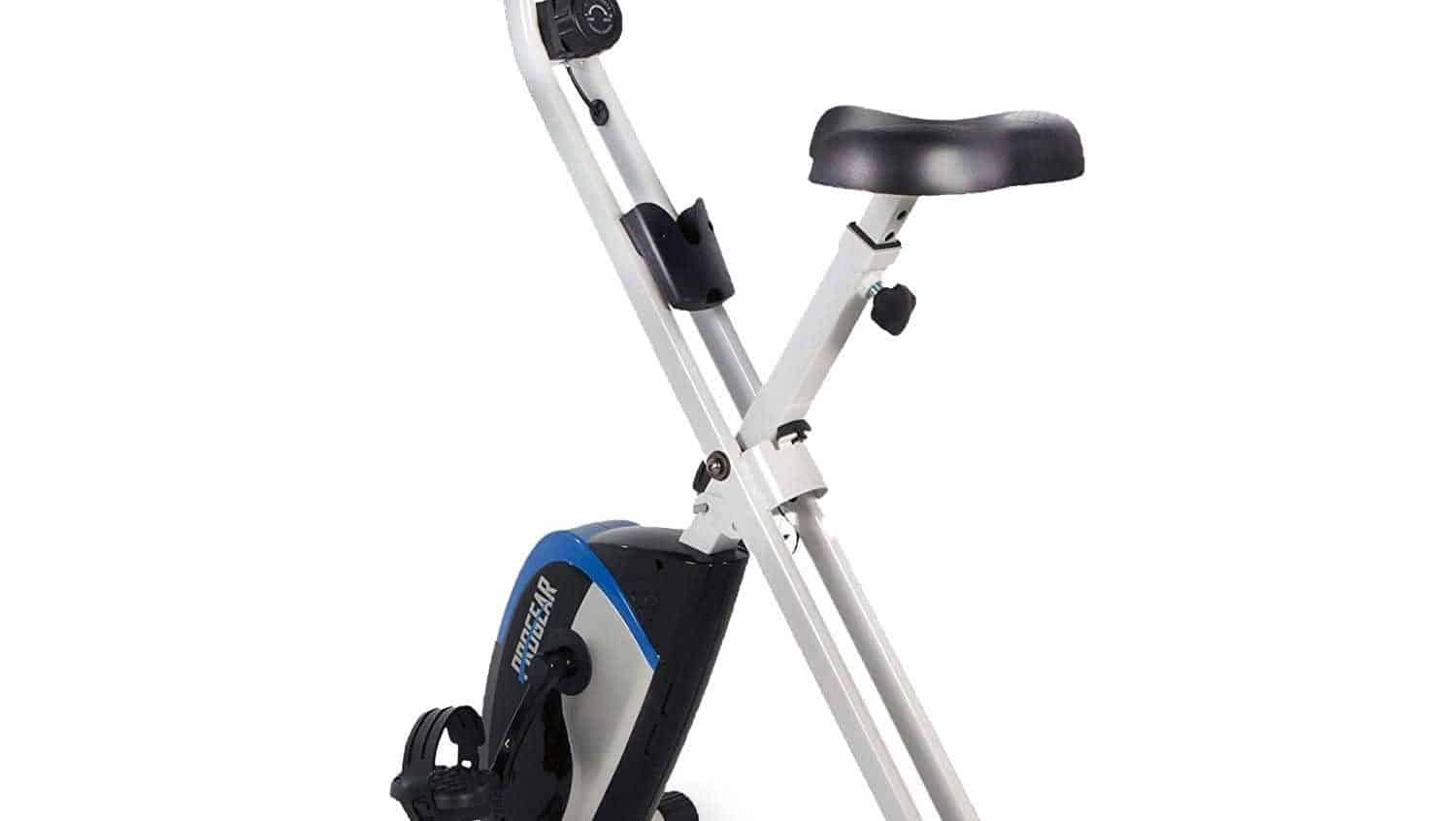 The ProGear Foldable Magnetic Upright Bike frame is built of steel tubing while it is coated with corrosion-resistant paint that could prevent rust.
Product Brand: ProGear
Product In-Stock: InStock