The ProForm 250i Elliptical is not a so large machine that features a sturdy frame and a robust base.
There are a lot of reasons to consider buying this unit. One of which is that it is a ProForm product, and it is integrated with several features that could make your quest for physical fitness come true.
It is iFit ready, which means it is compatible with several online apps that allow you to store and compare workout progress. This motivates and inspires you as you can also workout while viewing beautiful streets.
14 preset programs are designed to help you exercise and push yourself to the limit for weight loss, cardiovascular, and strength improvement.
Click right here to have a peek at the price and of of the ProForm 250i Elliptical on Amazon.
The Frame & Construction
The ProForm 250i Elliptical with model no. PFEL03916 features a solid steel frame is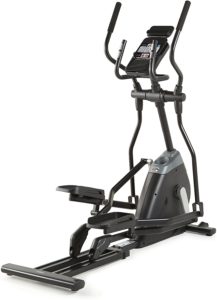 that is coated with anti-corrosion paint while the drive shrouds are made of ABS material. 
Thus, it supports 250 lbs./113 kg maximum user weight capacity. 
The base integrates rubberized adjustable levelers that promote traction and help to balance the unit on a crooked surface.
However, to make sure you don't experience any wobbling movement no matter the intensity of your workout, you may want to use a protective rubberized mat. 
This further solidifies its overall stability and also prevents sweat from spilling on the floor. 
Its overall assembled dimensions are 60" long by 25.5" wide by 69" high. Simply put, it is going to need a workout area with the perimeters of 5′ length by 2'2" width. 
An additional extra clearance of 1-2′ around it will be necessary for easy access and safety reasons. 
The Handlebar of the ProForm 250i Elliptical
The ProForm 250i PFEL03916 has 2 sets of handlebars. A set of dual-action and a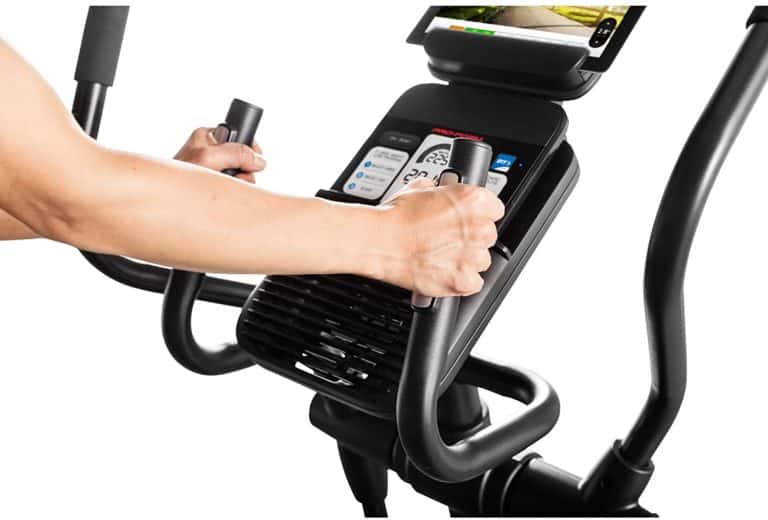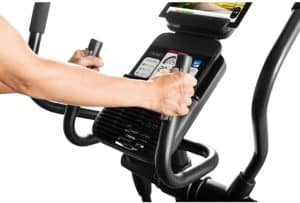 set of static handlebars. 
The static handlebars integrate EKG heart rate sensors and are vertically attached to the console mast. When they are held during a workout, the heart rate will be read and be transmitted to the monitor. 
While the dual-action handlebars do not have pulse sensors, but they allow you to exercise the upper body as you pedal. They are connected to the pedals, meaning, they work concurrently with pedals. 
The 2 sets of handlebars are cushioned to provide lasting secure and comfortable grips. 
The pedals
The ProForm 250i Elliptical is incorporated with oversized and ribbed pedals with a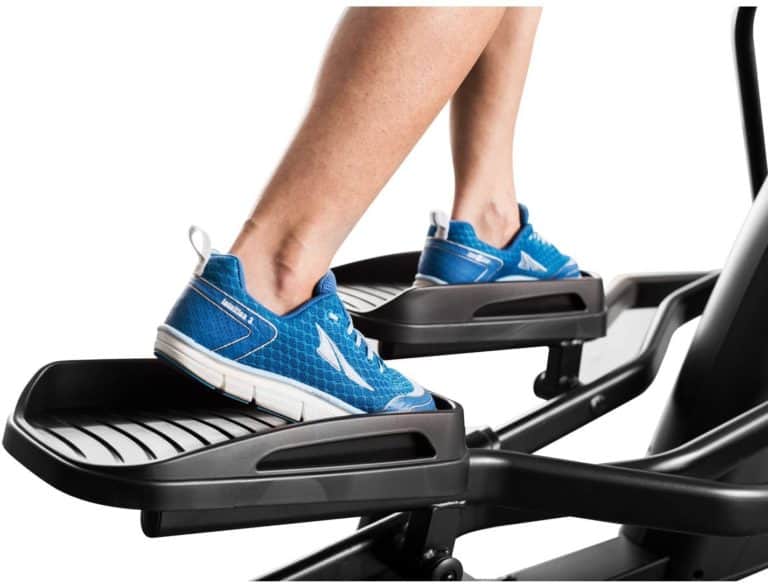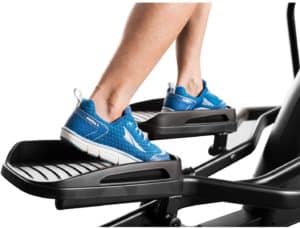 protective guard. They can accommodate most feet sizes and secure them comfortably even during an intense workout. 
These pedals are attached to the bars that are connected to the handlebars. Therefore, as you pedal, the dual-action handlebars also move, whether held or not during a workout.  
The pedals aren't adjustable, however, they have a fixed 17" stride length that can allow most users to exercise with full leg extension. Users between the heights of 5′-6′ will be the beneficiaries of this. 
However, some individuals may prefer working out with short strides. So, it's not a deal-breaker for everyone. 
The highest pedal position is not indicated but most are usually around 15". In that case, to determine the ceiling height of the room where it's going be used, you will have to add your height, plus 15" (highest pedal position), and extra clearance. 
The Drive
The is a belt front-driven elliptical trainer that consists mainly of a heavy-duty belt and a high inertia 11 lbs./5 kg flywheel. 
It provides a smooth and quiet operation as expected. Members of the family or the neighbors will not be disturbed during a workout session. You don't have to take the drive shrouds apart to lubricate or adjust anything as opposed to a chain drive system.
The drive is fixed; meaning, it's bi-directional. You can decide to pedal in reverse for workout diversity and toning of more muscle groups. 
Resistance
The ProForm 250i Elliptical Trainer has a magnetic resistance system with 14 adjustable levels. This comprises a resistance motor, an eddy mechanism, the metallic flywheel, and magnets. 
These elements generate resistance without friction. In other words, no part wears out, and none will be required to be maintained or replaced. 
The resistance level can be increased or decreased via the -/+ keys on the console. 
Moreover, the operation of the trainer remains smooth, quiet, and vibration-free even when the highest resistance level is engaged. The workout intensities provided are suitable for those that wish to lose weight and improve strength and endurance level.  
Folks with a physical condition will also find it useful and helpful towards their recovery. 
The Console
The console on the ProForm 250i Elliptical Trainer is battery-powered, and can also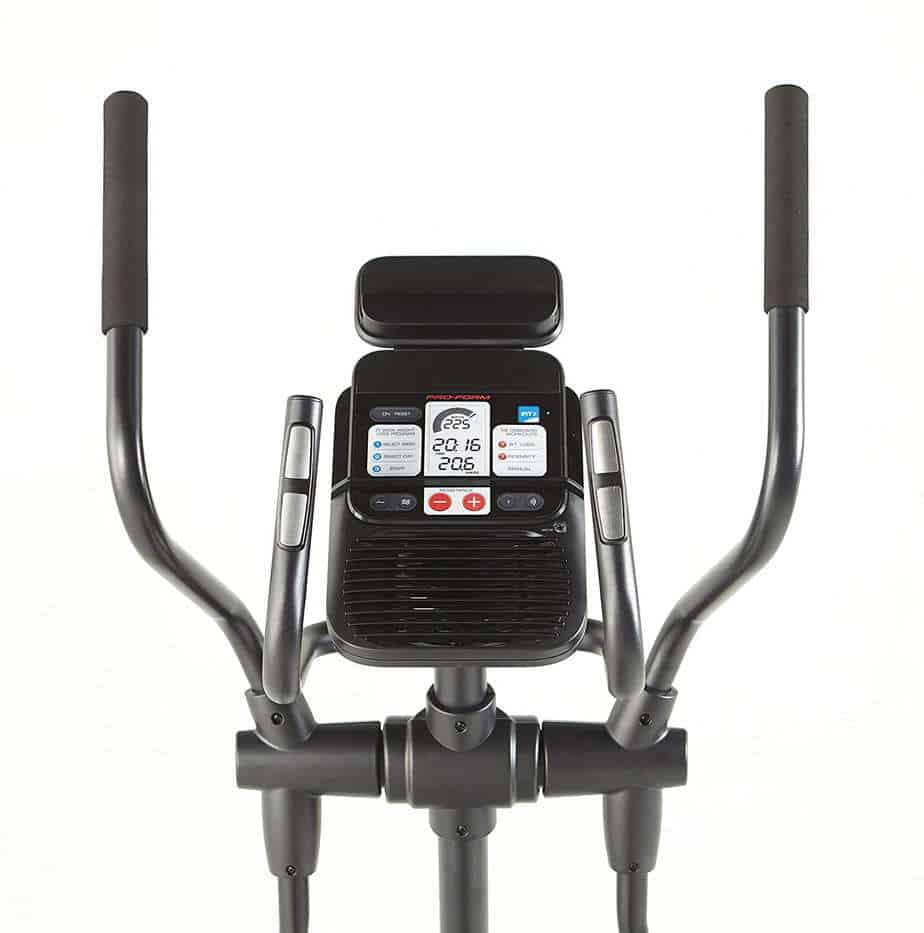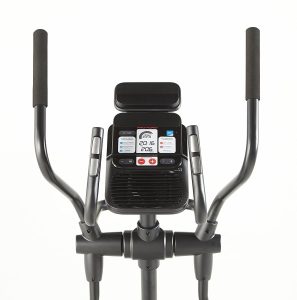 be connected to a power outlet. It requires 4 D cell alkaline batteries or a 6v power adapter to function. 
It features a backlit LCD monitor that tracks workout values such as Time, Resistance Level, Watts, Distance, Speed, Total Strides, Calories, and Heart rate with high readability.  
It displays 3 metrics simultaneously and alternates them every few seconds. Speed and distance are displayed in mph/km/h and miles and kilometer respectively. 
14 onboard weight loss and intensity workout programs provide different intensities for achieving your fitness goals. When any of these preset programs is selected a certain resistance level is assigned for you. 
The console is iFit compatible and has Bluetooth connectivity. Simply put, the Bluetooth pairs the console and your smartphone/tablet device to connect to online apps such as Google Map Street Views and many others. 
This enables you to record, track, and compare your workout progress and to even share it with friends and family online. 
Aside from the ability to track your heart rate via the EKG contact grips, you can also track it by the use of a Bluetooth compatible HR chest strap device (not included).
The wireless heart rate has precedence over the EKG contact grips when both are in use at the same time.  
Important to note that there is no User Profile. Therefore, you either use an online app to store and compare your workout progress or you write it down manually.
Accessory
The ProForm 250i PFEL03916 has a couple of accessories that include a tablet holder, a water bottle holder, built-in speakers, MP3 jack, and CoolAire fan. 
Therefore, you can maintain proper hydration, be able to be entertained, and enjoy the cool air while working out. 
Moreover, any device placed on the tablet holder won't block the view of the monitor as opposed to some other elliptical trainers. So, you can watch a movie and still be able to track your workout progress. 
Storage
This is a non-foldable unit but it's not overly large. It is portable with transport wheels that help in the relocation process for storage regardless it weighs 132.4 lbs./60 kg. 
An area with the perimeters of 5′ length by 2'2" width will suffice for storage. 
Features/Pros
The ProForm 250i Elliptical has a large backlit LCD that allows you to view and keep track of your workout progress by displaying real-time stats such as Time, Miles, Calories Burned, Heart Rate, and more
Ability to connect to iFit and work out with Google Maps is possible, however, it is not entirely free, you will have to subscribe for more options
It has 14 effective resistance levels that could make you feel challenged during a workout
14 workout programs designed for weight loss and HIIT workouts
You will be able to work out with a reasonable stride because of its 17'' stride length. Even a 6 foot 4'' user finds it very convenient
It has heart rate sensors and optional wireless HR that help you to track and maintain your target heart rate zone at all times
The11 lbs./5 kg inertia-Enhanced flywheel is designed to make your workout stable and smooth
The dual-action handlebars allow you to work out the upper body
It is integrated with a CoolAire fan designed to keep you cool throughout your workout session
You will be able to listen to your favorite music while working out because of the integrated sound system
There is a strategically positioned tablet holder that doesn't stand in the way of viewing your workout data when using a tablet
Water bottle holder for keeping proper hydration
Transportation wheels for easy relocation process
The frame is made of steel
The Adjustable levelers help to balance the trainer on a surface that is not even
Maintenance is minimum
Easy to assemble
Cons
No Incline system
Pedals are not adjustable
A power adapter is not included (4 D alkaline batteries could be used)
Heart rate chest strap is not included
Warranty
5 Years for Frame
90 days for Parts and Labor
Product Specifications
60'' Length
25.5 Width
69'' Height
Shipping dimensions: 50" L x 26" W x 18" H
Net weight: 132.4 lbs./60 kg
Gross weight: About the same
Maximum user weight capacity: 250 lbs./113 kg
Drive: Belt
Resistance: Magnetic, 14 adjustable levels
Frame: Steel
Flywheel: 11 lbs./5 kg
Handlebar: 2 sets (Static and dual-action), cushioned
Pedals: Large and textured
Monitor: Backlit LCD
Programs: 14
Bluetooth technology
Heart rate monitoring: EKG contact grips & Bluetooth compatible wireless HR chest strap (optional)
iFit enabled/online app connectivity
Tablet holder included
Water bottle holder included
Built-in speakers and MP3 port
CoolAire Fan
Shipping
The shipping cost of the ProForm 250i Elliptical depends on the retailer you are purchasing from. However, Amazon ships it for free.
Assembly
The assembly of this product is relatively easy as it comes with the appropriate tools and instruction manual that could walk you through the assembly process. But you can opt for an expert assembly if you don't want to assemble it yourself.
Maintenance
The elliptical trainer needs to be kept clean at all times. Inspect all parts before use to ensure that they are all tight and good.
Do not expose the monitor to liquid, moisture, or direct sunlight. In other words, always keep in a cool and dry place.  
Conclusion
The ProForm 250i Elliptical Machine is a recommendable machine for anyone that wishes to engage in a low-impact cardiovascular workout. We suggest you look it up on Amazon.
Nnamdi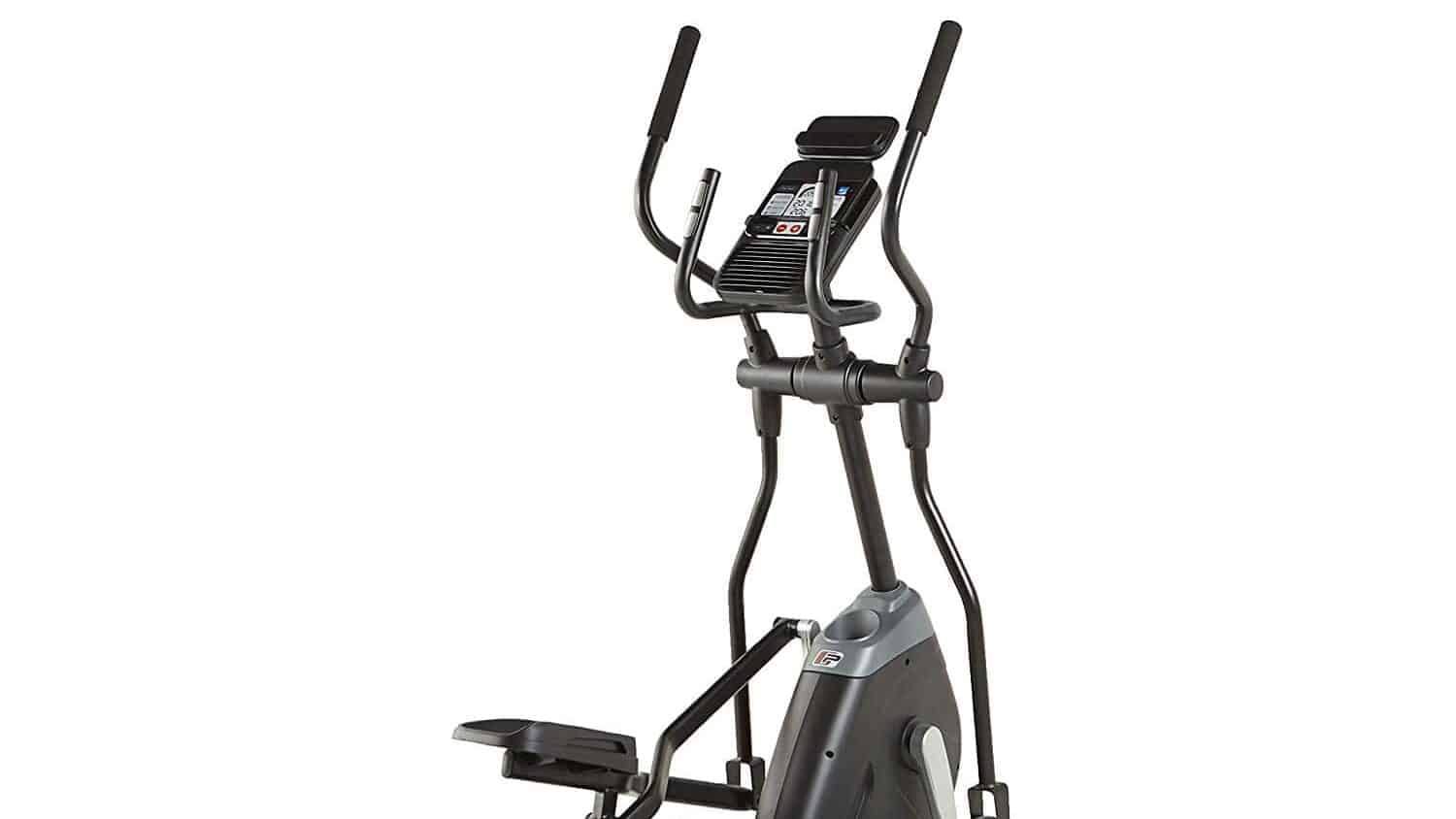 The ProForm 250i Elliptical Machine is a recommendable machine for anyone that wishes to engage in a cardiovascular workout.
Product Brand: ProForm
Product In-Stock: https://schema.org/InStock