The Pooboo C511 Commercial Cycling Bike is released in 2019 and it's one of the few commercial spin bikes that support a higher user weight capacity. Not many indoor cycling bikes have 440 lbs. or approximately 200 kg maximum user weight capacity and this is huge. One of the bikes that came close to supporting high user weight capacity is the L Now LD-582 Cycling Bike.  
This reality only confirms it's built for commercial premises and of course for home use as well. It also has a heavy 42 lbs./19 kg perimeter weighted flywheel that provides adequate momentum for an outdoor cycling experience.  
The bike has a micro-adjustability that offers more flexibility for accommodating users of different heights and sizes. It's not a very large bike that could overwhelm your space and neither does it compromise its stability.
It's a front and belt-driven bike that is equipped with a friction resistance system. So, it offers suitable resistance intensities for all users of different skill levels and operation is smooth and quiet as well.
Again, it is built to withstand high-frequency use, thus, suitable for fitness studios and might as well be used at home.
Click right here to have a peek at the price of the Pooboo C511 Commercial Cycling Bike on Amazon.
The Frame and Construction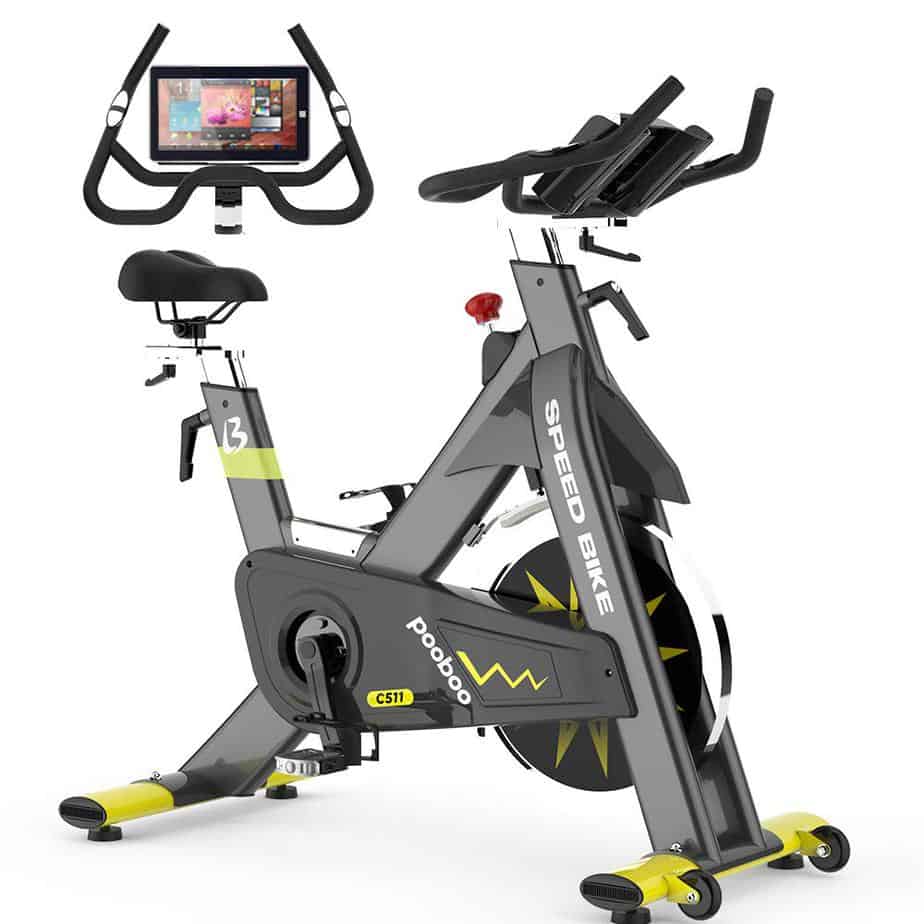 The Pooboo C511 Commercial Cycling Bike has an overall solid construction that features a large heavy-duty thick rectangular steel tubing and triangular-shaped frame. The steel parts are finished with anti-corrosive and scratch paint that prevents rust and indiscriminate scratch. Except for the seat and handlebar posts that have a protective metallic finish.
This is the reason the bike is durable and sturdy enough to support users up to 440 lbs./200 kg in weight.
The belt cover is made of hard ABS plastic.
Obviously, Gray is the predominant color of the bike while there are hints of white and yellow colors here and there.
The base framework has ovalized front and rear steel bars that also have adjustable levelers underneath them. The base does not only provide good stability but also has the ability to adapt to a variety of floor types.
Moreover, the bike weighs about 121 lbs./54.8 kg, significant enough to optimize its overall stability, while there are transport wheels at the front base that help in the relocation process of the bike.
The Pooboo C511 is not very large, it has overall assembled dimensions of 51'' long by 23'' wide by 43'' high. Put differently, it will require a workout area with a perimeter of 4'3'' length by 2' width.  
Although, it's recommended to ensure that the bike has at least 2' clearance all around it for safety and easy access reasons and this is even more imperative if the bike is to be used in a confined area.
The chrome-plated perimeter weighted 42 lbs./19 kg flywheel is designated at the front part of the bike and does simulate riding a road bicycle.
The Seat of the Pooboo C511 Commercial Cycling Bike
The seat is larger than a typical bicycle seat offering a cushioned surface that allows you to workout longer comfortably. It is 4-way adjustable; it can be adjusted vertically (upward/downward) and horizontally (forward/backward).
There are levers that enable you to easily adjust the seat within seconds. The seat post has 7 adjustable holes with 0.787'' spacing between and 10.2'' lowest to the highest adjustable distance. While the fore/aft has an adjustable distance of 3.3''
So, users between the heights of 5'2'' to 6'5'' can easily and comfortably be accommodated.
Also, the seat can easily be switched if you have the need to do so and options are widely available in local bicycle shops or online. You may as well use a gel seat cover to improve its overall comfortability.
The handlebar of the Pooboo C511 Commercial Cycling Bike
Just as the seat, the handlebar is also 4-way adjustable, hence, the bike has micro-adjustability that enables users to fit in comfortably. Adjusting upward/downward and forward/backward is done via the levers provided.
The handlebar is ergonomically and multi-grip designed to offer compatibility and different workout modes that include Hill Climbing mode, Out-of-seat riding mode, and seated position mode. These enable you to diversify your workouts.
You can work out longer without feeling sore or blisters in the palms or slippage either, due to the soft rubber foam material that is used to cover the handlebar.
There are multi-purpose holders on the handlebar for water bottles, a tablet/smartphone, or magazine placement.  
You can track and maintain your target heart rate zone, courtesy of the integrated EKG contact sensors on the handlebar.
The Pedals
The Pooboo C511 Commercial Cycling Bike's pedals are toe cages with adjustable straps. These can secure the feet properly preventing slippage during a fast-pedaling moment.
They accommodate standard gym shoes only. However, it's possible to switch the pedals for dual-sided or just SPD clip pedals because the threads are standard.
The pedals support stand-up pedaling of a user whose weight is within the stipulated maximum weight capacity.
The Drive of the Pooboo C511 Commercial Cycling Bike
The Pooboo commercial Cycling Bike is incorporated with a belt drive system. The famous drive system provides a smooth and quiet motion that allows you to exercise even in the presence of a sleeping newborn baby.
Engaging in other necessary distractive activities such as watching your favorite TV show or listening to music while working out is quite possible and convenient. No need to raise the volume higher than what it used to be in a normal circumstance.
Moreover, the drive is literally maintenance-free. It doesn't require any periodic post lubrication or adjustment as the case with a chain drive system.
The belt drive system comprises a solid leather transmission belt, pulleys, durable crankset, heavy-duty crank-arms, 42 lbs./19 kg flywheel, and pedals.
The drive is bidirectional; meaning you can pedal in reverse if you so wish. However, it's not possible to coast while exercising with the bike due to the fact that the flywheel and the pedals are fixed thus they spin together simultaneously.
So, for this reason, always ensure to apply the emergency brake whenever you wish to make a quick exit from the bike during a workout by pushing the tension knob down.
The Resistance of the Pooboo C511 Commercial Cycling Bike
The unit is equipped with a friction resistance system that provides micro resistance levels that are suitable for beginners, intermediaries, and pro athletes.
It is indeed also good for those that are recovering from physical injuries.
The elements that made up the resistance system are as follows; wool felt pad, the tension knob that is sitting on top of the mainframe tubing, and the heavy chrome plated 42 lbs./19 kg flywheel. The wool felt pad faces the chrome-plated flywheels' top surface so that when the tension knob is adjusted, they come in direct contact to generate resistance.
To increase or decrease the resistance, simply turn the tension knob clockwise or anticlockwise respectively. The resistance level to which you can adjust it is infinite. This also means there are no predefined resistance levels.
Tracking your strength and endurance improvement might be somewhat difficult but you can track it when you understand how many times you twisted the tension between workout sessions.
The Console
The console on the Pooboo C511 Commercial Cycling Bike features a large upright rectangular screen/monitor. This monitor has several sub-windows that make it possible for multiple workout data to be displayed at once.
However, the LCD monitor is non-backlit but it displays data with high clarity as long as it's being viewed in an environment that is well-lit. It tracks workout data such as Time, Speed, RPM, Distance, Total Distance, and Pulse.
There are only 3 navigational buttons in total which include the Up, Down, and Enter. The Up/Down buttons enable you to select a goal for Time, Distance, and Calories while the Enter button gets the selected goal confirmed.
Press and hold down the Enter button in order to erase and reset the monitor. See, it's pretty easy to use and manipulate.
It's also important to point out that the console/monitor is not telemetry-enabled. It is not compatible with any wireless HR chest strap. Therefore, the only way to monitor your heart rate is to ensure that the EKG contact sensors on the handlebar are held during a workout.  
The monitor is not self-powered; it is powered by a lithium battery CR2032 3V (not included).
The monitor automatically comes ON when you start pedaling and also automatically turns OFF when there is no activity on the bike for a few minutes in an attempt to save the battery's power.
Accessory
The Pooboo C511 Commercial Cycling Bike features multi-purpose holders that could be used to hold a water bottle, a tablet, a mobile phone, or small weights.
Storage
The Pooboo C511 Commercial Cycling Bike weighs about 121 lbs./54 kg, but it won't be a problem when the unit needs to be moved to storage because of the transport wheels at the front base.
It can be moved by any person when tilted toward the transport wheels.
The garage or under a staircase might be a good spot for storage. Better still, leaving it on the workout area is great, that is if you can afford a dedicated space for it.
Approval Rating
The Pooboo C511 Commercial Cycling Bike enjoys a very good approval rating on Amazon at the time of this review. This only indicates and reaffirms the bike's good quality, construction, and useful features.
Pro/Features Overview
It's commercially built
Stable and durable
Supports a high maximum user weight capacity of 440 lbs./200 kg
It's micro-adjustable, thus accommodates users of different heights and sizes
The seat is large and comfortable
The handlebar offers different workout position modes that include hill-climbing mode, sitting position mode, and a standing riding mode
Its operation is smooth and near-silent
The LCD monitor tracks Time, Speed, Distance, Total Distance, RPM, and Pulse
EKG contact sensors read and transmit heart rate data to the display
Great base framework with adjustable levelers that adapt the bike on any type of floor surface
Transport wheels integrated for an easy relocation process
Tablet and water bottle holders included
It toe-caged pedals accommodate standard gym shoes and secure feet properly
Friction resistance system offers suitable resistance intensity to all users even those that seek to experience an extremely difficult workout
There are goal settings for Time, Distance, and Calories Burned
Heavy perimeter-weighted 42 lbs./19 kg flywheel provides consistent momentum for a stable and smooth workout experience
Requires no serious maintenance
Easy to assemble
Cons
The display is non-backlit
Pedals are not dual-sided (No SPD cleats)
Product Dimensions and Specifications
Length 51''
Width 23''
Height 48''
Shipping dimensions: 42'' L x 9'' W x 37'' H
Maximum user weight capacity: 440 lbs./200 kg
Assembled weight: 121 lbs./54.8 kg
Shipping weight: 136 lbs./61.6 kg
Seat: 4-way adjustable
Handlebar: 4-way adjustable, multi-grip designed
Pedals: Toe cages with adjustable safety straps
Drive: Belt
Resistance: Friction
Frame: Steel
Flywheel: Heavy, 42 lbs./19 kg
Telemetry-enabled: No
EKG contact HR sensors: Yes
Display: LCD non-backlit; tracks Time, Speed, Distance, Total Distance, RPM, and Pulse
Goal setting for Time, Distance, and Calories
Water bottle and tablet holders: Yes
Shipping
The Pooboo C511 Commercial Cycling Bike is shipped in a well-packaged fairly heavy box. Amazon provides free shipping and makes delivery within a couple of days.
Assembly
The unit is easy to assemble because it arrives with the major components already attached.
So, you are supposed to attach a few minor parts such as the front and the rear stabilizers, the seat, the handlebar, the pedals, and the console to the main core unit of the bike.
These take about 30 minutes, more or less to completely assemble.
An instruction manual and tools needed for the assembly are included in the package.
Maintenance
As aforementioned, the Pooboo C511 Commercial Cycling Bike does not need serious maintenance largely because it has a belt drive system.
However, there might be the need to apply a lubricant oil on the top surface of the flywheel if there is any squealing noise emanating as a result of the friction that occurs when the resistance is engaged. Doing so will squash the unpleasant sound.
Other than that, just make sure that the bike remains clean from dirt and sweat. Try to examine the unit before exercising with it for any loose or broken part in order to prevent an accident or further damage to it.
Conclusion
The Pooboo C511 Commercial Cycling Bike is undoubtedly a very sturdy and commercial-grade bike that can endure through high-frequency use. It is also designed to be used at home.  
Regardless of the height or size of the user, this bike is most likely to accommodate most individuals and it helps to lose weight, tone muscles, improve cardiovascular health, strength, and endurance.  
[rank_math_rich_snippet]