The Nordic Track C 700 Treadmill is a treadmill that you can have in your home gym for a vast variety of workouts. You can walk, jog and run on it because it has got a considerable running surface of 55'' x 22''.
It is armed to teeth with other features that would allow you to realize your fitness goals such as the 2.75 horsepower motor and you can choose to experience a challenging workout by adjusting the incline up to 10 percent.
It is also integrated with workout apps about 20 of them designed to perfect your fitness objective. That being said, joggers and walkers would really enjoy this unit because of its shorter in length running surface and wider in width size.
Click right here to have a peek at the best price of the Nordic Track C 700 Treadmill, or check out NordicTrack T 9.5 S Treadmill review.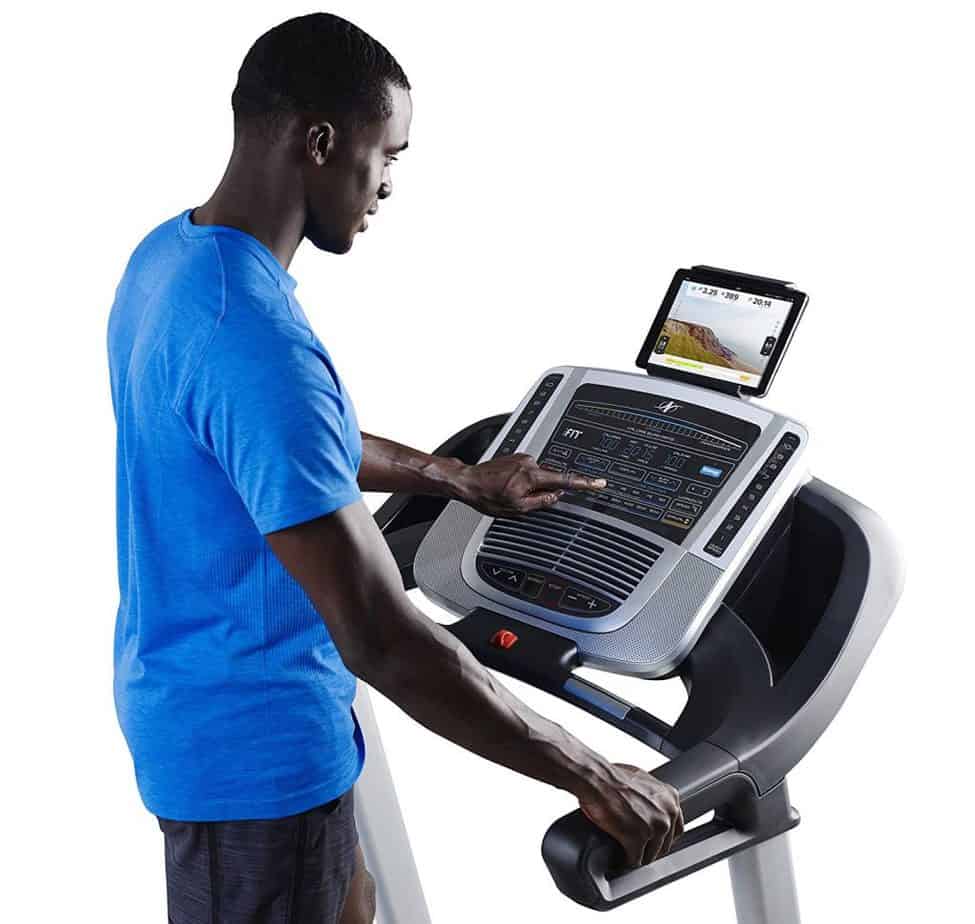 Features/Pros
The Nordic Track C 700 Treadmill has got a motorized incline that can tilt up to 10% which could be manipulated via preset workouts on the console. This is great because it tones and targets the group muscles of the body and helps burn calories faster which will ultimately result in achieving your fitness goals quickly.
It has a multi-window LED display that exhibits distinctively your workout data such as the time, heart rate, speed, calories, and distance.
There are about 20 workouts that have been integrated into this machine all designed by certified personal trainers. You can get unlimited custom-made workouts through the iFit subscription by simply downloading them. This can be accessed through your smartphone or even a computer as the treadmill is integrated with a smart device stand. Aside from the ability to download your own personally designed workouts through the iFit you can also enjoy the Google StreetView Workouts, be able to compete and race with friends that have access to Google Maps, and enjoy motivational high definition workout videos.
The 2.75 horsepower is commercially built and accompanied with a 25-year warranty. Built to support vigorous workouts and it is smooth and quiet during operation.
The InterMix Acoustic 2.0 Sound system of the Nordic Track C 700 Treadmill is one to be reckoned with when it comes to a quality sound output. Therefore be ensured that you will be entertained with the best of sounds during workout sessions and believe me I love music and workout.
This unit has got heart rate sensors embedded on the handlebars of the treadmill in order to track your heart rate during a workout. However, this unit does not have a wireless heart rate receiver.
The Nordic Track C 700 Treadmill is also integrated with this vital feature called the AutoBreeze. This is not just a fan to cool you off during a workout but it responds to the intensity of your workout, which means it blows faster when you work out faster and reduces when you slow down with your workout and you can also decide set it manually.
The running surface texture is yet another important part of a treadmill because this can cause a great impact on your joints during workouts if nothing was done to fix it. Therefore the manufacturer decided to include a cushioning called the FlexSelect that would allow you to select your preferred running surface texture. When the FlexSelect is turned off you get the feel of working out on a real road.
This unit is a space saver because of its ability to fold up when not in use. Therefore you can fold it up without any effort required and store it away.
Cons
It does not have an HR wireless receiver, I think it would have been cool if it is enabled.
I understand that the track is has a single-ply and runs on small rollers which means you will have to change it in a year if you are a regular user.
The running surface might not be suitable for running users because it is not spacious enough.
Warranty
Lifetime on the Frame
25 Years for the Motor
1 Year for Parts and Labor
Product Dimensions
73'' Length
36'' Width
67'' Height
It supports 300 pounds maximum user weight
It weighs about 202 pounds
Shipping and Assembly
The shipping cost of the Nordic Track C 700 Treadmill is totally free just like most of the products sold on Amazon. However, purchasing from other retailers may incur a cost for shipping.
Assembly of the unit is relatively easy as its major components are pre-assembled before delivery. Moreover, the instruction manual is also available that would walk you through the process of assembly and some basic tools are also given.
Conclusion
The Nordic Track C 700 Treadmill is a 2016 model product with great features but not without its flaws, however. If you have gone through the review you would be able to know if this machine is actually what you need and besides, the price is good on Amazon.