The Nordic Track C 7.5 Elliptical is a low-impact cardio machine designed for weight loss and the overall improvement of the physical fitness.
Sturdily built to support a maximum user weight capacity of 325 lbs./147 kg. Its base framework features front and rear stabilizers with rubber pads underneath for maximum stability and floor-friendliness.
It has a heavy and solid flywheel of about 20 pounds that guarantees smooth, consistent, and quiet workout. There are 22 levels of magnetic resistance that offer the opportunity of easy and challenging workout experience and 20 degrees of incline that further complement it.
Anyone that is seeking to purchase a quality elliptical machine will be impressed and appreciative of the Nordic Track C 7.5 Elliptical
Just in case you wish to see something similar or close to the Nordic Track C 7.5 Elliptical, we recommend you check out the ProForm Endurance 520E Elliptical Trainer.
Otherwise, click right here to have a peek at the price and more reviews of the Nordic Track C 7.5 Elliptical on Amazon.
Features/Pros Overview
There are 26 inbuilt workout apps designed by a certified personal trainer to help you attain your fitness goals expeditiously. These workout apps include calorie, intensity, and performance workouts. These will equip and get you to achieve your fitness desire.
Moreover, you can access additional workout programs designed specifically for your fitness goals via your iFit account. This feature is mostly found on some of the Nordic Track machines which help users to get more out of their workouts. Simply use your smart device to sign into the iFit account where you will access Google Maps routes and much more.
The 20 pounds high inertia-enhanced flywheel is designed to operate smoothly, quietly, and consistently. This also contributes positively when using magnetic resistance because it offers the best user experience possible.
The 22 digital silent magnetic resistance levels (SMR) that are designed to offer easy and challenging workout experience even as they run smoothly and quietly as well. Remember, when you have an effective resistance such as this and use it accordingly chances are you will burn more calories than you would with any other elliptical machine with no or fewer resistance levels.
This unit is a front-drive elliptical that has 20'' stride that is also adjustable which will allow most users to exercise with their full strides.
It has a power-adjustable ramp incline of 0 to 20 degrees that targets and tones the lower body muscle groups such as the glutes, calves, and quads.
It has heart rate sensors that are embedded on the handlebars designed to transmit accurate heart rate data to the console in real-time which will help you to stay in your target heart-rate zone at all times during a workout.
It has got a beautiful 5'' backlit display that keeps track of your training progress and displays workout data or stats such as time, distance, speed, heart rate, calories burned, resistance, and ¼ Mile Track.
Its large, oversized, and well-cushioned pedals are designed to offer comfort during a workout, especially to the joints.
It has got features such as the One Touch Controls that are highly responsive and allow you to adjust the incline and resistance in seconds at the touch of a button while working out.
It is integrated with a Tablet Shelf that would allow you to use your tablet device to enjoy your favorite show or music as you workout.
In support of listening to quality music, it has Intermix Acoustic Sound System that can connect to any regular headphone jack to deliver the quality sound output and via dual 2'' speakers. More so, it is iPod compatible as well.
It has an automatic fan that keeps you cool during a workout by adjusting to the intensity of the workout automatically.
It has a water bottle holder and every useful fitness machine should have one because it makes water handy and allows a user to stay hydrated throughout a workout session.
There are transportation wheels that make moving around the room and storage a lot easier.
Cons
We would have loved to see HR chest strap included given the price it is being sold at
Product Specifications
1'' Length
25'' Width
1'' Height
It weighs about 220 pounds
Supports maximum user weight of 325 pounds
Warranty
Lifetime for Frame
2 Years for Parts
1 Year for Labor
Shipping and Assembly
The shipping cost of the Nordic Track C 7.5 Elliptical Machine all depends on where you are purchasing it from. If you are buying from Amazon, please read the shipping rates and policies here.
Assembly of this unit could take up to 2 hours or a little more. We have observed some of the customers complaining about the assembly experience and we would recommend you opt for expert assembly if you can afford it because that would save you a lot of unnecessary hassles.
Conclusion
The Nordic Track C 7.5 Elliptical Machine is a full-body cardio workout machine. There are 2 sets of handlebars (static & moveable) that are generously coated with rubber foam to provide lasting secure and comfortable grips.
Large textured pedals that accommodate different foot sizes with power-adjustable stride.
It is a sturdy machine with yet a small footprint that offers a smooth, quiet, and comfortable workout experience.
Nordic Track C 7.5 Elliptical Review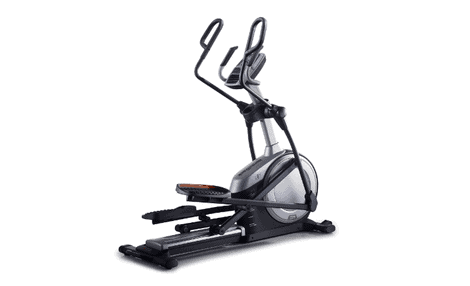 The Nordic Track C 7.5 Elliptical is a low-impact cardio machine designed for weight loss and the overall improvement of the physical fitness.
Product Brand: NordicTrack
Product In-Stock: InStock