The Niceday Indoor Recumbent Bike is one of those low-impact cardiovascular exercise equipment that is good at being gentle on the joints.  
Like the Schwinn 270 My17 Recumbent bike's backrest, the seat also has a similar fancy looking, yet useful ventilated mesh backrest that provides back support wholly and comfortably. The seat could be adjusted horizontally in 8 different positions that would allow users with inseam lengths of 27'' to 39'' to be accommodated. In other words, 4'9'' to 6'3'' tall users will fit in just fine.  
Click right here to have a peek at the best price of the Niceday Indoor Recumbent Bike.
The Frame & Construction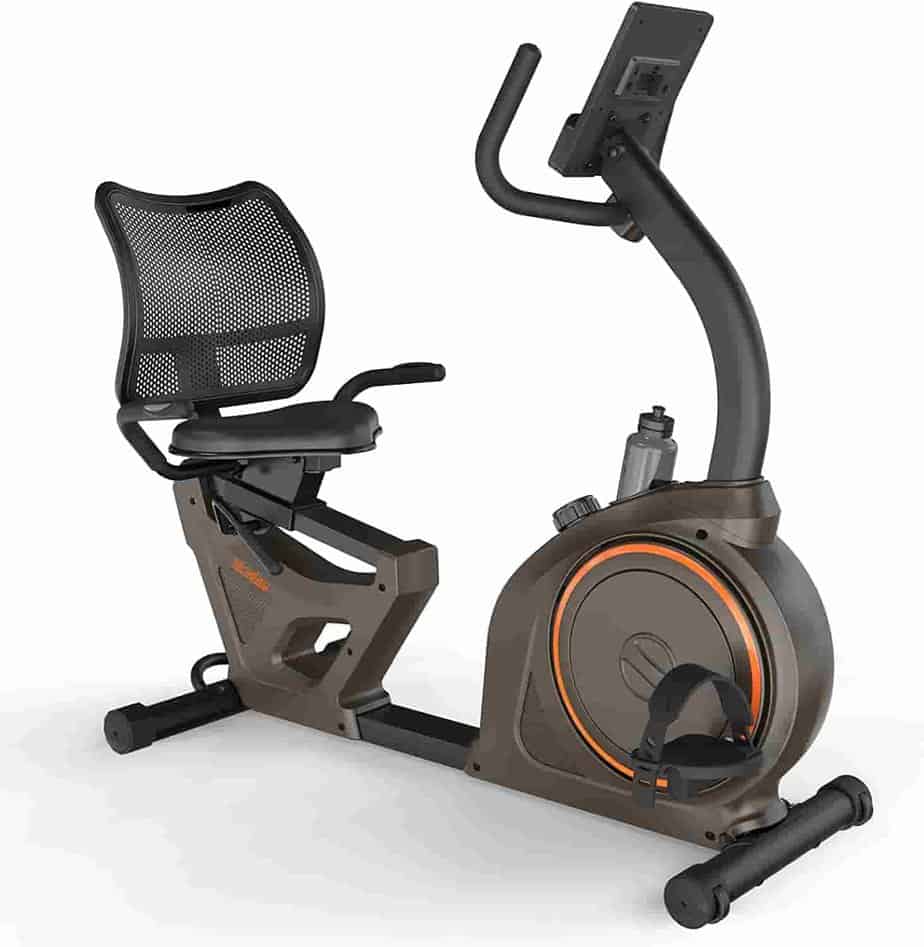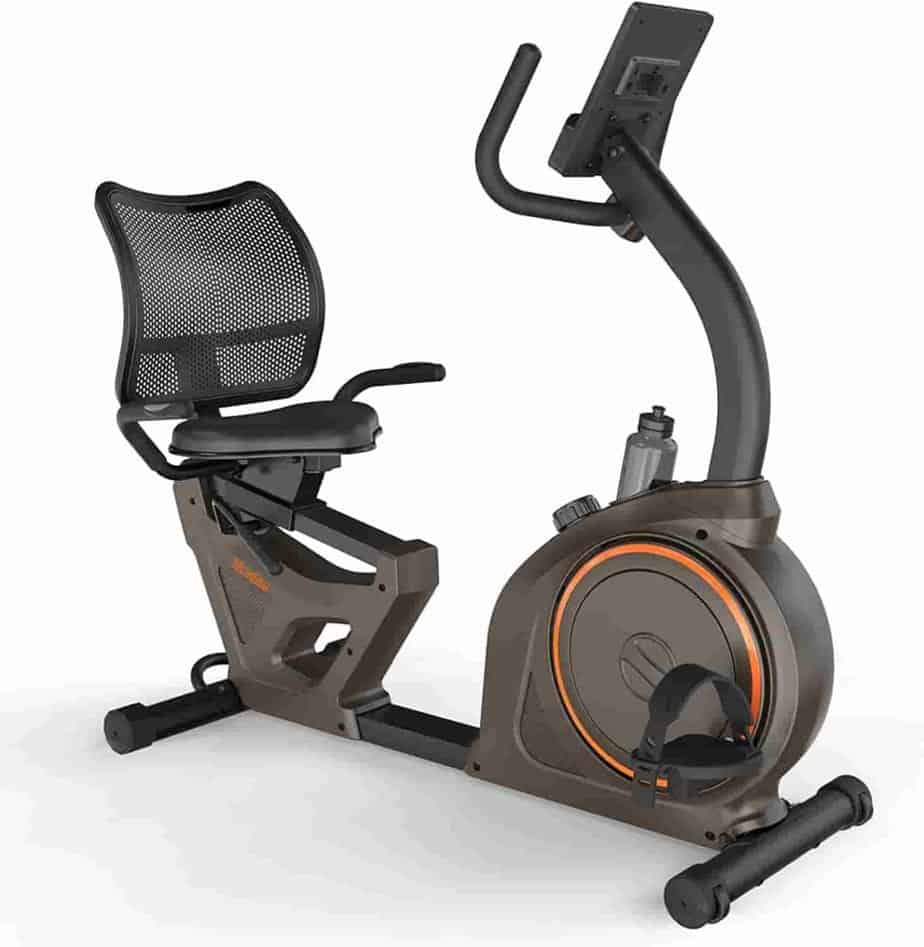 The Niceday Indoor Recumbent Bike is constructed with a solid steel frame and ABS-made coverings. Its frame is coated with anti-corrosion paint for longevity.  
It is sturdily constructed to support a maximum user weight capacity of 400 lbs./181.4 kg.
The bike features a step-through design that would be of interest to users that have arthritis or any other joint problem because they will be able to easily step in and out of the bike without struggling.   
The base features rounded steel stabilizers with diagonally-shaped adjustable levelers at the rear for stability. Although, the use of a protective rubber mat can further improve the overall stability of the bike and also prevent damage to the floor.
There are transport wheels incorporated into the front base of the recumbent bike and also a lifting handle at the rear base. These enable the user to easily move the unit around the room without hassles even though it weighs around 95 lbs./43 kg.  
The overall assembled dimensions are 50'' long by 23'' wide by 45'' high. Differently put, a workout area with measurements of 4'16'' (127 cm) in length by 2' (58.42 cm) in width will be needed. However, it is recommended that an extra clearance of 2' be left around it for the purpose of easy access and safety.  
The Seat of the Niceday Indoor Recumbent Bike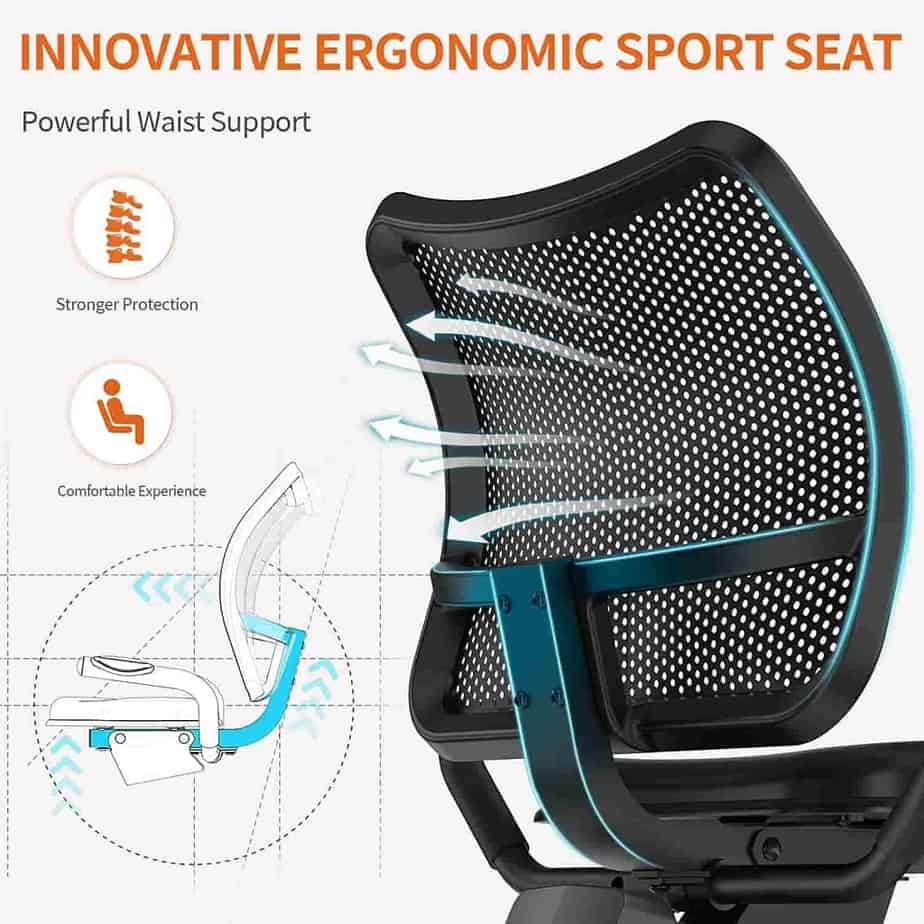 The seat is large, padded, and lightly contoured. It integrates a breathable mesh backrest that provides full support to the back. The ventilated backrest allows free flow of air, thus, ensuring that the back is always cool and dry.  
The backrest is not independently adjustable, it doesn't incline, but the seat can be adjusted forward and backward. There are 8 adjustable positions that could allow users of different heights to customize the bike perfectly.  
Even though the seat cannot be adjusted vertically, its height increases or decreases with each horizontal adjustment made because the rail beam is a bit slanted.  
It has a big adjustment lever that is on the right-hand side of the seat which is designed for a quick and easy adjustment that would only take seconds.  
A fixed (nonadjustable) handlebar with heart rate sensors is incorporated into the seat for the purpose of support during seated-back cycling. When the heart rate sensors are grasped your pulse rate will be read and transmitted to the monitor for your observation.  
The handlebar is coated with soft rubber foam for comfortable and secure grips.
As aforementioned, due to the seat's adjustability, users between the heights of 4'9 to 6'3'' tall will be able to fit in, and the supported inseam length is between 27'' to 39''.  
Finally, the seat is averagely comfortable. But you can always improve it by the use of a gel seat cover. At least, that's what most users do.  
The Handlebar
Aside from the handlebar on the seat, there is yet another set that is attached to the mast right below the console. It is fixed, nonadjustable, and does not integrate heart rate sensors like those on the seat. 
The front handlebar allows you to alternate your workout posture, and it is also coated with soft rubber foam for firm and comfortable grips.  
The Pedals
The Niceday Indoor Recumbent Bike is equipped with a set of self-leveling standard pedals. They have adjustable safety straps for keeping the feet secure and comfortable. Their surface is textured for improved safety and are large to accommodate different foot sizes.  
They are made of a steel core with nylon plastic-made exteriors.  
The recommended footwear for these pedals is the standard gym shoes.  
The Drive System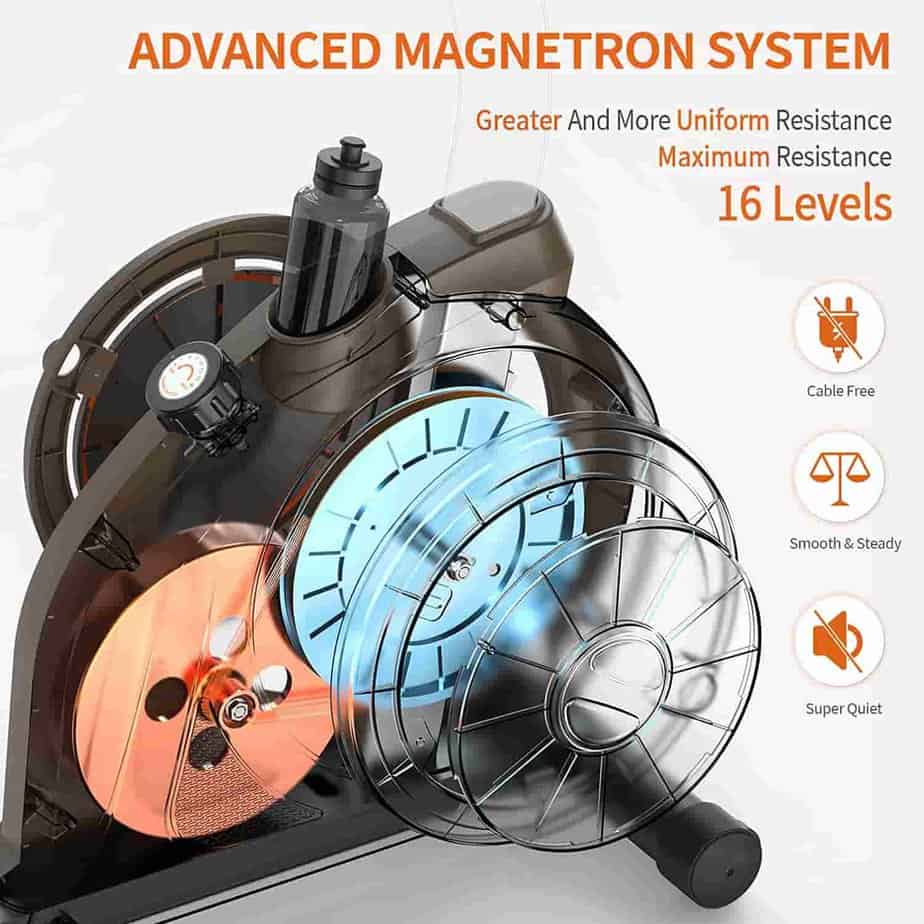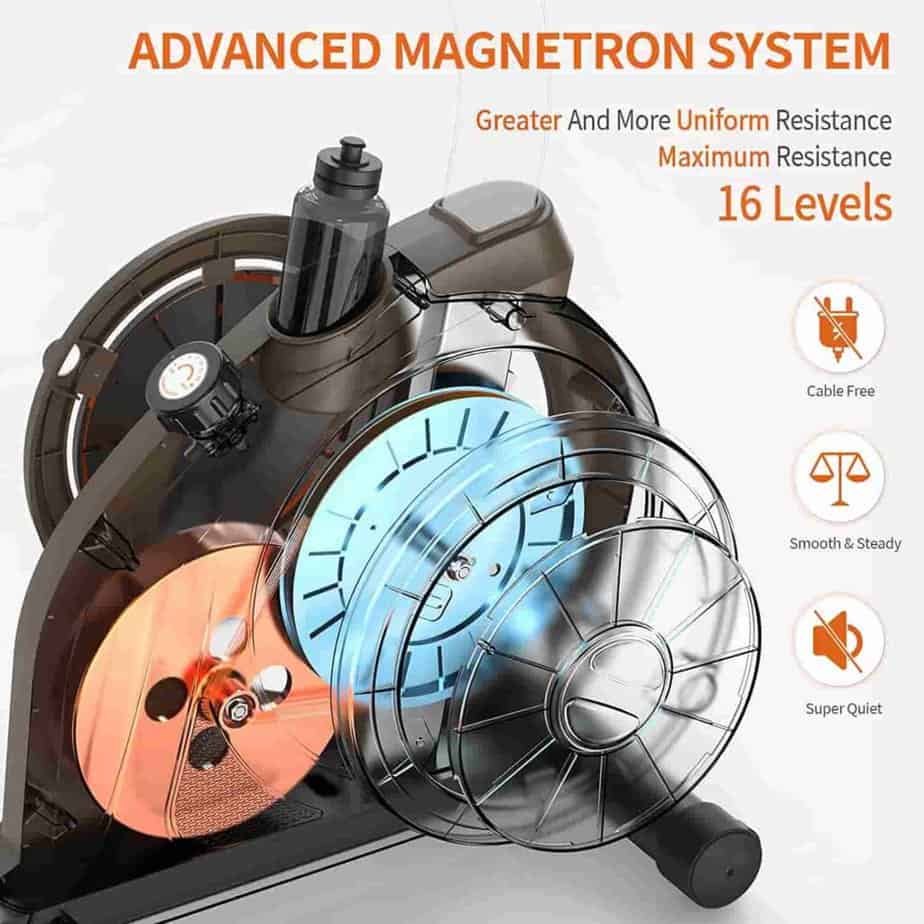 This recumbent bike is of course a belt-driven fitness machine. This means it has a belt drive system that consists of elements such as a quality belt, pulleys, a crankset, crank-arms, and a high inertia flywheel that is believed to be about 10 lbs./4.5 kg in weight.  
A belt drive system is preferred over a chain drive system because of its smooth and quiet operation. It does not require any maintenance as opposed to a chain drive system.  
Thus, you can literally work out any time of the day and anywhere without being a nuisance to the people around you. That is how silent it is.  
The drive does support reverse pedaling. Hence, you can diversify your workouts and engage more muscle groups by pedaling backward.   
The Resistance System
The Niceday Indoor Recumbent Bike has a manual magnetic resistance system with 16 adjustable levels. It consists of neodymium magnets that release greater magnetic fields for strong and balanced resistance. 
Each of its resistance levels doubles what the conventional magnetic resistance system provides, and it is smoother and quieter as well.       
This means users will appreciate each resistance level and the overall quiet operation of the bike.  
Moreover, no maintenance is required because it is frictionless. No lubrication or replacement of parts is needed.  
To increase or decrease the resistance level, turn the tension knob clockwise or counterclockwise, respectively.  
The 16 resistance levels provide different workout challenges that could help users to lose weight, improve heart and lungs' health, and tone muscle groups.
The Console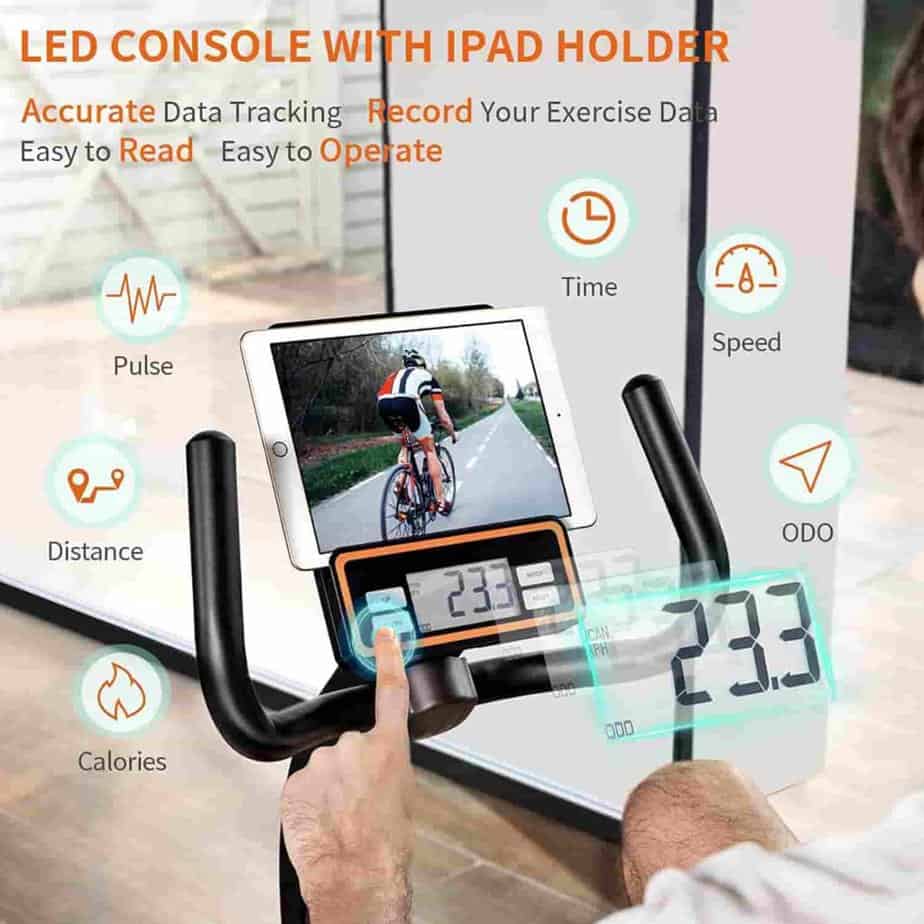 The Niceday Indoor Recumbent Bike is equipped with a lightweight, entry-level console. To put it differently, the console is not Bluetooth-enabled, not telemetric (not compatible with wireless HR chest strap), has no built-in workout programs, and it only features a basic LCD monitor without a backlit.  
The monitor does track workout stats such as Time, Distance, Speed, Calories Burned, and Pulse.
Due to the bold print of the workout data on the display, you will be able to read it clearly. However, if it is being viewed in a room that is poorly lit you may have a difficult time doing so because the monitor does not have a backlight.  
There are 4 easy-to-use navigation buttons that include Up, Down, Reset, and Mode.
The monitor is powered by 2 AAA batteries; and to save the batteries' power, the monitor automatically shuts down after a few minutes of inactivity on the bike, and it automatically turns on once pedaling resumes.  
Although, the monitor can equally be turned ON by pressing any of the buttons on the console.
Accessory
The recumbent bike has 2 basic accessories which are the tablet and water bottle holders. 
The tablet holder is large enough to accommodate any size of a tablet device, and it's strategically positioned not to block the view of the monitor. So, you will be able to track your workout progress and still enjoy workout or entertainment videos while exercising  
While on the other hand, the water bottle holder is also positioned where it can easily be reached for the purpose of maintaining proper hydration.  
The bike is accompanied by one free dust cover.
Storage
The bike can easily be moved to and from the storage area because it has transport wheels and a lifting handle.  
Although, it is not foldable but it won't overwhelm your storage space either. A storage area with measurements of 4'16'' length by 2' width can accommodate it.  
Pros/Features Overview
Sturdy and durable 
It supports a maximum user weight capacity of 400 lbs./181.4 kg 
There are strong stabilizers that guarantee stability 
The bike provides low-impact cardiovascular exercises 
Its operation is smooth and quiet; thanks to the belt drive system 
The manual magnetic resistance system features neodymium magnets, and there are 16 unique resistance levels to help you lose weight, improve cardiovascular health, and tone muscle groups 
The seat is large, slightly contoured, and padded for comfort; and it features a breathable mesh backrest for cool and comfortable back support 
The seat has 8 forward & backward adjustable positions; hence users between the heights of 4'9'' to 6'3'' tall are supported 
The bike supports inseam heights of 27'' to 39'' 
There are 2 sets of rubber foam-coated handlebars for different workout postures 
The pedals are balance-weighted, large, and textured with adjustable safety straps 
EKG contact grips included for heart rate reading 
The LCD monitor tracks workout stats such as Time, Distance, Speed, Calories Burned, Odometer, and Pulse 
A free dust cover is included  
Easy to assemble 
Technical maintenance is not required 
Water bottle holder included 
Tablet holder included 
Transport wheels included 
Cons
The monitor is basic and does not have a backlight 
No built-in programs 
The console is not telemetric 
Warranty
Life-time warranty service 
Specifications
Length: 50''
Width: 23''
Height: 45''
Shipping dimensions: 51.7'' L x 25'' W x 11.5'' H
Net weight: 95 lbs./34 kg
Gross weight: 100 lbs./45.36 kg
Maximum user weight capacity: 400 lbs./181.4 kg
Frame: Steel
Flywheel weight: 10 lbs./4.5 kg
Drive: Belt
Resistance system: Manual magnetic (Neodymium magnets) with 16 adjustable levels
Seat: 2-way adjustable, breathable mesh backrest
Inseam heights: 27''-39''
Heights supported: 4'9''-6'3''
Handlebars: Seat & front
Pedals: Self-leveling, large, textured with adjustable safety straps
Console: LCD monitor
Transport wheels: Yes
Water bottle holder: Yes
Tablet holder: Yes
Shipping
The Niceday Indoor Recumbent Bike is shipped out in a nicely packaged box that weighs 100 lbs./45.35 kg with dimensions of 51.7'' long by 25' wide by 11.5'' high.
Some major vendors such as Amazon provide free shipping and also get it delivered in a couple of days or weeks depending on the destination.  
Assembly
The unit is mostly preassembled.
The parts that need to be attached include the stabilizers, the seat, the backrest, the mast, the handlebars, and the console. It will take an averagely skilled person an hour to put it together, and an hour and a half for an unskilled person.  
The package comes with an instruction manual and the tools needed for assembly.
Maintenance
As aforementioned, no technical maintenance is required. Simply make sure that it is kept clean on a regular basis. Examine the parts to ensure that they are tight and in good condition before using the bike for a workout.  
Finally, store it in a cool, dry, and clean area.
Conclusion
The Niceday Indoor Recumbent Bike supports up to 400 lbs./181.4 kg. Not very many recumbent bikes do that. It has a manual magnetic resistance system that provides 16 adjustable levels. Its operation is smooth and quiet; thanks to the belt drive system. The LCD monitor tracks workout stats such as Time, Distance, Speed, Calories Burned, Odometer, and pulse.