The Nautilus R614 Recumbent Bike is solidly and sturdily constructed. It does not have much difference with the upgraded version, the R616.
It has features you simply can't refuse especially if you are on a budget. The integrated belt drive system with high inertia perimeter weighted flywheel provides smooth and quiet operation, while the eddy current resistance system with 20 adjustable levels offers a range of workout challenges for weight loss, and much more.
Click right here to have a peek at the price of the Nautilus R614 Recumbent Bike on Amazon.
Features/Pros Overview
It has DualTrackTM two LCD windows system that allows you to read and track your workout data such as speed, time, and distance, even when one is covered.
It NuatilusConnect goal tracking and data export keeps you updated on your workout progress and fitness goals
It has 20 levels of eddy current resistance that provide you with a wide range of workout intensities for optimum and quick results.
It has got a USB port and Bluetooth for charging and data exchange to NautilusConnect and myfitnesspal.com
There are 22 programs available on this unit that include 9 profile, 8 heart rate, 2 user profiles, 2 fitness test, and Quickstart.
It has a vented seat and backrest that ensures a cooler and comfortable workout.
Its sliding seat rail and locking system allow you to adjust the seat to your preferred position for comfortable and prolonged workouts.
There are 2 integrated levelers and center support for a solid and stable workout platform, which means no wobbling during a rigorous workout; plus the fact it also has this oversized crossbar tubing for added stability.
It has acoustically chambered speakers designed for a big quality sound that would keep you entertained while working out.
It is integrated with a 3-speed fan that would keep you cool through the entire workout session.
It has got transport wheels that make movement easy from one place to another.
It has the heart rate monitoring sensors on the handlebar grips
It supports a maximum weight user of 300 pounds or 136kg.
Cons
The console is not telemetric
Warranty
10 years for the frame
2 years for parts
1 year for electronics
And 90 days for labor
Product Dimensions
6'' Height
3'' Width
3'' Length
Weighs about 93 pounds
Shipping and Assembly
The shipping cost for the Nautilus R614 Recumbent Bike depends on where you are purchasing the product from and what kind of delivery you prefer. However, if you purchase this unit from the Amazon, the shipping is usually free of charge, no cost.
As for assembly, it is relatively easy and quick to assemble as the equipment comes almost pre-assembled. Also, it is accompanied by an instruction manual that would walk you through the assembly like a piece of cake. It can be assembled in an hour or so.
Conclusion
The Nautilus R614 Recumbent Bike is cost-effective.
The eddy current resistance system provides a range of challenging workouts that enable you to lose weight and improve your overall physical fitness. Its quiet operation allows you to train at any time of the day without invading other people's privacy.
The Nautilus R614 Recumbent Bike is recommendable.
Nautilus R614 Recumbent Bike Review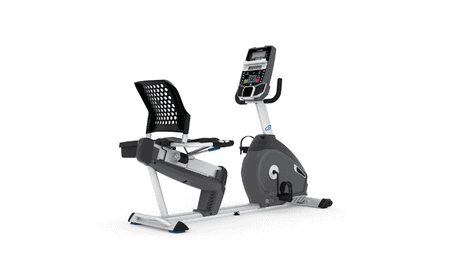 The Nautilus R614 Recumbent Bike is solidly and sturdily constructed. It does not have much difference with the upgraded version, the R616.
Product Brand: Nautilus
Product In-Stock: InStock