The Nautilus T618 Treadmill Machine is considered one of the best modern-day treadmills available, and the brand has indeed revolutionized the fitness industry by creating innovative workout equipment for indoor use.
Its spacious running surface allows most tall individuals to run on it without restricting their strides.
It has a powerful 3.5 CHP motor that provides a drive and a speed range of 0.5 to 12 mph. It keeps up with the user's workout activities throughout the entire workout session without breaking down or overheating. The deck integrates a cushioning system that prevents stress on the joints for a comfortable and prolonged workout experience.
The Bluetooth technology syncs the console and communicates with online fitness apps such as Nautilus Trainer 2, MyFitnessPal, Google Fit, and more via an Android or iOS smartphone.
Click right here to have a peek at the price and of the Nautilus T618 Treadmill Machine on Amazon.
Frame and Construction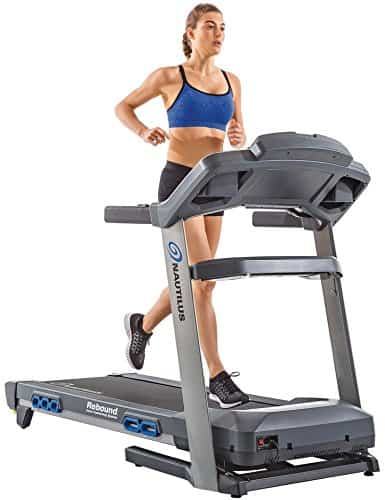 The Nautilus T618 Treadmill Machine is motorized and built like a tank. It possesses a durable heavy-duty steel frame that has an anti-corrosion finish, while other parts such as the dashboard, the rails, and the motor covers are made of quality plastic.
Thus, it looks professional and supports a maximum user weight capacity of 350 lbs./158.7 kg.
The base features oversized crossbar tubing, an anti-skid rear base, and adjustable rubberized levelers that guarantee superlative stability. On top of that, its overall assembled weight of 285 lbs./129 kg grounds the treadmill like a rock.
Therefore, no amount of aggressive workouts could make it wobble or inbalance.
The treadmill is kind of bulky; it has assembled dimensions of 78" long by 38" wide by 63" high. Differently put, it's going to require a workout area with perimeters of 6'5" length by 3'2" width and additional extra clearance of 2′ around it for easy access and safety during workouts.
To determine the suitable ceiling height of the room where the treadmill is going to be used, add 18" (maximum incline) to your height and a couple of inches for clearance.
For instance, a 6′ tall user requires a ceiling height of 72" (user's height) + 18" (maximum incline) + 5" clearance = 95" (7.9").
The Deck of the Nautilus T618 Treadmill Machine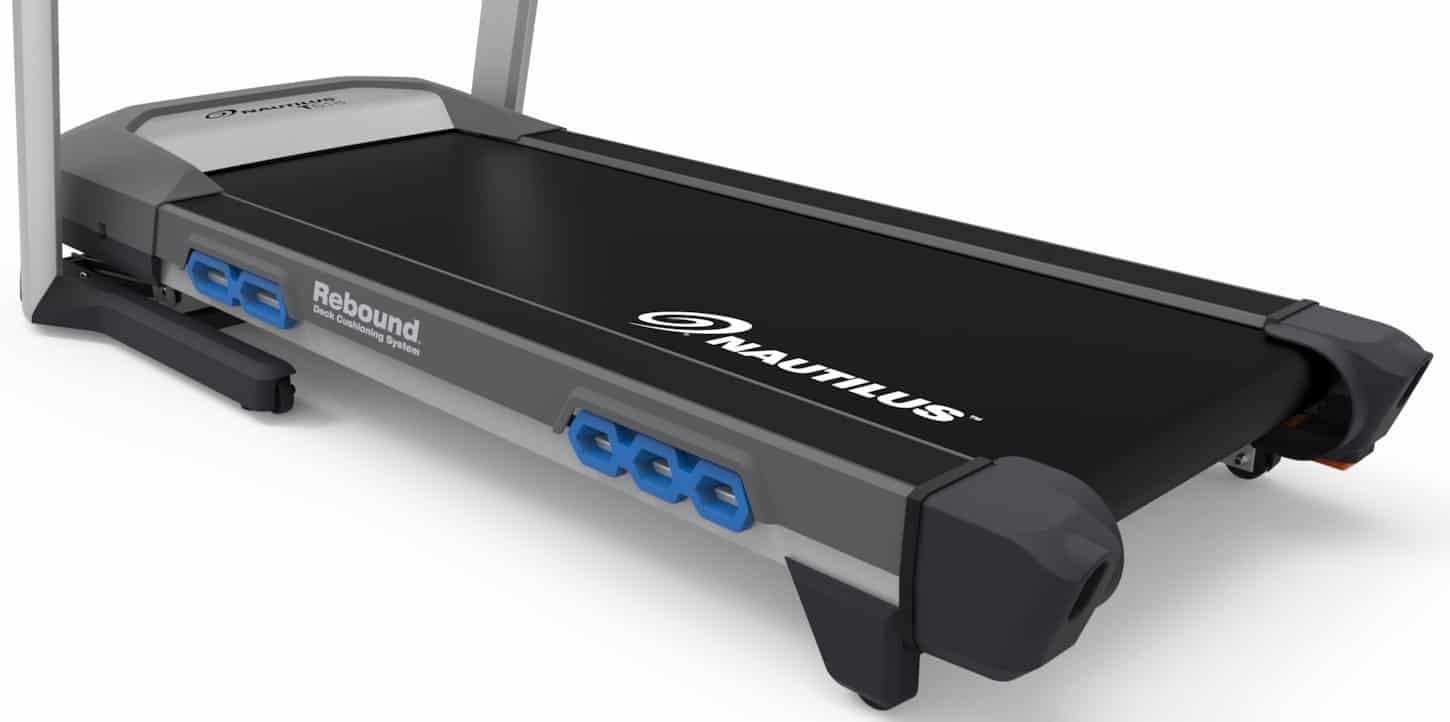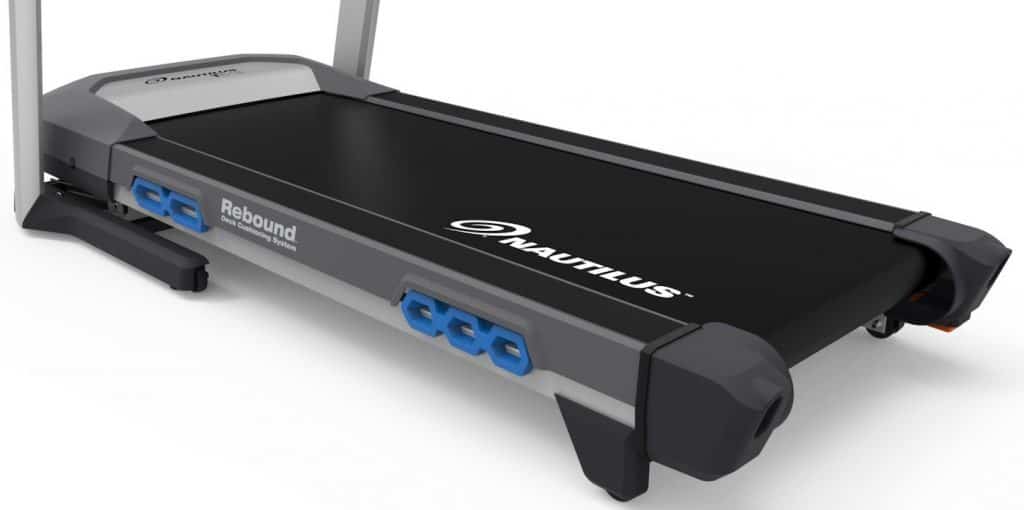 The step-up height of the deck is 9", and the wide and textured side rails allow you to quickly exit a workout without having to turn off the treadmill.
The deck incorporates a 3-ply, 2.5mm thick tread belt, and a 2.75" crowned rollers for smooth and quiet rolling motion. Its dimensions are 20" W x 60" L, spacious enough for running activity.
Users can work out without feeling overwhelming stress on the joints because the deck's rebound cushioning system provides a soft landing for the foot. Hence, it absorbs and reduces the impact.
The Motor
The Nautilus T618 Treadmill Machine is equipped with a powerful 3.5 CHP motor that provides a speed range of 0.5-12 mph. It supports the demands of vigorous high-speed workouts by a heavy user without breaking down or overheating.
The motor is designated at the front base with a plastic cover, and its operation is vibration-free due to the integrated small flywheel. The noise level of the treadmill is far lower than the noise generated by the footfall during a workout.
Therefore, its operation doesn't prevent you from watching a movie/TV show or listening to good music while exercising, and neither does your workout activity disturb the family or the neighbors.
The speed can gradually be adjusted by an increment of 0.1 mph or quickly by 2 mph, 4mph, 5mph, 6mph, 8mph, 10mph, and 12mph via the speed buttons on the console. So, walkers and joggers can find a suitable speed range for their workouts, while sprinters can easily select a high speed.
A 120V, 15A power outlet is required for the treadmill to function.
The Incline
The T618 Treadmill has a 0%-15% automatic incline system. This means it consists of a small motor and a lift that raises and lowers the front deck whenever it is adjusted.
Just as the speed, the incline could be adjusted gradually by an increment of 1% or quickly by 0%, 2%, 5%, 8%, 10%, 13%, and 15% through the onboard incline buttons.
The combination of a certain incline level and a speed range provides a certain degree of a workout challenge that tones muscle groups and burn tons of calories.
The Console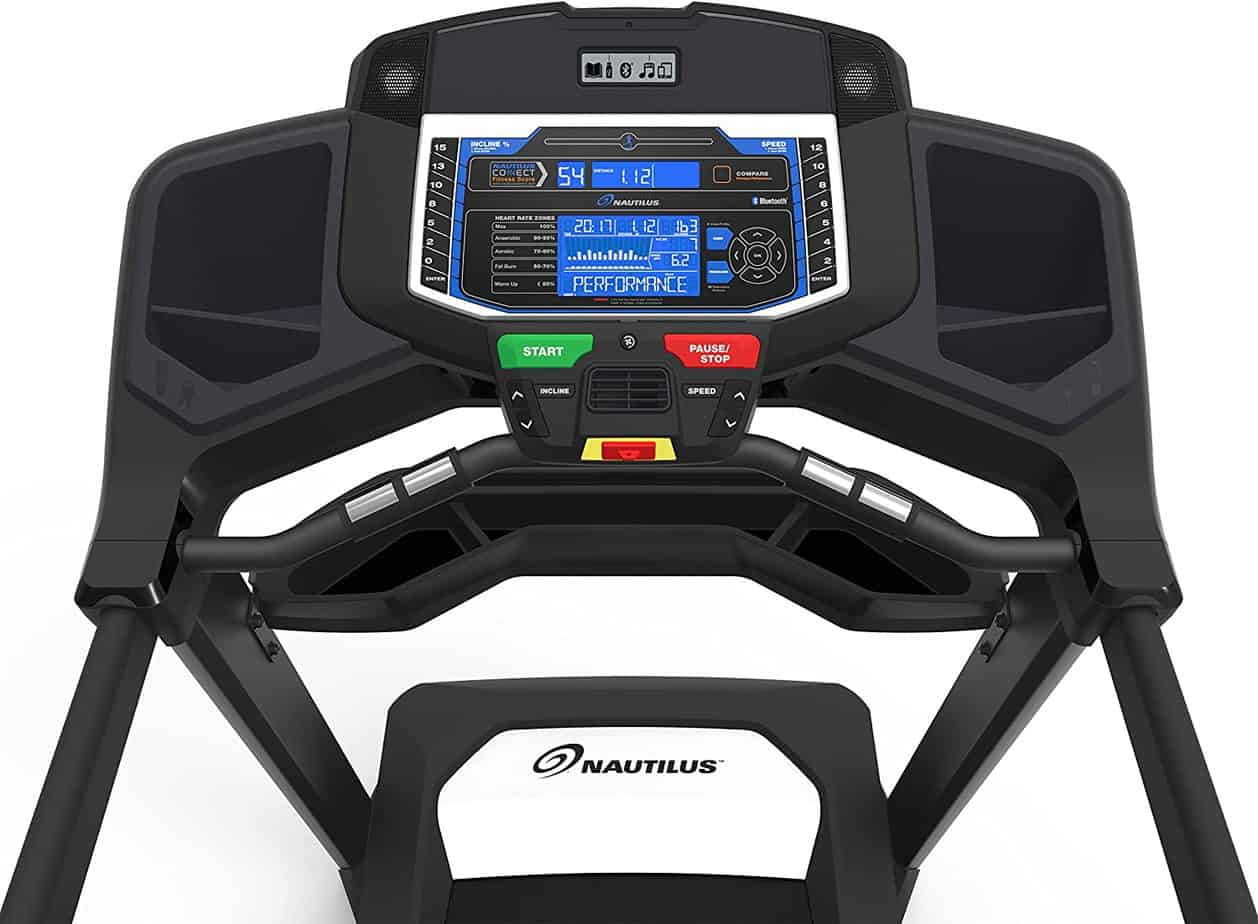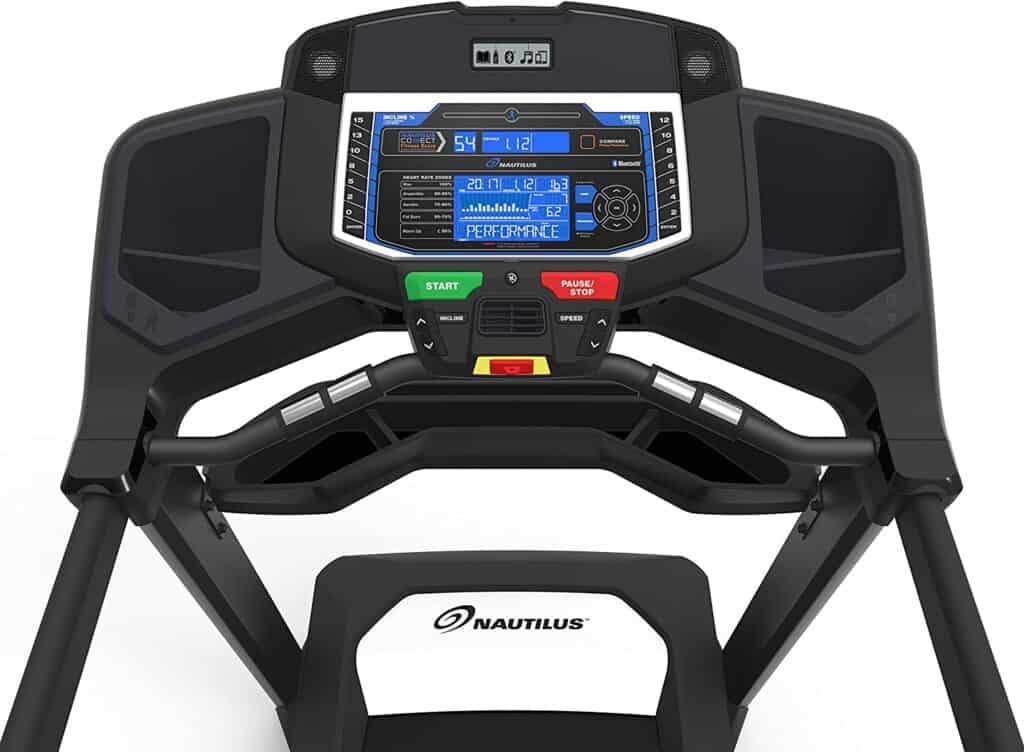 The treadmill features a Bluetooth-enabled console with a DualTrack blue backlit LCD monitor. The upper and the lower display screens are 3.75", and 5.5" in size, respectively. They provide important information such as Time, Distance/Lap, Heart Rate, Calories, Incline, and Speed/Pace.
The Distance and the Speed values can be measured in miles or km, and mph or km/h, respectively.
These workout data are displayed with high readability that cannot be compromised by a poorly lit room.
The 26 onboard workout programs include 1 Manual, 3 Goal settings for distance, calories, and time; 4 Custom Programs that allow you to create customized programs that could be used immediately and later; 5 preset Heart Rate Programs that includes <60% warm-up, 50-70% fat burn, 70-80% aerobic, 80-90% anaerobic, and 100% max;
5 Weight Management Programs include fat burn 1, fat burn 2, incline burn, speed burn, and dual burn; and 6 Training Programs that include boot camp, performance, endurance, 1-mile pacer, 5k pacer, and 10k pacer.
4 Users can create a profile that requires the entry of personal information such as age, weight, gender, height, name, and preferred workout value. Each user profile tracks and records the user's workout progress accurately.
The incline and the speed adjust automatically when any of the preset workout programs is selected.
The Bluetooth technology syncs the treadmill with online apps such as Nautilus Trainer 2, MyFitnessPal, NautilusConnect, RunSocial, and many more via an Android, or iOS-based smartphone.
Any of these apps allow you to track, record, and share your workout progress online. Especially, Explore the World app enables you to travel the world, and run through 19 locations, and 27 routes virtually, and more.
The heart rate data can be read and transmitted to the monitor through the use of the EKG contact grips or wireless HR chest strap (included).
Accessory
Aside from the workout-related features, the treadmill also has fun-related features that help you to enjoy every minute you spend on it.
Such features include the built-in speakers, MP3 3.5mm auxiliary port, a 3-speed cooling fan, a tablet holder, cup/accessory holders, extra accessory rack below the console, and the USB charging port that is also used for transferring workout data to a flash drive.
Storage
The Nautilus T618 Treadmill Machine is not compact or lightweight, but it does have a space-saving design and transport wheels for easy storage.
Its SoftDrop system helps you to easily fold and unfold it, thereby reducing the 78" assembled length to 46". Hence, a storage area with perimeters of 3'9" length by 3'2" width can accommodate the treadmill.
Overview Features/Pros
Sturdily and durably built
Supports a maximum user weight capacity of 350 lbs./158.7 kg
It has got a large Dual Track LCD backlit monitor with blue lighting that tracks workout stats with high readability
The Bluetooth connectivity syncs the treadmill with online apps to store and keep track of your workout progress, train in 19 virtual location and 27 routes, and more
Its generous running surface with dimensions of 20'' x 60'' offers enough space for runners to do their thing
It has got a USB port for charging and data exchange
The deck operation is smooth due to the integrated 3 ply, 2.5mm thick belt, and the 2.75'' crowned rollers
It has an automatic 0 to 15% incline system for workout diversification and challenges
It has grip heart rate sensors and telemetry-enabled console for heart rate monitoring (chest strap included)
Acoustic chambered speakers for quality sound output
A rebound cushioning system ensures a soft foot landing and a firm kick-off during a workout; this prevents stress on the hips, knees, and ankles
26 onboard workout programs involve interval, heart rate, weight management, and customized programs
For a sweat-free workout, Nautilus made sure to add a 3-speed fan that will ensure you are cool at all times during the workout
Its SoftDrop deck folding system helps you to easily fold up and unfold the unit anytime you are done working out or wish to use it; the transport wheels facilitate the relocation process
It has water bottle holders for keeping proper hydration during a workout
The oversized crossbar tubing provides added stability during a workout
It has a safety mode lanyard that automatically stops the treadmill in case you trip or lose balance during a workout
A rack is available beneath the console for keeping stuff like towel
Assembly is not difficult
The maintenance requirement is low
Impressive warranty
Cons
The fan is not strong enough
During assembly, it will require 2 persons to move and unpack it
Warranty
15 Years for the Frame and Motor
5 Years for the Parts and Electronics
2 Years for Labor
Product Dimensions
78'' Length
38'' Width
63'' Height
Folded dimensions: 46" L x 38" W x 66" H
Shipping dimensions: 84" L x 33" W x 13" H
Tread belt dimensions: 60" L x 20" W
3-ply, 2.5mm tread belt
2.75" crowned rollers
Rebound cushion system
Net weight: 285 lbs./129 kg
Gross weight: 289 lbs./131 kg
Maximum user weight capacity: 350 lbs./158.7 kg
Frame: Steel
Motor: 3.5 CHP
Speed range: 0.5-12 mph
Incline: 0%-15% automatic/motorized
Step-up height: 9"
Maximum incline height: 18"
SoftDrop folding system
Monitor: DualTrack blue backlit
Heart rate monitoring: Contact & wireless (HR chest strap included)
Programs: 26
User profiles: 4
Bluetooth technology
Online app compatible
Transport wheels: Yes
Tablet holder: Yes
Water bottle holder: 2
Cooling fan: Yes
Built-in speakers: Yes
USB charging port: Yes
Auxiliary port: Yes
Accessory holder: Yes
Shipping and Assembly
The shipping cost for this unit will depend on where you are purchasing it from. Should you be buying from Amazon, there will be no shipping cost because they provide free shipping.
As for assembly, it is relatively easy to assemble. If you are doing this alone it could take you up to 2 hours, more or less to assemble. The major components come pre-assembled and it is accompanied by an instruction manual that would walk you through the process.
Maintenance
The maintenance of this treadmill boils down to keeping the deck/tread belt clean always. Lubricate the tread belt with a silicon-based oil after every 25 hrs of usage.
Do not expose the treadmill, especially the console to liquid, moisture, or direct sunlight.
Conclusion
The Nautilus T618 Treadmill Machine is viewed in a positive light by most of its users because of its quality and the range of features that justify the cost. It is designed to help you engage in effective, productive, and fun-filled workouts.
Nautilus T618 Treadmill Machine Review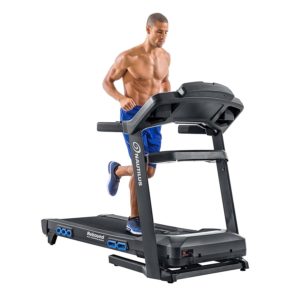 TheT618 Treadmill was launched into the market in 2016 as one of Nautilus top models. One of the factors that made this machine outstanding
Product Brand: Nautilus
Product In-Stock: https://schema.org/InStock