The Nautilus E616 is the upgraded version of the Nautilus E614 Elliptical Trainer and adding it to your home gym might be a step to the right direction in terms of bringing about your fitness goal into actualiztion.
Even the Nautilus E614 Elliptical Trainer is a good buy but this is better improved with additional features for productive and enjoyable workout experience. 
For instance, The Nautilus E614 has a total of 22 workout programs while this unit has 29 workout programs. The E614 does not have Bluetooth connectivity but the E616 does, the E614 is not telemetry enabled but the E616 can use wireless chest strap heart rate.
The E614 has 20 levels of resistance, but the E616 has 25 levels, the E614 has a manual incline with 6 adjustable positions while the E616 has 0 to 11% motorized incline adjustment. There are a whole lot of good and useful features you can't just refuse that are available in the Nautilus E616 Elliptical machine.
Click right here to have a peek at the price of the Nautilus E616 Elliptical Trainer on Amazon.
Features/Pros
It has got this beautiful backlit Dual Track LCD display with two screens that display up to 13 workout details. Also, the design of the console is such that you can place or prop a tablet, book, or magazine on it and still be able to read or view your workout data.
It is Bluetooth enabled and with charging USB port. The Bluetooth LE connectivity connects you to the Nautilus fitness app and NautilusConnect goal tracking and data export that would let you know your workout progress, which will, in turn, help you to remain focused on achieving your fitness goals.
It has got a 20'' precision path stride length that would suit almost any user.
It has 29 programs which include 12 profiles, 9 heart rates, 4 user profiles, 2 fitness tests, 1 recovery test, and Quickstart.
It has 0 to 11% motorized ramp adjustment that would provide you with a challenging workout and a precision target on some muscle groups.
It has got large articulating footplates with cushioning that will ensure comfort during exercise.
It has got 25 levels of Eddy (magnetic) current resistance that would allow you to experience a wide range of workouts that is fun and challenging.
It has got a high speed, high inertia perimeter weighted flywheel that makes workouts smooth and quiet ride.
The

Nautilus E616 Elliptical

integrats levelers and two center base that provides stability during workouts
It has transport wheels that would ensure easy movement.
It has oversized crossbar tubing for added stability.
It has ergonomically positioned static handlebars with heart rate sensors on them that would conveniently read and track your heart rate during a workout
It has acoustically chambered speakers that would produce quality sound output for your entertainment during a workout
It has a 3-speed fan designed to keep you cool at all times during the workout.
Con
What I think is the downside to the Nautilus E616 Elliptical is that in as much as the 11% motorized incline will allow you to adjust incline without having to stop your workout it is also important to note that the incline levels should have been more. Anyway, just my thought.
Warranty
10 years on frame
2 years for mechanical
1 year for electrical
90 days on labor
It supports 300 pounds maximum user weight
Product Dimensions
71'' Height
28'' Width
70'' Length
It weighs about 173.3 pounds
Shipping and Assembly
Shipping cost is usually free if you are buying from the Amazon but that cannot be said about other retailers.  Nautilus doesn't sell and ship their products directly but through retailers such as Amazon.
As for assembly, it is relatively easy to have the Nautilus E616 Elliptical set up in no time because its major components come pre-assembled and it is also accompanied by an instruction manual that would walk you through the assembly.
Let the delivery man get your equipment delivered in the very room you will be using it because 167 pounds unit will not be a piece of cake moving around.
Conclusion
The Nautilus E616 Elliptical is recommendable for anyone looking forward to working out in order to lose weight and stay physically healthy.
 Nautilus E616 Elliptical trainer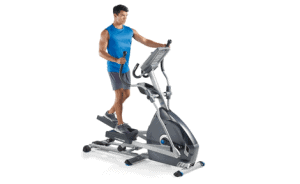 The Nautilus E616 is the upgraded version of the Nautilus E614 Elliptical Trainer and adding it to your home gym might be a step to the right direction in terms of bringing about your fitness goal into actualiztion.
Product Brand: Nautilus
Product In-Stock: InStock