The ASUNA Minotaur Cycle Exercise Bike 7150 has undoubtedly a compelling presence that could make just about anyone want to try it out. Its appearance reminds us of a motor power bike that could go right to the moon.
In other words, the ASUNA Minotaur Cycle Exercise Bike 7150 has the ability to get almost anyone in the riding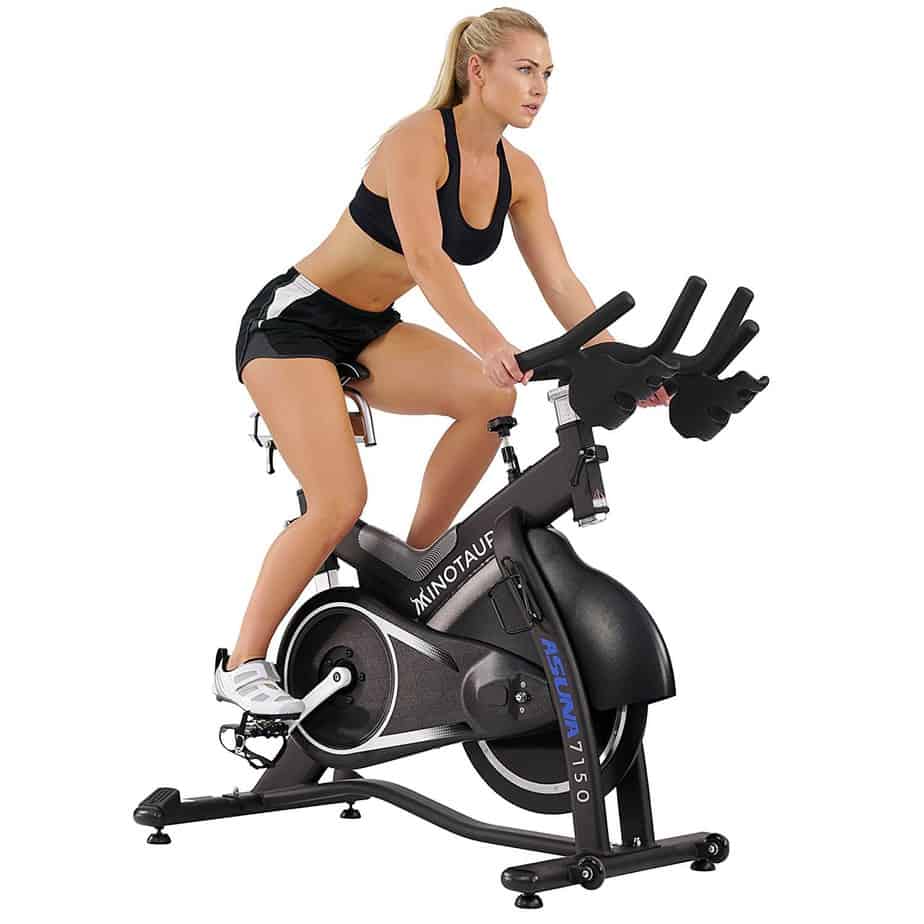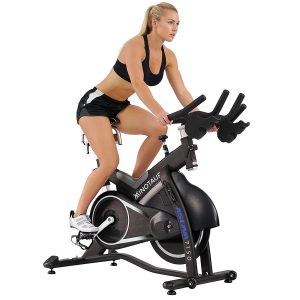 mood for some indoor spinning action simply by having it lying around the house.
Its looks could be a very good source of inspiration, but having said that, other aspects that really matter have to be looked into as well and that is the essence of this review.
Sunny Health & Fitness has presented other ASUNA models which we must admit are recommendable, such as the Asuna Sabre 7100, Asuna Lancer 7130, Asuna 5100, and we believe that the Asuna Minotaur 7150 will not be different.
But of course, it should be different considering that the price is higher than the aforementioned models and therefore value will be expected in return.
First of all, this cycling bike features a commercial grade frame that makes it a great choice for any gym or home use. The overall built and design gear towards providing comfortable workouts that are characterized by smoothness, silence, and stability.
This claim could easily be justified by the base framework, the dual compatible pedals, the narrow Q Factor, the ergonomic handlebar, a seat that is fully adjustable, and many more. On top of that, quality is next to its name and this is one of the best spin bikes for home use or for the gym.
Click right here If you wish to have a quick peek at the price of the ASUNA Minotaur Cycle Exercise Bike 7150.
The Frame/Sturdiness
The frame of the ASUNA Minotaur Cycle Exercise Bike 7150 is sculpted from heavy-duty, high quality, thick steel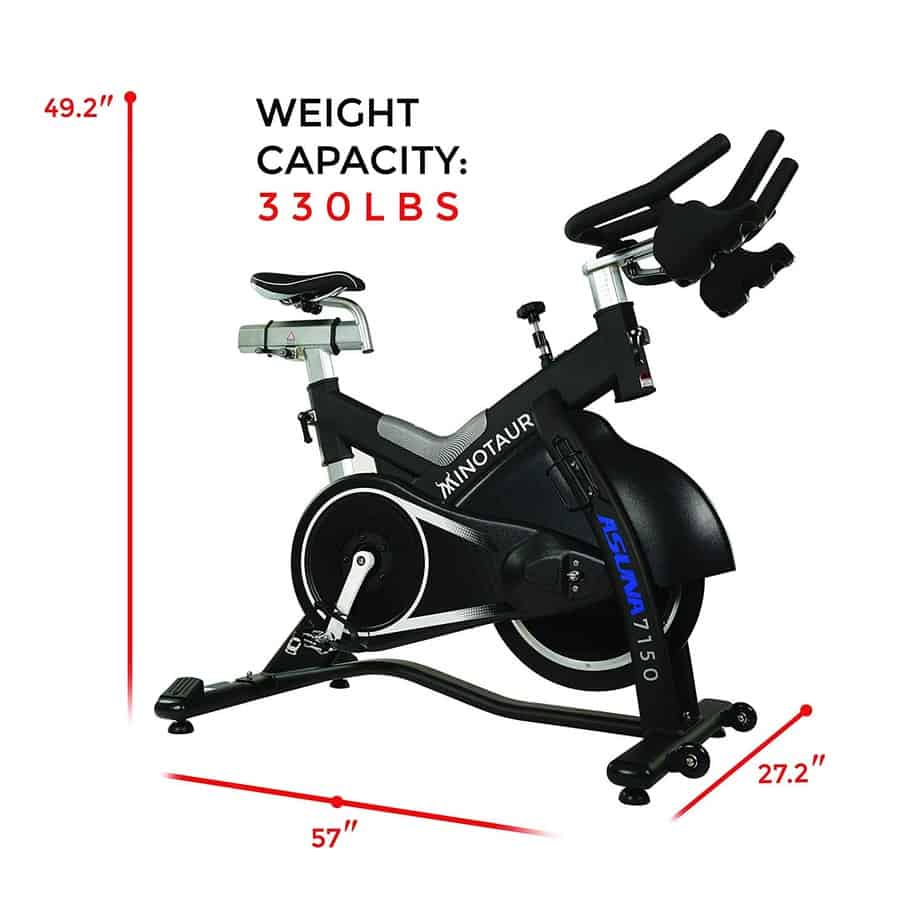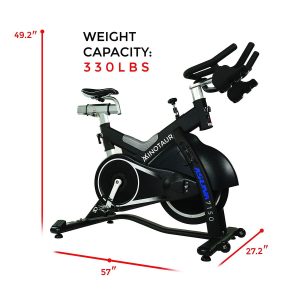 that makes it pass for a commercial spin bike. The joints are meticulously welded with precision, which makes it almost impeccable.
It is a very sturdy cycling bike that supports up to 330 pounds/149.6 kg maximum user weight capacity and some have the opinion that it can support even support further than that.
The frame features easy step-on and step-off design that could be perfect for the elderly, or people with disability/injury.
It is coated with anti-corrosion and scratch paint that prevents rusts and scratches from invading, distorting, or reducing its lifespan.  The handlebar and the seat posts are chrome finished, which is also anti-corrosion, and are made of high-grade aluminum.
Sunny Health & Fitness did their homework by laying out the groundwork for stability. There are two solid stabilizer bars, one on the rear base, while the other at the front base with another one across, connecting and creating firmness.
Underneath these stabilizer bars are four adjustable, protective levelers that are designed to have a grip onto the floor and level up the bike on an uneven floor. However, you may also use a protective rubber mat to have the bike placed on it to further improve stability.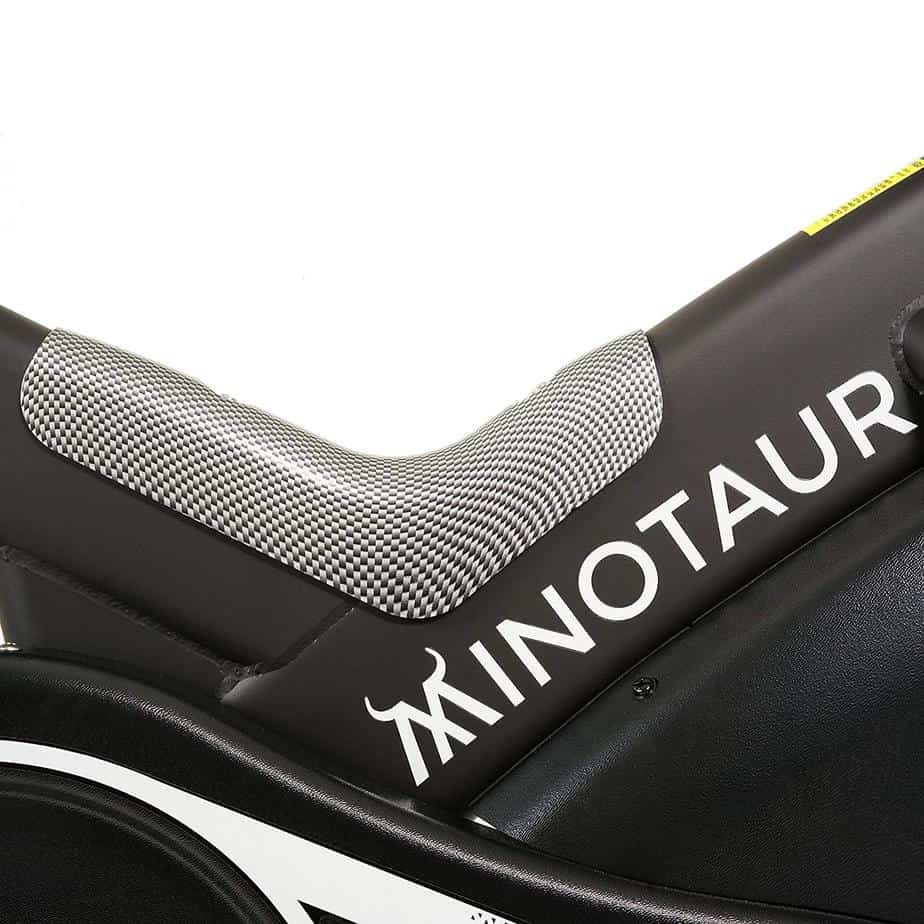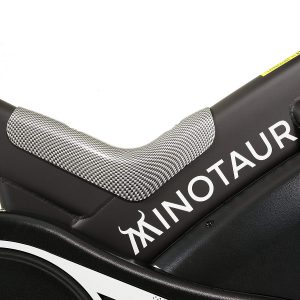 The ASUNA Minotaur Cycle Exercise Bike 7150 is not a very compact spin bike when compared to the L NOW Indoor Cycling Bike Model D600. It has a slightly larger footprint; the overall dimensions are 57 inches long by 27.2 inches wide by 49.2 inches tall.
In other words, a workout area of 4.75 feet long by 2.3 feet wide will be required and should be used in a room with a ceiling height of at least 6 feet.
However, for safety and comfort, it is recommended to leave at least, an additional 2 feet on each side of the bike and the rear.
The bike weighs about 132.8 pounds/60.2 kg which could be heavy for some people during the relocation process, but there are two transport wheels at the front base that are designed to make relocation easy. The advantage side of the weight is that it further makes the bike a lot more stable.
The Seat, the Handlebar, and the Pedals
The seat is an essential part of the spin bike just as the handlebar and the pedals because they are directly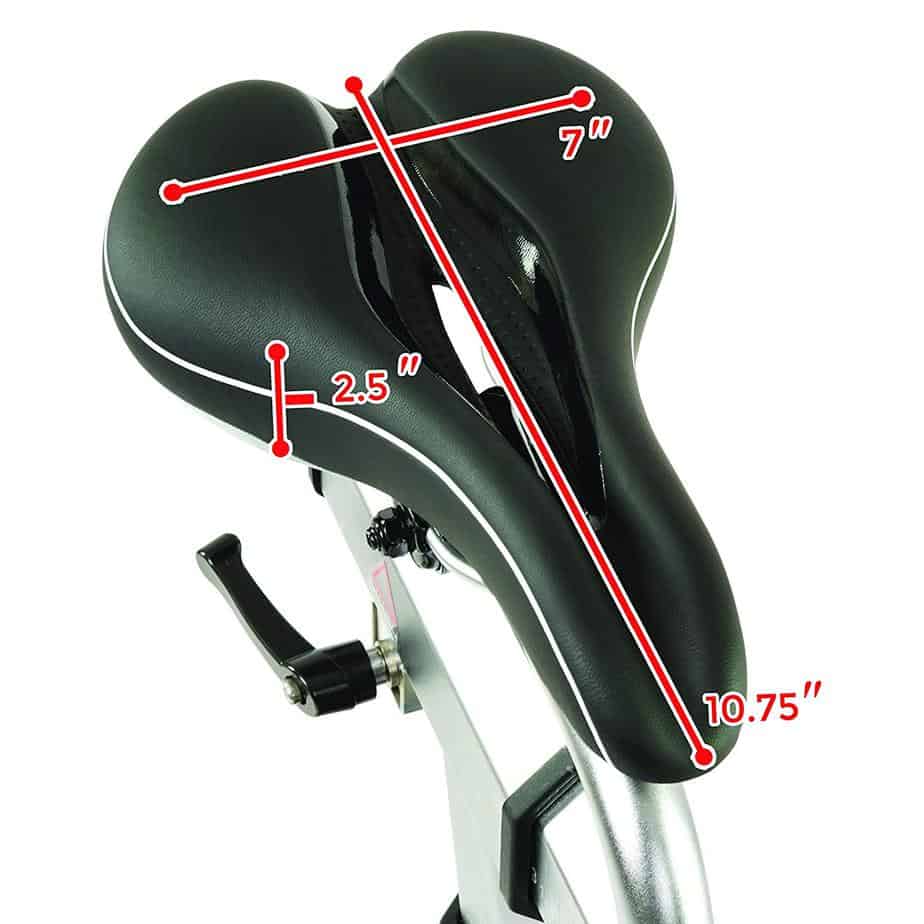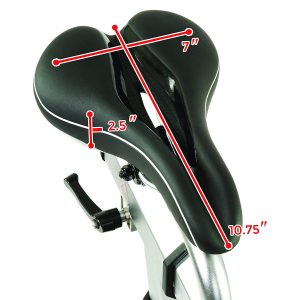 responsible for comfort.  There are certain designs that are expected to be incorporated into these elements in order for them to provide the much-needed comfort to the user.
For instance, the seat of the ASUNA Minotaur Cycle Exercise Bike 7150 almost meets the expected standard for comfort. It is fully adjustable with 4-way adjustability; which means you can adjust it upward/downward and forward/backward. This provides you with the options of different seat positions for a comfortable workout experience.
This also means that multiple members of the family can use the bike, and it is easy to reset even when someone alters your settings because of the bold and distinct markings on the seat post.
The maximum inseam height of the seat is 38 inches and the minimum inseam height is 30 inches. Users between 5 feet to 6 .5 feet can be accommodated conveniently.
The saddle design is similar to that of the regular road bicycle with a slim looking shape, although, it is an inch or so wider than most other indoor cycling bikes. The overall dimensions of the seat are 10.5 inches long by 7.5 inches wide by 2.5 inches thick.
It is basically and ergonomically designed to provide some level of comfort to the butt, however, you may want to use the gel seat cover to improve the comfort because it does not totally provide the maximum comfort needed. You can also replace the complete seat with another one of your choices because it has a connection mechanism that makes that possible.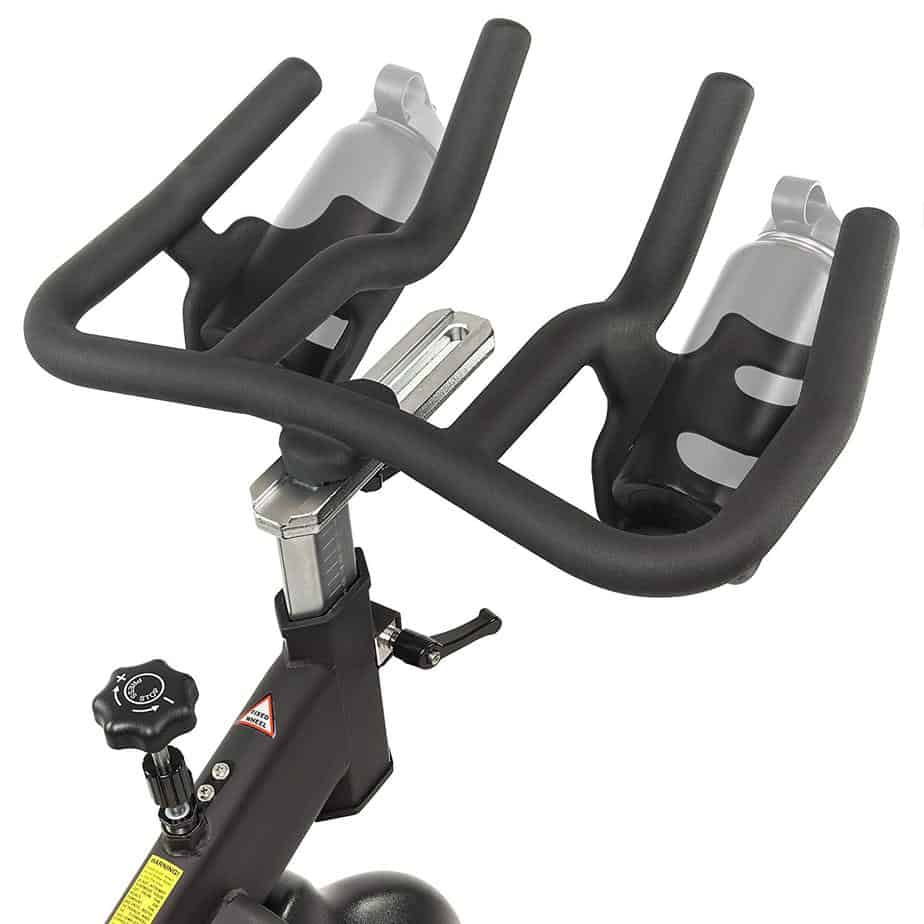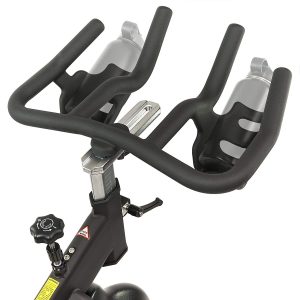 The handlebar looks like something out of a futuristic sports movie because of its multi-grip design that is integrated with two water bottle holders capable of holding 32 oz of bottles. It is well coated with rubber foam materials intended to provide maximum comfort and a firm grip.
The different sets of grips offer options of dynamic workout angles that could resonate with you.  Just as the seat, the handlebar is 4 way adjustable. It can be adjusted vertically and as well as horizontally, which increases the chances of accommodating taller individuals without restrictions.
The ASUNA Minotaur Cycle Exercise Bike 7150 has an interesting set of pedals that are dual-sided. This means they feature a set of toe cages on one side of the pedals and then SDP clips on the other side. You can conveniently use standard gym shoes or spin shoes for spinning. These secure your feet even in a high-intensity workout with a high level of speed.
The pedals do present a very impressive Q Factor that is narrow. In case you don't know what the Q Factor means, it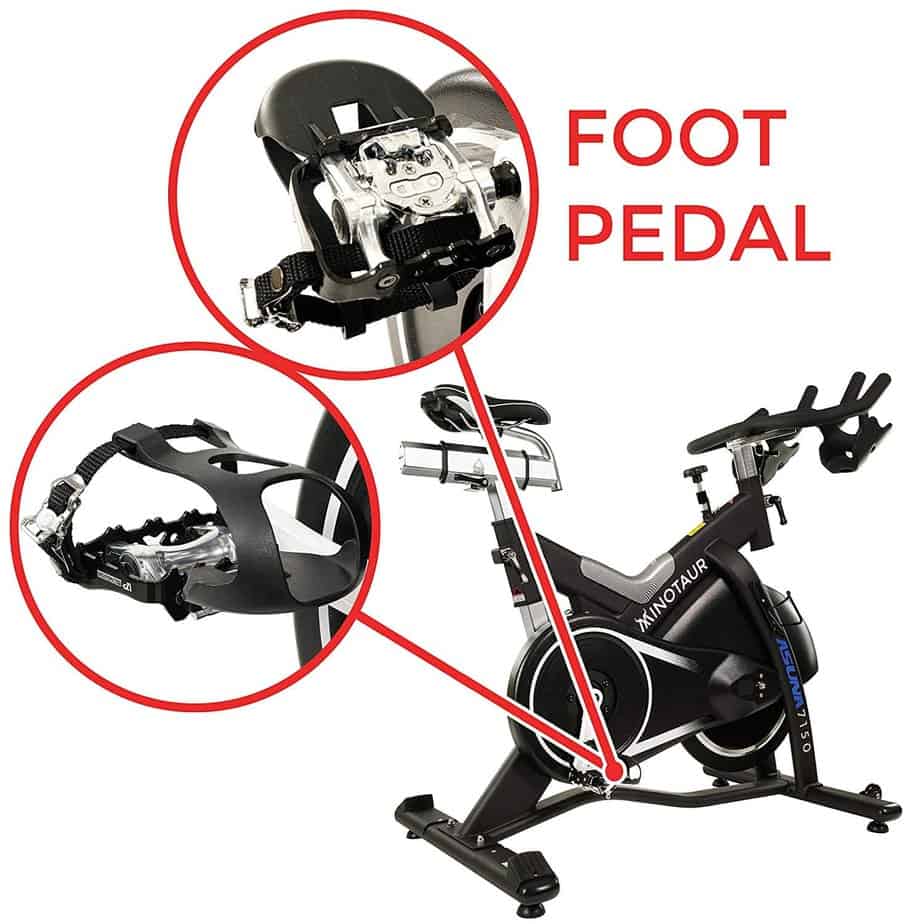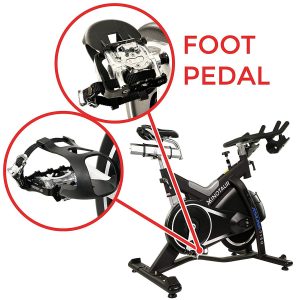 means the distance from the inner edge of the left pedal to the inner edge of the right pedal.
The Q Factor is 140mm/ 5.5 inches similar to that of a bicycle. The placement of your legs on the pedals will be natural and so your pedaling experience won't be different from that of riding an outdoor bicycle.
For the fact that the Q Factor provides natural placement of the feet, this also means less stress to legs, knees, and ankles and you can work out much longer without having stop because of pain in the joints.
The pedals and the crankset are durable and solidly made to support stand up pedaling. You can also pedal in reverse to work on more muscle groups because the pedals are bidirectional. That said, you cannot coast as you could on a traditional bicycle as a result of the bi-directional design of pedals.
The pedals and the flywheels turn at the same time and therefore it could be tricky to try to stop pedaling suddenly. What you need to do is to apply the emergency brake by pushing the tension knob down in order to stop the flywheel.
The Drive of the ASUNA Minotaur Cycle Exercise Bike 7150
The ASUNA Minotaur Cycle Exercise Bike 7150 is a belt-driven cycling bike. This type of drive system provides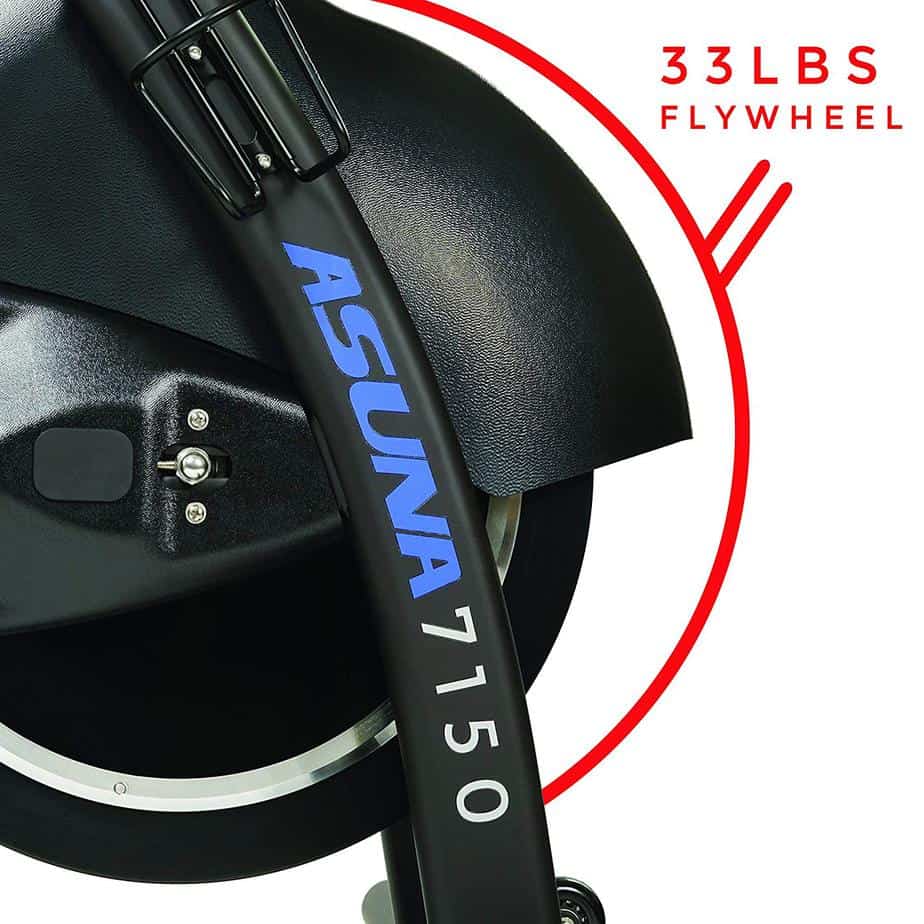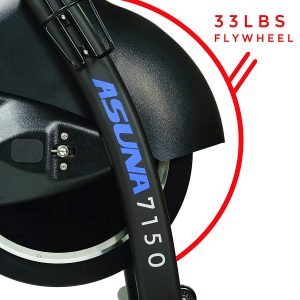 smooth and quiet operation. On top of that, it does not need any sort of maintenance such as lubrication or adjustment like the case with a chain drive system.
The drive system on this bike consists of pulleys, heavy-duty belt, quality crankset and crank arms, pedals, and flywheels. As aforementioned, you can perform a stand up pedaling as long as you are within the weight range capacity of 330 pounds/149.6 kg.
The 33 pounds perimeter weighted flywheel is not as heavy as the one on the Trbitty Ancheer Belt Drive Indoor Cycling bike, but it still provides enough momentum for consistent motion.
The Resistance
The resistance system that is incorporated into the ASUNA Minotaur Cycle Exercise Bike 7150 is the manual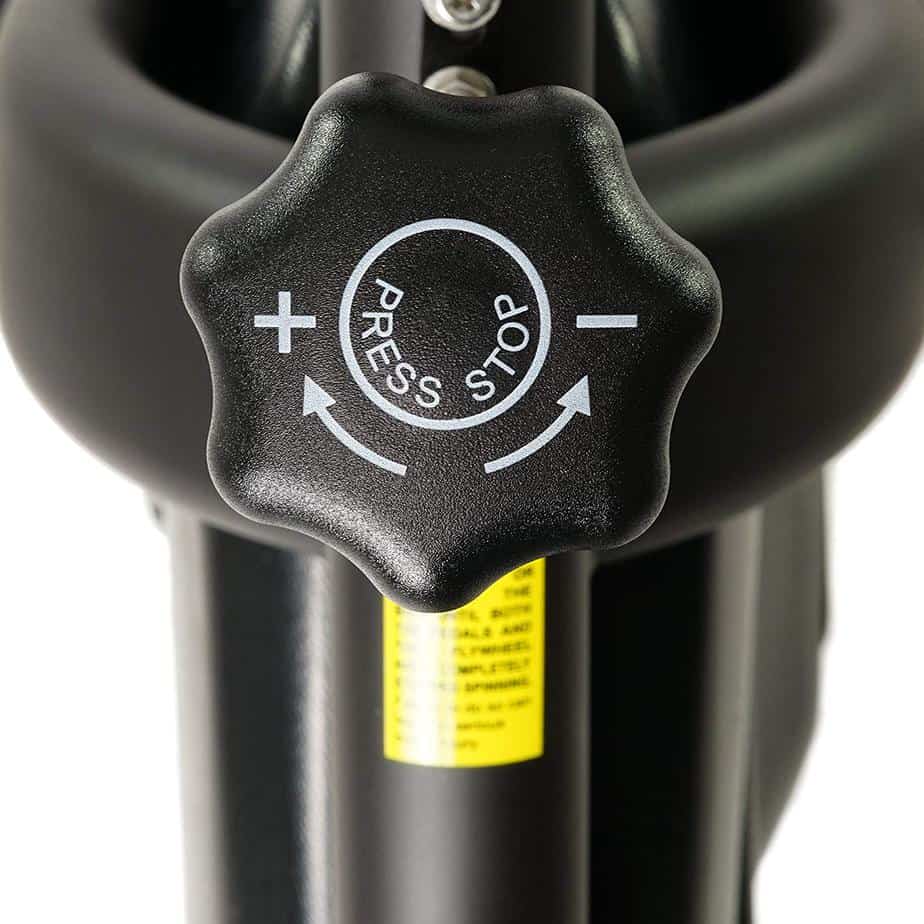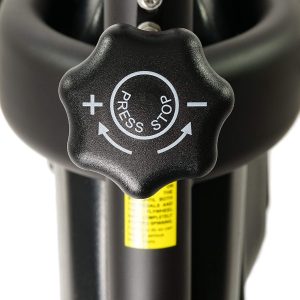 magnetic resistance. This resistance system consists of the tension knob on the mainframe that is connected to the two magnets that are positioned on each side of the flywheel.
So, each time the tension knob is adjusted clockwise the magnets shift position toward the flywheel and emit magnetic fields around it to generate resistance.
The closer the magnets get to the flywheel, the harder the resistance becomes and if the tension knob is turned anticlockwise the resistance reduces.
The magnets never make contact with the flywheel and so they will never wear out as a result of friction.
The resistance is also a variable resistance system which means that there are no specified resistance levels on the tension knob.  You have to keep on turning the tension knob until you feel you have the right amount of resistance suitable for your workout.
The downside of this is that it will be difficult for you to track your strength endurance progress because you won't be able to compare resistance levels used in different workout sessions.
The tension knob also doubles as the emergency brake that could be used to stop the spinning of the flywheel safely.
The magnets and most parts of the flywheel are covered with a plastic shroud.
The Console
The ASUNA Minotaur Cycle Exercise Bike 7150 does not feature any console just like many other of Sunny Health & Fitness spin bikes. The reason for this is not clear but we thought it should have come with a monitor that will allow users to track their workout progress.
However, there is a way around that; if you wish to keep an eye on your workout progress then you may want to consider purchasing the Wahoo RPM Sensor for iPhone, Android, and bike computers. This should help you to monitor your workout data via your smartphone and it is compatible with this bike.
 Accessory
The ASUNA Minotaur 7150 has a double water bottle on the handlebar. They are, in our opinion, strategically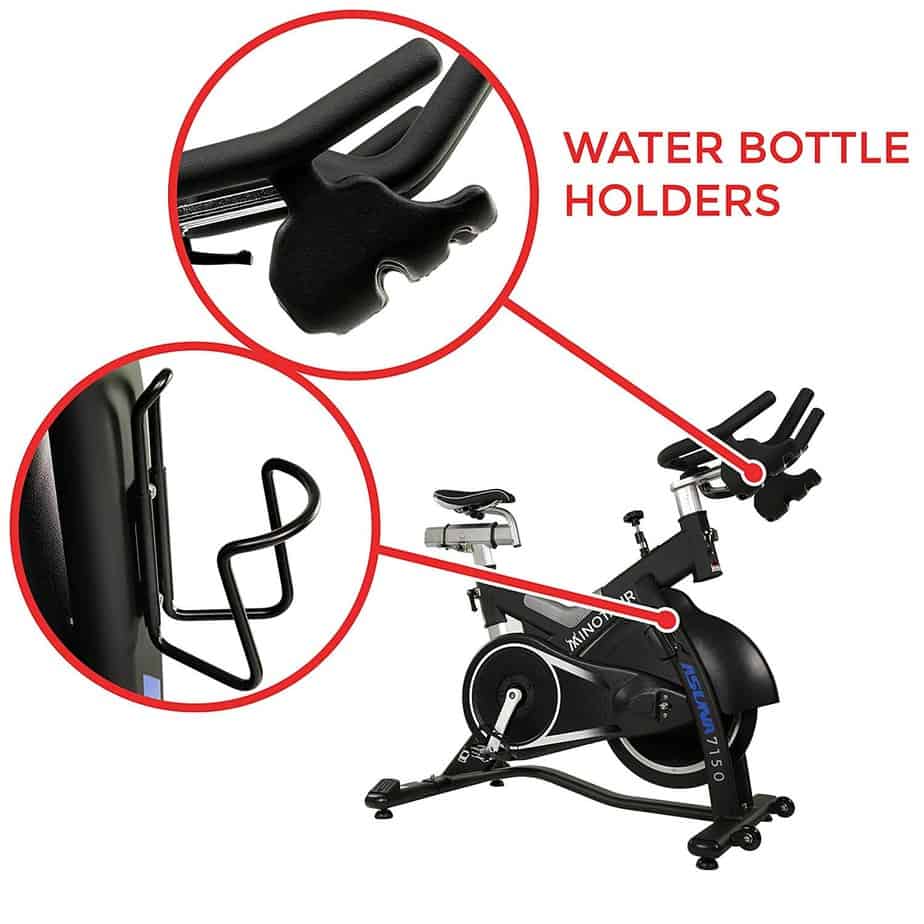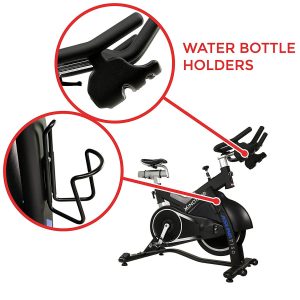 positioned for easy reach. There is yet another one at the side fork of the bike making the total number of water bottle holders to be three.  These are for staying adequately hydrated during workouts.
Aside from those, it does not have any other accessory, not even a tablet holder. However, a tablet holder could also be purchased and attached to the bike if you want to.
Storage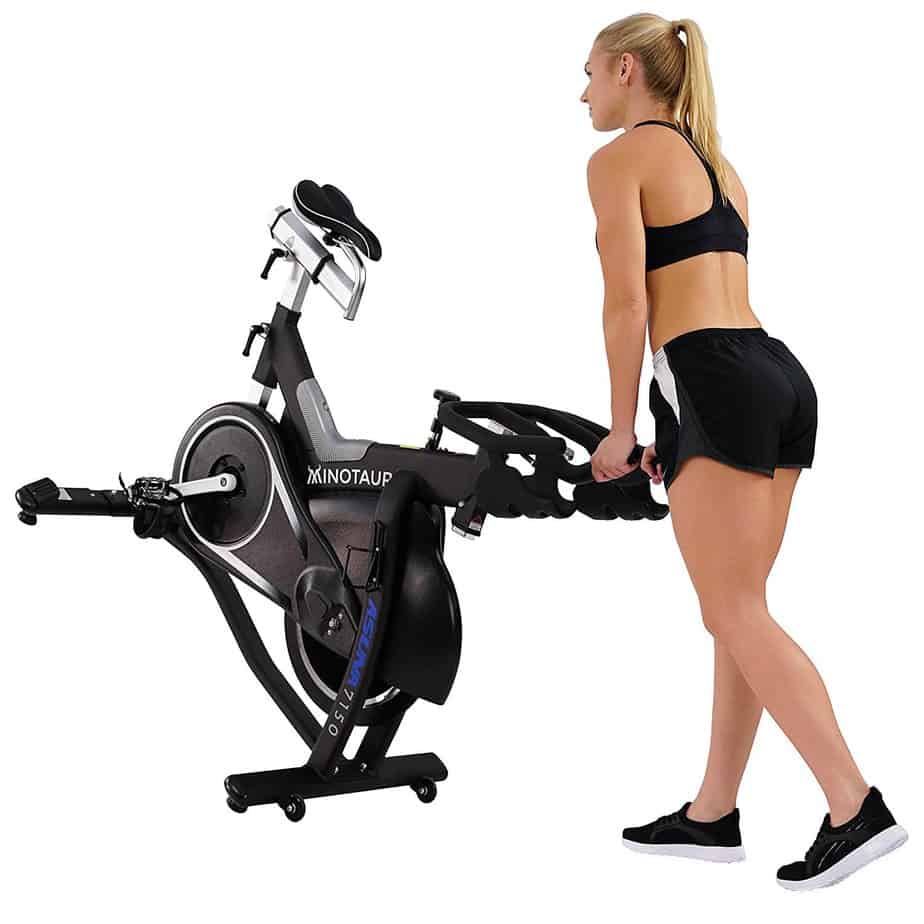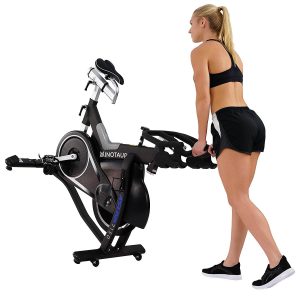 The storage of the Asuna Minotaur 7150 is without a problem even though it is slightly larger than some cycling bikes. Basically, it requires a storage space of 4.75 feet long by 2.3 feet wide, which is considerable.
The bike weighs 132.8 pounds/60.2 kg which could take the breath out of some folks if they wish to move it to another location, but do not be dismayed if you are terrified about the weight because there are transport wheels on the front base that literally make the unit portable.
Approval Rating
At the time of this review, there is only one Amazon customer review and the reviewer simply says ''everything about this bike is great!!!!'' and rated it 5 out of 5 stars.
Based on our research and other review websites reports we think that this is a recommendable bike that could definitely impress its users.
Pros/Features Overview
Outstanding design that is exhibited in elegance
Commercial grade frame, hence very sturdy
Highly stable due to its base framework and overall weight of 132.8 pounds/60.2 kg
Supports up to 330 pounds/149.6 kg maximum user weight capacity
The Handlebar has a multi-grip design and is 4 way adjustable,  and coated with foam material for a comfortable firm grip
The seat is 4 way adjustable that offers an opportunity for suitable workout position
The pedals are dual-sided and compatible with SDP Cleat, and standard gym shoes
A narrow Q Factor of 140mm/5.5 inches that provide the natural placement of the feet onto the pedals for comfortable and stress-free pedaling
The pedals are bidirectional; you can pedal in reverse so that more muscle groups could be worked on
It features a belt drive system that does not require maintenance and provides smooth and quiet operation
It features a manual magnetic resistance system that provides a challenging workout
It features a 33 pounds/15 kg perimeter weighted flywheel that provides smooth and consistent spinning.
It does not occupy too much space for storage, and it is integrated with transport wheels for portability
Almost maintenance-free
Easy to assemble
3 water bottle holders included
Cons
Does not have a console
No resistance levels indicated
Product Dimensions and Specifications
57'' Length
27'' Width
49'' Height
Supports up to 330 pounds/149.6 kg maximum user weight capacity
Weighs 132.8 pounds/60 kg
Seat: 4 way adjustable
Handlebar: 4 way adjustable
33 pounds/15 kg perimeter weighted flywheel
3 water bottle holders
Resistance: Magnetic
Pedals: Dual-sided (SDP clips and toe cages)
Frame: Commercial grade
Warranty
5 Years on Frame
180 Days on Parts and Components
Shipping, Assembly, and Maintenance
Shipping
The ASUNA Minotaur Cycle Exercise Bike 7150 is usually shipped and delivered within days of order. The shipping cost depends on which retailer you are purchasing from; however, some retailers such as Amazon provide free shipping.
Assembly
The Asuna Minotaur 7150 is pretty easy to assemble because the major and complicated components are preassembled. Therefore, there are only a few parts left for you to attach to the frame, such as the stabilizer bars, the pedals, the seat, and the handlebar.
It won't take more than 30 minutes to fully assemble the bike.
Maintenance
This bike possesses a belt drive and magnetic resistance systems; therefore, no major maintenance is required.
However, keeping the bike clean from dirt and sweat after each use is necessary. Also, always examine the bike for any loose, broken, or worn part and fix accordingly if there is any.
Moreover, clean the metal parts of the bike with a dry cloth, while you can use a damp cloth for the plastic parts.
Conclusion
The ASUNA Minotaur Cycle Exercise Bike 7150 is a good choice for home or commercial use. It has got the quality and features that are necessary for enjoyable and productive workouts.
ASUNA Minotaur Cycle Exercise Bike 7150 Review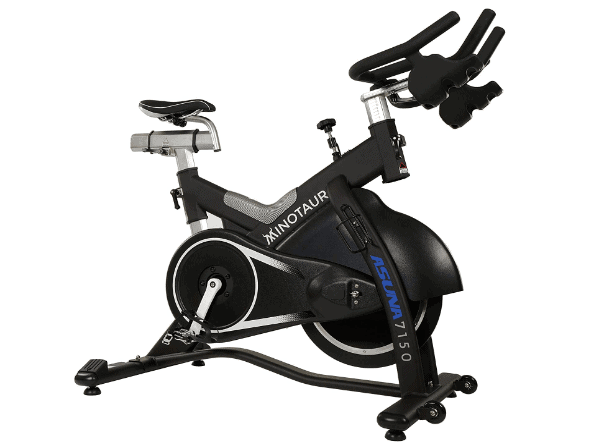 The ASUNA Minotaur Cycle Exercise Bike 7150 has undoubtedly a compelling presence that could make just about anyone want to try it out. Its appearance reminds us of a motor power bike that could go right to the moon.
Product Brand: Sunny Health & Fitness
Product In-Stock: https://schema.org/InStock