The Life Fitness Lifecycle GX Group Exercise Bike with a console has an appealing appearance that is graced by modern innovative design. It is in the same category as the Keiser M3 Plus as both share a similar price range, rear-drive, and they both come with a console.
However, they both still have their differences though.
The essence of this review is to have a closer look at the Lifecycle GX Group Exercise Bike that is also known as the GEC-ALLXX-01C model and to provide you with enough information that could finally point you to the right direction for smart purchasing decision.
The Life Fitness GX Group Exercise Bike has a micro-adjustment system that makes it possible to accommodate users of different heights comfortably.  This, in turn, makes it possible for users to workout longer to achieve their fitness goals.
It is a high-end spin bike that is widely used for spin classes across the United States in many commercial gyms, health clubs, and even at home. It has high durability, reliability, and provides satisfactory performance.
Again, it is a very good looking bike that has a frame that is robotically welded. It is generally a rich looking bike that is an asset in reality which could allow you to perform a number of workouts such as heart rate training, low impact exercise, performance training, strength training, and weight loss.
Click right here to purchase the Life Fitness Lifecycle GX Group Exercise Bike with Console at a price on Amazon.
The Frame/Sturdiness
The frame of the Life Fitness Lifecycle GX Group Exercise Bike with Console is made of high-quality steel which does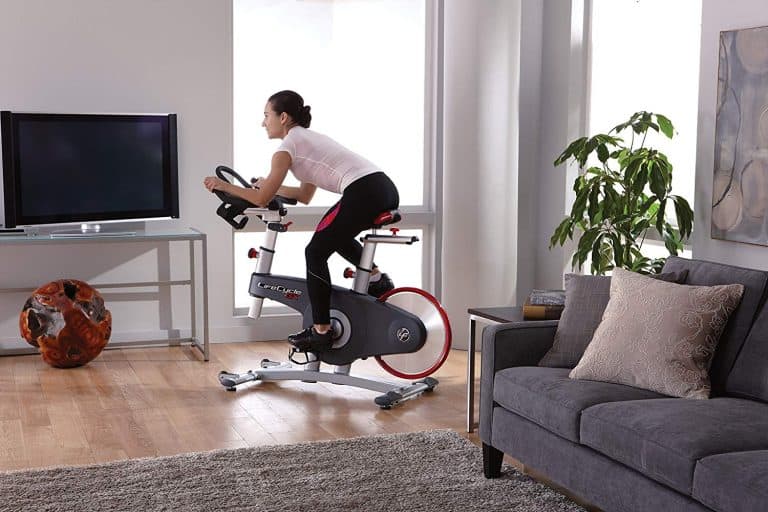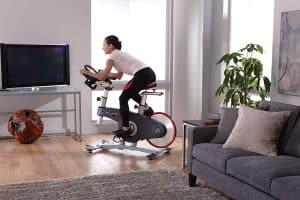 not come as a surprise considering the fact that this bike has been used for commercial purposes such as in the health clubs and spin classes. Therefore, one would ordinarily expect it to be very sturdy and durable, which it is. It supports up to 350 pounds/159 kg maximum user weight capacity just like the Star Trac Spinner Blade ION Indoor Cycling Bike.
It has a design that not very many spin bikes possess. For instance, the flywheel is at the rear, and the frame design leaves the handlebar and the post hanging without the usual side forks. This gives it a unique look and does not compromise its stability; if it has any effect at all that would be that it boosts the overall stability because of its base framework.
Some of the bikes that have similar frame design with the Life Fitness Lifecycle GX Group Exercise Bike are the Keiser M3i Plus and the ASUNA Lancer 7130.
Speaking of stability and the base framework, when you look at the Lifecycle GX Group Exercise you will notice that it has a robust and balanced base. This is because of the thick oval-shaped stabilizer bar that is designated at the front and the rear bases with an adjoining crossbar upon which the frame sits on. The rear stabilizer bar has a durable rubber platform designed to enable you to properly stretch your calf muscles before and after workouts.
The frame features anti-corrosion and rust e-coating that preserves its sleek outlook from scratches and rusts.
Underneath the stabilizer bars are four adjustable levelers that serve as protective and stability elements because they protect the floor from being damaged by the weight of the bike and also level up the bike on an uneven floor.  You simply adjust the leveler(s) that requires adjustment by twisting clockwise or anticlockwise in order to level up the bike and interestingly they also grip unto the floor.
The bike weighs about 111 pounds/50.3 kg which also promotes stability as well.
There are two transport wheels integrated on the front base designed to make the bike portable. This means anyone can easily move the cycling bike from one room to another regardless of the weight, but just so you know, assistance might be required if it has to be moved up or down the stairs.
This bike is well established in terms of stability as you may have seen and can handle any degree of a high-intensity workout without wobbling.
The bike's overall assembled dimensions are 54.6 inches long by 23 inches wide by 39.5 inches tall. Therefore, the workout area required should be 4.6 feet long by 2 feet; however, it is recommended to provide additional clearance of at least two feet on each side of the bike and the rear for safe and convenient workout experience.
The Seat, the Handlebar, and the Pedals
As aforementioned, the Life Fitness Lifecycle GX Group Exercise Bike has a micro-adjustment system that provides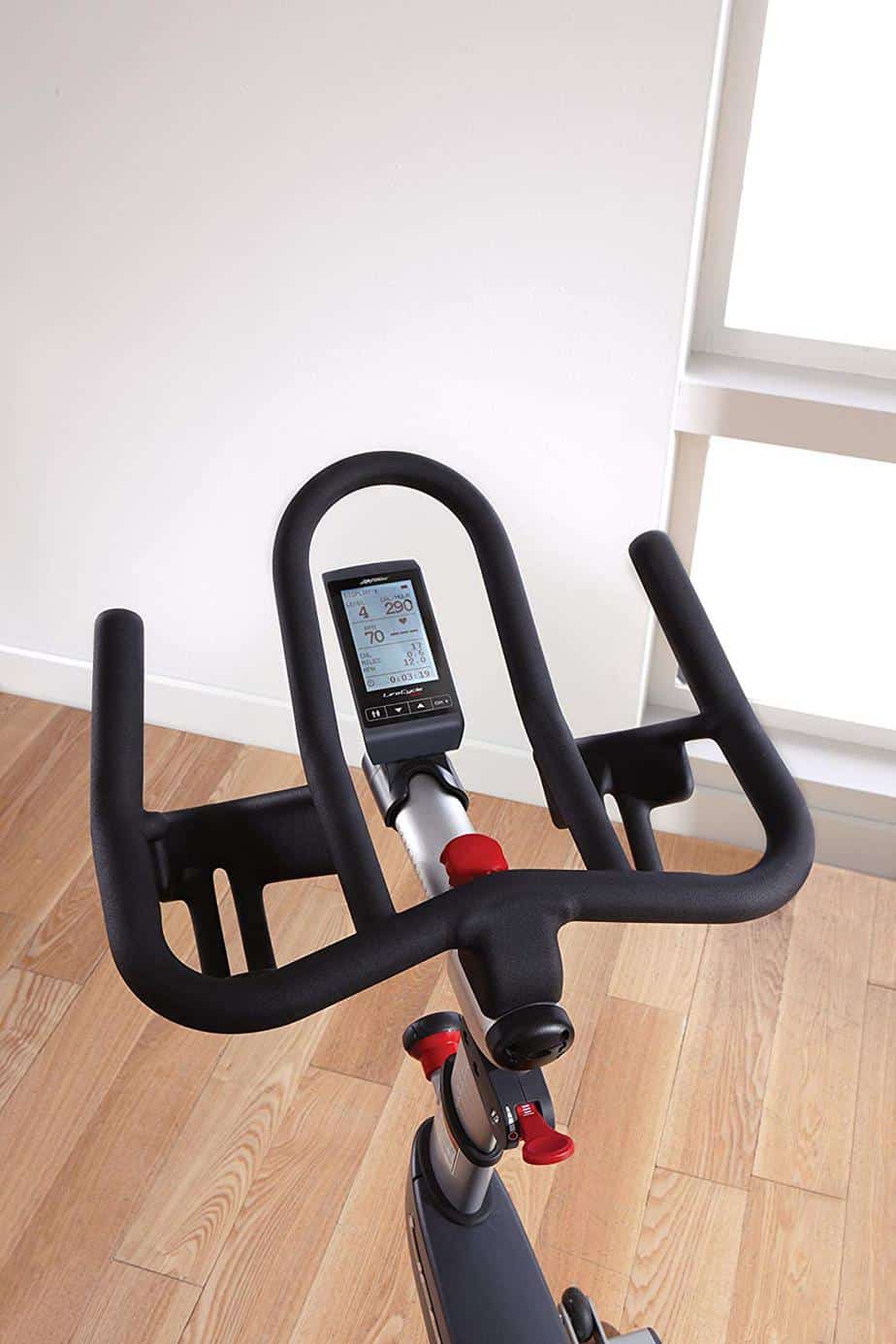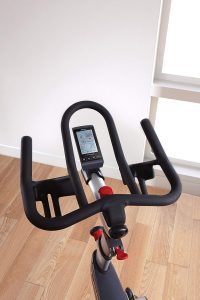 suitability for users of different sizes and this has to do with the seat, the handlebar, and the pedals.
The seat is 4 way adjustable just like every other indoor spin bikes. It can be adjusted vertically and horizontally, i.e. upward/downward and forward/backward. This provides a lot of leverage toward achieving the most suitable workout position.
It is a common knowledge that spin bikes' saddle rarely provides comfort to the butt due to the usual slim and contoured design that is covered with thin padding. However, the Life Fitness Lifecycle GX Group Exercise Bike has a slightly different design that is a little bit wider and thicker than the standard cycling bike seat. It provides some level of comfort but you may want to improve its comfortability by using a gel seat cover.
It can also be replaced entirely with another saddle if need be because the post has a standard design that is compatible with other stationary bike seats.
Unfortunately, the seat/saddle's dimensions are not stated.
The handlebar is also 4-way adjustable which is very complementary to the seat's adjustability. It is not all indoor cycling bikes' handlebar can be adjusted 4 ways. As a matter of fact, a high-end bike is likely to have it than an entry-level spin bike.
Therefore, you should be able to adjust the handlebar as you wish, upward/downward, and fore/aft. These, together with the seat's adjustability allow users between the heights of 5 feet to up to 6 feet 7 inches tall to be accommodated suitably.
The adjustment knobs are in reachable and convenient positions and should not be difficult to configure the seat and the handlebar to your preferred heights and widths. Basically, the adjustments should take up to a minute.
The handlebar is ergonomically designed with multiple grips that provide a couple of workout postures that could be suitable for different types of spin bike workouts. It is coated with a rubber foam material that prevents slippage and blisters in the palms but instead provides comfortable and firm grips.
It is also integrated with two water bottle holders that are within the reach of the user which helps to stay hydrated during a workout.
The bike's micro-adjustability also makes a room for multiple users. This means that the entire family members can use the bike without difficulty or fear of adjustment settings being altered because there are clear markings and numbers that could help anyone to know his/her adjustment settings easily.
The pedals have dual-sided designs. They feature SDP clips on one side and toe cages with adjustable safety straps on the other side. In other words, they compatible with the regular gym shoes and of course the spin shoes and you can use either of them for comfortable and secure workouts.
The pedals also feature a narrow Q-Factor (distance between the pedals) of 170 mm/6.6 inches that is capable of providing natural alignment to legs and feet. This also means less stress on the leg joints and the user should be able to pedal and workout longer.
The pedals are quality enough to support a stand-up pedaling routine of a weight that is within the range of the stipulated weight capacity. They are also bidirectional; in other words, the 45 pound/20.4 kg perimeter weighted flywheel and the pedals spin simultaneously and so a user can pedal in reverse to reach and work on more muscle groups.
However, there is no way to coast on it just like anyone could on a road bicycle because both the pedals and the flywheel turn concurrently.
The Drive
The Life Fitness Lifecycle GX Group Exercise Bike with Console features a   multi-ribbed belt drive that provides high quality pedaling that is characterized by smooth and quiet performance. The 45 pounds/20.4 kg perimeter weighted flywheel also ensures consistent and smooth workout experience due to the momentum it creates.
The drive system consists of elements such as the multi-ribbed belt, durable pedals, high-quality crankset and steel crank arms, and a heavy flywheel; together they form a formidable force and quality that could make anyone's workout worthwhile.
On top of that, unlike bikes with a chain drive system, it doesn't need any periodic lubrication or adjustments of any sort.
That said, the belt may require a replacement after some time of use because it wears out, and the belt's lifespan totally depends on how frequent the bike is being used, therefore, it can last from a year or longer.
The Resistance
The Life Fitness Lifecycle GX Group Exercise Bike with Console is integrated with a magnetic resistance system.  This type of resistance system consists of two magnets that are positioned one on each side of the flywheel so that when the resistance tension knob is adjusted the magnets get closer or farther away from the flywheel thereby generating more or less resistance according to the level of the magnetic field that is active at a given time.
In other words, there is a resistance adjustment lever that allows you to adjust the resistance up to 20 distinctive levels.  You may adjust it from easy to difficult workouts that simulate steep uphill ride which will require standing ride that targets specific muscle groups.
The resistance is best for all fitness levels and beginners, intermediaries and the professional athletes will appreciate it.
Yet another advantage of the resistance system is that the magnetic brakes do not require replacement because they don't make any physical contact with the flywheel that could make them wear out.
Also, the fact that the bike has 20 distinctive resistance levels is great because not every spin bike of the same price range has this feature. This allows the user to keep track of strength and endurance training improvements because he/she will be able to know the highest resistance levels used in the previous workout and so compare it with the current highest resistance level that is beings used.
The Console
The Life Fitness Lifecycle GX Group Exercise Bike is obviously supplied with a console. The display is a touch screen,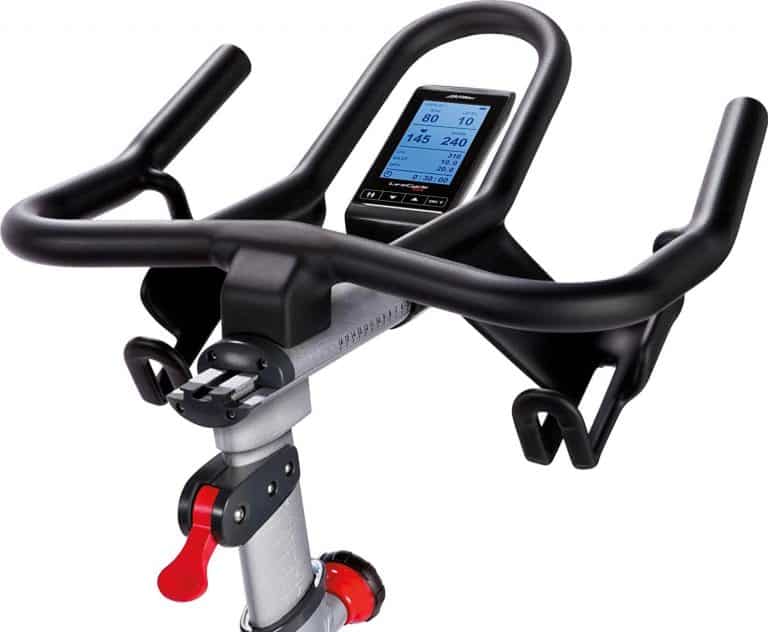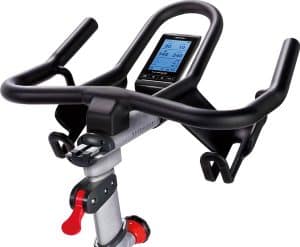 backlit type of monitor that has high readability that is not affected by any type of poorly illuminated environment, and its operation is easy.
Basically, the monitor is more than an average unit because it allows you to input personal stats for workouts such as gender, weight, and age. These make the workout values generated, especially the calories burned to be a lot more accurate than other similar monitors.
The monitor displays several workout data at the same time on the screen, therefore, it does not display values rotationally neither do you have to scroll through them in order to view the one you want.
The monitor displays workout values such as the speed, resistance level (if it is calibrated…the manual has the instructions), cadence, calories burned, heart rate, and distance and the console is telemetry enabled. However, in other to view the heart rate you have to purchase the compatible HR chest strap because it is not included in the original package.
Amazingly, a user has the liberty of setting the monitor with the desired language such as French, Dutch, Spanish, Italian, Portuguese, and German; even though it comes in a default language of English.
The monitor has fewer buttons of 4 which are, namely; User, Up, Down, and Ok/Backlight.  These are really simple to manipulate, they basically help you to navigate through its functions.
The console is powered by two D cell batteries which are stored in the lower enclosure. They should be able to last for several years, however, that also depends on the usage.
Accessory
The accessories that are included with the Life Fitness Lifecycle GX Group Exercise Bike are the two water bottle holders that are integrated with the handlebar. They are indeed in good positions, but those are the only accessories that the unit has.
Storage
The Life Fitness Lifecycle GX Group Exercise Bike with Console is not a large bike even though it is not the most compact bike either.
It has overall assembled dimensions that require a storage area of 4.6 feet long by 2 feet wide, and it is integrated with transport wheels that make it a very portable spin bike even though it weighs 111 pounds/50.3 kg.
Approval Rating
The Life Fitness Lifecycle GX Group Exercise Bike with Console has a positive approval rating on Amazon.
The majority of users are simply awed by the overall performance and quality of the bike. However, there are some that expressed dissatisfaction.
Pros/Features Overview
Sleek and elegant
The frame is made from quality steel and e-coated with anti-corrosion and rust paint that protects it from water, dirt, and sweat
It has a durable and stable build to support up to 350 pounds/159 kg maximum user weight capacity
It has 45 pounds/20.4 kg perimeter weighted flywheel that provides maximum momentum for smooth and consistent motion
The pedals are dual-sided thereby making it possible for standard gym shoes or spin shoes to be used
It has a narrow Q-Factor of 170 mm/6.6 inches that provides natural alignment for the legs and feet which reduces the stress that is usually felt on them
It features a ribbed belt drive that provides a quiet, smooth and outstanding workout experience
It features a magnetic resistance system with 20 levels, providing a wide range of easy, medium and difficult resistance that is suitable for all fitness levels
The bike features micro-adjustability because both the seat and handlebar are 4 way adjustable
The handlebar is ergonomically designed to provide different workout postures and coated with rubber foam material for a comfortable and firm grip
The rear stabilizer bar features dual rubber platform for stretching the calf muscles before and after workouts
It features a backlit, touch screen monitor with high readability
The batteries
The console is telemetry enabled
Two water bottle holders included
Easy to assemble
Cons
The HR chest strap is not included
No preset programs or online connectivity
Product Dimensions and Specifications
55'' Length
23'' Width
40'' Height
Weight: 111 pounds/50.3
Supports 350 pounds/159 kg maximum user weight capacity
Pedals: Hybrid pedals compatible with standard gym shoe and spin shoes
Seat: 4 way adjustable
Handlebar: 4 way adjustable
Drive: Eddy current magnetic resistance with 20 levels
Console: LED, backlit, touchscreen monitor
Accessory: Two water bottle holders
Warranty
5 Years on Frame
3 Years on Mechanical components
1 Year on console
1 Year on Saddle, Pedals, and Labor
Shipping, Assembly, and Maintenance
Shipping
The Life Fitness Lifecycle GX Group Exercise Bike with Console is shipped in a box that weighs 178 pounds/80.7 kg.
The shipping cost totally depends on the retailer you are purchasing from; nevertheless, some vendors such as Amazon provide free shipping within the United States.
Assembly
Amazon provides different types of deliveries. You can opt to have the package delivered only and for you to assemble it, which is free, or you can opt for it to be delivered and unpack in-home which will cost you an extra cost, or you can opt for delivery, unpack in-home and in-home assembly, which is going to cost you even more.
The good news is that you don't need to go for any of those special home deliveries unless you have to because the bike is very easy to assemble. It comes with the major components preassembled and all that is required of you to attach to the frame are the stabilizer bars, the seat and the handlebar posts, the saddle, the handlebar, the pedals, and the console. It should take less than an hour to completely assemble the Life Fitness Lifecycle GX Group Exercise Bike with Console.
It is accompanied by a detailed manual that could walk you through the step by step process of assembly.
Maintenance
Since the Life Fitness Lifecycle GX Group Exercise Bike with Console is a belt-driven bike with magnetic resistance system, there is no serious maintenance required.
You are only required to always examine the bike for any loose, worn, or broken parts; fix any problem that may occur before using it.
Finally, always wipe off any foreign body from the bike such as sweat, dirt, or water.
Conclusion
The Life Fitness Lifecycle GX Group Exercise Bike with a model number GEC-ALLXX-01C is a very recommendable bike. After a closer look and thorough research, we have come to the conclusion that this bike is suitable for all individuals with any level of fitness.
It might be pricey but many people think it worth every dime because you should be able to engage in different types of spin training that target specific goals.
Life Fitness Lifecycle GX Group Exercise Bike with Console Review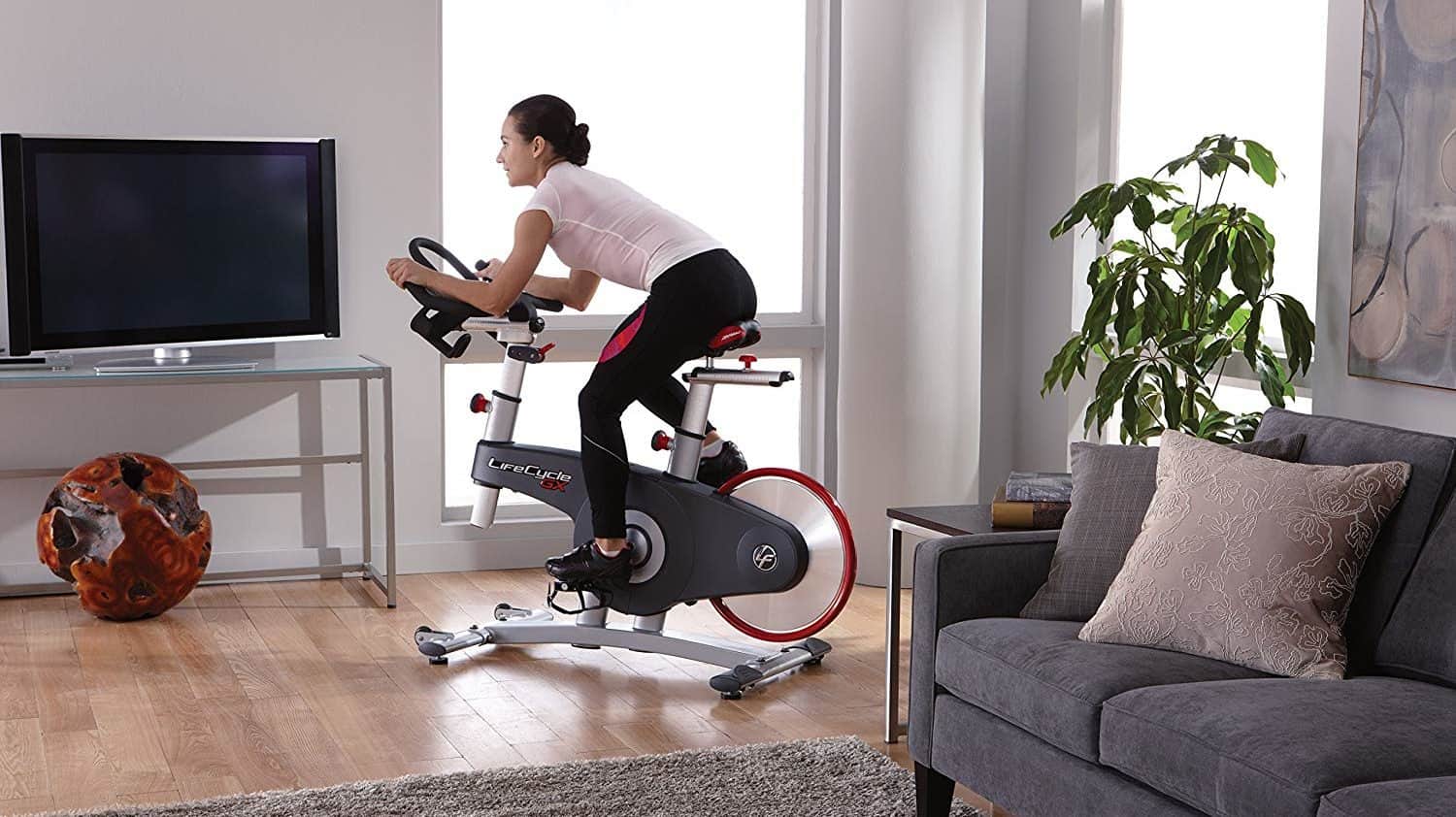 The Life Fitness Lifecycle GX Group Exercise Bike with a console has an appealing appearance that is graced by modern innovative design.
Product Brand: Life Fitness
Product In-Stock: InStock