The Stamina Conversion II Recumbent Bike/Rower is an innovative multi-functional indoor fitness machine that offers users the opportunity to attain their fitness goals by using the functionality of a bike and a rower.
It's so amazing what a user can accomplish with this machine.
This unit allows you to use a rowing machine or ride a recumbent bike; and you can also perform upright rows, curls, and leg press if you so desire. Hook up the rowing handlebar to the seat to increase the resistance effect during the leg press workout.
It is simply versatile that you can easily switch over from rowing to riding activity and vice versa without any hassle.
It has a manual magnetic resistance system that provides a variety of intensities that are suitable for users of different fitness levels.
Users that weigh up to 250 lbs./113 kg or less in weight can use it.
Of course, it has an electronic monitor that tracks Time, Speed, Distance, Calories, and Pulse.
This is an ultimate full-body fitness machine for home use with a job description for toning the legs, buttocks, back, torso, shoulders, and arms. It helps you to lose/maintain a healthy weight, improve cardio fitness for a healthy heart and lungs as well.
Click right here to have a peek at the Stamina Conversion II Recumbent Bike/Rower.
The Frame and Construction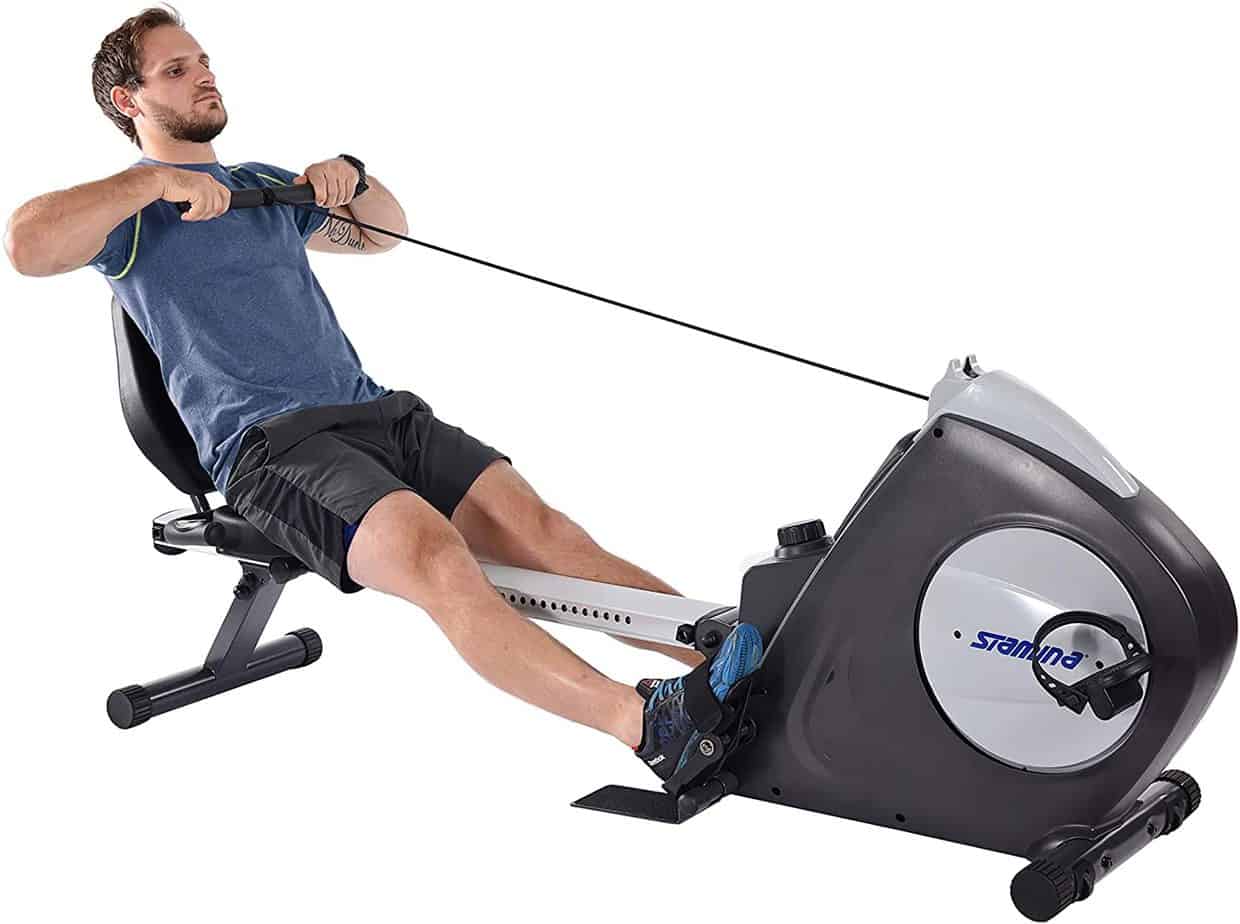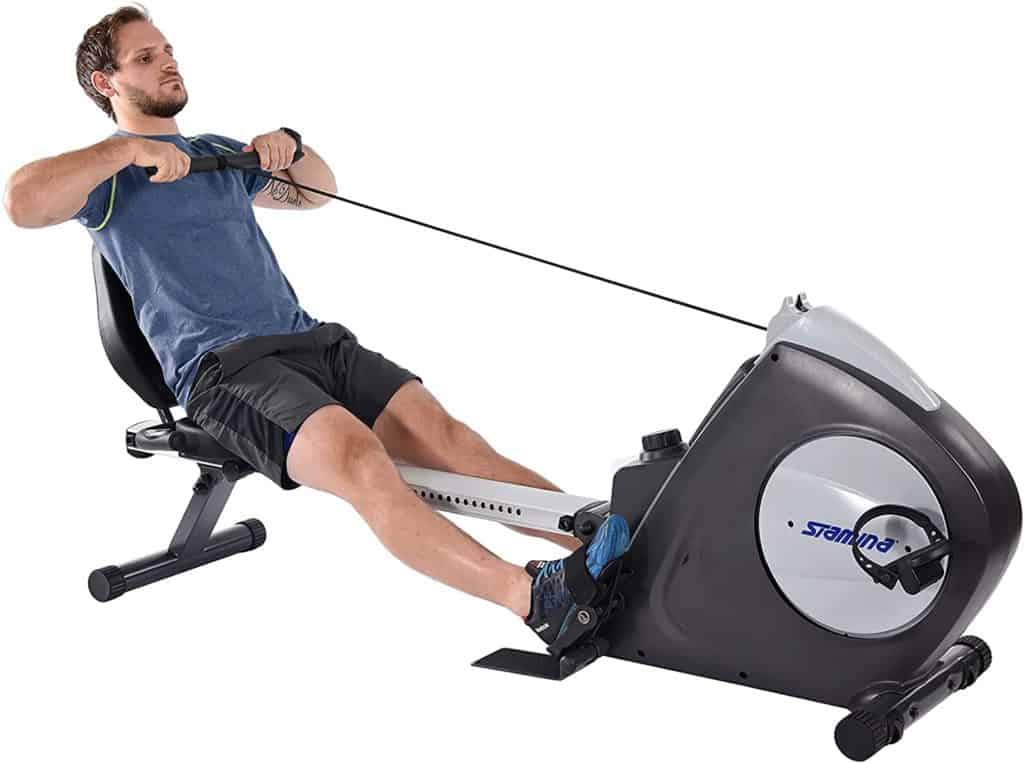 The Stamina Conversion II Recumbent Bike/Rower 15-9003 is available in two different color versions of black and black w/gray. Both are one and the same with the same features and price tag.
The rower is made of solid steel with aluminum rail, while the drive/resistance system covers, stabilizers' end caps, and the external part of the pedals are made of plastic.
The steel parts are coated with anti-corrosive paint while the aluminum rail is anti-rust by default.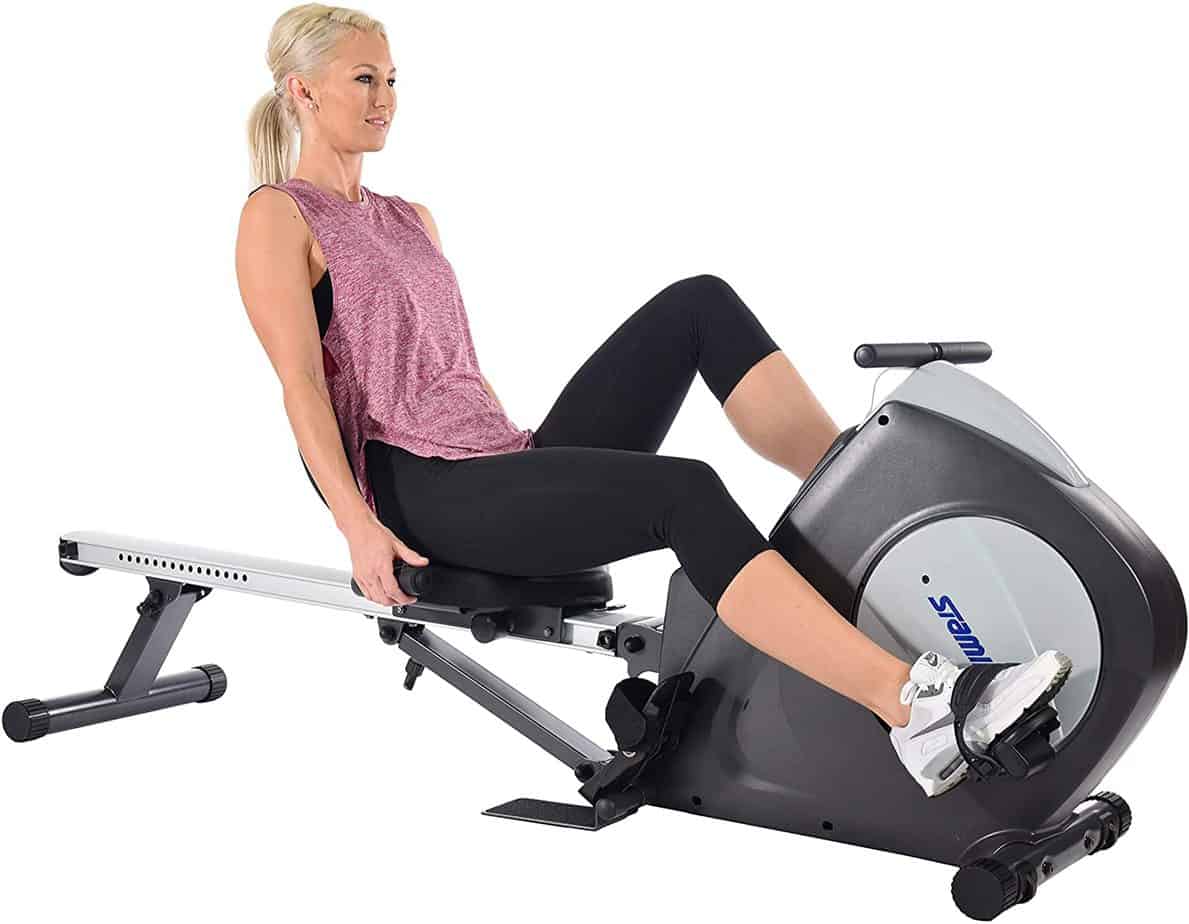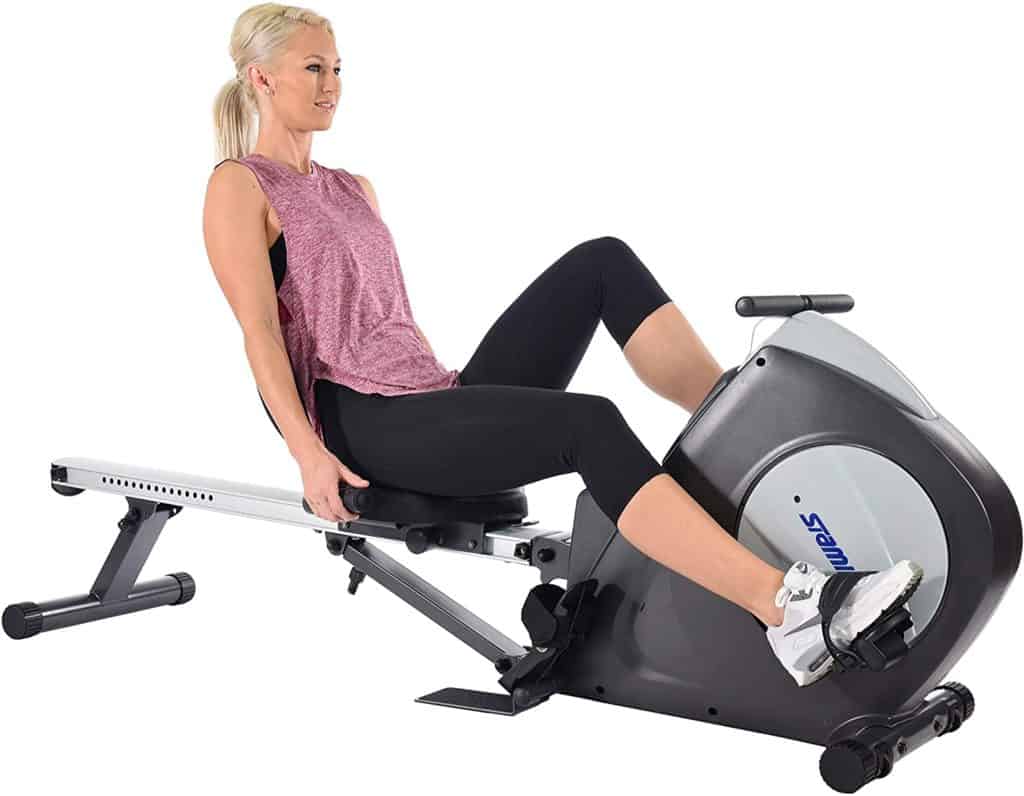 Due to its folding design and the integrated transport wheels at the front base, it's pretty easy to store it away in a small space, even though its overall assembled dimensions are 75.5'' long by 20'' wide by 27'' high.
In other words, it going to require a workout area with perimeters of 6'3'' length by 1'7'' width, plus extra clearance of 1-2′ at the rear and on each side of it for the best workout experience.
So, it does take a little bit of space for workout activity but requires half its workout space (35.5'' L X 20'' W x 56'' H) for storage.
To unfold it, simply pull the knob underneath the rail to unlock and raise it up uprightly.
The machine has a robust base framework that features rounded front and rear steel stabilizers with floor-friendly rubberized caps. Therefore, it guarantees good stability that prevents unwanted movements during an intense workout.
The Seat of the Stamina Conversion II Recumbent Bike/Rower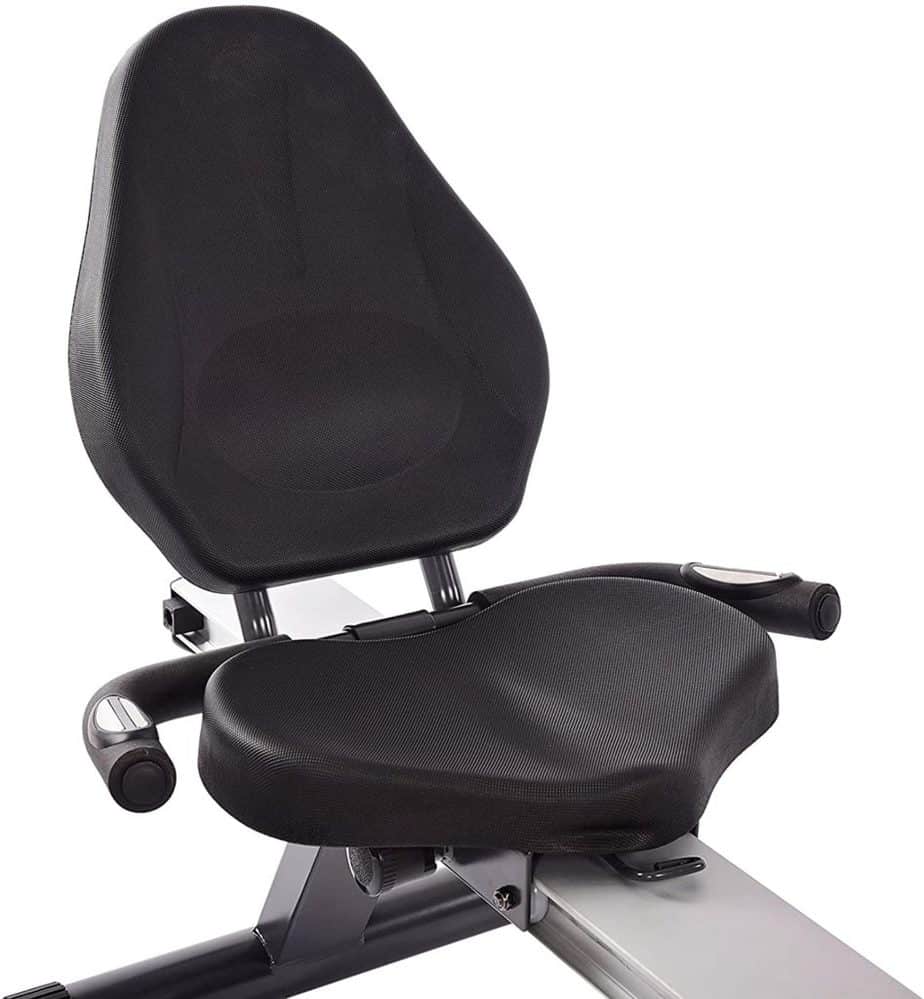 The Stamina Conversion II Recumbent Bike/Rower has a large seat with a backrest (unconventional for rowing machines) that is firmly attached to the oversized aluminum beam rail that has several holes on each side of it (for locking the seat in place when performing a recumbent bike or strength training exercise).
The user will be able to set the seat in a position that is suitable and comfortable. Thus, it can accommodate users of different heights.
It glides back and forth smoothly and quietly during a rowing exercise.
Both the seat and the backrest are contoured and padded for maximum comfort and safety. More so, the backrest is slightly in a fixed recline position for a comfortable sit-back workout.
There is a side armrest/handlebar with the EKG heart rate sensors on each side of the seat which when held during a workout the heart rate will be read and be transmitted to the monitor for viewing.
The side handlebars also provide support for aggressive pedaling, and the seat-to-floor height is about 12-14''.
Finally, there is a hook at the front part of the seat where the rowing handle can be attached for added resistance intensity for leg press workouts.
The Handlebar
The Stamina Conversion II Recumbent Bike/Rower has the traditional rowing handlebar that is coated with thick soft rubber foam. The same is anchored to a 1'' durable nylon strap that is connected to the drive/resistance system.
The anti-skid handle is ergonomically designed to convey comfort that lasts through a prolonged workout. No slippage or blisters will be experienced.
Moreover, it is also used for curls and upright rows.
The Pedals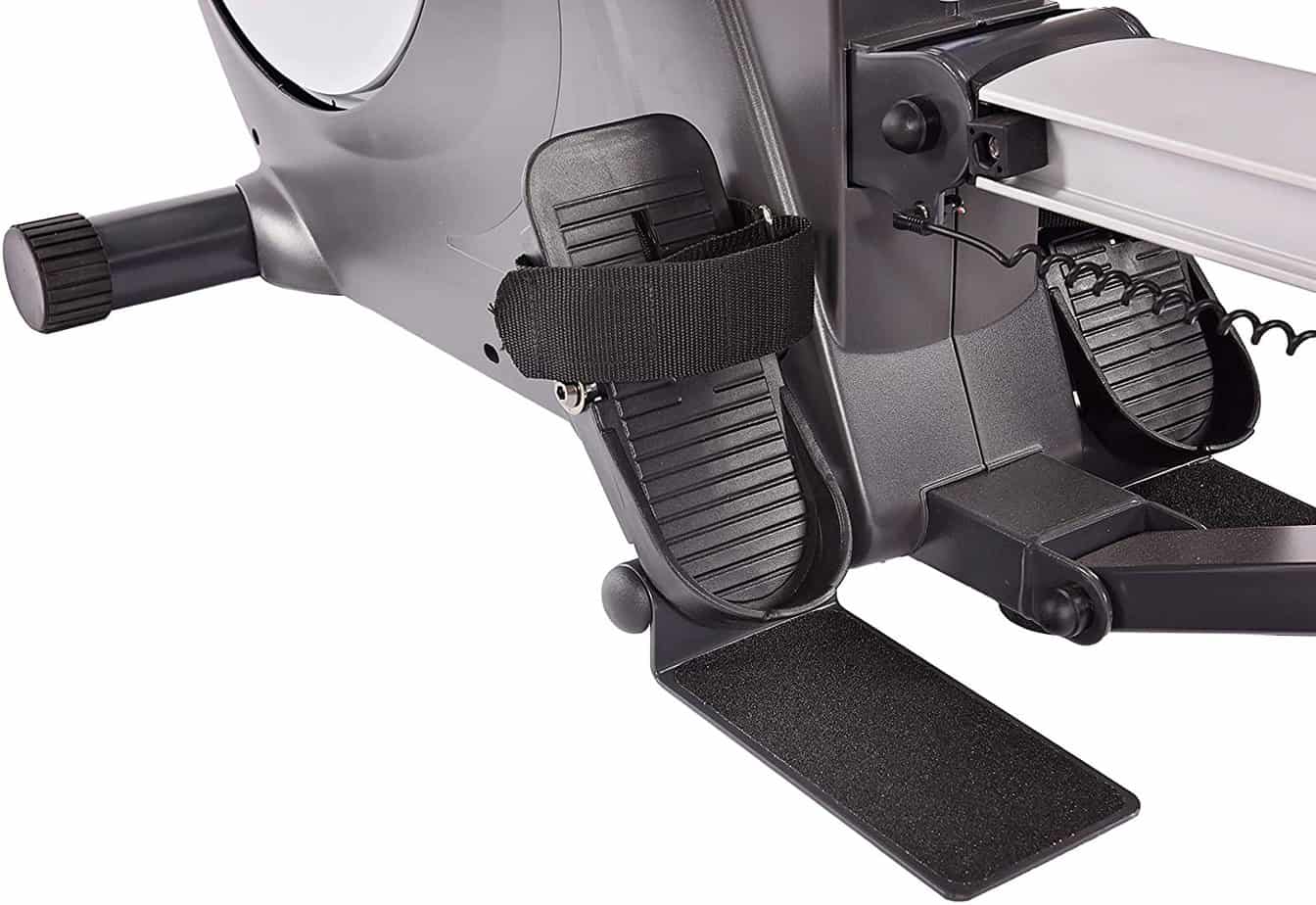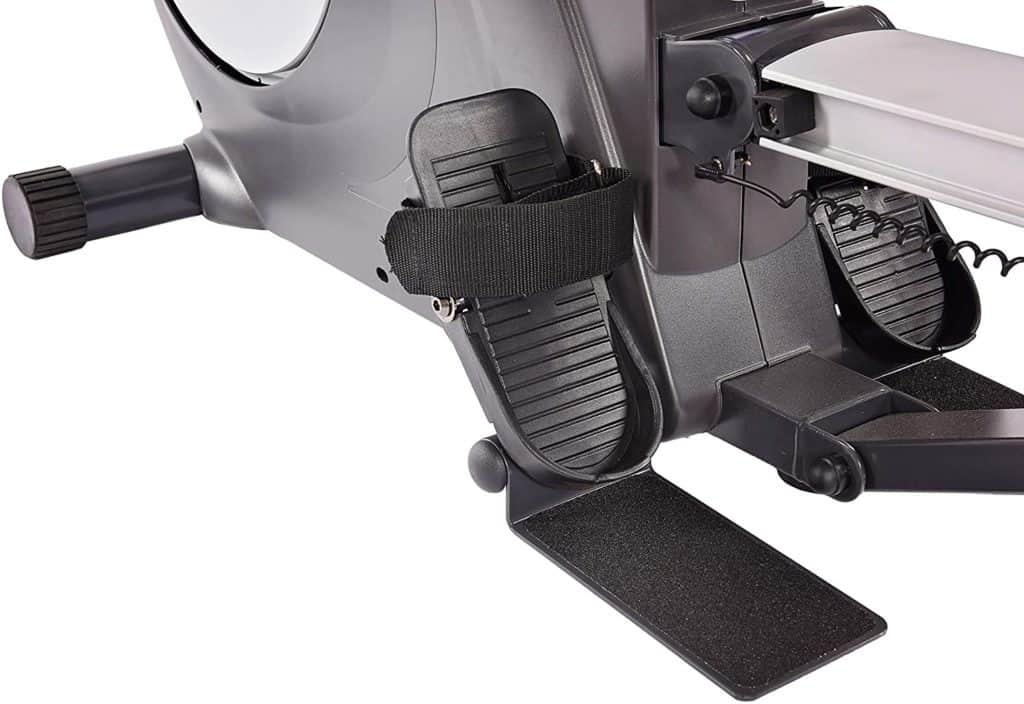 The Stamina 15-9003 Bike/Rower has two sets of pedals that include biking and rowing pedals. They are made of plastic with a steel core.
Both are anti-skid designed with adjustable safety straps that secure the feet in place during a vigorous workout. They can accommodate different foot sizes and standard gym shoes.
The rowing pedals are pivotal as well, providing a flexible movement that reduces stress on the ankles.
The Resistance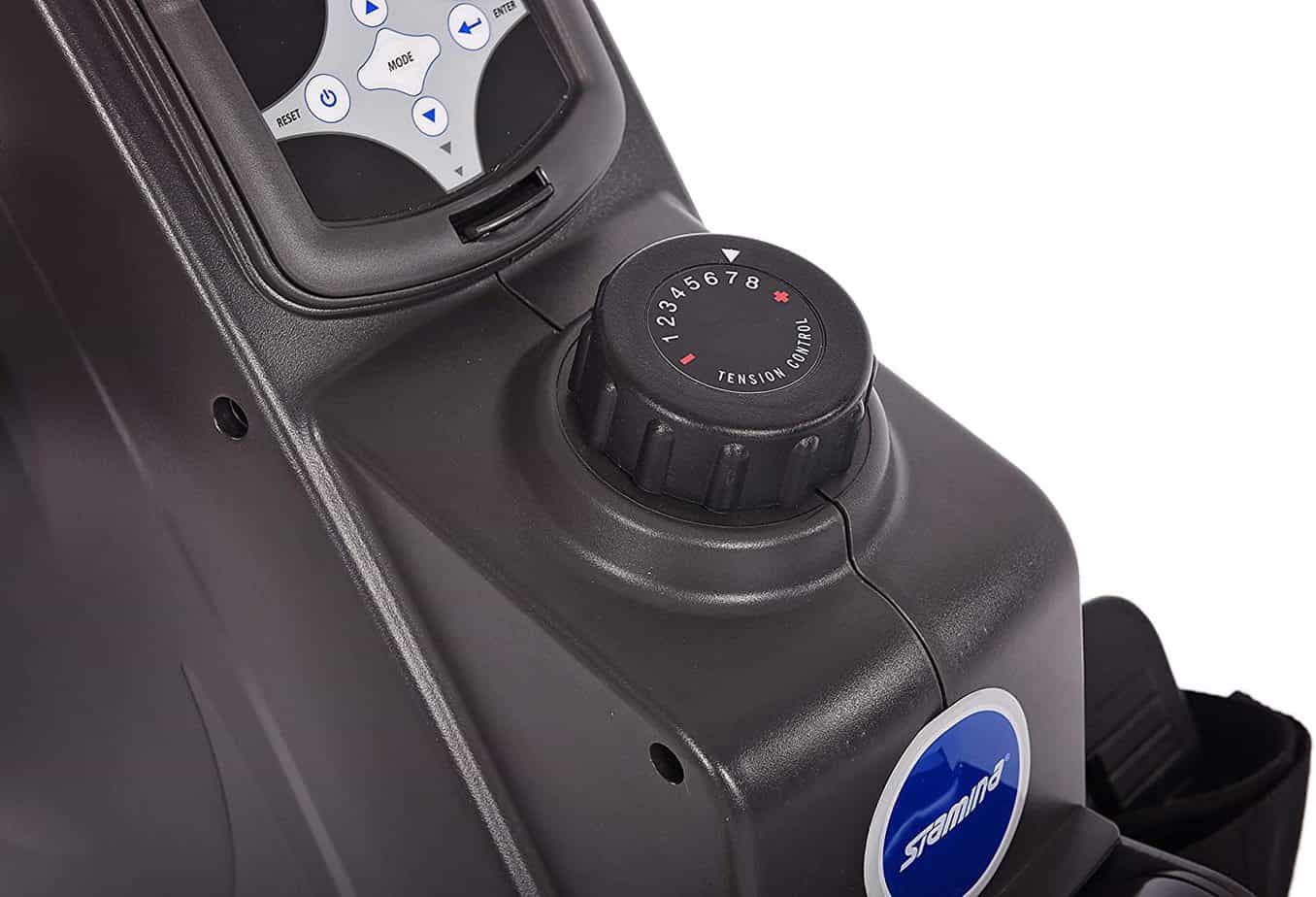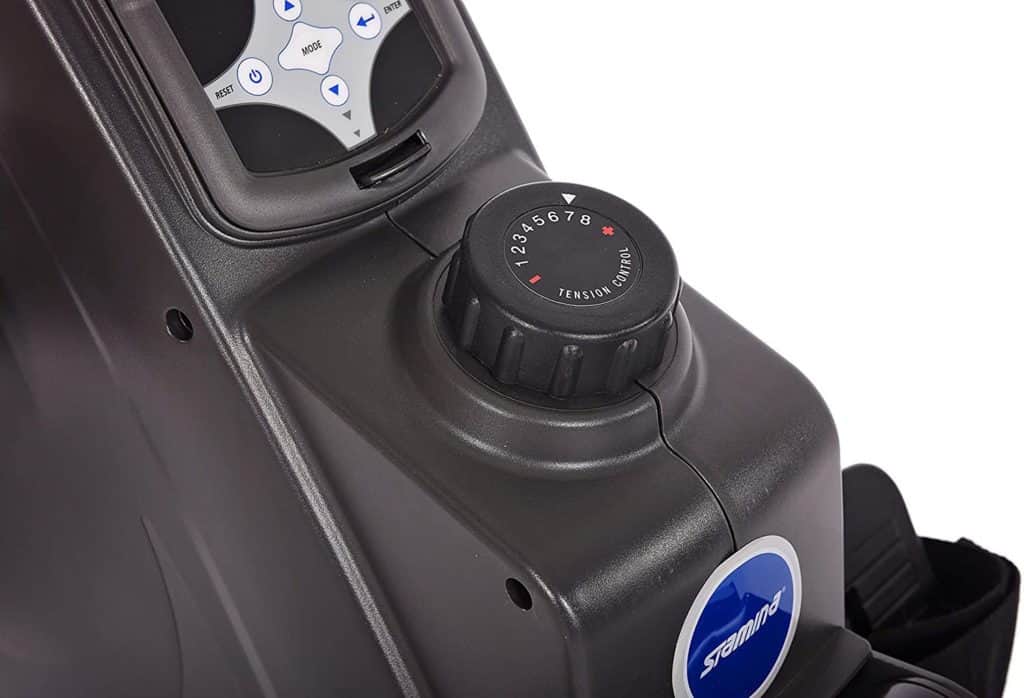 The Stamina Conversion II Recumbent Bike/Rower is a manual magnetic resistance machine (with 8 adjustable levels) that utilizes a magnetic brake pad and a flywheel to generate resistance.
It creates an increased or decreased resistance intensity when the magnetic brake pad gets close or farther from the flywheel respectively. So, ultimately, there is no contact or friction between the resistance elements, hence, no part wears or requires replacement over a time period.
Consequently, the rower's operation is smooth and quiet even when the resistance is engaged, and it is maintenance-free as well. No need to take the resistance/drive system covers apart for maintenance.
The resistance is controlled via the tension knob that has the resistance levels (- 1, 2, 3, 4, 5, 6, 7, 8 +) inscribed on it. If turned clockwise or counterclockwise it increases or decreases the resistance intensity respectively.
The manual magnetic resistance system provides low to medium workout intensities that are suitable for different fitness levels Individuals that wish to lose weight, improve cardio and lungs health, tone muscle groups, recover from an injury, and more.
When the resistance is applied, the biking pedals and the rowing handle are impacted.
The Console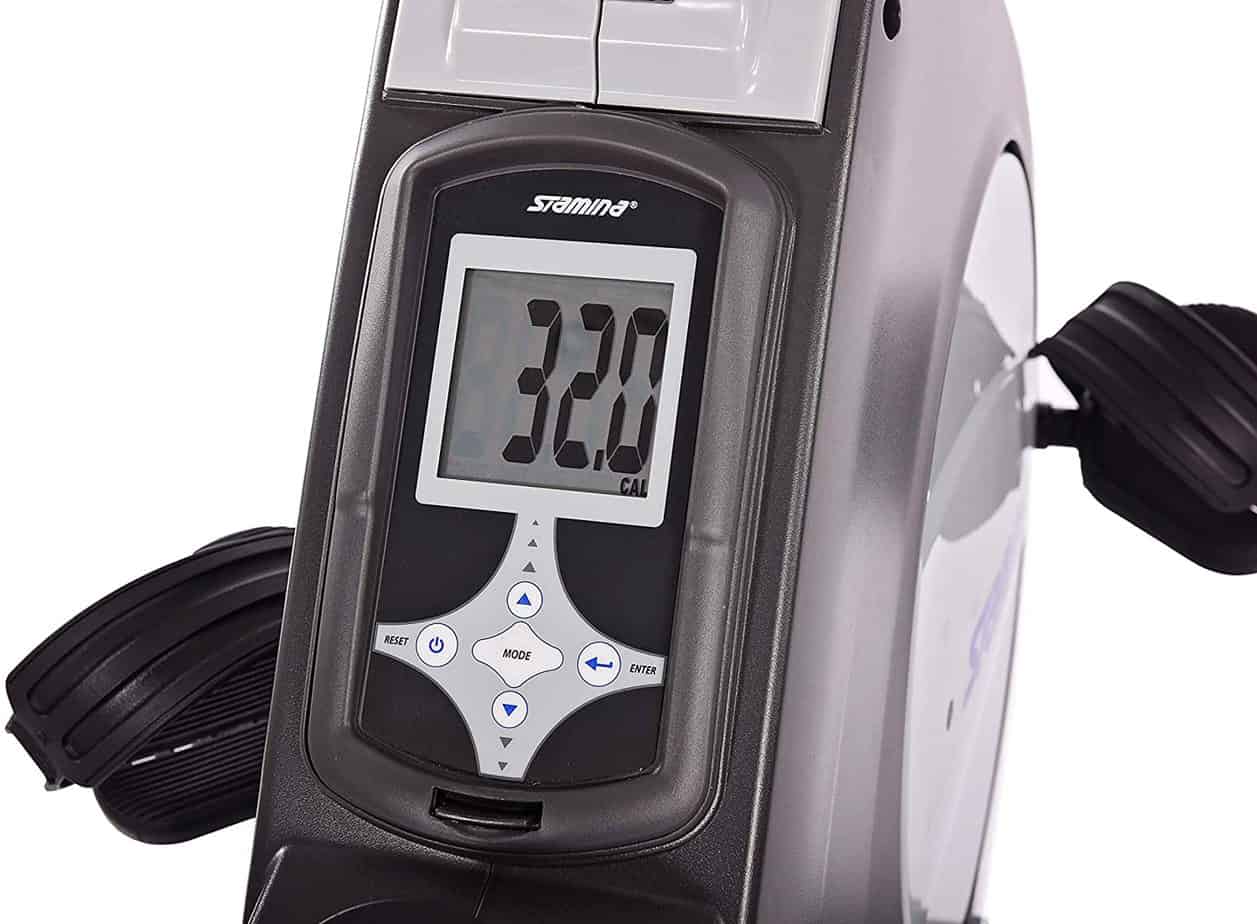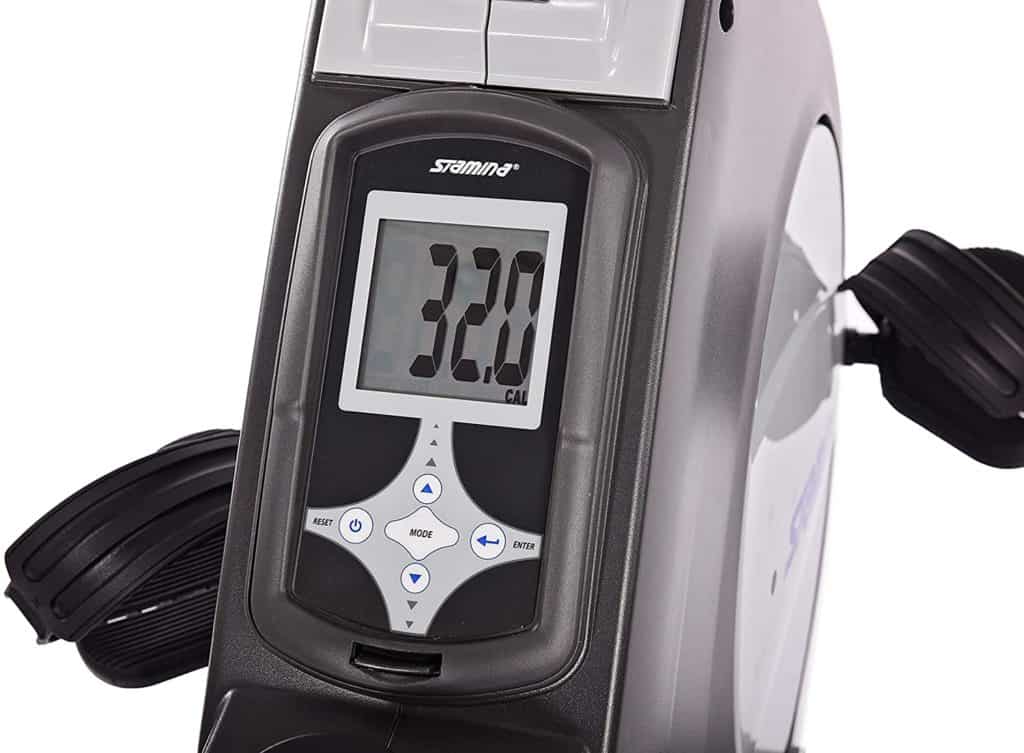 The Stamina 3 in 1 machine has an easy-to-read digital LCD monitor. It is integrated into the rower's drive/resistance system's casing; it's not a standalone as the ones on most rowers. Although, it is strategically and optimally positioned to provide the right and suitable viewing angle for all users.
The monitor's readability could be diminished when viewed in a poorly lit room or the environment because it's not backlit.
It tracks workout stats such as Time, Speed, Distance, Calories Burned, and Heart Rate; and they are displayed one at a time after every 6 seconds by the SCAN function. Although, it can be set manually to display a value of your choice constantly if that's what you want.
There is also a goal setting for Time, Distance, and Calories.
The 5 navigational buttons on the console include the Mode, Reset, Enter, Up Select, and Down Select buttons.
The monitor is powered by 2 AA batteries which are included in the package.
To manage the batteries' power, the monitor automatically turns Off when there is no activity on the machine and it automatically turns ON when the activity (pedaling) resumes. It can manually be turned ON/OFF also.
Finally, remember that the pulse data can only be displayed when you hold the side handlebars with the EKG sensors during a workout otherwise it won't be displayed.
Accessory
The Stamina Conversion II Recumbent Bike/Rower doesn't have any accessories on it, not even the basic and essential ones like the water bottle and tablet holders.
However, the absence of these accessories may not really be a deal-breaker for most prospective users because they can always improvise to keep proper hydration and get entertained during a workout session.
Storage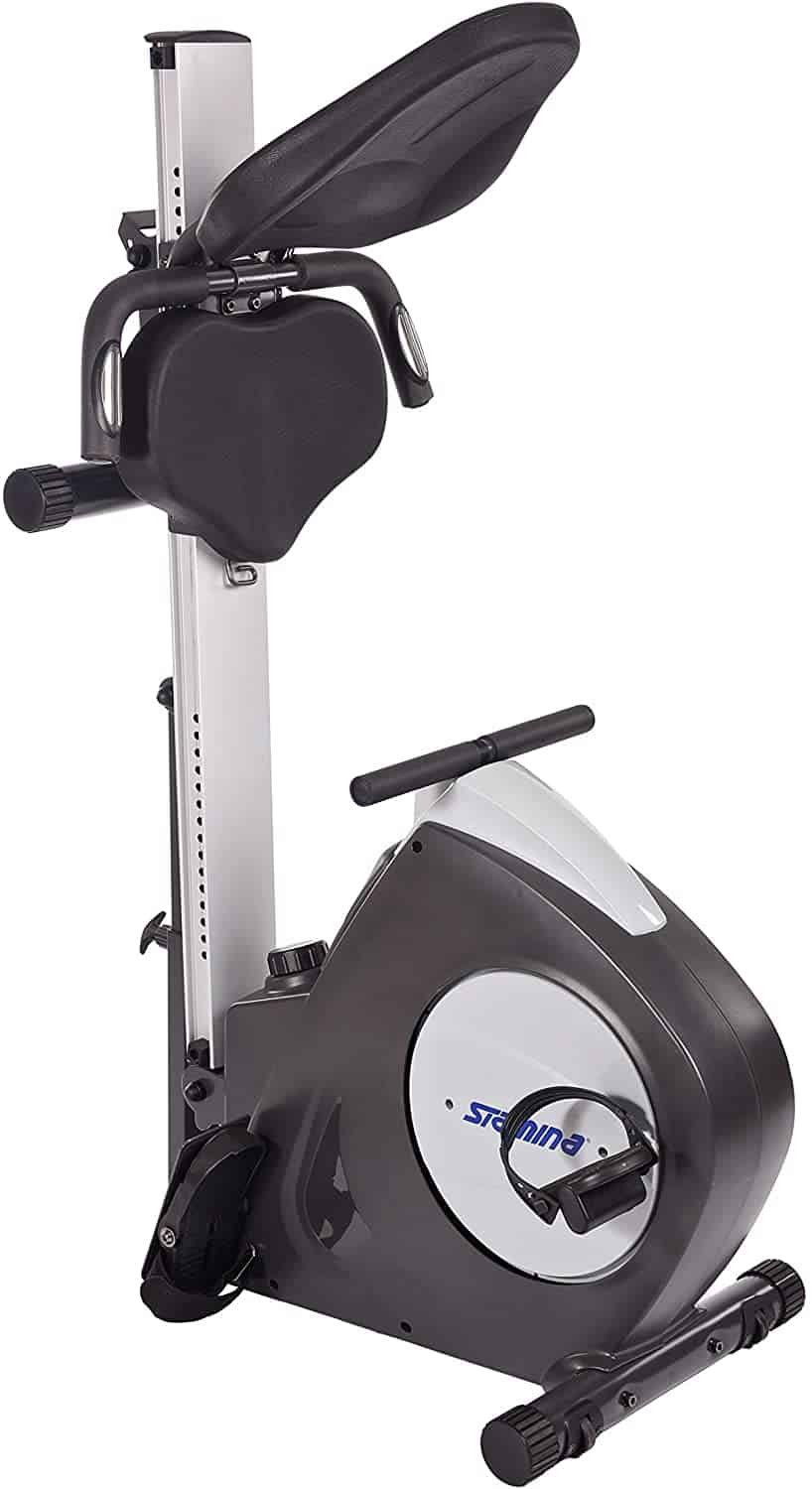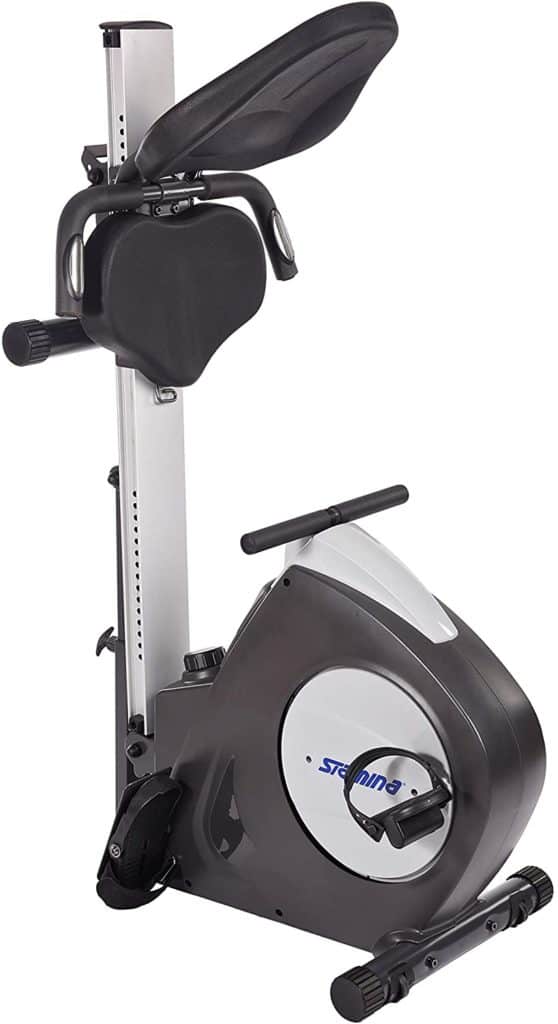 This unit is foldable and portable. It has transport wheels at the front base for an easy relocation process.
It only weighs 102 lbs./46 kg and has folded dimensions of 35.5'' L x 20'' W x 56'' H.
So, any adult can move it to and from storage without a hassle
Approval Rating
This unit has a very good approval rating on Amazon and we can understand why. It has quality, usability, and innovation as a bonus.
So, there are a lot of Amazon customers that feel the same and would be more than happy to recommend it.
Pro/Features Overview
It's durable and stable
Supports a maximum user weight capacity of 250 lbs./113 kg
Its operation is smooth and quiet
It is versatile, offering to be used as a rower, and a recumbent bike; and for performing biceps curls, upright rows, and leg press
There are transport wheels for relocation purposes
It is foldable and could be stored in a small space area
Integrated with an LCD monitor that tracks workout progress
The manual magnetic resistance system provides 8 different resistance levels for a variety of intensities
The recumbent seat is comfortable and secure
EKG contact HR monitoring system
Goal setting for Time, Distance, and Calories
There are two sets of pedals (for biking and rowing) that are suitable and secure
It's a full body and low impact machine that also offers strength training
It's not complicated to assemble
Maintenance-free
Cons
The monitor is not backlit
No water bottle or tablet holders
It requires a large workout space
It doesn't track rowing stroke
Warranty
3 Years for the Frame
90 Days for the Parts
Product Dimensions and Specifications
Length 75.5''
Width 20''
Height 27''
Folded dimensions: 35.5'' L x 20'' W x 56'' H
Shipping dimensions: 45.7'' x 26.2'' x 10.2''
Net weight: 102 lbs./46 kg
Gross weight: 106 lbs./48 kg
Maximum user weight capacity: 250 lbs./113 kg
Resistance: Manual magnetic, 8 levels
Seat: Recumbent, adjustable
Seat-to -floor height: 12''-14''
Pedals: 2 sets for rowing (pivotal) & biking
Heart rate monitoring: EKG contact
Display: Nonbacklit LCD monitor tracks Time, Distance, Speed, Calories Burned, and Pulse
Frame: Steel and aluminum rail
Transport wheels: Yes
Shipping
The Stamina Conversion II Recumbent Bike/Rower is shipped in a box with dimensions of 45.7'' x 26.2'' x 10.2'' and weighs 106 lbs./48 kg.
Amazon ships it immediately upon purchase for free and delivers it in a couple of days.
Assembly
Assembling this machine is not difficult because its major and complicated parts are already assembled.
It can be assembled by one person but it could take a little bit of time to accomplish.
It takes anywhere from 1 hour 30 min. to 2 hours depending on the person's assembling prowess.
There is an instruction manual that walks you through the process of assembly and the required tools are also included in the package.
Maintenance
It doesn't need any serious maintenance other than to keep it clean at all times and avoid liquid from getting into the console/monitor.
Check the unit for any loose or broken parts before starting a workout.
Conclusion
The Stamina Conversion II Recumbent Bike/Rower is a hybrid indoor fitness machine that offers you 3 different ways to exercise. Those include rowing, biking, and strength training.
In other words, it is a full-body, low-impact aerobics and cardiovascular machine that also allows you to do leg press, biceps curls, and upright row.