JOROTO has several cycling bike models with a belt or chain drive system and the JOROTO Indoor Cycling Bike Trainer X1S model happens to be a chain-driven bike.
Some people prefer a chain-driven bike such as this because of its ability to mimic a real road bike but some don't want it because it is not as quiet and smooth as the belt-driven bikes and often requires lubrication and sometimes adjustment of the chain in order to be in good working order.
That said, if the chain is being maintained properly, you will hardly need a replacement, and if you eventually do it can be replaced easily because even the standard bicycle chain fits.
This bike simulates the real bike operation and conveys the feel as well to the user.
It is an indoor cycling bike that comes with its convenience such as providing safe and effective workouts that could burn tons of calories and tone the muscles.
It has adjustability that could easily and quickly be adjusted to suit users of different heights and sizes. It also has a step-thru design that allows users to step on and off easily without difficulty. This is especially significant to those with joint problems and the elderly.
It has a 35-pound/15.8 kg perimeter weighted flywheel that complements the drive system by providing consistent momentum that drastically reduces vibration.
Its friction resistance system provides tougher and more challenging workouts just like the bike with an air resistance system could, but this is non-dynamic though.
Click right here to have a peek at the price of the JOROTO Indoor Cycling Bike Trainer X1S on Amazon.
The Frame and Construction
The JOROTO Indoor Cycling Bike Trainer X1S indeed has a very solid construction that includes heavy-duty steel. Its design is similar to most good indoor spin bikes; it is simple with the basic useful features that ensure a satisfactory workout experience and it supports 280 pounds/127 kg maximum user weight capacity.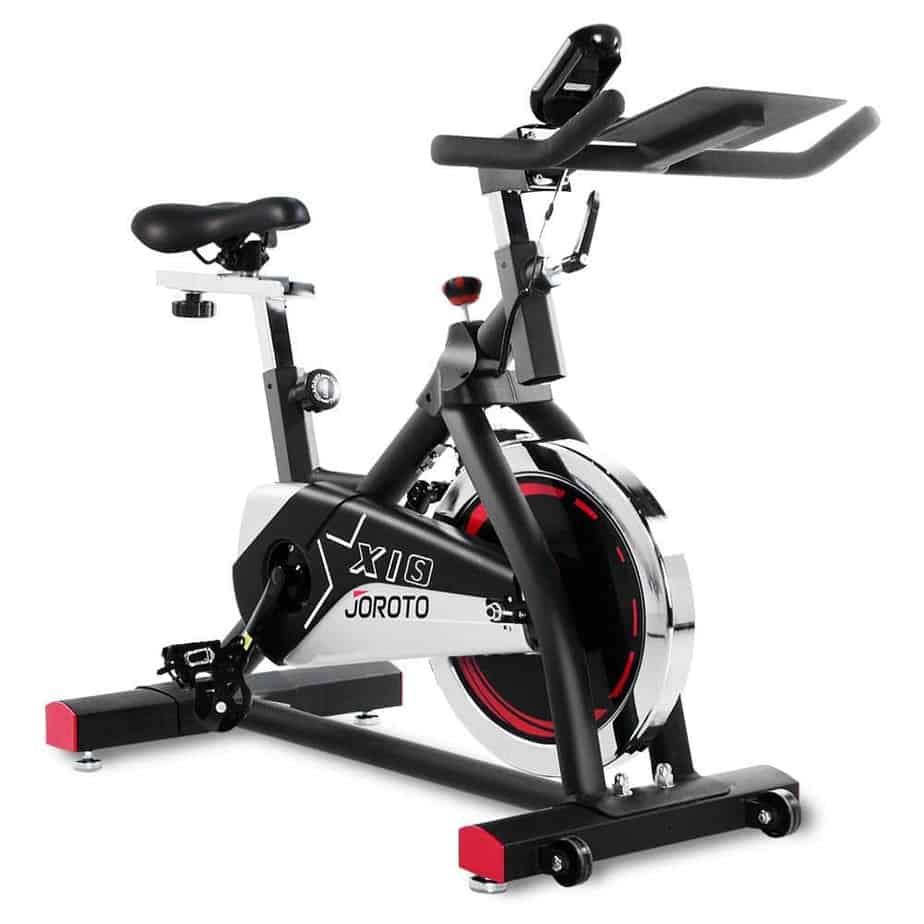 If you take a look at the base framework, you will notice that it has a rectangular steel stabilizer bar at the rear and another one at the front base with an adjoining rounded steel bar holding them together for optimum stability.
It will suffice to say that the bike is very stable especially with the four adjustable levelers underneath the stabilizer bars which allow the user to balance the bike on an uneven surface.
However, it might be a good idea to place the bike on a protective rubber mat so as to further boost stability and prevent sweat from dripping on the floor.
The compact design of the bike is yet another feature that is worth mentioning because it doesn't take up much space during a workout or storage even though it is not foldable.
It has overall assembled dimensions of 49.9 inches long by 19.7 inches by 42.5 inches tall. Differently put, this will require a workout space of 4.1 feet long by 1.6 feet with a ceiling height of at least 7 feet so that you can also perform the stand-up pedaling if you wish to.
In addition to that, it is recommended to consider extra clearance of 1 to 2 feet at the rear and on each side of the bike for convenience and safety purposes. This will allow you to work out without restrictions that could lead to an accident or impede your full ability to work out.
This is also lightweight and portable. It weighs 64 pounds/29 kg and is integrated with transport wheels at the front base which allows the user to easily tilt and move the bike from one area to another.
Additional bonus, it looks solid and elegant as well, therefore, won't be a problem if it remains conspicuous.
The Seat, the Handlebar, and the Pedals
The seat of the JOROTO Indoor Cycling Bike Trainer X1S01 is large with dimensions of 10 inches long by 7.5 inches wide by 1.9 inches thick. It has quite a bit of cushion layers that provide comfort to the butt and it is covered with a leather material that makes it last longer.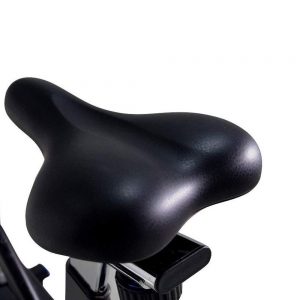 However, some users have expressed their dislike for the seat because it does not provide the maximum comfort they expect. Therefore, if you fall into this category you may want to use a gel seat cover to improve the seat's comfortability or you can as well easily replace it with another seat of your choice.
The seat is 4-way adjustable, which means it can be adjusted vertically (upward/downward) and horizontally (fore/aft). This is a flexibility that accommodates users of different heights and sizes. Basically, it is suitable for a user between the heights of 5 feet to 6 feet 4 inches tall.
The bike supports the inseam measurement of 27.5 to 35.4 inches maximum. In other words, you can measure your top inner thigh to the ankle, and if it falls within 27.5 to 35.4 inches that means the bike will be very suitable for you.
The adjustment settings can easily and quickly be done without taking a minute.
The handlebar is 2-way adjustable; it can be vertically adjusted (upward/downward). This increases the bike's adjustability that allows users to work out with maximum comfort.
The handlebar features a multi-grip design that is coated with a soft rubber foam material designed to provide a firm and comfortable grip that prevents slippage and blisters. While the multi-grip feature allows users to work out in different positions or angles in order to optimize the quality of workouts they get.
It is also integrated with a tablet holder for keeping your smartphone/tablet handy for taking calls or entertainment during workouts.
The handlebar is not integrated with HR sensors for the transmission of heart rate data to the monitor.
The pedals aren't dual-sided. This means it is only incorporated with toe cages that have adjustable safety straps that accommodate standard gym shoes alone. It can't be used with a pair of spin shoes.
However, they can be swapped and replaced by SPD pedals as long as they have 9/16 inches thread.
The left pedal needs to be screwed in anticlockwise while the right pedal is screwed clockwise.
The Drive
As aforementioned, the JOROTO Indoor Cycling Bike Trainer X1S01 is a chain-driven bike. This means it has a chain drive system that consists of a chain, sprockets, solid and heavy-duty crankset, and crank-arms, and pedals.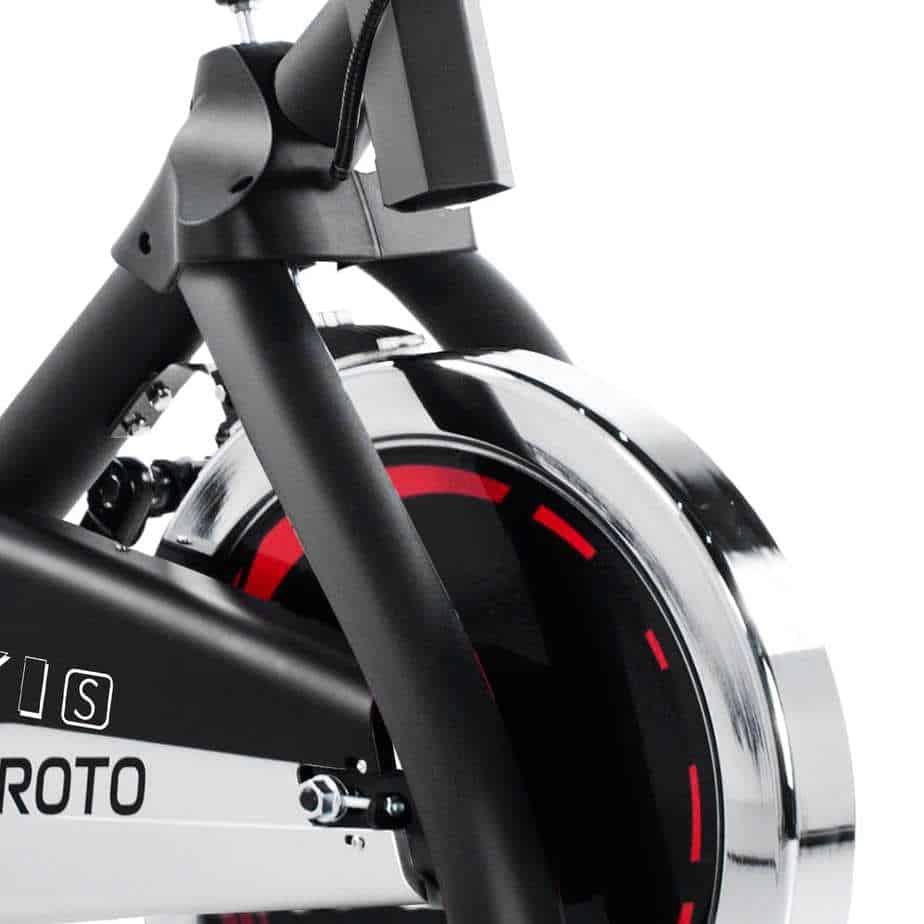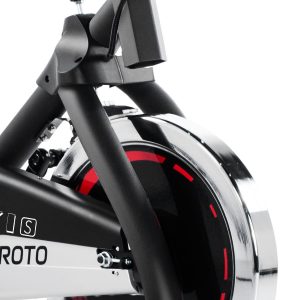 The upside of the chain drive is that it provides the feel of riding a real road bike by mimicking it. It can also be very durable if maintained as required by lubricating it in order to prevent rusts that could make it generate squeaky sound and ultimately shorten the lifespan.
Its replacement is easy because the chain is available in almost any local bicycle shop.
The drive also features 35 pounds/15.8 kg perimeter weighted flywheel. This is not very heavy considering the fact that there are spin bikes that come with 40 to 50 pounds flywheel.
That said, this does provide decent consistent momentum that keeps the vibration down and is very good for normal and intense cardio workouts.
You can pedal in reverse if you wish to explore and exercise more muscle groups.
However, being bidirectional also means that the pedals and the flywheel spin together and therefore you cannot coast as you could on a road bicycle. For this reason, you must always apply the emergency brake via the tension knob by pushing it down in order to stop the flywheel from spinning each time you wish to stop pedaling in order to prevent a potential accident from happening.
The Resistance
The JOROTO Indoor Cycling Bike Trainer X1S01 is integrated with a friction resistance system. This consists of a tension knob, a felt brake pad that faces down toward the top surface of the flywheel.
Resistance is generated each time the felt brake pad comes in direct contact with the top surface of the flywheel. To increase or decrease the resistance level, twist the tension knob clockwise and anti-clockwise, respectively.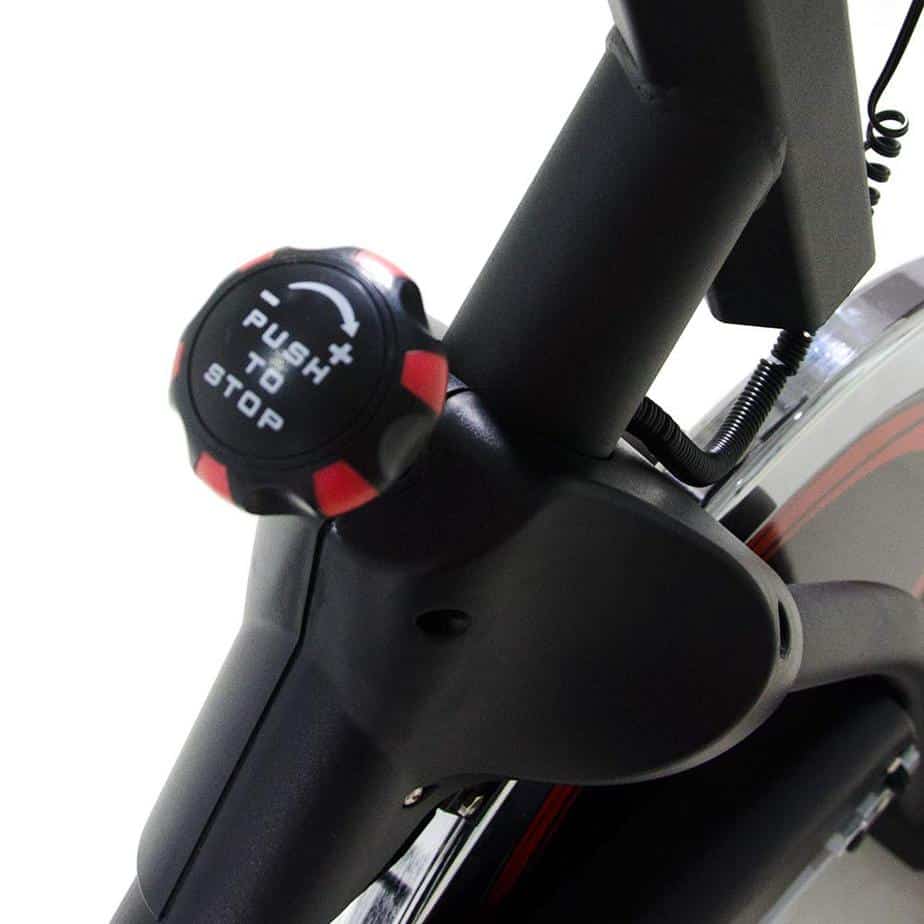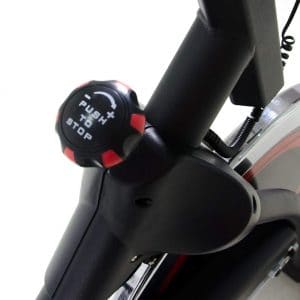 There are no pre-determined resistance levels available and that is why the friction resistance system is also referred to as infinite. This means there is no resistance level limit to which you can adjust it. Simply adjust until you feel you have found the suitable resistance for your workout.
This resistance system provides tougher and more challenging workouts even as it is very suitable for all fitness levels; although, the absence of pre-defined resistance levels poses a challenge of keeping track of strength and endurance progress because no way to ascertain your progression from low-level resistance to higher-level resistance.
The felt pad may also need to be replaced at some point in time because it wears out as a result of its friction with the flywheel but this takes time.
The Console
The console present on the JOROTO Indoor Cycling Bike Trainer X1S01 is beyond basic. It is oval and rectangular in shape and large. Its monitor features 5 windows that display all the workout values (time, speed, distance, RPM, and calories burned) simultaneously.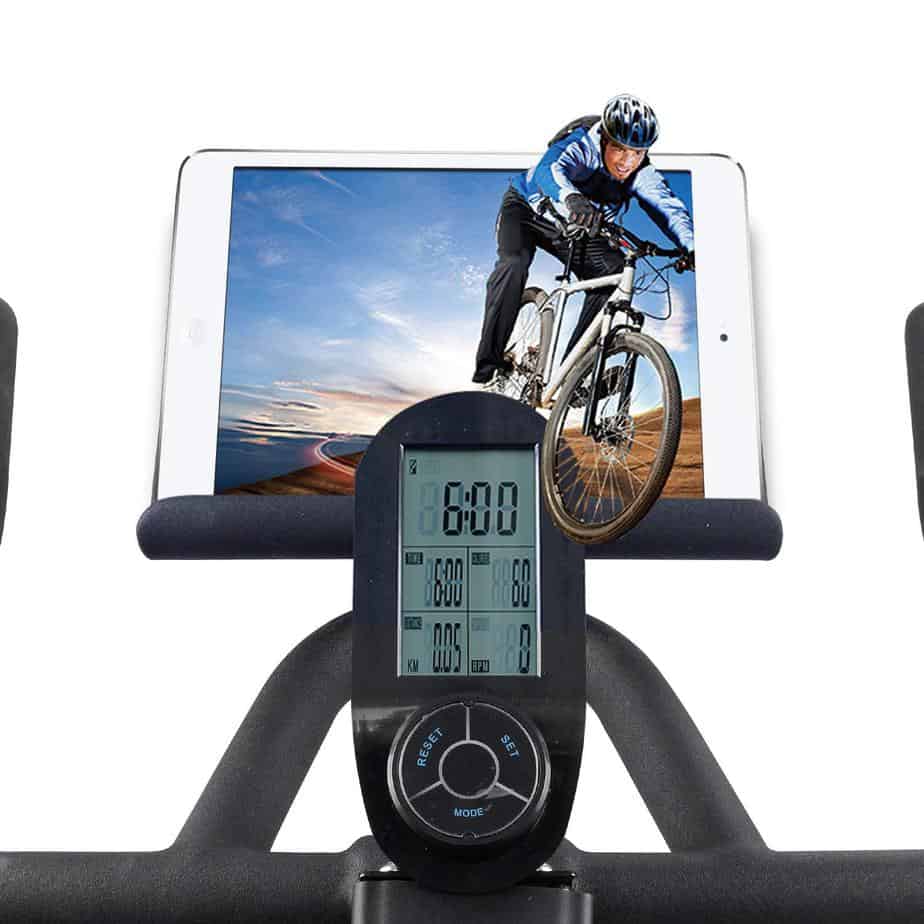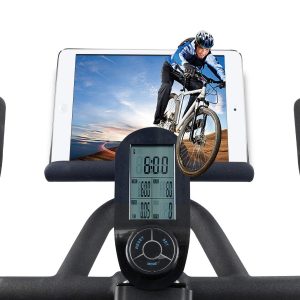 You have the privilege of setting up goals for distance, time, and calories as a way of challenging and motivating yourself. You set up the goals and work out to achieve them as it counts down and displays the remaining stats on the smaller window.
The console has three buttons that help you to navigate, namely, the MODE, RESET, and SET buttons and they are easy to manipulate.
The monitor comes alive when the MODE button is pressed, or when there is activity on the bike. It can be shut down by pressing the MODE button again.
The console is battery powered and in order to save the battery power the console auto shuts down after a few minutes of non-activity on the bike.
Accessory
The JOROTO Indoor Cycling Bike Trainer X1S01 features a tablet holder that is well positioned so that the monitor screen won't be blocked when a device is placed on it.
This brings convenience to taking calls while working out because your smartphone is close by and moreover, it provides the user with the opportunity to get entertained by listening to good music or even watching a movie during a workout.
Unfortunately, this bike does not have a water bottle holder that is very essential for workouts. We guess you have to improvise or get an add-on water bottle holder.
Storage
The JOROTO Indoor Cycling Bike Trainer X1S01 is easy to store because it is compact, lightweight, and portable.
Its compact design means it does not take up much space, its lightweight means it won't be too heavy for some people to move, and being portable means it can easily be rolled away because of the integrated transport wheels.
Approval Rating
The JOROTO Indoor Cycling Bike Trainer X1S01 has an impressive approval rating that suggests it is recommendable.
There are over sixty Amazon customer reviews at the time of this review and it has an average approval rating of 4.4 stars out of 5 stars.
Users think it is cost-effective and recommendable.
Pros/Features Overview
Strong and durable
It has a very good base framework that ensures stability
Supports 280 pounds/127 kg maximum user weight capacity
The resistance system is suitable for users at any fitness level
The seat is 4-way adjustable allows users of different heights and sizes to be accommodated; 5 to 6.4 feet tall
It features a chain drive system that mimics the real road bike operation
It has a 35 pound/15.8 kg high inertia flywheel that provides a consistent workout
The console on this bike is above basic, it features monitor with 5 different display windows that shows time, distance, RPM, speed, and calories burned, you can set up goals for time, distance, and calories
The bike is compact, lightweight and portable; it is integrated with transport wheels
Easy to assemble
Cons
No heart rate function
The monitor is not backlit
It does not have a water bottle holder
Dimensions and Product Specifications
43'' Length
20'' Width
43'' Height
Flywheel: 35 pounds/15.8 kg perimeter weighted
Supports 280 pounds/127 kg maximum user weight capacity
Console: Digital multi-screen LCD monitor
Pedals: Toe cages with adjustable safety straps
Drive: Chain
Resistance: Friction
Weight: 64 pounds/29 kg
Tablet holder included
Frame: Steel
Shipping, Assembly, and Maintenance
Shipping
The JOROTO Indoor Cycling Bike Trainer X1S01 is shipped in a box weighing 98 pounds/44 kg with dimensions of 9.6 x 33.1 x 41.7 inches.
The shipping cost of the bike depends on the retailer's shipping policy. However, some vendors such as Amazon provide free shipping to the United States residents and deliver within days of order.
Assembly
The JOROTO Indoor Cycling Bike Trainer X1S01 does not come completely assembled but partially assembled because the major components such as the drive and the resistance elements are pre-attached.
Therefore, it is not difficult to completely assemble it and neither does it take time to do so.
You are to attach the seat and handlebar posts, the seat, the handlebar, the front and rear stabilizer bars, the pedals, and the console to the frame. These will take about 30 minutes, more or less.
The instruction manual for assembly and the tools required for the job are all included in the package.
Maintenance
The maintenance of this bike is minimal and mostly be a periodic routine.
The chain is required to be lubricated with the bike's chain oil after a few months in order to maintain its good working order.
You must always examine the bike for any loose or broken parts before use and fix any problem that may occur accordingly. If you need to contact the manufacturer then use this contact, [email protected]
Finally, always keep the bike clean from dirt and sweat.
Conclusion
The JOROTO Indoor Cycling Bike Trainer X1S01 is for all individuals at any fitness level. It possesses significant features that make it possible for the user to enjoy and achieve fitness goals.
The friction resistance system it features provides the suitable resistance level needed to burn tons of calories that result in weight loss and improve the user's overall fitness.
JOROTO Indoor Cycling Bike Trainer X1S Review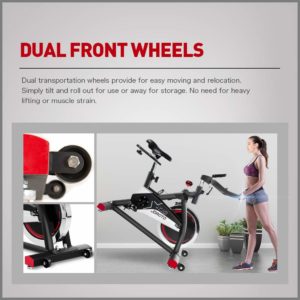 The JOROTO Indoor Cycling Bike Trainer X1S indeed has a very solid construction that includes heavy-duty steel. Its design is similar to most good indoor
Product Brand: Joroto
Product In-Stock: InStock