There are a number of reasons why one should consider adding the IDEER LIFE Exercise Bike Indoor Cycling Bike to the home gym. Some of these reasons are that the bike is affordable, supports a high user weight capacity of 330 pounds/149.7 kg. It's got a spring shock absorber that reduces vibration and impact of mechanical movement to the body during a workout; just like the one on the L NOW Indoor Cycling Bike D501 Commercial Standard.
The overall build and construction are sturdy and solid…at least users on Amazon attest to this claim. It comes with an LCD monitor that basically tracks workout progress, including the heart rate. Moreover, it Is not one of those large spin bikes that could invade your space, thus, suitable for home use or those with limited space.
The bike features a 24.3 pounds/11 kg perimeter weighted flywheel that provides momentum and a smooth ride. Its adjustability (seat adjusts 4 ways and the handlebar adjusts 2 ways) allows users of different heights and sizes to be accommodated.
That said, users more than 6 feet tall might feel cramped on the bike but anyone else will be fine with it.
The use of the IDEER LIFE Exercise Bike Indoor Cycling Bike will help to burn calories, reduce cellulite, tone muscle groups, improve your energy level, productivity, and blood circulation. This might just be the little secret of getting fit in the comfort of your home.
Click right here to have a peek at the price of the IDEER LIFE Exercise Bike Indoor Cycling Bike on Amazon.
The Frame and Construction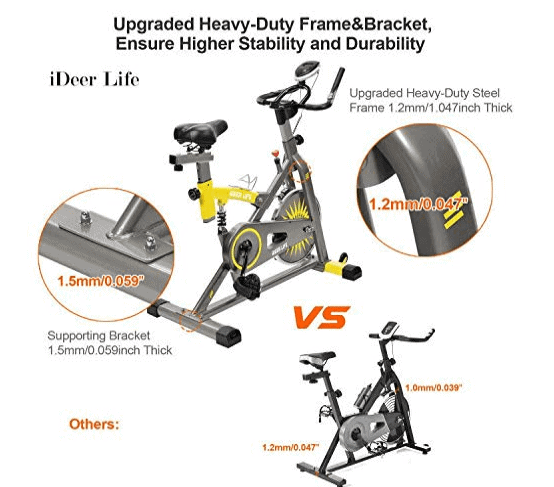 The IDEER LIFE Exercise Bike Indoor Cycling Bike features 95% steel parts and that includes the frame and other parts such as the belt cover is made out of ABS material. The frame is upgraded heavy-duty steel that is as thick as 1.2mm/1.047 inches. As a result, the bike supports a maximum user weight of 330 pounds/149.7 kg.
The construction includes the shock absorber spring that reduces vibration and the impact of mechanical movement. This helps a lot in making the user comfortable and not many indoor cycling bikes have it.
The IDEER Life Spin Bike is belt-driven with a friction resistance system that provides smooth, quiet, and challenging workouts.
Its overall assembled dimensions are 40.55 inches long by 21.45 inches wide by 44.49 inches tall. In other words, a workout area of 3'4'' long by 1'8'' wide and a ceiling height of at least 7' will be sufficient. However, additional extra clearance of 1'-2' at the rear and on each side of the bike might be considered if where it is going to be used is not an open place.
Aside from its compact design, it is also portable with transport wheels and lightweight which make moving it from one room to another easy.
The base front and rear stabilizer bars ensure that the user enjoys stability during a workout, and the fitted levelers allow you to balance the bike on a floor that is not even. Even though its weight is just 59.5 pounds/27 kg, it still boosts the overall stability.
The Seat, the Handlebar, and the Pedals
The IDEER LIFE Exercise Bike Indoor Cycling Bike features a micro-adjustability design that allows a user to customize as deem fit. This is seen on the seat and the handlebars.
As aforementioned, the seat is 4-way adjustable. This means that you can adjust it vertically (upward/downward) and horizontally (fore/aft). The seat can be moved up from 34.65 inches to 40.55 inches.
The PU padded leather seat with a groove and a spring underneath provide comfort that endures through a long ride. Nevertheless, if you wish to swap or replace the seat for whatever reason with another, you can, because the connection mechanism is standard.
The handlebar is ergonomically designed with multiple sets of grips that allow users to work out in different postures. The grips are covered with a soft rubber foam material that provides secure and comfortable grips that prevent slippage in the course of a workout and blisters in the palms.
The embedded contact sensors in the handlebars transmit heart rate data to the monitor when gripped during a workout or an exercise so that you can observe and maintain your target heart rate zone.
The 2-way adjustable handlebar can be adjusted only vertically (upward/downward). This improves the user's chances of having a suitable customized setting. It can be moved up from 40.55 inches to 44.49 inches.
The pedals on the IDEER LIFE Exercise Bike Indoor Cycling Bike are rather simple. They do not have toe cages and are not compatible with spin shoes. They are anti-skid designed with adjustable safety straps that ensure that your feet are in place at all times.
The pedals accommodate standard gym shoes or barefoot.
The Drive
The IDEER LIFE Exercise Bike Indoor Cycling Bike is integrated with a belt drive system that is popularly known for its smooth and quiet operation and is maintenance-friendly. Differently put, it doesn't require any maintenance such as periodic lubrication or adjustment.
The belt lasts long that it takes a while for it to wear out and require a replacement.
Due to its quiet operation, you can train whenever and however you want without getting the family or the neighbors involved in your activity by disturbing them.
Also, the user can enjoy watching the TV or listening to good music without having to amplify the volume above the normal level while exercising.
The drive comprises a durable belt, solid crankset and crank-arms, 24.3 pounds/11 kg perimeter weighted flywheel, and the pedals. A user that is within the weight limit can perform a stand-up ride.
For the fact that the pedals and the flywheel are fixed, reverse pedaling is possible, but you cannot coast on it as you could on a conventional road or mountain bicycle.
The Resistance
The friction resistance system that is featured on the IDEER Life Cycling Bike is effective, user-friendly, and suitable for everyone at any fitness level. It provides a range of different challenging workouts that both a beginner and an advanced athlete will appreciate.
The resistance system is made up of the flywheel, the control tension knob, and the wool felt pad. You can increase the resistance by twisting the control tension knob clockwise and reducing it by turning anticlockwise, it is as simple as that.
The resistance level is infinite. In other words, it does not have prespecified resistance levels as the case with the Keiser or ASUNA Lancer but the user has to adjust the tension knob clock or anticlockwise until the suitable workout challenge is felt.
The problem is, users may not be able to know when they have progressed from using a less challenging resistance level to a higher one.
The Console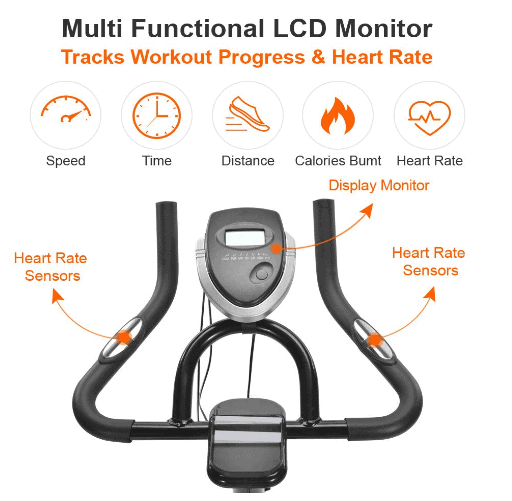 The IDEER LIFE Exercise Bike Indoor Cycling Bike is equipped with a console that features a basic LCD monitor that keeps track of your workout progress.
The monitor is simple with a window that displays speed, time, distance, RPM, calories burned, and heart rate. It does so with good readability that could, however, be compromised when viewed in a room that is not well-lit because it is nonbacklit.
It has a scan function that displays all the workout data one at a time after a few seconds by default. You can also decide to set up a certain workout value of your choice to display constantly without changing or switching to another.
The console is powered by 2 AAA batteries.
Accessory
The IDEER Life Spin Bike has a water bottle holder that allows the user to keep water handy during a workout in order to remain hydrated. The positioning is also good because the water bottle can easily be reached.
Storage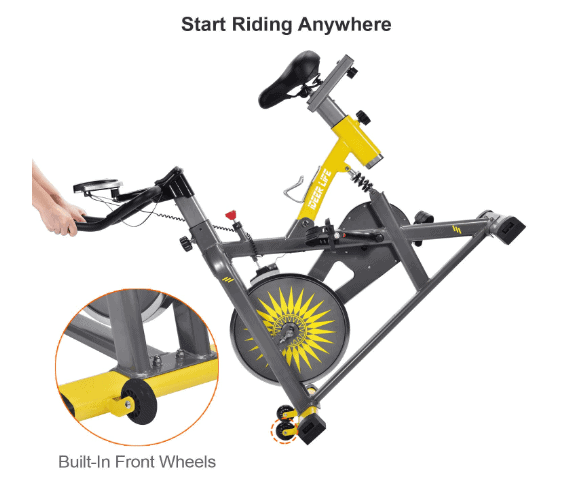 This bike is storage-friendly due to its compact and portable design. It is also not so heavy therefore moving from one spot to another is really not be a problem.
It requires a minimal space of 3'4'' long by 1'8'' wide for storage.
Approval Rating
The approval rating of any product is often an indication of the acceptance level. Therefore, this could be used by a prospective user to determine purchasing decisions.
That said, the IDEER LIFE Exercise Bike Indoor Cycling Bike has several Amazon customers' reviews which turn out that the majority is positive and as a result, the machine has a very good approval rating at the time of this review.
Pros/Features Overview
Very sturdy and solidly built
Supports a high user weight capacity of 330 pounds/149.7 kg
Shock absorber spring reduces vibration and impact of the mechanical movements during a workout
Compact, doesn't invade space
Portable, easy to move
The seat is comfortable and possible to swap it for another
Resistance suitable for everyone at any fitness level
Operation is quiet and smooth
Micro-adjustability makes it possible for multiple users to utilize the machine
The LCD monitor keeps track of workout progress
Low maintenance
Easy to assemble
Water bottle holder included
The handlebar provides multiple grips for a range of workout postures
Cons
No tablet holder
The monitor is basic without preset workout program and it's nonbacklit
The seat is not very comfortable
Not very suitable for people taller than 6' tall
Product Dimensions and Specifications
Length 40.55''
Width 21.45''
Height 44.49''
Weight: 59.5 pounds/27 kg
Supports 330 pounds/149.7 kg maximum user weight capacity
Spring shock absorber
Console: LCD monitor tracks time, distance, speed, RPM, calories burned, heart rate and SCAN
Pedals: Anti-skid designed with safety adjustable straps
Handlebar: 2-way adjustable
Seat: 4-way adjustable
Adjustable levelers: Yes
Transport wheels: Yes
Water bottle holder: Yes
Resistance: Friction
Drive: Belt
Shipping, Assembly, and Maintenance
Shipping
Retailers have different shipping policies and so the cost of shipping the IDEER LIFE Exercise Bike Indoor Cycling Bike depends on where you are purchasing it from. That said, Amazon provides free shipping and delivers within days of order.
Assembly
The unit is easy to assemble because it is delivered with the major components preassembled.
You are only required to attach the handlebar, the seat and handlebar posts, the seat, the handlebar, the rear and front stabilizer bars, and the console to the core unit.
Included in the package is an instruction manual that is supposed to walk you through the assembling process but has a grammatical massacre that made it difficult to understand. We hope they have improved on that, otherwise, you may have to figure out how to assemble it on your own.
A toolkit is also included for the job.
Maintenance
As aforementioned, no serious maintenance is needed. Just ensure that you examine the bike before for any loose or broken parts so as to prevent an accident or further machine damage. Fix any problem that may arise accordingly.
Finally, keep it clean from dirt and sweat before and after use.
Conclusion
The IDEER LIFE Exercise Bike Indoor Cycling Bike comes in different colors, and they are identified as Metallic Grey, Black09060, and White09062.
This might just be a good choice for those on a budget that cannot afford a more expensive spin bike. It provides you with the opportunity to train in the comfort of your home as you take advantage of the resistance system for more intense workouts.
IDEER LIFE Exercise Bike Indoor Cycling Bike Review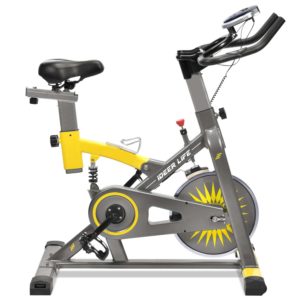 There are a number of reasons why one should consider adding the IDEER LIFE Exercise Bike Indoor Cycling Bike to the home gym.
Product Brand: Ideer Life
Product In-Stock: InStock